The gorgeous German Village of Hahndorf is 28 km up the freeway from Adelaide, the 20 minute drive is perfect for a day trip. The village boasts a wonderful German history. The main street has many buildings dating back to the 1800's when settled by German Lutheran immigrants who arrived in Adelaide in 1838.
Today, Hahndorf celebrates its German Culture with traditional foods, festivals, galleries and museums. You can visit Hahndorf in Autumn to enjoy the beautiful amber foliage or in winter for the roaring log fires. Summer and spring offer great weather to wander the shops and parks.
Disclosure: Please Note That Some Links In This Post May Be Affiliate Links, And At No Additional Cost To You, We Earn A Small Commission If You Make A Purchase. Commissions Go Toward Maintaining The Curious Campers Website.
Try German Cuisine
When you come to Hahndorf the first thing you notice is that the menus include plenty of things you might not be familiar with. Try sauerkraut, jagerschitzel, pork hock, kransky, flammkuchen and a few traditional pretzels. And you can top off these hearty meals with a beer and a strudel or waffle!
The many pubs, restaurants and café's also have plenty of other options including vegan and vegetarian menus. If you are after something on the go as you wander down the main street you can pick up a traditional German Hot Dog from the Wunderbar Dog Haus.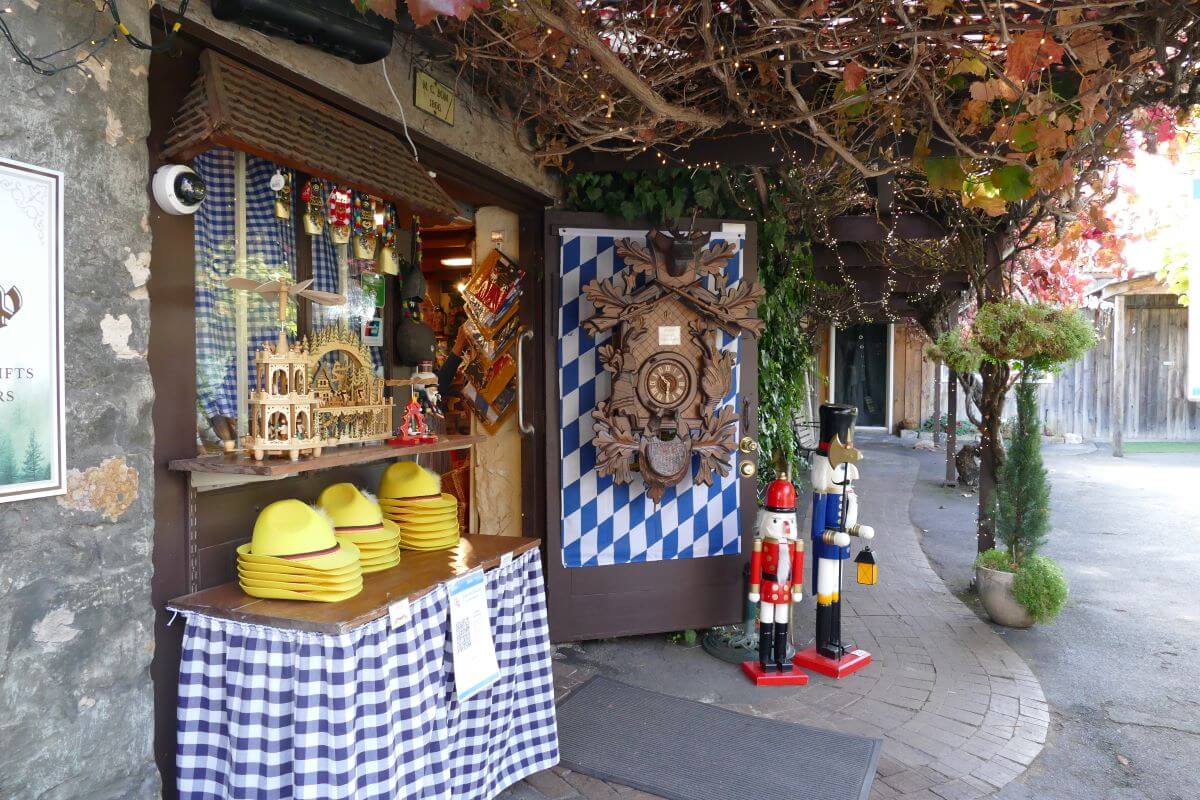 Stroll through the German Village Shops
Along with German menus you will notice plenty of German shopping options. The German Village shop offers quirky gift ideas from a beer Steins, alpine cow bells and cuckoo clocks. It's also the perfect place to stock up on gorgeous Christmas decorations.
If you are looking for a few German items for home you can head to the iconic Corner Shop. Search out your yummy mustards, sauces, lebkuchen, marzipan, chocolates and German tea and coffee.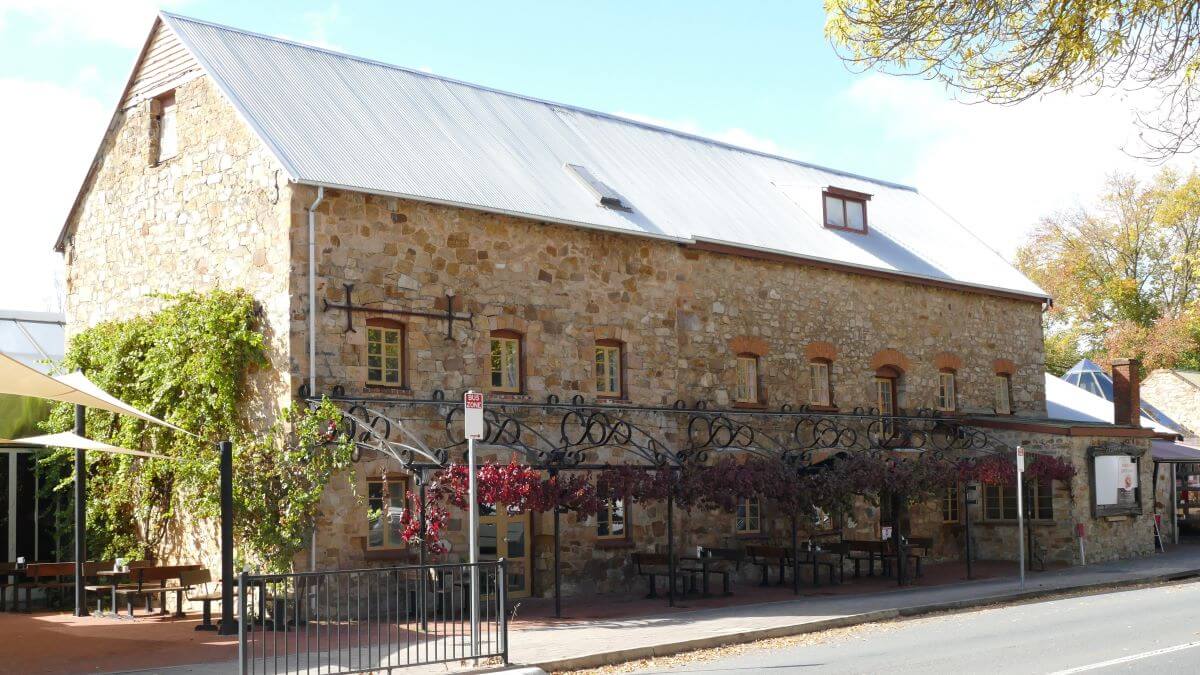 Hahndorf Hotels
The Hahndorf Old Mill Hotel has plenty going on, offering al a carte dining from 12 noon to 8.30pm. The Old Mill's big breakfast is an option if you are having a slow start to the day. The Old Mill also hosts live entertainment and has great function facilities for weddings and events.
The German Arms is one of the village's original watering holes, established in 1839. Offering a selection of local and German Beers along with a great wine list, it's a great spot for lunch or dinner. Make sure you sample the freshly baked pretzels with your Bavarian brew.
The third pub in town is the Hahndorf Inn. Dig into a Wiener Schnitzel, giant metre long hotdog or some slow cooked pork ribs. With an outdoor dining area and cosy saloon bar it's a great place to settle in on a summer day or cold winter evening.
Hahndorf Cafes
You're spoilt for choice for great places to eat in Hahndorf starting with plenty of German inspired dishes. Try authentic Bavarian Breakfast at the Blacksmiths Café or go for a German Sausage or schnitzel for lunch at the German Spoon.
The Haus Restaurant is open for Breakfast, Lunch and Dinner. It has traditional German options or great seafood, pizza and burgers. 1939, The Plough, The White House, Gepettos or the German Inn Café are only a few of the other amazing places to grab a bite. Wander down the main street and check out all the options before you choose!
Read More : Read our review of a South Australian Mystery Picnic
Wine Tastings or a Brewery or Distillery
In the main street of Hahndorf you can try some of the Adelaide Hills' best wines. Go to the Adelaide Hills Wine Centre, Arcabrau Brauhaus or the Adelaide Hills Wine Bar for tastings. The Gulf Brewery or Ambelside Distillery are another option to try locally produced beer or gin.
Sidewood Restaurant and Cellar Door has opening in Hahndorf in 2021. Enjoy a glass of red in front of the two-way fireplace and linger for a fine dining experience or in summer watch the kids play in the nature playground from the enormous outdoor deck. As a real treat you can book a VIP day bed for the ultimate Sidewood experience!
Not far from the main street you can spend the afternoon at The Lane Vineyard or Hahndorf Hill Winery Cellar Doors. The Lane offers plenty of ways to enjoy your day with a tasting room, restaurant or you can book an estate picnic. Grab your seasonal gourmet picnic box and choose from several private picnic spots.
Choose from the fudge, icecream or lolly shop
If you have a sweet tooth, you will love The Fudge Shop with over 40 flavours of homemade fudge. With so many flavours it is hard to choose, our favourites are the White Choc Cranberry and the Choc Cookie – yum!
For a uniquely South Australian experience you should head to the Menz Fruit Choc Shop. The little balls of deliciousness will make you grab a couple of packs to take home. If you haven't had enough sweetness by now, pop into Hahndorf Sweets, Evercream Ice creams and the Ye Olde Ice creamery. Brain freeze never tasted so good!
Udder Delights Cheese Cellar
Udder Delights produces the most beautiful Brie, Camembert and Blue Cheese in the local Adelaide Hills town of Lobethal. In Hahndorf you can visit the Udder Delights Cheese Cellar for breakfast, lunch or dinner. Enjoy a Ploughman's Board or a Swiss specialty – cheese fondue. If you have a bit longer you might want to join one of the cheese making classes and choose a couple of cheeses to take home.
Art Galleries + Sculptures + Craft
Combine history and art with a visit to The Cedars to see Sir Hans Heysen's studio. There are over 200 original works of art on display. You can also tour the charming Heysen family home and Nora Heysen's studio all in a beautiful hills garden setting.
You will find indigenous art at the Aboriginal Art House or established and emerging artist exhibits at the Hahndorf Academy. The Hahndorf Academy also has a German Migration Museum. The private collection of the Wolf Blass Foundation is on display at the Wolf Blass Gallery and Museum. Discover the story behind Wolf Blass wines and the industry legend before enjoying a glass of wine at the Adelaide Hills Wine Bar.
Read More : Adelaide Hills Sculpture Trail
Something for your Home
As you wander down the main street of Hahndorf you will find plenty of interesting and quirky shops full of gifts and items for your home. Head into Grass Roots and Hahndorf Antiques for vintage and unusual pieces. You will find anything from a clown puppet to a traditional coffee grinder.
For a more contemporary feel try Agave Design and Storison for homewares, pottery jewellery, plants and diffusers. You are sure to find that perfect gift or Hahndorf memento.
Candles, Soaps + More
If you are after a Hahndorf souvenir what about a Gingerbread, German Apple Strudel or Champagne and Strawberries candle? The 3 Wishes Candle Bar and Hahndorf Candle maker make all different sizes and scents – you can pick the perfect scent. If you are looking for fun school holiday activity? Why not pop in and make your very own candle at 3 Wishes?
For soap and organic body products, go to the Hahndorf Soap Factory for a beautiful range of handmade soaps, essential oils and bath salts. If you find that perfect soap, like the Cherry Blossom Goats Milk soap you can order online when you run out!
Ugg Boots, Leather Belts & Hats
The Alpaca scarfs are hard to walk past, or on a cold winter's day in Hahndorf you might like a beanie or gloves. If you have kids, there is no way you will leave the Alpaca Shop without some of their cute animal mittens.
The Leathersmith Bush Gallery is a delight with hats, belts, Ugg boots, wallets and even an oil skin coat. And our four-legged friends don't get left out. You can grab a new collar or oil skin coat for your pooch!
If you like this : Tamborine Mountain Gallery Walk in Queensland
Parks & Gardens
Right behind the shops is Alec Johnston Park. Cross over the small bridge and creek to find open green space for the kids to run around. A playground, fountain, BBQ, and plenty of room for a picnic will keep the kids busy for ages.
Across the road, the Pioneer Memorial Gardens commemorate the centenary of Hahndorf and the original 52 settlers. The impressive entrance will lead you into the lovely gardens, toilets, BBQ and a large rotunda. Beyond this you will find another great playground for the kids.
Read More : Great spots to spend Autumn in Australia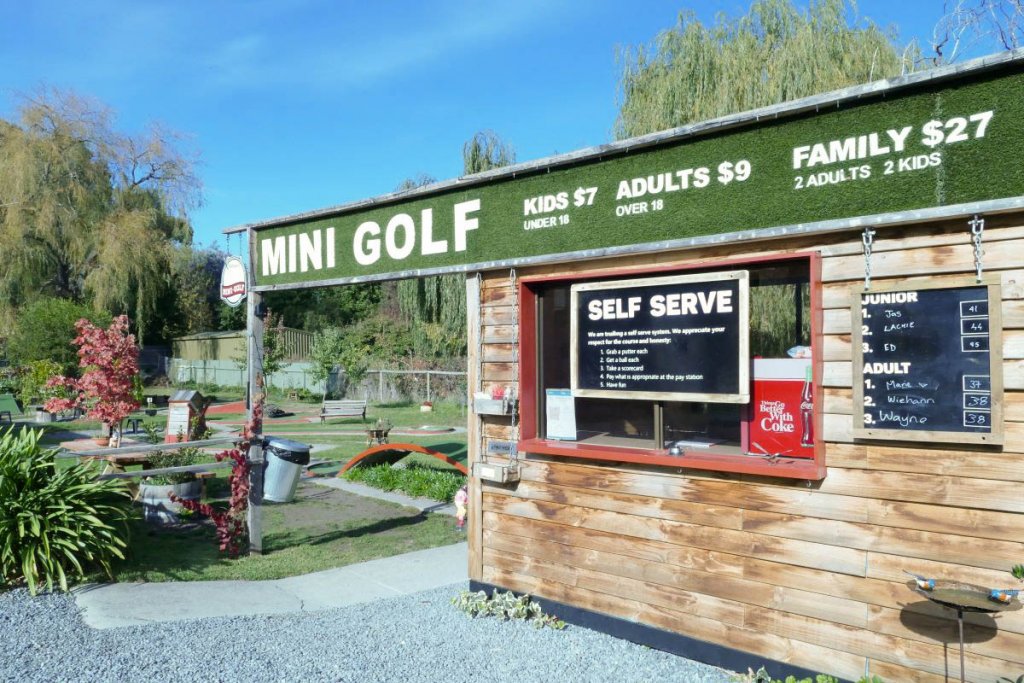 Hahndorf Mini Golf
At $27 for the family, mini golf is great fun for the whole family. Just behind the main street the mini golf operates on an honesty system during the week and is attended over the weekends. The small course offers up lots of challenges and you can hire the whole course for a birthday party or event.
Read More : Visit the Big Rocking Horse in the Adelaide Hills
Gourment Food, Wine e-Bike Tour
Commencing from The Lane Winery in Hahndorf join a local guide from Bike About visiting the best local producers from Beerenberg Strawberry Farm, Udder Delights Cheese Factory, and several local wineries. There is no better way to discover and appreciate the stunning landscape of the Adelaide Hills than by e-bike. Following your ride relax with a picnic basket filled with local produce and a bottle of sparkling wine.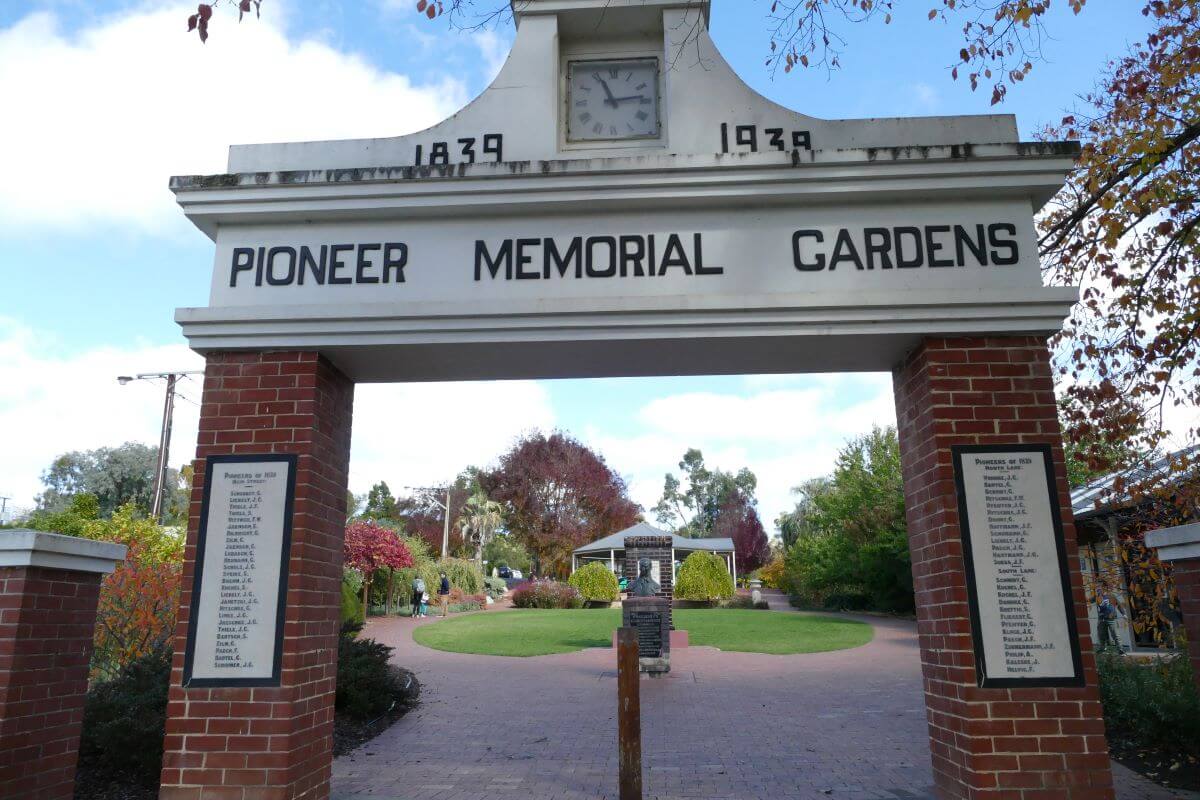 Pioneer Women's Trail
In the Pioneer Memorial Gardens you will find a memorial to the pioneer German women of Hahndorf. The women followed a 35km bush track right into Adelaide to sell their vegetables at the market. They would return with tea, sugar, sewing thread and anything else their families needed.
In 1979 members of the National Trust of South Australia established a walking trail along the path the pioneer women took. Starting in the main street, you walk through Verdun, Bridgewater, Crafers, and Cleland Conservation Park to Beaumont House. You will need to register for the walk and pay $25, a bus can be pre-booked for $12 to take you back to the start in Hahndorf.
Hahndorf Walking Tours
Join local, Sharon from Hahndorf Walking Tours to experience all Hahndorf has to offer.  On a walking tour, you'll be rewarded with intriguing stories of Hahndorf's early settlers and fantastic photographic opportunities. Choose from a day walking tour along the main street visiting locations not open to the general public. The Strudel and Stroll Walking Tour sounds like the perfect way to spend a morning in Hahndorf. If you are staying overnight join the After Dark Walking Tour followed by a German Feast.
Beerenberg Strawberry Farm
We often visited Beerenberg Strawberry Farm as family. The kids loved picking the amazing strawberries and would eat as many strawberries as ended up in the bucket! Strawberry picking season runs from November to April. It's only $5 to enter the strawberry patch and then $1.95 per 100 grams picked.
Brand new in late 2021 is the Farm Cafe – perfect for breakfast, lunch or afternoon tea. Choose from yummy cakes, waffles, pastries, sandwiches, pies and more. Finish off with a treat from The Dairy Ice Creamery! Choose from the Toffee Apple Crumble, Honey Pot Waffles or incredible Fresh Strawberry Icecream!
The Farm Shop is open year-round with an incredible range of jams, chutneys, preserves and even a great range of slow cooker sauces. The strawberry jam is of course amazing, but we also love Dean's Caramelized Onion Chutney. If you are having trouble choosing, try the mixed pack of samplers.
Read More : The best things to do in the Adelaide Hills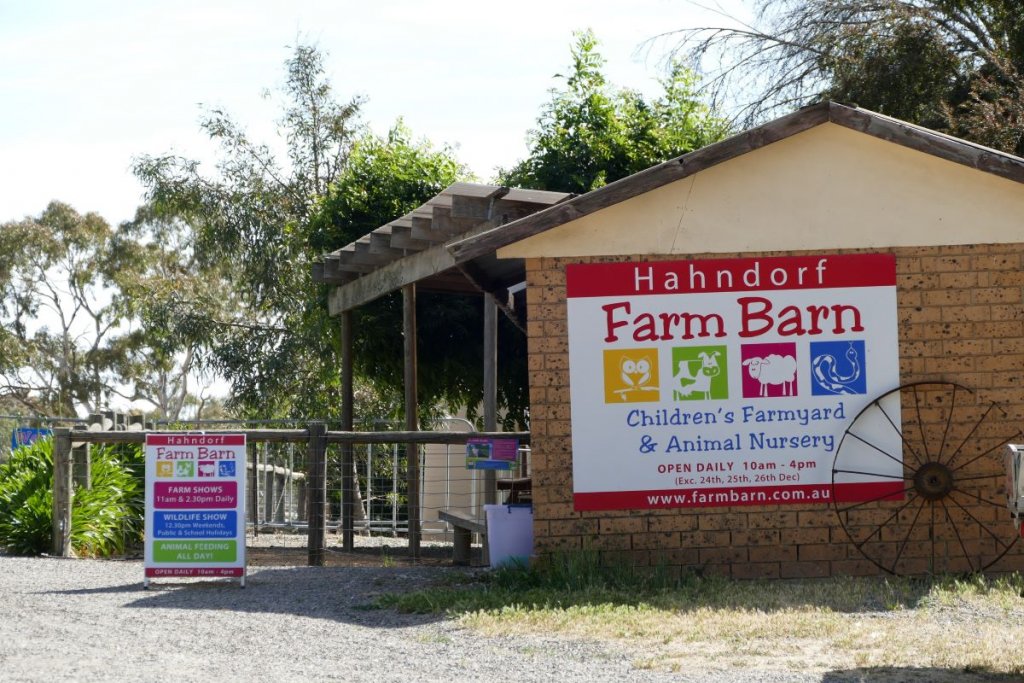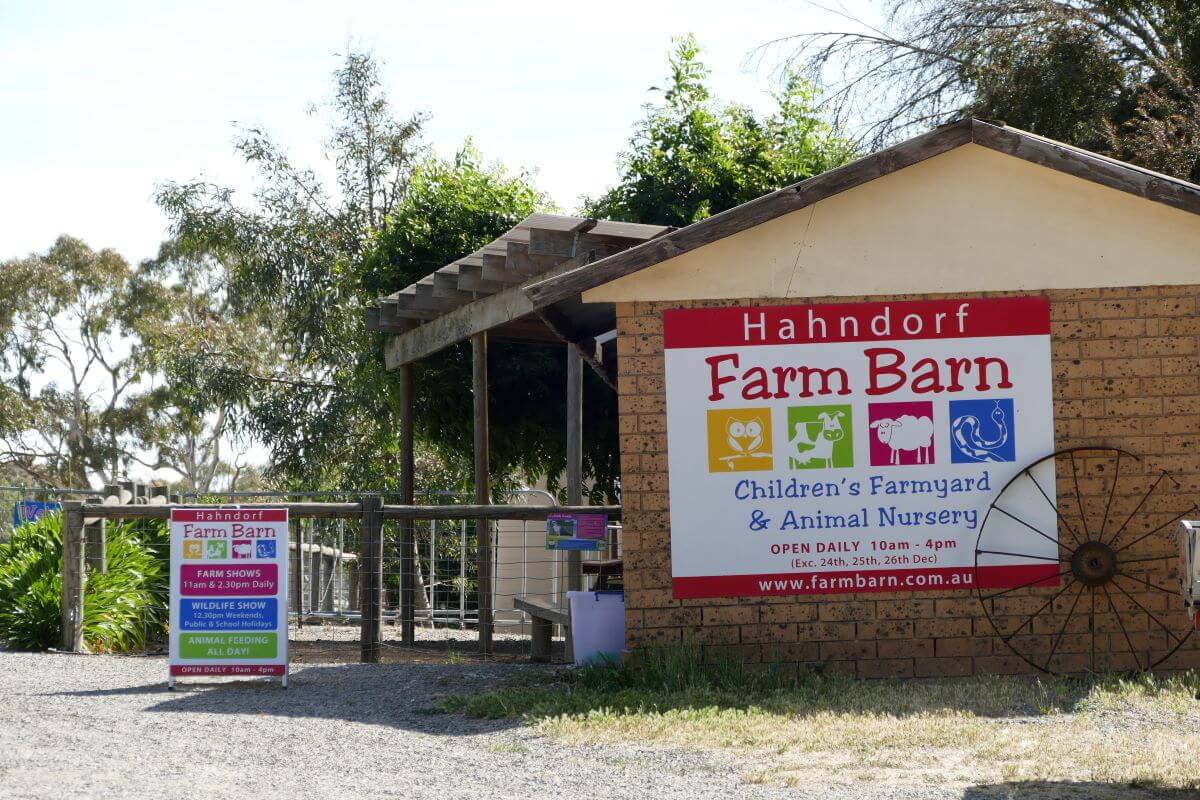 Hahndorf Farm Barn
If you have little ones, plan to spend a day at the Hahndorf Farm Barn. The kids can cuddle baby rabbits and guinea pigs. They can try milking a cow or hand feed the camels and donkeys. What about bottle feeding a baby lamb!
For that real farm experience, the kids can ride a pony or go for a tractor ride. You will see peacocks, emus, ostrich, kangaroos, deer, goats and even reptiles. Take you lunch and have a BBQ or picnic as the kids play on the playground and in the sandpit.
Hahndorf Accommodation
Day Tours to Hahndorf
If you enjoyed this story you might also like:
Go Glamping in SA | Safari at Monarto | Kangaroo Valley NSW
Like it? Pin it for Later…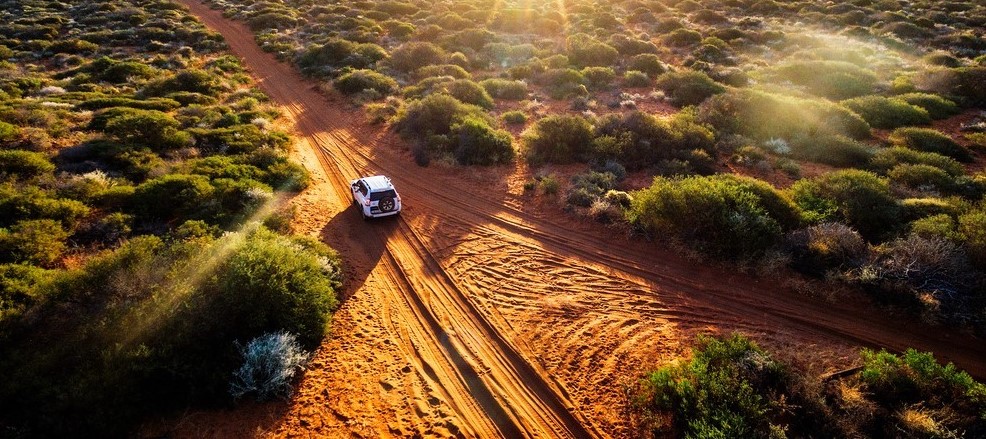 500 THINGS TO DO
Join our mailing list and receive our Free Top 500 things to do in Australia. If you love the Australian Outdoors download this list and keep it handy when you are planning a weekend away or a road trip around Australia.
Recent Posts