An Adelaide to Perth road trip is one of the most iconic drives in Australia.
The 2695km journey begins in the Flinders Ranges and Eyre Peninsula before crossing the Nullarbor Plain and Great Australian Bight
. The Nullarbor is one of Australia's most awe inspiring landscapes. Its size and remoteness belie how much there is to see and do.
You will fall in love with stunning coastline around Esperance; the beaches have some of the whitest sand in Australia
. On to the southwest of Western Australia and you're in the heart or wildflower and tall tree country.
As your Adelaide to Perth Road trip nears its end, Margaret River's beaches, food and wine is the perfect way to relax after the long big drive
. This is one of the best road trips in Australia. Enjoy planning this epic drive across Australia!
Featured Image – Lake MacDonnell – Credit Riley M Williams
On our family trip around Australia, shortly after leaving Ceduna on South Australia's west coast, one of the kids asked if we were still on the Great Ocean Road. It was a despairing moment, one that caused us to get an an old road atlas out to help them get their bearings. That done, they spent the next two days blown away by the vastness of the landscape. And that's the effect this road trip has on everyone – young and old. From the desolation of the Nullarbor to trees so tall you strain your neck looking for the top of them, it is a journey of contrasts and mind blowing beauty. Don't let the length of the drive put you off. Even in the middle of nowhere, you'll find some of the most amazing scenery Australia has to offer.
Disclosure: Please note that some links in this post may be affiliate links, and at no additional cost to you, we earn a small commission if you make a purchase. Commissions are appreciated and go toward maintaining the Curious Campers website.
| | |
| --- | --- |
| Day 1 | Adelaide to Melrose |
| Day 2 | Melrose to Streaky Bay |
| Day 3 | Streaky Bay |
| Day 4 | Streaky Bay to Nullarbor |
| Day 5 | Nullarbor to Fraser Range |
| Day 6 | Fraser Range to Esperance |
| Day 7 | Esperance |
| Day 8 | Esperance to Albany |
| Day 9 | Albany |
| Day 10 | Albany to Walpole |
| Day 11 | Walpole |
| Day 12 | Walpole to Margaret River |
| Day 13 | Margaret River |
| Day 14 | Margaret River to Bunbury |
| Day 15 | Bunbury |
| Day 16 | Bunbury to Perth |
This is one road trip where you will struggle to get lost. The main road out of  Adelaide is well signed and from there, you have just one choice across the Nullarbor Plain. We suggest taking the coast drive to Perth in southwest WA rather than the inland route. It is a longer route but there is so much to see along the coast between Albany and Bunbury, we think it is the better option. Perhaps you can save up the drive through the Wheatbelt region for the return trip.
This Adelaide to Perth road trip itinerary is nearly 3300km. If you want to shave off a bit of time, you can go via Kalgoorlie then on to Perth. Adelaide to Perth via Kalgoorlie is about 2700kms.
The time to avoid this road trip is summer, it can get ridiculously hot which is not fun for sightseeing. Outside of summer, your Adelaide to Perth road trip has seasonal highlights. In winter you'll see whales at the Head of the Bight. In spring, it's wildflower season and a spectacular time at many of the stops.
From Adelaide to Ceduna in the east and Norseman to Perth in the west, there are regular opportunities to re-fuel. It is the bit in between that concerns some travellers. There are roadhouses dotted along the Nullarbor. A good rule of thumb is to top up every time you get to one – then you won't have a problem. There are also charging points across the Nullarbor for electric cars.
The main road is sealed between Adelaide and Perth. This is the case for both the inland and coastal routes.
It will depend on your carrier. Telstra has the best coverage in the remote parts of this road trip. With Telstra you might still hit some dead spots, but signal is pretty good generally. If you are with another carrier you won't do so well. Consider getting a Telstra SIM even if it is just for the Nullarbor Plain leg of the drive.
You should allow at least 16 days for your Perth to Adelaide road trip. You can do it in less – but then you will see less. And of course you can take as long as you like. Give yourself three days to get across the Nullarbor from Streaky Bay to Norseman, there is a surprising amount to see.
DAY 1
Adelaide to Melrose
Drive: Explorer Way – Adelaide to Melrose – 260km – 3 hours 5 minutes
Things to do along the way to Melrose
Stone Hut Bakery
223km from Adelaide – Allow 1 hour
The Old Stone Hut Bakery is a must stop place. The Lamb & Rosemary Pie is fabulous! After lunch check out the Bird Avery and Petting Zoo. Just beware of the birds, they can get a bit too 'friendly'. Read our review to see what we mean! 
Wirrabra Silo Art
232km from Adelaide – Allow 30 min
The Wirrabara Silo Art was completed by Artist Sam Bates in 2018. The stunning mural reflects the town's rich history, forestry industry and local gorgeous Robin Red Breast Birds. It has plenty of room for parking and a picnic.
Alligator Gorge
265km from Adelaide – 1-4 hours
Take the Ali Lookout Walk for a short 15 min stroll to view Alligator Gorge. The Alligator Gorge Ring Route Hike is worth the effort. The 9km walk will take 4 hours. Walk through Alligator Gorge for stunning views to Spencer Gulf.
BREAKFAST
If you love an amazing nursery you can drop into the Virginia Nursery on your way out of town.
LUNCH
DINNER
The North Star Hotel offers great regional produce and try Bundaleer Wines Cellar Door for a pre-dinner drink.
CAMPING & CABINS
MID HOTEL/MOTEL/BNB
LUXURY ACCOMMODATION
INSIDER TIP
If you are looking for more Low Cost and Free Camping Spots in South Australia check out our Guide. We cover each region of the state with details on each of the best camping spots. >> Low Cost & Free Camping in South Australia
DAY 2
Melrose to Streaky Bay
Drive: Melrose to Streaky Bay – 456km – 5 hours 12 minutes
THINGS TO DO ALONG THE WAY TO STREAKY BAY
Kimba Silo Art
221 km from Melrose – Allow 30 min
This massive mural stretches over 5 and a half silos. Painted by Cam Scale in 2012 it is worth grabbing some lunch to go and enjoy the view. The stunning work is of a girl standing in a wheat field at sunset.
Pildappa Rock
376km from Melrose – Allow 2 hours
Just 15km off the main road you will find Pildappa Rock. You can follow a walking trail or drive around the huge wave-like rock. Climb to the top for views of the Gawler Ranges & Blue Sturts.
Streaky Bay Foreshore
456km from Melrose – Allow 2 hours
The Streaky Bay Historic Walk covers 28 sites on a 2.6 kilometre trail. See churches, cottages, monuments and museums. Finish with a drink at the Streaky Bay Hotel overlooking the Bay and Jetty.
BREAKFAST
Start the day with a cooked Breaky at Store 54 Cafe and Food Market.
LUNCH
DINNER
For waterfront dining head to the Deck at the Streaky Bay Hotel near the Jetty. Try the local seafood catch.
STAY STREAKY BAY 2 NIGHTS
CAMPING & CABINS
MID HOTEL/MOTEL/BNB
LUXURY ACCOMMODATION
DAY 3
Explore Streaky Bay
MURPHY'S HAYSTACKS
41km from Streaky Bay – Allow 1 hour
These haystack shaped rocks are located on private property surrounded by farming land. The rock itself is believed to be 3 billion years old. A short walk takes you through the groups of rocks and allows for plenty of photographic opportunities. They look great at sunset and sunrise. A $2 donation helps maintain the toilets and picnic area.
OTHER THINGS TO DO IN STREAKY BAY
Taila Caves
88km from Streaky Bay – Allow 1 hr
Located near Elliston you can explore the large 'Woolshed' cavern in the granite cliff and nearby blowholes. The Tub is a large crater around 30m deep. You will also find plenty of free campsites near here.
Swim with Sea Lions
51km from Streaky Bay – Allow 4 hrs
Swimming with Sea Lions is an incredible experience that we have done in Baird Bay and Jurien Bay. Sea Lions are very inquisitve and love to play. Swim in the natural rock pools near their island home.
Cape Baur Loop Drive
38km Scenic Loop – Allow 2 hrs
Take this spectacular drive along the eastern side of the Great Australian Bight. You will find the 360m boardwalk and viewing platforms at Whistling Rocks & Blowholes. Keep an eye out for the oprey & sea eagles.
BREAKFAST
LUNCH
DINNER
Make the most of the local seafood and order the Beach Bum Seafood Platter at Drift.
The Eyre Peninsula is one of those special, untouched regions that you really should explore.  You'll find rugged clifftops and some of the most stunning beaches in the country. Swim with a Great White Shark (you're in a cage!), watch whales from the cliff tops or go bush camping on a remote beach. 
Explore National Parks, swim in Insta-worthy rock pools and picnic on deserted sandy beaches. Follow the Seafood Frontier Touring Route to enjoy local catches of oysters, abalone, prawns, tuna and rock lobster. Port Lincoln, Tumby Bay, Coffin Bay, Venus Bay, Streaky Bay and Elliston are just a few spots on Eyre Peninsula you should see.
Insider Tip: Quarantine Inspections
With limited grocery options as you head across the Nullarbor it is a good time to buy a few snacks to keep you going. Just be aware that there are border restrictions on some fresh fruit and vegetables, nuts, seafood and honey. Check the Australian Quarantine restrictions here. 
DAY 4
Streaky Bay to Nullarbor
Drive: The Seafood Frontier Road Trip – Streaky Bay to Nullarbor – 472km – 5 hours 29 minutes
THINGS TO DO ALONG THE WAY TO NULLARBOR
Penong Windmills
182km from Streaky Bay – 30 min
The tiny town of Penong has created an outdoor museum of restored windmills as a tribute to the local farming community. It is an eye-catching place to stop & stretch your legs.
Lake MacDonnell – Riley M Williams
Lake MacDonnell
197km from Streaky Bay – 1 hour
Just 14km from Penong will take you to a popular Insta spot. Take the self drive tour and grab some photos of the vivid pink water contrasting with the bright blue sky. It's brightest when the lake is dry.
Head of the Bight
393km from Streaky Bay – 2 hrs
Follow the boardwalk along the magnificent Bunda Cliffs to view the Southern Right Whales relaxing and nursing their calves. Between May and October you can see up to 70 whales from the platforms.
BREAKFAST
LUNCH
Stop at the Comet Cafe for Barista Coffee, hot dogs, burger or fish & chips.
DINNER
If you are staying at the Nullarbor Roadhouse you will be surprised by the King George Whiting or a Scotch Fillet.
CAMPING & CABINS
MID HOTEL/MOTEL/BNB
LUXURY
Extra Day? Stop at Fowlers Bay
If you have time, Fowlers Bay is a great spot to break up the drive. The beach front caravan park gives you access to the jetty, sand dunes, wildlife and plenty of fishing. In the winter months you can head out on a whale watching cruise from the Jetty.
DAY 5
Nullarbor to Fraser Range
Drive: Nullarbor Crossing – Nullarbor to Fraser Range – 803km – 8 hours 19 minutes
OTHER THINGS TO DO ALONG THE WAY TO FRASER RANGE
Eucla Telegraph Station
210km from Nullarbor – 1 hour
Check out the remains of the Old Telegraph Station at Eucla. You will see the remains poking through the shifting sand dunes. It's great to be able to wander through the old station and think about how harsh life must have been in 1877.
Nullarbor Links Golf Course
Nullarbor Hole – Allow 30 min
Stretching from Ceduna to Kalgoorlie, Nullarbor Links is the longest course in the world. Dingo's Den is the Par 5 Nullarbor hole. With holes named Brumby's Run, Wombat Hole or Nullarbor Nymph play one hole or play them all.
90 Mile Straight
547km from Nullarbor – 2.5 hrs
Between Caiguna and Balladonia you'll be going dead straight for nearly 150km. This is Australia's longest stretch of straight road and a sign photo is a must for first time crossers. Watch out for camels, goannas, dingos & birds of prey.
BREAKFAST
LUNCH
The Eucla Motel is open for takeaway and meals for your lunch stop.
DINNER
Fraser Range Station offeres a home cooked meal each evening. It's a set menu ranging from Roast Lamb to Fish & Chips.
STAY FRASER RANGE 1 NIGHT
CAMPING & CABINS
MID HOTEL/MOTEL/BNB
LUXURY
Extra Day? Discover Kalgoorlie
It's a bit of a detour but from Norseman you can head up to Kalgoorlie for a day or two to discover more about the town's rich mining history. See the Super Pit or head underground on a mine tour.
DAY 6
Fraser Range to Esperance
Drive: Fraser Range to Esperance – 307 km – 3 hours 22 minutes
THINGS TO DO ALONG THE WAY TO ESPERANCE
BREAKFAST
BYO some breakfast to go.
LUNCH
In Esperance try the Taylor St Quarters. Located on the Foreshore enjoy a drink on the deck or fish tacos or budda bowl for lunch.
DINNER
With views of the bay and Frenchman's Point try the a La Carte menu at Seasons Restaurant.
CAMPING & CABINS
MID HOTEL/MOTEL/BNB
LUXURY
CAPE LE GRAND NATIONAL PARK
62km from Esperance- Allow all day
Spend the day exploring Cape Le Grand National Park. Make sure you visit Hellfire Bay, Lucky Bay and Le Grand Beach. A 1 hour walk from Lucky Bay to Thistle Cove will give you incredible 360 degree views over Cape Le Grand National Park. You can head out on your own or go on a Tag-Along Adventure tour with experienced guides. The tag along tour operates from November to February visiting hard to reach beaches, tracks and sand dunes while driving your own 4wd.
BREAKFAST
Pick up a freshly made smoothie, bircher muesli  or grilled paninis from the Sir Juice Kiosk.
LUNCH
BYO a picnic luch for Cape Le Grand National Park.
DINNER
For typical pub grub head to the Pier Hotel for a schnitzel, burger or big bowl of pasta.
INCREDIBLE NATIONAL PARKS
If you love exploring National Parks the Esperance Region is for you. The jewel in the crown is Cape Le Grand National Park, but there is plenty more parks near by. 
Along the coast you can explore Cape Arid National Park, Stokes National Park and Fitzgerald River National Park. You will find long stretches of beach, tiny inlets, whale watching spots, camping sites and plenty of wildlife.
You can also explore Peak Charles National Park's amazing  granite rock formations, 360 degree views and abundant wildflowers.
DAY 8
Esperance to Albany
Drive: Coral Coast Highway – Esperance to Albany – 481 km – 5 hours, 14 minutes
THINGS TO DO ALONG THE WAY TO ALBANY
Rotary Lookout
Esperance – Allow 30 min
From high on Wireless Hill you will enjoy 360 degree views of Esperance, the stunning coastline and remote islands of the Recherche Archipelago. If you have time you can follow the 38 km Great Ocean Drive.
Granite Skywalk – Tourism Western Australia
Granite Skywalk
455km from Denham – Allow 1 hour
Visit Porongurup National Park and take the Granite Skywalk. At 670m above sea level the suspended walkway offers stunning panoramic views across local farmland to Mt Gardner and Mt Manypeaks and the Stirling Range to the north.
Port Ann Whale Watching Platform
Port Ann Whale Watching
348km from Esperance – Allow 1 hr
Between June and October watch the Southern Right Whales and their calves from the whale watching platforms. Fitzgerald River National Park is nearby and showcases nearly 20% of WA's native flora species.
BREAKFAST
LUNCH
On your way through Jerramungup stop at the Jerramungup Cafe for a Pulled Pork Bao Bun.
DINNER
Choose from a taco or burger from the laneway beer garden at Six Degrees in Albany.
CAMPING & CABINS
MID HOTEL/MOTEL/BNB
LUXURY
HISTORIC WHALING STATION
21km from Albany – 2 hours
Take a self-guided tour of the whaling station that only closed in 1978. See the skeleton of the last sperm whale harpooned in Albany. Board the Cheynes IV whaling ship and learn about the history of whaling in Australia. There is a picnic area and playground. 
OTHER THINGS TO DO IN ALBANY
BREAKFAST
Start the day with the house muesli, pancakes or blueberry bagel at Dylans Cafe.
LUNCH
Enjoy a picnic in the Whaling Station grounds or head to the Whaler's Gallery Cafe overlooking King George Sound.
DINNER
Share a pizza or grab a steak on the waterfront at Due South.
3 GREAT WALKS ON THE ALBANY COAST
Point Possession Heritage Trail – This 5km loop is family and pet friendly. It takes you along the Vancouver Peninsula. See Bramble Beach, Barker Bay Beach and in between climb Point Possession Dome.
Peak Head Walk Trail – this 4.8km return track requires good walking shoes to negotiate a bit of rock scrambling. For your effort, you get fantastic ocean and island views from Peak Head. The path starts at Stony Hill carpark.
Bald Head Trail –This 12.5km return hike in Torndirrup National Park is for fit walkers. Expect rock scrambling and steep sections as you hike along the ridge line to Bald Head. The incredible views are a rewarding distraction.
DAY 10
Albany to Walpole
Drive: Albany to Walpole – 120 km – 1 hours, 25 minutes
THINGS TO DO ALONG THE WAY TO WALPOLE
Elephant Rocks William Bay National Park – Tourism Western Australia
Elephant Rocks & Cove
72km from Albany – Allow 2 hours
The huge boulders that resemble elephants paddling in the shallow waters make a great photo opportunity. It's well worth following the staircase down through the rocks to the beach at Elephant Cove. 
Greens Pool – Tourism Western Australia
Greens Pool
72km from Albany – Allow 2 hours
Just a short stroll from Elephant Rocks you will find Greens Pool. Greens Pool offers great snorkelling and swimming protected by the large boulders.  Surrounded by William National Park with walks, wildlife and wildflowers.
Conspicuous Beach Western Australia- Greg Snell
Conspicuous Cliffs
111km from Albany – Allow 30 min
This is a good winter whale watching spot. It also has a great surf beach, limestone cliffs and granite headlands. The lookout is accessible for all. A boardwalk and stairs take you down to the beach. Picnic area and a toilet is available.
BREAKFAST
LUNCH
Located in the historic Old Butter Factory enjoy a cafe style lunch at Mrs Jones.
DINNER
CAMPING & CABINS
MID HOTEL/MOTEL/BNB
LUXURY
DAY 13
Explore Margaret River
Kayaking in Margaret River – Tourism Western Australia
MARGARET RIVER WINE ADVENTURE TOUR
This tour is on our list for our next visit, it looks amazing! If you are looking for a bit more than the standard wine tour this includes a canoe along the Margaret River, 4wd access to the remote Wilyabrup Sea Cliffs and a stop at Kevill Road Waterfall for honey tasting. Finish the day with some Marron & Mussels and local Aboriginal history. You will also visit Fraser Gallop Estate for a gourmet lunch and wine tasting and the White Elephant Cafe & beach.
BREAKFAST
If you like to feel the sand between your toes while you enjoy your first coffee of the day try the White Elephant Beach Cafe.
LUNCH
Enjoy a Gourmet Lunch around the wine barrels or vineyard at

Fraser Gallop Estate.

Morning Tea, Lunch and Afternoon Tea are all provided on your Margaret River Wine Adventure Tour.
DINNER
Soak up the Winery atmosphere at the Nookery Cafe at Woody Nook Wines. Start with a Woody Nook Taste Plate followed by the Spring Lamb Rump or Beetroot & Goats Cheese Terrine.
MARGARET RIVER WINE REGION

Margaret River sits in the south-western corner of Australia, around 270 kilometres from Western Australia's capital city of Perth. A long, narrow region, it is hugged by the Indian Ocean on the north and west and Southern Ocean to the south.
Its Mediterranean climate provides ideal grape-growing conditions – winter rain and cool sea breezes that give vibrancy to the fruit and a long, dry summer capable of ripening Cabernet Sauvignon right to the end of the season.
The Margaret River Wine Region is also a gourmet food lover's delight with locally produced olives, venison, cheeses, chocolate plus an abundance of locally caught fish and seafood.
ALTERNATIVE DAY TOUR – MARGARET RIVER WINERY & BREWERY TOUR
Margaret River is one of Australia's finest food and drink destinations, which you'll discover first-hand on this full-day tour. Start the day with a coffee tasting at Yahava Koffeeworks. Enjoy wine tasting at some of the best local wineries and stop for lunch at a brewery. Finish the day at the Margaret River Chocolate Company with tastings or a coffee or delicious ice cream. >>Full Day Winery & Brewery Tour
DAY 14
Margaret River To Bunbury
Drive:  Margaret River to Bunbury –  100 km – 1 hour, 21 minutes
THINGS TO DO ALONG THE WAY TO BUNBURY
Foodie Delights
Margaret River – Allow 2 hours
Stop in at the Margaret River Nougat Company, Chocolate Company and Dairy Company. Pick up some treats to enjoy over the next few days.
Busselton Jetty
51km from Margaret River – 2-3 hrs
The 1.84km long Busselton Jetty has plenty going on. Either walk or catch the jetty train and at the end of the jetty you will find a museum and underwater observatory. You can even don an undersea helmet and walk along the sea floor.
Bunbury Wildlife Park
100km from Margaret River – 2 hrs
You could easily spend the whole afternoon walking through aviaries, feeding kangaroos, meeting the Quokkas, Potoroos and Hairy Nosed Wombat. If you are up for it you can hold a snake or perhaps an Owl. There is plenty of room for a picnic.
BREAKFAST
Try Drift Cafe for an All Day Breakfast Menu. Have a vegan Bubble & Squeak or House Made Pancakes with berries.
LUNCH
For beautiful views along the Busselton Jetty book into the EquinOx, the pizzas and salads are fab.
DINNER
The Bayview Restaurant has a relaxed vibe overlooking the water. From pizzas, salads or a parmi there are plenty of options.
CAMPING & CABINS
MID HOTEL/MOTEL/BNB
LUXURY
Dolphin Discovery Centre
Bunbury – Allow 2 hours
Right in the heart of Bunbury you can interact with a local pod of dolphins. Volunteers are on hand with plenty of information as the dolphins swim within a few feet of shore. You can also check out the Interpretive Centre and book an eco cruise or swim with the dolphins experience.
OTHER THINGS TO DO IN BUNBURY
BREAKFAST
LUNCH
DINNER
TryMojos Kitchen & Barr for Moroccan Cous Cous or Cannelloni followed by a Triple Choc Brownie!
If you are spending a few days in Perth  it's worth checking out our list of 12 of the best day trips from Perth. They feature everything from wildlife, street art and stunning beaches to giant sand dunes and the state's oldest national park.
In just a couple of hours from the city centre, these day trips will take you to some of Perth's and Western Australia's best attractions.                                                            
DAY 16
Bunbury to Perth
Drive:  Bunbury to Perth –  167 km – 1 hour, 53 minutes
THINGS TO DO ALONG THE WAY TO PERTH
Thrombolites in Yalgorup National Park – Tourism Western Australia
Yalgorup National Park
56 km from Bunbury – 2 hours
Enjoy bushwalking and birdwatching at Yalgorup National Park. The park runs along the coast and has a chain of 10 lakes. The thrombolites are visible on the edge of Lake Clifton in March and April.
Lake Goegrup, Mandurah – Tourism Western Australia
Lake Goegrup
106km from Bunbury – 2 hours
The Joesph & Dulcie Nannup trail is a 4km easy walk with boardwalks overlooking the Lake Goegrup Nature Reserve and Serperntine River. Keep an eye out for dolphins, bandicoots and plenty of birdlife.
Thrombolites in Yalgorup National Park – Tourism Western Australia
Fremantle Prison Tour
165km from Bunbury – 2 hours
Operating for 140 years and only closing in 1992, Fremantle Prison is a confronting place to explore. The stories, history and feel of the place make a visit here an unforgettable experience.
ADDITIONAL DAYS? Rottnest Island
If you finish your Adelaide to Perth Road Trip but have a spare day or two make sure you head out to Rottnest Island for the day. You can book a ferry & bike package to make the most of your day. Ride along the coast to discover incredible beaches, history and of course everyones favourite – the Quokkas.  >> Discover Rottnest Island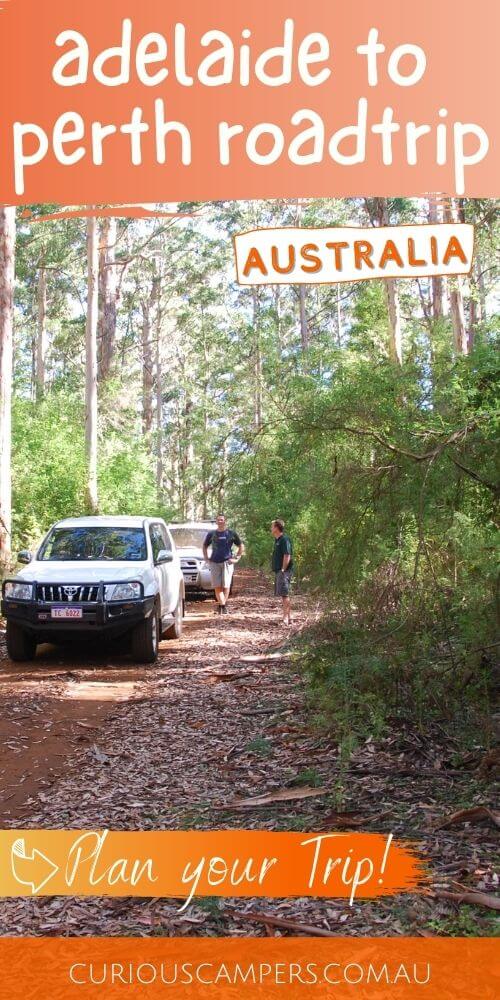 500 Things to do
Join our mailing list and receive our Free Top 500 things to do in Australia. If you love Australian Outdoor Experiences download this list and keep it handy when you are planning a weekend away or a road trip around Australia.