If you want to stay close to town, these Adelaide glamping experiences are the perfect mix of convenience, luxury and relaxation. Glamping around South Australia is also a great way to see the state. From wine regions to coastal getaways and outback retreats, check out this ultimate guide to glamping in South Australia.
Disclosure: Please Note That Some Links In This Post May Be Affiliate Links, And At No Additional Cost To You, We Earn A Small Commission If You Make A Purchase. Commissions Go Toward Maintaining The Curious Campers Website.
Glamping Adelaide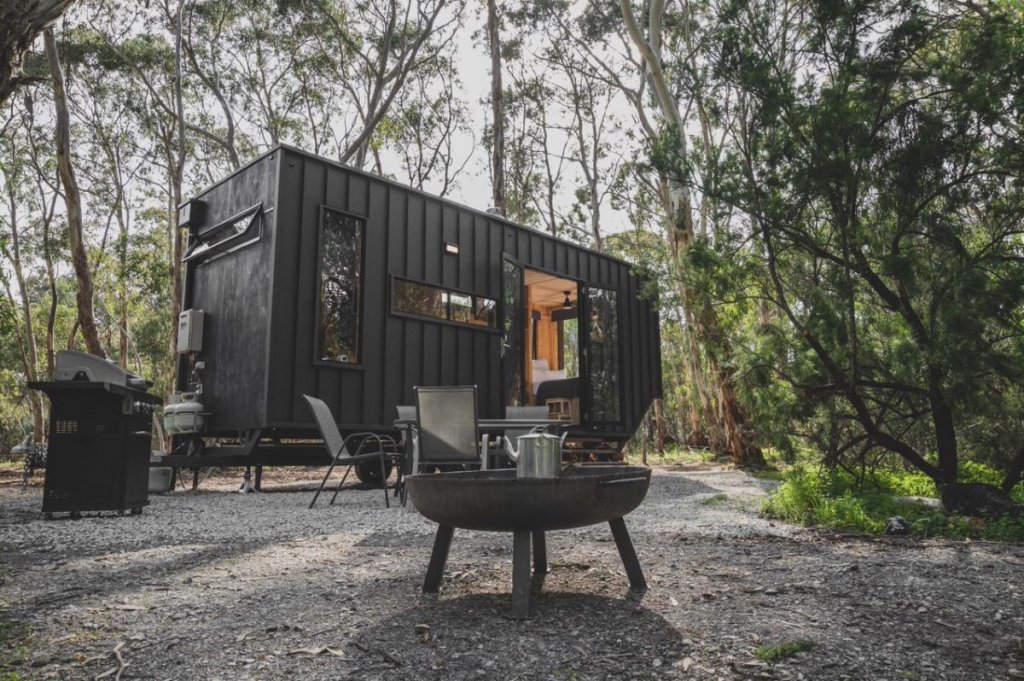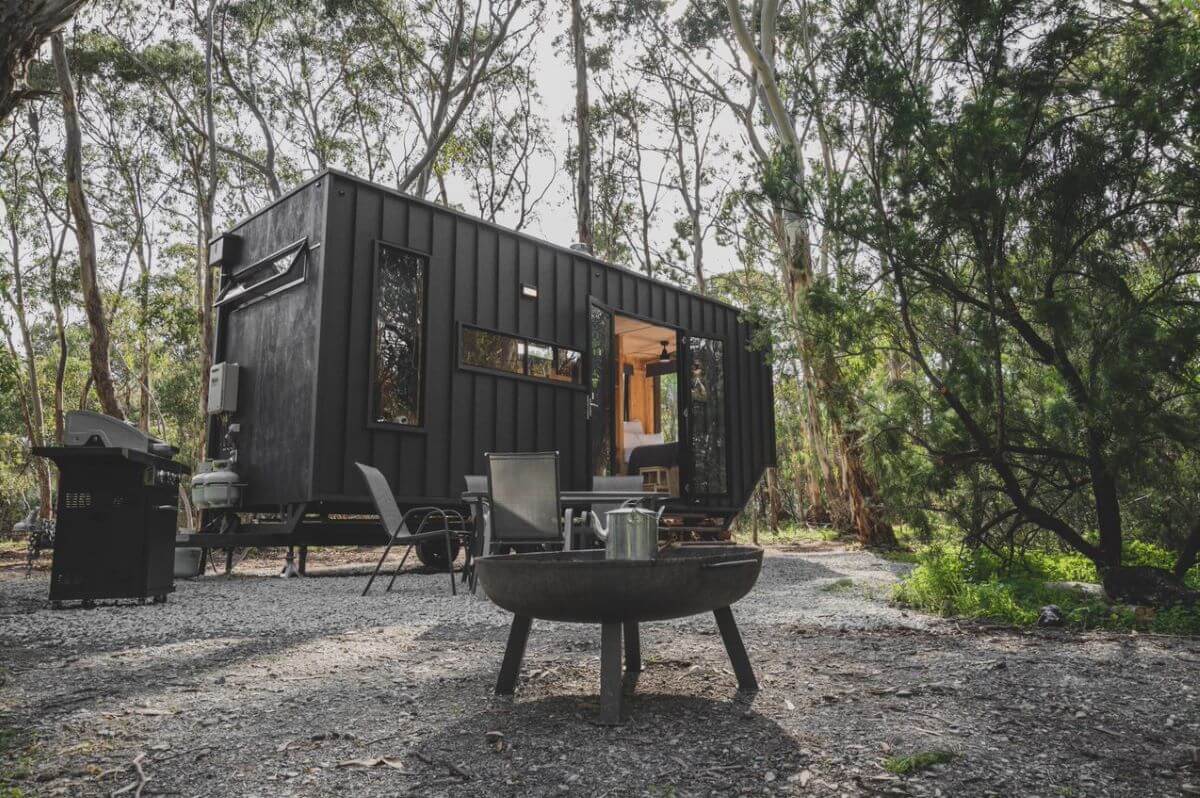 CABN – Adelaide Hills
This gorgeous little CABN is in the Adelaide Hills/McLaren Vale region. The actual location is kept secret until just before you arrive adding to the fun of the experience. A stay with CABN is a memorable experience where you can unwind and get away from you're your hectic daily routine.
CABN's are completely off-grid, tiny homes with solar power, composting toilet, shower, queen bed, bunks and a small kitchen. Linen, towels and biodegradable washing products included. In the evening you can sit around the outdoor fire pit and toast marshmallows with a hot coffee.
Nestled in bushland you could bump into kangaroos, koalas and native birdlife. Spend your day with a book or take a walk through the local forest.
West Beach Parks Eco Tent – Adelaide
Okay, so these tents might not be glamping in the luxury sense but they are ideal if you want to go away with the kids and camp in style. If you don't want the hassle of tent pegs and air mattresses the West Beach Eco Tents are the way to go.
Stay in a permanent tent with double bed, bunk for the kids, fridge and a deck complete with an outdoor setting. Linen and towels are provided and you have access to BBQ areas, camp kitchen and nearby amenities.
The kids will love it. There's direct access to the beach, a heated lagoon pool, splash zone, go-karts, bikes, jumping pillows, games room and play equipment. With so much to do in the park you might not want to leave. But if you do, you can explore nearby Glenelg, The Beachouse, Mega Adventure or the coastal bike paths.
Bandicoot Springs – Adelaide Hills
If you are looking for a weekend getaway near Adelaide look no further than the Adelaide Hills. 20 minutes from the centre of town you can be in a secluded spot surrounded by nature. Bandicoot Springs offers nature lovers the perfect spot to relax in their tiny houses near a natural spring. Watch out for wildlife; bandicoots, koalas and kangaroos all live in the area.
Cook in your kitchen, outside on the BBQ or head into Stirling for a meal at one of the pubs, cafes or restaurants. There are also many wineries in the area. Your tiny house has air conditioning, so it won't matter what time of year you visit.
Unless you have a 4wd you will need to park about 5 minutes away from your cabin and wander down the track to your accommodation.
Flinders Ranges Camping
Flinders Bush Retreats
For a memorable Australian outback experience try an Eco Tent in the Flinders Ranges. The Eco Tent is in a stunning gorge and you wake up to beautiful views as the valley lights up.  The secluded spot is a short drive from Hawker.
The Eco Tent runs on solar power with a gas hot water ensuite and a composting eco toilet. There's a cute little kitchen and BBQ. The gorgeous queen-sized bed with quality linen and Australian wool blankets provides a comfy night's sleep. As the tent runs on solar power there are no 240v appliances and there is no mobile reception, so enjoy the break!
Surrounded by kangaroos, emus and plenty of birds, this spot is a nature lover's delight. In the evening sit around the campfire and take in the star packed night sky.
During the day you can explore the 11,000 hectare property, Willow Waters Gorge or take a farm tour on the 4wd track. Stop in for a late breakfast or lunch at the Flinders Food Co. and take the Castle Rock and Camels Hump walks. It's about a one hour drive away, but we loved the walk at Warren Gorge. Keep an eye out for the resident Yellow Footed Rock Wallabies.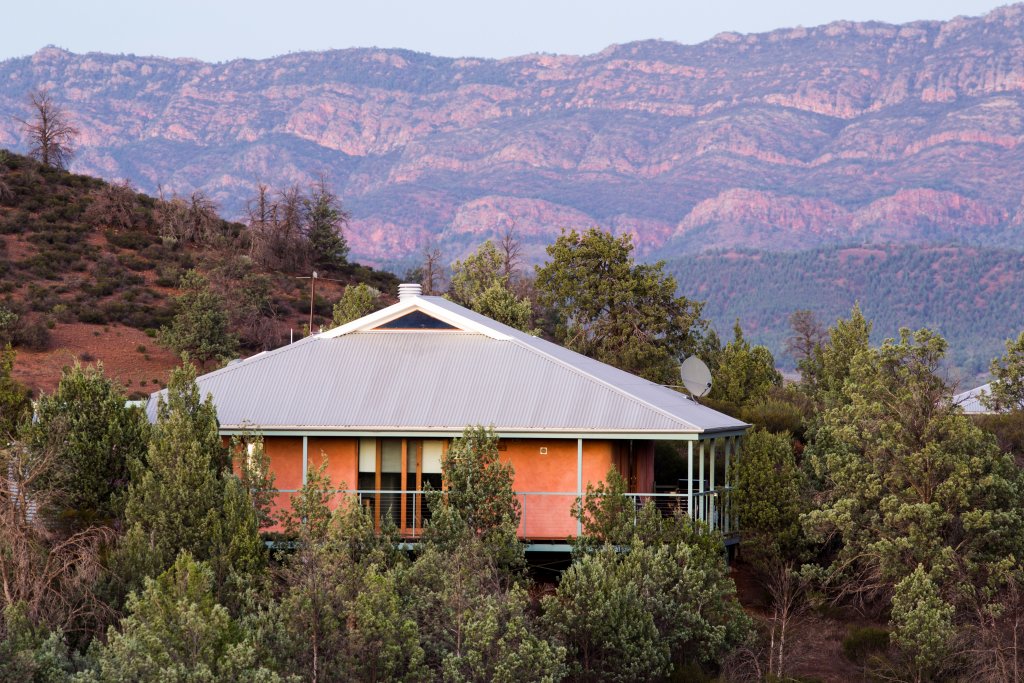 Rawnsley Park Eco Villa – Flinders Ranges
These Luxury Eco-Villas are not exactly glamping, but it's such a beautiful place to stay they had to be on our list. The stunning views from your villa give you a feeling of being all alone in the South Australian outback. From your bed you can open a skylight and view the night sky. If you wake up in time, you'll see the sunrise over Rawnsley Bluff.
The luxurious one or two bedroom villas have a full kitchen, verandahs with BBQ and outdoor seating, spacious living and dining areas and air-conditioning. You get generous breakfast provisions each day. If you don't want to cook, visit the Woolshed Restaurant for the most amazing dinner or takeaway.
During the day, it's a short drive to the many walks and drives at Wilpena Pound or visit Blinman or Parachilna. At Rawnsley Park Station there are plenty of activities to keep you busy. Go on a guided or self-guided walk – easy and challenging options are available – or explore 4wd trails and cycling tracks.
Heli-Camping Experience – Flinders Ranges
For something unique, try Heli-camping. It may not have the luxe factor but it is an incredible way to experience the beauty of the outback.
Leave Rawnsley Park Station by helicopter late in the day and take in the views over Rawnsley Bluff and Wilpena Pound. You land in a secluded spot atop Chace Range. Your swag and campfire will be set up for you while you enjoy a glass of bubbly as the sun sets.
That evening, around your campfire dine on a tasty two course camp oven meal. Spend the night tucked up in your swag under the outback sky. Wake to a glorious sunrise and cook your bush breakfast before returning to Rawnsley Park Station.
Make sure you stick around for a few extra days in the Flinders Ranges to experience great walks, scenic drives, wildlife and 4wd tours.
Glamping in Wine Country
Boongarrie Luxury Tent
If you are looking for a touch of luxury in the famous Barossa Valley wine region, book a few days at Boongarrie. This gorgeous glamping tent offers 360 degree views of the property. You can wander down to the creek, relax in the courtyard or in winter sip on a glass of Barossa wine around the fire pit.
With a queen sized bed and a gorgeous bathroom that has a soaker tub with amazing views, you will have everything you need to relax. Prepare dinner in the outdoor kitchen or go to one of the local restaurants or wineries for dinner.
The Barossa Valley is home to some incredible wineries, restaurants, gin distilleries, cellar doors, and farm gates. There's no shortage of local produce for you to taste and take home.
Bukirk – Clare Valley
Bukirk Glamping in the Clare Valley is a little village of 5 luxury glamping tents and two Fancy Coops. You can have your privacy with your own tent, deck and views or you can go away with a group for a weekend together.
It's the perfect spot if you want to sleep under canvas surrounded by beautiful views but still like a comfortable bed.
Each glamping tent has a king, queen or twin beds, couch, fridge and private ensuite. The Fancy Coops are gorgeous little wooden huts with a farm house theme. The Perch and Nesting Box include a king bed, full private kitchen, ensuite, lounge and verandah.
There is a large outdoor kitchen with BBQ, dining area and a communal fire pit to gather around in the evening during the winter months.
Bukirk is in Stanley Flat on the outskirts of Clare. The Clare Valley has over 40 wineries and vineyards plus museums, galleries and produce markets to explore. Spend the day visiting cellar doors, get lost in the Mintaro Maze or jump on a bike and follow the 35km Riesling Trail.
Bellwether Winery Bell Tent – Coonawarra
If you enjoy a drop of red, you will love glamping in the middle of the Coonawarra wine region at Bellwether Winery. A visit to the Cellar Door is a must, with animals to feed and pat including Mabel the maremmma dog who guards the chickens. Ring the bell on arrival and slide the old door to enter this gorgeous cellar door. Glampers even get an exclusive wine tasting from 4-5pm.
Use the communal camp kitchen and produce garden to prepare your meals with fresh herbs, veggies and eggs. If you prefer to let someone else do the cooking, chef prepared meals are also available. During the winter have a glass of red around the campfire as you chat to other guests.
The stunning shared bathrooms even include a clawfoot bath if you want to soak and relax with a wine! If you have a caravan, tent or swag you can still enjoy this magic property as they have 6 camping sites available too.
There are plenty of Coonawarra wineries to explore. You can also visit the World Heritage listed Naracoorte Caves or daytrip out to the coastal towns of Robe or Beachport.
Coastal Glamping in South Australia
Wandering Souls – Kangaroo Island
This really is a case of choose your own adventure! First you select the theme you would like for your 5 meter bell tent. Choose from Medieval, Hampton's, Hollywood, Australiana or Bohemian.
Each tent has a queen or single beds, luxury sheets, doona, stylish throw rugs & pillows. You will have a tea & coffee station, and an Earthology toiletry pack. A power pack will recharge small devices and power the lamps.
The next part of the adventure is choosing where you would like your tent. Yes that's right, you can choose your campsite and the tent will be set up, styled and put away after you leave!
Several sites are available from coastal vantage points on private property, to farms, wineries, lagoons or even a caravan park. If showers and toilets are important book a tame site, otherwise you can choose a wild site.
Kangaroo Island has great beaches, coastal drives, and wildlife. There's also plenty of action adventure with sandboarding, kayaking or swimming with dolphins.
Hillocks Ocean Pods – Yorke Peninsula
Are looking for a remote coastal location with amazing views, beautiful beaches and a bit of luxury? Then have a look at the Hillocks Ocean Pods. Relax as you look out over Butler's Beach and Hillocks Point. During whale season you might spot a passing whale or two. It's a bird lover's paradise with fairy wrens, hooded plovers and sea eagles to spot. In winter make use of the fire pit to warm up or try your hand at camp cooking.
The pod sleeps 4 with a double and two single beds, hot shower and eco toilet. Use the gas stove, BBQ or cook over the campfire. A fan and sea breezes keeps the pod cool in summer and a gas heater keeps you warm in winter. Pets are welcome. Room is available for a camper, caravan or tent alongside if friends would like to join you.
The pods are 16km from Innes National Park where you can go on coastal walks and drives stopping at the lookouts and lighthouse. If you are up for a swim try the Blue Pool, a natural rock pool, or give snorkelling or surfing a go.
Bayside Glamping – Yorke Peninsula
Spend a day or two at Marion Bay near the bottom of York Peninsula. With Innes National Park right next door it's the perfect spot to unwind.
Built on a deck, this bell tent has an outdoor kitchen, indoor bathroom with hot water and electricity. The tent is beautifully furnished and has tons of character with recycled timber and lots of rustic charm.
Jump on one of the bikes provided to explore the area or walk along the short trail to two beaches. The local beaches offer great swimming, fishing, snorkelling and walks. Play a game or read a book on the deck and when you are ready to turn in for the night fall asleep to the sound of the waves.
A complementary bottle of Barley Stacks wine and a variety of tea and coffee included.
Innes National Park is only 5 minutes away and has amazing beaches for swimming, surfing, fishing walks. Kangaroos and emus are everywhere, so keep an eye out when driving. You can spot whales and dolphins in the area too, so keep a look out at the lookouts or as you walk along the beach. Take the short walk to two operating lighthouses at Cape Spencer and West Cape.
Parks + Wildlife Glamping
Nest & Nature – Fleurieu Peninsula
Nest and Nature is the perfect spot to unwind for a weekend. Get away from it all with off grid living without compromising on the little luxuries.
Nest & Nature is on private property about an hour from Adelaide or 15 minutes from Victor Harbor on the Fleurieu Peninsula. There's plenty to see in the area. Take the 30 minute drive to the McLaren Vale Wine region, pop in to Port Elliot or explore Second Valley.
Or enjoy the complete privacy of your tent – if you don't count the kangaroos, sheep, alpacas, and the odd eagle flying by. Take a stroll to the top of the hill for incredible sunsets and watch the sunrise from your comfy king sized bed. You can curl up with a good book in the outdoor bean bag or in front of the slow combustion heater.
Prepare dinner on the BBQ or the well-appointed kitchen. Have breakfast on the deck as you gaze out over the rolling hills with distant views of Encounter Bay. Enjoy the welcome bottle of wine, beer and a selection of tea from Tea2 and plenty of coffee making supplies.
Book Nest & Nature for a quiet, luxurious and distraction free stay.
Ridgetop Retreats – Fleurieu Peninsula
Nestled within Deep Creek Conservation Park this is the perfect spot to have a complete break. There's no TV, internet or phone reception.
The architecturally designed retreats blend the outdoors with a stylish indoor environment. There are lovely walks you can do through nearby Stringybark Forest. Or, look out for kangaroos, birds and echidnas as you relax in the comfy leather lounges through floor to ceiling windows.
A continental breakfast is included but you will need to bring your other supplies as there are no shops nearby. Cook up a storm in the modern stainless steel kitchen and eat in the outdoor meals area or inside by the toasty slow combustion heater.
Ridgetop Retreats are wheelchair friendly, accessible by 2WD car and have linen provided. The Retreats sleep up to 4 people.
There are two short walks near the Retreats; the Forest Circuit Walk and the Spring Wildflower Walk. Deep Creek has plenty of other walks rated easy, moderate and difficult. It is worth taking a short drive to the Pages Island Lookout, Blowhole Beach and Ingalalla Falls.
While staying at the Retreats you get a National Park pass to access the Conservation Park.
Pine Country Glamping – Mount Gambier
Are looking for a country retreat with the convenience of being in a large town and lots of attractions nearby? Look no further than Mount Gambier Pine Country Caravan Park.
You will find yourself in a gorgeous bell tent with an outlook over green meadows, sheep and alpacas. Your queen-sized bed has an electric blanket. There's also a fridge, microwave, Nespresso machine & cheese board – all the necessities!
Close by you will have access to modern amenities and camp kitchen with an oven and BBQ for your meals. You get your own fire pit, with plenty of wood ready to go and, most importantly, a packet of marshmallows.
During your stay you explore beautiful gardens, caves, and sinkholes nearby. The stunning Blue Lake is only a short walk away. Walk around the 3.6km Blue Lake walking trail and stop at the many lookouts to enjoy the view. Cave Garden is a beautiful spot and take some fruit to the Umpherston Sinkhole so you can hand feed possums in the evening.
If you enjoyed this story you might also like:
Deep Creek Cottages | Day Trips from Adelaide | Things to do in the Adelaide Hills
Like it? Pin it for Later…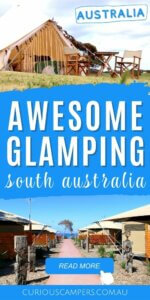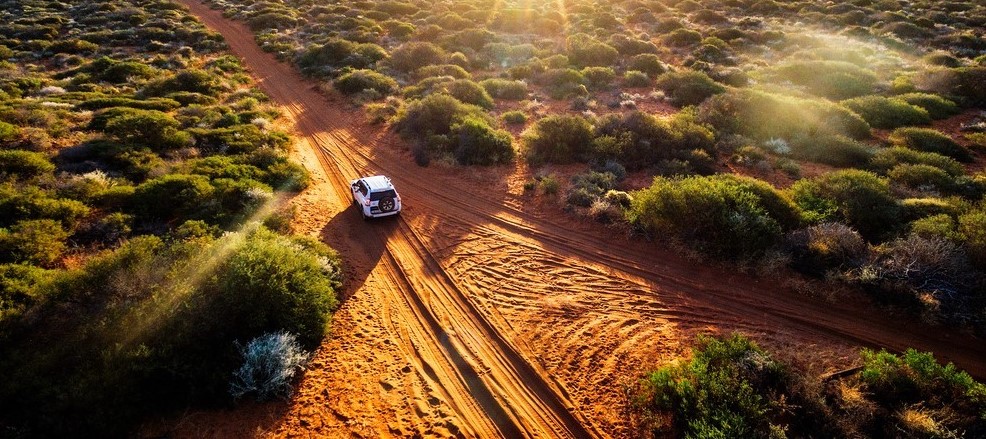 500 THINGS TO DO
Join our mailing list and receive our Free Top 500 things to do in Australia. If you love the Australian Outdoors download this list and keep it handy when you are planning a weekend away or a road trip around Australia.
Recent Posts