We all have go-to gadgets and gear when we travel, and we want to share some of our favourite bits of kit with you. Our recommended products aren't a random collection of stuff. These are things we use regularly when we travel, they are tried and trusted, and all make our travels more enjoyable.
Whether you want to treat yourself or you're looking for gift ideas, we have not only suggested products we can vouch for, but we also like the range, value, quality or ethos of the suppliers. For each product there is a link that takes you direct to the supplier where you can pay and order through them.
Disclosure: Please Note That Some Links In This Post May Be Affiliate Links, And At No Additional Cost To You, We Earn A Small Commission If You Make A Purchase. Commissions Go Toward Maintaining The Curious Campers Website.
Nakie Hammocks
You're travelling and have found the perfect spot, and there's no one else around. All you need is a relaxing way to enjoy it. That's where a Nakie Hammock comes in! Made from recycled bottles they are compact, lightweight and can be set up in less than 2 minutes. They're great gifts or treat yourself for your next trip.
>> Read our full review of Nakie Hammocks
Nakie Sand Free Towels
It doesn't matter how you look in your bathers, when you wrap yourself up in a Nakie towel, you'll turn heads for the right reasons! They aren't just beautifully designed, they are soft, absorbant and quick drying. Each towel is made from 28 recycled plastic bottles! If you need new beach towels for summer, these are what you're after.
Scratch Maps
Do you want to track your travels and end up with an impressive memento at the end of your trip? Go Roadtrip has a fantastic range of scratch maps for every part of Australia. Well priced, fun to use and sturdy enough to take on your travels, you can keep track of where you have been and where to go next.
Use our exclusive 5% discount code – campers
Photo Books
How do you make your holiday last a lifetime? Capture all your magic memories in a beautiful photo book. Relive every breathtaking moment and stunning landscapes with your own pictures. Milk Photo Books are high quality and have simple to use templates so designing your photo book is a breeze. It's the perfect keepsake for you and your family.
Boho Picnic Rugs
We love Australian company Isla in Bloom's gear. Their large boho inspired, sustainably produced throw rugs are soft and durable. Made of 100% cotton or textiles made from recycled ocean waste. These rugs are perfect for picnics, decorating at home or adding a splash of colour to your caravan or camper.
Use our exclusive 15% discount code – campers
Stunning Cooler Bags
Brand new for summer these coolers from Isla in Bloom are stunning and practical. The boho designed coolers are made from 100% recycled plastic bottles and ocean waste. With a range of 8 designs and coming in a small or large size you will find your perfect cooler for your next picnic or day at the beach.
Use our exclusive 15% discount code – campers
Hydration Packs
SNOWYS CHRISTMAS DEALS NOW ON
Speaking from experience, you can't appreciate the value of a hydration pack until you are the only one in a group at the end of a 4 hour hike in summer, without one. Comfortable, lightweight and somewhere handy for your keys, phone and a snack, a hydration backpack is must-have gear when you're out exploring.
BBQ Mat
SNOWYS CHRISTMAS DEALS NOW ON
Do you like BBQing in the charred remains of someone else's marinade? Perhaps you want to make sure your veges' stay meat free. We wouldn't be without our BBQ mat. Not only does it guarantee you a clean surface to cook on, but it is also easy to clean up if you have hade an especially saucy cook up.
Sony Cybershot RX10iv
This is our go to camera for wildlife adventures. It has incredible zoom and focus which can produce amazing wildlife shots. If you want to be a bit more serious about your photography without spending a fortune on a big heavy lens and DSLR, check out this camera and its huge range of features.
Panasonic Lumix FZ1000ii
We love this camera. It is light weight, has an amazing zoom, fast focusing and takes vibrant, sharp pictures. The scene modes and fully articulating screen are handy too. If you want to take your pictures to the next level, it has all the features of a DSLR – but without the hassle of having to carry around a bag of lenses.
DJI Mini Drone Combo
It took us a while to get a drone, but once we did it was soon obvious why they are so popular. The unique perspective they give to a landscape is breathtaking. If you want to start small, the DJI Mini is the perfect way to get flying. DJI is THE name in drones and the compact Mini is the perfect way to take to the air.
GoPro HERO 11 Black
Snorkelling, kayaking, cycling; no matter where you go and what you do you can capture the moment with a Go Pro. With a range of accessories, your Go Pro can go anywhere you do, we love using it underwater. With its advanced stability control you can some amazing video and stills on your holiday adventures.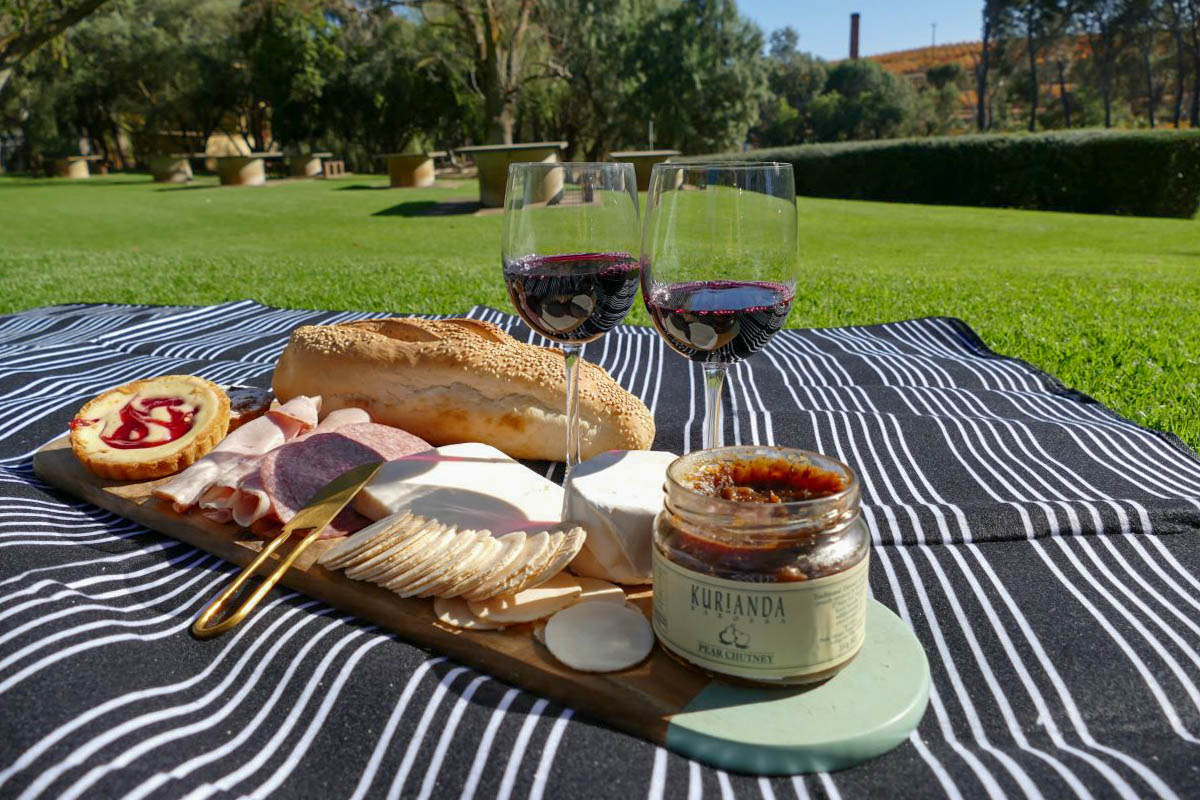 Mystery Picnic Experience
Do you want like the idea combining travel, food, and fun? Try a mystery Picnic! The idea is you solve a series of clues that take you to shops where you add things to your picnic basket. The treasure hunt gets you out and about exploring a great location as you collect your picnic supplies. Available Australia-wide.
>> Read our full review of a Mystery Picnic
Red Balloon Gift Card
Do you want to make gift giving easy? Whether it's for a birthday, Christmas or special occasion, Red Balloon gift cards unlock a world of fun. There is a huge range of adventures to choose from including spas and wellness, food and wine, water activities and adventure sports. It will be the best gift you ever give.