Monarto Zoo (now Monarto Safari Park) in Adelaide is an open range zoo. It has everything from lions, giraffes and chimpanzees to meerkats and Tassie devils. It also offers incredible interactive experiences with the animals. It's not your traditional zoo. Be prepared for a full day of animal sightseeing from viewing platforms and shuttle buses. Wear comfortable shoes and take some snacks. It is a big day, but a wonderfully memorable one.
Disclosure: Please note that some links in this post may be affiliate links, and at no additional cost to you, we earn a small commission if you make a purchase. Commissions are appreciated and go toward maintaining the Curious Campers website.
Where is it?
Monarto Zoo is about 50 minutes from the centre of Adelaide. Getting there is an easy drive. Get on the South Eastern Freeway and go through the Adelaide Hills. Signs along the freeway will point you in the right direction.
Cost
There are a range of ticket options which you can see on the website. Adult tickets are $38 (for 15 years and older), children $20.50 and family passes (2 adults and 3 children) $96.
Interactive animal experiences are extra. Some of these include the cost of admission and others do not. The experiences are often booked out in advance, so it is worth checking ahead if this is something you want to do. We have done a several experiences and describe them later in the post.
BUY YOUR MONARTO SAFARI PARK ENTRY TICKETS
Buy your Monarto Safari Park tickets instantly online here! See a wide array of wildlife including cheetahs, monkeys, lions, giraffes, rhinos and much more! With up-close experiences, talks from friendly staff, and spectacular wide-open enclosures, it's a full day activity.
Size
Monarto Safari Park is the largest open range zoo in the world. How great is it that for Australia?
Here are a few comparisons to put Monarto's size in context. The Adelaide Zoo fits in Monarto's lion enclosure. Monarto is almost 4 times the size of Australia Zoo. It is 5 times the size of the Dubbo Western Plains Zoo. If you combine Taronga Zoo and Melbourne Zoo, it is 30 times bigger than that!
Getting around
There are walking trails linking the viewing platforms. If you go for this option, make sure you wear good shoes. The more popular way to get around is the shuttle bus service.
Each bus has a volunteer who provides commentary on the exhibits as you travel between them. The buses are comfortable, air conditioned and run at regular intervals. If a crowd has built up at a stop, extra buses come by. For a big park, they are very good at keeping visitors moving.
What will you see?
With a zoo this large you might wonder if you will get a good look at the animals. While, like any zoo, some animals can be hard to spot, most exhibits have excellent viewing area. What you see will also depend on the type of enclosure…
Contained exhibits
These are areas that are more confined and have a good viewing platform or long fence line. The highlight in this category is the chimpanzees.
The chimps are a 10 minute walk from the main entrance which also serves as the visitor centre, café and shuttle bus departure point. On the walk there you pass the meerkats, a playground and a very cool rhino sculpture called Shandu.
The chimps have an indoor/outdoor exhibit and at any one time there will be chimps in both areas. We have been several times and without fail, there is always something going on in chimp land.
There are volunteers on hand to tell you the name of every animal in the troop. They can also fill you in on all the latest chimp happenings. It is easy to get stuck watching the chimps. Their mannerisms and behaviour are so humanlike it is captivating to watch.
Other animals you can view easily are crowd favourites, the Meerkats. The Yellow footed rock wallaby habitat is a short loop you can walk around on your way to the chimps.
The Tasmanian Devils and White Rhinos are also easy to see. The devil's exhibit is near the Waterhole – the main giraffe habitat.
The white rhino has its own area – The Bomas – which you can get to on the bus. Meet Eshe the Southern White Rhino calf who is full of energy and her mum, Umqali. Make sure you dont miss the keeper talk and you'll get to hear all about the Southern White Rhinos and see plenty of little Eshe's zoomies.
Viewing Platforms exhibits
There are two main viewing platforms. There's the Waterhole which overlooks the giraffes, zebra, ostriches, and elands. The Waterhole is a large open area. Even if the animals are some distance away, they are still easy to spot.
The second platform – Windana – overlooks the lions on one side and the hyenas and painted dogs on the other. Now, this is where things can get a bit tricky. These enclosures are less open than the Waterhole and they are large. So, if the animals aren't nearby, all you will get is a nice view of the savannah landscape.
On our visits we have never seen nothing. Even so, the painted dogs can be hard to spot, and the view of the lions can be a distant one. This is not a criticism. In fact, it's great the animals have so much room to move.
To get the most from the viewing platforms try to be there for feedings and keeper talks. Nothing brings an animal out of hiding like a bit of food. Don't worry if you think the platforms appear crowded. They are enormous and cater for big crowds. You will still get a good view of the animals.
There are lookouts on some of the walking trails, but we haven't had much luck spotting animals from them. I'm sure if you are at the right place at the right time, you'll get a great view. If you enjoy walking, the short hikes are fun. If you see animals, consider it a bonus.
From the bus
The shuttle bus not only takes you from one habitat to another, it drives through them. This means you can get right up close to the animals if they are on the move.
It is not unusual to have to stop to let some giraffes wander across the road. And no, they don't use a zebra crossing… Driving through the Waterhole area is great. Besides the giraffes, it isn't uncommon to get up close to the ostriches and elands too. There are some great photo opportunities.
The painted dogs like chewing and chasing the bus tyres which makes that part of the loop fun. The bus tour is also your best chance of seeing the cheetahs. The drivers and guides are very good at spotting them and they know where their regular hides are.
For some of the less well known animals, the bus ride is your only chance to see them – anywhere. This is the case for the barbary sheep and the addax. One of our few complaints about the bus is that it seems to drive past these animals too quickly.
Living museum
You might not be all that familiar with the addax. It is a white antelope with long wavy horns that lives in Saharan Africa. Or rather, lived in Saharan Africa. They are now extinct in the wild. There are fewer than 10,0000 barbary sheep left in the wild too.
It is one of the more poignant moments of the bus tour. Looking out at the herd of 30 or so addax and realising they are all but gone from the face of the earth is quite affecting. It seems fitting that the bus pause for just a little longer so people can take in the sight of these creatures.
Monarto Zoo Experiences
If you want to get up close to your favourite animal, there are a range of interactive experiences you can pay to do.  Experiences are available with most of the animals in the park. There are also half day and full day keeper tag along experiences too. We have done the giraffe and the lion feeding.
Lion feeding
The lion feeding takes place in the Lions 360 enclosure. This is an eye level cage where people can come face to face with the big cats. On this occasion, it is the people who are in the cage. The lions roam around and sometimes on top of the dome shaped structure. For an extra fee, you can feed them.
Hand feeding is not an option with the lions. Instead, you impale a piece of meat on a heavy metal skewer and poke it through the bars. The lions get within half a meter of you as they remove the meat from the spike. Even though there is a cage between you and the lion, you still get a few butterflies as they approach you licking their lips.
When they stand up against the cage to retrieve the piece of meat you are blown away by how big they are and, in particular, how large their mouth and teeth are. It is without doubt, as close to a hungry lion as you would want to be.
There is something majestic about them. Their flowing manes, the intensity of their eyes and their powerful legs. Seeing them up close is special. The lion feeding experience is limited to people aged 10 years and over. There are no age restrictions on going into the Lions 360 cage.
INTO THE LIONS DEN 360 LION ENCOUNTER
Be brave and step into the Lions den to experience 360 degree views! Lions 360 is a unique experience that lets you witness these predators in their domain from a safe enclosure. This jaw dropping experience is a safe encounter that gives you an insight into the life of these amazing species. Includes a general admission ticket so that you can enjoy a full day exploring the Park.
Giraffe feeding
As imposing as the lions are, the giraffes are graceful. It's close, but we almost enjoyed feeding the giraffes more. There are no bars between you and the giraffes. You just hold up a carrot and from the sky comes an enormous giraffe head. Then, its long blue tongue gently takes the carrot from your hand.
We're not telling anyone anything new when we say they are tall. But, when you are standing alongside one, wow! It makes the way they swoop down and take the food even more amazing. And it is also a treat getting to look a giraffe nearly in the eye. They have a beautiful face.
Unlike the lions, there is no minimum age for feeding the giraffes and it is a great family activity. There are plenty of opportunities for pictures. The keepers are happy to take photos if you are on your own.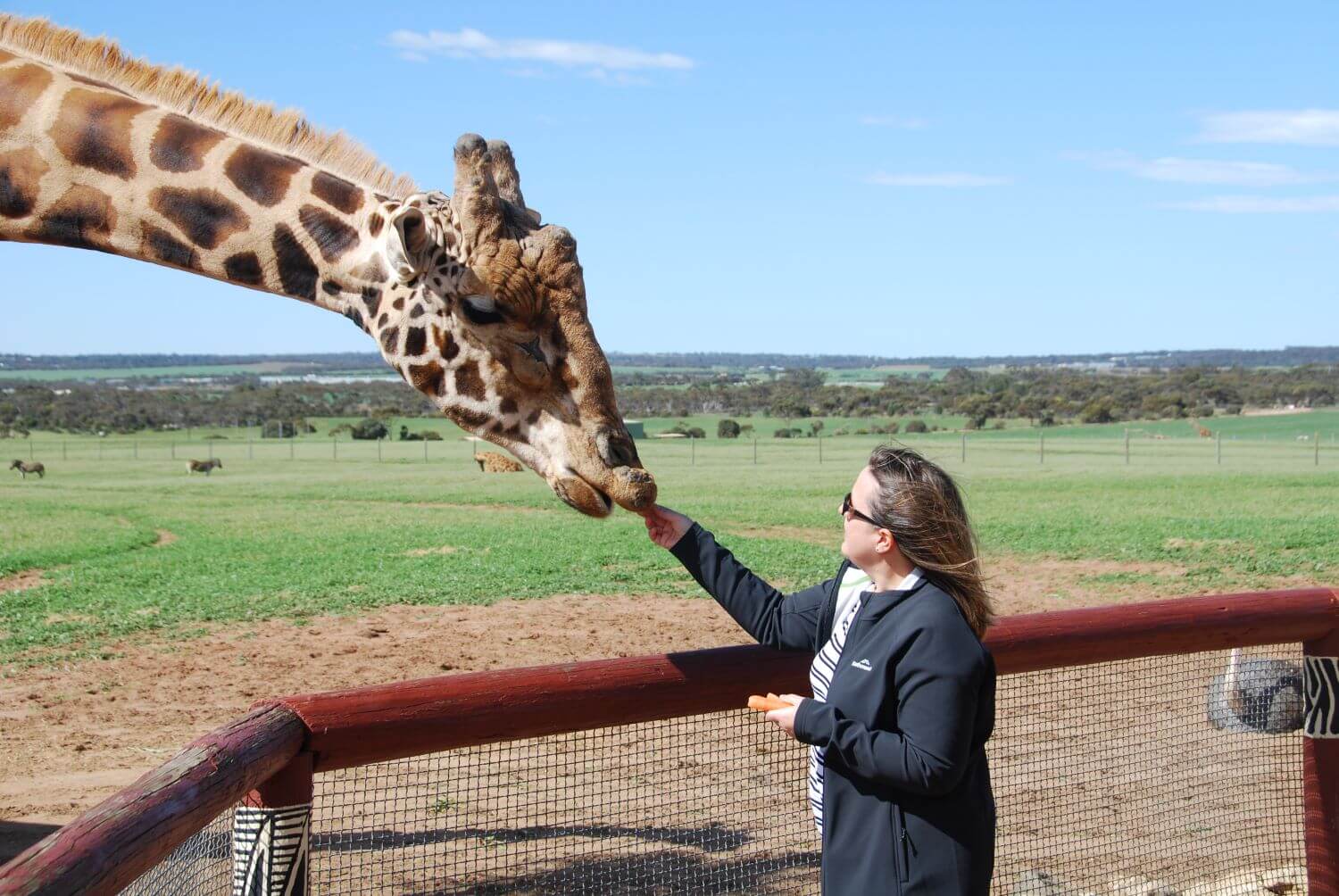 HAND FEED GIRAFFES ON SAFARI 
Join animal keepers on a Giraffe Safari to meet and hand feed the gentle giants of Africa. During the once in a lifetime encounter, guests are taken behind the scenes to watch the giraffes in their enclosure. You'll have the chance to get up close and personal hand feeding the ginormous yet friendly giraffes that tower over you at up to 6 metres tall.

Cheetah Encounter
This is our most recent Monarto animal experience and it was great. You can see the cheetahs on the bus tour in the big cat areas but they are masters of camouflage so can be tricky to spot. But, there's no missing them on this experience!
You meet the keeper 'behind the scenes' where you get to see the cheetahs before they go into their day area. They are beautiful animals and as they come up to you, you can hear them purring. The hand-raised ones really look like they are after a pat. Depending on the conditions you might be able to do just that but, unfortunately, we couldn't for our visit.
Park entry is included for this experience which has a maximum of 4 people in it and you must be at least 10 years of age. It was a shame we didn't get a pat but, short of going to Africa, this is as close as you will ever get to these wonderful cats.
WALK WITH THE CHEETAHS 
Meet the world fastest animal during a once in a lifetime encounter with the Cheetahs at Monarto Safari Park. The animal experience will take you behind the scenes with an animal keeper to spend time with the beautiful animals. It is essential to pre-book animal encounters.
Big and getting bigger
As if the park is not big enough, a resort and glamping facilities and are being added to the site. Safari-style open-sided vehicles will also soon be available for visitors to ride in.
They are also in the process of developing a 35,000 square meter walk through lemur enclosure. This will add even further to the parks credentials as a centre for conservation. At present, 70% of the species at Monarto are threatened with extinction.
Monarto Safari Park – a must do
Be ready for a big day at Monarto. It's a big space with lots to see. In summer Monarto can be a few degrees warmer than Adelaide so pick when you plan to go. Wear comfy shoes, be ready to be get on and off buses and you will have a great time.
Monarto is only 30 minutes away from our home but have have stayed at the local caravan park in Handorf previously! The park is set on rolling green hills with fabulous with a cafe, pools, ponds with ducks and geese wandering through the campsites. Only a couple of minutes from the hustle and bussle of Hahndorf Village.
There are a range of ticket options which you can see on the website. Adult tickets are $38 (for 15 years and older), children $20.50 and family passes (2 adults and 3 children) $96.
500 Things to do
Join our mailing list and receive our Free Top 500 things to do in Australia. If you love Australian Outdoor Experiences download this list and keep it handy when you are planning a weekend away or a road trip around Australia.