There are a bunch of free things to do in Adelaide. Take your pick from galleries and museums to adventure playgrounds, national parks and beaches. Some activities will fill in an hour, others can take a full day or more.
Finding free things to do in Adelaide isn't just about saving money. Many of these activities showcase iconic Adelaide locations and attractions. Others are less well-known hidden gems. One thing is for sure, this guide really does prove that some of the best things in life are free!
Disclosure: Please note that some links in this post may be affiliate links, and at no additional cost to you, we earn a small commission if you make a purchase. Commissions are appreciated and go toward maintaining the Curious Campers website.
Located right in the heart of Adelaide, the Adelaide Botanic Gardens have 50 hectares of beautiful gardens for you to explore.
Guided walks are available daily at 10.30am or you can opt for a self-guided tour along a trail or with the help of an audio tour downloaded on your phone.  Palm House is a beautifully restored glasshouse imported from Germany in 1875. This heritage listed building is open to the public featuring a collection of plants from Madagascar.
Within the gardens there are several dining options. You can enjoy a cup of coffee, snack or fine dining with the Botanic Gardens Restaurant, Garden's Kiosk and Café Fibonacci.
Grey-headed flying foxes can be seen throughout Botanic Park, so keep your eyes peeled. You will also see plenty of birds and turtles that live in the gardens.
Entry is free
Bicentennial Conservatory
As you explore the Adelaide Botanic Gardens you can venture into a rainforest environment within the largest single span conservatory in the Southern Hemisphere, the Bicentennial Conservatory.
The upper walkway takes you through the canopy of trees and palms or walk under the canopy to enjoy the rainforest sights and sounds. Both walkways have wheelchair and pram access. It is a wonderful way to enjoy the rainforests of the tropical north without leaving South Australia.
Entry is free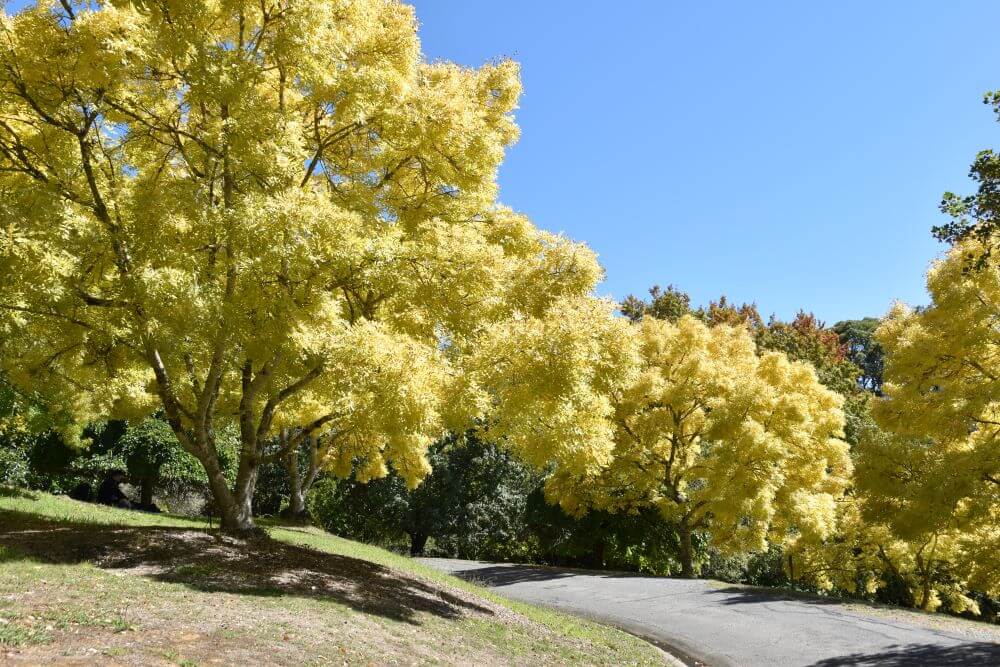 If you head up to the Adelaide Hills for the day, a walk around Mt Lofty Botanic Gardens is a must. Wander around the Lake or through Magnolia Gully, Fern Gully, Rhododendron Gully or across to the Heritage Rose Garden.
The gardens are spectacular in Autumn as the leaves change colour, but all year round there is a pocket of the garden that is delightful and a perfect place to spend the day.
The garden is dotted with sculptures that represent various natural features of the gardens.
Guided tours are available at 10.30am each day from the Lower Car Park Entry.
Entry is free
Waterfall Gully to Mt Lofty Summit
One of the best know walks in Adelaide is Waterfall Gully to Mt Lofty Summit. The one way walk is steep and takes approximately 2 hours to go up. It is much quicker on the way back down! It's a lovely walk through stingybark forest with the opportunity to spot kangaroos, banidcoots, koalas and perhaps even an echidna. Look out for black cockatoos flying overhead.
If you are not up for the walk, you can still explore the picturesque Waterfall Gully from the lower carpark.  First Falls is only a short walk from where you can enjoy views of the valley and the 18m drop of the waterfall. At Waterfall gully you can stop in for breakfast or afternoon tea at the beautiful heritage listed cottage, Utopia.
The other option is to drive up into the Adelaide Hills to enjoy the spectacular views across Adelaide from the Mount Lofty Summit. The Summit provides views over the city of Adelaide and the coastline.  Mount Lofty Summit features a Restaurant, Café and Visitor centre with plenty of outdoor seating to relax and watch the sunset over Adelaide.
Entry is free
A DAY PACK PERFECT FOR ALL ADVENTURES
The Black Wolf Titanium 35 Day Pack is ideal for your daily commute or day hike. The mesh back panel allows airflow around your back, to keep you cool on warm days. It has two large compartments, the lower of which provides enough space for shoes, plus numerous organiser pockets. Topped off with hydration compatibility, audio pouch and a rain cover – there's not much left to ask for in a backpack!
Belair National Park is one of those places with something for everyone. You can ride a bike or horse through the park or try your hand at orienteering or geocaching.
There are tennis courts, ovals, pavilions picnic and barbecue areas to book for your family and friends. If you wish to book facilities there will be a small charge. The adventure playground is a popular spot for the kids along with exploring the waterfalls, creeks and woodlands.
Wildlife is abundant in the park with kangaroos, emus, echidna's along with plenty of native birds. We often see koala's as we are driving past Belair and if you look up in the tree canopy you will be unlucky not to spot at least one as you walk through the park.
Adjacent the National Park you will find Belair National Park Caravan Park offering a range of accommodation options and facilities.
Entry on foot or bike is free
Vehicle entry to the park is $12 but there is plenty of free parking outside the park.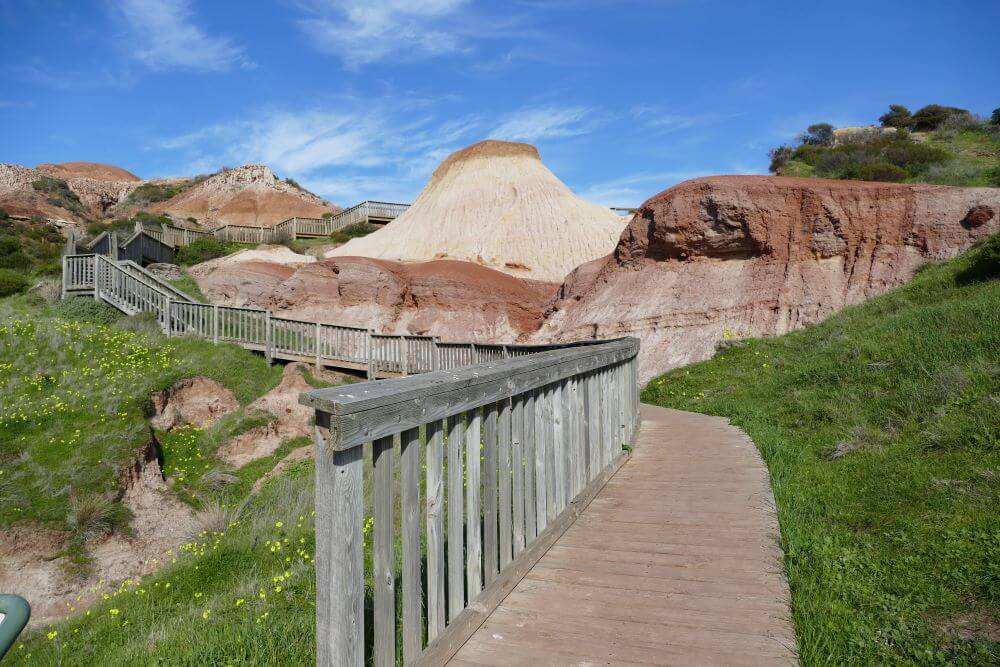 Hallett Cove Boardwalk (Marion Coastal Walking Trail)
Take in the rugged coastal scenery along the 7km (one-way) clifftop boardwalk between Marino and Hallett Cove. The boardwalk follows the cliff line up and down with lots of steps as you go through the gullies.
The Hallet Cove Conservation Park is home to a significant number or archaeological sites with many Aboriginal artefacts found in the area. There is a walking trail to take you through many sites including Sugarloaf Hill that show the evidence of the ice age, 280 million years ago.
Entry is free
North Terrace City Attractions
When you are in Adelaide, set aside a day or two to explore North Terrace in the heart of the city. North Terrace is the cultural hub of Adelaide and is home to the South Australian Museum, Parliament House, the Migration Museum, the State Library of South Australia and the Art Gallery of South Australia.
The Anzac Centenary Memorial Walk connects the South Australian National War Memorial on North Terrace with the Torrens Parade Ground. The 280m walk takes you along Kintore Avenue outside of Government House and depicts images and storyboards of the men, women and animals who served Australia during wartime.
If you walk across the footbridge you can visit Adelaide Oval. Adelaide Oval is home to the Bradman Collection in the Riverbank stand. Browse Sir Donald's personal collection of cricket memorabilia, test your skills with the interactive museum and watch footage in the theatrette.
Entry to all these North Terrace attractions is free.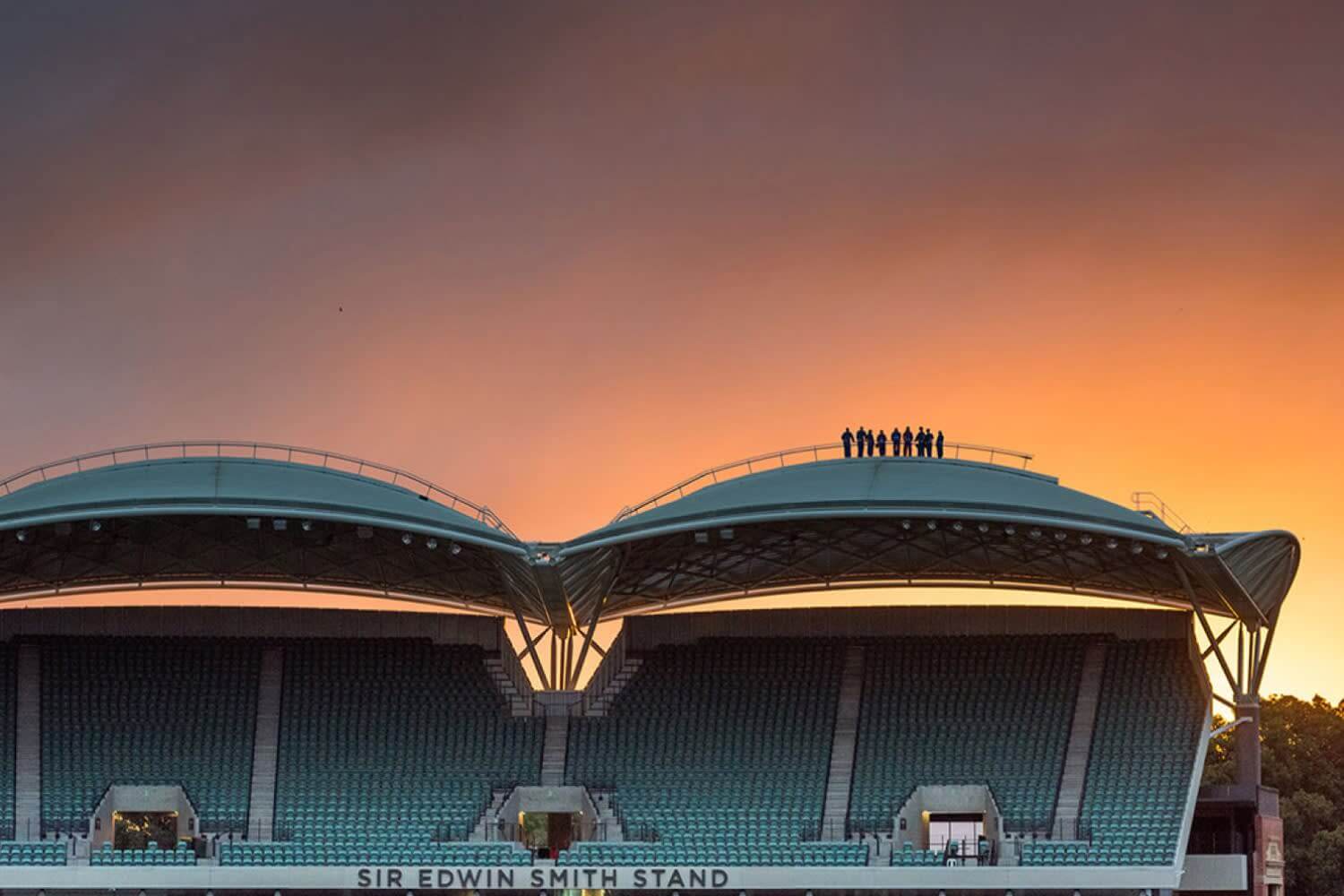 ADELAIDE OVAL TWILIGHT ROOF CLIMB
We have spent plenty of time at Adelaide Oval between Cricket, Football and other events. One thing we hadn't done it see the Oval from the roof top. Amazing! Climb the purpose built walkways and enjoy amazing views of the stadium itself, the picturesque coastline and the Adelaide Hills in the distance. Unique, thrilling and active - this experience is a great introduction to Adelaide for first time visitors or just a fun day out for locals.
On the edge of the city parklands you will find Haigh's Chocolates where you are able take the free guided viewing tour watching the team create chocolates, fudges and truffles. During the tour you will be able to sample some of these delicious treats. Bookings are essential.
Visit the historic Adelaide Central Market, with over 70 traders with fruit, vegetables, meat, seafood, cheeses, bakeries, smallgoods and more. With plenty of spots to stop for a meal, coffee or snack it's a great day out.
Entry is free, but beware it's hard to go home without some Haigh's chocolates or market delights!
If you are in Adelaide without a car there are a few free transport options to get around the city. You can catch the City Connector Bus service that runs an inner city loop and extended loop that connects with North Adelaide. The City Connector takes you to a number of city attractions along with shopping and dining stops. The buses are air conditioned and pram and wheelchair friendly.
The Free City Tram connects the city with the Entertainment Centre, Botanic Gardens and Festival Plaza. There is also a Free Tram Service that runs along Jetty Road to Mosely Square in the popular beachside suburb of Glenelg.
If you feel like being a bit more active, there is a free bike hire service. All you need is a valid driver's licence or passport and you can hire a bike, with helmet for free. The bikes are located at 20 locations across the city and more details can be found here.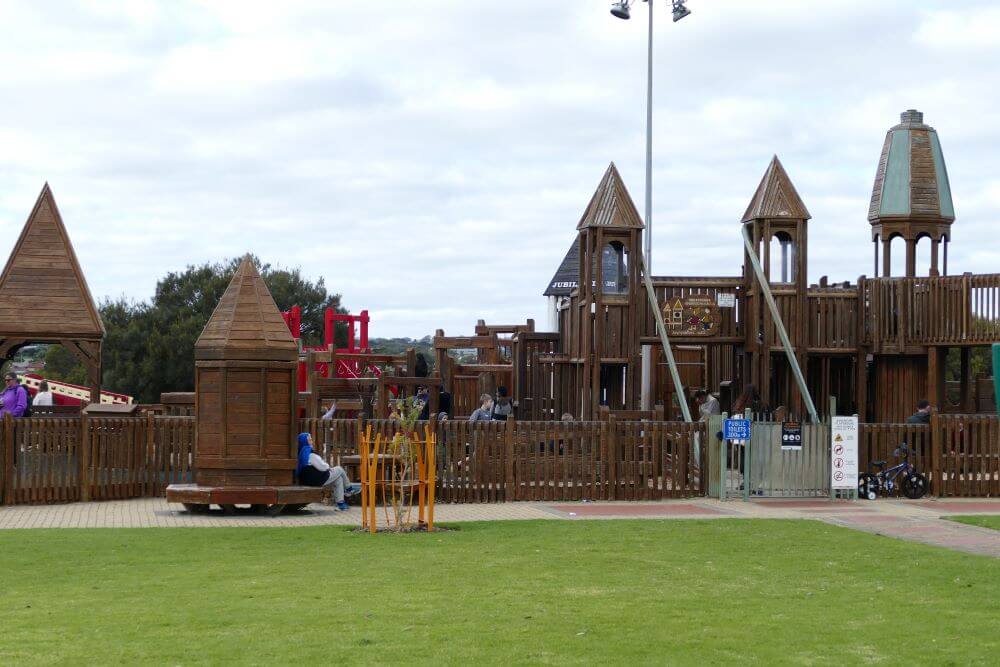 Jubilee Park Adventure Playground
Located north of the city, the St Kilda Adventure Playground is a must! There is a big wooden pirate ship on the waters edge where the kids can play with the water lapping at their feet. Climbing castles, swings, slides and a huge flying fox will keep the kids busy for hours. Pack a picnic or there is a kiosk nearby for food and drinks.
The playground is located alongside the Adelaide International Bird Sanctuary, so if the kids are busy you can wander along the walkway to see thousands of migratory shorebirds that frequent the area.
Alternatively, you can head south from the city and find Port Noarlunga Jubilee Park Adventure Playground. With a huge wooden fort, tunnels and bridge. The kids will be able to play and explore to their hearts content. Alongside the forte you will find sandpits, water pump play, slides and a climbing net. With undercover tables, bbq's and toilets nearby you can stay for the day.
Entry to both playgrounds is free.
River Torrens Linear Park Trail
The River Torrens Linear Park Trail takes you 30km along the River Torrens from the Adelaide foothills, through the Adelaide CBD and to the river mouth at West Beach.
You can walk, cycle, jog or even take the dog. The route is dotted with playgrounds, picnic spots, toilets, bridges so you can follow the whole trail or just head to one spot to relax for the afternoon. Most of the path is bitumen and relatively flat, so it is a good safe place for a family bike ride.
If you don't have a bike, grab one from the free bike hire service – Adelaide Free Bikes.
Entry is Free
ADELAIDE RIVERBANK SEGWAY TOUR
Looking for things to do in Adelaide? How about hopping on a Segway and exploring the City of Churches in a unique way? This 6km Adelaide Riverbank Segway tour takes you past Adelaide Zoo, Adelaide Festival Centre, the Riverbank bridge, Adelaide Convention and Adelaide Oval.

On a nice day it is always fun to head to the beach. Play on the beach, enjoy the small water fountain play in Mosley Square and take a stroll along the jetty. Glenelg has many shops to browse and you can take the kids to the Beach House (not free) with waterslides, bumper boats, carousel, mini golf and more.
Semaphore Beach is a great family option with the beach, jetty and a reserve stretching along the esplanade. There is plenty to do with waterslides, mini golf (not free) along with outdoor gym equipment, skate park and basketball. The BBQ and picnic facilities and plenty of parking make this an easy day out.
Henley Beach is a little more cosmopolitan with cafes, restaurants, and bars surrounding Henley Square on the foreshore. With waves of wooden seating or plenty of grass you can stretch out and enjoy the sun even if you are not too keen on getting sand between your toes. Henley is a great beach with gentle waves lapping at the shore, it's lovely for a swim or long walk.
Beach entry is free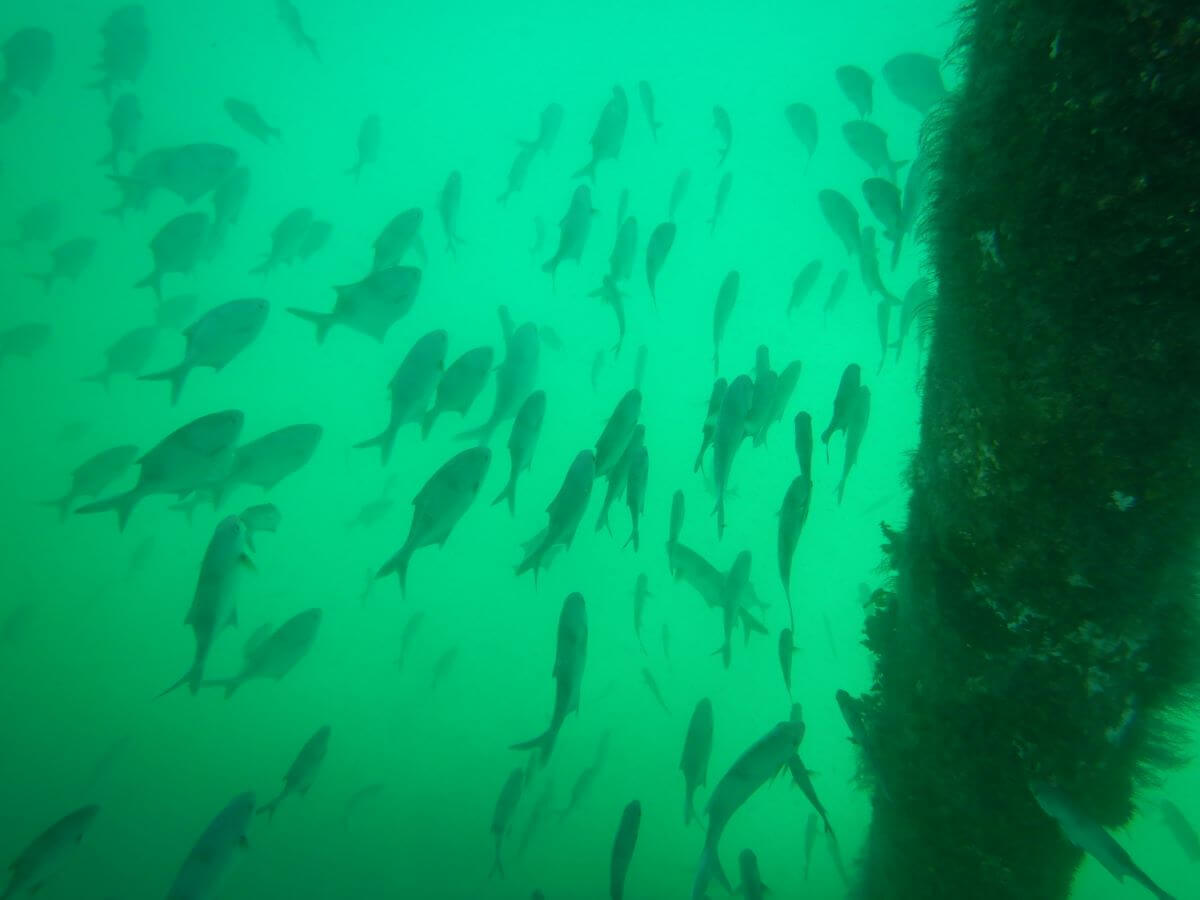 Take a dip and explore underwater
If you enjoy getting wet Port Noarlunga Reef is a fantastic location for snorkeling or diving. Located at the end of the Jetty you can walk down the steps, into the water and onto the protected inner reef. The reef is home to plenty of fish and a few little Port Jackson Sharks.
Just down the road another option is to snorkel at Port Willunga Beach. Here you will find the remains of the Star of Greece wreck about 150m from shore. When we were last here a dolphin cruised by us as we snorkelled. Along the beach you will also be able to explore the old fisherman caves, and the ruins of the old jetty. For a coffee, snack or meal the Star of Greece Café sits atop of the cliffs and looks over the beach.
Beach entry is free
Port Adelaide Wharf, Dolphin Spotting Port River
Head to the port to explore the Fishermen's Wharf Market. Located near the lighthouse on the wharf at Port Adelaide. The market is open Sundays and on Public Holidays. With a range of stalls to wander through you are sure to find something interesting.
Enjoy a coffee and snack alongside the wharf and keep an eye out for the 30 local dolphins who frequent the area. A 2 hour dolphin cruise is only $10 per adult and $8 for children.
Entry to the wharf and market is free
KAYAK TOUR IN ADELAIDE DOLPHIN SANCTUARY
It's not every day that you get the opportunity to paddle your way through a 10,000 year old mangrove forest surrounded by 30 residents dolphins. It's a special experience that simply can't be replicated, which is why Dolphin Sanctuary Kayak Tours is a must-do!

Mountain Bike Ride Kuipto Forest
If you head up to the Adelaide Hills pack your bike for a ride through Kuitpo Forest. With a range of off road tracks available from 1km – 10km, its great for beginners or more experienced riders. If you are riding early in the morning you will often see plenty of kangaroos returning to the forest after grazing.
Kuitpo is also fantastic for walking, dog walking, running, horse riding and camping. A small charge is payable for camping overnight.
Entry is free
500 Things to do
Join our mailing list and receive our Free Top 500 things to do in Australia. If you love Australian Outdoor Experiences download this list and keep it handy when you are planning a weekend away or a road trip around Australia.