Looking for things to do in South Australia? Here are 12 of the best day trips from Adelaide. They feature everything from wildlife, wineries and galleries to fossil trails and antiquing. Less than two hours from the city centre, these day trips will take you to some of South Australia's best attractions.
Disclosure: Please note that some links in this post may be affiliate links, and at no additional cost to you, we earn a small commission if you make a purchase. Commissions are appreciated and go toward maintaining the Curious Campers website.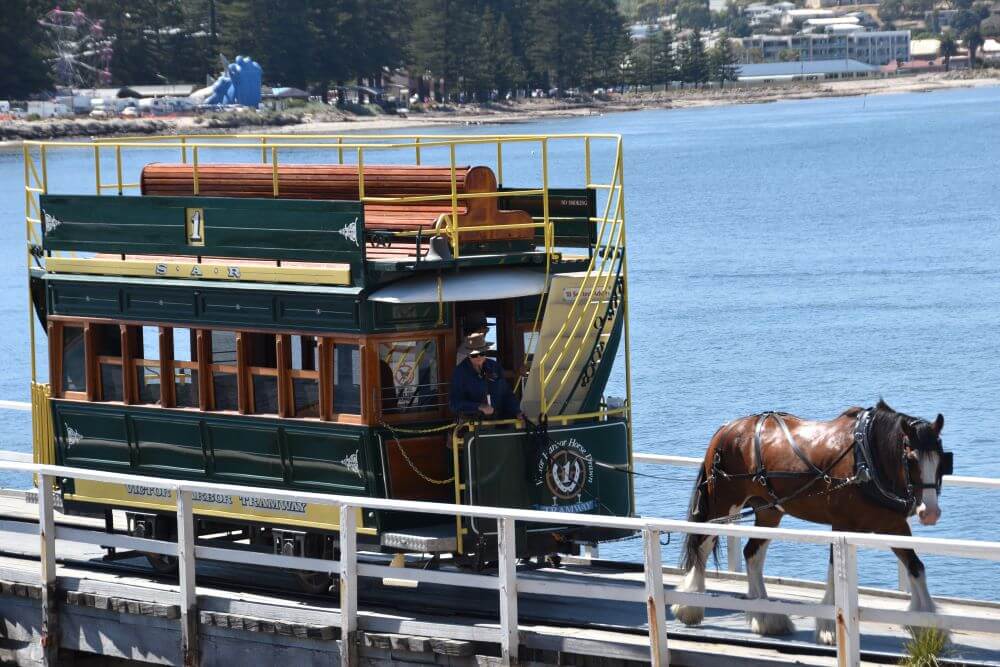 Victor Harbor and Granite Island
Victor Harbor, 90 minutes south of Adelaide, is one of South Australia's favourite day trips. Not only does the seaside town have a relaxed holiday vibe all year round, there is also an enormous amount to do.
Catch a steam train – the Cockle Train – to neighbouring Goolwa. Feed kangaroos at Urimbirra Wildlife Park. Visit the South Australian Whale Centre and, in winter, go whale watching. On the beachfront you can do everything from play mini golf to go on a camel ride along the sand.
A wooden causeway connects Victor Harbor to Granite Island. You can walk across or take the horse drawn tram. The Kaiki Trail that goes around the island has some great views. A weird and wonderful sculpture trail makes the lap even more interesting.
For nature spotters, Granite Island also has a couple of wildlife experiences. If you want to meet a few of the local seals and dolphins try the Big Duck Tour. The high-powered rubber duck leaves from the causeway. For some real excitement, try Oceanic Victor's tuna swim in an offshore aquarium.
Victor Harbour Day Tours
Goolwa + Port Elliot & Middleton 
Although Goolwa is only 20 minutes from Victor Harbor, there is enough to do here to make it a day trip on its own. Goolwa is where the River Murray meets the ocean and its's the start of Coorong National Park.
There are Coorong wildlife cruises and kayak tours. You can also hire kayaks and paddle around flocks of swans and pelicans. Walk to the barrages and meet the resident seals. Cross the bridge to Hindmarsh Island and drive to the Murray mouth. The Goolwa Wharf precinct has plenty of history and great eateries.
If you are after a great beach, Goolwa Beach is a beauty. There is plenty of parking, and kilometres of sand and surf to enjoy.  4WDs can get onto the beach and drive to the Murray Mouth. The next town over, Middleton, also has great beaches and is home to cool galleries and cafes.
Horseshoe Bay in Port Elliot is a beautiful, protected cove ideal for a family day at the beach. As well as the beach, there are lookouts and walks around the bay. The Flying Fish Café at Horseshoe Bay has great hot chips. The Port Elliot bakery is an institution. It's not hard to find – look for the queue going down the main street!
Goolwa Day Tours
Coorong National Park Wildlife Cruise – Departing Goolwa glide past saltwater lagoons, sandy beaches and sweeping dunes. After lunch, discover the region's Aboriginal history  & spot New Zealand fur seals
Kayak the Coorong –

A relaxing one-day all-inclusive kayak tour of the Coorong and Murray Mouth region.  The tour will involve 3 hours of kayak cruising, broken up with numerous stops and delicious local food.

Learn to Surf at Middleton Beach –

Take a surfing lesson at Middleton Beach. Your qualified surfing instructor teaches the basics of how to surf or assists you to refine your existing skills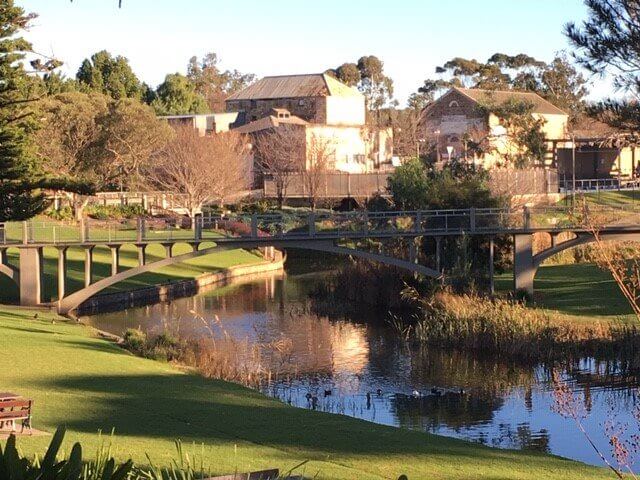 Strathalbyn
Strathalbyn is a less than one hour from Adelaide, but it feels like it is another world away. We often pass through the town and every time we do; we say what a lovely spot it is.
One of the highlights is the manicured Soldiers Memorial Garden next to the Angas River. Following the Angas River Walk is the best way to enjoy the gardens, reserves and old bridges. If you are in a walking mood, there is an historic walk that takes you past more than 30 sites around the town. Maps for both walks are available from the visitor centre.
Strathalbyn is the antique capital of South Australia. If antiquing is your thing, a stroll along High Street could well fill most of your day. There are plenty of cafes and bakeries along the way to keep you going. If you'd rather not spend money, the National Trust Museum is full of local history.
Langhorne Creek is only 15 minutes from Strathalbyn and is home to over a dozen cellar doors. The area is best known for its Cabernet Sauvignons. If you haven't bought any antiques you might have money left for a bottle or two.
The perfect end to the day is to watch the sunset in Milang on the shores of Lake Alexandrina. Milang, 15 minutes from Langhorne Creek, is the only town on the lake. Little jetties and old holiday and fishing shacks line the shore. It is a beautiful spot to unwind before heading back to Adelaide.
McLaren Vale – Southern Vales
Only 45 minutes from Adelaide, McLaren Vale is another must do day trip for wine lovers. The area doesn't just produce top wine. A fine food culture has sprung up alongside the vineyards making the region a foodie heaven. The Shiraz Trail is a 7 kilometre stretch of the Coast to Vines Rail Trail which you can walk or ride along. It connects many of the area's best food and wine destinations.
There are over 70 cellar doors to explore, many with spectacular views across the vines. Iconic names like d'Arenberg, Mitolo, Angove, Coriole and Serafino are but a few you can try. Don't miss the main street of McLaren Vale either. It has a great mix of cafes, bakeries, and cheese shops. The Almond Train, also on the main street, has lots of yummy almond treats to try.
When you're full, a great way to finish your day is to head to one of Adelaide's best beaches. Maslin Beach with its red and orange cliffs is spectacular. Port Willunga with its jetty ruins, yellow cliffs and the Star of Greece cafe has a great vibe. Both are perfect places to see the sunset.
McLaren Vale Day Tours
Blowhole Beach – Deep Creek Conservation Park
Fleurieu Peninsula
90 minutes from Adelaide, a day on the Western Fleurieu is one for nature lovers. If we have a spare day, this is the part of South Australia we go to. The Myponga Reservoir Lookout and the decent into Yankalilla are both picturesque. The neighbouring holiday towns of Normanville and Carrickalinga both have lovely long beaches.
The drive then squeezes between steep hills and the coast, it is spectacular. The next stop is Second Valley, which has a secluded bay and a series of rocky coves. Relax on the beach, snorkel or kayak around the coast, fish from the jetty or walk up some of the hills for great views. There is a small general store where you can grab lunch.
Rapid Bay, 20 minutes from Second Valley, is one of South Australia's best snorkelling and dive sites. For intrepid snorkellers the T-section of the old jetty is where to go. The new jetty gets you part way there.
Finish your day with a drive around the Deep Creek Conservation Park. Check out the views from the Tapanappa Lookout across to Kangaroo Island. If you want to stretch your legs, walk down to beautiful Blowhole Beach from the Cobbler Hill picnic area. You can drive to blowhole beach if you have a 4WD. Keep an eye out, there are kangaroos everywhere!
Fleurieu Peninsula Day Tours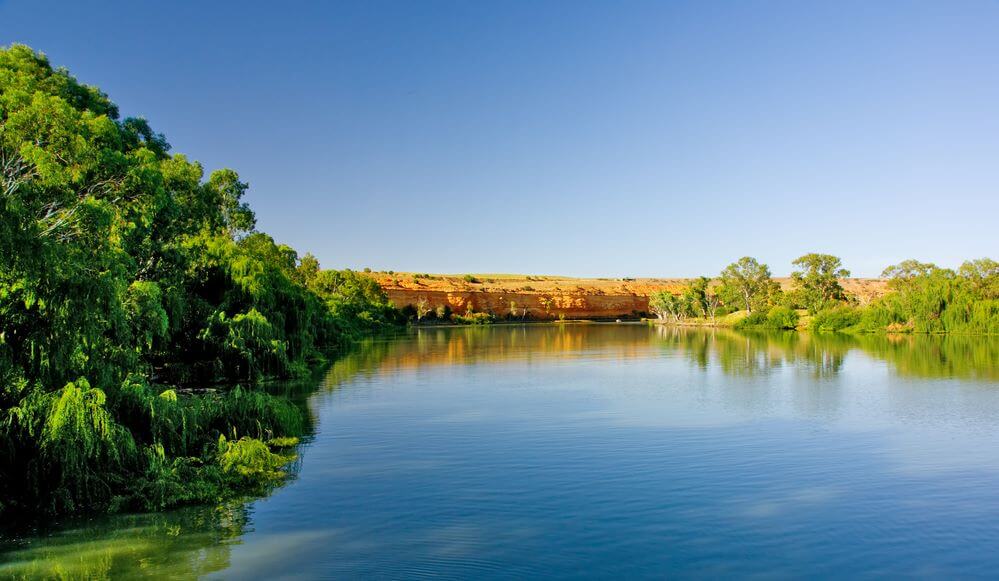 Mannum
The river town of Mannum is 90 minutes from Adelaide. Situated on the banks of the River Murray, Mannum is the perfect place to take in the history and beauty of the river. The best way to do this is on a paddle steamer cruise.
There are several options available ranging from one hour to overnight cruises. The sound and smell of the old boats chugging through the water is a great way to appreciate a bygone era. The scenery around Mannum is spectacular. Tall orange cliffs line sections of the river. Bring your lunch to the grass reserve overlooking the river, it's a lovely setting.
There are some nice drives around the area too. The local history circuit starts at the Visitor Centre and takes you to over 20 historical sites. The Murray River Scenic Cliffs drive has great views of the river and cliffs.
The Mannum Falls walk is 10 minutes from Mannum. The falls are worth a look at any time for the impressive granite boulders along Reedy Creek. The falls are at their best after rain. There are two carparks. One leaves you with a moderate 30 minute walk to the falls, the other is at the top of the falls and you can walk down to them. Keep an eye out, there is plenty of wildlife in the gorge. 
Mannum Day Tours 
River Murray Day Trip from Adelaide

Travel from Adelaide to the historic Murray River with a  lunch-time cruise on the Proud Mary. Visit a chocolate factory and cheese maker in Woodside



River Murray Dark Sky Sunset Tour  

Departing Mannum, you'll enjoy a pub meal at Swan Reach Hotel before exploring an ancient rock shelter. Then, travel to a stargazer's delight perched on top of the tallest Murray River cliff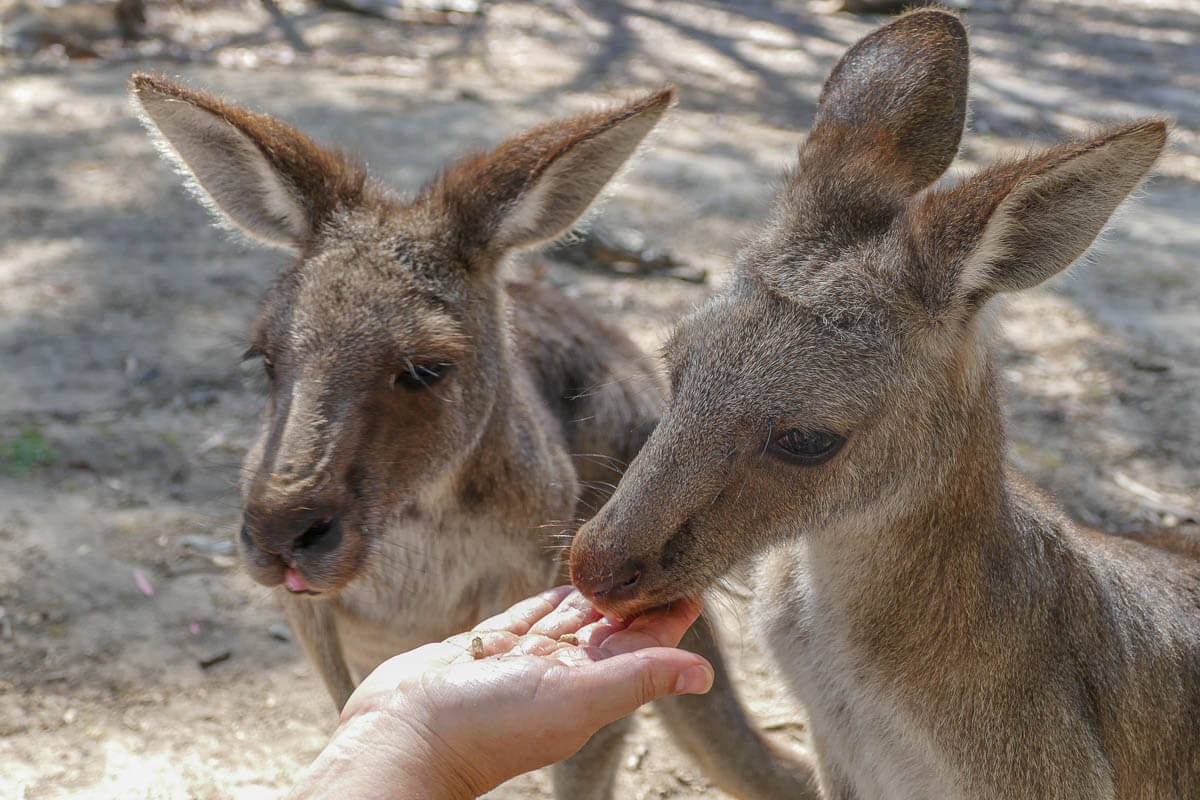 Mt Lofty Summit
Adelaide backs onto the Mount Lofty ranges. In 20 minutes, you can leave the centre of town and be at the highest point in Adelaide. Don't let the short drive fool you, the area will keep you busy for the day. Make your first stop the Mount Lofty Botanic Gardens.
Trails take you through gullies, around lakes and into secluded garden settings. The gullies can be steep, but there is plenty to look at and wonderful views so there is no need to rush. Stick to the lower carpark if you want to walk around the lake and not get as puffed.
Nearby Cleland Wildlife Park offers a great Australian wildlife experience. You can feed kangaroos and wallabies, hold koalas and see many local bird species. There are also a range of interactive animal experiences on offer.
Your last stop for the day should be Mount Lofty Summit lookout. With views across the whole city, the summit is Adelaide's number one spot for watching the sunset. Facing west, the lookout is sure to provide a glowing end to your day at Mount Lofty. 
Mount Lofty Summit Day Tours 
Adelaide Hills
Mount Lofty is the gateway to the Adelaide Hills. The region is full of quaint villages, world class wineries, and a host of other attractions. No matter how you like to spend a day, you can do it in 'The Hills'. Stirling is the first stop beyond Mount Lofty. The tree-lined main street is gorgeous in summer and autumn and full of cafes and gourmet food shops.
Hahndorf takes a good half day to explore. The main street is a thriving tribute to the town's German heritage. Take in the food, art and craft and history as you do a lap of the street. Beerenberg is at the end of the main street. It is a must see if you like strawberry picking and there is a huge and delicious range of jams and sauces in the giftshop.
Birdwood is home to the National Motor Museum. In Gumeracha you'll find The Big Rocking Horse – a great family activity. Melbas Chocolates at Woodside is a South Australian favourite. It is a must do for anyone with a sweet tooth. And that is only the start of what The Hills has to offer.
Adelaide Hills Day Tours
Monarto Safari Park
A visit to the biggest open range zoo in the southern hemisphere is definitely a full day activity. You'll see everything from antelopes to zebras. It will feel like you are on an African safari without leaving Australia!
A well organised bus service takes you through enormous open range exhibits. You will come face to face with giraffes, lions, cheetahs and hyenas. At smaller exhibits you can get up close to rhinos, meerkats and porcupines. You could spend hours just watching the chimps go about their day.
There is a wide range of interactive animal experiences. These are always popular so it pays to arrange these online before your visit. Wear comfy shoes, bring a hat and be ready for a big but thrilling day.
Monarto Experiences
Barossa Valley
One of the most popular day trips from Adelaide is to the Barossa Valley. And why not? With names like Penfolds, Seppeltsfield, and Henschke it is little wonder it is so popular. If you fancy a drop, the internationally renowned Barossa has to be on your list when you visit Adelaide.
But the Barossa isn't only about wine, there is great food too. Choose from legendary Australian cook Maggie Beer's kitchen to a host of restaurants and gourmet food outlets. You sure won't go hungry between drinks!
The Barossa is not all food and wine. To get a feel for the Barossa's history try the Angaston Heritage walk or drive the Barossa Heritage Trail. Take in the views and sculptures at the Mengler's Hill lookout. Kids of all ages will enjoy the dinosaur themed minigolf at Tanunda. For a bird's eye view of the Barossa, try a hot air balloon ride over the vines, it's spectacular!
Barossa Valley Day Tours
Hot Air Balloon Ride – Watch the sunrise as you float over the Barrossa Valley Wine Region followed by breakfast
Maggie Beer Farm & Barossa Region Tour –

visit an artisan chocolate & cheese maker, 3 wineries & Maggie Beer's Farm

Tipple of Gin Tour of the Barossa Valley – Experience a mix of iconic and boutique wneries on this guided tour. Enjoy tasting  four different gins, as well as a wine tasting with lunch
Seppeltsfield Taste the Year of Your Birth – Wine tasting and tour of Seppeltsfield Wines. See ancient vineyards, some of which date back to 1851 Taste a tawny port from your birth year or sip on Seppeltsfield's rare 100-year-old port
Unique Trike Barossa Valley Tour – Take a private 3.5-hour trike tour of the Barossa Valley that can be customized to your interests. Choose from Maggie Beer's Farm Shop, Cheese Company, breweries and wineries.
Have you been on a Mystery Picnic?
Mystery Picnics are the perfect way to combine fun, food and travel. Solve riddles that take you to a series of artisan food shops that provide goodies for your picnic basket. At the end of the day, you finish in the perfect picnic spot to enjoy your food. Picnics are available in the Barossa Valley, Adelaide Hills, McLaren Vale, Glenelg and Adelaide city.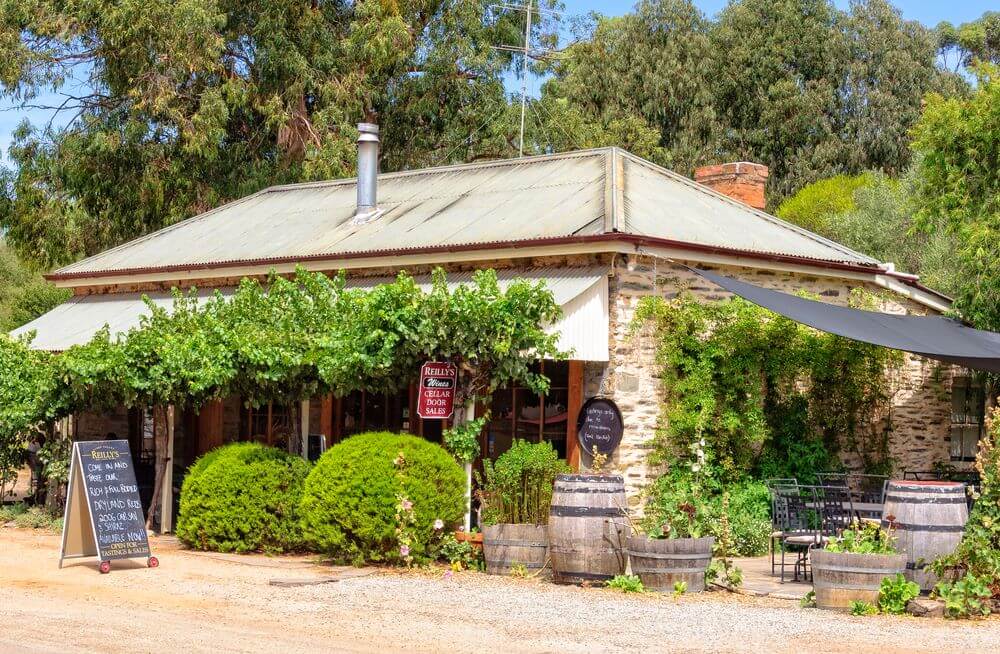 Clare Valley and Burra
The Clare Valley is a little under two hours from Adelaide. It is another well-known wine region with around 50 wineries to visit. Walkers and bike riders can explore the area on the 35 kilometre Riesling Trail. It runs between Clare and Auburn. The trail passes through several wine towns including Sevenhill and Leasingham.
The area is also an arts hub with dozens of galleries spread between the Clare Valley towns. The Arts Collective, Burra Regional Art Gallery and Dingo Dreaming are a few to get you started. Martindale Hall in Mintaro is a 30 room Georgian mansion you can tour. Not surprisingly, it has a seven room wine cellar!
While you are in Mintaro, check out the Mintaro Maze. The conifer maze is a thing of beauty. You'll certainly admire the manicured hedge and water features as you try to find you way out. Nearby Burra has tours and self-guided drives that unlock the towns mining history.
The area is also an important fossil site. Redbanks Conservation Park, as well as some great scenery, has a 2 hour, 5 km 'Landscape of Change' walk. The trail explores the areas megafauna history. If you are on the walk at dawn or dusk, plenty of modern day animals gather at the permanent water holes for a drink.
Kangaroo Island for the day or longer
Visiting Kangaroo Island in one day is a big day. Ferries leave from Cape Jervis 90 minutes south of Adelaide. The ride across is between 30 and 60 minutes long. But, if time is against you or you want a taste of what Kangaroo Island has to offer, you're in for a great day.
Kangaroo Island has abundant wildlife, beautiful beaches and spectacular coastline. You can see the popular Seal Bay, Admirals Arch, Remarkable Rocks and Vivonne Bay all in one day. You could also go for a kayak at American River or relax on some of the long white beaches on the island's north coast.
There is a thriving gourmet food scene on the Island. Gin, ciders, honey, cheese… you'll find lots of island grown and produced goodies to try. Tours of the Kangaroo Island are a great way to see the highlights. If you're not on a tour you will need a car as the island is bigger than you might realise.
Kangaroo Island is an action packed day trip. If you can, it is worth staying on the island for a night or two as there is so much to see and do.
Kangaroo Island Tours from Adelaide
1 Day Kangaroo Island Day Tour from Adelaide –

Travel from Adelaide by ferry and coach. Visit Vivonne Bay and Seal Bay Conservation Park to the Remarkable Rocks, Flinders Chase National Park, Admirals Arch and more. Spot wallabies, echidnas, fur seals, koalas and, kangaroos

2 Day Kangaroo Island Wildlife Tour from Adelaide – An

action-packed 2-day 4WD adventure, including round-trip transport by ferry or plane from Adelaide. Spot colorful birds, echidnas and Tamar wallaby on guided bushwalks; get up close to Australian sea lions and long-nosed fur seals; and see koalas and kangaroos as you explore the Flinders Chase National Park and Kelly Hill Conservation Park

Kangaroo Island Mystery Weekend – Come and explore this beautiful tucked away gem and enjoy the delicious food and coastal views this remarkable island holds. Have fun solving personally curated clues and riddles that'll take you on a journey to collect your special gourmet picnic food bit by bit. Once you've enjoyed your picnic, check into your wonderful accommodation
Adelaide
Of course, not every road trip need take an hour or two to get to your destination. And sometimes it is nice having someone else do the driving. So, our final Adelaide road trip is around Adelaide itself. Park in town or better yet catch one of the free City Connector bus services.
The great thing about Adelaide is it's easy to get around. Many of its attractions are close together and quite a few are free. Looking through the museum, art gallery and botanic gardens on North Terrace will fill in most of a day. And right in the middle of them is Adelaide Zoo.
For something different, try the Adelaide Oval Roof Climb. You get a great look at one of the most beautiful stadiums in the world and wonderful views across the city. If you'd rather keep your feet on the ground, visit the Central Markets. The largest undercover market in Australia, it is the perfect spot to enjoy a late breakfast.
Surrounded by parklands, the city fringe is ideal for picnics, BBQs and bike rides. Keep an eye out in the south parklands for TreeClimb Adelaide. Kids and the young at heart will love climbing the 8 courses and negotiating the aerial obstacles high in the treetops.
Adelaide Day Tours
Adelaide Oval Roof Climb Walk along the stadium roof at sunset for views of the oval & Adelaide City
Iconic Popeye Cruise

travel down the Torrens River.  See the Festival Center, St Peter's Cathedral, Adelaide Uni + more

Adelaide City Highlights Tour Enjoy a 3hr tour of

Botanic Park, Adelaide Oval, St Peters Cathedral & Haigh's Chocolates

Adelaide Central Markets Tour Visit one of Australia's oldest & largest produce markets, meet stallholders & enjoy a delicious lunch with wine
Adelaide Pedicab Street Art Tour

discover bohemian cafés in quiet lanes, stop by the landmark Art Gallery of South Australia, and s

ee street art by local artists including Vans the Omega and Lisa King
Adelaide Accommodation
Adelaide has a wide range of accomodation to suit every need. From 5 star luxury in the centre of town to apartments, caravan parks, cabins and plenty of gorgeous B'nB properties. Some of our favourites are:
Adelaide and South Australia are often bypassed as a tourist hotspot however, South Australia's capital, Adelaide is the perfect destination for a laid back holiday with an excellent reputation for fine food and wine, beautiful beaches and an abundance of wildlife.
Feburary and March are traditionally the hottest months of the year with average daily temperatures in the high 20's and warm nights perfect for the Fringe Festival and WOMADelaide Festival.
Adelaide is blessed with four distinct seasons and as Adelaide locals our faviourite time of the year is Autumn and Spring. Autumn is a beautiful time in Adelaide with blue sunny days, temperatures in the 20's and plenty of autumn colour.  Spring busts into life around September, again a beautiful time of the year.
LIKE IT… PIN IT FOR LATER
500 Things to do
Join our mailing list and receive our Free Top 500 things to do in Australia. If you love Australian Outdoor Experiences download this list and keep it handy when you are planning a weekend away or a road trip around Australia.