If you enjoy dolphin cruises, Adelaide is a great place to do this popular wildlife activity. Between 1500 and 2000 wild dolphins live in Adelaide's gulf waters. Even though Port Adelaide and Adelaide's northern beaches make up the Adelaide Dolphin sanctuary, you can see dolphins along much of the Adelaide's long coastline.
The dolphin watching cruise based in Glenelg is currently the best dolphin cruise in Adelaide. Sadly, the long running Port River Dolphin cruise has stopped operating. There are still Dolphin Sanctuary kayak tours available in the area which we'll talk about later. There are also dolphin cruises on Kangaroo Island. But, for an Adelaide dolphin cruise, check out the team at Temptation Sailing.
Disclosure: Please note that some links in this post may be affiliate links, and at no additional cost to you, we earn a small commission if you make a purchase. Commissions are appreciated and go toward maintaining the Curious Campers website.
Dolphin Cruise Glenelg
Based near one of Adelaide's favourite beaches, Temptation Sailing leaves from the Holdfast Shores Marina Pier. Dolphins aside, from their big catamaran you get a great view of the Adelaide coastline, the city and distant Mount Lofty Ranges. But dolphin watching is what this cruise is all about and they do it well.
We had a great time on the cruise. Sailing south from Glenelg towards Hove and Hallett cove we spotted pods of common and bottle-nosed dolphins. Over the morning we would have seen dozens of dolphins swimming with the boat, leaping, tail slapping and feeding. The best part is you get so close to them. It is a great tour, here is what you need to know…
Credit: Temptation Sailing
Can you swim with dolphins in Adelaide?
Yes, you can, and it is one of the best dolphin swims we have experienced. We have done a few dolphin swims and we have to admit, they have left us feeling a bit underwhelmed. They tend to involve hanging onto a rope off the back of a boat and hoping a dolphin is curious enough to come over and see what you are doing there.
Of course, anyone who loves dolphins will tell you that it's the front of the boat, the bow, where dolphins like to swim and that is exactly where you are for this dolphin swim. A net at the front of the boat gets you within arms-reach of the dolphins as they play at the bow. It is a front row seat and an amazing experience.
Because not everyone will fit on the front net, there is still the tow behind the boat. While you don't get the same view as you do at the bow, they do hang around the back long enough for you to get some great dolphin views. The crew are good at making sure everyone gets a chance for the dolphin swim at the front of the boat.
Do you have to swim with the Dolphins?
No, you can choose whether you get wet or stay dry. Swimming with dolphins is a lot of fun, but it's not for everyone. Hanging onto the rope at the back of the boat and getting up and down from the net takes a bit of effort. You also have to wear a facemask and snorkel. If that sounds a bit daunting, don't worry. The view of the dolphins from the boat is fantastic. You can move around the boat to keep an eye on them, you can see them at the bow and you get to watch them as they approach. If you go for the Dolphin Watch option, you won't be missing out.
BIRD & WILDLIFE WATCHING BINOCULARS
Tasco Essentials Binoculars have 12 times magnification. Whether you're camping, birdwatching, hiking, kayaking, sightseeing or watching live sports, you won't be disappointed by the optics of this binocular. They are waterproof, so pack them for a walk or paddling down a river.
Credit: Temptation Sailing
How long does a dolphin cruise last?
Expect to spend around 4 hours on the water. Part of the time is spent looking for dolphins, which is something the crew seem to have a sixth sense for achieving. But most of the time you are either watching them from the water or spotting them from the deck. Do remember though that there are no guarantees when you are nature spotting, so your experience might be a little different.
Credit: Temptation Sailing
How much is the Adelaide Dolphin cruise?
A swim with the dolphins in peak season (December, January and February) is around $130 per adult and a bit less in the off season. For dolphin watching, adults pay $78 in peak season and children 15 under are $68. Take off another $10 for the prices in the off season. Book here.
Swim with Dolphins
Look for dolphins off the coast of Adelaide on a dolphin-spotting cruise from Glenelg, a seaside town just south of the city. As you glide across Holdfast Bay by catamaran, keep your eyes peeled for some of the thousands of dolphins who live in these waters. To enhance your encounter with these lovable creatures, upgrade your tour to include a dolphin-swimming experience from the boat.
What to bring on the dolphin cruise?
Make sure you dress appropriately for the weather. It is always a little cooler out on the water. You also need to bring your own drinks and snacks. If you are getting in the water, all your gear is provided which includes wetsuits, snorkels and facemasks. If you wear glasses, they even have prescription facemasks. BYO towel.
If you enjoy wildlife photography, bring a camera. The dolphins get so close to the boat you should be able to get some good shots and your camera should stay dry. Otherwise, you can purchase pictures and videos taken by the crew from your cruise.
Port River Dolphin Kayak
After 30 years, the Port River Dolphin Explorer cruise around Port Adelaide for 30 stopped operating in mid-2021. If you want to get out onto the water to see the Port River dolphins, you still can, but it takes a little more energy! We have done this kayak tour a couple of times and it is great fun. Obviously, it is a more active way to spot dolphins than being on a cruise but it is fun seeing them at water level.
The kayak tour leaves from the Garden Island Boat ramp. Your experienced and helpful guides take into mangrove lined creeks and the Ships' Graveyard. The graveyard is the resting place for over 25 wrecks, some dating back to the 1850s. It is a great way to learn a little of The Port's history and natural significance.
And there's the dolphins. We saw them on both of our tours (again, there are no guarantees what you will see…). On one tour, a dolphin swum alongside our kayak. It was super exciting, and we couldn't believe how big they are up close. Another time we saw them from a distance playing and jumping out of the water. The guides are passionate about the dolphins, know them all by name and have a knack for tracking them down. While it isn't a dolphin cruise, it is still great fun.
Kayaks are also available to hire and you can explore the river at your leisure. There are single, double and triple seat kayaks available. The 3 hour tour starts from $72. Make sure you book, it's a popular activity and a great chance to see a wild dolphin in quite an unusual habitat.
DOLPHIN SANCTUARY & SHIP WRECK KAYAKING TOUR
Explore Adelaide's own Dolphin Sanctuary and shipwreck heritage trail around Garden Island by sea kayak. You will paddle through wonderful mangrove lined creeks and see a wealth of bird life and sea creatures along with shipwrecks.

Dolphin Cruises beyond Adelaide
One of our favourite wildlife cruises is the Big Duck Tour that leaves from Victor Harbour. It is not specifically a dolphin cruise, but we have seen dolphins the three times we have done the cruise. On one occasion, a pod of 20 common dolphins swum alongside the boat for 5 or 10 minutes. As a bonus you'll also likely spot seals and bunch of different birds and maybe a whale in winter.
There are also dolphin cruises on Kangaroo Island. Leaving from Kingscote and Emu Bay there is the chance to snorkel with the local dolphins and perhaps a curious seal that might be around. Like the Glenelg dolphin cruise, there is the option to stay in the boat or hop in the water with the dolphins.
SEAL ISLAND DOLPHIN & SEAL CRUISE
Take an exhilarating 45-minute boat ride from the Granite Island Causeway to Seal Island and Wright Island to look for seals, sea lions, and bottle-nose dolphins. Hear the history of whaling in Encounter Bay. During winter you might be lucky enough to spot a few whales along the way.

Where else can you see Dolphins around South Australia?
As you might have gathered, there are lots of dolphins in the waters around South Australia. Spend enough time on a beach gazing out at the water and you might spot them. We regularly see them from shore between Brighton and Hallett Cove. We have had them swim right past us when we were snorkelling at the Star of Greece Wreck at Willunga.
Other good land based dolphin vantage points are around Victor Harbor and Port Elliot south of Adelaide. Take a seat along the Freemans Lookout walkway. There are great views and we have spotted dolphins swimming along the coast here. We have also spotted them in the marina on Granite Island and in Encounter Bay in front of the Waitpinga Cliffs.
Another great spot for a dolphin encounter is Whyalla. You might think this industrial city is the last place you'd see dolphins, but they follow fishing boats into the marina and you can get a great look at them. Read about our Whyalla dolphin encounter here.
No park pass is required to visit the Adelaide Dolphin Sanctuary, the St Kilda Mangroves or the Adelaide International Bird Sanctuary.
If you prefer to stay on land you can follow the 3.5km cycle or walk along Anna Rennie Path. This loop walt takes you through the Inner Harbour with views of the Port River. Hopefully you will catch a glimpse of a dolphin or two.
In the Adelaide Dolphin Sanctuary there are around 40 bottlenose dolphins that are regularly seen by locals and visitors. Boating, pollution and stormwater is threatening the pod. Careful management of the sanctuary is vital to ensure the dolphin's survival.
Bottlenose dolphins are a very social species, and will often work as a team to maximise their harvest. To hunt larger fish, the bottlenose dolphin will stun the fish by using its tail to throw the fish out of the water and catch the prey in its mouth. They swallow small fish whole, or break up larger fish by shaking them, or rubbing the fish on the ocean floor.
Bottlenose Dolphin calves are born in the water after a gestation period of one year and suckle for about 18 months. They remain with the mother for about four years. They are a long-lived species, with an extensive life span of up to 45 years.
LIKE IT… PIN IT FOR LATER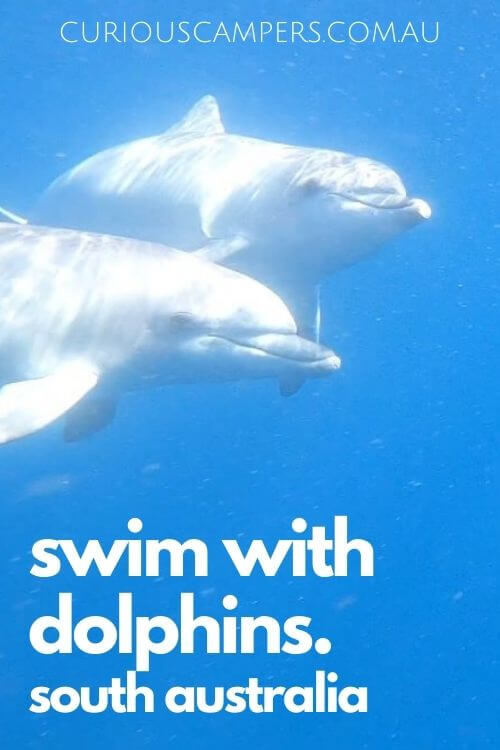 500 Things to do
Join our mailing list and receive our Free Top 500 things to do in Australia. If you love Australian Outdoor Experiences download this list and keep it handy when you are planning a weekend away or a road trip around Australia.