If you like wildlife parks, Adelaide has a great range of parks and zoos to explore. From an African plains experience at Monarto Safari Park to getting up close to Australian native birds and animals at Cleland Wildlife Park, there is a wildlife experience for everyone.
Many wildlife parks in Adelaide also have animal encounters, we'll let you know the best ones. And we have included some great wildlife parks in regional South Australia, like Raptor Domain on Kangaroo Island and Valley Lake Wildlife Park in Mount Gambier, that are worth a visit if you are in the area.
Disclosure: Please Note That Some Links In This Post May Be Affiliate Links, And At No Additional Cost To You, We Earn A Small Commission If You Make A Purchase. Commissions Go Toward Maintaining The Curious Campers Website.
Adelaide Zoo
Entry from Botanic Park in the heart of Adelaide
Adelaide Zoo has a huge range of exotic and Australian native animals. Despite being in the heart of the city, Adelaide Zoo is closer in character to the neighbouring Adelaide Botanic Gardens. The zoo and its exhibits having a beautiful, landscaped feel. For a number of years now, the stars of Adelaide zoo have been its two panda bears. They are adorable and being at their exhibit during feeding time is a must do.
There is a full schedule of feedings and keeper talks across the day where you can see the penguins, tigers and sealions get fed and learn more about them from the keepers. The free flight bird show is another event to make sure you get to. Seeing the blue and gold macaws swooping between the trees metres above your head is great. There is a nocturnal house, reptile house, walk through aviary and a petting area with farm and Australian native animals.
Adelaide Zoo Animal Experiences
At Adelaide Zoo you can get personal with a range of animals including penguins, meerkats, pandas, red pandas, rock wallabies, a range of primates and even the wonderful Aldabra tortoise. There is also a Keeper For a Day experience for adults and children.
Know before you go
Getting here & parking – Metred parking is available in Botanic Park. Adelaide Metro buses also stop right out the front of the zoo, there are even bike racks there if you want to get there on two wheels.
When is Adelaide Zoo open? Adelaide Zoo is open every day of the year from 9.30 – 5.00
How long do you need? Adelaide Zoo is quite compact, you can see a lot in half a day, or spend the day following the keeper talk and animal feeding schedule.
Cleland Wildlife Park
Crafers, 25 minutes from Adelaide
Cleland Wildlife Park is all about Australian native animals. Much of the park is open range so you're walking through large areas with red, grey and Kangaroo Island kangaroos, Tamar, swamp and yellow footed rock wallabies, potoroos, bandicoots and emus. Above you, kookaburras, cockatoos and rosellas fly between the trees, blue wrens dart between the bushes. It is a magic place, there are animals everywhere and most are keen for a feed – food is available for sale when you come in.
There are also enclosures with Tassie devils, wombats, dingos and echidnas, several large walk through aviaries and a reptile house. Koalas are a feature at Cleland Wildlife Park. There are several areas to view them close up and there are daily free koala patting sessions. There is a big café area which is perfect for lunch, lookout for the potoroos that scurry between the tables!
Animal Encounters at Cleland
For an additional cost you can do animal experiences with cockatoos, butterflies, koalas, reptiles and echidnas (seasonal). We have done the echidna encounter and it's great. You sit in their enclosure and hand feed them as they sit up on your lap – very cool!
Know before you go
Getting to Cleland – There is a public bus service from the city to Cleland
When is Cleland Open – Cleland is open every day except Christmas Day and days of Catastrophic fire danger. Opening hours are 9.30 – 5.00
How long do you need? Allow at least half a day. While it isn't a huge park, by the time you see everything and stop to feed the animals you'll be 3 – 4 hours.
Cleland weather – Cleland is near the highest point in Adelaide – Mount Lofty – so it can be quite a bit cooler and wetter than it is in Adelaide.
Read More: Spend the Day in the Adelaide Hills
Monarto Safari Park
Monarto, 60 minutes from Adelaide along the South Eastern Freeway
Monarto Safari Park is the biggest open range park in the southern hemisphere, it is a taste of Africa right here in Australia. While you can walk to some exhibits from the entrance, you will generally be getting around Monarto on their well run bus service. Not only do the buses take you between stops where you can see lions, rhinos and cheetahs from viewing platforms, they also take you through the vast enclosures where giraffes, zebra, eland, antelopes, ostriches and more, roam.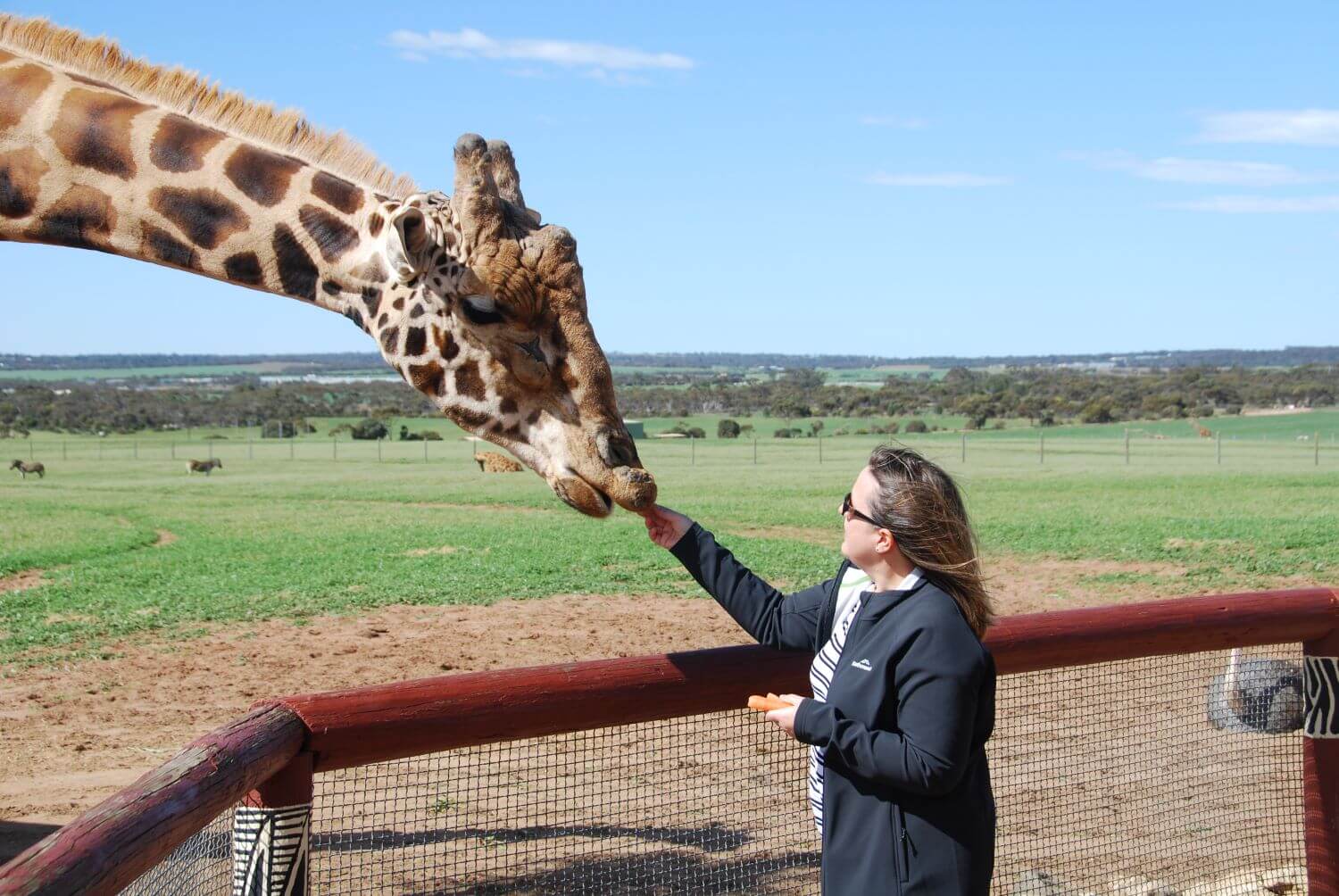 Monarto Safari Park Animal Experiences
For an extra fee, you can get up close to lions, rhinos, meerkats, cheetahs, chimps and giraffes. There are also several 'keeper for a day' packages to choose from. We have done the lion, cheetah, giraffe and meerkat encounters and they were all fantastic. Watching a giant giraffe head come within arm's length of you for a carrot is an experience you'll never forget. The animal experiences at Monarto are very popular, book in advance if you want to include one in your visit.
Know before you go
When is Monarto open – Monarto is open from 9.30 – 5.00 every day but Christmas Day.
How long do you need? Going to Monarto is a full day adventure. It is worth planning your day to be at the exhibits for the keeper talks and feedings.
Dress for comfort – While you spend some time on buses, you will also be doing a bit of walking so wear comfortable shoes. It can also be several degrees warmer in Monarto than it is in adelaide so have a hat and sunblock in your travel bag.
Food and drinks – there are two large, well-stocked cafés where you can grab a meal. There is also a nice picnic area if you want to BYO.
Read More: Plan your Monarto Safari Park Visit
Gorge Wildlife Park
Redden Drive, Cuddlee Creek, 45 minutes from Adelaide
Gorge Wildlife Park is a privately run zoo in the Adelaide Hills. From Adelaide, it is a bit of a windy drive through the hills to get there but you are rewarded with a beautiful setting with plenty of shady trees. There is a mix of Australian and exotic animals here. Native favourites include kangaroos, wallabies, koalas, Tassie devils, echidnas and wombats. There is a walk through area where you can feed kangaroos and wallabies.
There is an interesting mix of exotic animals. They have a great small primate collection that includes spider monkeys, tamarins and capuchins. Gorge wildlife park is part of Save the Cassowary program so you can see these big colourful birds here along with emus, ostriches and a range of other Australian native birds.
Gorge Wildlife Park Encounters
There is a reptile presentation at 11.00am on Saturdays and Sundays and on the last Sunday of each month from 12.30 to 3.00 keepers make a range of animals available for a pat. Koala Patting (free activity) and holding (paid activity) is available as are a small range of personal animal encounters.
Know before you go
How long do you need? Not as big as some wildlife parks and zoos in Adelaide, you can get around Gorge Wildlife Park in a couple of hours.
Food and drinks – There is a nice café area and undercover seating if you need a snack.
When is Gorge Wildlife Park open? Open 9.00 – 5.00 every day except Christmas day.
Warrawong Wildlife Sanctuary
Located in Mylor in the Adelaide Hills, 30 minutes from Adelaide
Warrawong Wildlife Sanctuary is a privately owned open range nature reserve. The place has an interesting history. Originally owned by John Warmsley, it was later listed as part of Earth Sanctuaries on the stock exchange. After that failed, it was briefly owned by the operators of the Big Rocking Horse, then Zoos SA. When they let the property go, it sat untended for 4 years before being taken on by the current owners who have restored much of the reserve.
Today, Warrawong offers an authentic native wildlife experience with a variety of tours and activities on offer. Included in your admission is a Meet the Animals and Meet the Reptiles presentation. You can also walk the grounds which takes you through a variety of natural habitats where you'll spot a range of animals. The lakes here are one of the only places in South Australia you can spot a platypus.
The best way to look around Warrawong is on a dusk or dawn guided tour. These not only give you the best chance of seeing a platypus, but the guides are great at spotting the local residents that include koalas, kangaroos, wallabies, bettongs, potoroos, possums and a host of birds that all flourish in an environment free of feral animals.
Warrawong Animal Experiences
At additional cost you can do the Koala Caper, Dingo Delirium, Fluff and Stuff, Wings and Things or Reptile Wrangler experiences. There are also junior and adult keeper experiences available. There is a koala pat session during the general admission time which you also have to pay for. Admission to the park is included in the cost of the animal encounters.
Know before you go
When is Warrawong open? Warrawong is open on weekends, public holidays and in the school holidays between from 11.00 – 4.00. Warrawong is closed when the forecast temperature is 32 and above or if the fire danger rating is severe or greater.
Food and drinks – You cannot bring your own food to Warrawong. There is a café there if you need a snack.
Getting around – the trail through the sanctuary follows the natural lay of the land so there are some uphill parts to the walk and some parts of it are on dirt tracks.
Urimbirra Nature Park
Victor Harbor, 1 hour 15 minutes from Adelaide
Urimbirra near Victor Harbor is a lovely family friendly open range native wildlife park with a great collection of Australian animals. While there are a few enclosures that feature dingos, echidnas, wombats and koalas, the highlight is the large, grassy kangaroo feeding area. The Western Grey and Kangaroo Island kangaroos are adorable, friendly and more than happy to relieve you of some of your 'roo food – $1 a bag.
Animal Experiences at Urimbirra
Another good thing Urimbirra is the twice daily free koala patting sessions at 11.00 and 2.00. You can also have a snake slither up your arm at the daily snake handling session. There aren't any more individual animal encounters but there are keeper experiences for pre-schoolers, older children and adults.
Know before you go
Opening hours – Urimbirra is open every day from 10.00 to 4.00. Entry costs are very reasonable.
How long do you need? This is a good half day activity that will leave you enough time to explore some of the other great things to do in Victor Harbor, Goolwa and Port Elliot.
Food and drink – There isn't a significant café here but there are plenty of picnic and BBQ facilities.
Read More: Plan a Day Trip to Victor Harbor
Smaller & Regional Wildlife Parks
Kangaroo Island
Besides its beautiful beaches, spectacular coastline and artisan food scene, one of the things Kangaroo Island is best known for is wildlife. You'll see plenty of it as you explore the island but there are also some great wildlife parks there too featuring the island's and Australian wildlife.
If you are thinking of visiting Kangaroo Island, read our Kangaroo Island Holiday Guide
Kangaroo Island Wildlife Park
Located right in the middle of Kangaroo Island near Parndana, Kangaroo Island Wildlife Park is home to over 150 native animals and an interesting mix of exotics. There are opportunities to pat a koala and hear keeper talks at different exhibits such as the little penguins and dingos.
There is a big walk through area where you can feed a range of kangaroos and wallabies. The park has a great vibe, the staff are friendly and happy to chat about their much loved birds and animals. It is open 9.30 – 5.00 every day except Christmas day and is must do when you visit KI. It's an easy park to get around and a fun half day activity.
Raptor Domain
Not far from Seal Bay, Raptor Domain is a great chance to see some of Kangaroo Island's birdlife up close. Eagles, owls, kookaburras and kites all feature in the twice daily Free Flight Bird Show where you'll see them swooping around you. You might even get to hold an eagle or pat a very cute owl.
Not only will you learn a lot about the birds, but you'll also see what an amazing job the park does on the conservation front, all the birds here have been rescued. Besides the birds there is also a reptile show. Gates open from 11.00 to 4.00. The idea is come along and see the bird show and the reptile show or reptile show then the bird show.
Hanson Bay Wildlife Sanctuary
For a different wildlife experience on Kangaroo Island, go on a guided tour through the Hanson Bay Wildlife Sanctuary. There are no enclosures here, the birds and animals live in natural island habitat. Tours are run by appointment only and go for about 2 hours. It is a fascinating tour where you learn a lot about the resilience of the island's wildlife to bushfires.
Read more about where to see Kangaroo Island's wildlife
Big Rocking Horse
Gumeracha is 40 minutes from Adelaide in the Adelaide Hills
If you like your zoos on a smaller scale and you are looking for a fun family activity the Big Rocking Horse in Gumeracha is a great activity. Yes, there is a gigantic, climbable rocking horse and a toy shop/factory here, but there is also a lovely little petting zoo full of native and farm animals. If the animals hear the rustle of a food bag, you'll soon be mobbed by a collection of friendly birds and furry faces. It is only $4 entry and a couple of dollars for a bag of food.
Valley Lake Wildlife Park
Located in the Valley Lake Recreation Area in Mount Gambier, 450km southeast of Adelaide.
If you are looking around the beautiful Limestone Coast region of South Australia, this is a wonderful little nature reserve in the heart of Mount Gambier's lakes district. Open every day from 7am to 6pm and free to enter, the lookouts, walking trails and varied habitats are home to kangaroos, wallabies, koalas, emus and wombats. The more slowly you walk through, the more you'll see especially at dawn and dusk.
The nearby lake, boardwalk, playground and picnic and BBQ areas make this a top spot for a relaxing walk or family activity. From here you can explore more of Mount Gambier's many caves and sinkholes.
Check out: Our guide for more fun things to do in Mount Gambier
Glen Forest Wildlife Park
15 minutes from Port Lincoln on South Australia's Eyre Peninsula
We have fond memories of Glen Forest from when we visited a few years back. The walk-through aviary is brilliant, take some seed and you'll have birds all over you for a feed. The rainbow lorikeets won't wait for an invitation, they will go straight for the bag, it's a lot of fun!
But there is much more here than just the birds, there is also a great range of Australian native animals, farm animals and a few exotics including water buffalos and camels. The farm animals and native animals are friendly and more than keen for a feed.
This is a fantastic family activity if you are on the west coast of South Australia. There is also mini-golf, an adventure maze and segway tours around the animals and vineyards of the 400-acre site. There is a café, free BBQs and undercover picnic areas.
The park is open every day from 10.00 – 5.00.
Bordertown Wildlife Park
On the corner of the Dukes Highway and North Terrace in Bordertown
If you are on a road trip between Adelaide and Melbourne, the little Bordertown Wildlife Park is the perfect spot to get out and stretch your legs. You can drive or walk around the 4.5 hectare park, the park has kangaroos, wallabies and some birdlife but the highlight is the mob of white kangaroos. They are not albino kangaroos, but a white furred variant of the western greys you'll see in the park.
And while you are on North Terrace, check out the amazing Morning Loaf Bakery – it's a beauty!
If you enjoyed this story you might also like:
Wildlife in Tasmania | Kangaroo Island Wildlife | See Dolphins in South Australia
Like it? Pin it for Later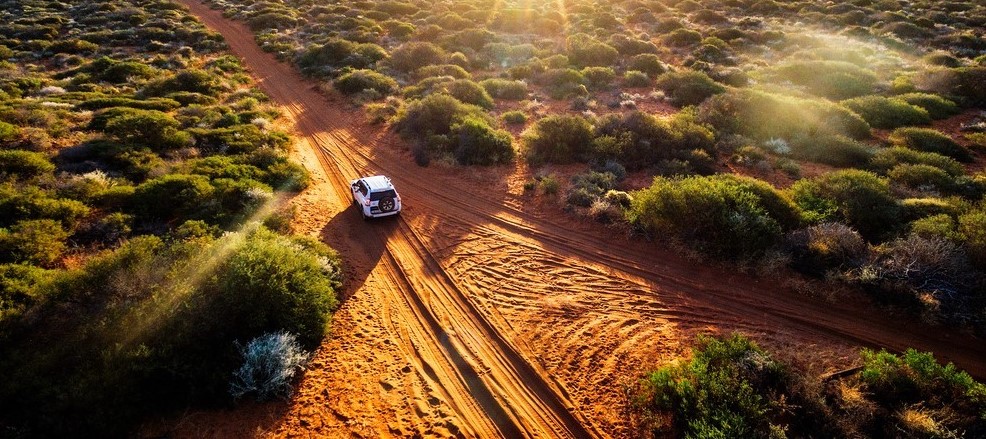 500 THINGS TO DO
Join our mailing list and receive our Free Top 500 things to do in Australia. If you love the Australian Outdoors download this list and keep it handy when you are planning a weekend away or a road trip around Australia.
Recent Posts