There are some great spots to snorkel in Adelaide and around South Australia. While the water might be a little cool, the variety of snorkelling opportunities makes up for it. There are snorkels for all ability levels. We have also included a few tours that deliver unique snorkelling experiences.
We have given each snorkel a rating of easy, intermediate and advanced. For the easy level, we assume you can swim and are happy using fins, a facemask and a snorkel. Where a snorkel is beyond easy, we'll explain why, so you can decide if it's for you.
Even in summer, it is a good idea to wear at least a shortie wetsuit when you snorkel in South Australia. At best, summer water temperatures are in the low 20s. Not only do they provide a bit of sun protection, they keep you warmer which lets you snorkel for longer. Grab your gear and let's hit the water!
Disclosure: Please Note That Some Links In This Post May Be Affiliate Links, And At No Additional Cost To You, We Earn A Small Commission If You Make A Purchase. Commissions Go Toward Maintaining The Curious Campers Website.
Port Noarlunga Reef
What: This reef snorkel is one of the most popular in Adelaide. Access it from the beach or the Noarlunga Jetty
Where: Port Noarlunga is just over 40 minutes from Adelaide
Level: Easy to moderate. The popularity of Noarlunga Reef is due in no small part to how protected the inner reef is. If you are newer to snorkelling and don't feel like you want to venture out of the shallows, this is a great place to start.
Moderate – The outer reef is subject to more of the usual waves and currents of the open water. The depth increases sufficiently on the outer reef for it to be a popular dive spot. To get to the outer reef, stay left of the jetty and swim along the inner reef to a gap in the rock that lets you through to the other side.
What will you see? This is the fun thing about Noarlunga, you never know what you'll see but you will always see something. Near the jetty you'll see schools of fish. Along the reef you'll spot all kinds of fish and starfish. You might even bump into a harmless Port Jackson shark (honest, they really are harmless!).
Tips: Plan your snorkel for low tide. This is when the water will be at its calmest, clearest and most shallow. Depth can range from 2 to 5 metres.
Highlights: Port Noarlunga has a great vibe. After your snorkel grab some hot chips and relax. The personality of the beach changes as the tide rises and falls over the long reef that runs parallel to shore. Come for a snorkel, stay for the day and watch the sun go down. Perfect!
While you are in the area: Check out Onkaparinga River National Park. There are some great walking and bike tracks. Kayak hire is available too, it's a great way to explore the river and its birdlife.
Christies Beach – Port Jackson Sharks
What: A shallow, lesser-known reef snorkel at the southern end of Christies Beach. In November and December, it is a great spot to see Port Jackson Sharks.
Where: Christies Beach is just over 35 minutes from Adelaide. Access the reef at the southern end of the beach.
Level: Easy – This is a good spot for new snorkellers. You snorkel over a mix of sand and weed covered rock ledges quite close to the beach.
What will you see? This gem of a snorkel has all sorts of surprises. The rock ledges are home to egg laying Port Jackson sharks in November and December. At other times of the year, you will see a variety of reef fish and look out for one metre wide eagle rays cruising over the sandy patches.
Tips: This is a fun snorkel at low tide but if the tide gets too low some sections of the reef are exposed. There is still water deep enough to explore, especially if you are happy to go a little further from shore. If you are confident, you can continue further around to Witton Bluff where there are more fish.
Highlights: It took us a few tries, but we eventually found the Port Jackson sharks here one November. There were 15 – 20 of them in groups under the ledges of the reef. The water was less than 2m deep, we could have stood up if we wanted to.
It was great seeing these unusual fish up close. A few were swimming around and came right up to us for a look before swimming off. If you get the chance to snorkel at Christies in November or December, seeing the PJs, as they are affectionately known, is an awesome experience.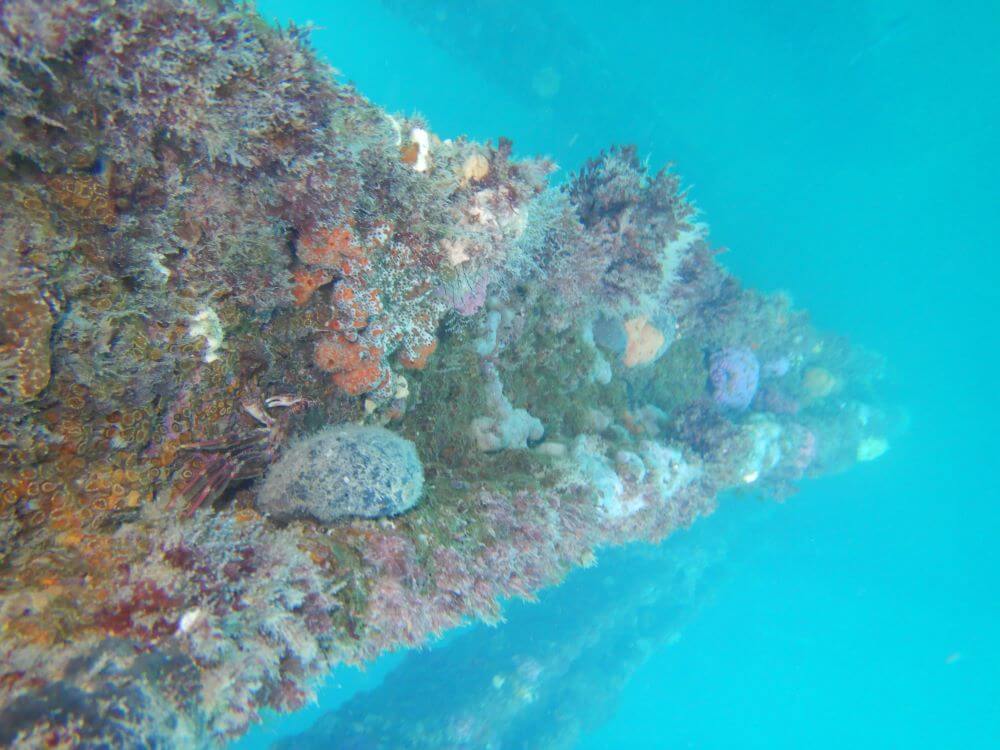 Rapid Bay Jetty
What: Snorkelling around the pylons and under the old Rapid Bay Jetty
Where: Rapid Bay is a bit over 90 minutes south of Adelaide
Level: Intermediate. There is a 200 metre swim to get out to the old jetty. Water depth is about 10 metres. If the tide is running, you can notice currents swirling around under the jetty.
What will you see? Heaps! This is possibly SAs best snorkelling and dive spot. There are big schools of fish and the colour and life on the pylons is fantastic. Don't let the depth put you off, there are fish everywhere.
Tips: Best to try here at the change of tide or when there is a neap/dodge tide to avoid currents. We would again emphasise the benefit of using a wetsuit. Stay warm and stay out there! There is easy access to the old jetty from the new Rapid Bay jetty. The new jetty has an excellent platform to launch from.
Highlights: The number of fish in a small space is amazing. There are over 40 fish species around the jetty so you never know what you will see.
While You are in the area: visit Second Valley. It's a beautiful spot to swim, kayak, walk and fish.
Read More: See more photos & video from our Rapid Bay Snorkel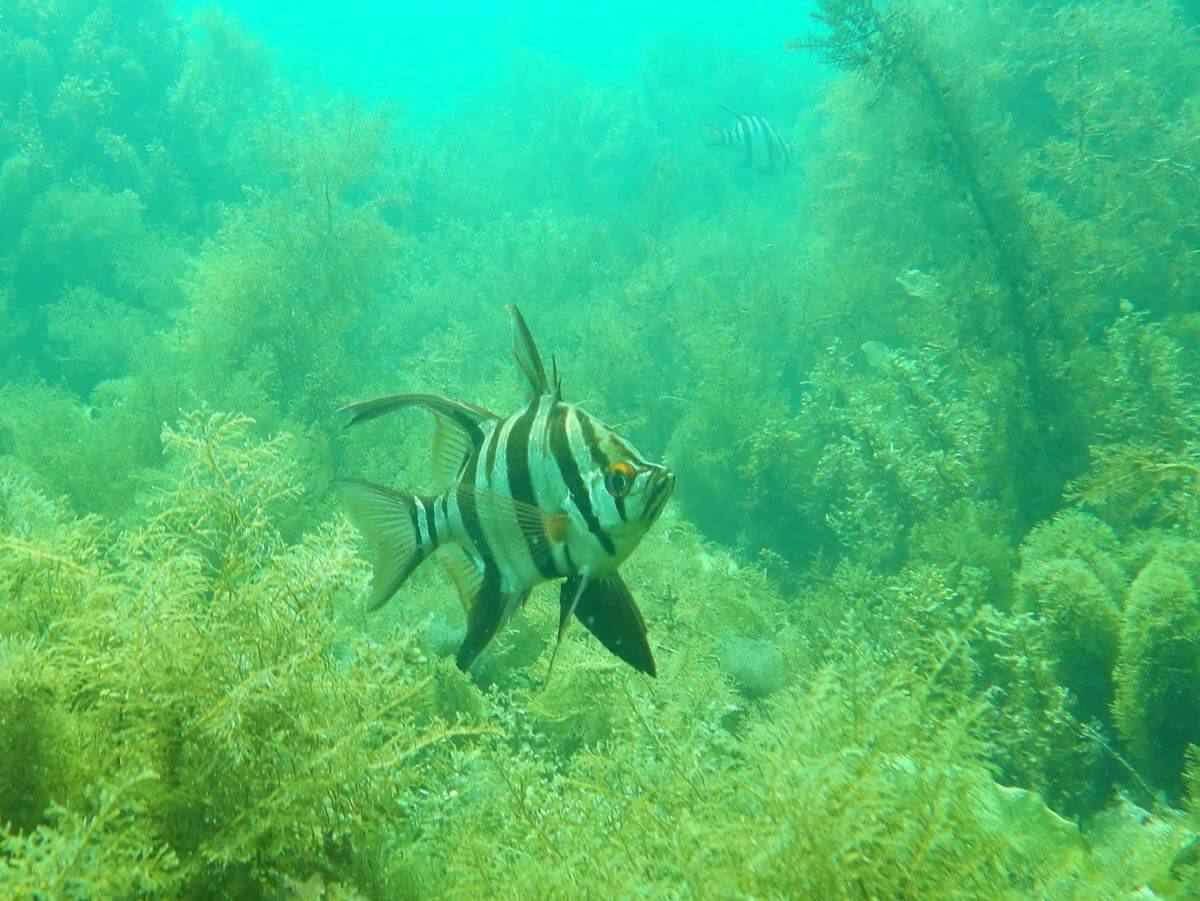 Second Valley Reef
What: Snorkel around Lasseter's Reef and sea caves
Where: Second Valley is 90 minutes south of Adelaide
Level: Easy to advanced. Snorkel straight off the beach. It is safe and fun although marine life can be sparse. Advanced – The real action is on Lasseter's Reef which is a 400 metre swim from the beach in open water. You can access the sea caves from an adjacent bay but beware of strong currents.
What will you see? Around the caves and bays, you can see leafy sea dragons but you will need a good eye to spot them. Lasseter's Reef has abundant fish life and is the pick of the spots if you don't mind the swim out.
Tips: These are quite exposed snorkels so look for calm conditions on the change of tide.
Highlights: Look out for the blue devils on Lasseter's reef. Their iridescent blue is stunning.
While you are in the area: Stop at the HMAS Hobart lookout. There are great views and you can read how the Hobart became one of South Australia's top dive locations.
Read More: Our Second Valley Snorkelling Adventure
Port Willunga – Star of Greece
What: Snorkel straight off the beach around some rock pools or head out a bit further to the Star of Greece wreck.
Where: Port Willunga is just under an hour from Adelaide
Level: Easy to moderate. There is easy snorkelling around the rock pools or off the beach. You will see more near the rock pools with all kinds of critters and little fish lurking about. Moderate – The wreck of the Star of Greece is 200 metres out from the beach in about 4 to 6 metres of water.
What will you see? The skeleton of the 125 year old wreck is still visible. The ship was 80 metres long so there is quite an area to explore. It is home to a variety of fish.
Tips: The easiest way to find the wreck and the best time to snorkel over it is at low tide. The wreck is a couple of hundred metres north of the café that also bears the ships name. At low tide you can see one of the masts sticking out of the water which makes it easy to locate.
Highlights: See if you can find the plaque commemorating the wreck. Despite being so close to shore 18 lives were lost when the ship ran aground. On a brighter note, we have snorkelled here twice. On both occasions we had dolphins swim past us on our way back into shore so keep an eye out!
While you are in the area: Port Willunga is a beautiful spot. The beach is white and clean, the water can be a gorgeous turquoise and in the late afternoon the cliffs glow red. Look out for the fisherman's caves that have been dug into the cliff face and the ruins of the old Jetty. The Star of Greece Café is fantastic too.
Read More: The Ultimate Guide to Adelaide's Beaches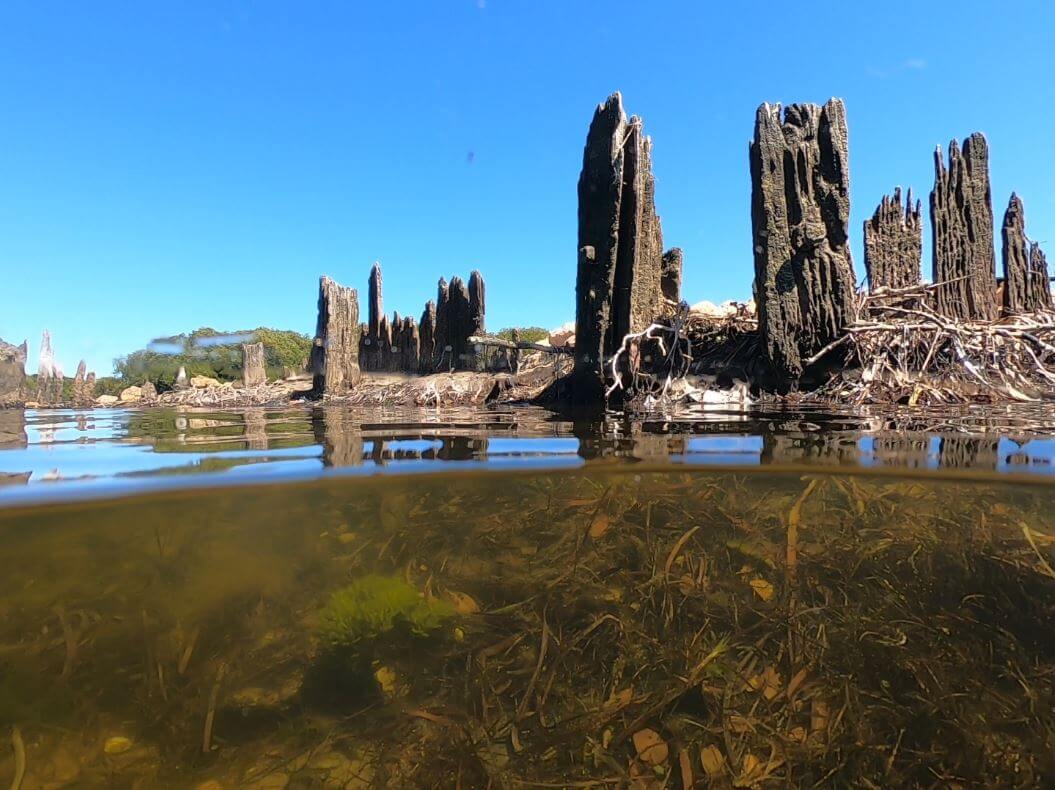 Port Gawler Mangroves
What: This is different, snorkel along the Port Gawler River through a mangrove forest.
Where: Port Gawler Road that leads to the pontoon is about 45 minutes North of Adelaide
Level: Easy to moderate. On the easy side, there are no waves as the river is sheltered and there is simple access to the water from a pontoon. But there are a few things to consider. It is a narrow channel so there can be currents if the tide is running. The fine sediment on the bottom and banks is easily stirred up which spoils the visibility so calm snorkelling is needed. Perhaps think twice about this spot if you like putting your feet on the bottom or if you have excitable young snorkellers with you.
What will you see? Stacks of fish and crabs. Mangroves are well known as a nursery for marine life and you'll see why. We saw many schools of small and medium sized fish. For our snorkel in January there were blue swimmer crabs everywhere too. And you'll see the mangrove forest from a whole new perspective.
Tips: Snorkel when there is little tidal movement or at the change of tide. Stay close to the banks and submerged trees for the best visibility and the most marine life. You'll want to snorkel by the sunniest bank for best visibility.
Highlights: Seeing the mangroves from water level was a great experience but we were blown away by the number of fish. They weren't big, but they are there from the moment you get into the water.
While you are in the area: Port Gawler is the northern end of the Adelaide International Bird Sanctuary. It extends south to St Kilda. The St Kilda end has a great adventure playground and lots of bird watching vantage points. There's a kiosk there too so grab a coffee and enjoy the views.
Read More: Our snorkel at the Port Gawler Mangroves
Witton Bluff
What: A lesser-known reef snorkel between Christies Beach and Noarlunga Beach, lots of fish and not many people.
Where: Witton Bluff is just over 35 minutes from Adelaide. It is the rocky point between Port Noarlunga and Christies Beach
Level: Moderate. The best snorkelling is right in front of Witton Bluff, but it is a swim of 100-200m to get there. Enter either from the southern end of Christies Beach or the northern end of Noarlunga Beach. It is quite unprotected so avoid this snorkel if there is a southerly or south westerly breeze – the water will be pretty lumpy.
What will you see? Once you get to Witton Bluff, you'll see a big variety of fish from friendly little bullseyes to schools of fish and some enormous crabs.
Tips: This is a good low tide snorkel. But if the tide is too low, the reef on the Christies Beach side gets exposed. When this happens, it is easier to get to Witton Bluff from the north end of Port Noarlunga Beach. In the water, look for the rock on the headland with white paint on it. About 50m out from there is a reef where lots of fish congregate.
Highlights: In contrast to neighbouring Port Noarlunga, Witton Bluff is a much quieter place for a snorkel. The three times we have been out at Witton Bluff, we were the only ones there. If you like the idea of having a small reef all to yourself, then this snorkel is the one for you.
While you are in the area: You are just a few minutes from Southport Beach and the mouth of the Onkaparinga River. There are some great lookouts and walks around the river and clifftops. Definitely worth a look after your snorkel.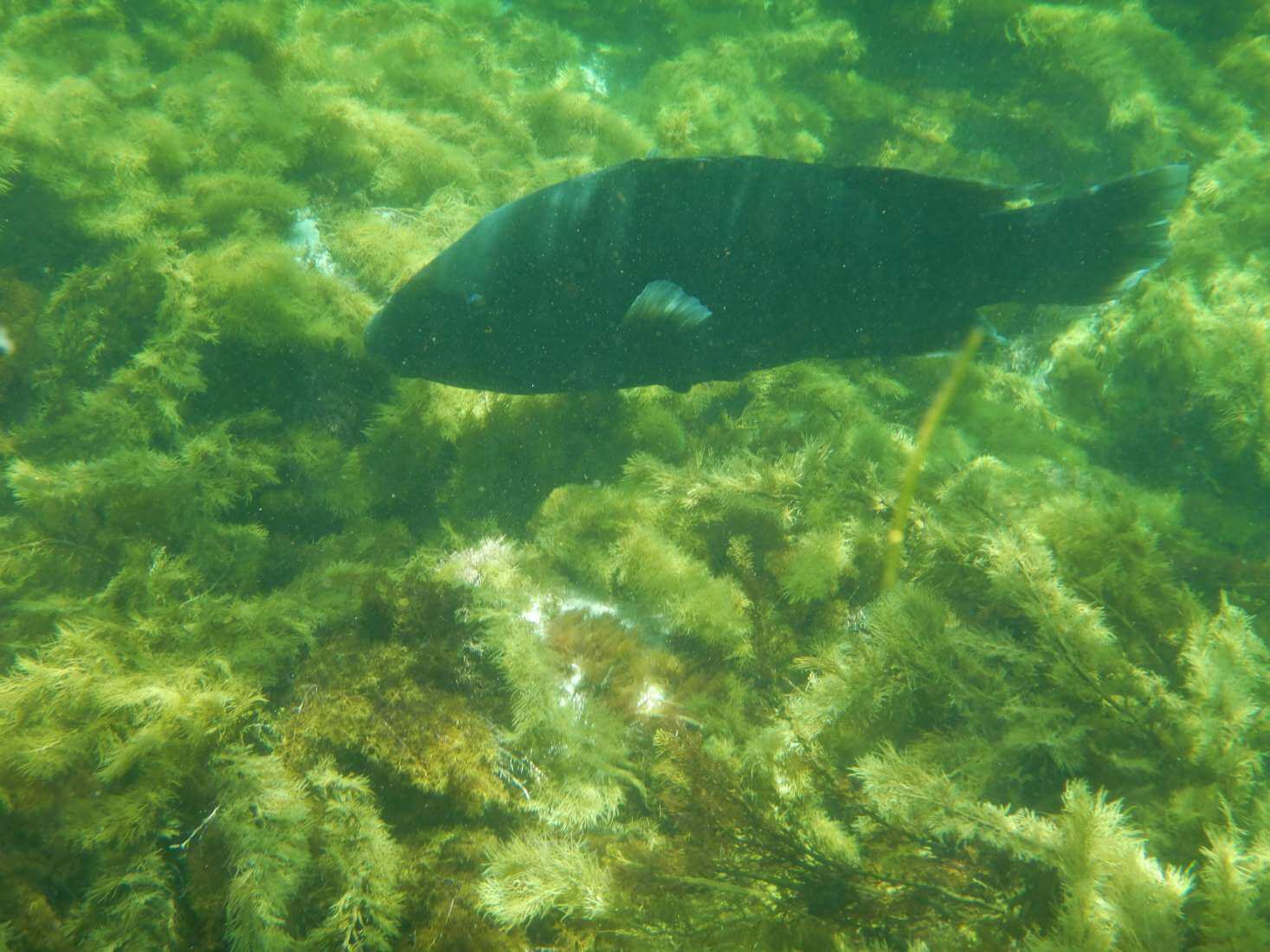 Harvey's Return – Kangaroo Island
What: Swim with giant blue groper
Where: Kangaroo island off the coast of South Australia. Easiest access is by ferry from Cape Jervis, 90 minutes from Adelaide. The ferry arrives at Kingscote and Harveys Return is a 70 minute drive to the north west coast of the island.
Level: Advanced. The track down to the beach is steep and you have to lug your snorkelling gear down. The only thing worse, is going back up. The coastline at Harveys Return is quite exposed. The swells and currents were at a moderate level for our visit. It is definitely a calm weather, still tide snorkel
What will you see? From the beach, snorkel around the rocky edges of the bay. We were in the water for around 40 minutes and spotted three blue gropers a bit less than a metre in length. Even with the poor visibility we had, they were an impressive sight.
Tips: Don't do this if you consider yourself of below average fitness. The walk up and down is difficult. The climb and conditions aside, this is a lovely spot. You'll likely have it to yourself if you get down there. Just make sure you don't leave anything you want in the car!
Highlights: To be honest, this is one of the toughest snorkels we have done but seeing the groper made it worthwhile. The nearby Cape Borda Lighthouse is worth a visit too.
While you are in the area: Kangaroo Island is one of our favourite spots. It's a bit of an effort to get there but we are sure you will love it too.
Ewens Ponds – South East
What: Snorkel in crystal clear freshwater channels and sink holes.
Where: Ewens Ponds is in the far south east of South Australia. The Ewens Pond Conservation Park is 25 minutes south of Mount Gambier.
Level: Moderate. The sink holes are up to 13 metres deep. Most challenging though is the cold. Water temps are about 14 degrees year-round
What will you see? A lush, vibrant underwater garden in water clearer than you can imagine.
Tips: Snorkelling and diving here is managed by Parks SA. You will need to book a time, pay for a permit and get the right equipment before you arrive. One of the conditions of entry is a full length wetsuit. The Allendale East general store doubles as a dive shop and can fix you up with all the neoprene you'll need – and you'll want all you can get! The ponds close to the public each year between September and December.
Highlights: It is hard to go past the clarity of the water. Forget about 5 or 10 metres visibility in the ocean. Here, we are talking visibility of up to 80 metres!
While you are in the area: While you are in the area: If you are in the area over summer, visit the Blue Lake in Mount Gambier. The water is as blue and Ewens Ponds is clear. In May, check out the glowing mushrooms in the pine forests.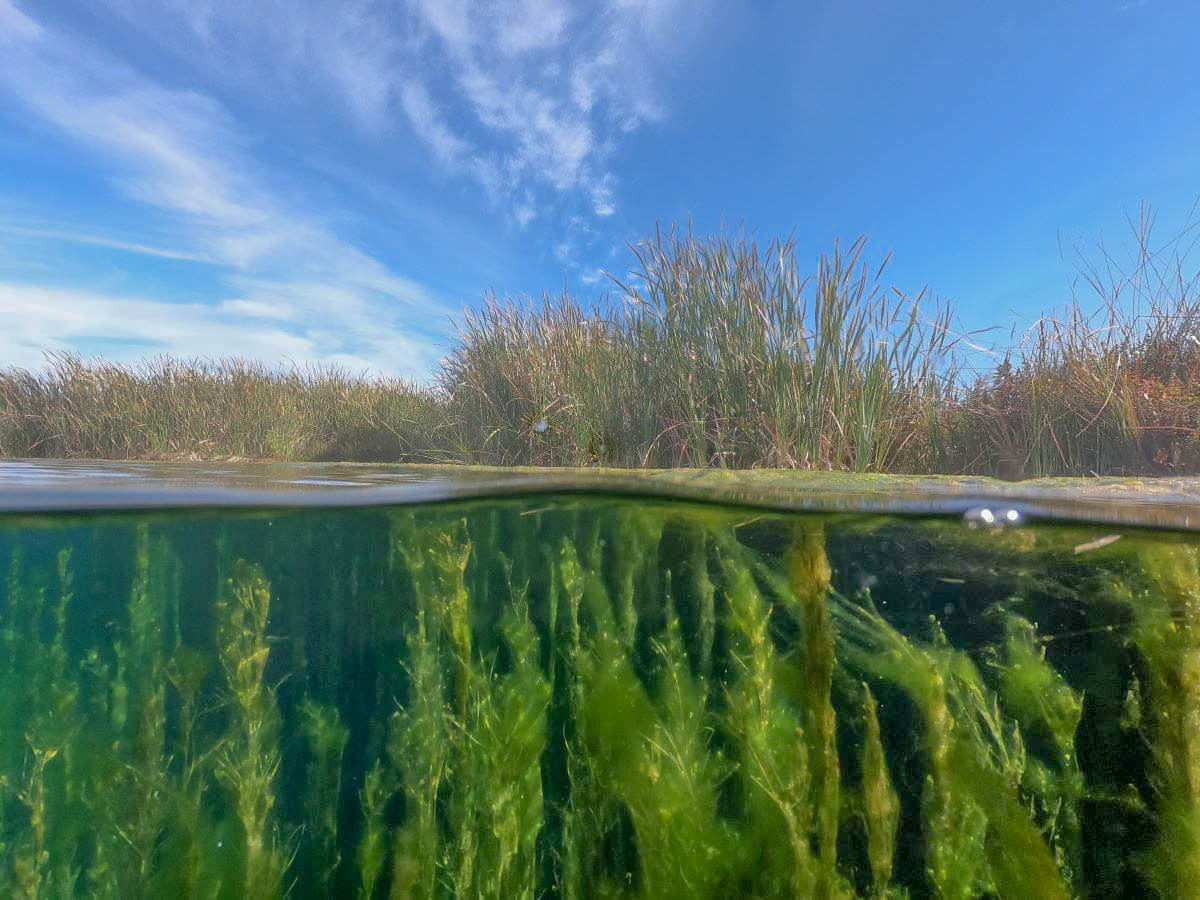 Piccaninnie Ponds – Sinkhole
What: snorkel in a crystal clear sink hole and The Chasm
Where: Piccaninnie Ponds is in the far south east of South Australia. The ponds are half an hour south of Mount Gambier on the Glenelg River Road.
Level: Moderate. The cold water might bother some people but you should be well cocooned in neoprene. If very deep water causes you anxiety the Chasm could be a bit nerve-racking.
What will you see? A vibrant underwater garden in water clearer than you can imagine and lots of fish.
Tips: Like Ewens Ponds, you will need to book a time and permit through the Parks SA website before you arrive. Wearing a full length wetsuit is also a condition of entry which you can hire from the Allendale East General Store.
Highlights: Drifting above and staring down into the 100 metre deep chasm was the best part of the snorkel. Compared to Ewens Ponds, there was a lot of marine life here. Watching the small fish school around the plants was great fun.
While you are in the area: Penambol Conservation Park is 15 minutes from Piccaninnie Ponds. There are a couple of great walks to do there – the Butterfly and Wombat walks. The park is also home to the Caroline Sinkhole. You can't swim in it, but you get a great view of it from the viewing platform.
Read More : Our Piccaninnie Ponds snorkelling adventure
Whyalla Cuttlefish Snorkel
What: Snorkel with thousands of Giant Australian cuttlefish.
Where: Point Lowly in Whyalla, 400 km north of Adelaide.
Level: Easy. You can see them in only a couple of metres of water right off the shore. But, it's cold!
What will you see? Thousands of giant cuttlefish. This isn't like trying to find a leafy sea dragon, there are cuttlefish everywhere. They arrive here to breed, and they are very active.
Tips: The cuttlefish congregate from May to August – winter. You will want thick, head to toe neoprene. The water temperature is around 12 degrees. Unlike Ewens Ponds, this time we wore thick wetsuits but had nothing on our heads. It was like a thousand needles hitting your face when you went in the water.
We saw some people on a lilo with only their face in the water which looked like a good way to stay a bit warmer.
Highlights: Watch the cuttlefish change colour as the males compete for a mate. It is amazing to see the pulses of colour flash along their bodies.
While you are in the area: Make sure you check out the dolphins at the marina as they follow the fishing boats in. We think it's one of the best dolphin experiences you will have in Australia.
Plan your unique snorkel with the Giant Australian Cuttlefish here
Baird Bay Sea Lions (Tour)
What: Snorkel with Sea Lions.
Where: Baird Bay is 50 km south of Streaky Bay. Streaky Bay is on the Eyre Peninsula, 700 kms west of Adelaide.
Level: Easy to moderate. Because it's a tour you need to book which means you take a chance with the weather. If the wind gets up it can be a little bumpy although the area where you swim with the sea lions is sheltered. The tour organisers are great at catering for all ability levels.
What will you see? Sea lions! They're wild and untrained and come over because they are curious and want to say hello. You don't wear fins for this snorkel (for the protection of the Sea Lions) but don't worry, the sea lions will come to you.
Tips: This tour also includes the possibility of swimming with dolphins. You never know if and for how long the dolphins will be around but it's a nice bonus to the sea lion swim.
Highlights: The pups are especially interactive. It's not uncommon to be face to facemask with them. They really seem to want to play but good luck keeping up with them! All the Baird Bay Ocean Eco Experience details are here.
Plan your holiday in Streaky Bay here
If you enjoyed this story you might also like:
Swim with Dolphins in SA | Great Barrier Reef Snorkel & Dive | Paddle with Platypus
Like it? Pin it for Later…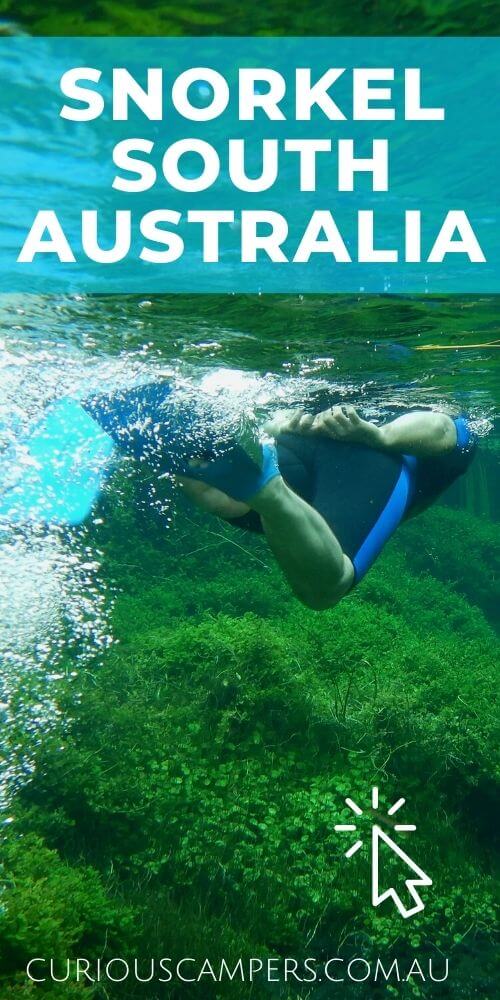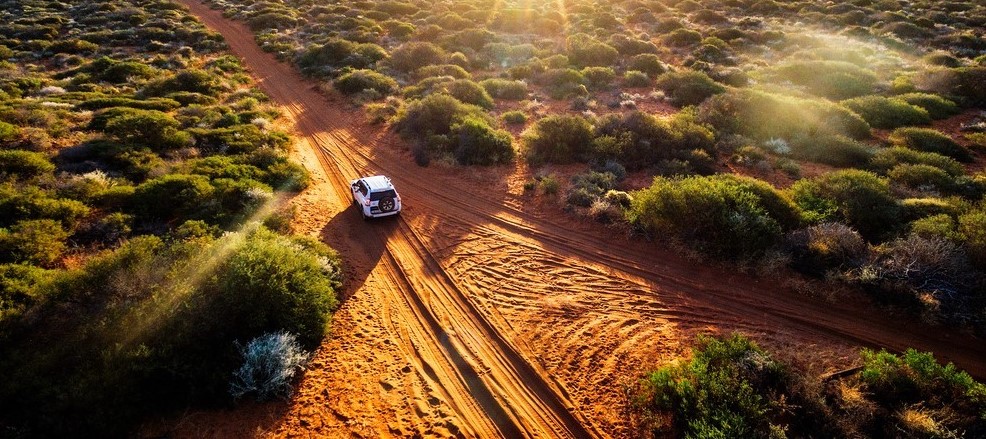 500 THINGS TO DO
Join our mailing list and receive our Free Top 500 things to do in Australia. If you love the Australian Outdoors download this list and keep it handy when you are planning a weekend away or a road trip around Australia.
Recent Posts