Coral Bay, 1100 kilometres north of Perth, is an idyllic beach holiday spot on Western Australia's Coral Coast. One of the best things about Coral Bay is that it provides walk-in access to the world heritage listed Ningaloo Reef. Our Coral Bay Snorkelling Guide answers all your Coral Bay FAQs and lets you know the best ways to experience Ningaloo Reef from this relaxed seaside town.
Featured Image Credit: Coral Bay Eco Tours – Daniel Browne
Disclosure: Please note that some links in this post may be affiliate links, and at no additional cost to you, we earn a small commission if you make a purchase. Commissions are appreciated and go toward maintaining the Curious Campers website.
Is Coral Bay good for snorkelling?
In one word – Yes! This is one time when the name of the place tells you exactly what it is all about. Coral Bay is a brilliant spot for snorkelling. The water is warm and crystal clear. One of the reasons we like it here so much is how accessible the reef is. It is right there 50 – 100 metres from shore. Not only is the reef easy to get to, but it's also teeming with marine life.
You'll see everything from hundreds of colourful fish to sea turtles, rays and more. And then there is the coral. The coral here is different to what you might have seen on the Great Barrier Reef. Ningaloo has massive or hard corals. What they lack in colour they make up for in their size and shape. It is like snorkelling through a giant veggie patch – the corals look like enormous plants. Snorkelling here is an unforgettably good experience.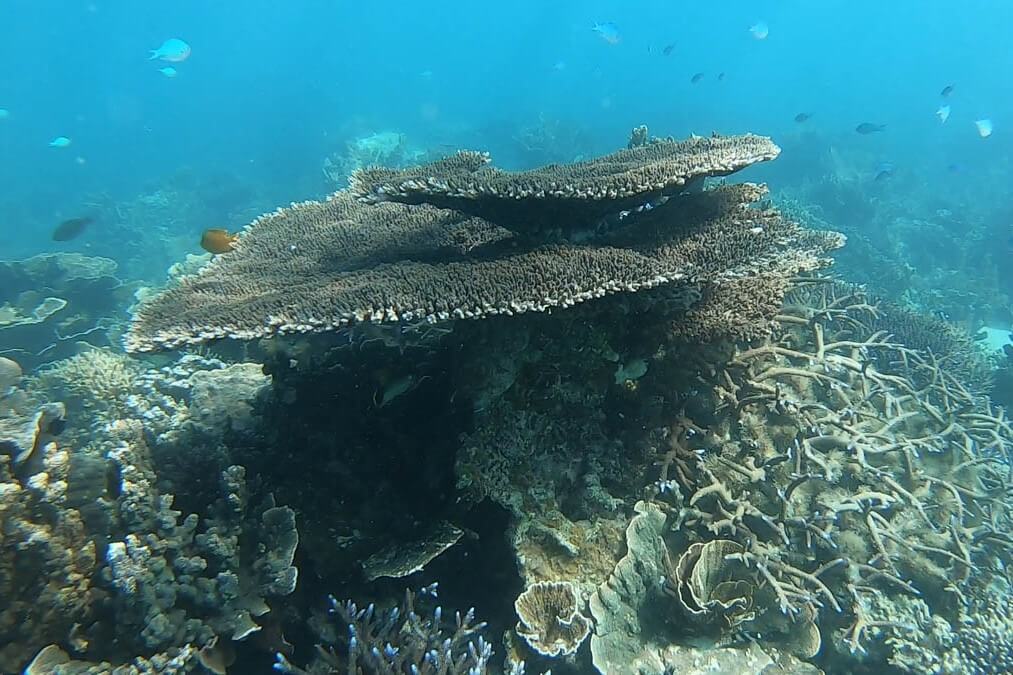 Is Coral Bay or Exmouth Better?
We are often asked this question as Exmouth is also on Ningaloo Reef and a fantastic place to snorkel. At both locations you'll see a huge variety of marine life and can get to the reef without a boat. We have been to both places a few times and these are the differences we make people aware of.
First, there isn't much snorkelling in Exmouth itself. You need to drive to the other side of the peninsula to get to all the great snorkelling spots. For example, it is a 50 minute drive from Exmouth to one of our favourites, Turquoise Bay. Rather than Exmouth, we suggest staying at Yardie Homestead Caravan Park or one of the beachside campsites. That way you'll spend more time snorkelling and less time driving.
Coral Bay is a holiday village. The place consists of a couple of big caravan parks, a handful of shops and a bunch of tour operators. That's about it. Everything there revolves around the beach and the reef. It has a super relaxed vibe and is especially popular with families because the water is so safe and accessible. If this is your thing, you will love Coral Bay. If you're after somewhere a bit bigger with a few more accommodation, shopping and bad weather options, Exmouth might be more for you.
Finally, the snorkelling. It is outstanding at both places. Choosing our preferred location is like picking your favourite child! We love Coral Bay but if we had to pick one place, we would go for Exmouth. The variety of locations along North West Cape Peninsula in the Cape Range National Park is what tips the balance for us. You can read more in our Exmouth snorkelling guide. But honestly, both Coral Bay and Exmouth offer some of the best snorkelling in Australia.
Image Credit: Coral Bay Eco Tours – Daniel Browne
Are there sharks in Coral Bay?
No one wants a toothy encounter and when it comes to sharks in Coral Bay it is a good news/bad news story. The bad news is there are sharks in Coral Bay. In fact, between October and March, you can walk up the beach to the Shark Nursery and see hundreds of baby reef sharks swimming in the shallows. From the shore it is a great sight, but don't be alarmed!
The good news is reef sharks, and you get black tipped and white tipped reef sharks in Coral Bay, go out of their way to avoid you. There are no great white sharks in Coral Bay. There are other sharks around, but sightings are rare and attacks even rarer. You should feel safe snorkelling at Coral Bay.
Are there stingers in Coral Bay?
You can never say never but in short there are rarely if ever stingers in Coral Bay. Stinger season runs from October to May in Northern Australia, but Coral Bay lies far enough south for stingers to not be a problem. We have swum on both the inner and outer reef during stinger season and there were no warnings anywhere about them. The guides on our manta ray tour didn't mention them either.
When is the best time to go to Coral Bay?
Coral Bay is far enough south that it still has a summer and winter so day time temperatures can range from below 20 to the high 30s. In the warmer months the water is a bath-like 25-28 degrees. In winter you might want a shortie wetsuit, the water is around 19-22 – still quite nice if you are from southern Australia!
If you want to avoid super crowded times make a note of when the local school holiday period is. That said, there is plenty of water and coral. Even when the caravan parks are buzzing, you can still find your own patch of beach and reef to enjoy.
Talk to anyone who has been to Coral Bay and they will tell you there were one or two days where it was so windy they couldn't get in the water. Is there a less windy time of year?
| | | | |
| --- | --- | --- | --- |
| Coral Bay | Ave Max Temp | Ave Water Temp | Ave Max Wind Speed kmh |
| Jan | 37 | 25-28 | 34 |
| Feb | 37 | 25-28 | 32 |
| Mar | 36 | 25-28 | 29 |
| Apr | 33 | 19-22 | 24 |
| May | 28 | 19-22 | 22 |
| Jun | 24 | 19-22 | 23 |
| Jul | 24 | 19-22 | 22 |
| Aug | 26 | 18-22 | 23 |
| Sep | 29 | 20-24 | 27 |
| Oct | 33 | 20-24 | 30 |
| Nov | 34 | 20-24 | 31 |
| Dec | 36 | 25-28 | 32 |
CORAL BAY MARINE LIFE
The other thing that might affect when you go to Coral Bay is what you want to see. Here is when to see some of Coral Bay's marine life.
Whale Sharks
March – June
Where can I snorkel in Coral Bay?
One of the nice things about Coral Bay is that there are a few different snorkelling locations, and they are all quite close together. There are a couple that you can only access by 4WD, but the best of the snorkelling is right there near Bills Bay only a short walk from where you're staying. We have snorkelled all but one of the sites so check out our firsthand guide to Coral Bay's snorkelling spots.
As well as the snorkels you can do off the beach, we have finished with a few great snorkels you can do with on some of the many tours available in Coral Bay.
Bills Bay Sanctuary Zone
This is the beauty of Coral Bay. Leave your caravan park and walk to the end of Robinson Street to the beach. It might take you a couple of minutes. At the beach, wade in up to your knees and you're ready to go. Look down and there are giant spangled emperor (northwest snapper), rays and other fish swimming around your feet.   
Venture out a little further and you see the first blobs of coral. They aren't big but they still have colourful fish swimming around them. From there, the snorkelling gets better and better the further out you go. At low tide, a swim of 50 to 100 metres will get you into the thick of the dense coral gardens and all sorts of colourful fish. The water is calm, clear and safe. It is the perfect family-friendly snorkelling spot and an ideal place for young snorkellers.
Bill's Bay – Ayres Rock
If you are a confident snorkeller you can go in search of the giant coral bommie known as Ayres Rock in Bills Bay. It is about 400metres offshore. This enormous brain coral is about 8m across and 5 or 6 metres tall. There are several ways to locate it. On a good day look for a kayaks, SUPs or snorkellers congregated some distance straight out from the Bills Bay and that is probably your spot. The glass bottom boat also goes there on tours.
For our swim to the bommie there was no one else around so we used the markers suggested at the Coral Bay Visitor Centre located next to the beach. They pointed out a buoy that was near the bommie which gave us an idea how far out it was. Then in the water we lined ourselves up with the second and third windmills that you can see. After a short search there it was, and it's huge! At low tide you can't miss the huge pale green top of the bommie near the surface.
The bommie is a magic thing to snorkel around; getting used to its size takes a few minutes. We spent an hour doing laps around and over the top of it. With each pass we saw different fish. It is a unique object in the bay and worth getting to if you are happy being that far from shore. The snorkel out over the coral gardens was fantastic as well. We enjoyed it even more on the swim back in when we weren't as pre-occupied with finding Ayres Rock.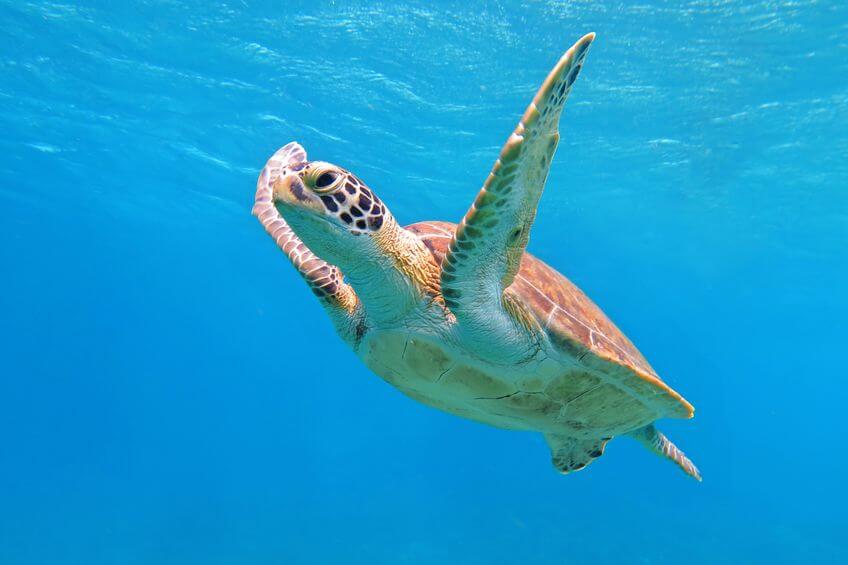 3 HOUR CORAL BAY TURTLE ECOTOUR 
Enjoy a magical tour that showcases turtles in their natural habitat. You'll travel in a custom designed glass bottom boat, with crew members to provide fascinating commentary and answer your questions about turtles. Visit two fantastic areas for snorkeling, coral viewing, and fish feeding.
Paradise Beach drift snorkel
This is one of our favourite snorkels on the Coral Coast and it is one our kids still talk about years after first doing it. You'll spot everything from the most colourful reef fish to bigger creatures like turtle, rays and reef sharks. Walk south along Paradise Beach away from Bills Bay then hop in the water and drift back into the bay over the top of Ningaloo Reef.
Getting to Paradise Beach is easy. Either go to the southern end of Bills Bay and walk around the point or there is a trail to the beach near the sunset viewing platform. Snorkelling aside, the beach is beautiful. There is a long strip of white sand fringed by turquoise water on one side and sand dunes on the other. How far you walk depends on how far you want to snorkel back. We are always amazed how easy the gentle current makes the snorkel so don't skimp on the walk south. A good spot to hop in is Purdy Point – look for the speed limit signs along the beach as you approach the boat ramp.
Once you are in the water it is a 50m swim out to the reef. From there you can relax as the current does the work for you, drawing you towards Bills Bay. As well as the abundant marine life, this snorkel is also a great chance to appreciate Coral Bay's signature massive hard corals.
Five Fingers Reef
This is the first of a couple of snorkelling spots that you can only get to with a 4WD or a bit of a walk along the coast. It is a lovely spot where the reef comes right into the beach, so it is easy to access. As the name suggests, there are five fingers of reef that stretch out away from the beach and there is no shortage of colourful fish and turtles to see.
There is a 4WD track to Five Finger Reef that is well signed from the either the fuel station or the boat ramp. If you don't mind a walk, from the boat ramp it is approximately a 6km return walk along the coast to the reef. We made our way there on a quad bike tour which is fun way to get around the sandy tracks!
We enjoyed our snorkel here but the one thing to aware of is the current. The day we visited it was moving strongly south to north and our quad bike guide has said it can move as hard in the other direction. If you go for a snorkel here that is something to keep your eye on. That said we did love how close the reef was to shore and on a calm day it is a great spot for young snorkellers to see the reef in shallow water.
MARES ADULT SNORKELLING SET
If you are looking for a great snorkelling mask it's important to have a soft silicone seal for comfort and to ensure no leaks. Mares are worldwide leaders in providing first class scuba diving equipment.  A fantastic option for travelling, the Mares Bonito X One Silicone Mask & Snorkel Set offers premium grade equipment at an affordable price.

Image Credit: Tourism Western Australia
Oyster Bridge
This is another spot you can access by 4wd drive only; there is some soft sand to make your way through. Oyster Bridge is 14km north of Coral Bay in the Bateman Sanctuary Zone and is one of the most spectacular snorkelling sites around Coral Bay. A long arm, or bridge, of rock runs parallel to the beach creating a small, sheltered lagoon.
This is another great spot for young snorkellers as you can see all sorts of marine life straight off the beach. If the tide is up or if you want a longer swim, you can go over or around the bridge to see even more life amongst the coral. It is a lovely spot and worth a visit. If you don't have a 4WD drive, there are quad bike tours out to this spot too.
While you are in the area and in 4WD mode, continue about 2 kilometres north from Oyster Bridge and you'll come to a north facing bay called The Lagoon. The area has a lot of rocky reef to explore. It is well out of the way of most visitors to Coral Bay and worth a look if you have a 4WD and want to try somewhere less explored.
SWIM WITH CORAL BAY'S MANTA RAYS 
Get up close to manta rays, sea turtles, and more on a 5- to 6-hour snorkel tour around Ningaloo Reef.  Visit the sea turtle sanctuary where you can observe turtles feeding and surfacing for air. Then head to Bateman's Bay, where, with the assistance of a spotter plane, there is the opportunity to snorkel with Manta Rays. In between your adventures, refuel with a buffet lunch.
Image Credit: Coral Bay Eco Tours – Daniel Browne
Whale Shark and Manta Ray Tours
For the ultimate Coral Bay snorkelling experience go on a tour to snorkel with some of Ningaloo Reef's biggest and most graceful residents. Both Whale Shark and Manta Ray tours operate from Coral Bay and they are a great chance to swim with some amazing creatures.
On the tours you also snorkel on the outer reef where you can spot things like the shark cleaning station. This is a coral bommie where reef sharks come to clean their teeth and have small fish remove parasites from them. Snorkelling with the whale sharks or manta rays is a great way to top off your coral Bay snorkelling safari.

LIKE IT… PIN IT FOR LATER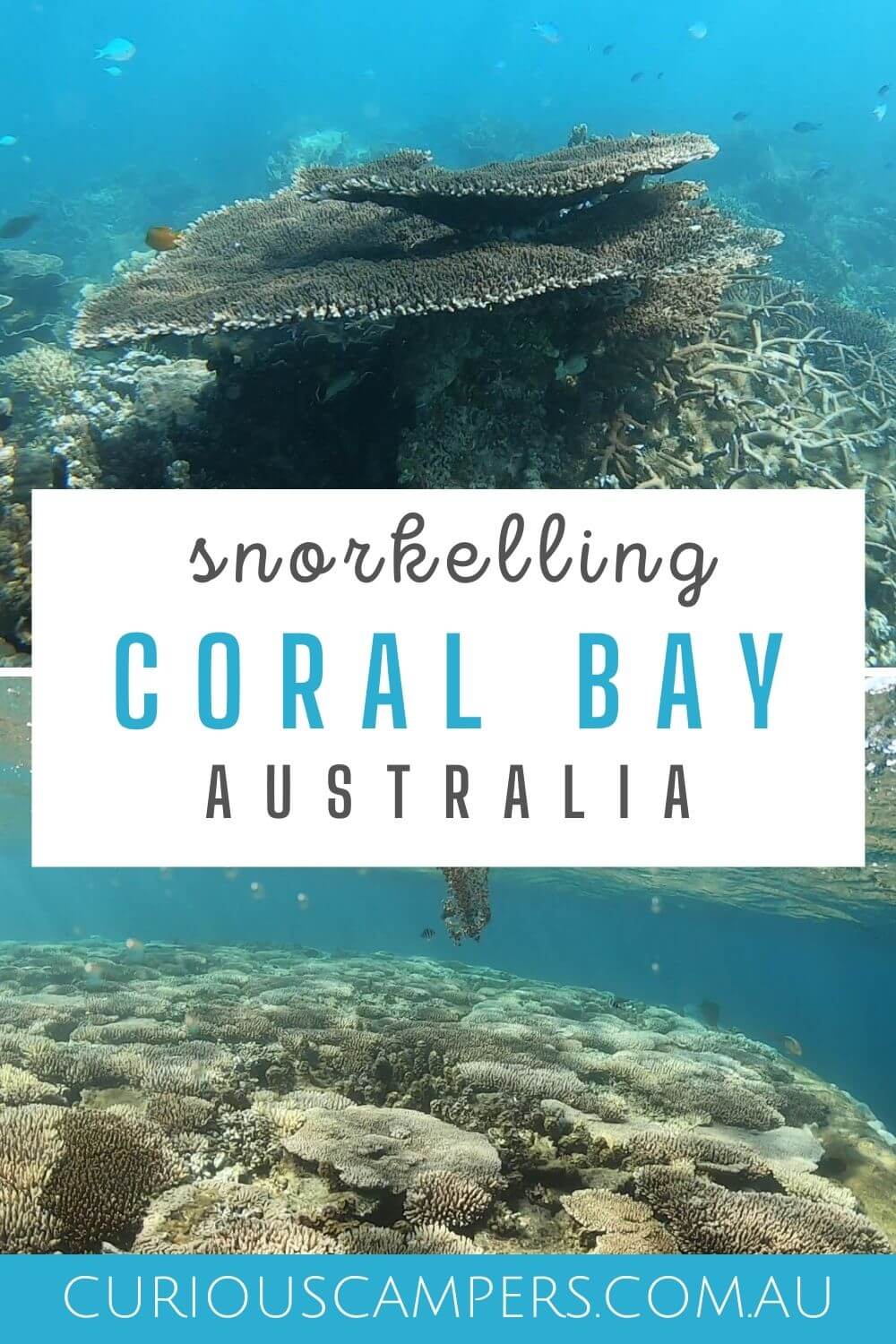 500 Things to do
Join our mailing list and receive our Free Top 500 things to do in Australia. If you love Australian Outdoor Experiences download this list and keep it handy when you are planning a weekend away or a road trip around Australia.