Coral Bay is an idyllic beach holiday town in the Ningaloo Marine Park 1100 kilometers north of Perth. With Ningaloo Reef just metres from shore, Coral Bay is paradise for anyone wanting to snorkel on the coral gardens home to everything from colourful fish to whale sharks and manta rays.
One of the lovely things about Coral Bay is how undeveloped it is; there are no high-rise apartment blocks or Airbnb's here but there are two Coral Bay caravan parks – Ningaloo Coral Bay Bayview and the Peoples Park Coral Bay. We have stayed in both but they have their differences. Read on and see which park might be best for you.
Disclosure: Please Note That Some Links In This Post May Be Affiliate Links, And At No Additional Cost To You, We Earn A Small Commission If You Make A Purchase. Commissions Go Toward Maintaining The Curious Campers Website.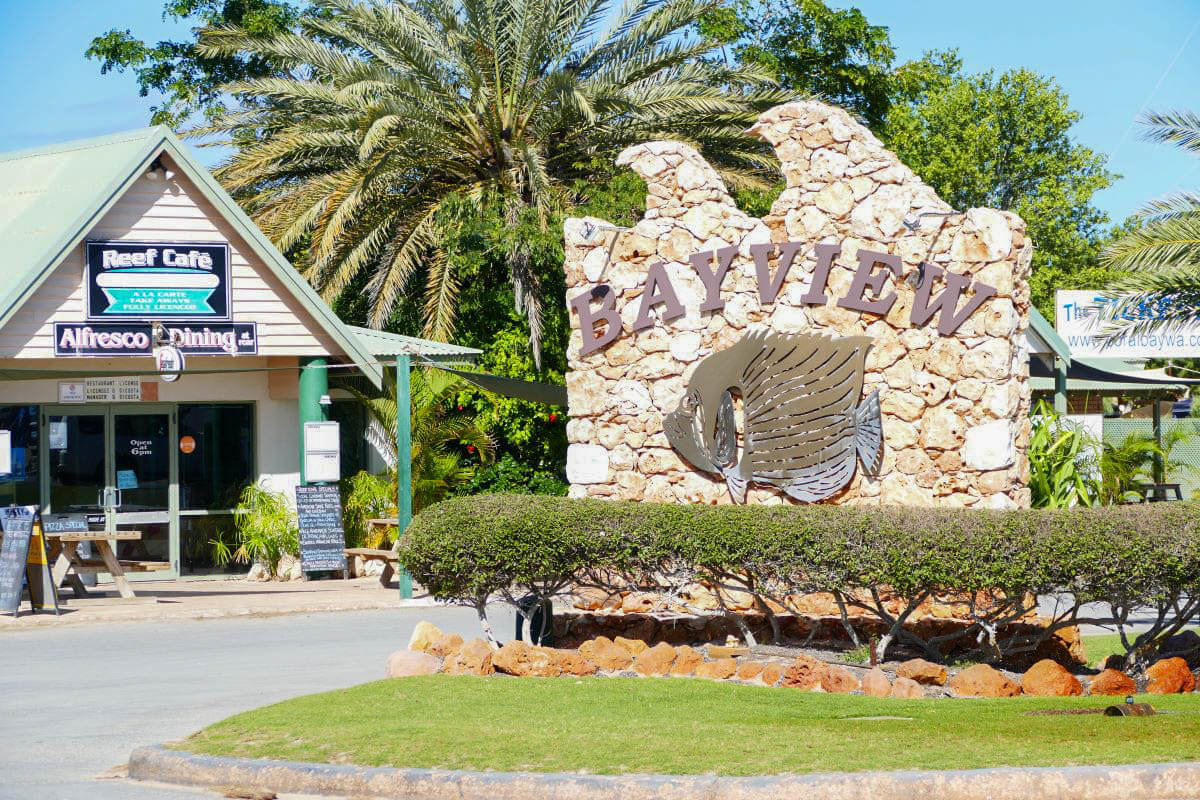 Ningaloo Coral Bay Bayview Caravan Park
If you like big, Ningaloo Coral Bay Bayview is for you. It has hundreds of powered sites, villas, cabins, cottages and some unpowered campsites. The large area is well serviced with no less than 5 amenities blocks which, even when the park is flat out, they seem to keep remarkably clean and tidy.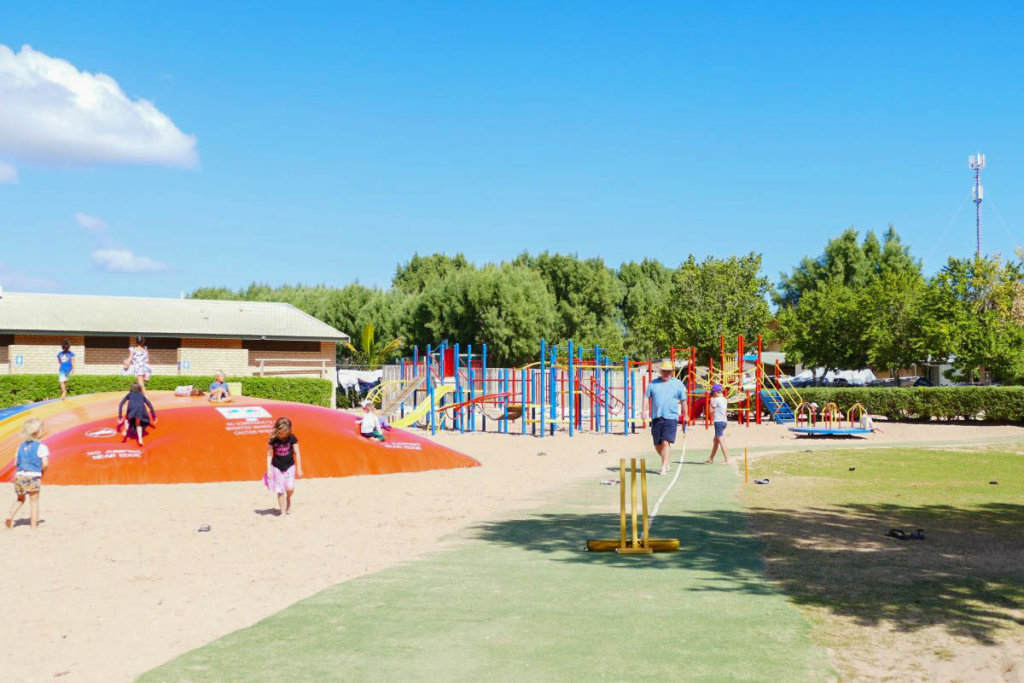 Great Park for Kids
If you are travelling with kids, Bayview Caravan Park is a great choice. Caravan parks are the perfect place for giving kids a bit of free reign to explore, play and make new friends. There is a great family vibe going on here. The size of Coral Bay Bayview means it is buzzing with activity as families get around with their beach carts, kayaks and snorkeling gear; the place hums with excitement.
Having a stunning beach and coral reef just metres from your campsite is great entertainment for kids but they are well catered for in the park as well. There is a jumping pillow, pool, playground, tennis courts and even a small cricket pitch. There is plenty of open space to kick and throw things around too.
Pet Friendly
If you travel with a four legged companion be aware that because Coral Bay is a marine sanctuary, dogs can't go on the beach or in the water. That said, dogs are permitted at Bayview in certain sites but not in the cabins. Check with management on the arrangement but travelling with your pooch is possible here.
Water
All the campsite taps and the amenities run artesian water which is not suitable for cooking or drinking. Fresh water is only available from taps at each of the amenities blocks. For people on campsites, 20 litres of bulk fresh water is available when you check in and is part of your site fee. Additional bulk water freshwater can be purchased.
Read More : Things to do in Coral Bay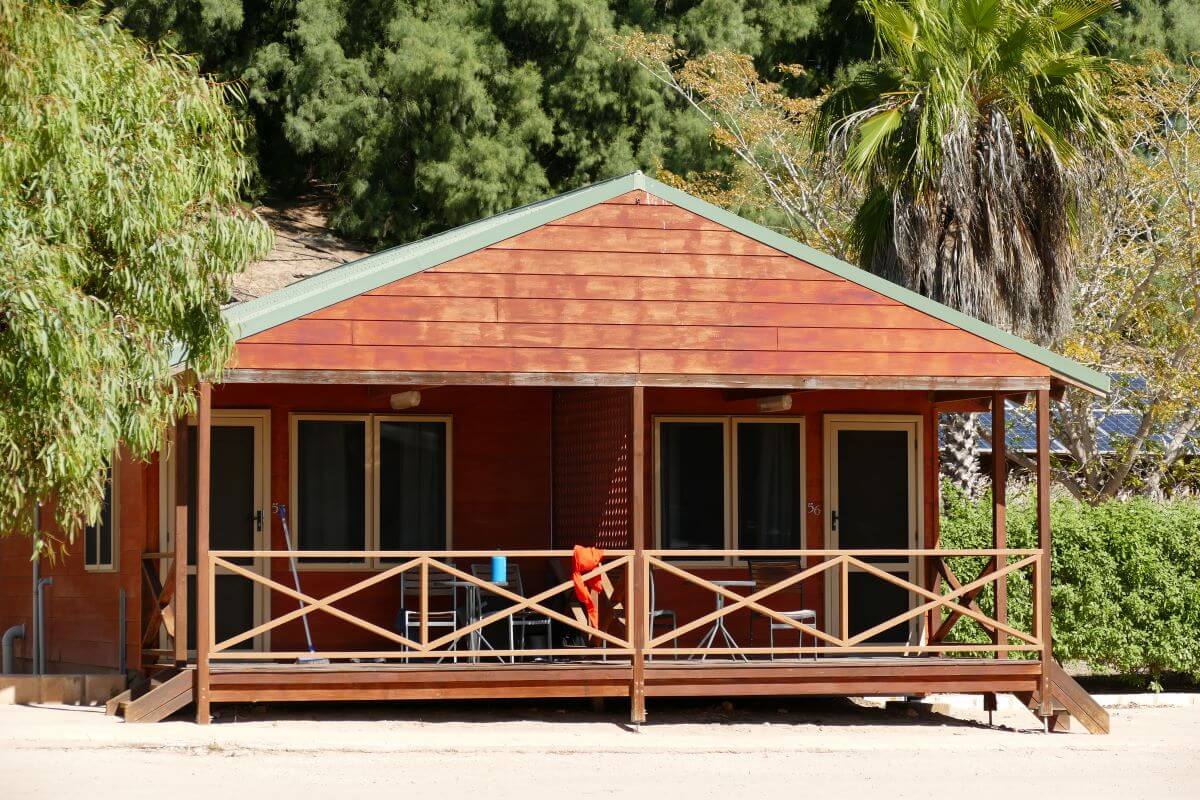 Prices and accommodation
Powered sites range in price from $53 – $58 per night for one or two people, it is an extra $8 a night per child (aged2-17). Ningaloo Coral Bay Bayview also has a big range of self-contained accommodation options. There are over a dozen styles from garden villas and family cabins to a beach house or unpowered campsite. Rates vary from high season to low season; check out their website for current prices and availability.
What you'll love about Ningaloo Coral Bay Bayview
This is a big bustling park where it is impossible not to get swept up in the fun, holiday spirit. We have stayed here both with and without kids and we felt the same vibe both times. The range of accommodation is excellent, it is the cheaper of the two parks if there are just two of you, and for its size it has plenty of facilities and has always felt tidy.
Things to Consider
Because it is a big caravan park, depending on where you are in it, you will either have a short or longer walk to the beach. If walking for 6 minutes rather than 3 minutes to get to the beach concerns you, check out the park map to request a site closer to the bay. On the positive side, those sites further from the beach are closer to the shopping centre.
If you are a traveller who shies away from the busyness and energy that comes with a lot of families and children, the next park might be more your style.
Peoples Park Coral Bay Caravan Park
Of the two Coral Bay caravan parks, the Peoples Park has the claim to fame of being closest to the water. And when we say close, Ocean Front sites are right across the road from Bills Bay and close to the sunset viewing platform.
The Peoples Park is much smaller than Coral Bay Bayview and with the smaller size comes a quieter atmosphere. Maybe it is the palm trees and nice gardens they have developed here, but life at the Peoples Park seems to tick along at an easier pace. Like the other park, the amenities are modern and clean.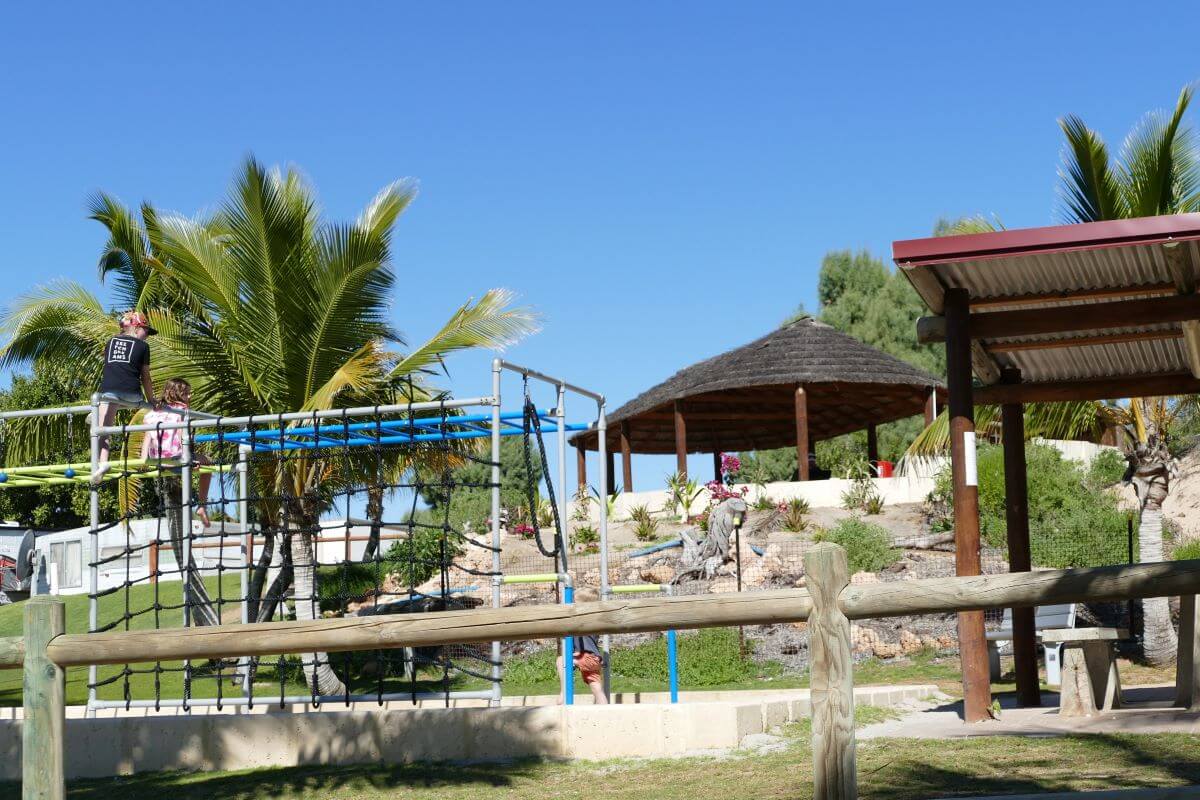 Kids & Pets
Missing from the Peoples Park are the jumping pillow and swimming pool. Yes, the beach is right across the road but for us it is a subtle nod to perhaps Bayview being the park of choice for families. There is a small playground area and nice outdoor chess set – it kind of fits in with quieter more sedate vibe at the Peoples Park.
Another difference between the parks is that dogs are not allowed at the Peoples Park.
Read More : Coral Bay Snorkelling Guide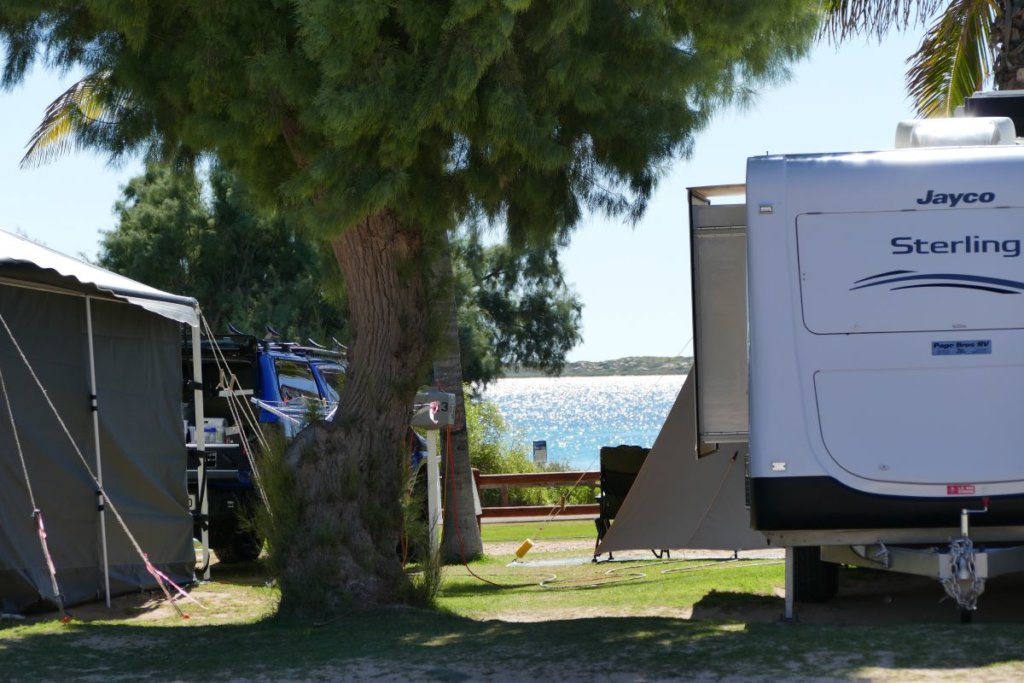 Prices + Accommodation
Despite our judgement that Bayview is better set up for families, it is cheaper for families to stay at the People's Park. Powered sites start from around $62 in low season and go up to $78+ in the high season but that nightly rate is for 2 adults and up to 4 children. This is for the Pioneer sites that are set back off the water front. There are around 30 exclusive ocean front caravan sites that will cost you up to $30 a night more depending on which row you are in. These sites are only available for caravan owners too – no camper trailers allowed in this section.
The park also has a range of cabins and villas. The highlight, literally, are the Hilltop Villas and Penthouses that have great views across Bills Bay. If you have a less lofty budget, there are also cabins down amongst the powered sites.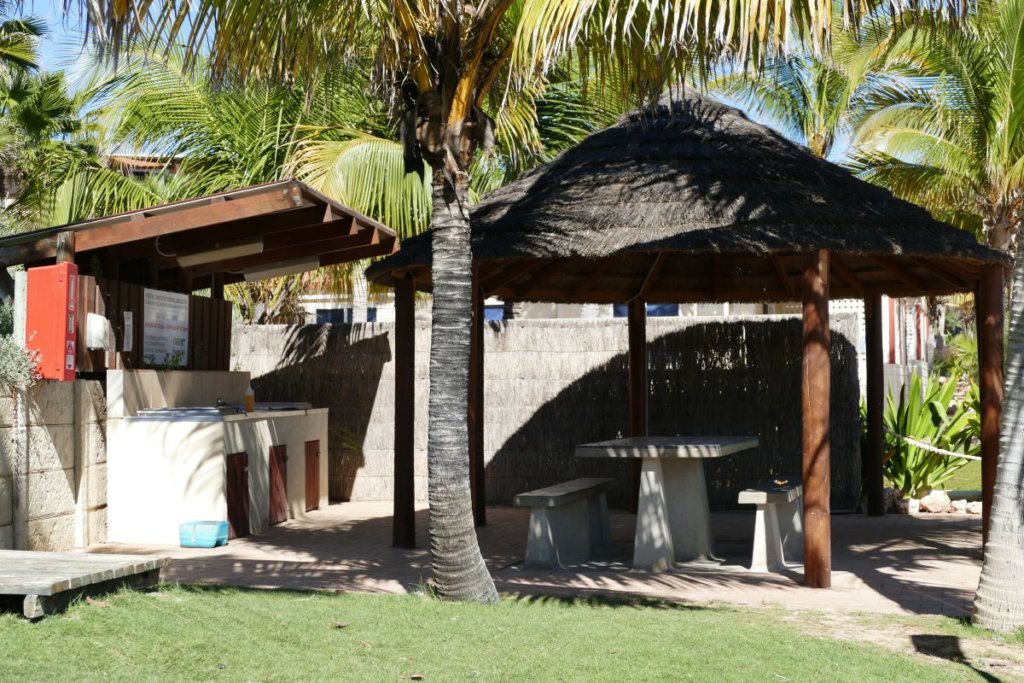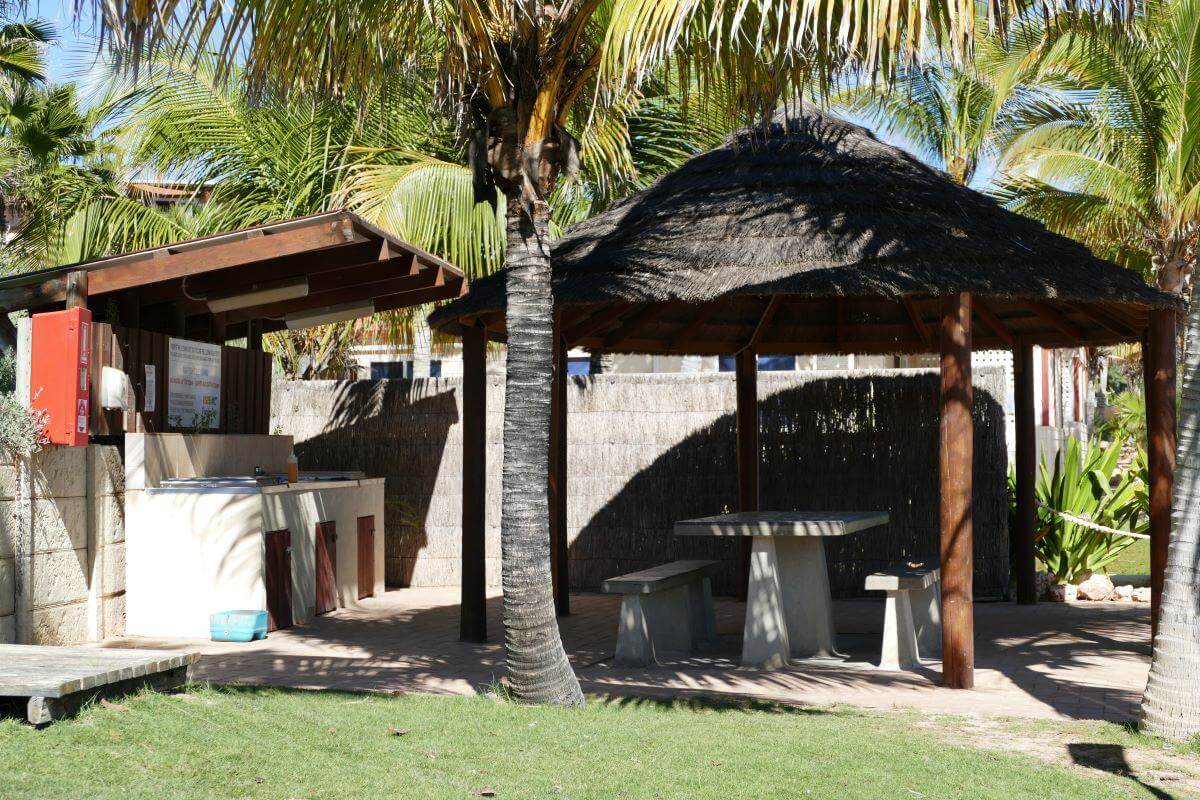 Water
One big differences between the two caravan parks is that the Peoples Park has fresh water in their showers. That includes both the campground amenities blocks and the cabins. It is back to artesian water from the taps on your site which is unsuitable for cooking and drinking. Drinking water is available from taps at each of the amenities blocks. It is a good ideas to fill your tanks before arriving in Coral Bay.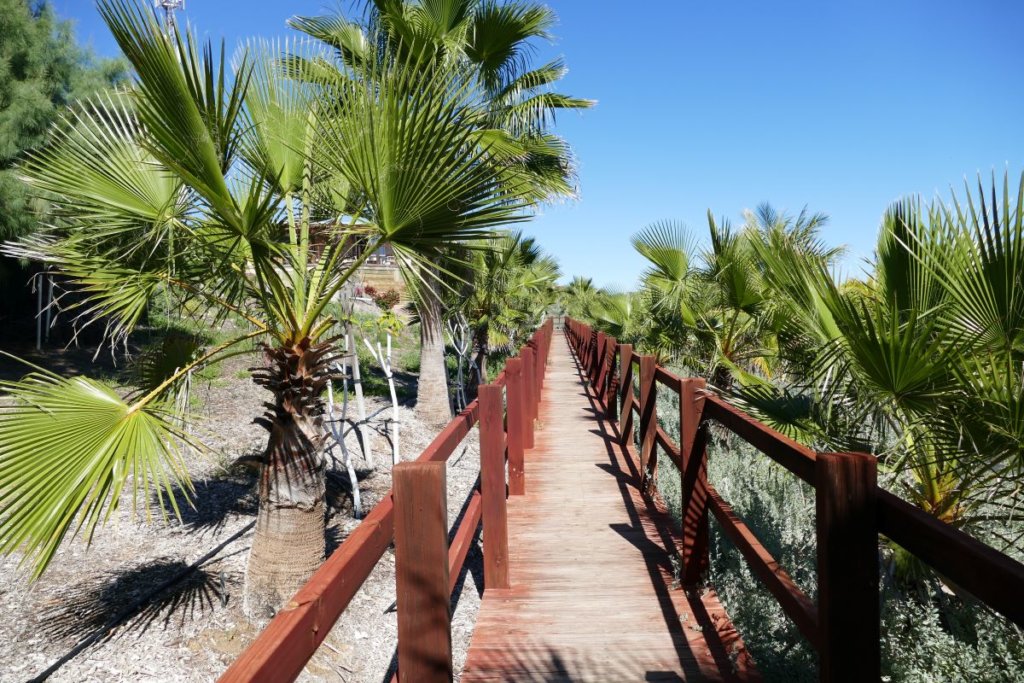 What you'll love above the Peoples Park
The breeze rustling through the fronds of the palm trees, beautiful Bills Bay across the road; this is one relaxing place. Sure, there are fewer facilities for families but you have location, freshwater in the showers (which one half of Curious Campers claims you can't put a price on) and the fantastic Fins Café right out the front of the park. The place has a touch of easy going refinement which does contrast to the carnival going on next door at Bayview.
Coral Bay Caravan Park Map
A Few Things in Common 
Before the differences, there are some features the two parks have in common.
| | | |
| --- | --- | --- |
| Coral Bay | Peoples Park | Bayview Caravan Park |
| Check in | 2.30pm | 2.00pm |
| Check out | 10am | 10am |
| Telstra/Optus | Yes | Yes |
| Wifi | No | No |
| Tour Bookings | Coral Bay Eco Tours | Coral Bay Boats |
| Cafe | Fin's Cafe | Reef Cafe |
| Fish Cleaning | No | No |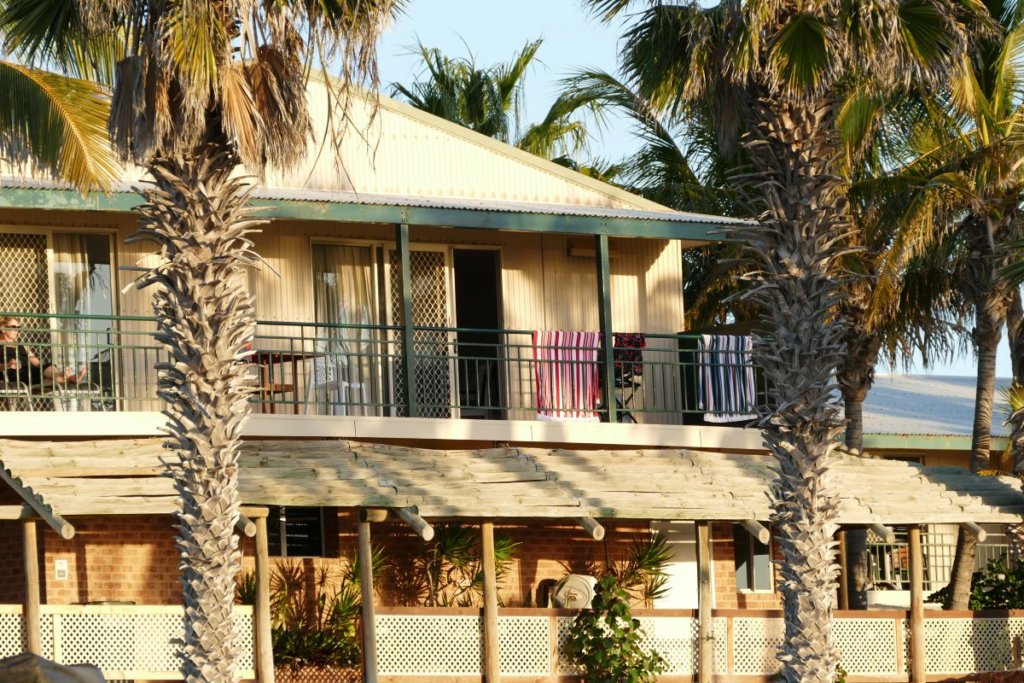 Other Accommodation in Coral Bay
The other options for staying in Coral Bay are at different ends of the accommodation spectrum. On one side you have Ningaloo Reef Resort which offers one and two bedroom self-contained apartments and studio-style rooms. Sitting on the corner of Bills Bay and Paradise Beach, prices start at around $260 per night and go up from there.
At the other end of the spectrum is Ningaloo Coral Bay Backpackers. Of all the accommodation in Coral Bay, this is furthest from the bay but it is still less than a 10 minute walk to the water. It is however close to the supermarket, bakery and Bill's Bar. There is a mix of accommodation here from dorms to double ensuite rooms. The rooms are basic but tidy and if all you want is somewhere to sleep after a day of swimming, snorkeling and paddling it's a great choice.

Like it? Pin it for Later…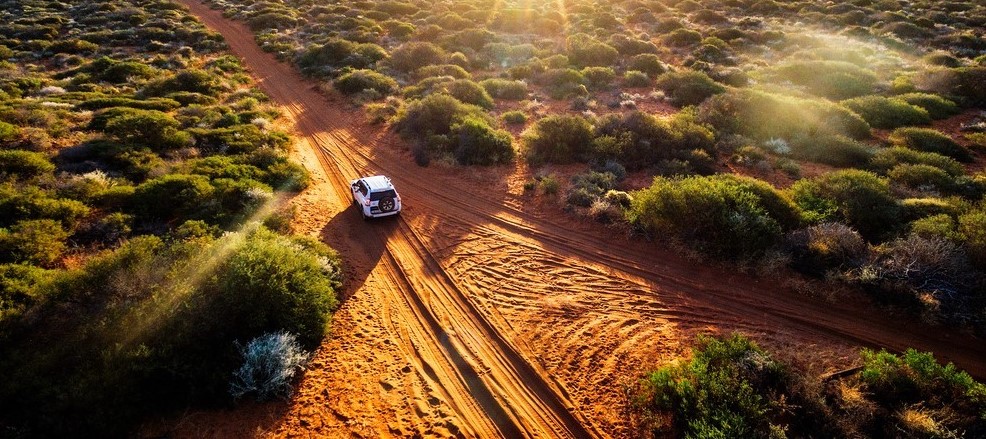 500 THINGS TO DO
Join our mailing list and receive our Free Top 500 things to do in Australia. If you love the Australian Outdoors download this list and keep it handy when you are planning a weekend away or a road trip around Australia.
Recent Posts