The best things to do in Coral Bay centre around the town being right on Ningaloo Reef. Coral Bay is 1100 kilometres north of Perth and is a popular family beachside holiday spot. It has great weather year round and is metres from the world heritage listed Ningaloo Reef in the Ningaloo Marine Park.
It is one of the best locations in Australia to access a fringing coral reef. Get ready to do everything from swimming with colourful fish to snorkelling with whale sharks and manta rays.
2022 Coral Spawning Disaster
During the normal coral spawning event in 2022, unusual wind conditions trapped the spawn in Bills Bay. As a result, the spawn decayed in the bay depriving the reef of oxygen killing over 15,000 fish and much of the coral.
It is safe to swim at Coral Bay, there are still fish around but the beautiful hard coral gardens will take 5 – 7 years to recover. Further out in Bills Bay, the reef was unaffected and tours can take you there. Nearby Five Fingers Reef was also unaffected.
Disclosure: Please Note That Some Links In This Post May Be Affiliate Links, And At No Additional Cost To You, We Earn A Small Commission If You Make A Purchase. Commissions Go Toward Maintaining The Curious Campers Website.
Relax at Bills Bay Beach
The reason Coral Bay is such a popular holiday spot for families is that it has such a beautiful beach. Bills Bay is right there only a short walk from your accommodation. The water is crystal clear, the sand is white and there are no waves or currents. If you want a little patch of sand all to yourself, walk around the corner from Bills Bay and you get to Paradise Beach. It's long and straight and a great spot to relax. But it is what lies beyond the beach that brings most people to Coral Bay…
Snorkelling at Coral Bay
Coral Bay is one of the best places to snorkel on Ningaloo Reef. it is only metres from shore. If you don't slip on a face mask and fins here, you won't snorkel anywhere! Snorkelling is one of the best things to do in Coral Bay. From colourful tropical fish and coral to turtles, Coral Bay is a fabulous snorkelling spot. You can snorkel straight off the beach or explore several other snorkelling sites around Bills Bay.
Snorkelling highlights include the drift along Paradise Beach and the amazing Ayers Rock coral bommie. There are also some great reefs like Five Fingers Reef accessible only by 4WD. Check out our Coral Bay snorkelling guide for all the details.
Swim with Manta Rays at Coral Bay – This 5-6 hr cruise will go in search of Manta Rays, Turtles, Sharks + more. A buffet lunch will be served while you cruise Ningaloo Reef
Read More : Coral Bay Snorkelling Guide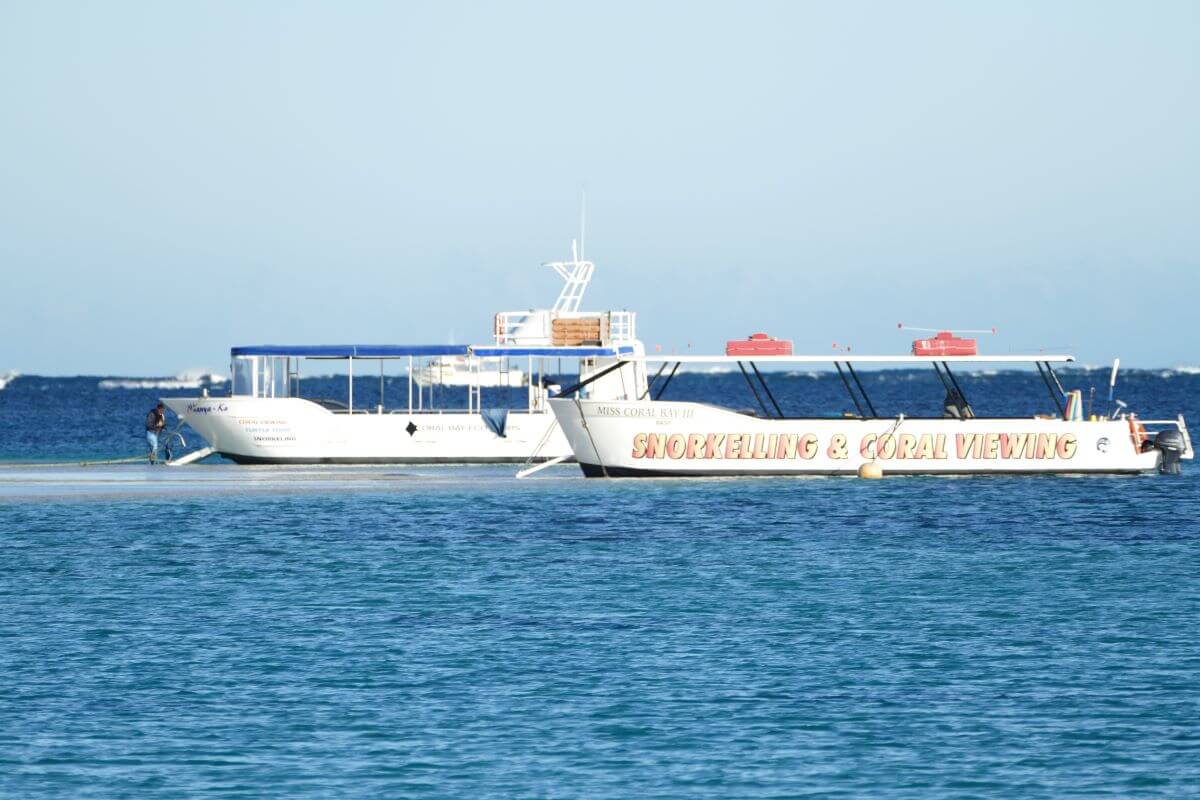 Glass Bottom Boat Cruise
If you like the idea of staying dry and still seeing the coral, you can go on a glass bottom boat cruise. The great thing about the cruise is that because the coral is so close to shore you'll be looking at coral, fish and turtles in minutes. Another benefit to being close to shore is that ride doesn't get too bumpy so even those affected by sea-sickness can give this a try.
Glass bottom boat cruises go for one hour. There is also a 2 hour option where you can go for a snorkel from the glass bottom boat. If you don't have your own gear, snorkelling equipment provided.
Guided Snorkel & Underwater Scooter
If you want to do more than get in the water and snorkel around the coral gardens on your own, you can go on a guided snorkelling tour. There is a huge diversity of marine life on the reef, having someone with you who can name what you are looking at adds another layer to the experience. Afterwards, instead of telling someone you saw an amazing little yellow fish you can say you saw a bluespot butterfly fish and look very clever.
And if snorkelling is too much effort you can also grab an underwater scooter. Besides being great fun, they also let you cover more of the reef and if you do spot a turtle you can keep up with it more easily hanging onto one of these.
Turtle Eco Tour
There are all sorts of larger marine creatures living on Ningaloo Reef and one of the most popular are sea turtles. Green, Loggerhead and Hawksbill turtles all live and breed on the Ningaloo coast. The best thing is you don't have to travel hours into deep water to see them. There are turtles right in Coral Bay and the expert guides know where to find them.
If you're a turtle fan you can go on a 3 hour turtle spotting cruise on a glass bottom boat, it is one of the most popular things to do in Coral Bay. The guides will tell you everything you ever wanted to know about turtles as you gaze down on them amongst the coral. The turtle tour also takes you to a couple of spots where you can get in for a snorkel and maybe see a turtle close up. Snorkelling gear and refreshments provided.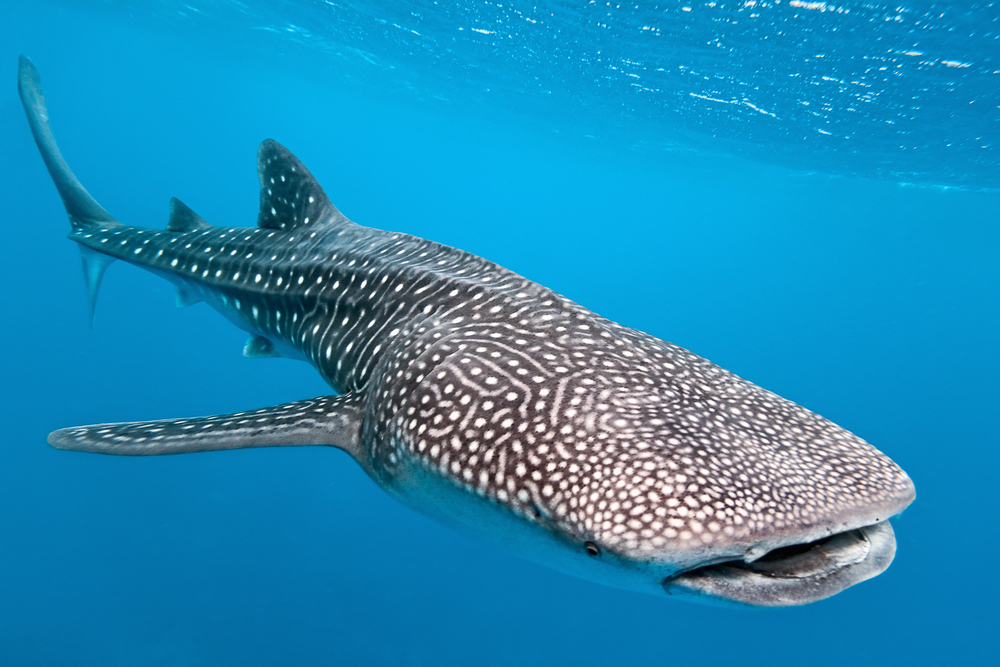 Swim with Whale Sharks
Whale sharks start arriving on Ningaloo Reef from late April to feed on the spawning coral. Swimming with them is on the bucket list of many travellers to this part of the world and Coral Bay is one of the best places to have this experience. Whale shark tours are popular in peak season so book early if you want to do this activity then. Swimming with these giants of the sea is an unforgettable experience and one of the best things to do in Coral Bay.
We did a whale shark swim from Exmouth. Once you are on the water, the tours operate in similar ways from both locations Read our guide to swimming with whale sharks to see what to expect.
Whale Shark Adventure Full Day Tour – Cruise the World Heritage listed Ningaloo Reef. Spot corals, colourful fish, sea turtles, stingrays, octopus, cuttlefish, reef sharks + The spotter plane will help located the whale sharks for your swim.
Read More : Our swim with Whale Sharks in Exmouth
Swim with Manta Rays
One of the most popular things to do in Coral Bay is swim with Manta Rays. The resident population are in Coral Bay year round. If you want to get close to a large marine creature and the thought or cost of swimming with whale sharks is a bit much for you, this is a fantastic alternative.
You are not likely to see Manta Rays off the beach so you will have to go on a tour through one of the providers in town. Both Coral Bay Eco Tours, Ningaloo Reef Dive and Snorkel and Coastal Adventure Tours all run Manta Ray tours. As well as seeing these graceful gentle giants close up, the tours will also give you a chance to snorkel on the reef and do some turtle spotting. It is a great activity for swimmers of all ability levels.
Swim with Manta Rays at Coral Bay – This 5-6 hr cruise will go in search of Manta Rays, Turtles, Sharks + more. A buffet lunch will be served while you cruise Ningaloo Reef
Read More : Our Coral Bay Manta Ray Swim
Humpback Whales Swim + Whale Watching
And if you want to spot some actual whales, from July to October you can go on a Humpback Whale cruise. Thousands of humpback whales pass through Ningaloo Reef and the calm waters of Coral Bay are a favourite rest stop for them. There are whale watching cruises but also keep an eye out if you are on a whale shark, manta ray or turtle safari during whale season. Like we did on our whale shark adventure, you might spot whales along the way too!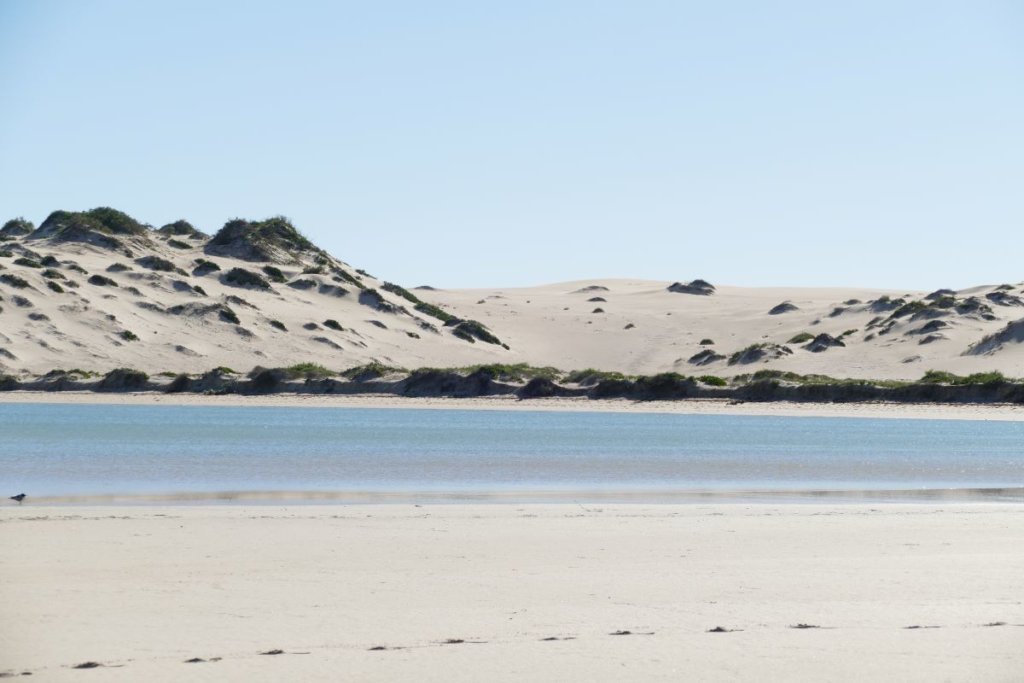 Shark Sanctuary Walk
If you walk north up the beach for about 20 minutes you will get to the shark sanctuary. In summer, when the water is warmer than it was for our visit, the shallow water here is home to hundreds of sharks that come here to have their young. The water is so clear that you can see it all from the shore. Even out of season, as we walked along the beach, we still saw lines of stingrays swim past.
The start of the walk is a little rocky, we recommend having some footwear to negotiate this section. The rocks are quite slippery too. Beyond the rocks you can kick off your sandals and take in the views of the lovely water and rolling sand dunes. There are signs at The Shark Sanctuary so you'll know when you are in the area.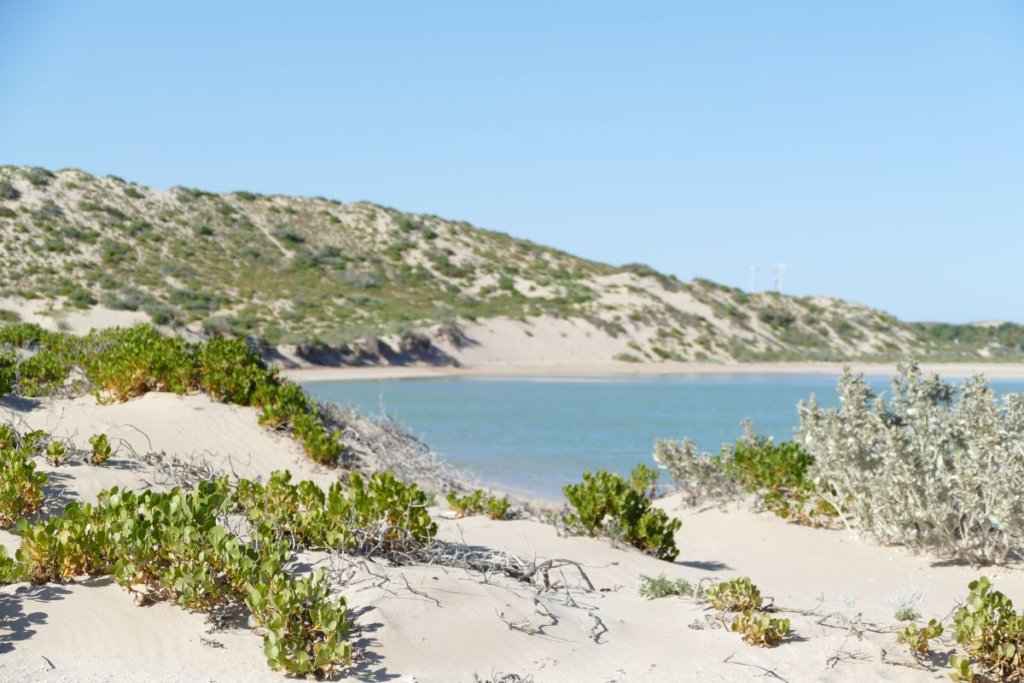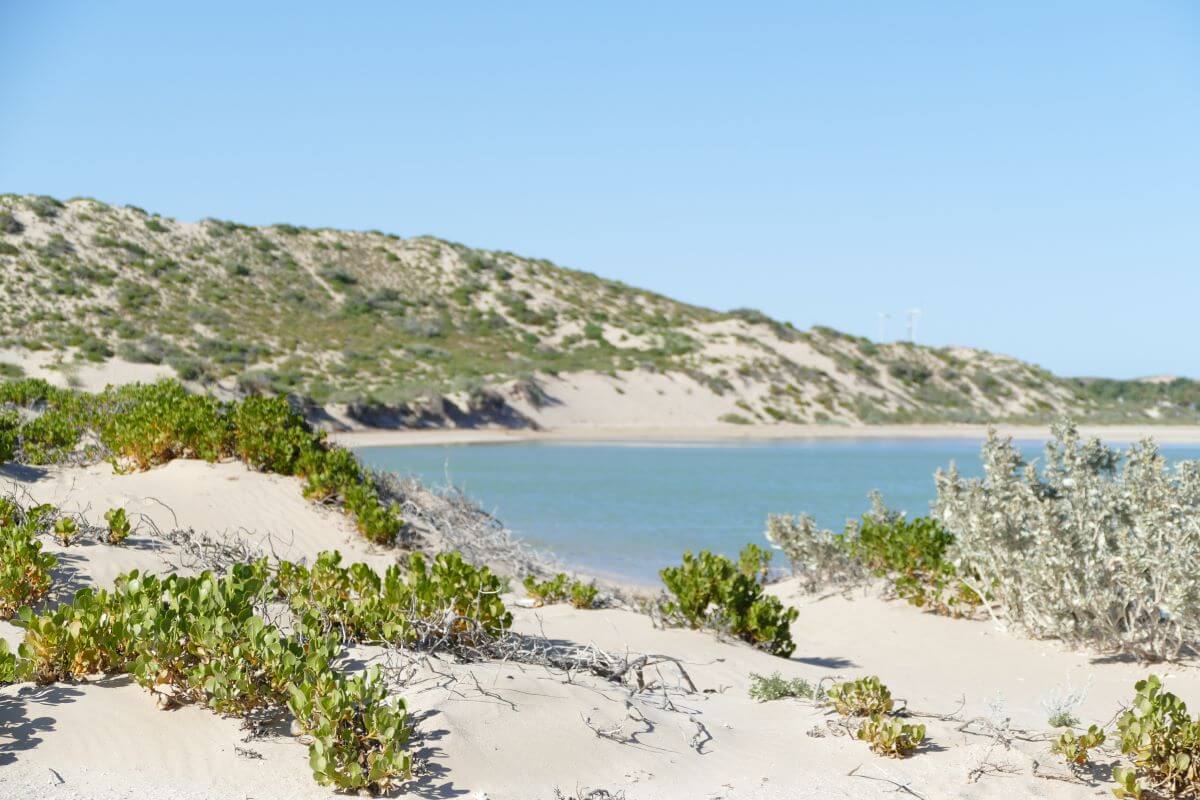 Walks in Coral Bay
If you want a break from the water there are a few walks you can do to stretch your legs and take in some great beach views. From the shark sanctuary described above, you can keep going to the next point, Skeleton Beach, and Point Maud. Allow a couple of hours or a bit more if you go for a dip.
In the other direction, south of the main beach you can walk along Paradise Beach down to the boat ramp and follow the road back into town. The return walk will take a couple of hours. You can also walk along the sand to Five Finger Reef and go for a snorkel there. It is about a 6 kilometre return walk to the reef.
If you want a shorter walk, make your way out of town towards the road that goes to the boat ramp and Five Finger Reef. There is a path that leads a short steep sandy hill. From here you get a nice view back over Coral Bay but it is also home to a local pet cemetery. It is an interesting spot to have a quick look around!
Quad Bike Tour
There is a lot of great coastline and more snorkelling spots around Coral Bay and a great way to explore them is on a quad bike tour. If you have a 4WD you can cover the same area but quad bikes are great fun and going around with a guide is the perfect way to learn more about the reef.
Quad Bike Adventure Tour + Snorkel – Buggy along white sandy beaches and up and down sand dunes neighbouring the stunning coastline, and stop off at Five Finger Reef to snorkel with local turtles amongst multi-coloured fish and coral
Turtle Cliffs
There are plenty of ways to spot wildlife in Coral Bay from snorkelling to cruises and even walking along the beach. Turtle Cliffs is a different way to go about it because here you get an elevated view and can look down on the water. Turtle Cliffs are south of Coral Bay. We visited here on our quad bike tour, but you can also drive here in a 4WD. If you want a bit of exercise, you could also walk there. From the boat ramp it is approximately a 6-7km return walk.
Of course, there is no guarantee what you'll see at Turtle Cliffs. You are a good chance of spotting the turtles that live near the base of the cliffs. We saw one pop up for a breath. You might also spot sharks and rays cruising past. If you want to go for a snorkel, Five Finger Reef is nearby.
Kayak + Stand-up Paddle Board
On a trip to Jervis Bay on the south coast of New South Wales we thought we had found where you'll see the greatest concentration of stand up paddle boards. But we were wrong. This beautiful bay has plenty of paddlers whether they be standing or sitting in a kayak. You can hire kayaks and SUPs from right on the beach. Not only is it great fun being on the water and spotting turtles and rays, it is also a good way to get to some of coral a bit further from shore and go for a snorkel.
Coral Bay Sunsets
To be fair, when you are on the west coast of Australia you are going to see your fair share of memorable sunsets. That said, the calm bay, white sand and relaxed holiday vibe make sunsets here pretty special. You can witness many great migrations at Coral Bay – whale sharks, humpbacks, nesting turtles… But one of the most reliable is the pilgrimage of holiday makers to the dune-top sunset viewing platform at dusk.
Make your way to the carpark at end of Robinson Street and either go to the dune top viewing platform or down to the bay. Bring your drinks and nibbles and join in the fun as nature puts on one of its best shows. If the platform looks a bit crowded, there is plenty of beachfront to take in the view.
For a catered sunset experience, there are sunset quad bike tours and cruises where you can celebrate the colourful end of the day in a bit of style.
Fishing at Coral Bay
Despite the protected status of Ningaloo Reef, there are still plenty of options if you want to go fishing around Coral Bay. If you don't have a boat and want to get off-shore there are fishing charters operating out of Coral Bay. Mahi Mahi Fishing Charters and Seaforce Charters both offer deep sea and game fishing options.
If you have your own boat, there is a two lane boat ramp with lots of parking just south of the township. The sealed road is well signed on your left as you enter the town. Being a protected zone there are seasonal restrictions and special bag limits for the area.
There are also areas where you can fish from the beach; no shore fishing is allowed around the Bills Bay or Paradise Beach. To the north of Coral Bay you can fish from the beach beyond Point Maud. South of Coral Bay you can fish from near Five Finger Reef. Make sure you check the exact location of the zones before you wet a line.
Relax at Bills Bar Café, Fins or the Reef Café
Being in a remote beachside holiday town doesn't mean you can't relax with nice food. In fact, given the size of Coral Bay – not big – you are spoilt for casual dining options. The Reef Café attached to Bayview Caravan Park and the Fins near the People's Park are both good. Opposite the caravan parks in the shopping precinct, you'll find Bills Bar and Cafe. From locally caught seafood to great pizzas, relaxing at one of the cafes after your cruise or watching the sunset is a great way to end the day. The outdoor dining area Fins was our favourite spot after a full day on and in the water.
Read More : Which Coral Bay Caravan Park is Best?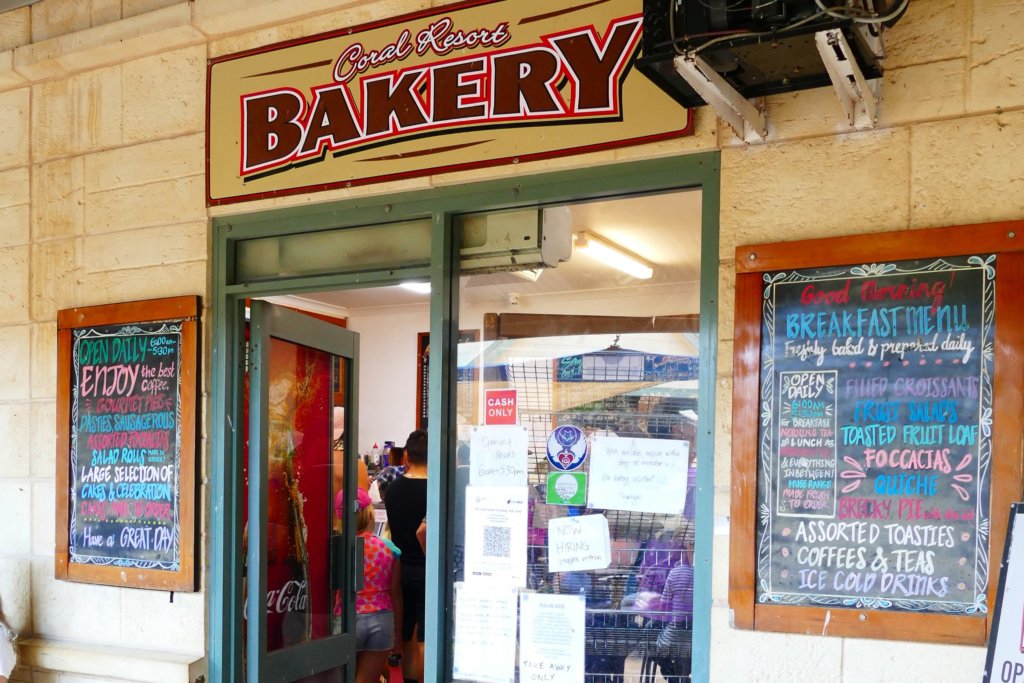 Coral Resort Bakery
Worthy of a mention all on its own, Coral Bay is the last place we expected to find a top notch bakery. The Coral Resort Bakery is in the shopping area and is a popular place. They serve all your favourite bakery fare – their pasties were especially good – and have rolls and sandwiches too. When we visited, they only accepted payment in cash so have some handy to avoid the dash to the ATM after you have everything bagged up in front of you.
Coral Bay Scuba Diving Tours
There is only one thing better than watching the amazing Ningaloo marine life from the surface and that is getting down underwater for a close encounter. Ningaloo Reef Dive is where you go if you want to dive at Coral Bay. There are day or multi day dive tours available on both the inner and outer reef. Some tours are suitable for snorkellers and divers and if you have always wanted to try scuba diving, you can go for an introductory dive or, if you have time, you can do your Open Water Course. What better place to start diving than on Ningaloo Reef!
Explore by 4WD
If you like getting onto the soft sand, there is some great 4WDing around Coral Bay. Popular tracks include the drives out to Five Fingers Reef or north up to Oyster Bridge in the Bateman Sanctuary Zone. Then if you really want an adventure there is an off road track that runs from Coral Bay north to 9 Mile Camp and on to Yardie Creek near Exmouth. It is a rough track and it, along with the Yardie Creek crossing are for experienced 4WDers only.
Another way to experience 4WDing around Coral Bay is to go with the team from Baiyungu Dreaming on a 4WD tag along tour. The local indigenous guides take you over less travelled sand hills, hear the creation story of Five Fingers Reef, see ancient middens and learn how to find fresh water. You'll also go for a snorkel and visit a turtle nursery. It's a great half day tour that gives you a different perspective on the reef and coastline.
Like it? Pin it for Later…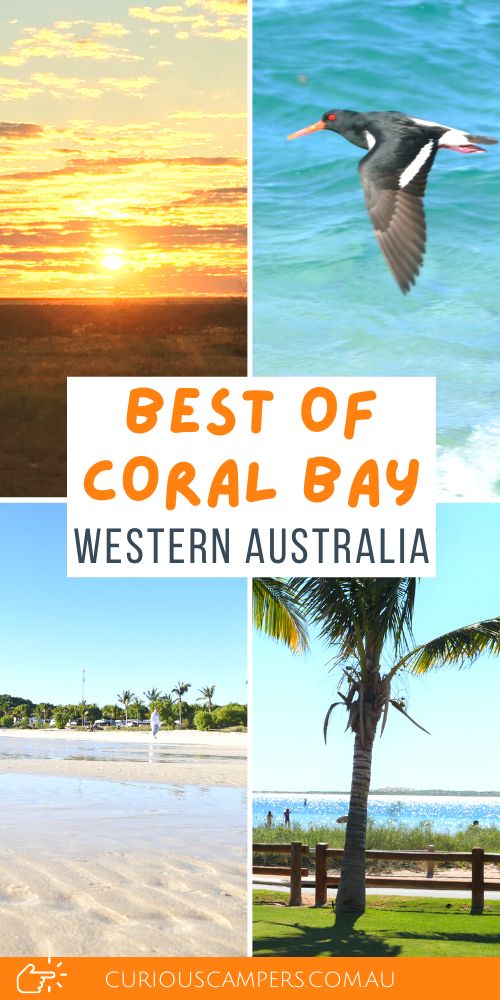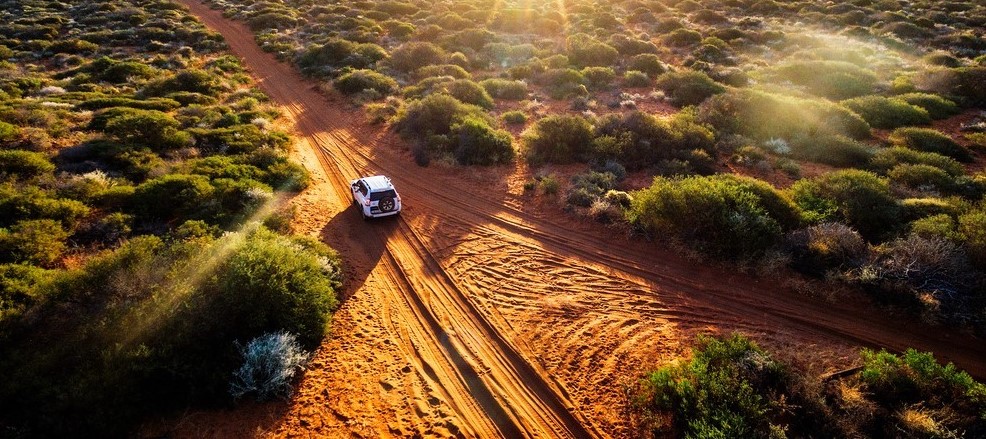 500 THINGS TO DO
Join our mailing list and receive our Free Top 500 things to do in Australia. If you love the Australian Outdoors download this list and keep it handy when you are planning a weekend away or a road trip around Australia.
Recent Posts