If you are going on a holiday to the Cocos Islands, make sure you pack your snorkelling gear. This Australian territory – that's right, passport not required – is a snorkellers paradise, with the shallow, crystal clear, warm waters of the lagoon teaming with tropical marine life.
Disclosure: Please Note That Some Links In This Post May Be Affiliate Links, And At No Additional Cost To You, We Earn A Small Commission If You Make A Purchase. Commissions Go Toward Maintaining The Curious Campers Website.
Where are the Cocos Islands?
Like us, a lot of people have kind of heard of the Cocos Islands, they know they are somewhere warm and tropical, but that's about it. So, let's put them on the map for you. Officially known as the Cocos Keeling Islands, Cocos is an atoll of 27 islands 3000km northwest of Perth. They are closer to Indonesia than Australia and are a touch further north than Darwin.
The Cocos Islands are also known as the South Keeling Islands and have two townships. One is the main administrative and tourist island called West Island and the other Home Island on the other side of the atoll which has a Malay community on it. The uninhabited North Keeling Island is a National Park 40km from the Cocos Islands.
Getting to the Cocos Islands
Flights to Cocos leave from Perth twice weekly via Exmouth with Virgin Airlines. The same flights also go onto to Christmas Island – another destination to consider since you are in the neighbourhood.
What are the Cocos Islands Like?
If you are looking for a laid back, undeveloped, tropical island getaway, Cocos Islands is your place. The accommodation and food offerings are on the comfortable rather than 5 Star side, you won't be run off your feet with activities but if it's a bit of island paradise you are after, you will love the Cocos Islands.
Snorkelling Check List for Cocos Islands
We always suggest having your own snorkelling gear – it fits, doesn't leak and is nice and comfortable. But if you haven't got your own you can hire gear from the Visitor Centre on West Island.
Will you need fins? They might take up a bit of room in the suitcase, but we recommend you take or hire fins. Having them gives you a bit more control and you can cover more ground.
Definitely bring reef shoes. There is a bit of rock and coral to step your way across at some of the best snorkelling spots. Having some footwear will make your life much easier. Some booties that slip into your fins is ideal.
The water temperature in Cocos is a bath-like 27 degrees so for snorkelling you really don't need a wetsuit unless you really feel the cold. A rash top is a good idea for a bit of sun protection.
Some sort of underwater camera is a good idea. The water is so clear – visibility can be over 25 metres – you can get some nice shots. We managed to lose our GoPro on our very first snorkel in Cocos (read more about The Rip below) but we had an Olympus TG6 as a backup which did a nice job.
Sunblock. You might be in the water but the backs of your legs, and gentlemen with a high forehead, will take a hammering from the sun.
Best Cocos Islands Snorkelling Spots
Some of the best snorkelling in the Cocos Islands is straight off the beach at either end of West Island. The Rip is probably the Cocos Island's best known snorkel, that is on Direction Island which you get to by ferry. There is also a fantastic snorkelling tour you can go on from West Island called the Eastern Atoll Explorer that takes you to different spots around the lagoon.
Scout Park – Pulu Maraya Island
This is a brilliant snorkel at the east end of West Island. We were introduced to it on a motorised canoe tour – a must do when you visit – then we went back a couple more times, it was so good. This is a trickier snorkel than walking straight off the beach.
From the picturesque Scout Park you wade 40-50 metres across to little Pulu Maraya Island. Because of the wade you need to do this an hour either side of low tide. The wade is a bit awkward across the rock and sandy bottom. You can't swim over as there is a strong current that pulls you the wrong way. Once you get across, the fun begins.
Between the channel you walk across, and the island is a small rock wall that creates a shallow pool where the current runs in the opposite direction to the main channel. Get your facemask on, point yourself in the right direction and go with the flow. You get about halfway around the island before it gets too shallow to continue so you stand up, walk back across the island and go around again.
Highlights of the Scout Park – Pulu Maraya Island Snorkel
There are so many fantastic things about this snorkel. It is effortless, the current does all the work for you. We did it with and without fins and found having fins gave us a bit more control in the drift but you could do without. The water is crystal clear and shallow. In fact, at the low tide point it is almost too shallow, the hour either side of low tide is probably the best time.
The marine life here is unbelievable. There are colourful fish everywhere. Hang onto a piece of rock and just watch what goes past, there is enormous variety and some big fish too. One thing you soon learn about the Cocos Islands is there are reef sharks everywhere. You regularly see babies 40-60cm long swim past and there are plenty here. They are harmless so don't be alarmed, just enjoy the sight of them.
We saw some big schools of fish here, especially on the island side as you go around the island. We also had a great encounter with some big fish chasing an eel – check out the video – saw lots of black tip and white tip sharks, a huge octopus and a cute smiling Bleny.
When you are done snorkelling, we found it easier to let the current drift us back to Scout Park, it's much easier than walking! Bring lunch because the lawns and beach at Scout Park are beautiful.
Trannies Beach
First, in case you're wondering, the name. Trannies Beach is named after a former nearby communications transmission station. This is a great snorkel to start with on the west end of West Island. It is accessible – you can walk into the water straight off the beach, and it is shallow.
The best time to snorkel at Trannies is low tide. There is a reef out from shore and when the tide is out it provides protection from the waves. This is on the ocean rather than lagoon side of the island, so visibility is good, but doesn't have the sparkling clarity you find inside the lagoon. Visibility is also better at low tide, and it gets a bit clearer the nearer you get to the reef.
Now you might hear 'reef' and think that sounds a bit hairy. It isn't. At low tide you can stand up and be in thigh-deep water so don't be worried about getting thrown into jagged coral. The fish life here is fantastic. From the moment you enter the water at the beach you'll see fish – quite big ones in fact- and the variety just gets better and better the further out you go.
Highlights at Trannies Beach Snorkel
There is some great stuff to see here. Both close to shore and on the reef, there are dozens of varieties of colourful tropical fish. On the reef, 50-60metres from shore you might also bump into some big rock cod, reef sharks and moray eels. Everyone but us also seemed to spot young turtles on this snorkel too.
The Rip Direction Island
The day trip to Direction Island is a popular activity from West Island. Coconut palm lined Cossie Beach is exquisite, and it is home to one of Australia's best snorkels – The Rip. The water rushes in from the ocean between one end of Direction Island and what's left of Prison Island and into the lagoon. The channel is teeming with life, visibility is as good as 30m but the current is full on.
There are drift snorkels and then there is The Rip; it is not for the feint hearted! You need to negotiate the rocky shoreline – reef shoes highly desirable – and find somewhere to sit to get your fins and facemask on while the surf rolls in. Once you're set, you launch yourself in and hang on. This is where we said goodbye to our GoPro, getting in was quite awkward.
Once you're in the current sweeps you along a channel where you feel like you are swimming in a tropical aquarium. There are fish everywhere, big and small. It is all a bit easier at low tide, the current drops off a bit and you can reach down and grab a rock so you can watch all the fish. The current takes you a couple of hundred metres off Direction Island where you can swim, or even walk, back to shore and do it again.
Read more about the Rip and our day on Direction Island here
Eastern Atoll Explorer Tour
This is a great snorkelling option; it gets you to sites in the lagoon that you won't reach from the islands. The half day tour with CocosDay includes light refreshments, and you get some great local knowledge from tour guide Dan. Where you stop will depend on conditions on the day. Here is a summary of where we went and what we saw.
Prison Island
If you Google Prison Island, you'll likely see it looking very different to how it appears today. Once a sandy hill studded with coconut palms, Prison Island is now as much rock as it is sand. As opposed to The Rip just across the channel, there is a great drift snorkel along Prison Island which gives you another swimming in an aquarium experience.
Giant Clam
Further out in the lagoon, this was a slightly deeper snorkel but there was still plenty to see – there always is with such good visibility. The feature here was a 100 year old giant clam that was 8-9 metres down. You can free dive down and get a great look at it. We also spotted a sea turtle at this stop, reef sharks and lots of fish.
Manta Ray Cleaning Station
The third stop for the morning was a manta ray cleaning station. This is a small rocky outcrop where wrasse hang around. If you are lucky, manta rays will come past to have the wrasse give their gills a clean. Alas, we didn't have any manta rays come our way, but it was still a sensational stop. While it might not be everyone's idea of fun, the lack of mantas was made up for with a dozen or more black tip, white tip and grey reef sharks coming by.
These fantastic creatures are as inquisitive as they are harmless. As soon as they picked up a few snorkellers splashing around on the surface they came over for a look. Between 1.5-2m long, they seem to come from all directions and swam within a few metres of us. Yes, our heartrates definitely went up, but it was an incredible site and probably the highlight of the tour for us.
Read More: Swimming with Turtles in Australia
Direction Island – but easier than on your own!
Our last stop on the tour was back at Direction Island. It was even better doing it on the tour than it was the first time. For starters, we didn't lose our Go Pro which we did on our first visit, but it was also a non-ferry day, so we had the island to ourselves which felt highly indulgent. It was also fantastic having the boat waiting to pick us up at the end of The Rip to race us back into shore so we could go around again – a much easier way to do it!
We finished our morning here so with the snorkelling done we pulled up on stunning Cossies Beach for a drink and food. It was an idyllic setting and the perfect end to a great snorkelling tour – we can't recommend getting out with Dan on the Eastern Atoll Explorer enough.
Like it? Pin it for Later…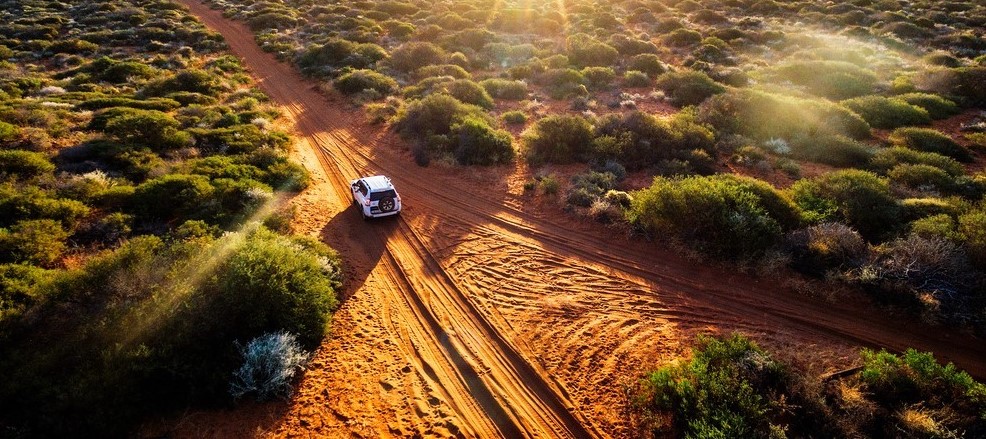 500 THINGS TO DO
Join our mailing list and receive our Free Top 500 things to do in Australia. If you love the Australian Outdoors download this list and keep it handy when you are planning a weekend away or a road trip around Australia.
Recent Posts