Looking for things to do around Perth? Here are 12 of the best day trips from Perth. They feature everything from wildlife, street art and stunning beaches to giant sand dunes and the state's oldest national park.
In just a couple of hours from the city centre, these day trips from Perth will take you to some of Western Australia's best attractions.
Disclosure: Please Note That Some Links In This Post May Be Affiliate Links, And At No Additional Cost To You, We Earn A Small Commission If You Make A Purchase. Commissions Go Toward Maintaining The Curious Campers Website.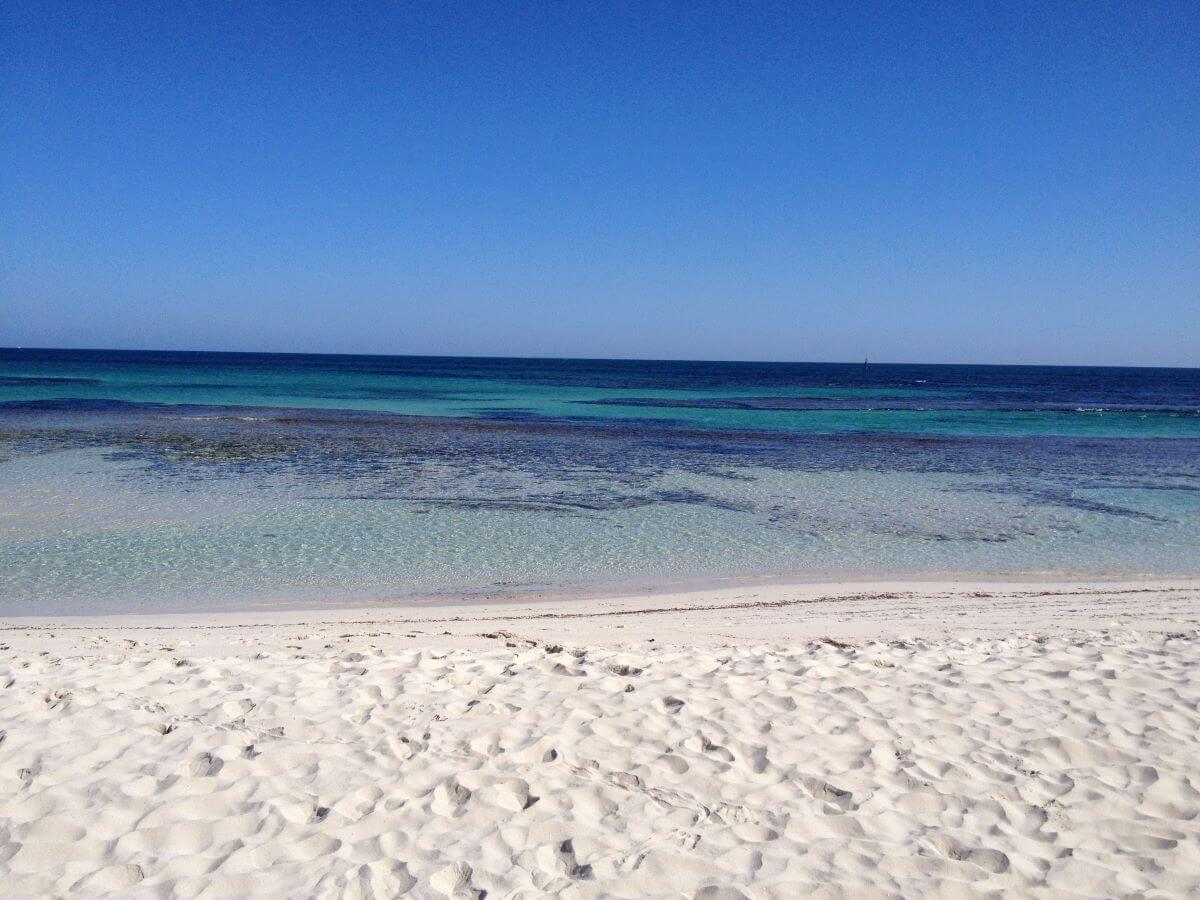 Rottnest Island
Contributed by Claire from Stoked to Travel
Beautiful Rottnest Island is one of the best day trips from Perth. This otherworldly island is just a 25 minute ferry ride from Fremantle. Before you know it, you're soon transported to a tranquil slice of paradise.
Rottnest is most famous for 'the happiest little animal on earth' – the cute quokka. The super tame fluffy quokkas are extremely friendly and abundant on the island – make sure to get a quokka selfie! Aside from the friendly animal encounters, Rottnest is home to 63 stunning beaches, with dazzling white sand and warm, translucent waters. The diving and snorkelling is exceptional around Rottnest, and if you visit in April, or August to November, you'll be able to see the incredible bi-annual migration of humpback and southern right whales. If you're visiting as a family, make sure to visit the aqua park in Thomson Bay, where there is an inflatable assault course, watersport equipment for hire and rock climbing too!
The island is car-free, so the main ways to get around are on foot or on bike, but there are also two local buses operating loops around the island. Also, if you can, visit on a weekday as weekends can be super busy with Perth families heading over.
Penguin Island
Contributed by Bailey from Destinationless Travel
Penguin Island is one of the easiest day trips from Perth. This small 12.5-hectare island is located just off the coast of Shoalwater, only a 45-minute drive from the Perth CBD. It's so close to shore that you can actually swim there or walk at low tide. The currents can make it dangerous, so it's best to take the 5-minute ferry ride instead.
Penguin Island got its name because it's home to thousands of Little Penguins (also called Little Blue Penguins.) Although that sounds like a lot of penguins on a small island, you probably won't see any wild penguins on your visit. Penguins are most often out swimming during the day and the island is only open to visitors from 9 am to 4 pm.
Don't worry though, you can still see penguins on Penguin Island in the Discovery Centre. The Discovery Centre is home to a handful of rescued penguins that you can watch during one of the scheduled feeding times.
Besides penguins, Penguin Island is great for going for a walk on the 2-kilometer boardwalk loop, or visiting a gorgeous beach! You can easily spend a full day on the island walking and relaxing. Just don't try to visit from the beginning of June to mid-September as the island closes annually for nesting season.
Fremantle
Contributed by Delphine from Lester Lost
Located just 15 kms south of the capital of Western Australia, Fremantle is about as well-known as Perth. The port city of Perth is close and yet quite different from the rest of the city. Fremantle has a cool vibe, mixing colonial history, as well as maritime and European migratory influences. There is a lot to do in Fremantle: the Maritime Museum and the Shipwrecks Museum both tell the history and many stories of seafaring throughout the ages. The Round House and the Fremantle Prison explain in vivid detail the harsh, early days of the Swan Colony as Western Australia was initially known. In more recent times, Fremantle has acquired a vibrant restaurant culture and a significant street art footprint.
While Fremantle is an easy day trip from Perth, you could easily spend two days there and walk away with a bunch of memories. Travelling through time by visiting diverse attractions is a great way to approach the place and at the end of the day, you can enjoy a pint or two in the elegant pubs. You could almost dedicate a whole day to street art in Fremantle and you shouldn't miss a browse at the famous markets. My best tip for a visit to Fremantle is to get there by train, it's only a 15-minute ride from Perth. And locally, you can use the free CAT bus to get around!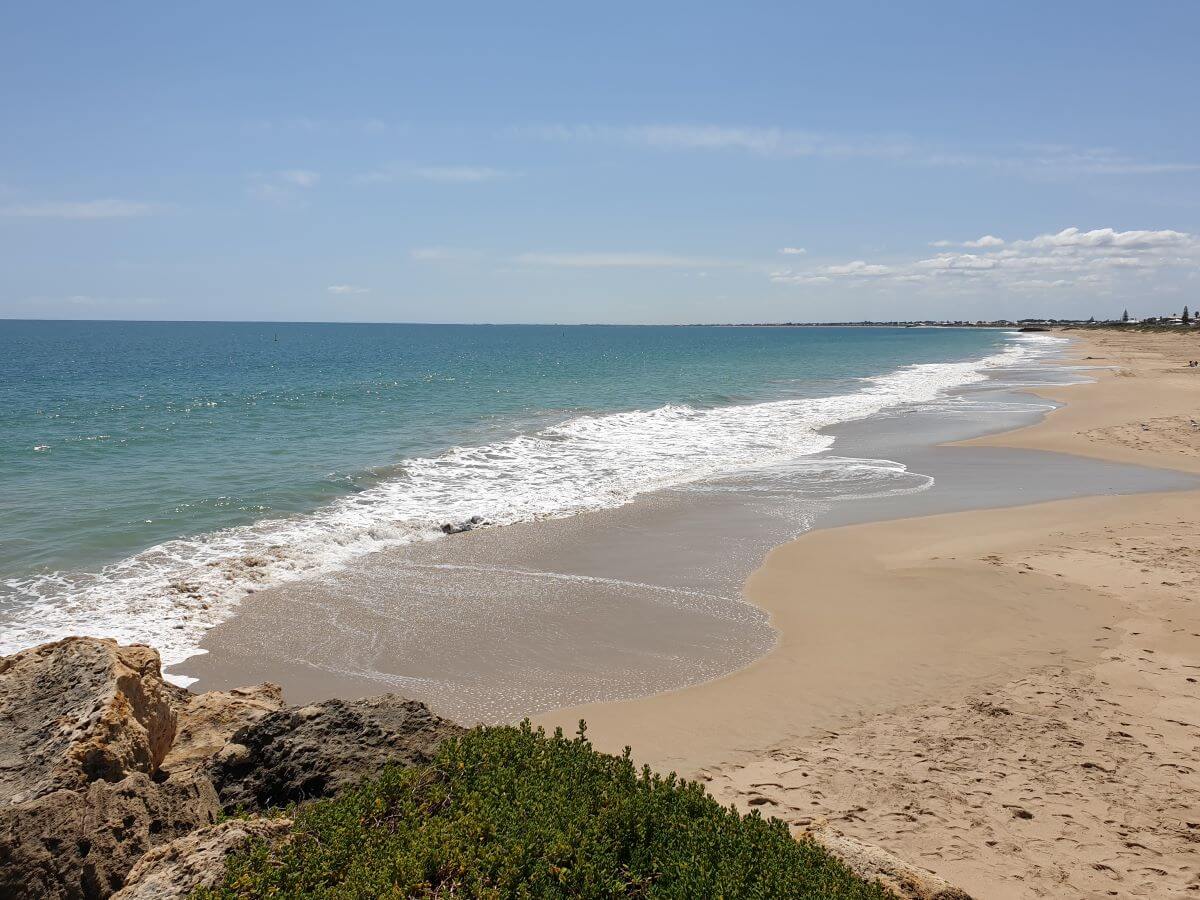 Mandurah
Contributed by Erin from Australian Mountains To Sea
Just one hour south of Perth, the coastal town of Mandurah is both a popular Western Australian holiday destination and a fantastic day trip from Perth. An easy outing on the main highway, you will be there before you know it, Mandurah is also easily accessed by public transport. From beaches to forests, waterside cafes and restaurants, Mandurah is a sensational day out!
Start early and make a day of it – enjoy a morning walk along the Mandurah Foreshore before stopping for a perfect cup of coffee. Hire a bike and ride along the river track keeping an eye out for the resident dolphins. If you like the water there are lots of options. Book yourself a spot on a Mandurah cruise and spot dolphins from the boat, fish, or go stand up paddle boarding or kayaking along the canals.
Choose from the many pristine beaches to take a dip, surf some waves or simply enjoy a book in the magnificent WA sunshine.
For lunch be sure to find yourself some great seafood fresh from the water. Your day in Mandurah would not be complete without a trip to Simmo's Ice Creamery – a real hit with the kids (big and small!).
On your way back to Perth, do yourself a favour and take a slight detour to Serpentine Falls at Serpentine National Park. Really, to do the National Park justice you spend the entire day there, but there is a great little walk from the main car park to the Falls if you are limited for time.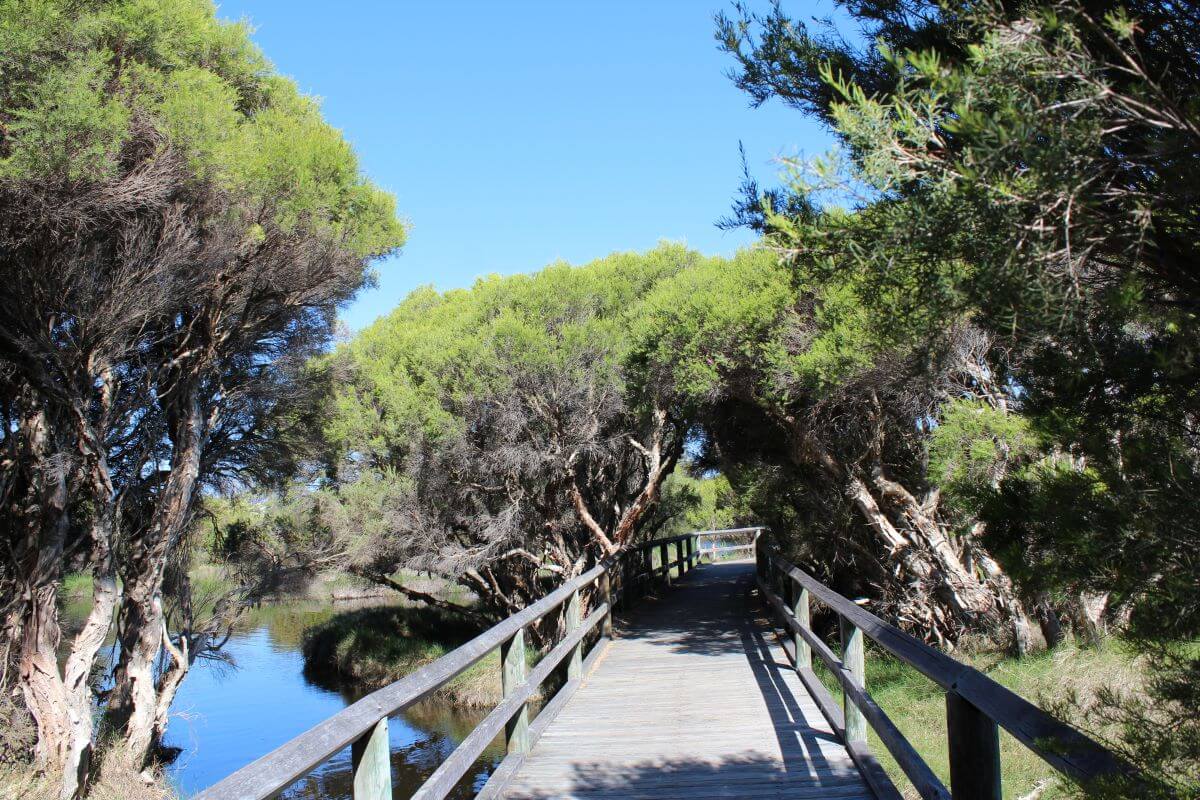 Bunbury
Contributed by Paula and Charles from Australia Your Way
Located on the land of the Noongar people on Western Australians South Coast, Bunbury is the third-largest city in the state and one of the fastest-growing in Australia. Best known for its great food scene and abundant street art it has become popular as a day trip from Perth or stopover for visitors travelling south to Margaret River. While these two things are enough reason to add Bunbury to your itinerary there is lots more to see and do here.
Animal lovers will enjoy the Dolphin Discovery Centre, where you can learn all about dolphins and marine life. This non-profit organisation supports the study and conservation of dolphins. You can join an eco-cruise or swim with the wild dolphins. The centre is fully accessible and has beach wheelchairs available too.
A great budget activity is to head to the Mangroves Boardwalk. This wetland at Leschenalut Inlet waterway is a breeding ground for WA Black Swans. The full walk is 5.3km, but you can just do as much as you have time for.
Finally, we recommend you pop into the visitors centre in the old railway station on arrival and pick up a self-guided street art walking map. You will find 40+ walls by some of the best Australian and international street artists and enjoying them does not cost a cent!
Getting to Bunbury is easy – the 154km from Perth the trip takes just under 2 hours by car or 2hrs 20 mins by train.
Collie & Black Diamond Lake
Contributed by Megan from The Common Adventure
Collie is a regional mining town in the Southwest region of Western Australia. It's around a 2 hour drive from Perth, making it an ideal location for day trips or a weekend getaway.
Although the town is small, there are plenty of outdoor activities and sights to see in the Collie River Valley. The most iconic attraction is Black Diamond Lake, an ideal spot for a day trip from Perth.
Formally a mine site, Black Diamond Lake has become popular for its stunning turquoise colour created by the limestone in the water.
Tips for Visiting Black Diamond Lake:
It is best to drive, as public transport around Collie is limited. Having a car is great if you want to explore other areas around Collie!
If you want to see Black Diamond Lake at its bluest, you'll need to visit on a sunny day.
There are fewer tourists here in the shoulder season. So if you want to avoid the crowds visit around October/November or March/April.
There are no facilities at the lake. However, during the peak season the local shire may install temporary toilets for public use.
There have been issues with the quality of the water. There is signage to indicate when there are dangerous levels of bacteria in the water.
Don't forget to pack yourself some lunch and a cute float to take some photos with!
Enjoy your visit to Black Diamond Lake and don't forget to visit the town of Collie!
Read More : Whale Watching on the Nullarbor
Busselton
Busselton is a seaside town about two and a half hours south of Perth. While the town has a number of historic sights, a vibrant gallery scene and a lot for foodies, it is hard to go past the Busselton Jetty.
The 1.8 kilometre long jetty dominates the coastline and is itself worth the day trip from Perth. The beach around the jetty is beautiful and it is lined with cafes, reserves, bike paths and a fantastic playground complete with pirate ship. Kids will love it!
But for our visit, the day was all about the jetty. If you enjoy a long walk out over the water there's a lot to like here. It's a beautiful stroll but if it's a bit far you can shorten the journey by catching the jetty train – fares apply.
At the end of the jetty is an underwater observatory that takes you 8m below the surface into a world of colourful coral and fish. Access to the observatory is only possible on a tour. There are various tour options available which can include the cost of the train fare.
If you would rather be on the other side of the observatory window, there are snorkelling and scuba tours available. For something a bit different, you can try an undersea walk wearing a big hi-tech helmet. No matter how you enjoy the beach and jetty Busselton is a magic spot for a day trip. A jetty sunset is always a great way to finish the day.
Busselton Jetty Undersea Walk – Take the plunge and discover a world beneath the Jetty – No experience needed as you can breathe normally in the underwater dive helmet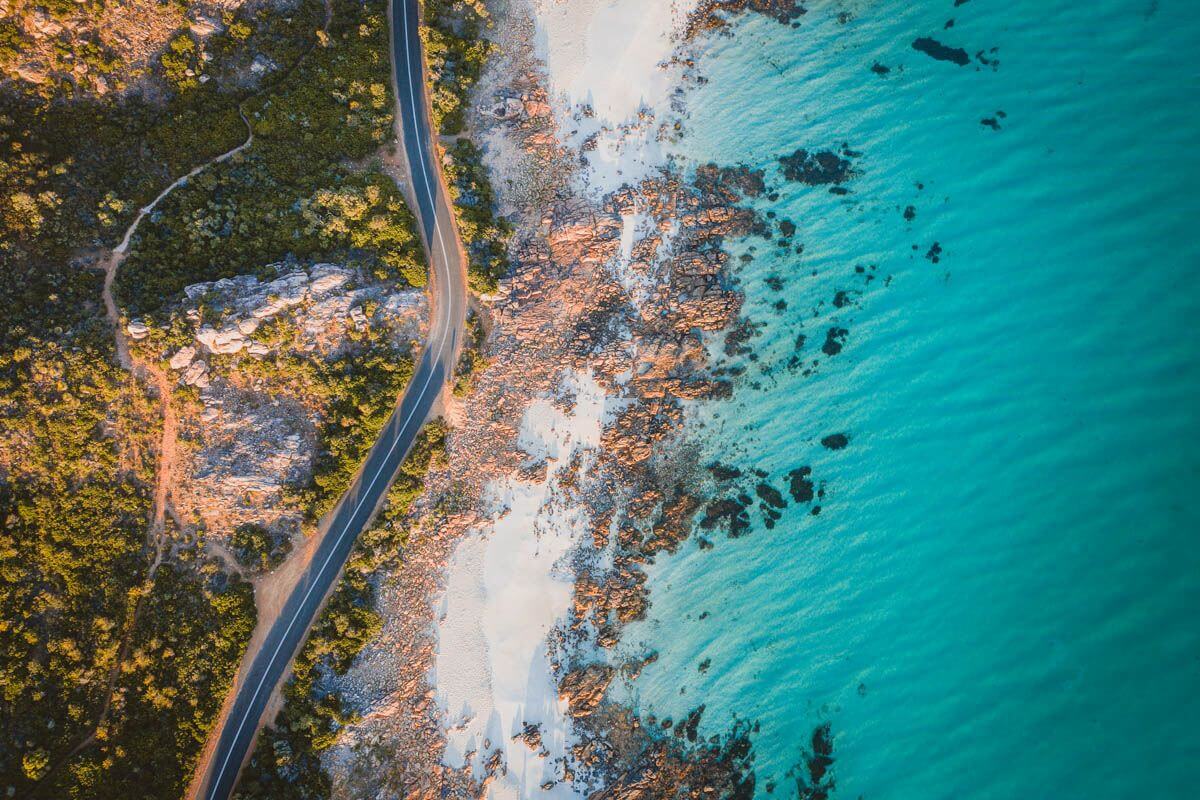 Dunsborough
Contributed by Luke from The Coastal Campaign
If you drive 2.5 hours south from Perth you will find yourself in the beautiful coastal town of Dunsborough. I won't hesitate to say this is my favourite place in the world and it is definitely worth the day trip from Perth. Dunsborough has it all – beautiful beaches, world class surf, amazing food and friendly locals.
Although you'll find some awesome beaches in Perth the beaches in Dunsborough are a cut above the rest. Take a drive out along Cape Naturaliste to find some of my favourites including Castlerock, Meelup and Eagle Bay. The white sand and crystal-clear blue water are the perfect place to spend your day in the sun. Even in the height of summer it never gets too busy down here. If you visit during September to November you have a great chance of seeing whales swimming past just a couple of hundred metres from shore.
After some time relaxing on the beach, grab some food at one of the many restaurants in and around town. For the best brunch check out Goanna Café or for lunch try Wise Winery. The view at Wise Winery is incredible and you can have some of their own wine with lunch or try more of their wines at the attached tasting room.
It would be easy to ramble on about how amazing this place is but it would be much better to go and experience it all for yourself.
John Forrest National Park
Contributed by Ann from The Road is Life
Located in the hills on the outskirts of Perth only 30 minutes from the city is the oldest national park in Western Australia. John Forrest National Park is home to an abundance of native wildlife, plenty of scenic hiking trails and a tavern with a beer garden surrounded by friendly kangaroos. It's the perfect place to go for a hike near Perth and a great opportunity to get up close to wildlife without visiting a zoo.
For the perfect day trip, a great idea would be to follow the Eagle View walking trail to the lookout and then return along the same path, 4.5km 2 hour return. The full Eagle View trail is a 15km loop and it takes around 3-5 hours to complete. The shorter version passes by a lovely waterfall and offers stunning views over the city, ideal for those who don't wish to do a long hike.
When you finish the hike and return to the car park, head straight over to the John Forrest Tavern. This is where you can relax with lunch and a drink and pet a few kangaroos at the same time! The kangaroos can be found at the tavern at pretty much any time of day as they are fed by the staff of the pub. Make sure to keep an eye out for the colourful birds that also hang out around the tavern.
While the parking at John Forrest is free, you will need a valid national park pass to enter.
The Pinnacles
Contributed by Veronika from Travel Geekery
The Pinnacles are unique limestone formations in the Nambung National Park to the North of Perth. The closest town is Cervantes and it's about 200 kilometers away from Perth. It takes 2,5 hours to drive there.
The Pinnacles Desert is a top tourist destination in this part of Australia and a popular day trip from Perth. No wonder – it's one of the most unique natural sights you can see in the country.
The individual shapes – the Pinnacles – are tall limestone structures, which formed naturally 25,000 to 30,000 years ago. The area was an ocean bed and after the ocean disappeared and wind took the loose sand grains away, only these tall pillars stayed. Some of them are 3,5 meters high!
You can walk around and admire the unique shapes. The Mars-like desert contrasts with the dark blue ocean in the distance. If you visit early in the morning or late in the afternoon, you might even come across kangaroos or emus wandering about.
Bear in mind the area is quite exposed to sun, so cover yourself accordingly. It is prohibited to climb the structures.
Since the Pinnacles are part of a National Park, you will need a valid national park pass to enter.
Pinnacles 4wd Adventure Tour from Perth – along with the Pinnacles, stop at the local lobster restaurant for lunch & Caversham Wildlife Park. Go sandboarding at Lancelin for get the heart racing.
Read More: Plan your Pinnacles Day Trip here
Lancelin
Contributed by Kenny from Knycx Journeying
Lancelin is a small town by the coast of West Australia with a population of less than 800, and it is one of the most popular holiday locations among the locals. The town offers proximity to a number of beaches, and therefore it is a great location for bird watchers, surfers, divers, and swimmers. You can find surfing equipment, and kite or bike rentals in town – you can simply get out of the car and start the fun.
The town lies along Route 60 that leads to other attractions including the Pinnacles Desert or Lake Thetis. The crowds sometimes miss the unique landscape in Lancelin. The town is right next to the largest sand dunes in the Western Australia.
Many visitors come here to sandboard, but it is possible to ride a dune buggy or motorbike if you are looking for something more adventurous. Just a little tip, wear a scarf or a jacket with a hood because the strong wind will keep blowing sand to your face. While the sand dune is open to the public, it's best you have some sand driving experience before taking your 4WD onto the dunes.
Lancelin Quad Bike Tour + Sandboarding – Enjoy the spectacular beach views form the top of the sand dunes
Camping & National Park Pass
Visitor fees apply at over 30 of Western Australia's world-class parks and reserves so you may wish to purchase an extended pass. A park pass can save you money and you can enjoy the convenience of unlimited entry without needing to pay a fee each time. By buying a pass you will also be making a valuable contribution to the management of these special areas.
Park passes cover park entry fees for private vehicles with up to 12 legally seated occupants, including the driver, and allow unlimited entry to all parks in Western Australia for the duration of the pass.
Check out what Camping fees apply in Western Australian National Parks.
If you enjoyed this story you might also like:
Brisbane Day Trips | Hobart Day Trips | Adelaide Day Trips
Like it? Pin it for Later…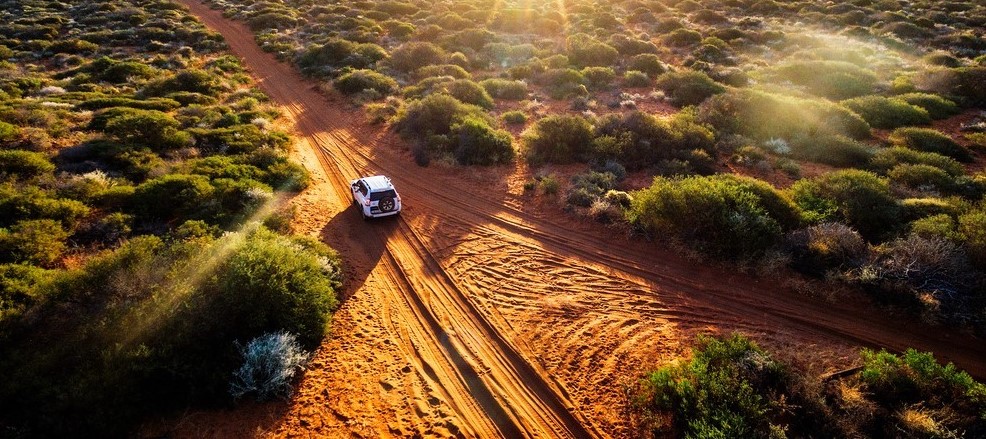 500 THINGS TO DO
Join our mailing list and receive our Free Top 500 things to do in Australia. If you love the Australian Outdoors download this list and keep it handy when you are planning a weekend away or a road trip around Australia.
Recent Posts