Located in Western Australia's Pilbara region, Karijini is home to a series of spectacular gorges, rock pools and watery canyons. It is a stunning place, from the colour and geometry of the rocks to the waterholes and wildlife, anyone who has been to Karijini rates it as one of the most amazing things they have ever seen.
When you visit Karijini, camping in the park is the best way to experience the area. There are two options for camping in Karijini – dales Campground or Karijini Eco Retreat. Below we review both locations and list some basic information about each.
Disclosure: Please Note That Some Links In This Post May Be Affiliate Links, And At No Additional Cost To You, We Earn A Small Commission If You Make A Purchase. Commissions Go Toward Maintaining The Curious Campers Website.
Getting to Karijini
Tom Price is the closet town to Karijini, and it is a 45 minute drive away. To get there, you will probably come in from Exmouth or Port Headland.
Port Headland to Karijini is 4 hours, Exmouth to Karijini is nearly 8 hours. So if you haven't figured it out yet, Karijini really is in the middle of nowhere!
Karijini FAQ's
Best Time to Visit
Best time to visit Karijini
The best time to go camping in Karijini is from April to October. You will be doing a lot of walking and it isn't fun or safe doing that over summer. Not only is it very hot and humid, but it can be dangerous getting caught in a gorge if you get under one of the monsoonal storms that affect the area in summer.
The cool and dry from April to October is the perfect time to look around. We were in Karijini early in the season and it was quiet and there was still plenty of water around. Later in the season is good as from late July you'll see wildflowers in bloom.
June to August can be very busy, so definitely book if you plan to camp at Karijini then.
4wd?
Do you need a 4WD in Karijini?
You do not need a 4WD to camp at Karijini. The road to the visitor centre is sealed but the drives to most of the gorges and campgrounds are on good quality dirt roads, they were not rutted, steep or particularly corrugated. We saw plenty of 2WD in Karijini, it is just a matter of driving to the conditions.
Karijini Fuel?
Can you get fuel in Karijini?
No! the nearest fuel as either at Tom Price – 70km away – or at the Munjina Roadhouse which is 80km from Dales Campground so fill up before going in.
How many days?
How many days do you need in Karijini?
In 3 to 4 days you will have time to see most of Karijini' s beautiful gorges, waterfalls and rock pools.
National Park Pass
Do you need a National Park Pass for Karijini?
You do need a National Park pass to enter Karijini or you can pay a park entry fee per car at the Karijini Visitor Centre
Dogs?
Can you take dogs to Karijini?
No, dogs are not allowed in Karijini National Park.
Karijini Camping – Dales Campground or Karijini Eco Retreat
Figuring out where to stay in Karijini isn't too difficult. It might be a big place, but there are only two camping and accommodation options in Karijini National Park – Dales Campground and Karijini Eco Retreat. You could also stay at the Tom Price Tourist Park if you don't mind driving into and out of the park each day.
Dales Campground
Dales Campground is located within walking distance of Dales Gorge which contains Circular Pool, Fern Pool and Fortescue Falls which are some of the park's best features. The campground is 15 minutes from the Karijini Visitor Centre along a dirt road.
We stayed here and had a great time. A couple of things from our trip… be ready for red dust getting into everything! Flies at tea time were full on (but there were no flies in the gorge), keep an eye out for dingos.
10 things to know about camping at Dales Campground
Dales Campground has about 150 sites of different sizes spread over 6 areas
You need to book your site; bookings can be made up to 6 months in advance
There is an overflow campground, but it is about 10km from Dales and there is a 2 night maximum stay – you really need to book!
Cost is $11 per adult and $3 per child per night (as of April 2023)
Some sections of the campground allow generators (from 8.00am to 8.00pm). You can select a generator site when you book.
There are well looked after drop toilets but no showers. There are showers at the visitor centre, but a dip in Fern Pool worked for us!
Sites can accommodate caravans
There is park Wi-Fi and phone signal (might depend on your carrier)
Camping at Karijini Eco Retreat
The other camping option is Karijini Eco Retreat which, as well as a campground, also has eco tents and cabins ranging from standard to luxury and deluxe models. It is 35 minutes from the Karijini Visitor Centre and is located near the stunning Joffre Gorge.
We haven't stayed here (yet) but friends have, and they loved that you had access to a few creature comforts. Here is what you'll get at camping at Karijini Eco Retreat.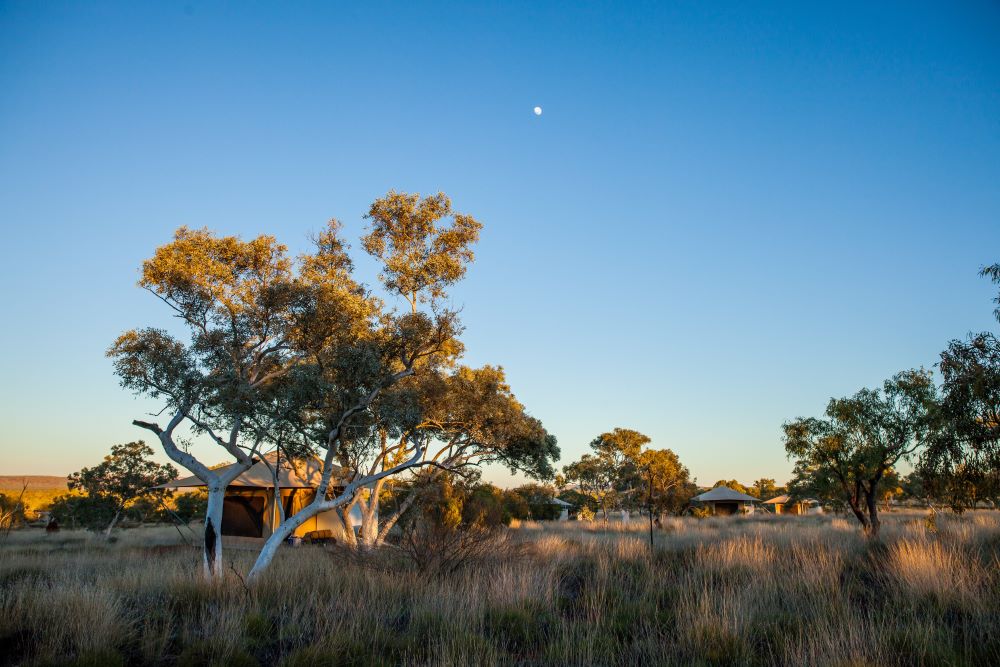 10 things to know about the Karijini Eco Retreat Campground
Karijini Eco Retreat Campground has marked bushland sites or stay in a luxury eco-tent
Flushing toilets and solar hot water showers – but if the sun isn't out the showers may not be hot
Access to the eco retreat kiosk, restaurant and bar
There is a camp kitchen with gas BBQ, sink and prep areas (BYO pots, pans and cutlery)
Bookings must be made online
Cost is $22 per adult per night, children under 12 are free
There is Wi-Fi and phone signal (dependent on your carrier)
There is no dump point here
You can use generators from 4.00pm to 8.00pm
You are still in the national park, so no dogs allowed
Read More: Free & Low Cost Camping in Western Australia
Karijini Camping with Kids
Although we couldn't wait to Karijini, we were worried about the kids. They had four days of their most hated activity ahead of them – walking. Even though we had tried our best to paint an exciting picture of our Karijini stop, they were sceptical. While we had avoided mentioning that walking was involved, they seemed to sense that the 'W' word was on the agenda.
As we set up camp in the Dales Gorge campground surrounded by wiry low scrub, flies and red dust their interrogation of why we were there started. All we could do was continue our marketing campaign.
'Canyons, rock pools, water falls – you'll love it!'
As they surveyed the campgrounds our credibility looked under threat. Their mood started to sour. It was understandable. From where we stood there was no sign of the things we promised or expected.
'There's a lookout just over there. Let's walk over and see what there is to see.'
'Walk? How far?'
They had even less enthusiasm for walking straight after setting up camp – a routine that regularly strained relationships. We had no idea how far away the lookout was, so we did the only thing we could do – lie and hope we were right.
'It's just a couple of minutes away, let's take a look.'
The Hidden World of Dales Gorge
After a mercifully short walk and only a mild threat of a walker's revolt we arrived at the lookout. We approached the rail and peered over. Gone was the drab green scrub and red dust. Before us was another world – a world of stunning gorge walls and the promised rock pools.
From that point on we had a whinge free stay. Despite plenty of walking the only complaints came when we had to drag them out of Fern Pool and off the rope swing for dinner.
By the end of our first day exploring Dale's Gorge, we were all lost for words to describe the shapes, colours and textures of the massive cubes of rock that made up the valley floor and walls. Some of them looked hand-painted and the layers of rock looked like neatly stacked piles of giant books.
If you could take your eyes off the striking geology you started to notice the small things. Lizards darted across rocks. Dragonflies hung and flitted across crystal clear pools of water. Giant figs grew out of red rock walls. Moss and fern lined caves echoed with the sound of percolating water.
Different Adventure Every Day
One of the great things about camping at Karijini is the variety in the gorges. Over the next three days we swam and waded through watery chasms and sloshed our way through shallow rapids that ran between towering gorge walls. We rappelled into cavernous blue pools via handrails and ropes, hiked through head-high grass, grappled our way along rock ledges and slid along natural rock waterslides.
Every day we would find ourselves searching for new ways to describe the different worlds hidden away in Weano Gorge, Hancock Gorge, Joffre Gorge and Hamersley Gorge. Karijini is nature's ultimate adventure playground, a colossal natural theme park without the stomach-churning rides.
Read More : Swim with Manta Rays at Coral Bay
Wonder Beats Walking
The kids were enthralled. Although they would never admit it, for those few days walking became their favourite activity. To be fair, when the walking included wading through chest deep water and clambering up, down and over rocks it becomes a lot more fun! It was the happiest hiking our eight and ten-year old kids had ever done.
So if you are wondering whether it is worth the effort to go camping in Karijini – you should definitely make the time to explore this stunning ancient landscape.
If you enjoyed this story you might also like:
Mount Kosciusko Summit | Driving the Nullarbor | Things to do in Exmouth
Like it? Pin it for Later…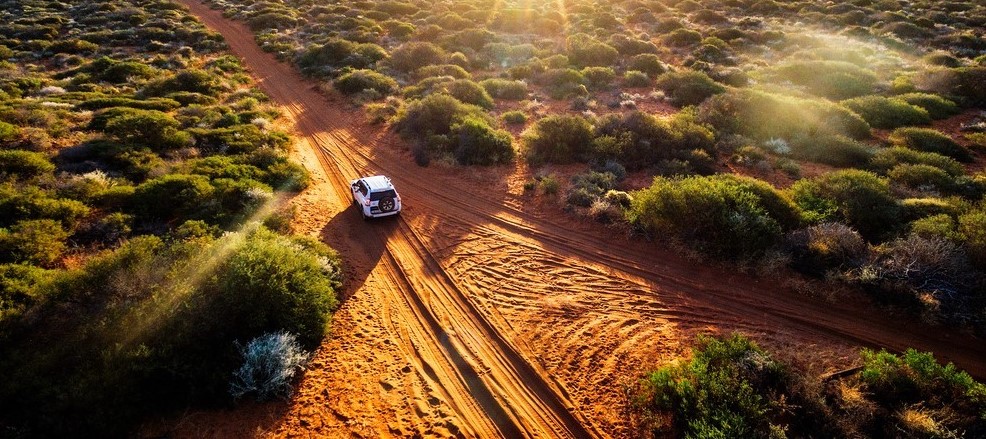 500 THINGS TO DO
Join our mailing list and receive our Free Top 500 things to do in Australia. If you love the Australian Outdoors download this list and keep it handy when you are planning a weekend away or a road trip around Australia.
Recent Posts