Francois Peron National Park is right next door to Denham in the Shark Bay World Heritage Area. The National Park features ochre red cliffs, turquoise water, lots of marine life and beautiful beaches. The soft, deep sand tracks mean you can only get into Francois Peron with a high clearance 4WD.
If you don't have a 4WD or if you want a day off from behind the wheel, a guided tour of the area is the way to go. Not only is it nice to get chauffeured around, but a guided tour is also the best way to learn all about this beautiful part of the world. You'll do everything from see wildlife hotspots to trying bush tucker.
Disclosure: Please note that some links in this post may be affiliate links, and at no additional cost to you, we earn a small commission if you make a purchase. Commissions are appreciated and go toward maintaining the Curious Campers website.
Pick up from your Park
The tour is run by the team that operate the Ocean Park Aquarium near Denham. They pick you up from your accommodation so if you are in Denham, it is an easy start to the morning. One of us took a calculated gamble that they would be late and made a dash back to camp to grab something. Unfortunately, the hulking 4WD bus came by right on time. Apologies again to the rest of the group already on board who had to wait…
Our punishment for being tardy was getting to sit up front. We found out later this was a rare privilege but despite the tight fit it was fantastic getting the view out the front of the bus. It was also fun getting to chat to Luke, our guide for the day about the park and what it's like living in such a remote part of Australia. With hellos and apologies given to the rest of our group, we made the 15 minute drive from Denham to the entrance of the park.
BOOK A DENHAM SEASIDE CARAVAN PARK STAY
Enjoy absolute water frontage and panoramic ocean views with gorgeous sunsets in the Shark Bay World Heritage Area. Located right on the beautiful Shark Bay with its own lovely safe pet friendly beach and just a short walk away from the town's hotels, restaurants, jetties, waterfront playground, bakery and coffee shops. 
Peron Heritage Precinct
Unless you want to get bogged within a 100m of entering the Park, you have to stop at the Peron Heritage Precinct to adjust your tyre pressures. There is also a box here to pay the park entry fee of around $15 a car, a valid national park pass also allows you entry. It only takes a minute for our tyres to get adjusted and Luke to climb back into the bus.
Before we leave, he points out the homestead off to our left and tells us this is where the artesian hot tubs are. At the mention of the hot tub an excited gasp comes from the some in the group who, it seems, have them as the main attraction for the day. Luke tells them the hot tub is the last stop we do on the tour but promises we will be back.
Guichenalt Point
From the Peron Heritage Precinct, we have a 30 minute drive to our first stop of the day. We soon appreciate why the park is suitable for 4WDs only. The track is bumpy, quite corrugated in places and sandy. It is only one lane wide with the occasional pull-over spot to allow for passing. As we have a laugh about how far our campervan van would have made it along here, Luke tells us stories of the retrievals he's done. Just a tip, if you get bogged out here, expect to pay big if you need to call for help.
Our first stop is not we expect. We leave the track, slide across some deep sand and arrive at the Herald Bight camping area, one of several campgrounds in the park. To our left, in the distance, we can see the rust coloured cliffs of Skipjack Point. But we turn right and drive up the beach past the waterfront campsites to Guichenalt Point – a small finger of mangrove dotted sand.
While we love a mangrove forest, it wasn't the sight we were expecting. We bundle out of the bus and get invited to take off our shoes and wade out into shallow waters of the bight. 'Might be a bit chilly but let's see if we can spot a shark'. Not sure if it was the thought of the cold or the sharks but about one third of our group accepted the invitation to walk in the water.
The shallow waters at Guichenalt Point are a common spot for young sharks, rays and even turtles to cruise around. He wasn't wrong about the water. We can confirm that Denham does have a winter and the cool nights had made the shallow water quite cool. We still waded around up to our knees for 15 or 20 minutes. Despite most things heading to the deeper warmer water, we still spotted a couple of rays in the shallows which was exciting.
Francios Peron Birrida
Our next stop is another 20 minutes away. It takes us past the turn offs for a couple more campgrounds – Gregories and South Gregories. Both have toilets and you can launch a boat from South Gregories. The feature of the drive between Guichenalt Point and our next stop at Bottle Bay are the large gypsum clay pans or birrida. Luke flicks his microphone back on, 'if you want to avoid a world of trouble, never drive on a birrida'. He points out a few sets of tyre tracks that end at a muddy hole.
While birrida look flat and hard and far more pleasant to drive on than the bumpy sand tracks, below their thin crust there is soft mud. Once your car breaks the surface you aren't going anywhere. They are spectacular looking things, devoid of vegetation they seem to stretch on forever. There are a couple of places on the edge of a birrida that have upgraded and form part of the track, otherwise they are off limits to drivers.
A DAY PACK PERFECT FOR ALL ADVENTURES
The Black Wolf Titanium 35 Day Pack is ideal for your daily commute or day hike. The mesh back panel allows airflow around your back, to keep you cool on warm days. It has two large compartments, the lower of which provides enough space for shoes, plus numerous organiser pockets. Topped off with hydration compatibility, audio pouch and a rain cover – there's not much left to ask for in a backpack!
Bottle Bay
We're confronted at Bottle Bay with what everyone on the tour has been waiting for (not a surprise hot tub) – ochre rock meeting turquoise water. The colours are striking and bright and almost unreal. A bank of red cliffs stretches into the distance towards Cape Peron. We climb to the top of the cliffs to take in the view. From above, you can see fingers of red sediment dulling the water line. It's a spectacular sight but not ideal for our next activity.
Our plan is to go for a snorkel on the reef that runs parallel to the bay. There has been an unusual amount of rain in the area lately which has washed some of the red dirt into the bay. Because the reef is close to shore, the runoff has clouded up the water. Some in the group, us included, manage to convince ourselves that further along the reef away from the cliffs the water is less cloudy, so we decide to hop in.
We get into our wetsuits and are glad we brought them because the July water is cool. The narrow reef is close to shore, we swim over the top of it and go south looking for clearer water. The visibility improves enough for us to see some fish but between the average visibility and the unexpected cold we soon head back to the bus. Don't be put off snorkelling here though. On a clearer, warmer day there would be lots to see.
Bush Bananas
It is only a short drive to our next stop but along the way we come to a rapid stop and Luke jumps out of the bus. We're told to sit tight; he's found a special treat for us. A few minutes later he emerges from the scrub with scratched up arms holding a dozen small green pods. After explaining that the only time he see these things, they are surrounded by prickly bushes, we hear we are about to try bush bananas.
We arrive at our next stop, Cape Peron, and those willing, get a bush banana. They are as long as your finger and banana-shaped but that is where the banana similarities end. You can eat them raw which is what we did. When you pull them open there is a dense bunch of fibrous seeds. Hard to say what they taste like, kind of sweet and sort of green but not too bad. It was fun giving it a try.
ORDER YOUR FLY NET - AN OUTBACK ESSENTIAL
Keep flies and mozzies at bay! A fly net is an essential item in the Aussie outback, more-so for your sanity when those pesky flies keep disappearing up your nose, in your ears or even more annoying is when they get stuck between your eye and the lens of your sunglasses. Click and order.
Cape Peron
After Bottle Bay we didn't think dirt could get more red and water more blue, but then we gazed out over Cape Peron. This was a longer stop that included a couple of short walks and lunch. We started with a walk to the top of cliffs and looked down into the water for marine life. Even with the cooler water there was plenty to see with several rays and a nervous shark swimming in the shallows. The rays buried themselves in sand and the only thing you could see was their long tail. This is also a spot where indo-pacific dolphins have been seen hydroplaning or strand feeding as they chase fish up onto the beach.
With no dolphins around we change direction and walk the first part of the Wanamalu Trail. The 3 kilometre return walk goes between Cape Peron and Skipjack Point and takes a couple of hours. Today we only walk a few hundred metres along the red dunes. The trail is a bit up and down on soft sand, a few in our group found the sand hills a bit challenging.
Wanamalu Trail
The views from the trail are as good as we have seen on the tour. In the distance are the red cliffs of Skipjack Point. Below us is a long beach covered in flocks of sea birds. We also spot the odd ray cruising along in the shallows. Because it has been quite a wet winter, wildflowers are already starting to bloom. Luke shows us a one of his favourites that has arrived early this season, a Denham Daisy.
Despite the lure of the trail and the temptation to continue walking around to Skipjack Point, it is well past lunch time, and everyone is ready for a feed. We return to the carpark where there is also toilets and a shelter. We have lunch staring out over the water, red cliffs and the idyllic beach all hoping some dolphins will turn up to entertain us.
Skipjack Point
Our second last stop for the day is only a short drive away, Skipjack Point. Once we get there, it is even more spectacular than it appeared from a distance. There is a boardwalk and lookout that has views into the bay below. Even though the wind is starting to pick up we can make out the shapes of a couple of sharks swimming close to shore.
This is a lovely spot. The lookouts and seats along the boardwalk make it a perfect place to relax and take in the beauty of the area. We could have sat here for ages taking in the views towards Cape Peron one way and Guichenalt Point, where our day started, in other direction. The orange earth took on a new glow as the sun started to get a bit lower in the sky.
There is signage here explaining how the dolphins chase fish up onto the beach. As we get the call to head back to the bus, we are stealing a few last pictures when we spot a pod of dolphins making their way towards Cape Peron. They are not feeding, but it is still a nice way to top of the views from this impressive location.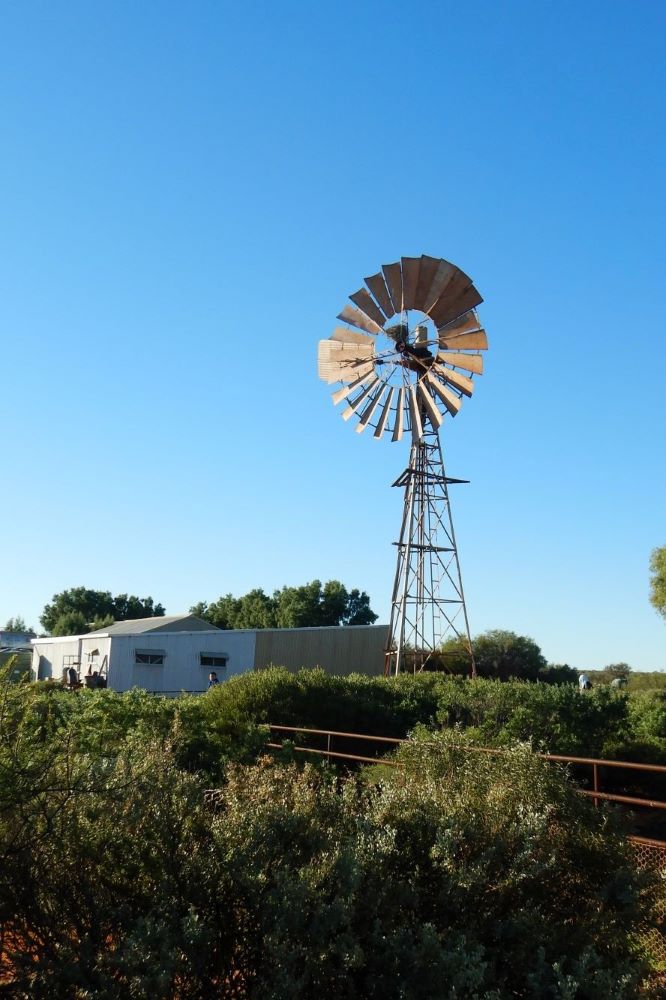 Peron Homestead Hot Tub Credit: Western Australian Tourism
500 Things to do
Join our mailing list and receive our Free Top 500 things to do in Australia. If you love Australian Outdoor Experiences download this list and keep it handy when you are planning a weekend away or a road trip around Australia.