There is a surprising number of things to do on Christmas Island, it is a fascinating and beautiful place that offers a lot for nature-based travellers. Two thirds of the Island is covered by Christmas Island National Park, it has unique wildlife, rugged coastline, incredible snorkelling and diving and a fascinating cultural history.
Disclosure: Please Note That Some Links In This Post May Be Affiliate Links, And At No Additional Cost To You, We Earn A Small Commission If You Make A Purchase. Commissions Go Toward Maintaining The Curious Campers Website.
Where is Christmas Island?
Christmas Island is 2600km northwest of Perth in the Indian Ocean. It is closer to Indonesia than Australia, the Indonesian capital Jakarta is less than 500km north of the island. The nearest Australian city is Exmouth which is nearly 1600km away.
Getting to Christmas Island
There are two flights a week to Christmas Island that depart from Perth on Tuesdays and Fridays with Virgin Australia.
The Tuesday flight goes directly to Christmas Island then onto Cocos Islands and back to Perth. The Friday flight goes via Exmouth (Learmonth), Cocos Islands then Christmas Island.
Despite the different routes, both flights arrive in Christmas Island at about the same time of day – mid-afternoon.
Christmas Island FAQs
Passport?
Do you need a passport for Christmas Island?
Australian Citizen's do not need a passport to go to Christmas Island. It is an Australian Territory and Australian citizens can visit there by using a driver's license as identification.
Weather?
Christmas Island Weather
Christmas Island has a tropical climate. All year the temperature ranges from a minimum of around 22 degrees to a maximum of 28. From December to March the cooling trade winds drop away, the humidity rises and there can be frequent heavy rain.
Best Time to Visit?
Best Time to Visit
April to November is the best time to visit Christmas Island. The ever-present trade winds take the edge off the heat and make it a beautiful time to explore the island. December to March can be very wet and humid.
That said, if you want to swim with whale sharks or try and see the red crab migration you might have to put up with the weather as these happen from November.
Red Crab Migration?
When can you see the red crab migration?
The timing of the mass red crab migration occurs when the lunar cycles, tides and the onset of monsoon rains all line up. The migration typically starts in October or November, but it can be as late as January.
Christmas Island Name?
Why is it called Christmas Island?
The island was discovered on Christmas Day by English Captain William Mynors in 1643.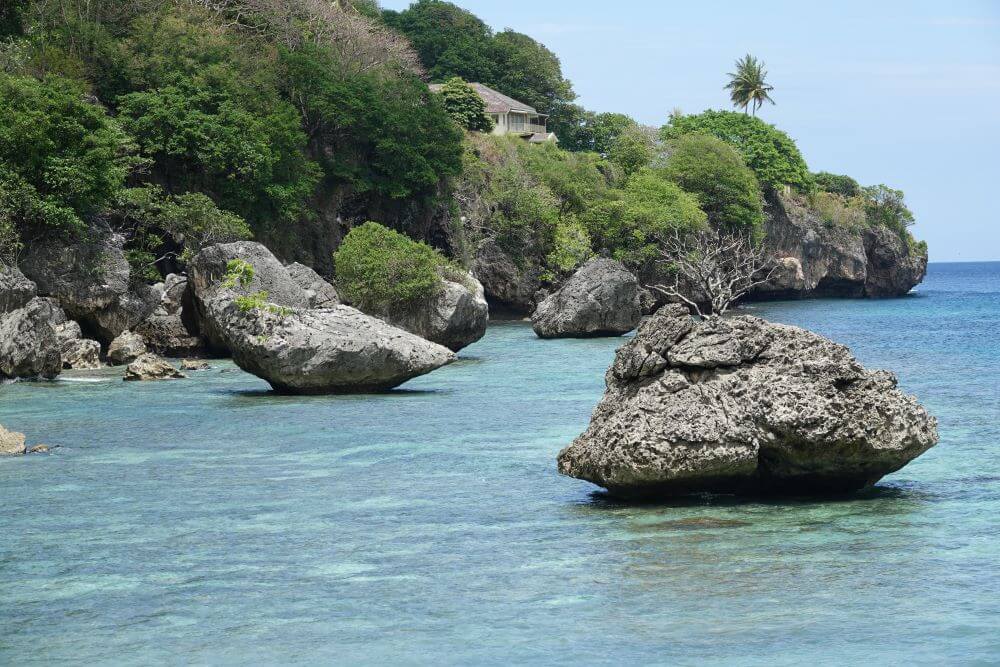 What to expect on Christmas Island
Christmas Island is best known for its mass migration of red crabs but here are a few details to help you paint a picture of the place:
Christmas Island is the peak of an extinct volcanic feature. It rises 360 metres above sea level and has a generally rugged coastline characterised by sea cliffs and rocky bays. Much of the island is covered by tropical jungle.
Christmas Island National Park covers over 60% of the island.  It is run by Parks Australia, and you don't need a national park pass to look around.
Christmas Island boasts an incredible range of wildlife including 20 land crab species and a huge array of bird life including many endangered species. The reefs and ocean drop off just metres from shore also make it a haven for marine life including whale sharks and dolphins.
Christmas Island has a population of around 2000. Australian/Europeans make up roughly 15% of the population, the remainder being a mix of Chinese and Malay.
The islands cultural diversity and harmony is one of its attractions. Throughout the year there is a range of ethnic festivals and events that are well supported by the entire community.
There are two main settlements on Christmas Island, one on the coast based around Flying Fish Cove the other is at Poon Saan – which means halfway up the hill.
While Christmas Island is perhaps best known for the role it plays in Australia's border protection policy, its biggest industry is phosphate mining. Amazingly the phosphate loading dock sits just metres from one of the most incredible snorkelling sites on the island at Flying Fish Cove.
If you visit Christmas Island expect to pay a lot for food, however if you like a drink, the low taxes here make spirits very cheap by Australian standards.
Things to do on Christmas Island
Christmas Island is a treasure chest for anyone who likes wildlife and nature. Much like other island wildlife havens such as the Galapagos Islands or Madagascar, Christmas Island has its own unique flora and fauna. While getting up close to red crabs, robber crabs and the adorable booby birds are highlights, they are just start of a long list of things to do on Christmas Island.
Go Crab Watching
Christmas Island is home to more species of land crabs than anywhere else in the world. You'll mainly find them in the rainforests, living in burrows and surviving on the leaf litter on the forest floor. Because there are so many crabs, watch your footing if you are walking through the forest, there are crab burrows everywhere.
In addition to the 20 species of land crabs on Christmas Island, over 140 species of marine crabs can be found on the reefs and in the rock pools around the island. Crab spotting is one of the fun things to do on Christmas Island, here are a few of Christmas Island's best-known crabs and where to find them.
Red Crabs
Christmas Island is best known for its annual red crab migration. Each year a staggering 40 to 60 million of them leave the jungle to spawn in the ocean. The migration starts with the first rain of the wet season, then spawning begins at night on an out-going tide during the last quarter of the moon. How the red crabs time the migration and the lunar cycles is one of nature's great mysteries.
Unless you have a month or two to spare, seeing the red crab migration comes down to a little bit of luck. We missed it by less than two weeks on our visit. Even if the red crabs are not on the move, you can still see them in the rainforest.
The best time to spot them is after it has rained. A great place to see them is at the start of the Boulder Track on the way to the Blowholes. We saw hundreds of them there on a rainy morning in October. We also saw them on the walk to Dolly Beach and on the short walk to the Grotto.
Giant Robber Crabs
These freakishly large crabs are a sight to behold. They can measure a metre across, live for 50 years and are so unlike any crab you have seen you can't take your eyes off them. Christmas Island has more robber, or coconut crabs than anywhere else in the world, and there are lots of places to see them. Dolly Beach is a great place to spot them – and it is a beautiful walk. We also saw some enormous robber crabs at Grant's Well near the Pink House and some more on the Hughes Dale walk.
As their name suggests, robber crabs have a habit of souveniring things left on the ground – especially anything shiny. There are plenty of stories of car keys, golf clubs and pots and pans being taken. We watched one make a beeline for a bag left on the sand at Dolly Beach. The bag was quickly moved to higher ground, it was only later we learnt that robber crabs are also excellent climbers.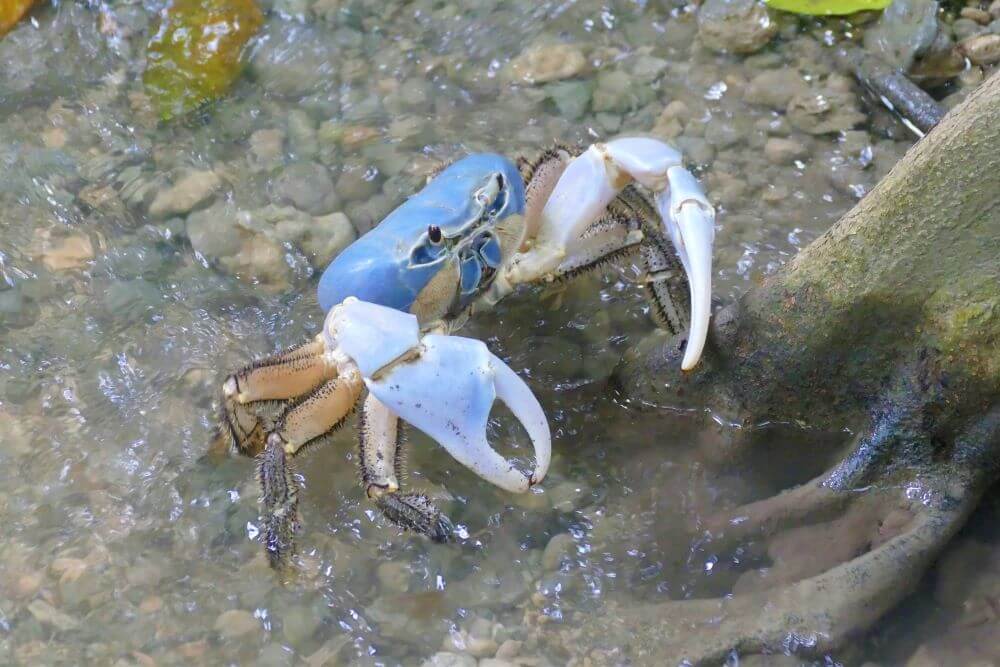 Blue Crabs
These beautiful sky-blue shelled crabs are found only in the freshwater streams of Christmas Island. These crabs are a bit bigger than red crabs, measuring 15 or 16 cm across and have a serious set of pincers on them. The best place to see them is the Hughes Dale Walk, the closer you get to the stream the more you will see. Around the stream the ground is covered in them, their bright blue shells are a spectacular sight, as they go about their business scavenging leaves, You could watch them for hours.
Bird Watching on Christmas Island
From nature lovers to dedicated twitchers, the birdlife on Christmas Island is captivating. On the short drive from the airport to The Settlement, it is hard to miss the sight of birds soaring overhead.
Not only is the birdlife prolific, but it is also approachable with many species having no fear of people so there are some great photo opportunities to be had. Christmas Island is home to several endangered species, each September the Island's Bird 'n Nature Week attracts wildlife photographers and twitchers from around the world to see the unique birdlife.
The great thing about Christmas Island is you don't have to be a bird nerd to appreciate the birdlife. We couldn't track down the Christmas Island Goshawk or Christmas Island Hawk-Owl that we hoped to see, but here are a few highlights any visitor can enjoy around the island.
Frigatebirds
Their massive wingspan (up to 2.4 m) and fighter jet style wings make the Frigatebirds an awesome sight. There are three species with the Great Frigatebird, the Lesser Frigatebird and the endangered Christmas Island Frigatebird. They are easy to spot, you can see them in The Settlement, and from the Golf Course Lookout.
For a frigatebird close encounter go the bird rehab centre near the entrance to the Territory Day Park. Not only will you see rescue birds being fed, but former residents come back to visit for an easy feed. You can get as close to them as you are game – it's a great chance to appreciate their size.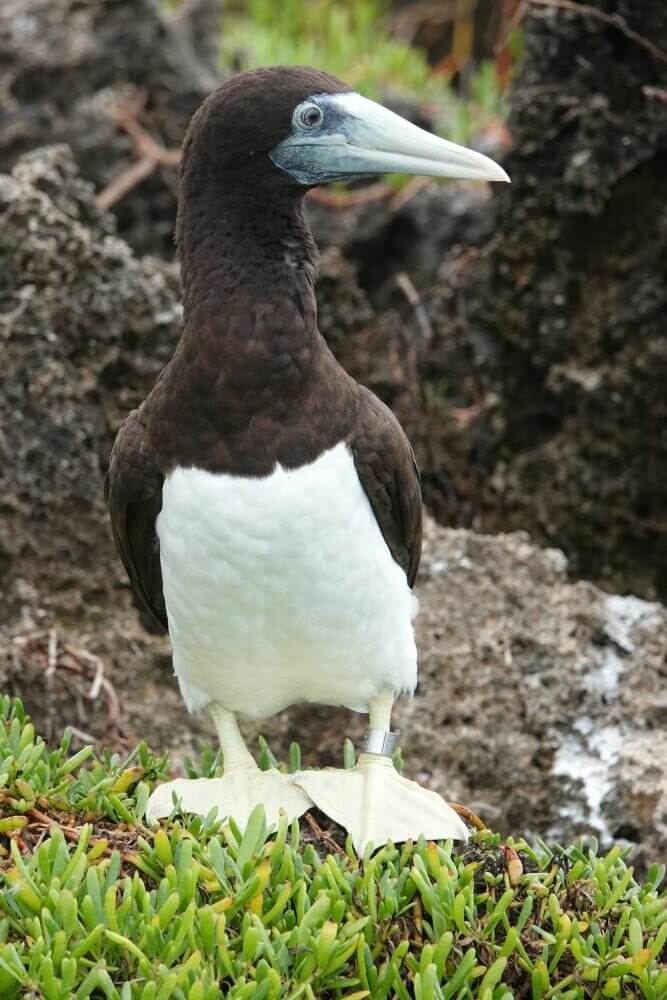 Brown Booby
The Brown Booby nest on the rocky limestone outcrops around the coast so you can get a very good look at them and their chicks from the ground. Known for their somewhat comical expressions, these chocolate brown and white birds are also commonly seen soaring over the settlement. Nesting Brown Booby birds can also be seen along the boardwalk between Lily and Ethel Beach, at Rocky Point and Nui Nui Temple.
Abbots Booby
This endangered species only nests on Christmas Island. You'll find them high in the treetops in the middle of Christmas Island. Because their nests are so high, seeing them is a challenge but from May to September you can see the nests and chicks along North West Point Road (that goes out to West White Beach) and you can see them flying from the Margaret Knoll Lookout.
Red Footed Booby
Greater in number than the Abbots Booby, you can spot the Red Footed Booby from the Territory Day Park, the Golf Course Lookout and along the ridge overlooking the length of the settlement. They also nest high in rainforest trees but they do come down to the ground looking for twigs and leaves for their large nests. Nesting from March to September, the best place to see them is the along the Ethel Beach Road. There are also nests along the path to the Martin Point Lookout.
Golden Bosun (White Tailed Tropic Bird)
Their golden colour and long slender tail feathers make the Golden Bosun, or white tropic birds, one of the most eye-catching birds on Christmas Island. The gold colouration is unique to Christmas Island. You can spot them from the Flying Fish Cove lookout and all along the coast in the Settlement. We got our best photos of them standing outside the Chinese Literary Association (the CLA) on the main street but you can spot them anywhere over the water or near the forest along Gaze Street.
Emerald Dove
This is a stunning looking bird, you'll know it when you see it, its shimmering green wings are hard to miss. We encountered them quite widely around scrub areas and on roadsides and along rainforest boardwalks. Despite regular sightings, they are not one of the most approachable birds on Christmas Island. They often teased us with a sighting then went into hiding as we raised our camera.
Red Tail Tropic Bird
These graceful birds with the long, fine red tail are a common sight in The Settlement. You can spot them anywhere along the foreshore between the phosphate loading wharf and Rocky Point. Rocky Point is also a nesting site for them, you can see nesting chicks beneath the bushes and rocky ledges as you walk around the area.
Nankeen Kestrel
When we first spotted this bird on top of a streetlight, we thought we had found ourselves a Christmas Island Goshawk – but no. This is the much easier to find Nankeen Kestrel. They are quite widely found across Australia, and you can also see them through The Settlement and Poon Saan perched, like we saw, on streetlights or anywhere they can sit up and get a good view.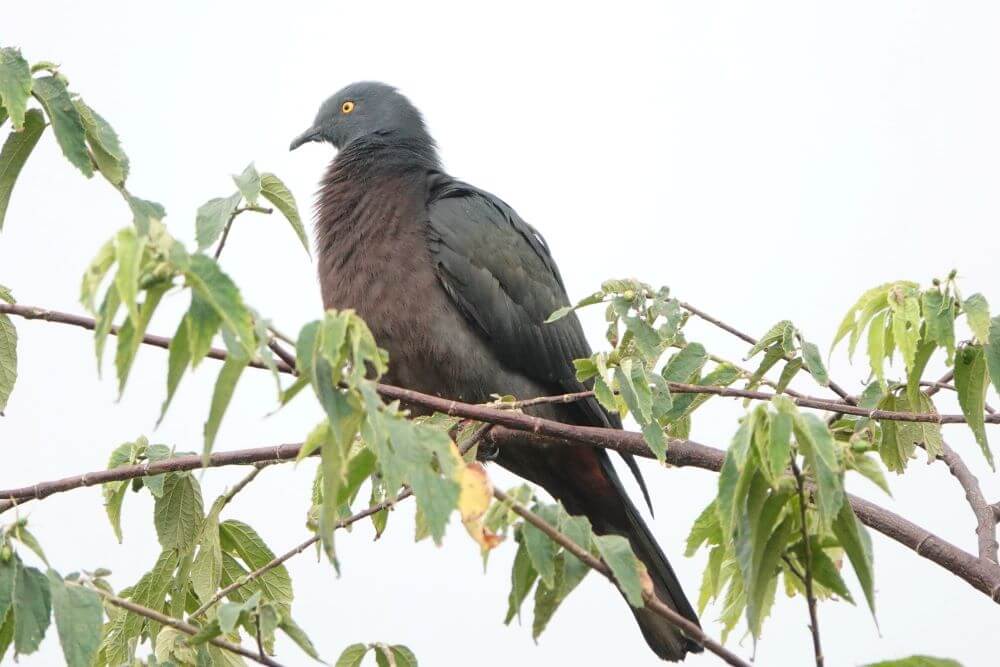 Imperial Pigeon
Pigeons can get a bad wrap but regardless of what you think about them, you have to admire the Christmas Island Imperial Pigeon. It's bigger than your average pigeon, has a distinct loud call and metallic purple feathers. They are not hard to find, you can spot them in The Settlement, in the side streets around Rocky Point and on any of the rainforest walks.
Get up close to the Chicks
One of the best things about the birds on Christmas Island is that they are so approachable. Many have come not to fear people so you can get quite close – this is especially the case with tropic birds and the booby birds. You can also get very close to the nests and get a great look at the cute chicks. Of course, if mum is there, they will still want you to keep some distance, but you can still get within a metre or two which is very cool.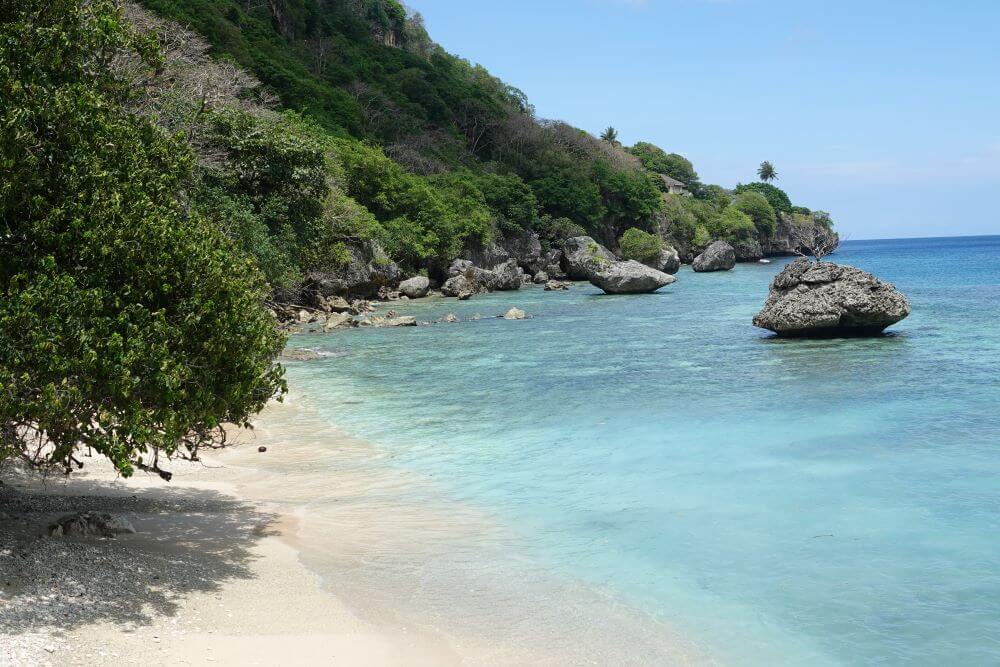 Christmas Island Beaches
If you come to Christmas Island expecting long white sandy beaches lined with coconut palms, think again. The nature of Christmas Island with its volcanic origins means the beaches here are small and generally surrounded by limestone cliffs, rock pools and rainforest.
It doesn't mean they are not beautiful. When you are alone on one of the beaches, which you often are, they have a wonderful lost world vibe. Some are good for snorkelling, others are good bird watching sites, but they are all the perfect for relaxing, cooling off and taking in endless Indian Ocean views.
And a bit of Christmas Island beach trivia, many of the beaches are named after the wives and daughters of the island's early settlers.
Dolly Beach & Greta Beach
Dolly Beach is a pretty spot. You have a 1.8km rainforest boardwalk to get you there. It is a lovely walk where you get a closeup view of the jungle and you'll see lots of crabs. At low tide the foreshore has a series of rock pools that double as your own personal waterhole with Ocean views. There are lots of robber crabs here and Dolly Beach is also a year-round green sea turtle nesting site.
Neighbouring Greta beach has a similar feel. It's a shorter walk than Dolly Beach but there is a steep set of stairs down to the sand. If the steps look too hard, there is a good viewing platform at the top.
Find our Dolly Beach walking guide here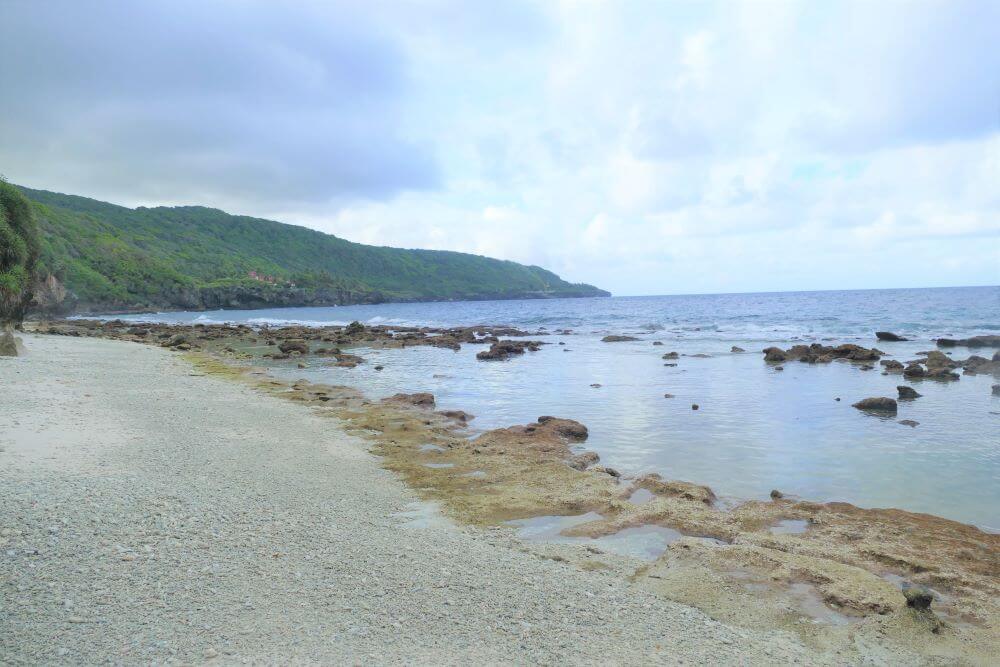 Lily & Ethel Beach
Pretty Lily Beach is one of the easier beaches to access on Christmas Island, you can park just metres from the sand. There is only a small patch of sand, but it is a lovely spot with cliffs and reef providing protection from the surf. There is a boardwalk just left of the carpark from where you can see nesting brown booby birds. The boardwalk takes you to nearby Ethel Beach.
There is less sand at Ethel Beach, but it is still a nice spot to sit and relax and watch for fish in the rock pools. You can snorkel at both beaches. It's a beginner's snorkel in the shallows at Lily Beach. There is good snorkelling at Ethel Beach, the best entry is to the right of the adjacent boat ramp.
West White Beach
You have to work for the views at West White Beach. There is a 1.5km walk in and out which include a steep decent to the beach down a rope ladder – it's not for the fainthearted! The reward is a lovely beach with beautiful views along the north coast a great offshore to snorkel on in calm conditions. You'll definitely need good walking shoes to get down onto the beach.
Winifred Beach & Merrial Beach
These beaches are on the west coast of Christmas Island and in both cases, if you make it to them, you'll likely have them to yourself. Merrial Beach is only accessible at low tide. The trailhead for the medium walk in is at The Dales. It's a teeny, little beach, an Isagramers delight.
Winifred Beach is another low tide only location, and the 1.5km walk in is a bit rugged but the reward is a beautiful spot on the coast when you get there. You're surrounded by cliffs and rainforest spilling down to the water. You will need a 4WD to get to the trailhead.
Christmas Island Walks
One of the best ways to see Christmas Island, its unique wildlife and beautiful rainforest is to explore the on foot. It's a good idea to have some bug spray if you are walk through the rainforest, the mozzies can be fierce. There are some great walks on Christmas Island, here are a few to try.
Hugh's Dale Waterfall Walk
2km return walk, easy. This easy walk through the forest of Tahitian Chestnuts ends at the Hugh's Dale Waterfall which is either a great spot to cool off or relax and listen to the sounds of the jungle. A highlight of this walk is the crabs. You'll spot robber crabs as you go along the boardwalk close to the waterfall and there are lots of Christmas Island blue crabs near the freshwater stream.
Territory Day Park
2km loop walk, easy. This nature trail walk weaves its way through the forest above Flying Fish Cove. There are 20 signboards along the trail which have stacks of information about the island's unique flora. From the giant buttress roots of the Planchonella to delicate orchids, crabs and forest birds, it is a beautiful walk. For a more demanding walk, take the 2km return Smith Point Trail that starts at the Territory Day Park and goes down to the Tai Jin House Museum overlooking Flying Fish Cove.
Andersons Dale Walk
7.2km return walk, hard. This is an extension of the Hugh's Dale Walk. From near Hugh's Dale you follow the gorge along to the coast. The track is uneven and rocky, and you need to be aware of the surf conditions at the end of the walk. This hike is best done when sea conditions are calm.
Dolly Beach Walk
3.6km return walk, easy. We mentioned Dolly Beach above, but not only is the beach a special place, the walk to get there is great too. The Dolly Beach boardwalk takes you through the forest past red, blue and robber crabs, over limestone outcrops and past the cage-like roots of giant pandanus palms.
Christmas Island Lookouts
There are lookouts dotted around Christmas Island and they are a great place to take in ocean and forest views. They are also some of the best locations on Christmas Island for bird watching. At Margaret Knoll Lookout, Golf Course Lookout and Territory Day Park Lookout it will feel like you are in the air with the birds.
At any of the lookouts, you might spot frigatebirds, booby birds, goshawks, and tropic birds. At Margaret Knoll and Territory Day Park lookouts keep an eye out for the island's only endemic mammal – the Christmas Island flying fox – which you can see take to the air in the late afternoon.
Golf Course Lookout
Park at the Radio tower on Quarry Road. It is a steepish 15 minute, 1 km walk to the lookout on a dirt track, good shoes are recommended. The views across the golf course and beyond are incredible. It is a bit breezy so hold onto your hat, the trek back up will get you puffing.
Martin Point
Lovely spot just a 400m walk from the car park. We had lunch here at the picnic table, the views of the coast and crystal clear water are magic. Red footed boobies nest in the surrounding trees. Martin Point Lookout is just down the road from the Hugh's Dale Waterfall carpark. It is a great spot to watch the sunset and contemplate that the closest land in this direction is Africa 5000km away.
Margaret Knoll
This easy walk 5 minute boardwalk finishes at a viewing platform with spectacular views of the ocean, cliffs & rainforest. The viewing platform is one of the best places for birdwatching.
Flying Fish Cove Lookout
There are stunning views here over Flying Fish Cove. The viewing platform is only small so you might have to wait your turn, it's worth it. The Territory Day Park Walk starts near here.
Christmas Island Blowholes
The porous karst limestone that rings Christmas Island's coast has many caves and blowholes. If you go to the right spot at a high tide and when the ocean swell is rolling in, you can see and hear a dramatic display as water shoots many metres into the air.
Blowholes Walk
The best place to see blowholes in action is on the blowholes walk on the south side of Christmas Island. There is a boardwalk that runs along the coast, over the jagged limestone and right alongside a series of blowholes. As you walk along you can hear the whoosh of air and see jets of water shooting up all around you. The blow holes are not confided to the boardwalk, all along the coast you can see spouts of water shooting into the air.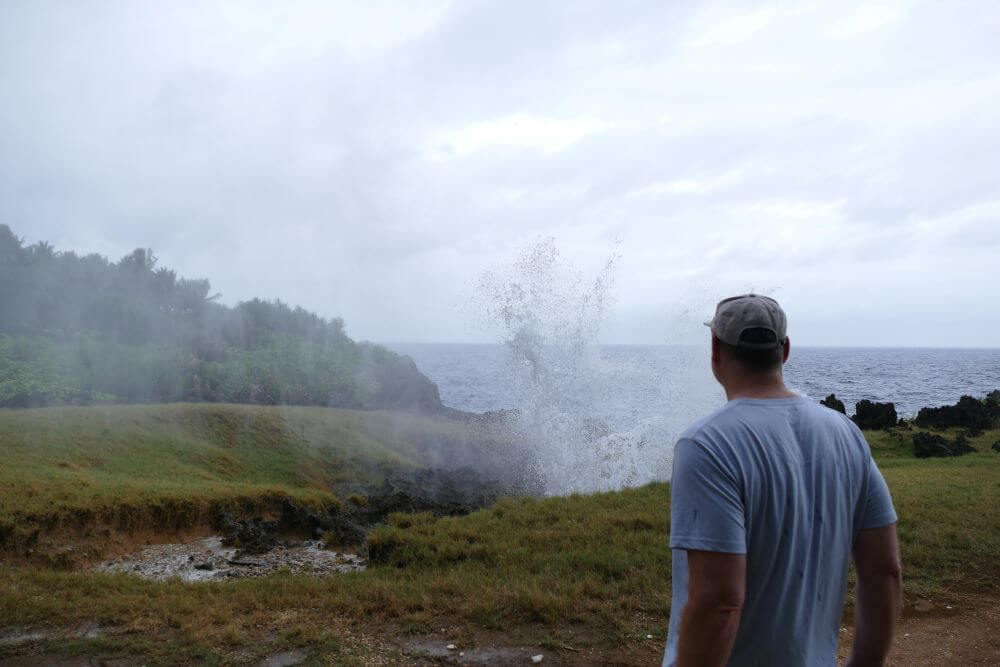 Ma Chor Nui Nui Temple Blowhole
If the swell is from the east this is a spectacular spot. Follow Golf Course Road from Flying Fish Cove past the golf course and look for the temple on your left. Park at the temple and follow the grassed path down to the coast. If the hole is blowing, you'll hear it before you see it. We visited here twice, once it was going off, the next time it was quiet but when its roaring it is a sight and sound to behold!
More Things to do on Christmas Island
The Grotto
Attention Instagrammers! This is one of those spots where you'll want to get THAT photo. The Grotto is a small water filled cavern. When the sun hits it mid-afternoon the water glows sapphire blue. The Grotto is only a few minutes from The Settlement. There is only parking for a few cars on the opposite side of the road and it is a 100m walk to The Grotto. You will need to hang onto a rope as you get down into the water – a mix of salt and fresh. Even if the sun isn't quite hitting the water, it is a beautiful and unique spot to cool off.
Snorkelling at Flying Fish Cove
Flying Fish Cove has the best snorkelling on Christmas Island. You can also snorkel at Ethel Beach and West White Beach – these are both more exposed but fun if conditions are calm. But in our opinion, Flying Fish Cove is hands down the best snorkelling spot on the island and one of the best snorkelling locations we have been to in Australia.
The best time to snorkel at Flying Fish Cove is around high tide in the morning. When there is more water, it is easier to get in from the platform on the wharf and there is enough water to snorkel over the shallow reef closest to shore. The mornings tend to be a bit calmer, and visibility is excellent.
The marine life is amazing, everywhere you look is another fish in a shape, colour or pattern you have never seen before. From giant coral munching parrot fish to eels, butterfly and angelfish, the variety is astonishing. With the water temperature of around 27 degrees, you can stay in for ages which is good because you won't want to get out!
Read More about Snorkelling on Christmas Island
Scuba Diving
With deep drop offs so close to shore, Christmas Island is an internationally renowned diving destination. There are over 50 dive sites dotted around the Island that make the most of the 50m visibility, abundant marine life and sea caves.
Extra Divers Australia, and the team we went out with, Christmas Island Wet 'n Dry Adventures have experienced and knowledge dive masters that can weigh up the conditions and take you to the best locations. Besides the myriad of tropical fish, you can also see larger creatures like giant trevally – which you can also see snorkelling – tuna, swordfish, turtles, dolphins, manta rays and whale sharks. If you have ever wanted to try diving, this is the place to start.
Read more about diving and snorkelling in Christmas Island here
Christmas Island Cultural & History
Christmas Island is a melting pot of races, religions and cultural festivals with the entire community embracing the celebrations and festivals of the different communities. Visitors to Christmas Island can join in too. Look out for Chinese and Islamic New Year celebrations in February, Harmony Day and Union Day in March, Veseek Day in May and Hungry Ghost Month in August.
Visitors can also look around the mosques, Buddhist and Taoist temples and shrines in The Settlement, Poon Saan and around the island. For a look at Christmas Island's history, the old Administrators Home – Ta Jin House – is now a museum and just next door to there is the WW2 gun emplacement. These are both just beyond the island's only set of traffic lights near the Flying Fish Cove carpark.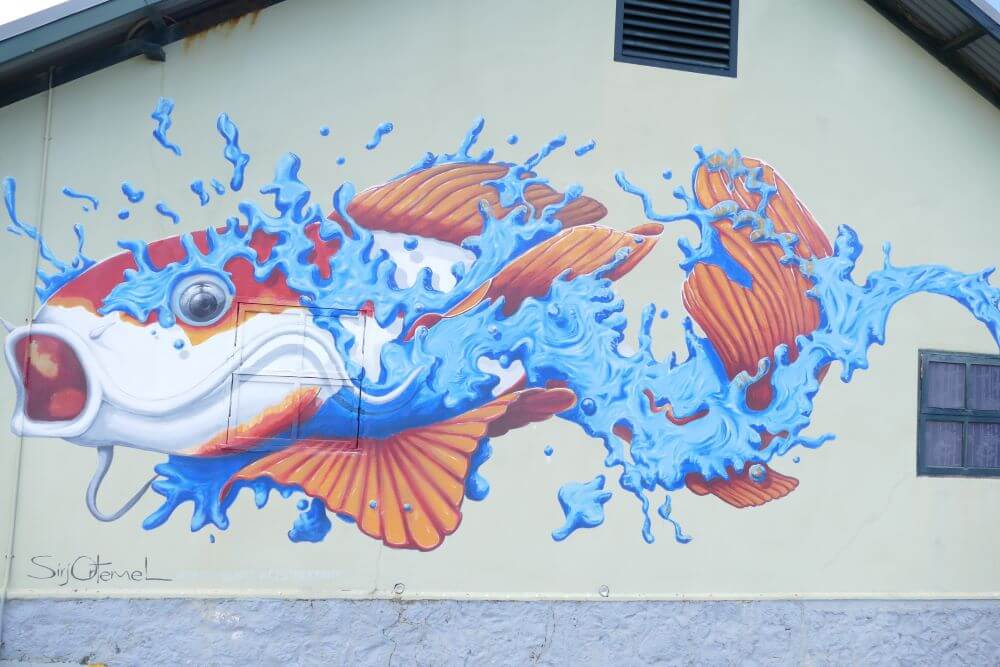 Explore Flying Fish Cove
There is more to do around the Flying Fish Cove area than just hopping in the bay for a snorkel. Here are a few more around the greater Flying Fish Cove foreshore area.
There is some great street art up and down the foreshore so keep an eye on the sides of the buildings especially around the Visitor Information Centre and supermarket.
Visit the local shops. From loud shirts and GoPros to art, craft and Christmas Island photography, you never know what you might find!
Pop into the police station. Not normally a tourist activity, it is worth visiting to pick up a personal EPIRB. Phone signal is patchy on the island and non-existent at some popular locations. If you're old Rav4 gives up the ghost, or you get lost in the rainforest the EPIRB is a lifesaver.
Have a BBQ, use the playground, tennis court, carpet bowls mats, volleyball, gym gear and watch the birds glide along the coastal cliffs at the little reserve between the CLA and police station. There is a cupboard there with bowls in it.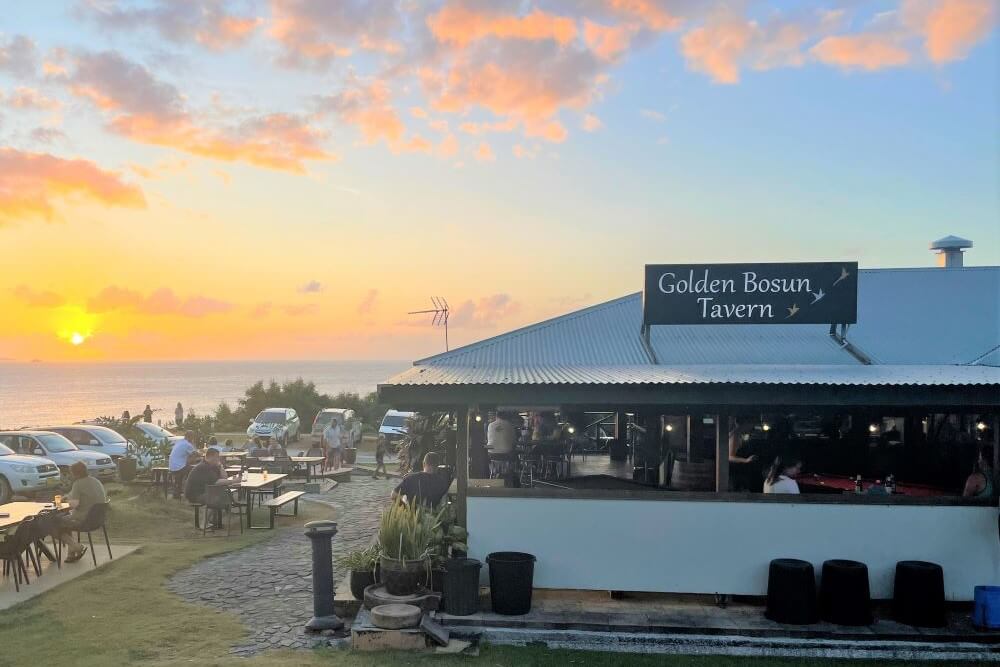 Where to eat on Christmas Island
With the cost of groceries on Christmas Island, eating out is a great option and there are some yummy options.
Flying Fish Café – for breakfast and lunch this little van has delicious curry puffs and Laksa Soup. It's the perfect stop after a morning snorkel at Flying Fish Cove.
The CLA – Don't be fooled by the name, the Chinese Literary Association has fantastic Chinese food.
Golden Bosun Tavern – With views over the water this is a relaxing and buzzing place for dinner. It is super popular, so you'll need to book or arrive early for a table.
Lucky Ho – Another Chinese food offering but this one is in Poon Saan, it was closed for our visit but highly recommended by the locals.
CI Bakery – not your normal pies and sausage rolls here but delicious fresh bread, rolls, and donuts but they also do curries, laksa… keep an eye on the specials as you never know what will appear.
Seaview Fish & Chips – fantastic fish and chips here. Their specialty is the Wahoo Wrap, get in early so you don't miss out. Perfect stop before going to the Christmas Island Outdoor Cinema.
Christmas Island Accommodation
Like it? Pin it…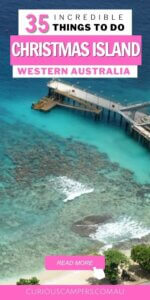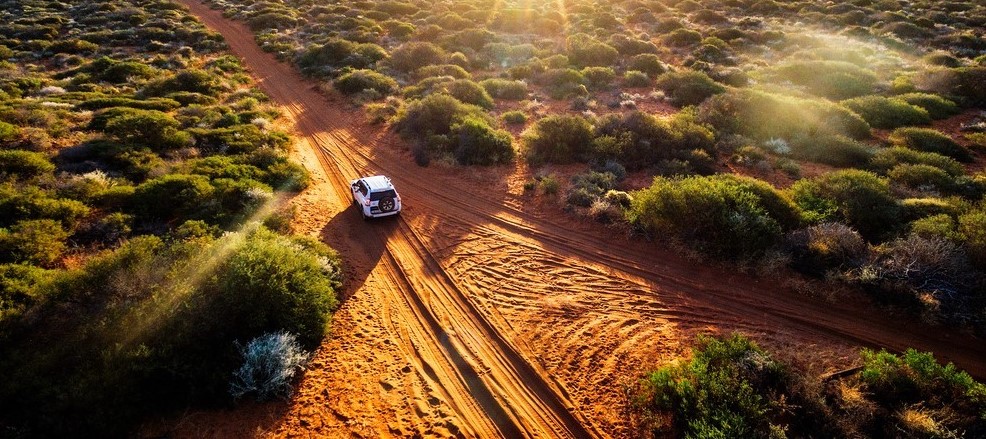 500 THINGS TO DO
Join our mailing list and receive our Free Top 500 things to do in Australia. If you love the Australian Outdoors download this list and keep it handy when you are planning a weekend away or a road trip around Australia.
Recent Posts