Swimming with whale sharks on Ningaloo Reef in Western Australia is high on the bucket list of many travellers. These graceful, slow moving creatures are about the largest thing in the sea you can safely get close to. And it is worth seeing them up close. They are stunning from their enormous sieve of a mouth and white-spotted torso to their giant vertical tail fins.
From March to September, whale sharks arrive on the outer Ningaloo Reef to feed on spawning coral. Tours to swim with whale sharks operate from Coral Bay, Exmouth and Broome. After missing the chance to have this experience when we first visited Exmouth (with young kids in tow) we couldn't wait to do it when we returned on our own.
Disclosure: Please Note That Some Links In This Post May Be Affiliate Links, And At No Additional Cost To You, We Earn A Small Commission If You Make A Purchase. Commissions Go Toward Maintaining The Curious Campers Website.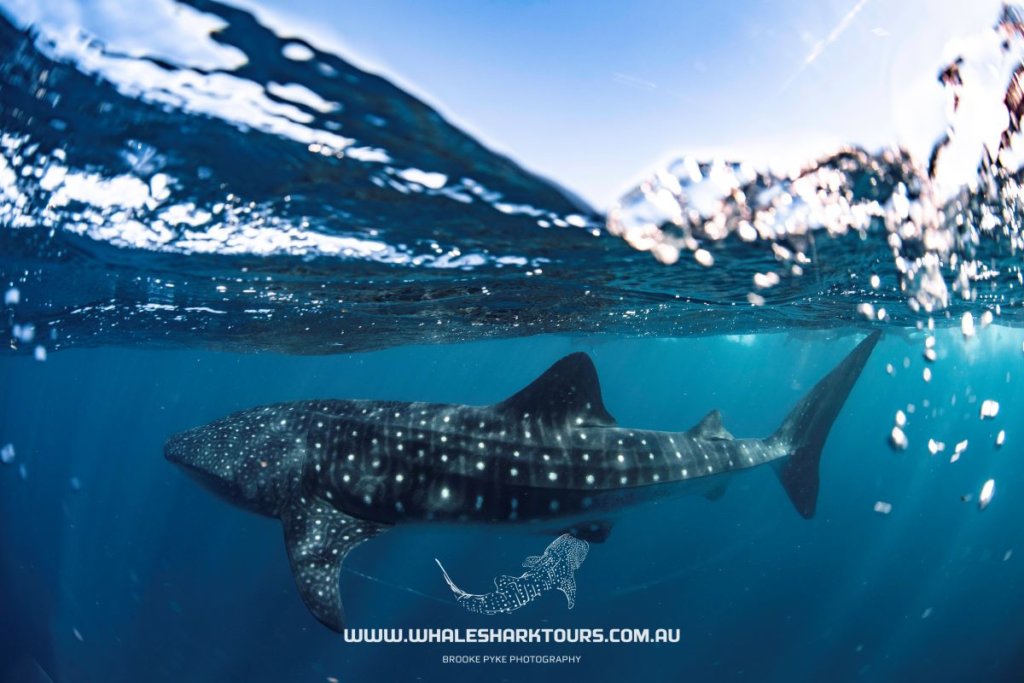 Compare Exmouth Whale Shark Tours
It can be difficult to choose which provider to book for your Whale Shark Experience. All the tours listed use spotter planes to find the whale sharks. Snorkel gear and wetsuits are provided on all tours along with lunch and morning and afternoon tea. Pick up is provided for all Exmouth Tours and Coral Bay visitors meet at a central location.
Swim with Whale Sharks FAQs
Are they whales or sharks?
They are sharks, not whales. They are in fact the world's biggest fish; they can grow up to 12metres long. The whale part of the name comes from these sharks being so big. They do have another similarity with whales which goes some way to answering the next question.
Are Whale Sharks Dangerous?
The idea of swimming with a 12 metre long shark might sound like insanity but fear not! Whale sharks are not dangerous. For starters, and this is the other whale similarity, they are filter feeders. If you are coral spawn or a fish the size of your finger you could be lunch for a whale shark. Otherwise, you are at no risk of a whale shark attack.
Whale sharks are gentle, easy going creatures. Some have even shown curiosity towards snorkellers. You might be in strife if you get a knock from their giant tail but the code of engagement for swimming with the whale sharks means this should not happen.
The Ningaloo Whale Sharks
Whale sharks are migratory, moving to where they can find food. The Ningaloo whale sharks are in the area between March and September. Even though whale sharks can reach over 10 metres long, the Ningaloo whale sharks tend to be adolescents so are a bit smaller. Expect to see them in the 5 – 8 metre range. They can also live to be over 100 years old.
Can you get seasick on Ningaloo Reef?
Yes, you can. Calm water at the jetty doesn't mean there won't be a swell on the outer reef where the whale sharks are. Consider taking something for sea sickness before you go out. Natural ginger tablets or motion sickness tablets from the pharmacy are popular options.
These days if we're going out on the water, and usually paying a fair amount of money to do it, the last thing we want is to get seasick. There's no coming back from it. We always take a popular motion sickness preventer before we go out. The crew cannot give you anything if you get sick so even if you prefer to go without, it is worth having something for insurance.
Read More : More things to do in Exmouth
What to Expect on a Whale Shark Swim?
Swimming with the whale sharks was an incredible experience but it was not what we expected. While the video and images of a swimmer posed alongside a whale shark are a scene of peaceful awe, the reality is a bit different.
Don't get us wrong, we loved the experience and would do it again. But there is a rough and tumble element to it that belies the grace and serenity captured in the publicity shots. Friends of ours had a similar experience with different operators. We thought it was worth describing what to expect when you go out to swim with the whale sharks.
Whale Shark Tours from Exmouth
We did our whale shark tour from Exmouth with the team from Ningaloo Whale Sharks and had a fantastic day, we can't recommend them enough. We've included a few Exmouth specific details about our day.
Tour operators do pickups from around Exmouth and take you to the Tantabiddi Boat Ramp where the tours begin. We stayed at Yardie Creek Homestead on the Ningaloo side of the Exmouth Peninsula and got picked up from there.
If you are in Exmouth to see the whale sharks and do a lot of snorkelling, have a look at Yardie Creek Homestead. If you plan to be in the water a lot on your visit to Exmouth, staying on the reef side of the peninsula saves you quite a bit of driving time.
Book your Bucket List Whale Shark Adventure – Visit the world heritage listed Ningaloo Reef which is home to some of the world's most beautiful reef abundant with marine life. Swim with the gentle marine giants as they make their way along the North West Cape during their annual migration.
Getting to the Whale Sharks
From the moment you arrive at the boat ramp you get the sense this is going to be a fun but quite structured day. At the jetty our group of around 20 breaks into smaller groups to get shuttled out to the main boat. The theme of doing everything in well organised groups is one you'll be very used to by the end of the tour.
On the boat, we're introduced to the crew. There are a couple of guides, another person who will follow us around in a rubber duck and the group photographer. It was great having the photographer in the water with us for their swims. Their underwater camera was worth more than our car and their pictures from our day were a great souvenir. Our tour company included the photos, but be aware some operators charge an additional fee for the photos.
The first thing you do on the boat is get kitted out in wetsuits and snorkelling gear while the spotter planes go off looking for whale sharks. We also get a run down on how the day will look. The plan is for a couple of snorkels either side of swimming with the whale sharks. No sooner are we in our wetsuits when we get in for our first snorkel on Ningaloo Reef.
First Snorkel
There was high excitement as we bundled into the water for our first snorkel. The water was cooler than we expected but getting in for a snorkel was a great way to check all our gear was working. The last thing you want is to get in for your first whale shark swim and have your facemask fill up with water!
As you see all along Ningaloo Reef, there were colourful fish everywhere. We could spend hours looking into all the nooks and crannies of the elaborate coral gardens. This first snorkel was a good chance for some of the group to get used to swimming so far from shore. It was also a nice opportunity for the tour photographer to go around and get some pics of us swimming around.
When the signal came to make our way back to the boat, we had to face one of the bigger challenges of the day – getting out of the water quickly. There's no taking it easy as you make your way onto the swim board at the back of the boat. The pressure is on to get out and that's not easy if the waves are making you and the boat bob around. If you time it right, a wave can lift you up onto the back of the boat. If not, get ready to use some arm muscles that you may not have exercised for a while!
Eco Friendly Wildlife Experience
There is a strict code of conduct when it comes to swimming with whale sharks. The rules are in place to keep swimmers safe and not cause any distress to the animal. Australia has some of the strictest rules for engaging with whale sharks making this a top rated eco-friendly experience.
When a whale shark comes along you are not allowed to swim in front of them. You can get no closer than 3 metres to its side and you must stay 4 metres from its large, powerful tail. Unlike other countries around the world, in Australia you are not allowed to scuba dive with the whale sharks and touching them is a big no no. This might sound obvious but, in some countries, swimmers try to go for a ride by holding onto their dorsal fins.
Read More : Swim with Sea Lions in Jurien Bay
Whale Shark Time
As well as distancing requirements, there is a regimented process for getting into position and then swimming with the whale sharks. This process seems to be common between the different tour providers. Our group of 20 is split into two groups of 10 each assigned a guide. We all sit on the floor of the boat in rows of five, facemasks and fins on ready to get into the water.
When the signal comes to get in, it's like something out of an action movie where paratroopers file out of the back of a plane. The two groups drop into the water 100 metres apart in front of the whale shark. We line up over 30 meters making sure we don't float in front of our guide and into the path of the oncoming whale shark.
After the scramble to get in, the first thing you notice is how much warmer the water is on the outer reef. The Leeuwin Current makes you feel like you're in a bath. With us all lined up we get the signal to look. Slowly, out of the blue, this enormous shape appears, your heart rate immediately rises.
The first time you see it
It is an amazing, breathtaking moment when the whale shark glides into view – even an 8 metre one is enormous. One of the best views is watching it approach you – after that, things get a bit hectic. Another whale shark rule of engagement is that when the side or lateral fin goes past you, you're allowed to swim alongside the whale shark. You can also drop back and swim around its tail and try to follow along on the other side.
Even though we are all told the best views are had from a bit further back, the excitement is too much and the group clumps together in a bubbling crash of fins. It's about now when you realise those idyllic pictures of a swimmer next to a whale shark don't quite capture the hustle and bustle of doing the swim!
For all the energy expended on our first whale shark encounter, it was short lived. It soon dived down out of sight. The signal came to get out which we had to do with the same urgency as getting in. It's not a time when you worry about looking too poised! Most people on our cruise admitted with a laugh to feeling like a beached whale as they dragged their way up onto swim board at the back of the boat.
The Thrill of the Chase
In quick succession we had four more whale shark swims. It's hard to say how long each swim lasted, maybe 5-15 minutes but the experience is so absorbing time is hard to judge. The sight of the whale shark appearing in front of us never got old. Our group also got better at spreading out, so the views got better and better. When you get a bit further back you can see other things swimming with the whale sharks. A green sea turtle was following one whale shark we were watching.
On a couple of occasions we swam behind the whale shark and along the other side of it. You'll want to be pretty good at using fins to do this. They might not look like they are moving quickly, but it is still hard work keeping up with them let alone catching up after you have swum behind their tail. Fewer people do this option so it's worth trying if you have can kick fast enough.
So, be aware that the whale shark swim is a physical activity. Be prepared to get in and out of the water often, swim into position then do a bit of kicking to swim with the whale shark. It's full on but the excitement and adrenaline will likely see you through. It is an exhilarating experience!
Book your Bucket List Whale Shark Adventure – Visit the world heritage listed Ningaloo Reef which is home to some of the world's most beautiful reef abundant with marine life. Swim with the gentle marine giants as they make their way along the North West Cape during their annual migration.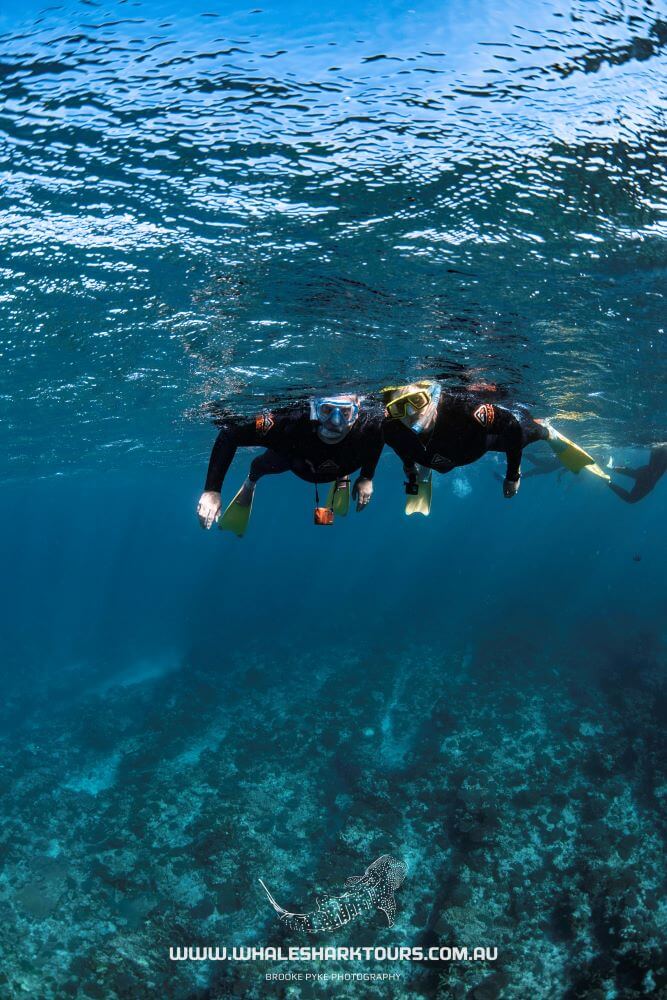 The Ningaloo Big 5
Our tour was fortunate to get lots of swims in with whale sharks in the first half of the day. The crew decided to get our promised second snorkel done on the outer reef where it was warmer, then we could relax on the boat for the afternoon. While the deeper water wasn't ideal for snorkelling, the coral was a long way down, it was the perfect spot to see another of Ningaloo Reefs Big 5.
The Big 5 are whale sharks, humpback whales, dugongs, turtles (any species will do) and manta rays. As we peered down at the coral below, a manta ray swooped in and followed a coral ridge along into the distance. It was a great note on which to finish our time in the water.
The rest of our afternoon was spent enjoying a delicious lunch, hearing talks about the whale sharks and spotting the rest of the Big 5; it was sensational! We saw several humpback whales swimming along and doing the occasional breach and tail slap. An enormous green sea turtle drifted past the boat and as we turned for shore a dugong stuck its nose up for a breath. Perfect.
Ningaloo Sunset Whale Watching Cruise – If you prefer to stay dry head out on a sunset cruise over Ningaloo Reef. Keep an eye out for whales, dolphins, turtles & more. Enjoy snacks & a drink of bubbles as you watch the sun slowly set over Ningaloo Reef
Read More : More Snorkelling in Exmouth

Like it? Pin it for Later…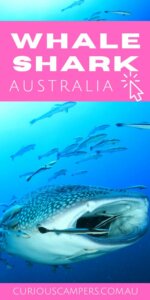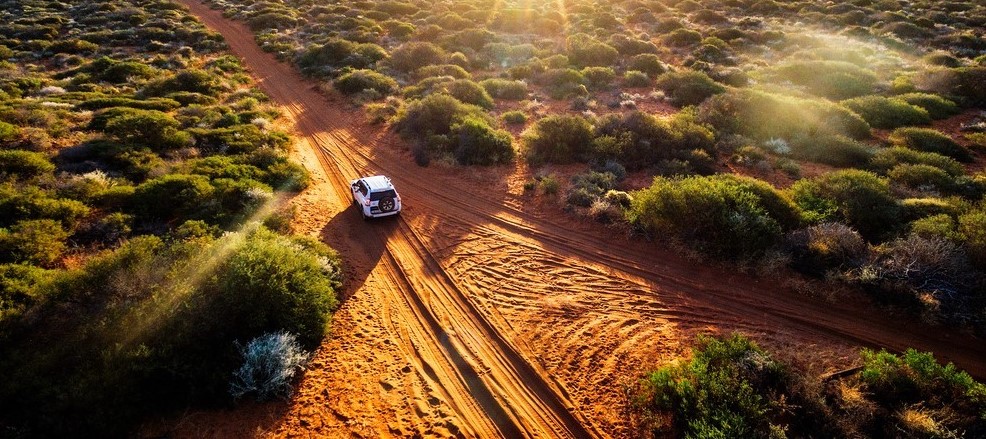 500 THINGS TO DO
Join our mailing list and receive our Free Top 500 things to do in Australia. If you love the Australian Outdoors download this list and keep it handy when you are planning a weekend away or a road trip around Australia.
Recent Posts