Not originally on our to do list, the Tamborine Mountain glow worm cave tour ended up being one of our favourite activities in the area. This unique conservation project not only protects the local glow worms, but it's also a chance to see these amazing creatures during the day.
Tamborine Mountain is part of the beautiful Scenic Rim in the Gold Coast hinterland. It is about one hour to Tamborine Mountain from Brisbane and 45 minutes from the Gold Coast. You can see Glow worms at Natural Bridge in nearby Springbrook National Park, but the Tamborine Mountain glow worm cave is a much better option.
Disclosure: Please Note That Some Links In This Post May Be Affiliate Links, And At No Additional Cost To You, We Earn A Small Commission If You Make A Purchase. Commissions Go Toward Maintaining The Curious Campers Website.
Why are the Mt Tamborine Glow Worms so good?
This is a great way to have a glow worm encounter. There is no hiking on slippery or steep tracks and tours can go ahead regardless of the weather. At the specially designed Tamborine Mountain glow worm cave you can see the glow worms during the day – so no night trips into the forest.
Going on the cave tour also means you will have only a few people around you rather than the crowds you might get in the wild. Because it is a guided tour you also don't need to worry about someone using a torch or camera flash which causes the glow worms to switch off.
The guides are fantastic. They love their glow worms and it's impossible to do this tour and not leave feeling like glow worms are your new favourite bioluminescent animal. You'll certainly feel like the entry fee is money well spent to support this conservation project.
Cedar Creek Estate Winery
The Mount Tamborine glow worm cave is on the same property as Cedar Creek Estate Winery. So, not only do you get to have a closeup experience with a glow worm, afterwards you can sample a range of wines made at Cedar Creek and from around the region.
You can also have a meal there and the grounds are so picturesque, sitting down to enjoy the surrounds is a good idea. There are indoor and outdoor dining options. Inside you can dine in the Hamblin Room complete with a log fire. Outside, you can relax on the deck or in the gazebo overlooking a lake and enjoy lunch as the resident Eastern water dragons stalk your burger.
Mt Tamborine Glow Worm Tour Details
Tours run for 30 minutes between 10.00am and 4.00pm. You can buy tickets online or at the glow worm cave and prices range from $15 to $23. You can't take any pictures inside the cave because the camera flash can turn off the glow worm's glow. Our pictures inside the cave are courtesy of the generous team at the Tamborine Mountain Glow Worm Caves.
Visit Frog Hollow Before your Glow Worm Tour
If you have a few minutes before you tour, and you want to save the wine tasting for later, make sure you take the self-guided tour through Frog Hollow. There is a creek running through the property and it is a special frog habitat. There is an easy short walk around the creek and if you are lucky you will hear some frogs croaking.
Don't worry if you can't see any frogs. There is a little wood cabin which has displays of some of the 20 plus species of frogs that can be found in the Tamborine Mountain area. There are also insects to look at including some impressive slugs, snails and leaf insects. Looking around Frog Hollow takes around 15 minutes, when you're done, it is time to meet you glow worm guide.
Read More: Stroll down Tamborine Mountain Gallery Walk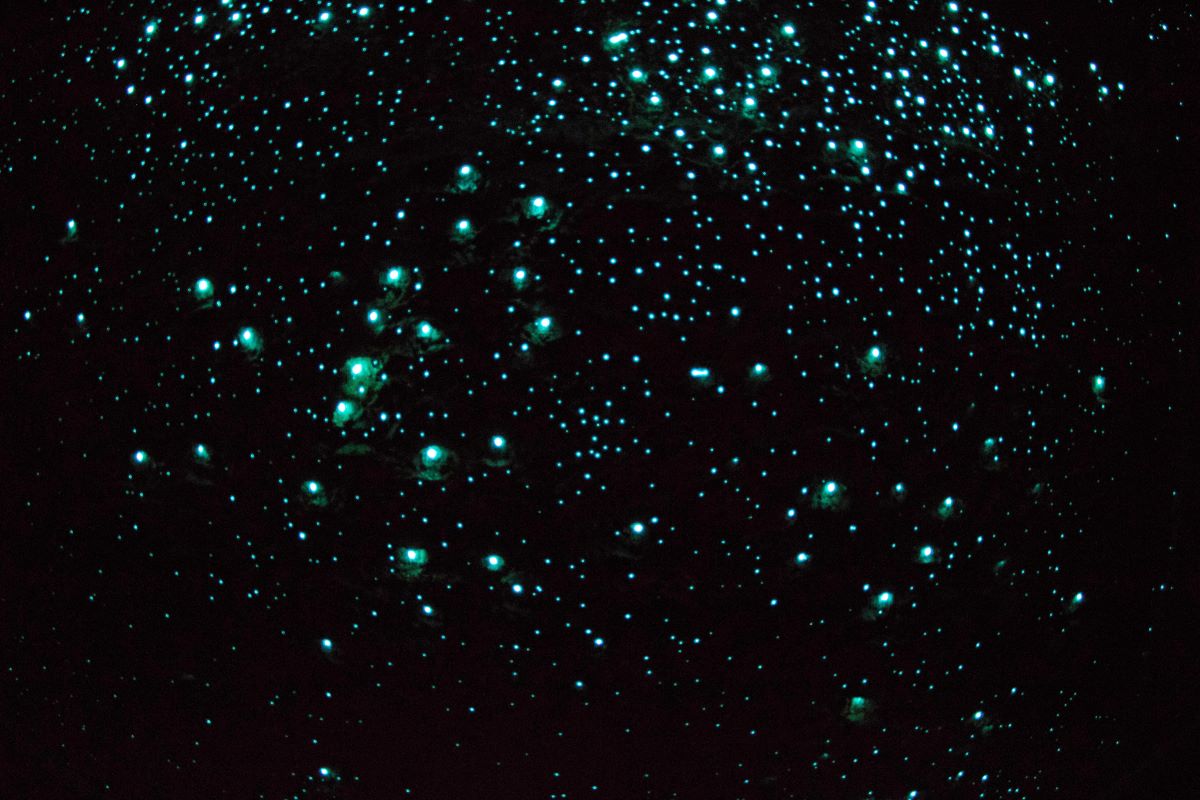 Tamborine Mountain Glow Worm Conservation
You meet your guide near Frog Hollow and hear about the glow worm cave conservation project. One of the ideas behind the glow worm cave is that people can experience the wonder of the glow worms without impacting the glow worm's natural habitat.
The project also aims to create a breeding population to repopulate glow worm colonies affected by storms or human activity. The glow worm cave is also a great opportunity for glow worm biologists to learn more about these amazing creatures.
Following the introduction, you enter the cave and watch a short video about the worms and bioluminescence. It is also a chance for your eyes to adjust to the dark. From there it is into the glow worm cave – and what a magic place it is!
Inside the Mt Tamborine Glow Worm Cave
Entering the glow worm cave for the first time is one of those wow moments. It is pitch black except for the thousands of dots of bright white light on the cave walls. Much like looking at the night sky, the more your eyes adjust, the more dots of light you can see. Looking down the length of the glow worm tunnel is a great view, it's a cosmic scene with specs of light disappearing into the distance.
You are also able to get right up close to the glow worms and look at how they live. One of the great sights is seeing the glowing thread of sticky beads produced by the hungry glow worms. The light attracts insects towards the worms where they get caught in the gooey thread, and end up as food for the larvae.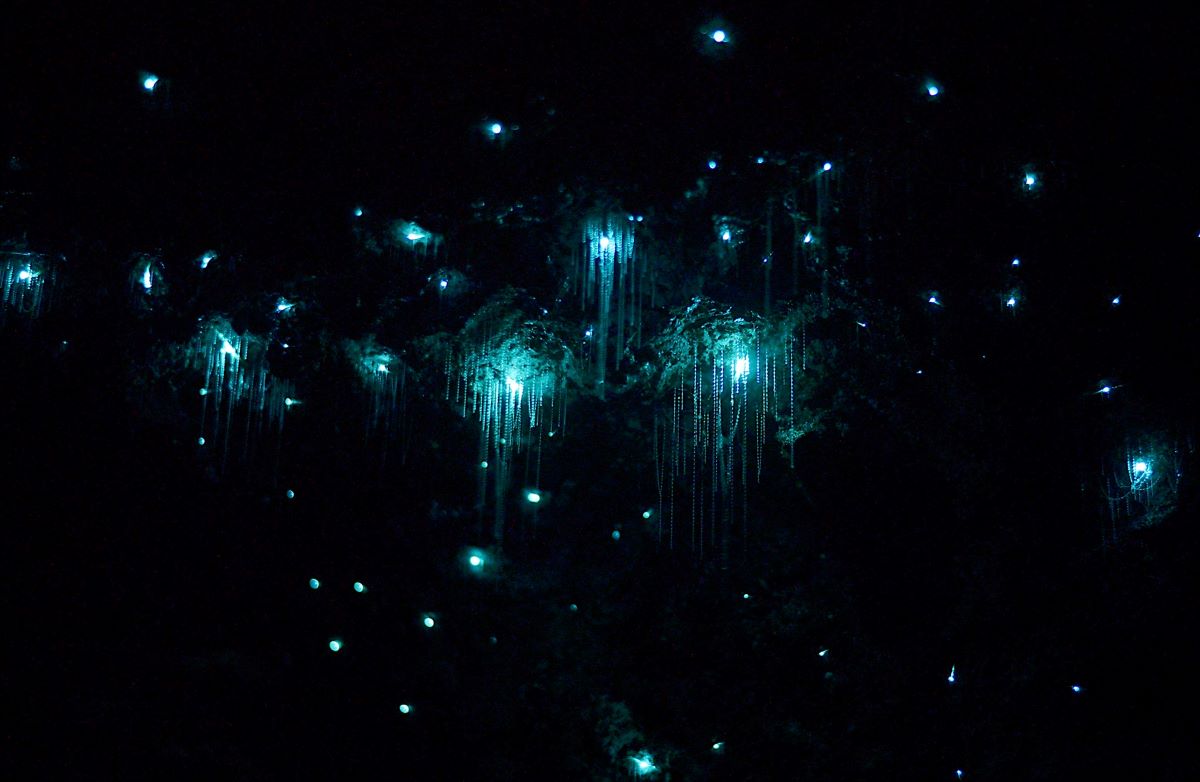 Life as a Glow Worm
As you make your way around the cave marvelling at the worms, your guide tells you about the glow worms. They remain in their larval stage for about one year before becoming a small fly. The flies don't have a mouth which is why they need to fatten up as worms. It also means they don't live for long. They go on a mating frenzy and 2 to 6 days later die.
Glow worms glow due to a reaction between a substance called luciferin and an enzyme called luciferase. Here at Curious Campers, biochemical processes aren't really our speciality. We did like the names though and it led us to discover that the word lucifer has a Latin origin and means Morning star or light-bringing. One to file away for your next quiz night.
Read More : The Ultimate Warrie Circuit Walking Guide
More Glow Worms around Australia
It was also news to us that glow worms are only found in Australia and New Zealand. There are eight species that live in small populations between western Victoria and Far North Queensland. They are also in one location in North West Tasmania. There's another species found in New Zealand.
We have inadvertently bumped into glow worms on a couple of our other adventures. There is a species in the Victorian highlands that you can see if you go caving at Mount Buffalo. You can also see them by the path as you walk to Lake Elizabeth in the Otway Ranges on the way to a platypus kayaking tour.
How to look After Glow Worms in the Wild
Your time in the glow worm tunnel goes all too quickly as it feels like you could look at these living dots of light for ages. By the end of the tour, we had a much greater appreciation of how fragile these populations in the wild are.
We left the cave with a much greater appreciation of glow worm watching etiquette. For instance, if you are near glow worms you shouldn't use insect repellent or have a campfire as these can keep away the insects the worms feed on. Because they use sunlight to set their glowing rhythm torches can really confuse them. And you should avoid touching them as this can also cause a glow worm 'blackout'.
Whether you like ethical wildlife tours or just want to see the wonder of glow worms, put the Tamborine Mountain glow worm caves on your list. It is a fantastic experience.
Day Trips to Tamborine Mountain
Tamborine Mountain Accommodation
If you enjoyed this story you might also like:
Mt Buffalo Caving | Visit Tantanoola Caves | Snorkel in a Mangrove
Like it? Pin it for Later…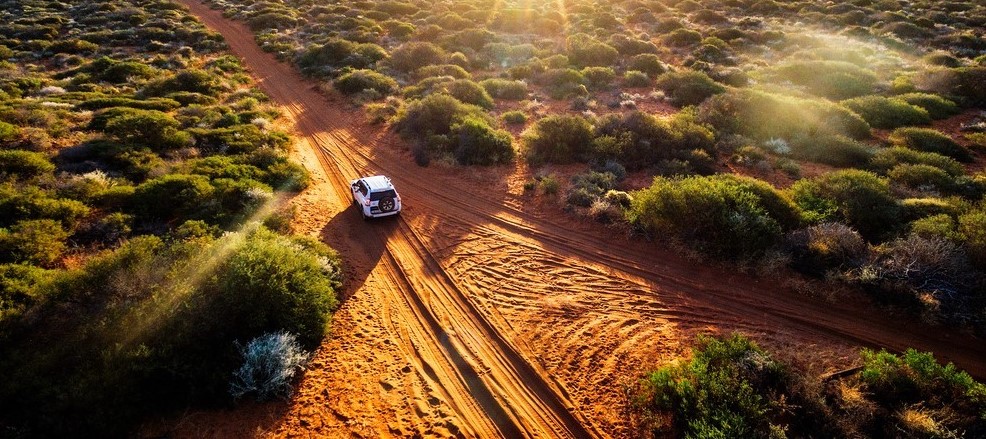 500 THINGS TO DO
Join our mailing list and receive our Free Top 500 things to do in Australia. If you love the Australian Outdoors download this list and keep it handy when you are planning a weekend away or a road trip around Australia.
Recent Posts