If you like waterfalls and beautiful rainforests, Springbrook National Park's longest hike, the Warrie Circuit, is for you. Springbrook National Park is about 90 minutes from Brisbane and 60 minutes from the Gold Coast. The forest is part of the stunning Gondwana Rainforests of Australia World Heritage zone in South East Queensland.
Disclosure: Please Note That Some Links In This Post May Be Affiliate Links, And At No Additional Cost To You, We Earn A Small Commission If You Make A Purchase. Commissions Go Toward Maintaining The Curious Campers Website.
What to Expect on the Warrie Circuit Walk
The 14km Warrie loop track takes you from the top of the canyon to the forest floor and back up. Along the way you walk over, behind and around more than half a dozen waterfalls. There are few times on the walk when you can't hear water falling or fast flowing creeks. There are rock pools to rest by, creeks to scramble across and maybe a bit of mud to squelch through too.
The forest is beautiful. You'll see everything from small, colourful lichens to swamp gums so enormous you struggle to see the top of them. Look out for pademelons, giant land mullet skinks and pythons and hear the cracking chirp of eastern whips birds fill the early morning air.
Day Trips to Springbrook National Park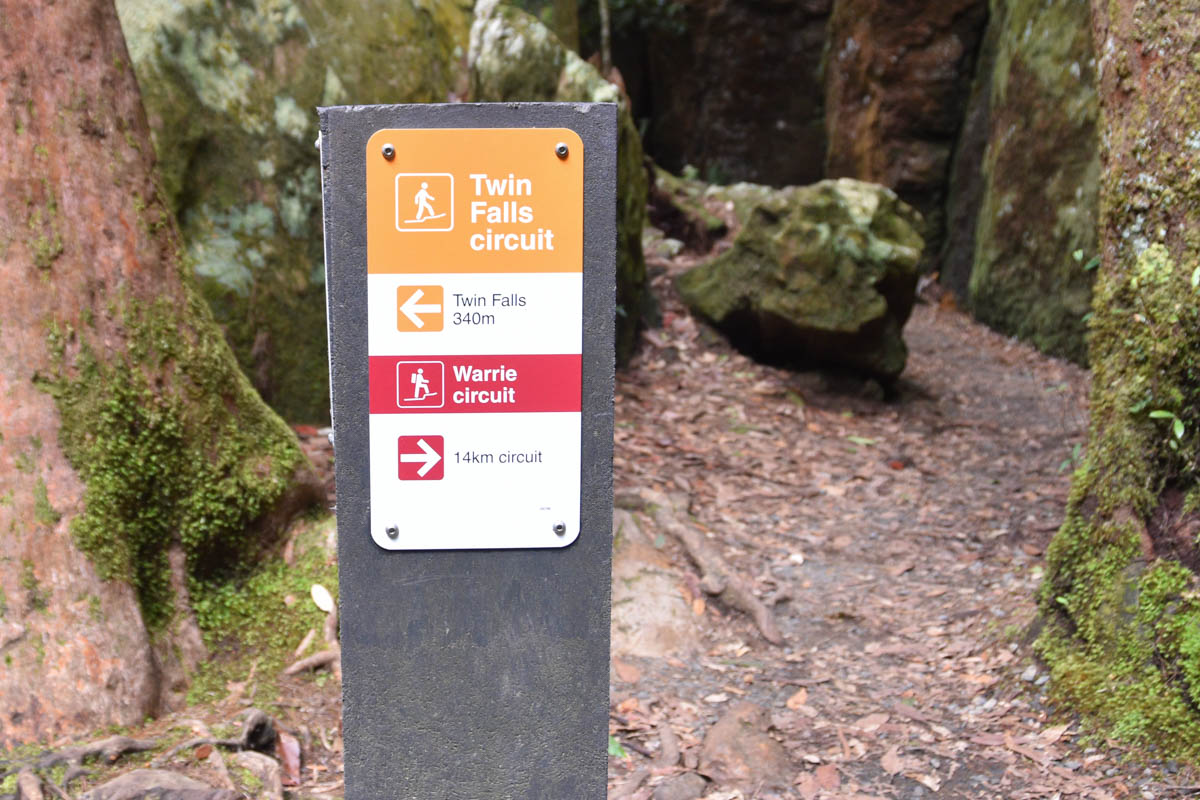 How long is the Warrie Circuit?
Hard to say. Preparing for our walk, we saw it described as being anywhere from 12 to 19 kilometres long. Signage in the National Park says 14kms, so we'll go with that. It could be longer if you do a detour to the base of Twin Falls, which isn't part of the track, but that would add about 4kms to the walk.
What is consistent is how long it takes to do. It took us 5 hours and a range of 5 to 6 hours is standard. We stopped for lots of photos and had a short break for food so enthusiastic hikers could do it faster. If you get transfixed by any of the amazing waterfalls it might take a bit longer.
How Hard is the Warrie Circuit?
There are warnings as you start the Warrie Circuit to only do it if you are an experienced walker. It is certainly a hike where you want to be wearing proper hiking boots and carrying some water.
We rate ourselves as having an average level of fitness. By the end of the walk our legs were weary and we were hot and ready for a cold drink but otherwise we found it okay. There are no long steep sections. A series of switchbacks make the uphill climb not daunting at all.
The most challenging part of the walk is dealing with a few creek crossings. If there has been recent heavy rain you will get wet shoes at several points. We didn't get soggy socks, but the rocks were quite slippery in places so be ready to test your balance.
As with any hike, check the conditions before you go especially if you are not so keen on your walk including some wading!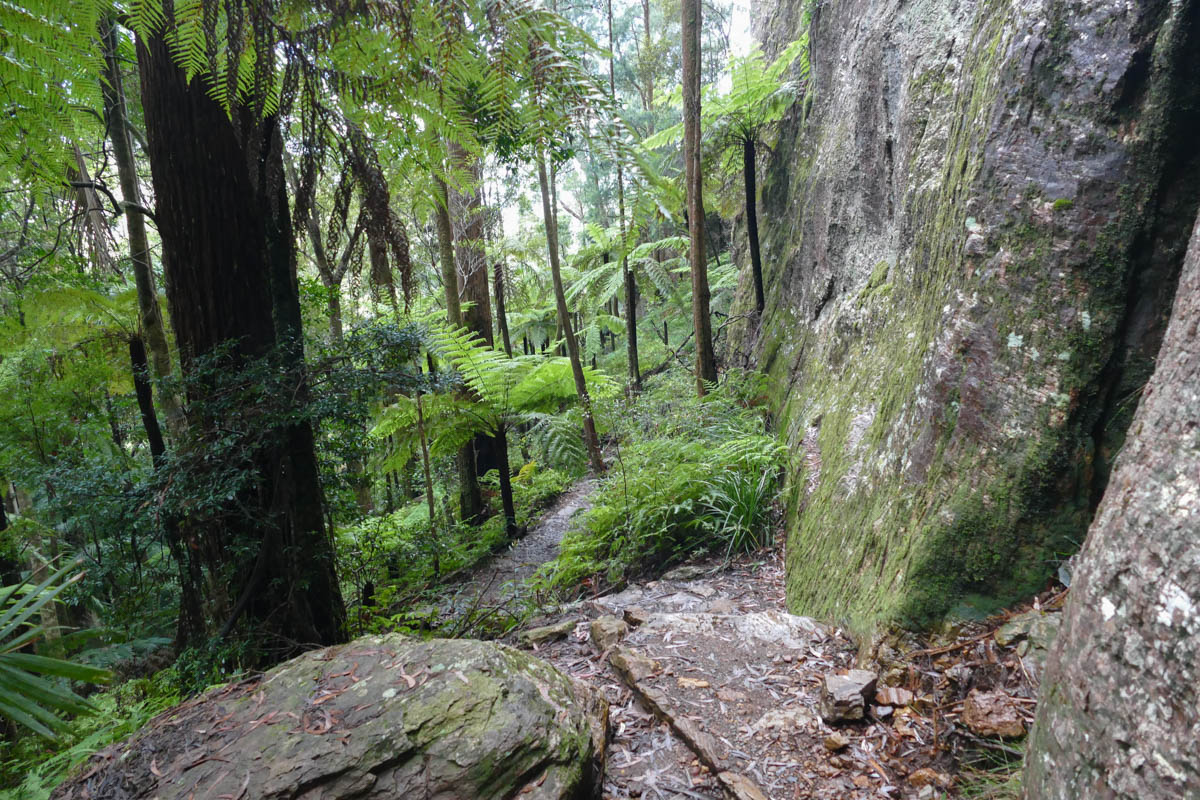 Where does the Warrie Circuit Start?
You can start the Warrie Circuit in two places – Canyon Lookout or nearby Tallanbana Picnic Area. Tallanbana is the parking area for the popular Twin Falls Circuit. There isn't much parking at the picnic ground so if it is busy, which it is on weekends, you might find yourself parking some distance away on the side of the road.
If your focus is the Warrie circuit, start at Canyon Lookout. It can be busy there too, but it feels like it is easier to find somewhere to pull over. If you make an early start, you'll get a park at either location – but we thought the lookout was a spectacular finishing line and there is a café across the road from the lookout too.
Read More : Glow Worm Caves at Mount Tamborine
Conditions for our Warrie Circuit Hike
We did our walk in late February. There had been rain the week before so the waterfalls looked good but it wasn't so wet that we had to negotiate water in the creeks. We started our walk at 7.00am. The forest provided plenty of shade, but the humidity was crazy!
We started at Canyon Lookout and went anticlockwise which is the direction recommended on several maps. If you go the other way, things to consider are that you will have some rock hopping to do when your legs won't be at their freshest. You are also more likely to run into crowds leaving or making their way to Twin Falls as you pass by there.
Having said all that, we passed people going clockwise. One positive of going this way is you can make a short detour at the end of the walk to Twin Falls where you can jump in the water to cool off.
Canyon Lookout
This is a spectacular place to start and finish such a fantastic walk. Depending on the weather and the time of day there are either views to the Gold Coast skyline or low cloud sitting in the valley. You can spot several waterfalls on the far side of the canyon. You look across at them and wonder how you could get a better a look at them… but that is exactly what you are about to do.
Read More: Walking Guide for Springbrook National Park
Tallanbana Picnic Area
The track starts with an easy walk towards the Tallanbana picnic area. Depending on the day, this could be the busiest part of the walk as you mix with people making their way to Twin Falls.
It's the start of your decent to the rainforest floor. You cross a couple of creeks that make up Twin Falls. Look out for the black and orange lichen covered rocks in Boy-Ull Creek. The water emerges from the lush green vegetation over the colourful rocks. It is a great sight.
Another feature of this section is the rocky passes the track squeezes between. If you're prone to claustrophobia you might have a moment of discomfort here. At one point you walk under a giant boulder stuck between the rock walls. If the tight space doesn't freak you out, it is a great photo op.
Just after this there is a fork in the path where the Twin Falls Walk and the Warrie Circuit diverge. The walk is well signed throughout, stay right to follow the Warrie Circuit.
Rainbow Falls
One of the great things about this walk is that around every corner you see something amazing. Less than 2km into the walk you get to Rainbow Falls. As happened regularly on this hike we let out an audible gasp as it came into view. It is beautiful. The wide falls produce a cloud of fine spray. There wasn't enough sunlight around to see a rainbow on our walk but it's not hard to see how that could happen.
Best of all, you get to walk behind it. Looking out from behind a waterfall is one of those views you don't get every day. It's a great moment in the walk – one repeated at the other end of the circuit at Blackfellow Falls.
Goomoolahra Falls
No sooner have you stopped talking about the walk behind Rainbow falls you come to Goomoolahra (Bilborough's Falls). You can see the top of the falls from the Goomoolahra picnic area. It is a good view, but nothing compared to what you see here.
These are multi-tiered falls. From the walking trail you can see a couple of the falls above you and a couple more below where the track crosses the water. On our misty morning the distant first tier seemed to be falling from the clouds.
There is just a narrow cement path across the falls. It is the perfect spot to get some pictures, but you sure don't want to lose your footing as you frame your shot. There was plenty of water flowing down the falls and you could sit there for ages watching it.
If you don't want to do the full Warrie Circuit, only going to Goomoolahra Falls and turning back to Twin Falls would be a fantastic short walk.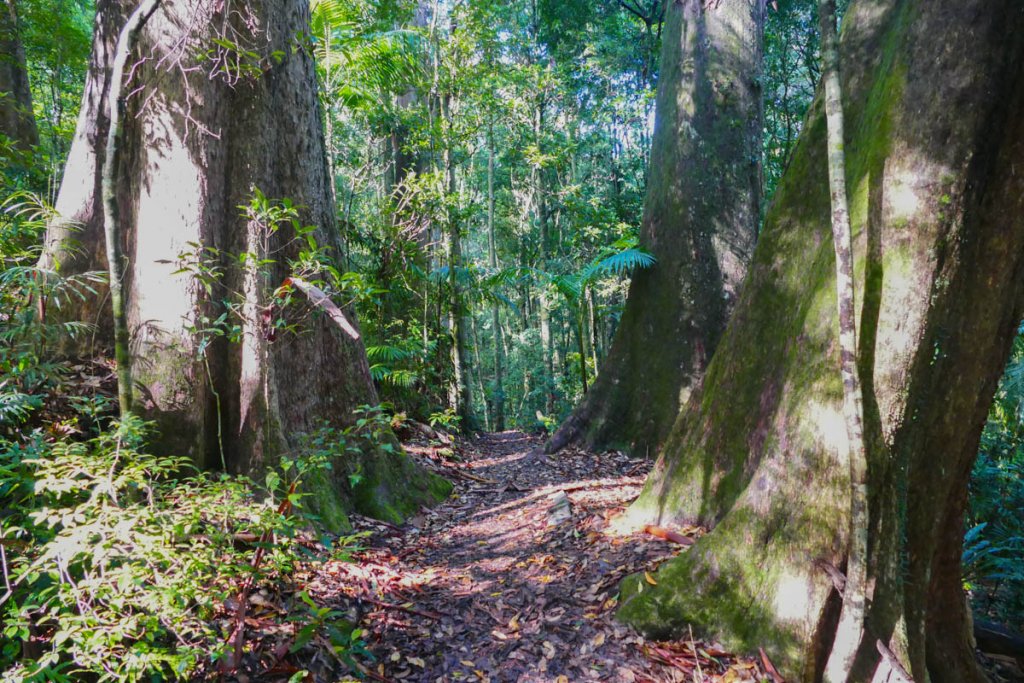 Gondwana Rainforest Magic
Beyond Goomoolahra Falls things can get muddy. For our walk there were patches of mud – stretches of 10 to 15 metres to slush through. You can see how with more recent rain and more foot traffic more of the track would get gluggy.
Mud aside, after the excitement of the first two falls, this next section is a chance to take in the rainforest. You feel like you are deep in the forest and in all directions, there are amazing plants. You're stepping over enormous buttress roots, ducking under vines as thick as your arm and marvelling at ferns growing on the sides of trees.
You make your way past another set of falls and at several points walk between the two halves of fallen trees. Along here we also had our first run in with leeches. If you are not a fan of blood sucking parasites this could gross you out but be warned, there are leeches in the forest. They brush off easily enough – best chalk it up to part of your rainforest experience!
Ngarri-dhum Falls
There is less water at Ngarri-dhum Falls but the plant covered rock face the water tumbles down and the boulders at the base of the falls look great. The main point of interest here is that this is the first significant creek crossing. It is only after you have taken in the falls, you realise there is no recognisable path in front of you.
Twenty five metres away, across the falls, you can see a trail marker and there are a whole lot of wet rocks between you and there. Signs tell you to follow the orange markers across the rocks, but they are not always that easy to see, especially if they are underwater!
Read More: Find the Best Waterfalls in Queensland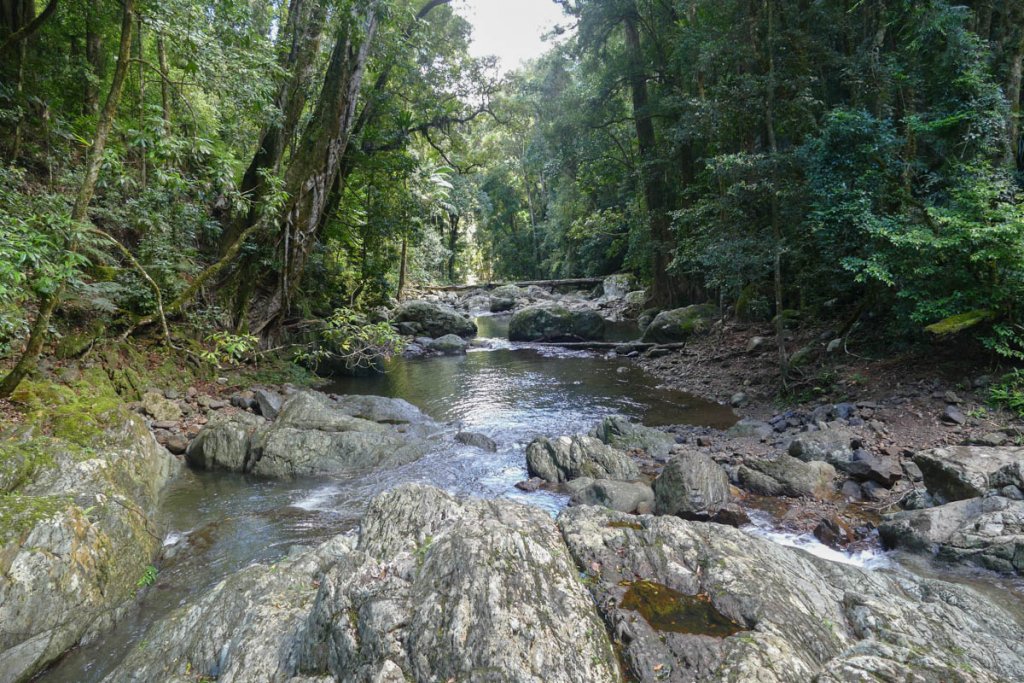 Meeting of the Waters
You continue on to rock-hop across the Ngarri-dhum Falls a couple more times as the path weaves through more amazing rainforest. There are steps formed in the buttress roots of giant trees and striped vines to limbo under along the path.
A couple of kilometres past Ngarri-dhum Falls you come to one of the most significant points on the walk – the Meeting of the Waters. Here, water from all the waterfalls and creeks you have seen come together in the Little Nerang Creek. It is roughly the halfway point of the circuit and the perfect spot to stop for a few minutes to have a snack and relax in the forest.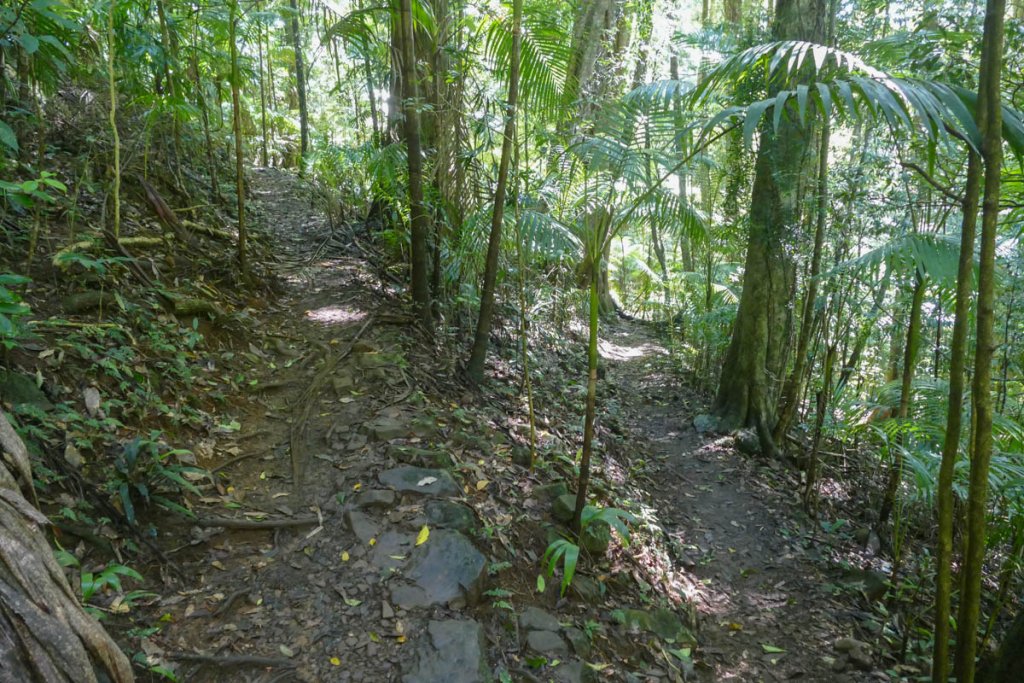 Gooroolba Falls
Soon after the Meeting of Waters are the smaller but fast flowing Gooroolba Falls; we found the rocks around here especially slippery which made getting photos a bit exciting. Just beyond here is the last creek crossing of the hike.
Boy-ull Creek carries water from Rainbow Falls and Twin Falls and joins the Little Nerang Creek. There wasn't a lot of water when we crossed but soon after rain, I suspect it would be quite a challenge.
After Boy-ull Creek the trail starts going up via a series of switchbacks as you make your ascent from the forest floor. Along the way you can take short detours to Poonyahra and Poondahra Falls. Poonyahra was the pick of them with the curtain of water framed by ferns and vines growing down the rock face.
Read More : Where to go Camping at Lake Moogerah
Warrie Circuit Home Straight
Some reviews say the last 4 km can be a bit tedious as you wind your way out of the valley. If anything, we felt a bit disappointed that the adventure was coming to an end. We spotted what felt like some of tallest trees of the walk in these last few kilometres and noticed a lot of colourful fungi on the logs and branches too.
Fittingly, the walk finishes with one more fantastic waterfall. Blackfellow Falls is a stunner and like Rainbow Falls at the other end of the trail, you have no choice but to walk behind them. Besides having to cover your camera, the spray you get from behind the falls is refreshing and it is a great finale to the hike.
Final Thoughts on the Warrie Circuit Hike
From Blackfellow Falls it is less than 1.5 km to Canyon Lookout. You walk across the top of Blackfellow Falls and there are a couple of small lookouts before you get to Canyon Lookout. These are a great chance to stop and look back at The Canyon – that's its name – and spot the falls you have walked past.
In that last few hundred metres keep an eye out for wildlife. We spotted red-necked pademelons and some big lizards in the scrub along the edge of the path.
While this is the longest walk in Springbrook National Park we thought it was also the best. The much shorter walks around Natural Bridge and Purling Brook Falls are also wonderful. But if you want to really immerse yourself in the rainforest, the Warrie Circuit is a great experience.
Day Trips to Springbrook National Park
Warrie Circuit Map
If you enjoyed this story you might also like:
Tamborine Gallery Walk | Deep Creek Camping | Mount Gambier Sinkholes
Like it? Pin it for Later…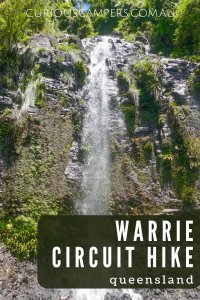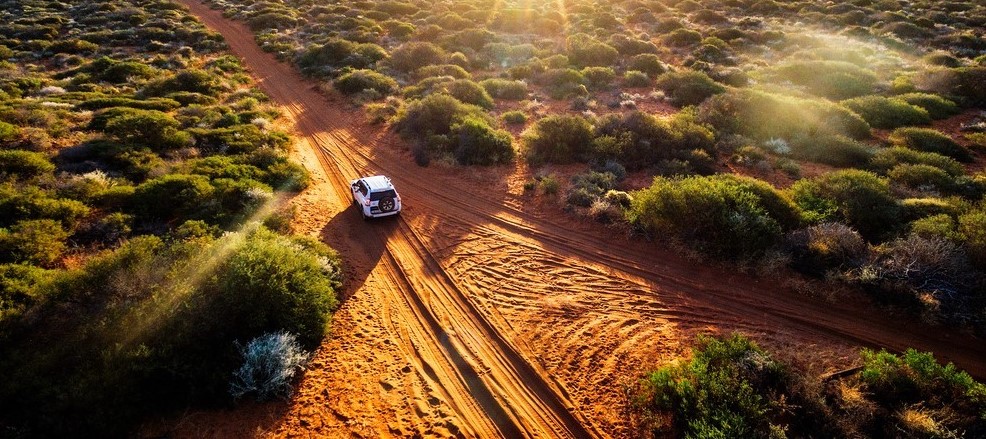 500 THINGS TO DO
Join our mailing list and receive our Free Top 500 things to do in Australia. If you love the Australian Outdoors download this list and keep it handy when you are planning a weekend away or a road trip around Australia.
Recent Posts