There are all sorts of things to do in Cairns for free so going to Tropical North Queensland doesn't mean having to spend money every day. From markets to swimming holes and art galleries to gardens, there are plenty of low cost options if you want a quiet day between trips to the Great Barrier Reef and Daintree Rainforest.
Disclosure: Please Note That Some Links In This Post May Be Affiliate Links, And At No Additional Cost To You, We Earn A Small Commission If You Make A Purchase. Commissions Go Toward Maintaining The Curious Campers Website.
Things to do for Free in Cairns
This list of things to do for free in Cairns is great if you don't have your own transport as many of them are in the heart of Cairns so you can walk to them, get public transport or at worst get a cheap ride. There are also a lot of free things to do in Cairns for families so if you are looking for a cheap and fun family activity, you'll find those too.
Free Things to do on the Cairns Esplanade
Cairns Esplanade Lagoon
It is no secret that Cairns doesn't have a city beach, but the trade-off is you get to cool off at the Cairns Esplanade Lagoon Pool. This huge saltwater pool has views out over the bay and is in the heart of the wharf, accommodation and restaurant and café precinct. It is a fantastic place to cool off and has electric BBQs, shelters, lockers and is access friendly. Keep in mind the lagoon is closed until noon on Wednesdays for maintenance and cleaning.
Free Fitness & Beach Volleyball
If you have been taking it a bit too easy in Cairns, you can get the blood flowing at a free fitness class or activity in Fogarty Park, right behind the Esplanade Lagoon, or on the Esplanade itself. Whether you want to go for some Zumba, easy Yoga, Beach Volleyball or try some bouldering it is all offered for free by the Cairns Regional Council on and around the Esplanade. You can see the program of events here.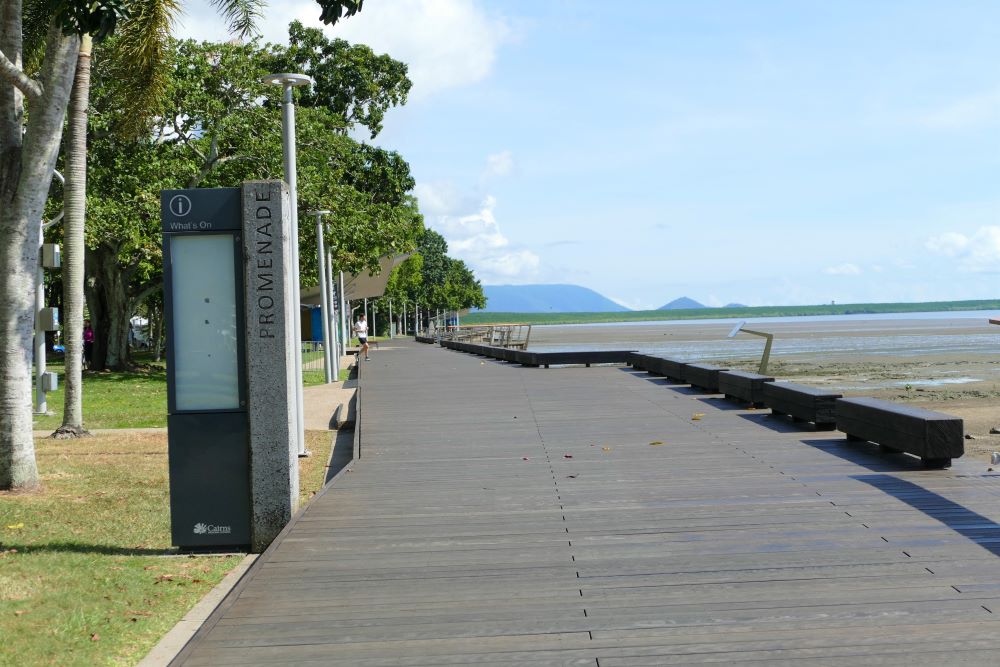 Walk or Ride along the Esplanade
One of the best things to do for free in Cairns is explore the Esplanade. Bike and walking tracks extend for 2.5km along the Esplanade. Along the way you'll come across fitness stations, playgrounds, skate parks, picnic and BBQ areas and sculptures. The Esplanade is a great place to either stretch your legs or find a shady spot to relax and watch the boats and helicopters come and go to the reef.
Sea Themed Sculptures
Whether you are relaxing under a tree or walking along the Esplanade, keep your eye out for more than a dozen pieces of public art scattered along the foreshore. From the prominent Woven Fish rising out of the Lagoon Pool to the eye catching Citizens Gateway to the Great Barrier Reef, there are mosaics and sculptures everywhere you look.
Cairns Playgrounds
For families with younger children, one of the best free things to do in Cairns is spend some time at a playground. There are some great playgrounds right in the middle of Cairns and some out in the suburbs, here are a few to check out.
Muddies Playground
Muddies Playground is the best playground on the Esplanade. You will find it a couple of blocks north of the Lagoon Pool. It is big and there is lots of waterplay playground equipment to keep the kids busy and cool. Besides the waterplay area, there is a flying fox, things to climb, puzzles, rope bridges, slides and more. While the kids run amok, grownups can grab something from Muddy's Café. Further north along the Esplanade is another smaller but equally good option, the Fun Ship Playground.
Figtree Playground
This is another fantastic playground that you find in the heart of Cairns at the end of Abbot Street near the Cruise Liner wharf. It is a smaller playground, but it has been built around an enormous fig tree. For children exploring its slides and steps and walkways it will feel like they are in a different world. It really is one of the most amazing little playgrounds we have seen.
Goomboora Park
If you are a family in Cairns looking for somewhere to let the kids have a run, check out Goomboora Park in Redlynch about 15 minutes from Cairns. There is a great adventure playground, big grass reserves, a network of creeks to explore, bike tracks, enormous fig trees and picnic facilities. There are off leash dog areas too (away from the playground). For families looking for a bit of downtime, it is the perfect place to relax.
Free Things to do in Cairns City
Cairns Heritage CBD Walk
Cairns is full of heritage buildings and this self-guided 22 stop walk takes you past some of the finest. The walk covers a relatively small area centred on a couple of blocks between Lake, Spence, Abbott and Aplin Streets. The walk takes about 60 minutes to do and along the way you get to see places like the Qantas Building, courthouse and post office. You can see a map of the walk here.
Rusty's Markets
A Cairns institution, the fabulous Rusty's Markets are a fun free thing to do in Cairns. They are open Friday and Saturdays 5.00am to 6.00pm and Sundays 5.00am to 3.00pm. There are a staggering 180 stalls here featuring mouth-watering local produce, arts and crafts, jewellery and bric-a-brac. But it's the food that is the star of the markets with a huge range of fresh tropical fruits, vegetables, seafood and bread. Yes, this is supposed to be a list of things to do in Cairns for free, but a trip here will almost certainly cost you a few dollars – but it will be money well spent!
Cairns Art Gallery
Located on Abbott Street only a block back from the Esplanade Lagoon Pool, looking through the Cairns Art Gallery is not only a good free thing to do in Cairns but it is also a good indoor activity if it's raining. The Cairns Art Gallery features international, Australian and local artists across a range of media so you never know what you might see. There was an Andy Warhol exhibition on when we went through. The Cairns Art Gallery is open weekdays 9.00am – 5.00pm, Saturday 10.00am – 5.00pm and Sunday 10.00am – 2.00pm.
Free Things to Do Around Cairns
Crystal Cascades & Fairy Falls
If you have been to Josephine Falls, Mossman Gorge or the Babinda Boulders then you must visit Cairns' local freshwater swimming spot – Crystal Cascades. Located about 10 minutes from Redlynch, this is a typical north Queensland swimming spot where water spills over a series of falls and big granite boulders and has swimming holes surrounded by rainforest.
There are toilets, shelters and BBQs near the carpark, and it is just a short walk to the first of 3 swimming areas. Like all swimming spots of this nature, be aware of sudden changes in water level. There is a warning system here should that happen. The more adventurous can try the medium difficulty walk to nearby Fairy Falls.
Stoney Creek Walking Track & Old Weir Falls
This popular local swimming spot is only a 20 minute drive form the centre of Cairns. Look for the Stoney Creek Road turn off from Kamerunga Road. From the carpark it is only a short walk to the swimming hole. Veer left and cross the bridge, or you can walk 20-30 minutes along the other track to Old Weir Falls. The swimming hole will likely be busy on weekends but if you can get there during the week it is quieter and a lovely place for a swim.
Kuranda Markets & Galleries
Okay, there is a lot to do in Kuranda that isn't free but if you want to make your way there you can still explore this rainforest village without spending any money. There are the Heritage Markets and Original Rainforest Markets to wander through. You can check out the incredible gem and fossil display at Emu Ridge Gallery. We couldn't believe walking through there was free. There are more than another half a dozen galleries to check out where you can see some amazing art inspired by the region's reefs and rainforests.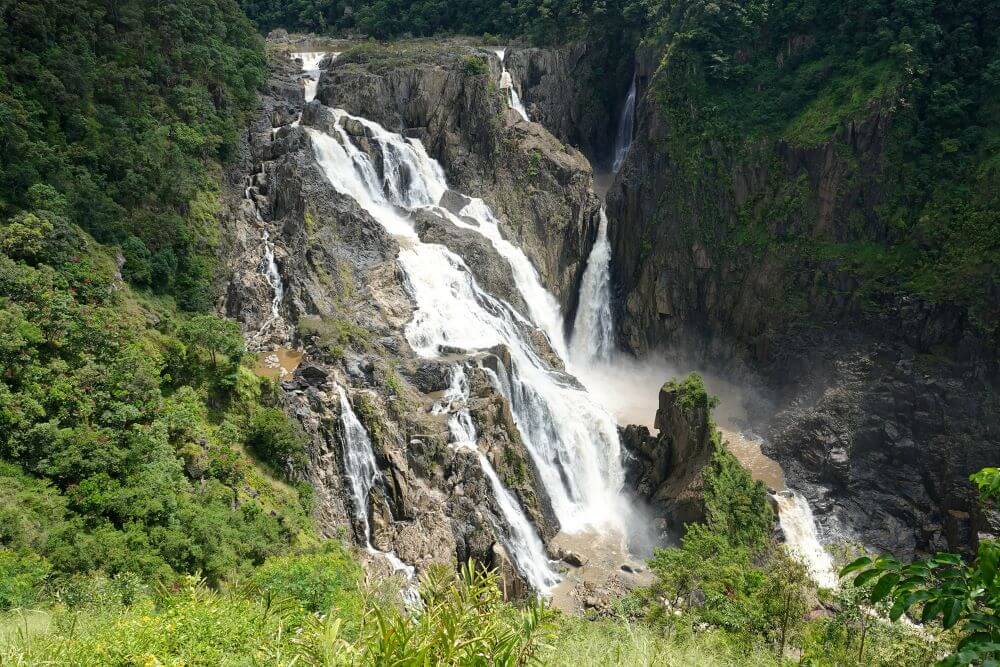 Barron Falls Lookout Track
If you have made it as far as Kuranda, you can also go to the Barron Falls Lookout for free. How much water you see spilling over the falls will depend on the season, they certainly look their best in the wet season from December to April or any time after some decent rain. There are a few short walks you can do to different vantage points. There is a train station for the Kuranda Scenic Railway here so you might spot the train – if you do, expect a brief sudden increase in the number of people you share the lookout out with!
Cairns Botanic Gardens
We love botanic gardens and if there is one where we are travelling, we'll check it out. The Cairns Botanic Garden are in Collins Street, about 10 minutes by car from the centre of Cairns. There are a couple of themed gardens including a nice Rainforest Gully Boardwalk and the Gondwanan Evolution Garden is great too. But the highlight is the Conservatory right inside the main entrance, the variety of plants in there was amazing and eye catching. Butterflies flit around in there too so keep an eye out for them.
From the Cairns Botanic Gardens, you can also access the trails through Mount Whitfield Conservation Park. The Red Arrow Track (1.5km Loop) and much tougher Blue Arrow Track (6km loop) both start on Collins Street near the gardens. Both tracks have some great views but also have lots of steps and the blue track is quite steep so have your hiking shoes handy.
Relax and play at Centenary Lakes
Centenary Lake are right next door to the Botanic Gardens, they are almost one in the same but have different main entrances and are separated by Collins Road. Centenary Lakes are more of a parkland than a formal garden. They are still a lovely spot to visit and especially if you have kids because there is a fantastic nature play playground here. The entrance to the playground is off Greenslopes street which is a short drive from the entrance to the Cairns Botanic Gardens or you could walk there from the Botanic Gardens side along a path following the river.
Cattana Wetlands
The Cattana Wetlands are near Smithfield in Cairns' northern suburbs, and they are a fascinating and beautiful place to come for a walk. There are several different well marked walks around the lakes and pools that make up the wetlands, which were once a sand quarry, used to build the Esplanade area. Now it is a haven for birds and other wildlife. Even if you aren't a serious birdwatcher, the Cattana Wetlands are worth to explore a unique environment. Read our full guide to the Cattana Wetlands here.
Cairns Northern Beaches
If you are looking for a beach near Cairns, then head out to the Northern Beaches about 20- 30 minutes north of Cairns. Yorkey's Knob, Trinity Beach, Kewarra Beach, Clifton Beach and Palm Cove are all beautiful spots to spend some time. Not only do all these beaches have stinger nets, but they also have lovely esplanades, cafes and, for families, playgrounds. We especially like Trinity Beach, the Beach Almond Trees along the foreshore are a great sight.
Places to Stay in Cairns
If you enjoyed this story you might also like:
Cairns Snorkelling Tours | Behana Gorge Walk | Fitzroy Island Day Trip
Liked it? Pin it for Later…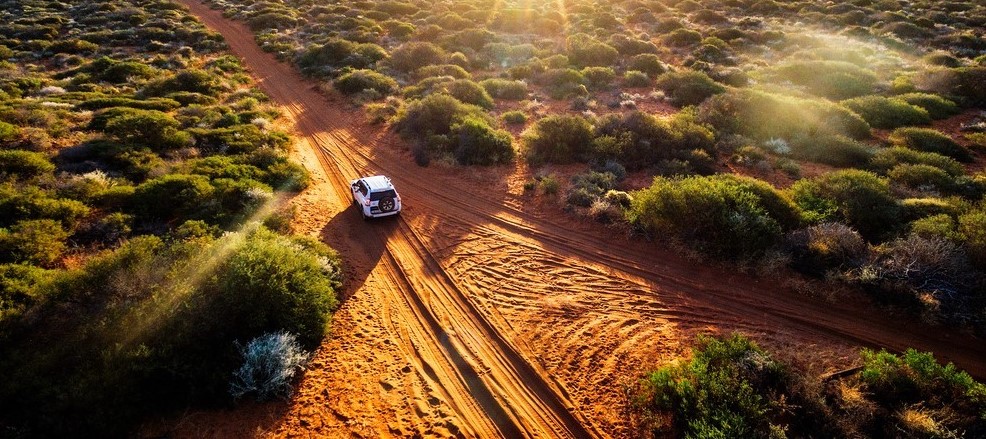 500 THINGS TO DO
Join our mailing list and receive our Free Top 500 things to do in Australia. If you love the Australian Outdoors download this list and keep it handy when you are planning a weekend away or a road trip around Australia.
Recent Posts