Blowhole Beach is on the western edge of Deep Creek Conservation Park on South Australia's Fleurieu Peninsula. It is a 1 hour 45 minute drive from Adelaide. You will need a park pass, day passes cost between $10-$12 and can be bought online. Don't let the fee put you off, Blowhole Beach blows away everyone who visits – it is a stunning place!
Disclosure: Please note that some links in this post may be affiliate links, and at no additional cost to you, we earn a small commission if you make a purchase. Commissions are appreciated and go toward maintaining the Curious Campers website.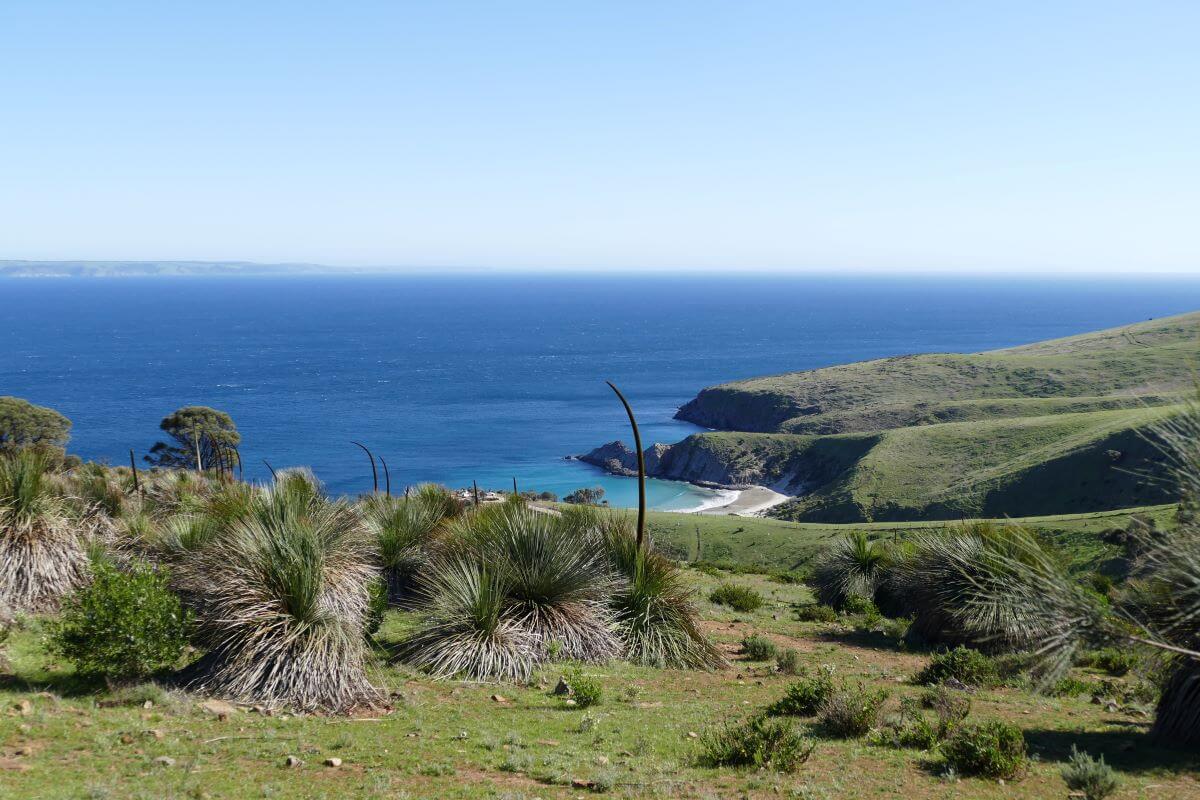 Blowhole Beach
The small beach is surrounded on both sides by steep rolling hills. The slopes are fringed by craggy black rocks that contrast against the white sand. Blowhole Creek meanders from the gully onto the sand, spilling an apron of pebbles onto the back of the beach. The ocean water can be as turquoise blue as anything you'll see around a tropical island.
In winter, the hills have a bright green cover of grass. This fades to straw yellow in summer but, regardless of the season, the scene is wonderful. From the beach or hills there are also fantastic views across Backstairs Passage to Kangaroo Island.
There are no kiosks, shops or toilets at Blowhole Beach so if you are making a day of it take supplies with you. As it is a national park, dogs are not permitted.
Getting to Blowhole Beach
Blowhole Beach is a little over 100km from Adelaide. On the way there you pass some great spots including McLaren Vale, Normanville, Second Valley and Rapid Bay. Look for the turn off to Deep Creek near the Delamere General Store. You'll see Blowhole Beach sign posted from there.
The last part of the drive to Blowhole Beach is on a dirt road. It has always been in good condition for our visits, it is suitable for 2WDs. Finding Blowhole Beach is one thing, getting down to the beach is where the fun begins. You have a couple of options…
Beach Car Park
Towards the end of Blowhole Beach Road, you'll see a turn off to the Cobbler Hill Picnic area. Near there is a sign saying that unless you have a 4wd you should go no further. If you are in a 4WD you can get yourself down to the Beach Carpark.
The track down isn't long – only a couple of kilometres – but it is steep and rough. It's not like you'll be on less than four wheels at any point but it's certainly not suitable for 2WDs.
We cruise our way down the hill in low 4WD. The track is probably a couple of cars wide but in trying to find the best route you might have to stop to let other cars pass. Keep an eye on the weather. Getting back up when it's wet could be an adventure!
FULL DAY DEEP CREEK, RAPID BAY & VICTOR HARBOR
Enjoy a guided walk through Deep Creek Conservation Park, home to diverse wildlife including Western Grey Kangaroos, Echidnas and native birds. Enjoy a gourmet picnic. Visit Rapid Bay Beach & follow the Victor Harbor Discovery Trail. Watch out for dolphins and whales offshore. Tasting at Alexandrina Cheese & Mt Jagged Wines.
Walking Trail to Blowhole Beach
If you don't have a 4WD you're walking to the beach. There is a carpark on the right near the Cobbler Hill Picnic Ground. The 3km return walk starts at the picnic area. The walk down is a breeze. The walk back up will get you puffing. There's no other way to describe it other than steep.
Guides indicate it is a 2.5 hour return walk and I'd suggest you'll take most of that time getting back up to the picnic area. There are several 'view appreciation stops' on the ascent where you can take a seat; there are no shortage of great vistas to take in.
Western Grey Kangaroos
Whether you are walking or driving, keep an eye out for the local mob of western grey kangaroos. We have been to Blowhole beach several times and never fail to see kangaroos along the side of the road to the beach, in the picnic area or on the hillsides. Depending on the time of day they will either be grazing on the slopes or resting under the trees.
They seem to be quite used to people walking or driving through their neighborhood so expect to be able to get a good look at them. We've seen dozens of them on a couple of occasions.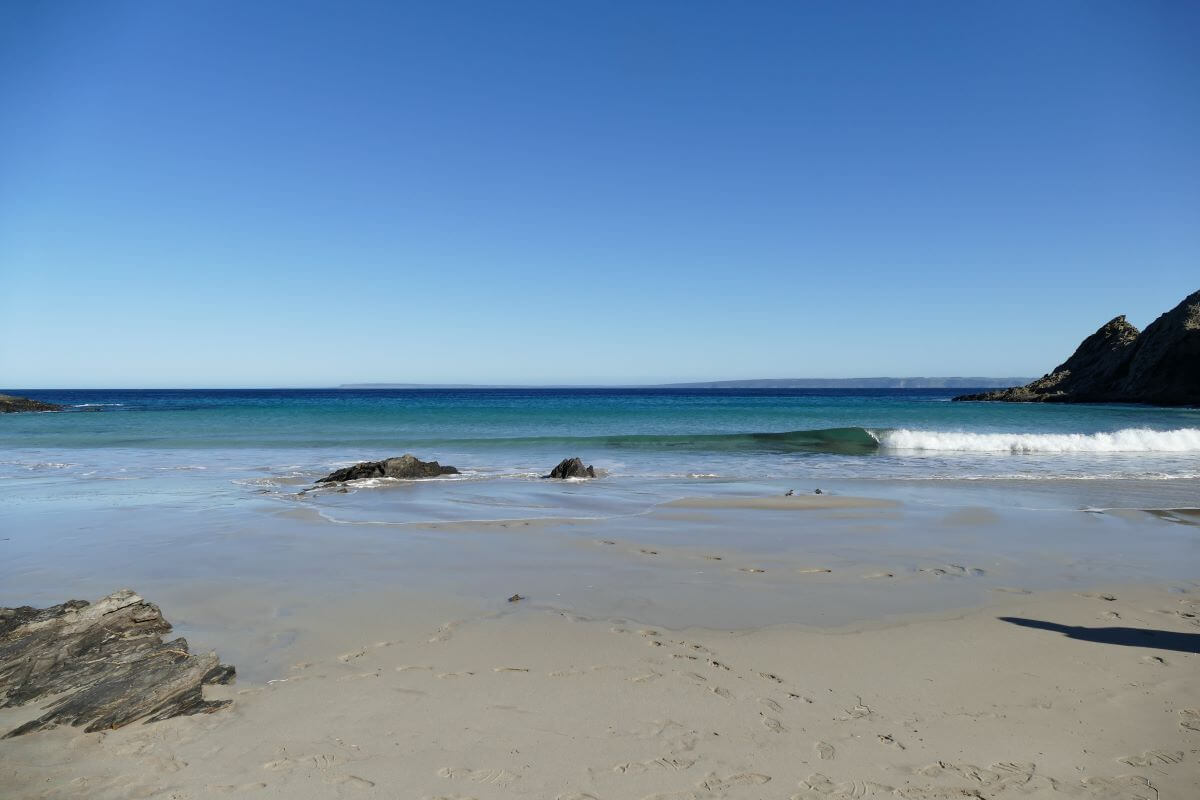 Things to do at Blowhole Beach
Even if you don't get down to the beach, the views from Cobbler Hill Picnic Ground are great. Keep an eye out for dolphins cruising along the coast or playing in the waves. In winter you might spot a whale. As good as it is during the day, at sunset the views can be even better. If you are camping at Deep Creek Conservation Park, a dusk trip to Blowhole Beach should be on your list of things to do.
You can go for a swim – the water is so inviting it can be hard to resist. Be aware that there can be strong currents and rips. So, if you go for a dip stay close to shore. The beach is not patrolled so there are no flags to swim between. If you get sucked out to the open water, if you're lucky, you'll hit Kangaroo Island otherwise you're off to the Southern Ocean.
Blowhole Beach is also a popular surfing and fishing spot. The rocky headlands either side of the beach often have people on them casting a line.  There is a wide variety of species on offer including salmon, whiting and flathead.
MCLAREN VALE WINERY TOUR & LUNCH
Visit the best wineries, distilleries, breweries and eateries in McLaren Vale with the guided experience of a local. During the full day tour visit to 2-4 wineries or breweries in McLaren Vale. Once you have heard the best options, choose where you would like to stop for lunch. 
More walks
If you like walks, there are a few to do near Blowhole Beach. For starters there is the walk down to the beach from Cobbler Hill Picnic area. In the same area is the Blowhole Beach – Cobbler Hill – Marrano Creek Hike.
This 6.7km, 3.5 hour hike starts at either the picnic area or the Cobbler Hill campground. It goes down to the beach, follows the Heysen Trail along the coast then goes up a steep ridge following Marrano Creek. There are great views of Kangaroo Island and the Pages Islands along the way.
A few minutes back from the beach along Blowhole Beach Road is the Aaron Creek picnic area. It is the trailhead for the Aaron Creek and Aaron Creek Circuit Hikes. Both hikes have great views of the coast and take you through a variety of landscapes.
The circuit walk is a 5.5km, 3 hour hike. If you do an extra 5km you can reach the coast. It's a tough but rewarding walk. The last part involves some rock scrambling down to where Aaron Creek meets the coast.
BOOK A LUXURY GLAMPING EXPERIENCE AT DEEP CREEK
Stay in a luxury eco-retreat in Deep Creek Conservation Park at the tip of Fleurieu Peninsula, just 90 minutes south of Adelaide. Explore old growth forests and the rugged coastline with views across Backstairs Passage to Kangaroo Island.

More things to do in the area
Blowhole Beach gives you just a taste of Deep Creek Conservation Park. It is a beautiful place with a variety of landscapes to explore from rugged coastline to old growth stringybark forests. The park has lots of wildlife, walks, and great views.
Deep Creek has four campgrounds and some self-contained accommodation options. We have stayed in Goondooloo Cottage near Blowhole beach and it was a cosy and fun base for exploring the area.
If you get as far as Blowhole Beach, make sure you also check out Second Valley and Rapid Bay. About 30 minutes away, they are both great spots for relaxing on the beach, fishing, and kayaking. They are also two of our favourite snorkelling spots. Both have rolling hills coming down to the water and are beautiful spots to spend a day.
Just over an hour away, on the other side of the peninsula are the fun holiday towns of Victor Harbor and Goolwa. Both towns offer a lot of activities and great scenery.
So, where's the blowhole?
The first thing I wondered when I heard about Blowhole Beach was how good is the blowhole? I have since read everything I can about blowhole beach, looked at maps and contacted National Parks SA. Yet nowhere and no-one can point me to a blowhole at Blowhole Beach. If there is one, it is a well-kept secret.
My only other theory on the name is that it has to do with spotting whales and seeing the spray come from their blowholes…but who knows. Blowhole or not, it is still a beautiful spot to visit and a great day trip from Adelaide.
To enter Deep Creek Conservation Park you will require vehicle park pass. A one day pass can be purchased online for $11. A 12 month pass for Deep Creek or Multi-Park Passes are also available. 
You can book a site on the National Parks & Wildlife Service website.
Stringybark Campground (showers & flushing toilets) $16.50
Eagle Waterhole Campground (hikers only) $20
Cobbler Hill Campground (long drops) $16.50
Tappanappa Campground (long drops) $16.50
Trig Campground (long drops) $16.50
Look out for kangaroos, echidnas and plenty of birds that can be spotted in the park. Take care when driving at dawn or dusk as wildlife is often on the roads.
Between May to October, southern right whales gather along the southern coastline of Australia so keep an eye out from the lookouts.
LIKE IT… PIN IT FOR LATER
500 Things to do
Join our mailing list and receive our Free Top 500 things to do in Australia. If you love Australian Outdoor Experiences download this list and keep it handy when you are planning a weekend away or a road trip around Australia.