Kangaroo Island – Seal Bay, Wallabies and Koalas but all we wanted to find were echidnas. The Kangaroo Island wildlife had new surprises for us every day. Read our KI wildlife diary…
In January 2020, the western half of Kangaroo Island was devastated by bushfire. The good news is, KI is open for business!  As travellers, the best way to support the island is to visit and put money into the community. Be aware that some areas of the island will be inaccessible for some months.
For travel information check the Authentic Kangaroo Island Facebook page or Tour Kangaroo Island.
Disclosure: Please note that some links in this post may be affiliate links, and at no additional cost to you, we earn a small commission if you make a purchase. Commissions are appreciated and go toward maintaining the Curious Campers website.
DAY 1 – Kangaroo island wildlife
We walked into the office at the Western KI Caravan Park and it took Nat about 10 seconds to spot the echidna poster. Even before we'd checked in, she learnt there were echidnas in the park and decided it was our mission to spot one.
The caravan park feels more like a nature reserve. During our set up we saw kangaroos, wallabies and cape barren geese roaming the grounds. There was a koala in a tree behind our site. As we enjoyed our post set up drink, a family of blue wrens darted around our feet.
We spent our evening at the parks in-house koala reserve. On cue, there's a koala sitting in the first tree inside the gate. Half a dozen wallabies are grazing nearby. We dedicated night one of echidna watch to reconnaissance. For no good reason, Nat decided it looks a likely place to spot an echidna. On the strength of that, we declare the outing a success.
Day 2 – Admirals Arch

Today we went to Admirals Arch and saw New Zealand fur seals. You get a great view of them from the cliff top boardwalk. Groups of pups were playing in rock pools and sliding down natural rock slippery dips. They were great fun to watch. It more than made up for how bad they smelled.
Later we stopped at the platypus waterholes in Flinders Chase National Park. We discussed whether it was even worth getting out of the car. We agreed it wasn't, but also agreed if we didn't go and look there were bound to be platypuses everywhere. So we went, we watched, we saw nothing.
We returned from our day of sightseeing to find a kangaroo and joey resting under our awning. They took shelter beneath a nearby bush as we got out of the car. The kangaroos here are beautiful. They are smaller than the reds and greys you see on the mainland. Their fur is darker and much thicker too. I've heard them described as the teddy bears of the kangaroo world. They are super cute.
Echidna watch – nothing. Well, not nothing. We saw lots of koalas. That's probably where we went wrong. We should have spent more time looking down. I know echidnas can swim. But you don't usually see them up trees.
Day 3 – Kangaroo Island Seal Bay

Our day started with a visit to Raptor Domain. The nature park offers a few different shows, but it was the birds we especially wanted to see.
We love birds. Or, to be more accurate, I love birds. Nat loves me which means I'm allowed to love birds so long as she can make fun of my bird watching.
The show had some non-raptors including a trained magpie and the cutest barn owl you'll ever see. Even Nat liked it. She liked it even more when it sat on her lap. For that moment I thought she might be a closet bird appreciator. When I suggested we go bird watching later in the afternoon, her response – 'dream on' – proved otherwise.
The raptors were impressive. We saw a hobby falcon and a wedge tailed eagle. I paid a bit extra and got to hold the eagle. I know it's a big bird, but I still couldn't believe how heavy it was. It perched on my forearm and I struggled to keep my arm parallel to the ground.
I handed the bird back to the keeper and saw a small boy was next in line. There was no way he was going to support its weight. I mentioned this to Nat. She already had the camera out in case the bird tried to take off with the child.
We went from the raptors to Seal Bay to see the Australian Sealion colony. I know lots of people who are anti Seal Bay because years ago you could see the sea lions there for free. Now there's an admission charge to see them. I figure these are an endangered species and if paying helps keep them on the planet a bit longer then fair enough.
We paid the lesser amount and watched them from the boardwalk. You can pay more and have a guide take you onto the beach for a closer look. The elevated view from the boardwalk was great though and we had no problems seeing them. They're everywhere. There were a lot of energetic pups schlepping around the beach.
Watching the sealions surf towards shore then lumber across the sand was great fun. There was plenty of activity. We would have watched the sea lions for an hour or more.
Echidna watch – we struck out again. There was brief excitement when a noise other than the metronomic thud of a wallaby came from the scrub. The noise grew louder, then it came into view. It was a turkey. Not a bush turkey, but the sort you serve up for Christmas lunch. It seemed an appropriate symbol for our failed echidna watching campaign so far.
Day 4 – Blue Gropers

Today we went in search of a fish – a blue groper. They're big and the males are cookie monster blue. Unlike the cookie monster, they are docile, inquisitive creatures so you can get a good look at them if you see one.
You can see them when you snorkel from the beach at Harvey's Return. It's the site of an old pulley system used to get supplies to the nearby Cape Borda lighthouse.
Spotting them wasn't without its challenges. The road to Harvey's Return had corrugations – and I hate corrugations. Outside the car, the air was thick with flies. They harassed you beyond the water's edge.
Accessing the beach was tricky too. The first section of the path was okay – it's a flat dirt track. As you approach the beach it turns into something better suited to a mountain goat. It was steep and rocky – hence the pulley used for the lighthouse supplies. Shame it wasn't still there to get our snorkelling gear, wetsuits and towels down the hill.
The beautiful beach and water at the bottom looked like a suitable reward for our efforts but it was a tease. Water visibility was average, there were strong currents and it was on the cool side. But, for five minutes, none of that mattered.
Just as the undulating swells threatened to make me seasick, two blue gropers came into view. They were up to a metre long. We swam with them for as long as we could – maybe a couple of minutes. Then they moved into water beyond our snorkelling comfort zone.
It was close call, but we agreed that the experience was worth the effort. Climbing back up the hill nearly killed us though.
Echidna watch wasn't done with much enthusiasm tonight. Operation blue groper had wiped us out, so our echidna spotting attention span was low. We lasted half an hour before calling it a night. It was still long enough for Nat to venture beyond the path and into the scrub. I lost sight of her but could hear her tripping over things and being scratched by prickly shrubs. She probably scared away every echidna within a two kilometre radius. Top marks for dedication though.
Day 5 – Kangaroo Island Koalas

It's always amusing seeing the look on someone's face the first time they hear a koala. The last thing they expect is that these dozy, fluffy eared creatures sound like something in need of an exorcism.
Two koalas ended up in the same tree behind our campsite last night. We heard their guttural growling on and off until one of them finally moved away. Our new neighbours were a couple from England. As they emerged from their van the next day, the first thing they asked about was that horrible noise last night.
'Are you telling me those cute little things sound like…' Words failed him, so I helped out.
'The devil?' They nodded. It took a passer-by on the way to the amenities block to confirm we weren't having a bit of fun with them. It was a great reaction.
Nat went to the park office to get advice on how to find an echidna. She returned looking a little confused. The guy at the office had shrugged his shoulders and said you just look up and there they are.
'Look up where?' I asked. Nat had no idea but then it dawned on us. We looked up Google.
We learnt that a tell-tale sign of echidna activity is little holes scratched in soft dirt. This is where they have been digging for ants. Once we knew what we were looking for, we found collections of holes along the koala reserve path. We took this as win. At least we were looking in the right place. We walked between a few scratched up areas for a couple of hours but saw nothing.
Day 6 – Echidna Success

Found one! An hour into our search we heard an unfamiliar rustle in the scrub. We knew it wasn't a wallaby or a turkey. The noise came closer and closer then it appeared. A long, pointy nose poked out from under a grassy shrub.
I shone a torch on it and Nat rolled the video. We followed it for five or ten minutes as it foraged around the base of trees. Eventually it headed back into thicker scrub and out of sight. I'm not sure what was greater – our excitement or disbelief.
It was amazing to watch. It waddled around between tufts of grass and bushes digging and scratching for food. At one point it stood up on its back legs to reach into the hollow of a tree trunk. It surprised us seeing how tall it was.
It's not the first echidna we've seen. We've spotted them occasionally near our home in the Adelaide Hills. The difference this time was that we had set out to find one. It wasn't a chance sighting but a successful campaign.
We new we wouldn't see a second one that night, so it was back to camp to see if the video by flashlight had worked.
Day 7 – wallabies

We really like the little Tamar wallabies that live around the park. They have friendly faces. They're much smaller than kangaroos; sort of the Shetland Ponies of the macropod set.
At night, dozens of them arrive at the grassed area opposite our campsite. Each evening we'd spend time watching them graze. It was great seeing so many of them in the one place.
We were still flushed with echidna excitement today. The video looks good. Tonight, we went back to the same spot and saw nothing. We hoped for a repeat sighting but knew that was pushing our luck.
Day 8 – Dolphins

We left KI today aboard the first Sealink ferry off the island. In contrast to our trip over, the water was like glass. As a perfect farewell to our week of nature spotting, we saw several pods of dolphins on our way back to Cape Jervis.
If you're after a wildlife experience, you can't beat Kangaroo Island. Even if nightly stake outs in search of an echidna aren't your thing, there is plenty of easy wild life spotting to do!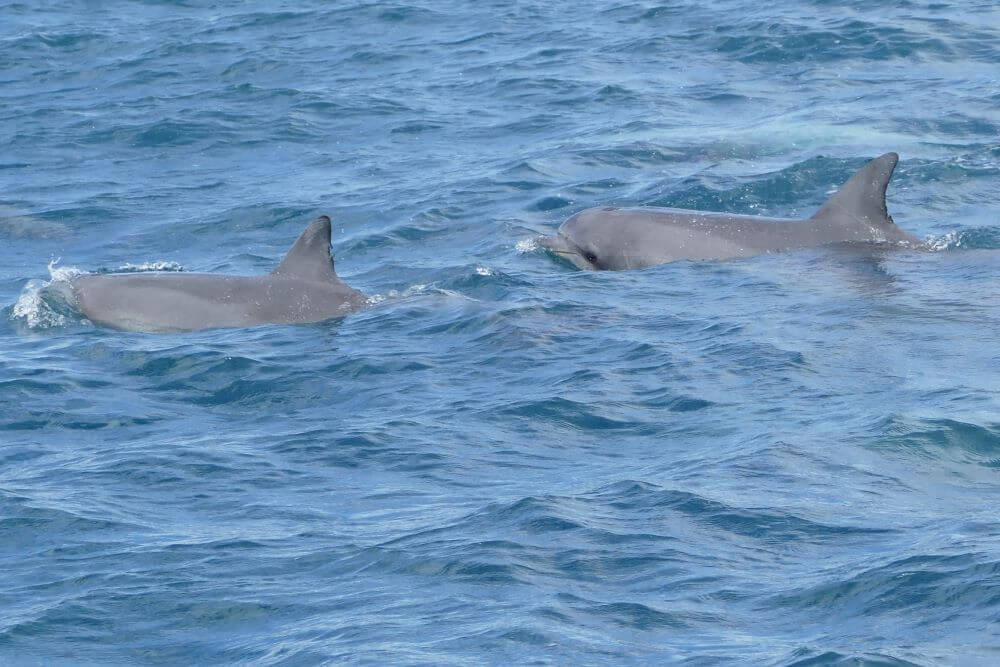 *Currently not available due to the closure of the National Park due to 2020 bushfires.* 
Purchase a Kangaroo Island Tour Pass which offers you 12 months access to Flinders Chase National Park (closed until further notice), as well as admission to the following Kangaroo Island tours:
The Western Kangaroo Island Caravan Park is more like a nature reserve with abundant wildlife right there in the park. The park has plenty of room and great facilities. It's further than you think from the ferry so allow a good 2 hours travel time.
Book your
Sealink Ferry Tickets
online.
Tickets available for passengers, cars, buses, caravans, motorbikes.
Click to see the options for concessions.
500 Things to do
Join our mailing list and receive our Free Top 500 things to do in Australia. If you love Australian Outdoor Experiences download this list and keep it handy when you are planning a weekend away or a road trip around Australia.