In the local Pitjantjatjara language, the Uluru Field of Light display is called Tili Wiru Tjuta Nyakutjaku. It means 'looking at lots of beautiful lights.' It sums up the Field of Light perfectly.
I must admit, Nat and I had differing views on the Uluru Field of Light. She was very keen, but I wasn't so fussed about it. When we arrived in Yulara, I took the approach of not mentioning it in the hope she might forget about it. But she didn't.
My plan failed and failed spectacularly. Not only were we off to see the Field of Light, we were going to a morning session. That meant a 4.30am alarm. Nat promised I'd love it. All I could do was trust her as I knew she wouldn't be up so early without a good reason.
Disclosure: Please note that some links in this post may be affiliate links, and at no additional cost to you, we earn a small commission if you make a purchase. Commissions are appreciated and go toward maintaining the Curious Campers website.
What is the field of light?
The Field of Light is an immersive art installation created by British artist Bruce Munro. Set at the base of Uluru, it features 50,000 solar powered stems and globes that resemble a vast field of glowing flowers. The display began in 2017 and it was recently confirmed that it will run for the foreseeable future.
What we didn't realise is that the Field of Light is not exclusive to Uluru. Since 2008, Field of Light displays have appeared in various forms in 20 places around the world. The Uluru display is the longest running and only current display.
When can you see it?
You can't turn up to see the Field of Light whenever you like. You need to book a tour to see it and, of course, you need to see it when it is dark. The fact there's a few options for seeing the Field of Light made our early morning choice seem all the crazier.
Sunrise, sunset and evening viewings are available. We reasoned that at night you couldn't see Uluru and we wanted the experience of seeing 'The Rock' in the background. Our evenings were busy either seeing Uluru or Kata Tjuta at sunset which only left the mornings. So, an early alarm it is.
How do you see it?
The Field of Light area is not generally accessible to the public. You won't notice it as you do your other Uluru activities. It is a 5 minute bus ride from Yulara to the Field of Light. Arriving there in darkness seems to enhance the secrecy of its location.
The bus arrived at 5.00am to collect us and a handful of other heavy eyed Field of Lighters. There were half a dozen others already on the bus. If there was excitement for what lay ahead, no one was letting on. The mood on the bus was quite sombre, not surprising given the hour. The exception was our driver, Joey.
You can't place too high a value on an enthusiastic tour guide and that is especially case for a pre-dawn tour. By the time we had arrived at the lights and heard what was in store, we were all bubbling with excitement. Joey did a great job with a tough crowd.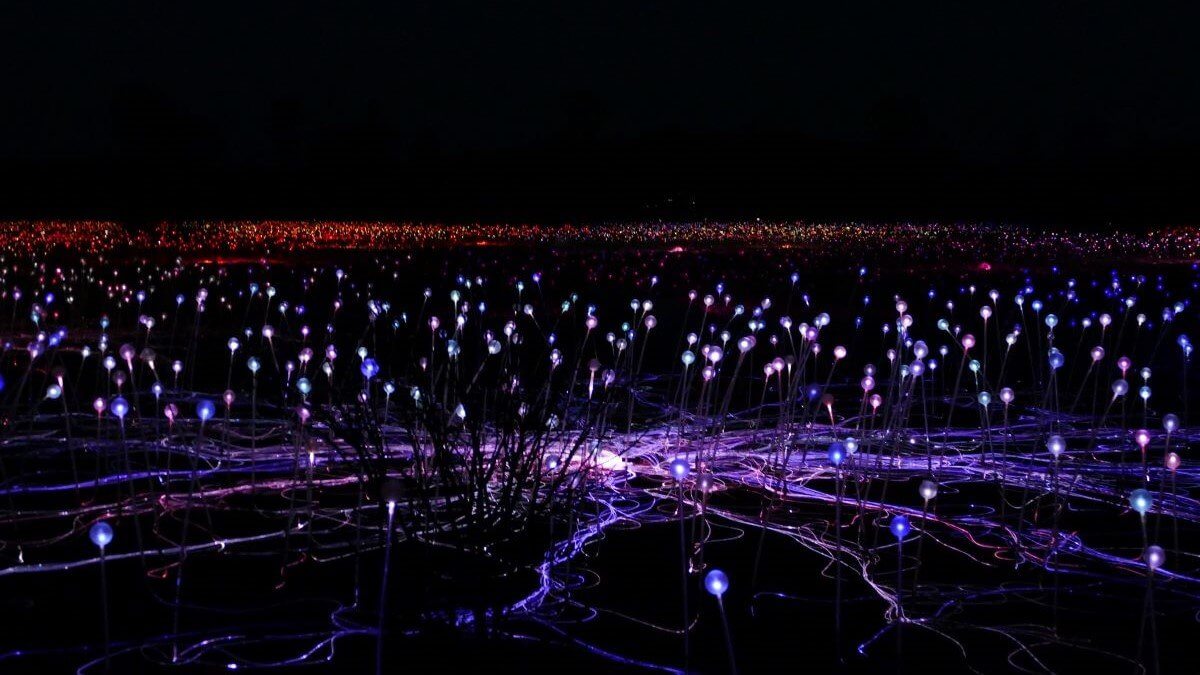 The Field of Light Dune Lookout
It is a short walk, a couple of minutes at most, along a dirt track to the Field of Lights viewing area on top of a sand dune. We made our way there with the help of the torches on our phones. As we rounded the last corner the Field of Light came into view. Our group, who were now chatting away, fell into an awed hush as we took in the amazing sight.
The story goes that when Bruce Munro first visited Uluru, he did so during a good wildflower season. When he returned for a second visit a few years later, the weather had been less kind. There were no flowers, only an arid landscape.
Munro's vision for the Uluru Field of Lights was to re-create the colour of the wildflowers he'd seen. Standing on the viewing platform, you get a great sense of what he was trying to achieve. You can't take your eyes off the swaying stems of light. As we stared at the sea of colour, I had to concede to Nat that it was pretty darn impressive.
ULURU & KATA TJUTA FULL DAY TOUR WITH BBQ DINNER
Uluru & Kata Tjuta are two of Australia's most photographed natural wonders & this full-day tour takes in both. Enjoy guided walks to the Walpa Gorge, Mutitjulu Waterhole & the Mala Walk. Visit the Aboriginal Cultural Centre & tuck into a Aussie BBQ dinner as you watch the sunset over Uluru.
Walk in the Field of Light
We spent 5 or 10 minutes at the dune top lookout. Joey explained that we would go down into the field and could walk along a couple of paths for half an hour or so. He also mentioned you can't take camera tripods into the field so keep that in mind if you're a keen photographer.
There is a long and a short loop that runs through the Field of Light. To be honest, it doesn't matter which path you take. The magic of being there amongst the lights is wonderful no matter where in the Field of Light you are.
As great as the view form the lookout was, seeing them closeup was as or more special. Everything around you seemed to be glowing in a suite of bright colours. With only a small number in our tour, we were able to feel like we had the place to ourselves. It was incredibly peaceful and beautiful.
Uluru Sunrise
As our time amongst the Field of Light drew to an end, so too did the darkness. The neon blues, and oranges and greens of the stems and flowers faded in the dawn light. In their place the silhouette of Uluru appeared in the background. As the last of the colour faded from the Field, the sun went to work revealing the rock in shades of deep purple and red.
We spent the last part of the tour back at the lookout. Joey had some hot drinks and a few brekky snacks ready. While it was sad seeing the colour drain from the Field of Light, watching Uluru appear made up for it.
As if watching an Uluru sunrise with a cup of hot chocolate isn't enough, behind us Kata Tjuta emerges from the dark. Even though it is 50 kilometres away, it still looks impressive and as the sun hits the rocks, they glow orange.
ULURU FIELD OF LIGHT SUNRISE TOUR
"As we rounded the last corner the Field of Light came into view. Our group, who were now chatting away, fell into an awed hush as we took in the amazing sight." It is an early morning but well worth it to see the spectacular Field of Light gradually fade as the sun rises over Uluru. 
Field of Light prices and packages
With the sun now well above the horizon, we make our way to the coach for the short ride back to Yulara. I must admit, despite baulking at the early morning, it was a great experience. Everyone who goes to Uluru wants to see a sunrise anyway so why not combine it with the Field of Light?
If you aren't an early bird, there are a range of other Field of Light experiences. Starting from $44, they include sunset tours, Field of Light dinner packages and the Field of Light Star Pass.
No matter which tour you go on, you won't regret having it on your list of things to do at Uluru. The Field of Light is an amazing combination of modern art and an ancient landscape.
A DAY PACK PERFECT FOR ALL ADVENTURES
The Black Wolf Titanium 35 Day Pack is ideal for your daily commute or day hike. The mesh back panel allows airflow around your back, to keep you cool on warm days. It has two large compartments, the lower of which provides enough space for shoes, plus numerous organiser pockets. Topped off with hydration compatibility, audio pouch and a rain cover – there's not much left to ask for in a backpack!
You need a park pass to experience Uluru-Kata Tjuta National Park. Park passes can be purchased online. The money from park passes helps maintain the park's facilities, preserve its World Heritage sites and support traditional owners and their community.
From 1 November 2020, a new park use fee structure for Uluru-Kata Tjuta National Park will come into effect.
Adults $38 for 3 days or $50 annual pass. Children are free.
Purchase your park pass here.
500 Things to do
Join our mailing list and receive our Free Top 500 things to do in Australia. If you love Australian Outdoor Experiences download this list and keep it handy when you are planning a weekend away or a road trip around Australia.