Wilpena Pound is the centrepiece of South Australia's Flinders Ranges. And why not? The oval shaped range with its steep rock walls and jagged peaks is spectacular. It's no wonder it has become the best known feature of the Flinders Ranges. But what do you find when you get there?
There are a bunch of things to do at Wilpena Pound that make it a must see on your trip to the Flinders Ranges.
Disclosure: Please note that some links in this post may be affiliate links, and at no additional cost to you, we earn a small commission if you make a purchase. Commissions are appreciated and go toward maintaining the Curious Campers website.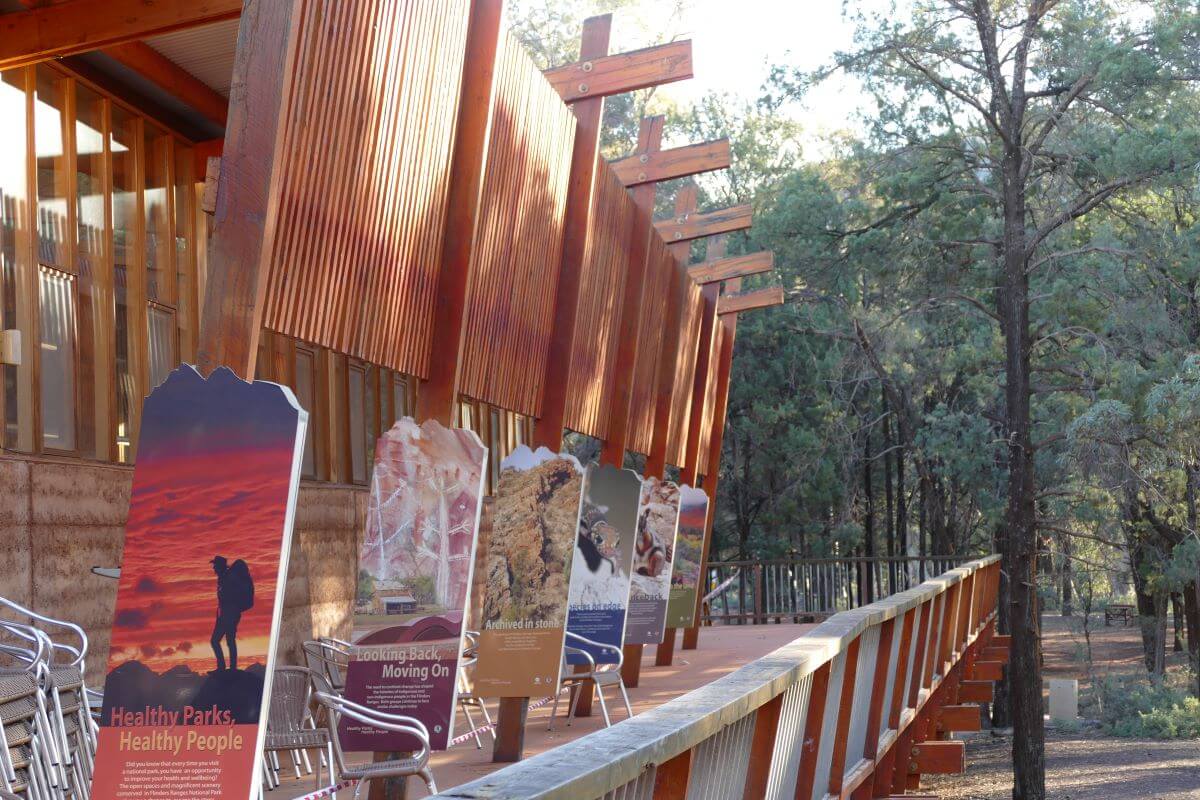 Wilpena Pound Visitor Centre
The Wilpena Pound Visitor Centre should be your first stop in the Flinders Ranges. If nothing else, you can buy your National Parks pass if you haven't already done so online.
There is a lot to see beyond Wilpena Pound. Brachina and Parachilna Gorges, Blinman and Quorn being the most popular. The visitor centre has all the information you need including maps and current road conditions.
If you have been struggling to get a phone signal on your drive to the Flinders Ranges, you can reconnect with the world here too.
Fuel and Supplies
Next door to the visitor centre is a small supermarket with a good range of supplies. It is perfect for grabbing a few things if you are planning a day trip or camping further afield.
The supermarket also sells fuel – petrol and diesel. We filled up here a couple of times and at a lower price than we did back home in Adelaide.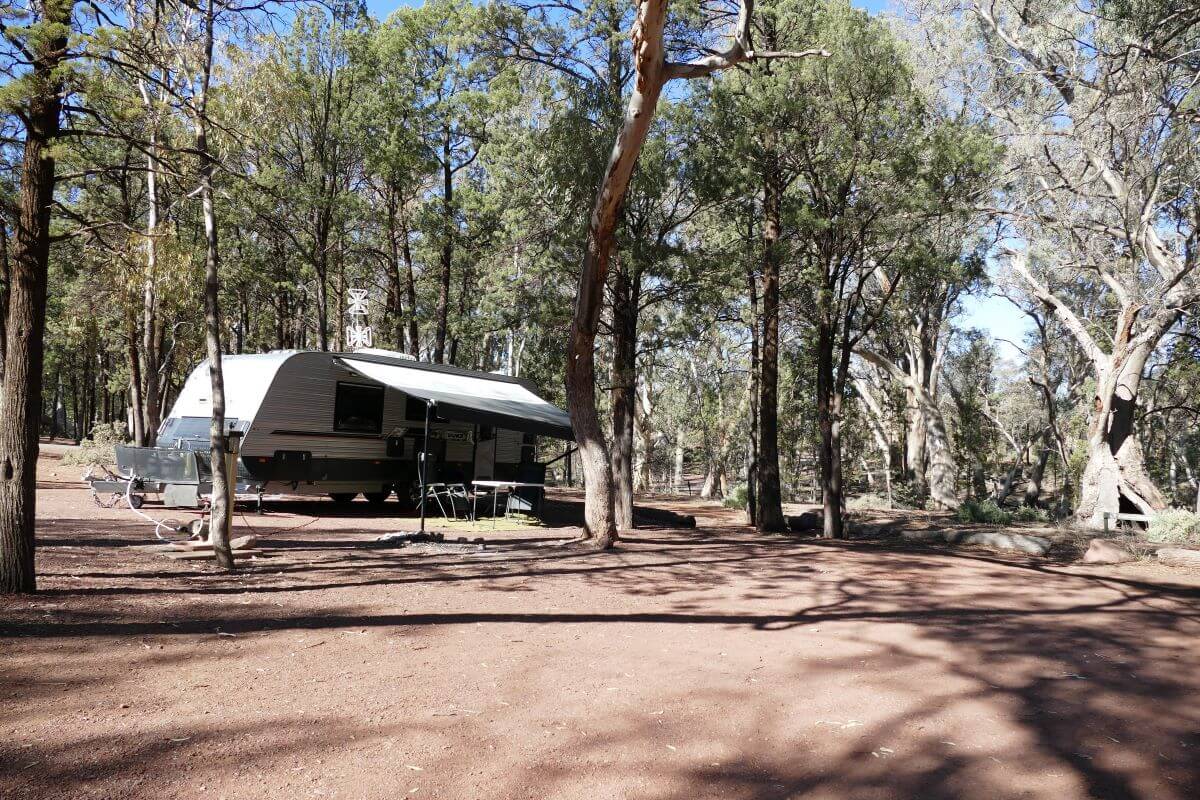 Wilpena Pound Accommodation
No matter how you like to live when you are away from home, there is something for you at Wilpena Pound.
Accommodation ranges from unpowered campsites to hotel rooms that sleep up to six. Throw in 'glamping' safari tents, and you can see why Wilpena Pound Resort caters to all travellers.
Campsites are generously sized and many have fire pits. You will need to bring in your wood as wood collection in the national park is a no, no.
A vast majority of the sites are unpowered and start at $14 a night. If you are after a powered site from $25 you should book in advance. Sites are also available for travellers getting around in a bus.
Stay at Wilpena Pound Resort
Wilpena Pound Resort is the only accommodation located within Flinders Ranges National Park. Choose from hotel rooms, to 'glamping' safari tents, and powered and unpowered bush campsites. Walk from your accommodation into Wilpena Pound.
Wilpena Pound Walks
The best way to explore Wilpena Pound is by foot and there are many marked hikes to try. You can get information on the Drought Busters, Mount Ohlssen Bagge and Malloga Falls trails from the Visitor Centre.
Here are a few of the most popular walks…
Hills Homestead Trail
This easy 6.5 kilometre walk starts at the Visitor Centre, goes through the Pound Gap and into Wilpena Pound. It is a flat walk that gives you a great taste of the area. 
There are giant river red gums, the rocky pass into the gorge and you might even see some water in Wilpena creek. The walk finishes at the Wilpena Homestead. There is information about European settlement in the area and Adnyamathanha Dreamtime stories.
Wangarra Lookouts
This walk is a continuation of the Hills Homestead walk. It will add an hour to your walk and there is some moderately steep terrain to cover. It is worth getting a bit puffed though because the view of Wilpena Pound from the lookouts is great. You'll definitely be getting your camera out!
There are a two lookouts on the walk. The second lookout is about 300 metres above the first. It is worth catching your breath at the first lookout and pressing on. From the second lookout you also get a nice view of the Pound Gap that you walked through earlier.
St Mary Peak
No trip to Wilpena Pound is complete without debating whether to do the St Mark Peak walk. At 1171 metres above sea level, it is the highest peak not only in Wilpena Pound, but in the Flinders Ranges.
The 14.6km outside trail takes 6 hours. The 21.5km inside trail is a loop track that takes about 9 hrs. This is a very difficult walk/scramble/climb. The trails close during December, January and February.
The view from the peak is, of course, spectacular. This isn't the walk to do on a whim. Check the conditions and have plenty of supplies if you are going to give it a try.
St Mary Peak is a culturally significant site for the Adnyamathanha people. They request that people do not climb to the summit. If you wish to honour this request, there are great views from Tanderra Saddle (943 metres).
Wilpena Pound Scenic Flights
There is a way to get even better views than climbing St Mary Peak. Do what we did and fly over it! There is an airstrip at Wilpena Pound and several operators have tours over The Pound and beyond.
We flew with Wrightsair and had a great time. As it turned out, our pilot Mark, was the Grandson of eminent geologist Reg Sprigg. Among Reg's many achievements, he established the Arkaroola Wilderness Sanctuary.
Not surprisingly, we got a first class geological tour. We went on an early flight. It was cool, clear and turbulence free. Best of all, the view of Wilpena Pound and the surrounding ranges was awesome. Seeing it all from only a few thousand feet in the air was a hoot. It is a great way to see the Flinders Ranges.
Wrightsair were great to deal with, booking and communication was easy. We not only learnt a lot about the area but had a great time during the flight. Give them a try if you decide to take to the air.
3-Night Wilpena Pound inc Scenic Flight & 4WD Tour
Stay at Wilpena Pound Resort located within the Ikara-Flinders Ranges National Park. This extraordinary landscape is 800 million years old and has been home to Adnyamathanha people for 10,000's of years. Includes a 4WD tour with a local Aboriginal guide, a fixed wing scenic flight over Wilpena Pound, wildlife spotting & breakfast. 
Old Wilpena Station
This heritage listed site gives a great insight into the area's pastoral history. Established in 1851, the site remained a working station for a remarkable 135 years. It only ceased operation in 1986 which might explain why the old buildings are in such good condition.
We visited here in the late afternoon. The sun cast a lovely gold light over the stone buildings creating a wonderful atmosphere. It was only us and a few kangaroos as we walked around reading about each of the buildings.
There is a 4 kilometre, 90 minute walk to Old Wilpena Station from Wilpena Pound or you can drive there. The site is quite spread out but easy to get around. You can book 2 hour Aboriginal guided walks of the station at the Wilpena Pound Resort.
Cazneaux Tree
Who knew there was such a famous tree right next door to Wilpena Pound? Not us! I'm sure we aren't the only ones whose knowledge of Australian photographic art history is a bit thin so…
In 1937 Harold Cazneaux photographed this gnarled old river red gum. He called the picture 'Spirit of Endurance', entered it in an international exhibition and won. 100 years later, the tree is still there, so you can see it and take your own potentially award winning picture.
If, like us, this was your first foray into the history of professional photography, there's more. The photographer – Harold Cazneaux – is Australian entrepreneur and adventurer Dick Smith's grandfather. Again, who knew?
There is a 2 hour, 8 kilometre return walk along the Wilpena Creek Bed from Wilpena Pound to the site.
For us, the Cazneaux Tree was a chance to try our hand at some night sky photography. There were no shortage of stars to point at! We're happy with how we went for our first time. Won't be bothering with any international photographic competitions anytime soon though…
Wildlife
There are plenty of native animals to see around Wilpena Pound. The best time to spot them is around dusk and into the night. There were dozens of Kangaroos at Old Wilpena Station. We saw some emus there too. You'll also see them around Wilpena Pound later in the day.
Once the sun goes down keep an eye out for echidnas and spotted quolls. The quolls have recently been released back into Wilpena Pound and are doing well. We heard from the rangers that it is not unusual to see them around the campground at night. We didn't have any luck quoll spotting but took comfort from the many quoll signs in the area.
BEST CAMERA FOR WILDLIFE PHOTOGRAPHY
We love our Panasonic Lumix Fz1000 Compact Camera. It is the perfect camera for wildlife photography. It has the most amazing zoom and is not too heavy or big. You can easily use this camera in auto mode or switch to manual settings. The auto scene modes such as sunset are fabulous!
A Park Pass is required to access the Flinders Ranges National Park. A Daily Park Pass ($11 per vehicle) can be purchased at the Wilpena Pound Visitor's Centre. 
Kangaroos, Euros (wallaroos) and emus; we saw plenty of them. It was a bit cool for lizards and snakes to be out but keep an eye out for them in warmer months. Overnight you might be lucky enough to spot a Quoll or Echidna.
There are several well maintained campsites within the Flinders Ranges National Park. The Youngoona, Trezona, and Brachina East camp sites are all on the eastern half of the track. The Teamsters Camp site in the gorge area is spectacular. You have to book a site. Check the SA National Parks site for details.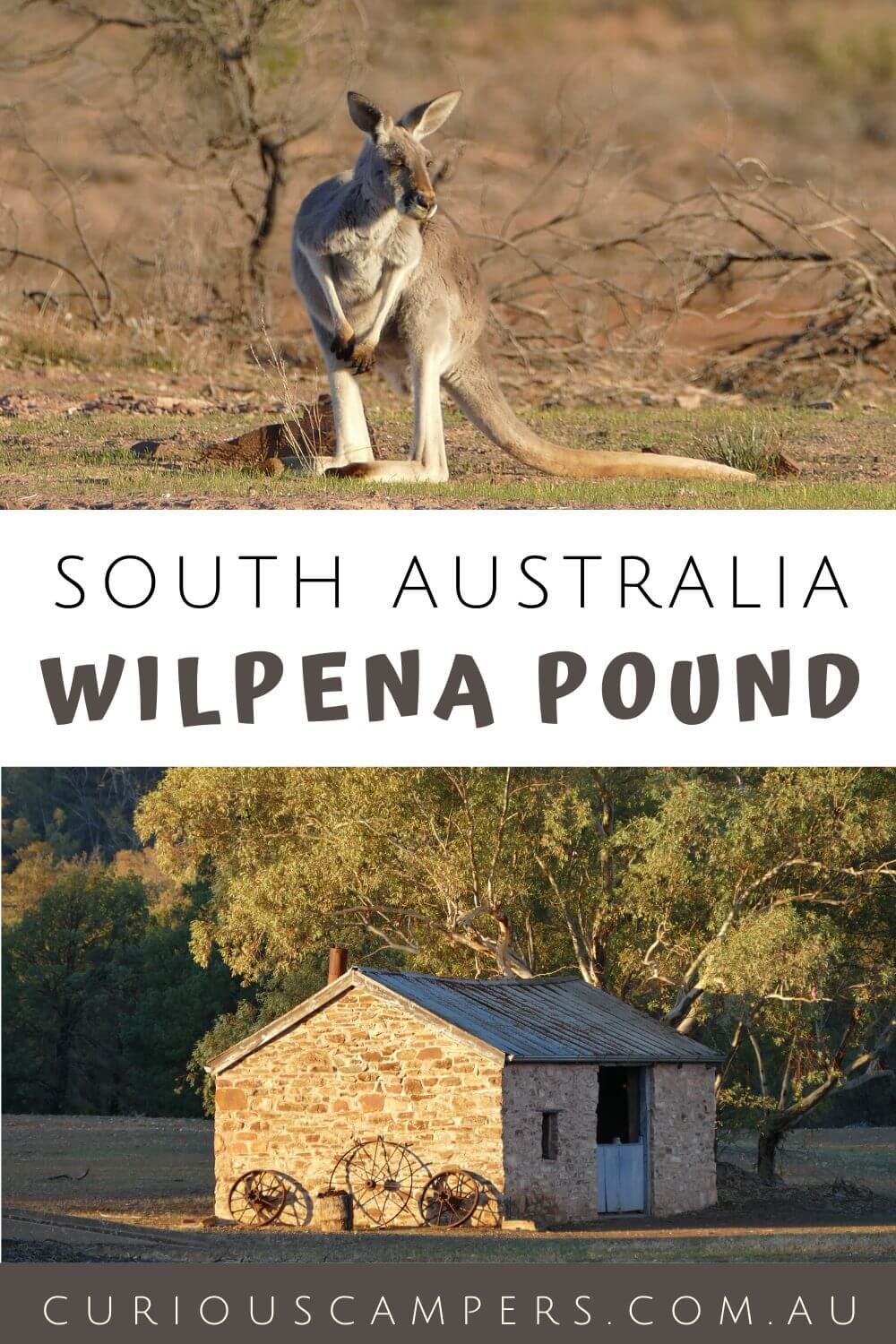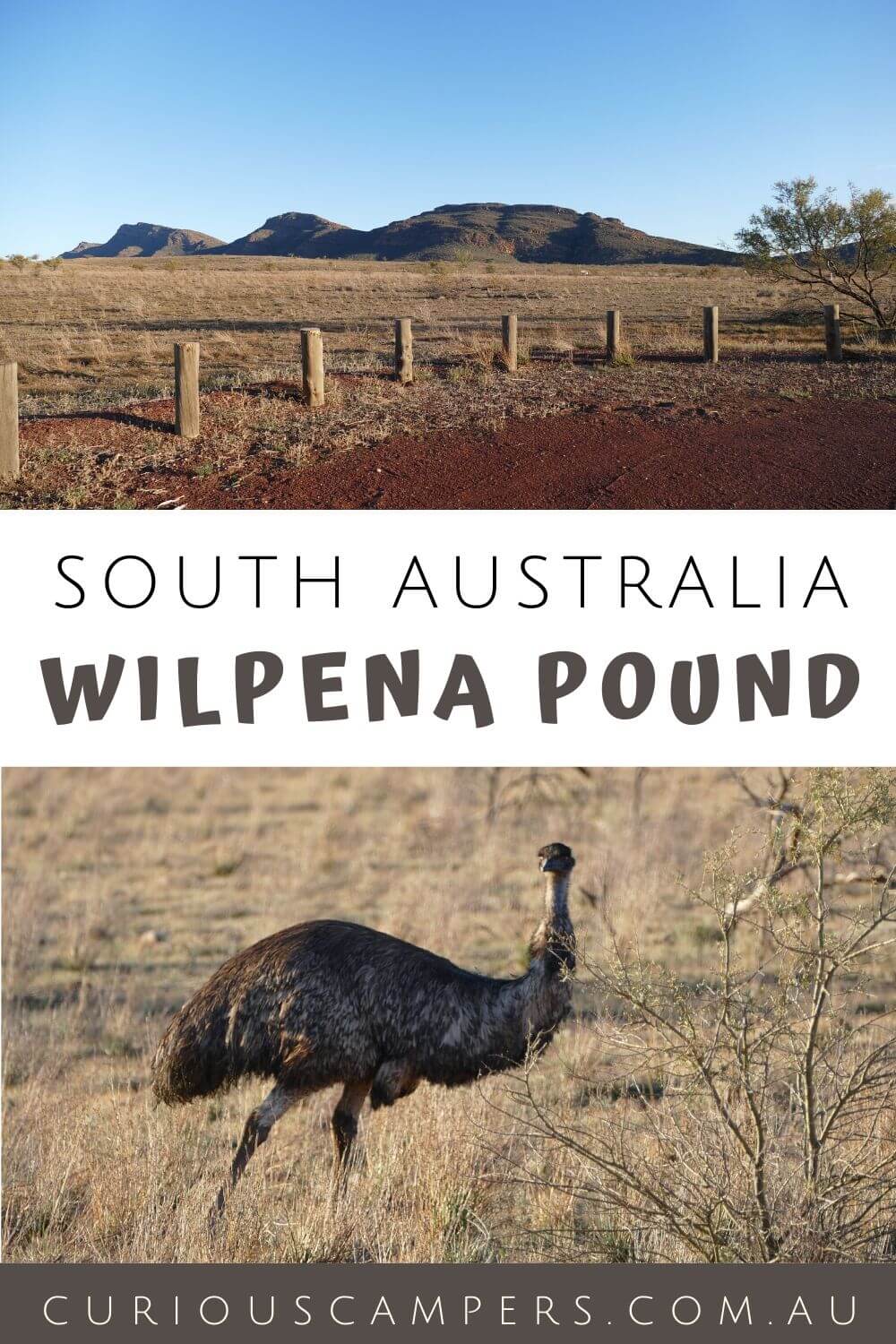 500 Things to do
Join our mailing list and receive our Free Top 500 things to do in Australia. If you love Australian Outdoor Experiences download this list and keep it handy when you are planning a weekend away or a road trip around Australia.