An Uluru Segway tour is a great way to explore the rock. The tour leaders provide lots of information that you don't get walking around on your own. But best of all, you get to try a Segway!
Disclosure: Please note that some links in this post may be affiliate links, and at no additional cost to you, we earn a small commission if you make a purchase. Commissions are appreciated and go toward maintaining the Curious Campers website.
Uluru Base Walk
When we were planning our trip to Uluru, we weren't sure about the Segway tour. Walking a lap of the rock was appealing. The base walk around Uluru is a little over 10 kilometres and takes about 3.5 hours. There are a couple of detours you can make along the way that might stretch the distance and time out a bit more.
We wondered whether on a Segway we'd zoom around the rock too fast to take it all in. Once we got to Uluru and realised how big it is, we decided it wasn't going to pass us by in the blink of an eye.
Despite our kids making fun of us for being lazy, we had plenty of walking ahead of us.  Kata Tjuta, Kings Canyon and the MacDonnell ranges would keep us busy. In the end, we couldn't go past the Segway tour of Uluru.
GO PRO HERO 7 ACTION CAMERA
Throw you GoPro in the backpack for the best photos and videos on the go. With 12 megapixel photos and 4k video with Stabilisation features it's ideal for action adventures.  The best thing is it's waterproof and perfect for snorkelling, and kayaking. It's small, tough and takes amazing videos. It's a must to record your adventures. We also bought the accessory kit, a spare battery & the water dome.
What is a Segway?
A Segway is a two wheel electric scooter-like thing. The wheels are side by side rather than front and back. Between them is a platform you stand on. You control the forward and backward movement by shifting your body weight. A t-shaped handlebar that comes up from the platform controls the steering.
To go on the Segway tour you have to be between 45kg and 117kg. You also need to be at least 12 years old and people under 18 need to be accompanied by a parent or guardian.
Are Segways easy to ride?
One half of the Curious Campers team has a low centre of gravity and is pretty good at staying on her feet. The other half, the taller, uncoordinated half, has some balance issues. Ice skating, any type of skiing, even tippy kayaks provide challenges in staying up the right way.
So, when our guide explained how easy to ride and stable a Segway is, it did allay some of our (my) fears. That said, when I put on a bunch of safety gear, I made sure my helmet, elbow and knee pads were all fitted well!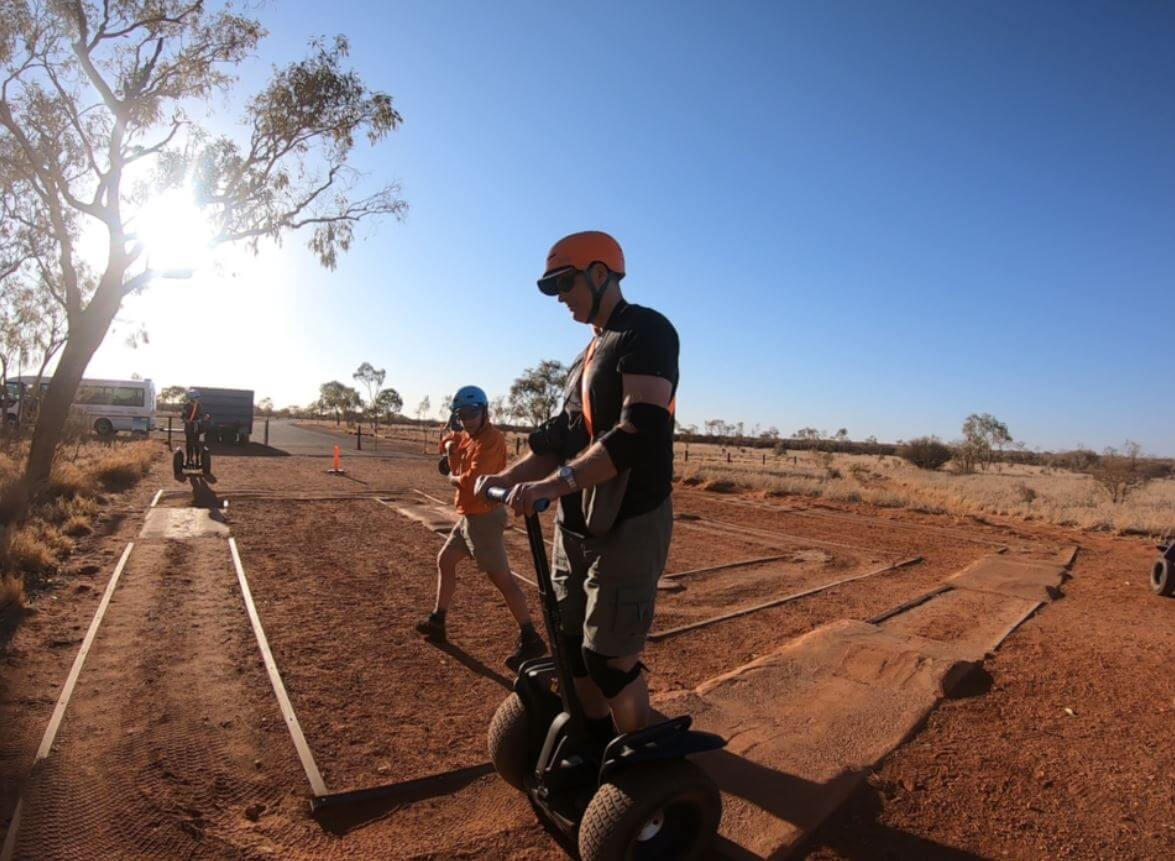 Obstacle course
Once everyone in the group has pads and helmets on, we're given a demonstration of how the Segway works. In theory it looked simple. By shifting your weight either forward or back you could make the Segway go in the direction you want. Steering was no more difficult. Pushing the handlebar to the left or right would send you in that direction.
Having heard the theory, there were a couple of driving tests to get through. First, we had to do some figure of eights around some witches hats. After that you get to go around a short track complete with sharp corners and a few small bumps.
Nat was first up and made it look easy. I went last, fearing I would hold up the group as I repeatedly fell off my Segway. As it turns out, riding a Segway is easy as promised! Within a couple of laps, I was wondering if there is a professional Segway racing circuit I could join.
Around the rock we go!
With everyone in our 8 person group up and running, we rode off in well-spaced single file around Uluru. The first leg of our lap went from the Kuniya Car Park to the Mala carpark along the eastern side of the rock.
This part of the base walk between the carparks is also referred to as the Lungkata Walk. It is a 4 kilometre, 90 minute return walk from either of the carparks. Darryl, our guide, is talking to us the whole time. We hear about the Tjurkurpa creation story of Lungkata the blue tongue lizard.
HYDRATION BACKPACK FOR HIKING
Perfect for walking in rugged or slippery terrain when you need your hands free & have to keep yourself hydrated. The Camelbak Sabre is an extremely tough and versatile pack that lets you can carry two litres of water when you're on the go. The closed cell insulation keeps water cool for hours and has extra room for your keys, phone and cards.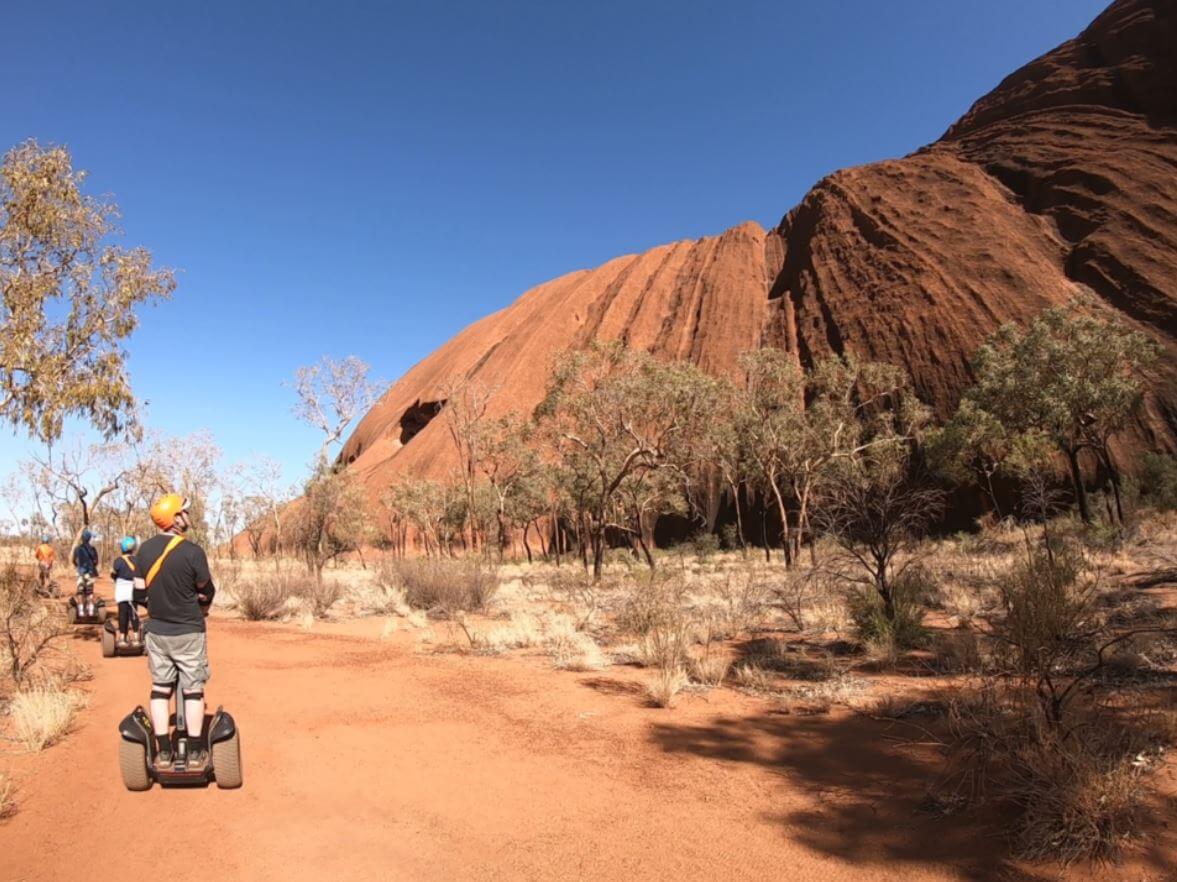 Mala Carpark Stop
We stop for a few minutes at the Mala carpark. It is the last toilet stop on the tour. It's also our first chance to check that we can all get off our Segways without them rolling off into a bush. From here, when you are not on a Segway, you can do the short Mala Walk into Kantju Gorge.
This easy 2 kilometre return walk is worth coming back to do it. The path takes you through tall, shady trees and past sacred sites including Mala Puta. Mala Puta is a wave like cave at the base of Uluru that's sacred to Anangu women. There is also some rock along the track.
Kantju Gorge is lovely. There wasn't much water there when we came back for a look but this is one of the spots you would want to be when it rains. The black marks down the side of Uluru, made by algae, show where waterfalls occur. There was a big dark stain running to the bottom of Kantju Gorge.
Uluru Geology
From the Mala Carpark we continued around the back of Uluru following the Base Walk trail. We stopped several times at different features to hear how they fit into the creation story. Along much of this side of the rock there are signs asking not to take pictures of the many sacred sites.
As we cruise along at a top speed of 10 kph, we wave and smile at a few walkers heading in the opposite direction. You look at their red, sweaty faces and find it difficult not to feel a mix of guilt and smug satisfaction for deciding to cruise around Uluru on a Segway.
We stop at another sacred site, Kuniya Piti, and hear about Uluru's geological history. It surprised us to learn that Uluru is in fact sitting on its side. Geological forces flipped this huge piece of rock almost 90 degrees and what we see is the 'tip of iceberg'. Most of Uluru is underground. Also, one end of the rock is 50 million years older than the other end.
Kuniya and the Mutitjulu Waterhole
The final part of our circuit takes us right alongside Uluru, it's the closest we have been to the rock for the entire lap. Where the rock meets the ground, there is a concave lip. This is where the woma python Kuniya made her way to the Mutitjulu waterhole.
It is another example of the many features of Uluru that you can't appreciate until you see the rock in person. Our last stop before finishing is the Mutitjulu Waterhole. We park and walk past river red gums to the permanent waterhole and the teaching cave which has rock art.
The Kuniya Walk is a short one kilometre return walk from the Kuniya carpark. It is a popular spot and with its lush vegetation and the serenity of the waterhole it is little wonder. You'll find fewer people there at sunrise and sunset and have a better chance of spotting some wildlife then too.
Uluru Segway Tours
Besides the lap of Uluru, there are also sunrise and sunset tours. The sunrise tour includes breakfast and a full circuit of Uluru. The sunset tour only does a quarter of the rock. Both include a detour into Mutitjulu Waterhole.
As we rolled back into the Kuniya carpark we felt fresh enough to go around again. The whole experience – kitting up, learning to ride and doing the lap – takes two and a half hours and was great fun. Going around with a guide added a lot to the experience. We'd definitely go on another Segway tour if the opportunity came up.
You need a park pass to experience Uluru-Kata Tjuta National Park. Park passes can be purchased online. The money from park passes helps maintain the park's facilities, preserve its World Heritage sites and support traditional owners and their community.
From 1 November 2020, a new park use fee structure for Uluru-Kata Tjuta National Park will come into effect.
Adults $38 for 3 days or $50 annual pass. Children are free.
Purchase your park pass here.
LIKE IT… PIN IT FOR LATER
500 Things to do
Join our mailing list and receive our Free Top 500 things to do in Australia. If you love Australian Outdoor Experiences download this list and keep it handy when you are planning a weekend away or a road trip around Australia.