There is something special about Darwin Sunsets. Maybe it's the warm air, cloudless skies in the dry season or waterfront views that make them so good. The laid back vibe perfected in the tropics probably helps too.
From sunset cruises, beach sunsets or watching the sun go down over a billabong, there are no shortage of spectacular sunset vantage points around Darwin. Here are some of the best spots to end the day in the Top End.
Disclosure: Please Note That Some Links In This Post May Be Affiliate Links, And At No Additional Cost To You, We Earn A Small Commission If You Make A Purchase. Commissions Go Toward Maintaining The Curious Campers Website.
Sunset Dinner Cruise
One of the most popular ways to experience a Darwin sunset is from the water with a warm tropical breeze in your face. Going on a sunset cruise is a must do activity when you are staying in the Top End.
Spirit of Darwin, Sail Darwin, Sea Darwin and Darwin Harbor Cruises are just a few of the providers who can give you sunset views of the Darwin waterfront. From Champagne dinners to fish and chips, there is a sunset cruise to suit your budget and style.
Mindil Markets
If you can't get on the water, watching a Darwin sunset by the water is the next best thing. And if you feel like celebrating the colourful of the day in a relaxed, party vibe then Mindil Beach on a market day is the place to go. Mindil Beach Sunset Markets run on Thursdays and Sunday evenings from late April to the end of October.
At dusk crowds spill onto Mindil Beach with their dinner from one of the amazing food stalls and watch the sun dip below the horizon. There is plenty of room, great views and an excited atmosphere. It is one of a few places we have been where the disappearance of the last sun is met with applause. It has to be one of the best Darwin sunset experiences.
Cullen Bay Marina
For a similar vibe to Mindil Beach Markets but on a smaller scale, try Cullen Beach at the Cullen Bay Marina. The reserve of thick, green grass right behind the beach is a top spot to watch the sun go down. Families set up for picnics. Kids are running around the sculptures dotted about the park. People sit with their dogs staring out at the horizon.
There is a great atmosphere and with so many places to eat nearby, watching the sunset at Cullen Beach is a perfect way to start a night out. Parking can get tricky here so for an easier time it is worth using the overflow parking area on your right as you come down Marina Boulevard and taking the short walk to the beach.
East Point Reserve
Surrounded by water, East Point Reserve is one of the best places to take in a Darwin Sunset. East Point Reserve gets extra points because there are a couple of places here to get great sunset views. If you are there with children, the beach and playground opposite Lake Alexander is a good spot. Or you can go further along Alex Fong Lim Drive to Dudley Point where there is seating to watch the sunset show.
Nightcliff Beach
If you have spent any time around Darwin's beaches, besides never seeing anyone in the water, you might have also noticed the orange, yellow and white coloured cliffs along parts of the coast. The way they light up in the late afternoon sun is a highlight of sunset along the Nightcliff foreshore.
From Nightcliff Jetty and adjacent Sunset Park, up the coast along Nightcliff Beach to the Nightcliff Pool is a great sunset watching area. Once the sun has gone down you can get a meal from pop up food vans or try the Foreshore Restaurant and Café near the pool.
Fannie Bay Cliffs
Another good spot to see a Darwin sunset light up the cliffs is at Fannie Bay. This will likely be a quieter sunset viewing location with the sunset crowds at neighbouring Vesteys Beach and East Point Reserve. The access point is Ross Smith Memorial Park at the start of East Point Road. There are about 20 carparks there.
Cross the reserve towards the water and you can make your way down to the rocky foreshore. The cliffs are to your left looking at the water. On Google Maps, the area is called Sunset Beach. Although there is no signage around this spot to confirm the name, it does seem fitting given the perfect sunset views you get here. There are no facilities here, so you will need to self-cater.
Vestey Beach – Darwin Sailing Club
If a relaxed party vibe adds to your enjoyment of a Top End Sunset, then be part of the big happy gathering at the Darwin Sailing Club. The enormous outdoor dining area is the perfect place for a dry season sunset. This is a great spot for families. There is a playground and plenty of room for the kids to run around.
Even though it can get busy here, service is amazingly fast. Enjoying your meal and drink outside as the sky changes through hews of pink, orange and red is a great way to end the day. The Darwin Trailer Boat Club right next door is another great option along Vestey Beach.
Bicentennial Park
If you are staying in the city, Bicentennial Park with its little beach and lookouts is a good place for seeing a Darwin sunset. You can either head down to Lameroo Beach (so long as the tide isn't too high) or get an elevated view across Darwin Harbour from one of the lookouts. There is plenty of parking along The Esplanade.
Lee Point Reserve
It is 20 minutes from Darwin to Lee Point which is part of the Casuarina Coastal Reserve. There are a couple reasons to try Lee Point for a Darwin sunset. First, there are huge views over the water from the beach. It is a big area so you will have no trouble finding a bit of sand to call your own so you can quietly enjoy the warm glow of sunset.
Another reason to watch a sunset at Lee Point is the birdlife. If you like spotting wildlife, Lee Point is one of the best bird watching areas around Darwing. You could see anything from Goudian finches and bush kingfishers to migratory shorebirds and kites. There is picnic tables, BBQs and toilets here or you can pop into the Club Tropical Resort for dinner.
Fogg Dam
We have snuck Fogg Dam in because it is a personal favourite. True, it is not right in Darwin. Fogg Dam is about 60 minutes from Darwin or a bit less if you are staying in a caravan park down the Stuart Highway. However, it is worth the drive to see the sun go down over this wildlife packed billabong.
You can either take up a position on the dam wall or make your way to the two storey lookout to see the sun dip below the horizon. Make sure you get there an hour or two earlier to enjoy the excellent billabong walk and take in the abundant birdlife. You might also spot a croc and likely see some wallabies.
Places to Stay in Darwin
Liked it? Pin it for Later…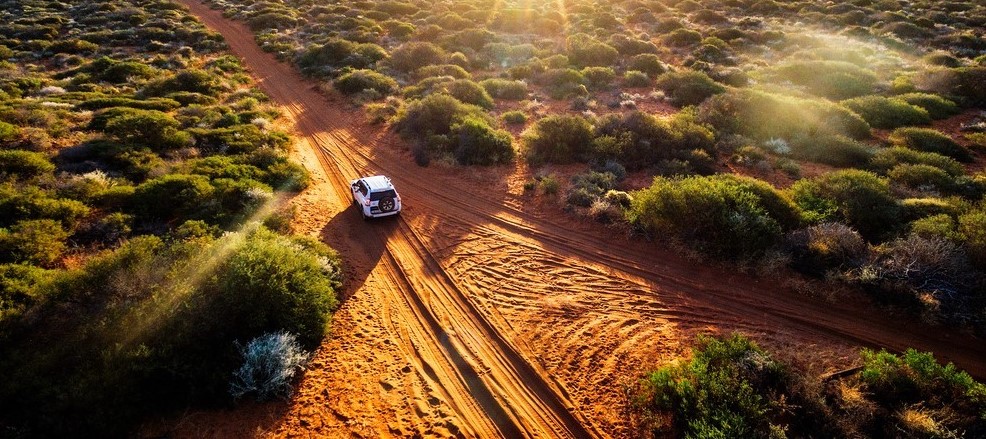 500 THINGS TO DO
Join our mailing list and receive our Free Top 500 things to do in Australia. If you love the Australian Outdoors download this list and keep it handy when you are planning a weekend away or a road trip around Australia.
Recent Posts