Dolly Beach and the jungle walk to get there is one of the best things to do on Christmas Island. You'll see red crabs, blue crabs and robber crabs, walk through beautiful jungle and finish at a secluded beach complete with turtle nests and rock pools.
Disclosure: Please Note That Some Links In This Post May Be Affiliate Links, And At No Additional Cost To You, We Earn A Small Commission If You Make A Purchase. Commissions Go Toward Maintaining The Curious Campers Website.
Getting to Dolly Beach
Dolly Beach is in Christmas Island National Park, on the southeast coast of Christmas Island. It is a 30 minute drive from Flying Fish Cove to Dolly Beach. Make your way up Murray Road and Phosphate Hill Road towards the airport and follow the signs from there.
Do you need a 4wd?
A high clearance vehicle is desirable, the last part of the drive to the Dolly Beach carpark is on a dirt road which can be quite potholed and uneven. There are a couple of steep sections to get up and down too but those parts of the track are sealed.
If you hire a car and get one of Christmas Island's old Rav 4s, they are perfect for making the drive into Dolly Beach.
Best time to go to Dolly Beach
The best time to see to Dolly Beach depends on what you want to do. If you want to spot green sea turtles, you'll need to be at the beach in the evening when the tide is coming in. To relax in one of the beautiful rock pools you need to go to Dolly Beach at low tide.
Dolly Beach Walk
From the carpark, it is about a 2km return walk to Dolly Beach through the jungle. Most of the walk is quite flat, it is only right at the end you have a few flights of stairs down to the beach. The walk alternates between boardwalks and dirt tracks.
The boardwalks take you over and around jagged outcrops of the limestone characteristic of Christmas Island's coast. The boardwalks are a great vantage point to take in the beauty of the jungle. Look out for giant strangler figs and enormous, vertical buttress roots. The local Pandanus palms with their exposed birdcage-like roots are spectacular too.
Dolly Beach Crabs
The boardwalks also give you a good view of some of Christmas Island's land crabs. We spotted red crabs, blue crabs and giant robber crabs as we made our way through the jungle. As you walk along, you're always hearing a rustle in the leaf litter and sure enough, it will be another crab. The longer you stop and look, the more you see. At one point I think we spotted 10 or 12 robber crabs shuffling around one part of the forest floor.
The last part of the walk takes you down a few steepish flights of stairs onto the beach. For our visit the last step had yet another enormous robber crab sitting on it. It eventually moved off, but it was a sign of things to come on the sand at Dolly Beach.
Dolly Beach
As you emerge from the jungle onto the coast there are nice views of Dolly Beach before you get down onto the sand. We were there at low tide, so the beach looked a picture with its rock pools, white sand and coconut palms.
The rock pools are the perfect place to cool off. With the waves breaking on the reef in front of you, views across the ocean, these private plunge pools make Dolly Beach one of the most beautiful spots we have seen. You will want to keep an eye on your towel and drink bottle – there are robber crabs everywhere.
You don't see them at first, they are lurking up closer to the jungle, but once they know you are there they will come out and go straight for your belongings so put your things out of reach. It's not like you can't outrun them, but you don't want to be wrestling them to retrieve your car keys!
The robber crabs are a great sight but there's lots of other marine life in the rock pools. Keep an eye out for fish, a host of other crabs and we even spotted an eel – fortunately not in the rock pool we had been in!
Read More: Christmas Island Diving & Snorkelling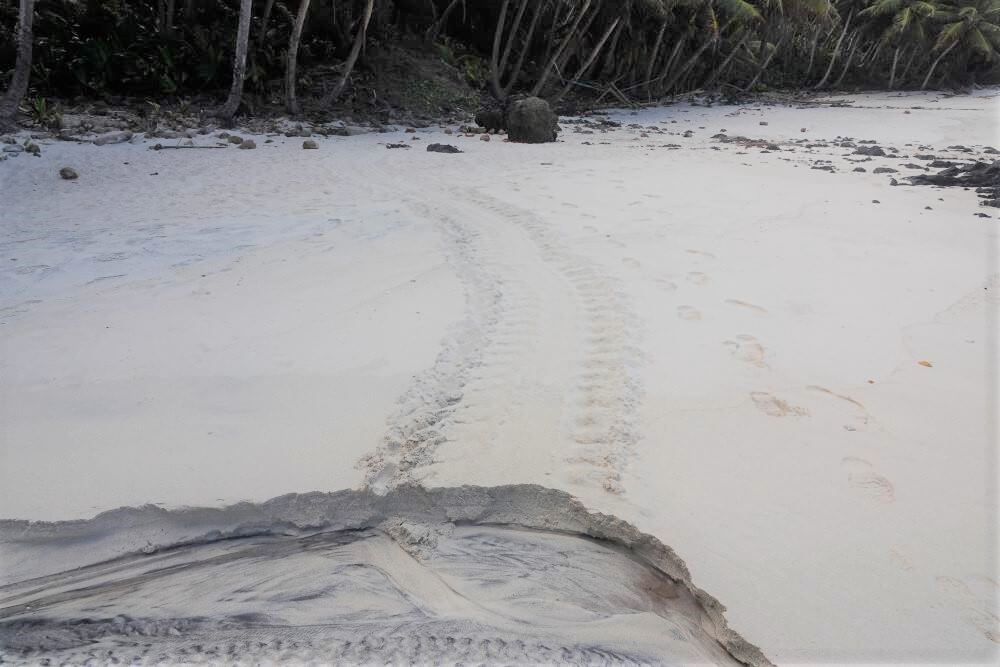 Green Turtle Nests
Dolly Beach and neighbouring Greta Beach are unique for being year round nesting sites for green sea turtles. Your best chance of seeing them is at night when there is an incoming high tide, the turtles can't get over the reef at low tide. There were no turtles around for our daytime visit but there were plenty of fresh turtle tracks on the sand.
Dolly Beach Camping & Facilities
If you plan on doing an all night turtle vigil, you will need to walk in all your supplies. There are no toilets, showers, picnic tables, BBQs, or drinking water at Dolly Beach. Camping is allowed at Dolly Beach, but you will need to contact the Christmas Island National Park Service for a permit.
Like it? Pin it…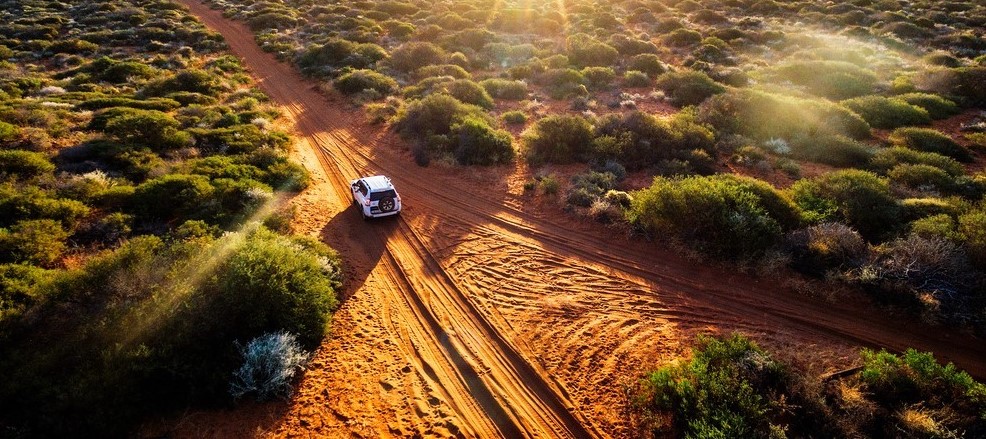 500 THINGS TO DO
Join our mailing list and receive our Free Top 500 things to do in Australia. If you love the Australian Outdoors download this list and keep it handy when you are planning a weekend away or a road trip around Australia.
Recent Posts