Mission Beach is a quiet, seaside town on the Cassowary Coast in Tropical North Queensland. Best known as a great place to spot a wild cassowary or relax on the beach beneath a palm tree, there are also plenty of things to do in Mission Beach if you want a tropical North Queensland Great Barrier Reef or rainforest experience.
Featured Image: Mission Beach © Tourism & Events Queensland
Disclosure: Please Note That Some Links In This Post May Be Affiliate Links, And At No Additional Cost To You, We Earn A Small Commission If You Make A Purchase. Commissions Go Toward Maintaining The Curious Campers Website.
Getting to Mission Beach
Mission Beach is 2 hours south of Cairns. It is off the Bruce Highway, so look for the turn off just beyond the township of El Arish. If you are coming from the south, is abou1 hour from Cardwell, look for the turn off to Mission Beach just beyond Tully.
Things to do in Mission Beach
Try to spot a Cassowary
Mission Beach is on the Cassowary Coast and is a prime cassowary spotting location. Having said that, the last time we were visited Mission Beach we struck out. The closest we came were several piles of cassowary poo (full of marble-sized seeds, it's unlike any other bird poo you've seen) and lots of cassowary signs. We had more luck on our more recent visit. We spotted one on the side of the ride as we drove towards South Mission Beach.
There is as much luck needed for spotting a cassowary as there is skill, but you can try the Lacey Creek Walk and Licuala Fan Palm Walk and see how you go. There are also reports of them being spotted on the Kennedy Walking Trail. The only thing for sure is that they are quite elusive. It is worth asking at the Mission Beach Visitor Centre to see where there might have been recent sightings.
Mission Beach Swimming Beaches
There is plenty of stunning coastline around Mission Beach but you must still be aware of stingers (from the start of November to the end of April) and crocodiles. The safest swimming options are the netted and patrolled areas in North and South Mission Beach. Just look for the nets and red and yellow flags put up by the Surf Life Saving Clubs.
Charley's Chocolate Factory
Just 10 minutes north of Mission Beach on the El Arish Mission Beach Road you find Charley's Chocolate Factory. It is only low key but you can drop in here to grab some chocolate made from cocoa grown on the property. We tried the Macadamia Praline and the Tropical Pineapple and they were delicious.
You can also go on a tour of the farm and see how the cocoa fruit are turned into chocolate and of course there are tastings along the way. Check their website for details as their opening hours vary a little but it is worth getting along to Charley's Chocolate Factory if you are in Mission Beach on the right day.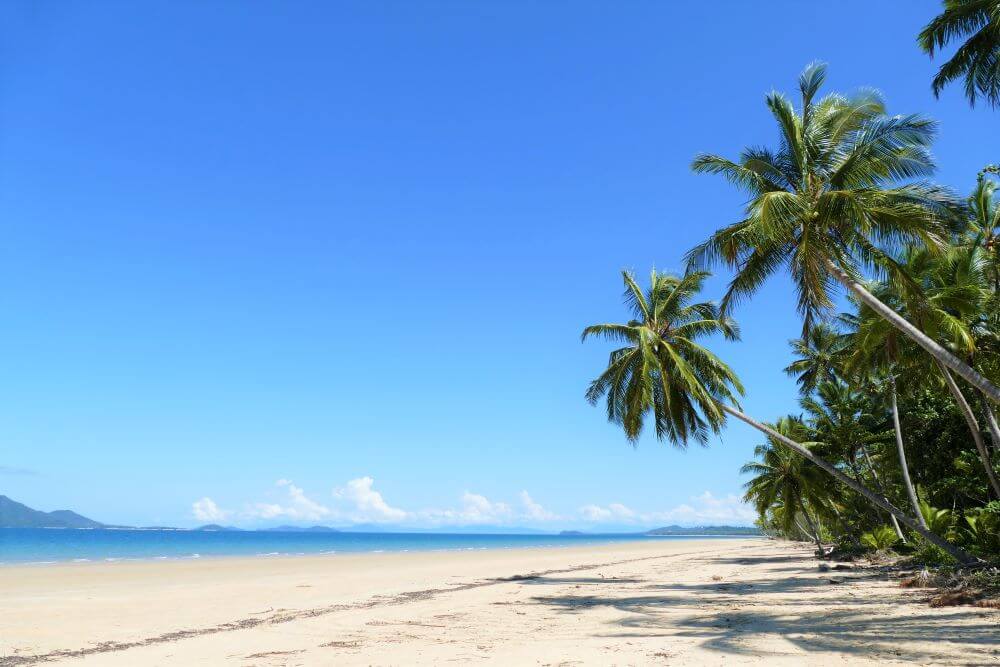 Get an Insta worthy Palm Tree shot
There is no shortage of palm tree-lined beaches in tropical north Queensland but the beaches around Mission Beach are especially well known for their palm-fringed views. Getting a picture of them is one of the most popular things to do in Mission Beach. South Mission Beach, Wongaling Beach and Mission Beach Beach all have spots where palm trees leaning over the sand frame the idyllic tropical landscape.
Big Cassowary
Whether you are collector of photos of Australia's 'Big Things' or are on your way out of Mission Beach and the cassowaries have managed to elude you, it is worth a stop at the Mission Beach's Big Cassowary. Standing guard at the entrance to the Cassowary Shopping Village, the giant cassowary is an impressive sight.
Mission Beach Art Gallery
If you get some wet weather in Mission Beach, a fun thing to do is check out the Mission Arts Gallery. Open daily from 10.00am to 2.00pm, Mission Arts showcases the creativity of local artists. There is a full calendar of exhibitions that feature art across a variety of mediums. There is also a giftshop where you can buy a range of art and craft pieces inspired by the amazing reef and rainforest environments around the Mission Beach. You'll find Mission Arts on the corner of El Arish Mission Beach Road and the Mission Beach Tully Road.
Cool off at the Splash Pad in Apex Park
This is a great hidden gem for travelling families. Called the Splash Pad, you'll find this little water park in Apex Park on Reid Road in South Mission Beach. There is a BBQ and picnic shelter within the gated water park area. There is a toilet and skate park just outside the Splash Pad and the beach is right there if you want to play on the sand.
Skydive at Mission Beach
Just because you are in a laidback tropical north Queensland town, it doesn't mean you can't get an adrenaline fix. If jumping out if a plane doing a tandem skydive is your dream, could there be a more beautiful place for this to become a reality? On the way to your jumping altitude, you get great views of the islands and Great Barrier Reef and you come in and land right on the sand in the heart of Mission Beach. If you need an adventure fix, this is the thing to do in Mission Beach! Book your Mission Beach Sky Diving trip for stunning views of the Great Barrier Reef.
Explore the Great Barrier Reef from Mission Beach
Spend a Day Exploring Dunk Island
Even though the resort on Dunk Island hasn't reopened after a cyclone Yasi, visitors can still go out there for a look around and there is lots to do. Explore Dunk Island on one of several walking trails. There is the 11km Island circuit or the shorter Coconut Beach Walk and Muggy Muggy Beach Walks. You can also snorkel, try the drift snorkel from Muggy Muggy Beach back to the jetty at low tide or right off the main beach.
If you have your camping gear, you can also stay on Dunk Island, some good camping facilities have been set up there including amenities with hot showers and flush toilets, drinking water and gas BBQs. You do need to book your site which you can do through the Cassowary Coast website.
The easiest way to get to Dunk Island is to jump on board the ferry & spend 6 hours exploring the island. Book your ferry ticket here – Dunk Island Adventures.
Dive or Snorkel on the Great Barrier Reef
Mission Beach is one of the closest access points to the Great Barrier Reef so getting out to the reef is a fantastic thing to do while you are in Mission Beach. Mission Beach Dive and Snorkel run full day trips to the outer reef, and they are a great option as you can get away from the busyness of the reef trips out of Cairns. Or you can get aboard the MV Reef Goddess tour which also stops at Dunk Island.
Mission Beach Walks
Kennedy Walking Track
Best done at low tide, this 6-8km easy to moderate walk starts in South Mission Beach and winds its way through rainforest, long sandy beaches, mangroves and rocky bays to the mouth of the Hull River. There are great coastal lookouts where you can spot turtles and dolphins and, in the rainforest, you can even bump into a cassowary. At Morgans Lookout there are great views of Dunk Island and the Family Islands.
We have a full post about the Kennedy Walking Track, check it out and see why it is one of the best things to do in Mission Beach
Ulysses Walk
The Ulysses Walk is a coastal stroll through Mission Beach that takes you from the Village Green near the shopping centre to the excellent Mission Beach Visitor Centre and on to the Eco Village. It is a pleasant walk through garden reserves where you might spot the trails namesake, the brilliant blue Ulysses butterfly. We saw a couple of them but getting pictures was tricky!
The walk features some fun sculptures, and you are never far from the beach. You can extend the walk out to the Clump Point Jetty if you want a bit more exercise. The extra bit – also known as the Cutten Brothers Walk – features boardwalks, restored forest and rocky coastline. The first part of the Ulysses Walk is about a 2km return walk, the Cutten section will double your journey.
Lacey Creek Walk
Lacey Creek is only 7 minutes out of Mission Beach on the El Arish Mission Beach Road. It is a beautiful spot for a nature walk through the rainforest where you are in cassowary spotting territory, there are butterflies flitting around and plenty of fish and turtles to spot in the creeks. The 1.1km circuit takes you along dirt tracks, boardwalks and a couple of sets of stairs. There is a picnic ground there and toilets. You could do a couple of laps of this pretty walk and see something different every time. Read our complete guide to the Lacey Creek Walk here.
Look for Cassowaries at the Licuala Day Use Area
The Licuala Day Use Area is 10 minutes south of Mission Beach, you will see the signed turn off onto a dirt road from the Tulley Mission Beach Road. The dirt road is maybe 1km long and suitable for 2wd drives and it is worth popping in here for a look around. You'll find yourself in prime cassowary habitat.
There are two short walks here, the shortest is the 350m Family Walk where you can follow cassowary footprints around a short circuit to a cassowary nest. It's a quick and nice walk through the rainforest where you could come across a real cassowary. If you don't have any luck there, try the easy 1.2km Rainforest Walk, also called the Fan Palm Walk after these large distinctly shaped palms you'll see along the track.
There is a picnic shelter near the carpark and if you want a longer walk, the carpark is also where you will find the trailheads for the longer Musgravea Track that that takes you to Lacey Creek. The 6km (one way) track goes through Djiru National Park is the only path in the park where bikes are allowed.
Where to Eat in Mission Beach
Mission Beach Cafes
When you are not relaxing in a hammock between a couple of palm trees, there are plenty of fun cafes to choose from. Leny's Tropical Fruit and Veg have fruit juices and fruit salads, try the Shanti for great coffee and The Chippy is your go to for fish and chips on the beach. A great way to end the day is at the Blues Bar and Café – in fact you can get breakfast and lunch here too but the evening live music is great, the place has a fun vibe.
Feel Good Bananas
A snack so great it gets a paragraph of it's own! Make sure you try one of Mission Beach's Feel Good Bananas. Made locally and sold around the region, these frozen chocolate dipped bananas are a delicious treat that anyone with a sweet tooth will love. You can get them at several shops around Mission Beach at the Visitor Centre. As you swing beneath the palm trees on your hammock there is nothing better than a book in one hand and a Feel Good Banana in the other.
Relax at Bingil Bay
If Mission Beach isn't relaxed and quiet enough for you, just head down the road to Bingil Bay. Sit on the sand under a palm tree at cute Wee Beach or go for a wander along the main beach in Bingil Bay where there is a BBQ and shelter too. If you want to be a bit more active, try the Bicton Hill walk then jump in the water afterwards to cool off. Either way if you are looking for a bit of quiet tropical paradise, Bingil Bay is your place.
Grab a meal at the Bingil Bay Café
And after you have had an hour or two relaxing at one of the secluded little beaches in Bingil Bay, you'll be ready for something to eat and drink and there is nowhere more relaxing than the Bingil Bay Café. With a chilled vibe there are breakfast, lunch and dinner menus. Their breakfast meals served until 11.30am are especially good as are the gourmet pizzas. Wash them down with an amazing fruit smoothie or have dinner there and mellow out with the live music. It's a great spot just a couple of minutes from Mission Beach. You'll find them at the bottom of Bingil Bay Road.
Bicton Hill
Located near Bingil Bay in Clump Mountain National Park. The moderate 4km circuit track zigzags and winds its way to the top of Bicton Hill, from no less than 4 lookouts you get fantastic views of the coast and Family Islands. Along the way, you go through some lovely rainforest where there are plenty of birds and lizards, butterflies and big lace monitors. The track gets a bit slippery in wet weather so best wait for a dry day. You might also want bug spray to keep the mozzies at bay.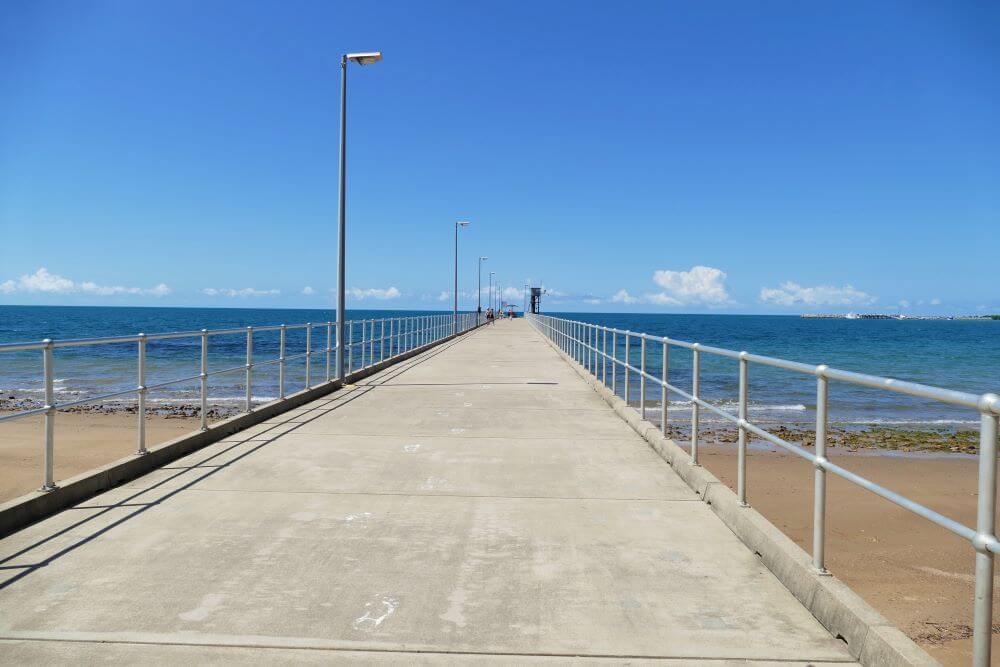 Perry Harvey Jetty
It is one of those strange quirks of human nature that when you see a jetty you are drawn to walk out it to the end. The Perry Harvey Jetty has no less allure. It is only 30 metres long but from the end of the jetty there are nice views of the palm lined coast. Keep an eye out closer to shore, where you can see the seagrass swaying in the current is a great place to spot a hungry turtle. We spotted a couple of green sea turtles having a feed here in the time we were there.
Have a look around Tully
If you have your own transport, it is worth popping over to the sugarcane town of Tully, less than 30 minutes from Mission Beach. Climb the Golden Gumboot and see how Tully copes with the enormous amount of rain it receives each year. Wander along the main street and check out the Art Deco architecture finishing with lunch at the Tully Bakery or get a sweat up on the hike to the Mount Tyson Lookout for great views over the town (5km return hike, medium-hard difficulty).
Don't be put off by the name, Alligators Nest is a beautiful and safe swimming spot with toilets, BBQs, shelters and easy access to the water. It is a great place to cool off. Tully is probably best known for its white water rafting. The Tully River in Tully Gorge National Park has some of the best rapids in Queensland and taking on the white water here is a must-do experience!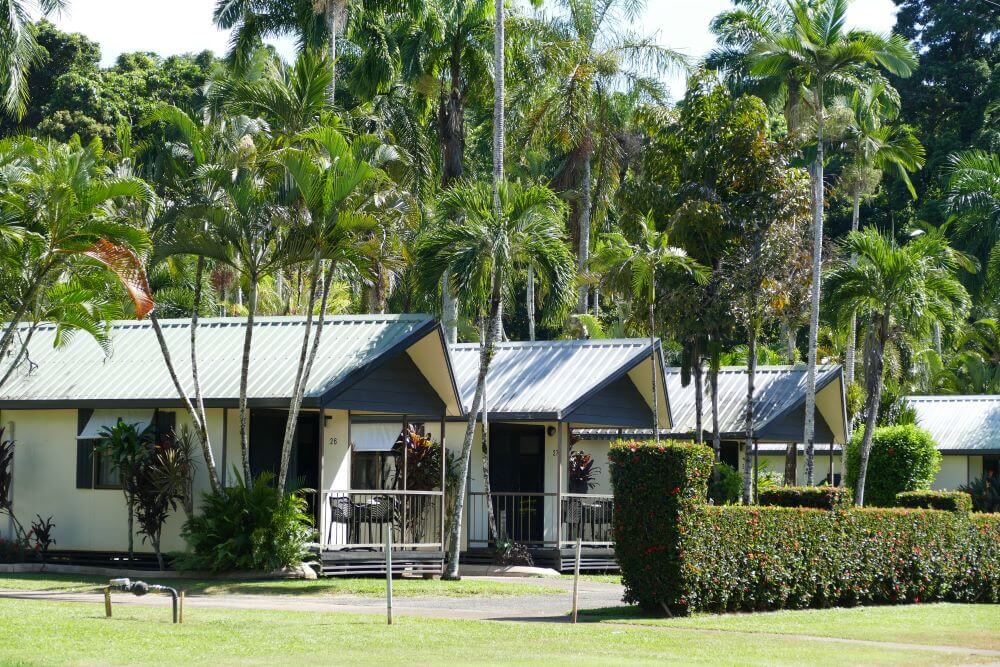 Places to Stay in Mission Beach
If you enjoyed this story you might also like:
Cairns to Mission Beach Road Trip| Things to do in Babinda | Stay at Etty Bay Caravan Park
Liked it? Pin it for Later…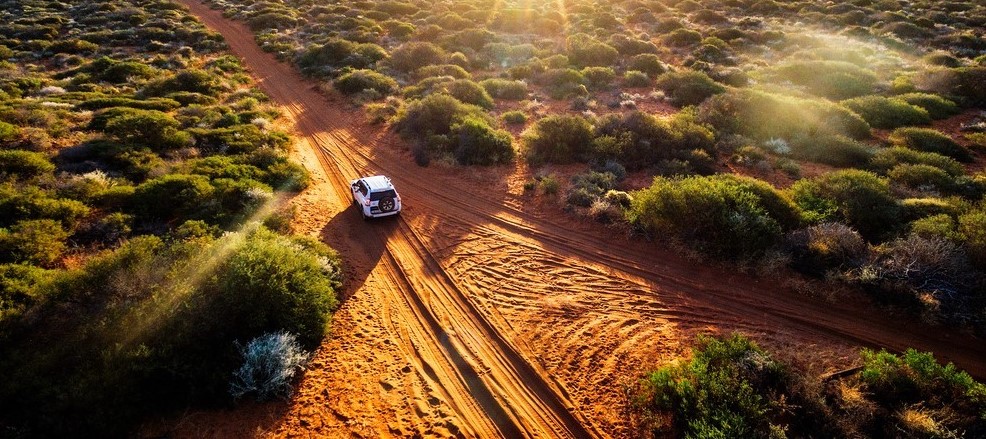 500 THINGS TO DO
Join our mailing list and receive our Free Top 500 things to do in Australia. If you love the Australian Outdoors download this list and keep it handy when you are planning a weekend away or a road trip around Australia.
Recent Posts