The Cairns to Mission Beach road trip is a fantastic drive and at 140km long, taking a bit under 2 hours it is an easy one too. While it is not the longest road trip in Queensland, there is an enormous amount to do along the way. Cool off in fresh water pools at Behana Gorge or Josephine Falls, drive past Queensland's tallest mountains Mount Bellenden Ker and Bartle Frere and see the spectacular Walsh's Pyramid.
You can relax at peaceful coastal towns at Etty Bay or Bramston Beach, explore the Babinda Boulders and have a Great Barrier Reef experience on Frankland Island from Deeral. There is great scenery as you drive between sugarcane farms and rainforest, and as you make your way down the Cassowary Coast, keep an eye out for these brilliant blue and red headed birds.
Disclosure: Please Note That Some Links In This Post May Be Affiliate Links, And At No Additional Cost To You, We Earn A Small Commission If You Make A Purchase. Commissions Go Toward Maintaining The Curious Campers Website.
Cairns to Mission Beach Road Trip
The Cairns to Mission Beach road trip takes just under 2 hours but there is a huge amount to do along the way so plan for this road trip to take a full day if that is all you have, otherwise it could take you a few days to travel the 140km. There are some great places to stay including Etty Bay, free camps at Babinda and seaside caravan parks at Bramston and Kurrimine Beach. For a detour into the rainforest, also look out for the Canecutter Way between Innisfail and Silkwood.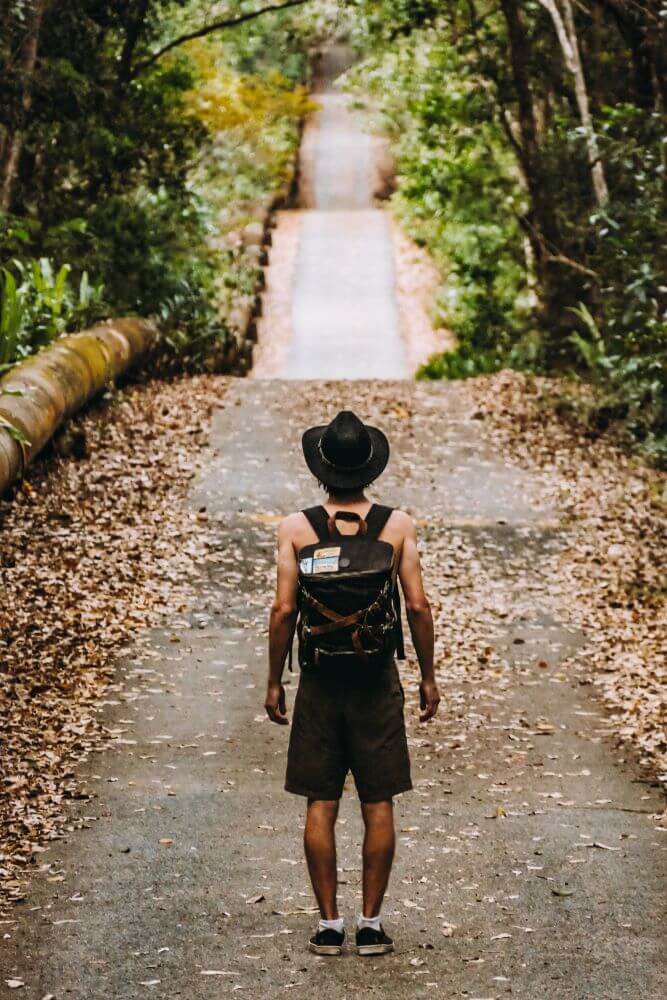 Behana Gorge & Clamshell Falls
If you haven't made it to Behana Gorge while you were in Cairns, now is your chance. The turn off is only 30 minutes from Cairns just beyond Gordonvale. It is a good activity to do early in the day as it is an undulating 3km walk to the gorge and waterfall but it is worth the effort. The rock pools here are some of nicest in Tropical North Queensland. Water flows over boulders down the gorge which is flanked by rainforest. On the walk to the swimming areas look out for butterflies and lace monitors. It is a spectacular place and worth the stop if you have time.
Read our full guide to the Behana Gorge Walking Track & Clamshell Falls
Walsh's Pyramid
A bonus for going to Behana Gorge is that on your way there you go past the spectacular Walsh's Pyramid. You can walk to the top, but you might not have time if you are on the road – it's a tough 5-6 hour hike. But there is an iconic photo that you can add to your North Queensland album as you leave Behana Gorge that has Walsh's Pyramid in the background and a sugarcane fringed road in the foreground. You'll see a small area where you can pull over to get the shot.
Frankland Islands Cruise
The little town of Deeral in the shadow of Mount Bellenden Ker is where you can start your cruise out to the Frankland Islands. This is a magic place for a Great Barrier Reef snorkel right off the beach. Only one boat goes to the island group so it is a quiet spot and there is lots to do on the island.
Full Day Cruise to Frankland Islands Great Barrier Reef Snorkel & Island Walk
Harvey Creek Scenic Reserve
This is a quiet, unassuming little swimming hole off the Bruce Highway. Look for the turn off to Harvey Creek just before the overtaking lane starts as you head south. Follow Harvey Creek Road until you come to a small grass reserve and bridge. There isn't much here but if you are looking for swimming spot only the locals know about this is it!
Babinda
If you do nothing else, you have to stop at Babinda for lunch, the Babinda Bakery is out of this world – expect to line up on the weekend but it's worth the wait. The beautiful Babinda Boulders and swimming area are the main attraction here. You can also book and paddle a kayak down the Babinda River which is a beautiful stretch of water. If you want to break up your road trip and explore the area, there are a couple of free camp sites in Babinda too. Babinda is a about halfway to Mission Beach so it's a good place to stop.
Read our more about the Things to do in & around Babinda
Josephine Falls
At the base of Queensland's highest mountain, Mount Bartle Frere, Josephine Falls is a Behana Gorge-like setting with the chance to swim in a glorious freshwater river that tumbles over boulders. It's a shorter walk here than at Behana Gorge walk on a sealed path through the rainforest to the water. It is a lovely spot and a popular one too, it was busy the first time we came through here on a weekend. Weekdays would be much quieter. Just next door is Golden Hole. There are crocodile warning signs here so be croc wise, it has a nice grassed area with picnic tables.
Bramston Beach
As you pass through Mirriwinni you will see the turn off towards the coast for Bramston Beach. If you want to stretch you legs on the sand there is a lovely beach here and a patrolled/netted swimming area. There are a couple of caravan parks in the town but not too much else. The café does great fish and chips which go down a treat as you look out over the water beneath the palm trees.
Turn off on the same road you take to get to Bramston Beach and follow the signs to the carpark. There is a trail through some remnant rainforest that leads to a grassy hill. A mowed path takes you to the top of the small hill where you can relax on a bench seat beneath a couple of big gum trees and look down over the Eubenangee Swamp. The distant view is quite picturesque and for our visit in April there was plenty of water and lots of birds flying around. It is about a 30-40 minute return walk and a bit of fun and good leg stretch for nature lovers.
Innisfail & Surrounds
Innisfail is 70 minutes south of Cairns and is the biggest town you drive through on your Cairns to Mission Beach Road Trip. A feature of the place is the architecture. Much of Innisfail was destroyed by a Category 5 cyclone in 1918 and it was rebuilt in colourful Art Deco style, many examples of which can still be see around the town today. Innisfail celebrates its Art Deco Heritage each year at the Tropical Art Deco Festival in September. The river front precinct is also a lovely spot for lunch.
Australian Sugar Heritage Centre
A feature of the Cairns to Mission Beach road trip are the sugarcane fields you'll see along the way. The industry started in North Queensland in the 1860s and it's long history in the region is celebrated here. The museum is open 7 days and there is a small admission fee. You'll see lots of machinery, photographs and audio-visual displays that paint a great picture of this important industry.
Warrina Lakes
Warrina Lakes is a pretty spot in the heart of Innisfail with gardens and lakes to walk around. There is a huge shelter where you can have lunch and it is also home to the Innisfail Mini Rail. If Google sends you to the wrong spot, look for Emily Street and drive to the end, away from the river, and you will see the big carpark. It's worth a look, there were lots of turtles in the lakes.
Etty Bay
Etty Bay is just 15 minutes from Innisfail, the turn off is right by the Australian Sugar Heritage Centre. It is a beautiful spot where the rainforest comes right down to a patrolled beach with a stinger net. But the highlight of Etty Bay is that it's a great place to spot a cassowary. We stayed at Etty Bay for a few nights and saw cassowaries every day, a couple of times they walked right by our cabin. Like Babinda, Etty Bay is a great spot to stay if you want to break up the trip, we loved it here. Find out more about our stay in Etty Bay.
The Canecutter Way
If you want to get off the Bruce Highway for a while, between Innisfail and Kurrimine Beach you can take this scenic detour inland through a series of little sugarcane towns. The Canecutter Way follows the old Bruce Highway for 52 kilometres from Innisfail and is a chance to go to a few well known north Queensland attractions like Paronella Park, Manu Tropical Skywalk and Mena Creek Falls. From its inland excursion through the cane fields and banana plantations the Canecutter Way re-joins the Bruce Highway at Silkwood just above Mission Beach.
Mamu Tropical Skywalk
This is a great stop for a bird's eye view of the rainforest. The Mamu Tropical Skywalk is a series of observation towers and elevated walkways that let you explore all levels of the Palmerston Rainforest. Follow the signs near Mena Creek on the Canecutter Way.
Crawford's Lookout
Located within a minute of Mamu Tropical Skywalk, you can drive by Crawford's Lookout for views down the valley. Just on from there is a carpark where you can do a couple of short walks to the Tchupala and Wallicher Waterfalls in Wooroonooran National Park.
Paronella Park
Back on the Canecutter Way, Paronella Park is one of the most popular attractions in North Queensland. This amazing Eurpean-style castle in the heart of rainforest country is a spectacular sight. There are guided tours of the Paronella Park castle and gardens, the night tour is spectacular!
Mena Creek Falls
Mena Creek Falls are right next door to Paronella Park. If you don't have time to walk through Paronella Park, it is worth a stop here to see the small but pretty falls and you can get a glimpse of the Paronella Park's architecture and gardens. There is a fun suspension bridge to walk across too.
Kurrimine Beach
Kurrimine Beach is the official end (or start) of the Canecutters Way. For your Cairns to Mission Beach road trip you could continue on to Mission Beach at Silkwood where you get back on the Bruce Highway. This is another lovely little coastal holiday town. There are some nice parks and gardens running along the esplanade next to the beach which is a turtle nesting area. There is a netted swimming area here but the highlight is King Reef which you can walk out to on extremely low tides that happen just a few times a year. The King Reef Walking Track along the foreshore is also a nice place to stretch your legs.
Murdering Point Winery
Open 7 days from 9.30am to 5.00pm, you have to stop by Murdering Point Winery's cellar door to try some of their amazing tropical fruit wine (and learn the origin of their name!). With reds, whites, ports and liqueurs featuring Australian fruit including Australia's native Davidson Plum, your taste buds are in for a bit of fun. You'll find them on Murdering Point Road on the way to Kurrimine Beach.
Charley's Chocolate Factory
You are only 10 minutes from completing your Cairns to Mission Beach road trip but this is one sweet stop you should make. Look for Charley's about 4km after the turn off to Mission Beach from El Arish. Their delicious range of chocolate is made from cocoa beans grown on the property. Fascinating tours are available of the cocoa farm, and of course, the tour includes some tastings – yum!
Bingil Bay
Whether you come through Bingil Bay on you Mission Beach road trip or come back for a visit, it is minutes from Mission Beach, you are sure to fall in love with quiet but beautiful stretch of coastline. Unwind at a tranquil bay like Wee Beach, walk though the rainforest for great views atop Bicton Hill or relax with a meal at the super chilled Bingil Bay Café. And keep an eye out for cassowaries. There is also a small low cost camp site at the end of the main beach if you want a cheap couple of nights accommodation.
Mission Beach
If you are looking for a relaxing, seaside north Queensland town then Mission Beach is your place. With palm trees leaning out over beaches of golden sand and without Cairns' heavy accent on tourism, Mission Beach is where you come to slow down and take it easy. That said, there is still a lot to do here if you want to be active; there are some fun hikes like the Kennedy Walking Trail or stroll around Lacey Creek.
Mission Beach is also in the heart of the Cassowary Coast and it's a great spot to see a Cassowary in the wild. We saw two on the side of the road but there are some great rainforest walks where you might see one too. Read our full guide of things to do in Mission Beach and our guides to the Lacey Creek Walk and spectacular Kennedy Walking Trail.
Places to Stay in Mission Beach
If you enjoyed this story you might also like:
Best Cairns Day Trips | Frankland Islands Day Trip | Kennedy Walking Track
Liked it? Pin it for Later…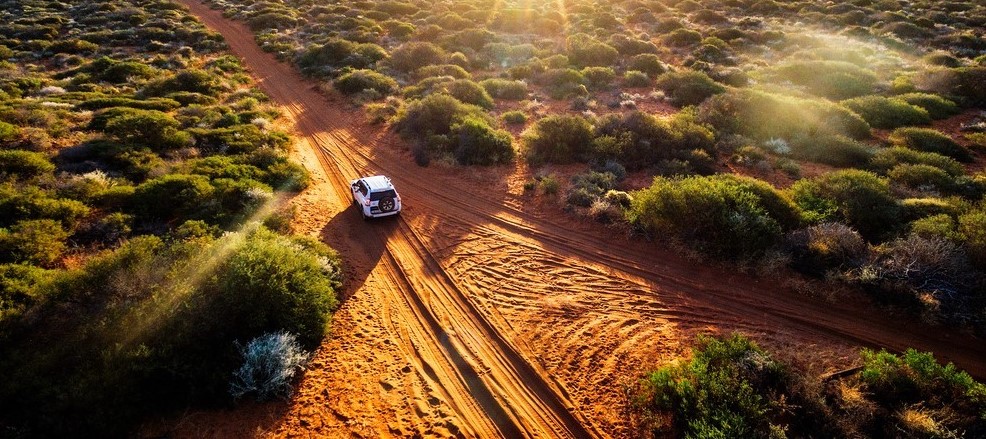 500 THINGS TO DO
Join our mailing list and receive our Free Top 500 things to do in Australia. If you love the Australian Outdoors download this list and keep it handy when you are planning a weekend away or a road trip around Australia.
Recent Posts