Babinda is a sleepy little town in Tropical North Queensland. It is between Cairns and Innisfail on the Bruce Highway, the main road connecting north Queensland's reef and rainforest towns. Despite its quiet appearance, there are a lot of things to do in Babinda and nearby, so it is worth putting a day or two aside to explore the area.
Disclosure: Please Note That Some Links In This Post May Be Affiliate Links, And At No Additional Cost To You, We Earn A Small Commission If You Make A Purchase. Commissions Go Toward Maintaining The Curious Campers Website.
Getting to Babinda
Babinda is 25 minutes north of Innisfail and 50 minutes south of Cairns. Babinda's main street is just off the main road so you will have to make a little detour off the Bruce Highway to get there.
Things to do in Babinda
Babinda is nestled between sugarcane plantations and wetlands and sits in the shadow of Queensland's tallest mountain, Mount Bartle Frere. There are rainforests and crystal clear creeks to explore, waterholes to relax in, spectacular waterfalls to see and Babinda is also near one of the closest access points to the Great Barrier Reef.
Grab a tasty treat at the Babinda Bakery
We wouldn't usually start a list of attractions with a bakery, but the Babinda Bakery is one of the first things you see as you turn into the main street, and this is also one fantastic bakery. Come to the Babinda Bakery on the weekend and you likely be joining a queue that stretches out the front door and along the street, but don't be put off, it is worth the wait!
Where to start? Their hot foods are amazing. Between us over two visits we tried the sausage rolls, Curry and pea, lamb and rosemary and roast beef and chutney pies and they were all delicious. The cakes were fantastic too – there were Iced Vovo and Wagon Wheel cakes, the chocolate eclairs were sensational, and the muffins were yummy too. They also do a great coffee. Whether you are passing through or seeing some of Babinda's attractions make sure you drop in for lunch.
Explore the Babinda Boulders & Walks
A visit to the Babinda Boulders is one of the most popular things to do near Babinda and one of the most beautiful swimming spots in the greater Cairns area. You'll see signs to the Babinda Boulders in the main street, it's only a short drive from there to the carpark.
Adjacent to the carpark is a nice picnic area with BBQs, toilets and showers and even a small playground. From there follow the signs to the main swimming area. This is a stunning spot, how much water you have here will depend on the season. For our visit in April there was crystal clear knee to waist deep water. A platform makes it easy to get in and out.
Beyond the swimming area you can walk 470m to the spectacular Devils Pool Lookout and a further 130m to the Boulders Gorge Lookout. There is no swimming at these locations – the changeable conditions and swirling water around the granite boulders have claimed several lives over the years. That aside, it is a stunning landscape, we could have watched the fast flowing water and colourful butterflies for ages. Visiting the boulders is one of the best things to do in Babinda.
Kayak along Babinda Creek
If you like an on-water experience, hire some kayaks or a stand up paddle board and have a half day or full day paddle down Babinda Creek. The water is crystal clear so you might spot anything from fish and turtles to an elusive platypus. This is a wonderfully serene activity where you can take in the sound of your paddling, the breeze rustling through the rainforest and sugarcane and the flowing water.
It's a pretty easy paddle with the current so you can relax and enjoy the scenery. There is a small sand bank or beach along the way where you can stop for a snack or a swim, it's a perfect place to get in and out of your kayak. As if it isn't all enough fun, you get picked up at the end of your paddle and driven back to your car. This is a popular thing to do in Babinda so booking ahead is the way to go.
Babinda Museum Walk
For nearly 100 years Babinda existed around the local sugar mill. While the mill closed in 2011 (and was removed in 2013), there is still a lot of history in the town from that time. The Babinda Museum Walk features historic buildings around town mainly in Munro and Knowles Streets. There are large posters on many buildings with photos and information.
Anzac Park in Munro Street is also worth walking through for its World War 1 and World War 2 memorials and artefacts. The park is also part of the Cairns Region Anzac Trail.
Babinda Markets & Information Centre
If you happen to be in Babinda on the 2nd Saturday of the month you can have a look through the Babinda Markets. They are held in the main street – Munro Street – and you'll find a range of local produce, art and crafts.
For more upcoming events in Babinda and to check out water conditions at Babinda Boulders, pop into the Babinda Information Centre. You can't miss it, once the town police station, the bright blue building is at the front door of the town as you turn off the Bruce Highway.
Babinda Free Camping
If you are camping you can also get some cheap accommodation in Babinda for a few nights. There are two free camp areas near Babinda, both are a great option if you want a couple of days to check out a few of the things to do around Babinda.
Babinda Boulders Campground
There are about 15 sites here and you can free camp for 72 hours. There is a nice rainforest atmosphere and most of the sites have a bit of shade. All the sites are unpowered, there is a toilet block with cold showers, because it is a national park dogs are not allowed. It is right next door the Babinda Boulders where you have access to gas BBQs.
Rotary Park
Rotary Park is just off the Bruce Highway on Howard Kennedy Drive only a minute or two from the centre of Babinda. This is also a 72 hour stay free campsite and it is a bigger space than the Babinda Boulders Campground so probably more suitable for big rigs. You can have a dog here and there is a dump point. There are also coin operated hot showers along with BBQs and a small playground.
Things to do Around Babinda
Frankland Islands Great Barrier Reef Cruise
The Frankland Islands are one of the closest to shore locations where you can get a taste of the Great Barrier Reef. Cruises to the islands leave from the jetty at Deeral, 10 minutes north of Babinda. The full day tour starts with a cruise up the Mulgrave River then you head across to the islands.
The boat moors at Nomanby Island where you can enjoy a full day of snorkelling, island walks, kayaking and even a go in a semi-submersible. We had a great day out here turtle spotting, swimming with colourful fish and exploring the rock pools.
Read our post on the Frankland Islands to learn more about it, it was a great day!
Explore Eubenangee Swamp National Park
These wetlands are just 13 minutes south of Babinda, look for the turn off towards the coast near Mirriwinni. The swamp is home to nearly 200 different bird species and there is a nice walk you can do to look over the wetlands back towards the Bellenden Ker Range. From the carpark first follow the 1.5km return dirt path through the rainforest alongside the Alice River then go up a grassy hill that overlooks Eubenangee Swamp.
It's a pretty walk although we did get the feeling we could bump into a croc at any time in the rainforest section. From the rainforest the track follows a mowed grassed trail to the top of the small hill where you can sit on a bench beneath some gum trees. There were lots of birds flying around the swamp – which had plenty of water in it when we visited in April. Worth a look if you like a short nature hike. The swamp is a fair way a way so bring binoculars along have you have them handy.
Take a dip at Bramston Beach
Bramston Beach is a pretty little holiday village 20 minutes from Babinda. There are a couple of caravan Parks here and a beautiful beach. The café serves up great fish and chips, there is a safe swimming zone with a stinger net, picnic tables, BBQs and toilets. It's a great place for some beach time whether you want to take a dip or go for a walk along the sand. Look for the turn off near Mirriwinni just south of Babinda. It's the same turn off for Eubenangee Swamp National Park.
Swim at Josephine Falls
Josephine Falls are just 15 minutes south of Babinda and are another lovely swimming spot, albeit trickier to access than the Babinda Boulders swimming area. Follow the signs to Josephine Falls from the main road, they are tucked in alongside Queensland's tallest mountain Mount Batel Frere. From the car park take the paved path through the rainforest to a set of stairs that access a boulder-strewn swimming area.
Unlike Babinda Boulders there is no easy access to the water from a platform, you have to do a bit of rock hopping. That's not to say it isn't a lovely spot, it is beautiful, but it takes a bit more balance to get to the water. The track continues from here for a couple of hundred metres to the Middle Creek viewing platform and then to the top viewing platform where you can see the main Josephine Falls.
On our first visit here, it was crazy busy so come early or avoid the weekends if you want to enjoy the place with fewer people around. There are also BBQ facilities, picnic shelters and toilets near the carpark.
Mount Bartle Frere Summit Walk
Hiking to the top of Queensland's tallest mountain (1620m) is not going to be a spur of the moment activity but if you are an experienced and fit hiker, have some camping gear and have organised a camping permit, the 15km return hike to the summit along the eastern trail also starts at the Josephine Falls carpark. Be prepared for rock scrambling, leeches and changeable weather but if you get a clear day at the summit the views are amazing.
Golden Hole
Josephine Falls was so busy the first time we visited, we did a U-turn and thought we would drive up the road to Golden Hole. There was hardly anyone here, and it is a pretty spot. While Golden Hole doesn't have the falls and rockpools of Josephine Falls, there is a big, boulder-dotted grassed reserve and a sheltered picnic tables.
It is a popular fishing spot but, unlike Josephine Falls, there is a crocodile warning sign, so swimming here is left to your discretion. There are some small rapids a bit further up the Russell River- to your right as you look at the water – so if you do want to go for a dip there is possibly the safer option.
Stay in Babinda
If you enjoyed this story you might also like:
Cairns to Mission Beach Road Trip |  Behana Gorge Walk | Etty Bay Caravan Park
Liked it? Pin it for Later…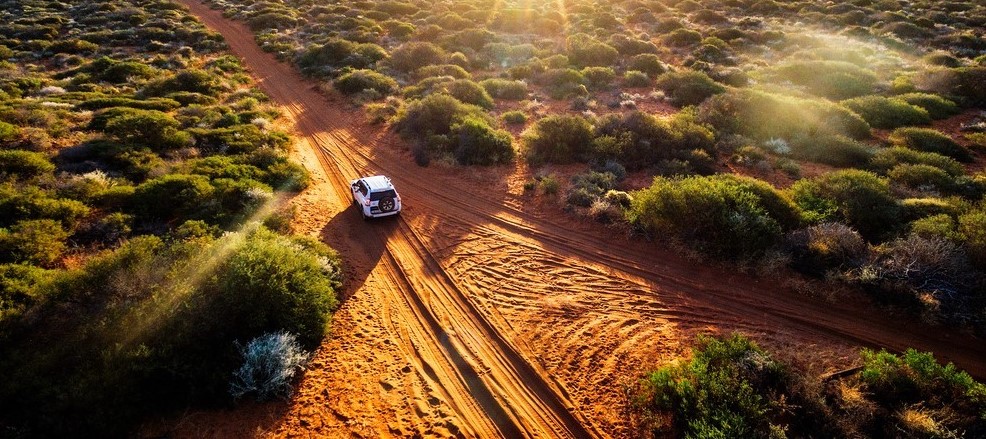 500 THINGS TO DO
Join our mailing list and receive our Free Top 500 things to do in Australia. If you love the Australian Outdoors download this list and keep it handy when you are planning a weekend away or a road trip around Australia.
Recent Posts