If you are based in Cairns one of the easiest ways to experience the Great Barrier Reef is to go on a Fitzroy Island Snorkel. After a short ferry ride to the island, you can snorkel straight from the shore. Read on and we'll let you know where the best snorkelling on Fitzroy Island is, what else you can do on Fitzroy Island and about the facilities on Fitzroy Island.
Featured Image: Fitzroy Island Resort © Tourism & Events Queensland
Disclosure: Please Note That Some Links In This Post May Be Affiliate Links, And At No Additional Cost To You, We Earn A Small Commission If You Make A Purchase. Commissions Go Toward Maintaining The Curious Campers Website.
Getting to Fitzroy Island
There are multiple operators that do full day tours between Cairns and Fitzroy Island and they all depart from the Cairns Marina. If you want departure options, check Fitzroy Island Adventures and the Fitzroy Island Sundancer each do a daily round trip. The Fitzroy Island Flyer is the ferry connected to Fitzroy Island Resort.
From the Cairns Marina it takes 45 minutes to cruise out to Fitzroy Island. For most of the cruise you'll be taking in the mainland coastline around East Trinity and Bulburra Beach, but once you clear them, Fitzroy Island soon comes into view. You get a distant view of Green Island off in the other direction too.
Where to Snorkel on Fitzroy Island
There are three main snorkelling areas on Fitzroy Island. They are all quite different and there is something for all ability levels. You can expect to see lots of colourful tropical fish, turtles, rays and maybe a reef shark. Reef sharks are nothing to be concerned about, they generally go out of their way to avoid you. Here are the best places to snorkel on Fitzroy Island.
White Rock Snorkel
This is the most advanced Fitzroy Island snorkel so if you are an inexperienced snorkeller check the conditions and be realistic before you set off. The water is deeper here, you can't quickly get back to shore if you get tired and there are fewer people around if you need help. But we enjoyed snorkelling here the most out of all the Fitzroy Island snorkels. You can do the White Rock Snorkel at high or low tide.
White Rock is hard to miss, you'll see the bird poo covered rock from the ferry as you approach Fitzroy Island. It is in the water at the far end of the main beach. How you get to White Rock will depend on the tide. It was high tide when we arrived, so we had to walk on the track past the campground and turtle rescue centre then follow a track to shore near the rock. At low tide you can walk to the end of the beach along the sand.
Snorkelling beyond White Rock
We snorkelled around white rock then continued past some more rocks. They had plenty to see around them too, then we continued along the coast away from the resort. The coral reef and marine life was fantastic, we saw schools of fish, rays and had a brief sighting of a turtle. Even if you just snorkel out and around White Rock and the next set of rocks, you'll see some amazing coral and fish, it's a great option if you don't want to go too far.
It is easy to get distracted by the underwater scenery so it pays to keep an eye on where you are, remembering you eventually need to swim back! There are a couple of buoys further around the island which is where we swam to then turned around. On our snorkel back, as the tide dropped, the visibility got better and better. It is a great part of Fitzroy Island to snorkel so long as you are up for it.
Main Beach at Welcome Bay
You can snorkel right off the main beach outside the resort, next to where the ferries come in. This is a safe and sheltered swimming area, and it is easy to access and while there isn't as much to see here as around White Rock it is still pretty good. Because it is so easy to access, much of the coral closest to shore is damaged however if you swim a little further out, there are some coral bommies to float over and there are still fish swimming around. You might spot a turtle feeding on sea grass or a ray on the sandy bottom.
Welcome Bay has some length to it so you will be able to find an area to explore on your own. This is one of the areas best suited to new or less experienced snorkellers. If you snorkel near the main jetty, you'll have to keep an eye out for boats – it is a busy place especially at either end of the day. This is also a snorkel where that you will want to avoid at low tide as some of the reef gets exposed.
Nudey Beach Snorkel
First things first, don't be concerned by the name of this little beach at one end of the Island. It is Nudey by name only, so keep your gear on! That out of the way, this is one stunning little beach and a great spot for a snorkel for all ability levels.
It is a 15 – 20 minute walk to get to Nudey Beach from the day use café area and the track is a little bit up and down and has a few steps. But as you come down the last few steps and see the beach you are greeted with one of the most idyllic spots on Fitzroy Island. Whether you snorkel or not, it is worth coming here for the views and crystal clear water.
You snorkel straight off the beach here. We found the best snorkelling was around the little headland to the right and straight out from the beach. There is a lot more to see here than there is straight off the main beach; the coral is better, and we saw a turtle here. The downside of Nudey Beach is that it can be a popular spot and it is a relatively small beach. That said, there is plenty of water and reef so once you get in the water it doesn't feel too crowded. You can snorkel at Nudey Beach at high or low tide.
Fitzroy Island Guided Tours
Snorkel Safari Tour
Another way to get to the best of the coral on the northern side of Fitzroy Island beyond White Rock is to book the Snorkel Safari Tour. These snorkel tours are a great option if you are a confident snorkeler but would rather not have to make the long swim around to that side of the island. The tour operates twice daily and goes for 1 hour 45 minutes.
Glass Bottom Boat Tour
And even if you aren't so keen on getting in the water you can still take in the magic of the Great Barrier Reef Marine Park from the comfort and safety of a glass bottom boat. Glass Bottom Boat Tours run twice daily and go for 60 minutes. The guides know exactly where all the best coral is, and you can get further from the island so it's a pretty good option even if you have been for a snorkel.
Fitzroy Island Sports Hub
The Fitzroy Island Sports Hub, or FISH, is a one stop shop for all your snorkelling needs on Fitzroy Island. From FISH You can hire all your snorkelling gear, stinger suits and flotation devices. They also have lockers for keeping your valuables safe while you explore the island. The Fitzroy Island Sports Hub is also your go to place for booking snorkelling and glass bottom boat tours and hiring kayaks and stand up paddle boards.
Fitzroy Island Snorkel FAQs
Snorkelling
Is snorkelling good on Fitzroy Island?
If you want a taste of the Great Barrier Reef, snorkelling on Fitzroy Island is great. You will see coral, lots of fish and with a bit of luck green sea turtles, rays and (harmless) reef sharks. Because Fitzroy Island is so close to Cairns it has lots of other activities and great day use facilities, it is a one of the best places near Cairns for tropical north Queensland island experience.
Is the visibility good?
Keep in mind that visibility at any snorkelling site varies from day to day depending on wind and rainfall. That said, for us visibility on the main beach was just ok – here the bottom is sandier, and boats are coming and going. The best visibility for us was at Nudey Beach and around White Rock as the tide was dropping.
Where is the best place to snorkel on Fitzroy Island?
For all level of snorkellers try Nudey Beach. If you are a good swimmer and experienced snorkeller the best snorkelling on Fitzroy Island is from White Rock around the north coast of the island.
Stingers
Do you need a stinger suit?
Yes, you will need a stinger suit from November to May. These can be hired on the island, we hired ours through Fitzroy Island Adventures and got it organised on the ferry on the way out to Fitzroy Island.
Crocodiles
Are there Crocodiles on Fitzroy Island?
Crocodiles have never been seen on Fitzroy Island, the clear water and currents between there and the mainland make it unsuitable for crocodiles.
Gear Hire
Can you hire snorkelling gear on Fitzroy Island?
You can hire all your snorkelling gear, stinger suits and flotation devices from the Fitzroy Island Sports Hub.
Do you need reef shoes?
The beaches on Fitzroy Island are made mainly of coral so having some footwear to walk across the beach is a good idea. You will want sturdier shoes again if you do the Lighthouse or Summit Hikes.
See Turtles
Where can you see turtles at Fitzroy Island?
There are lots of turtles at Fitzroy Island and if you keep an eye out you should them. We saw several pop up for a breath between the wharf and Nudey Beach. We also saw one at Nudey Beach and one swimming away from us past White Rock. Keep an eye on the areas where there is seagrass or algae, they feed here. If you spot one on the bottom feeding and have the patience, wait and it will eventually swim up for a breath which is when you get a great look at them.
Accommodation
Can you stay on Fitzroy Island?
If one day of snorkelling on Fitzroy Island doesn't sound like enough, you can stay on the island. There are three levels of accommodation. You can either go for the Fitzroy Island Resort, stay in the self-contained Butterfly Bungalows or there is a basic campground a little further along the foreshore.
Things to do Fitzroy Island besides snorkelling
One of the good things about Fitzroy Island is that there is a lot to do besides snorkelling. So, if you get snorkelled out or want to explore the island in other ways there are lots of fun options including:
Hire a kayak or stand up paddle board from the Fitzroy Island Sports Hub
Go on a tour of the turtle rehabilitation centre
Relax with a drink and meal at the Foxy's Bar and Café
Go wildlife spotting – besides the marine life, whether you are relaxing with a drink or go for a walk you might come across a range of birds, butterflies and reptiles. Keep an eye out for lace monitors near the Butterfly Bungalows and there are skinks everywhere on the Secret Garden Walk. Butterflies like the gardens around Foxy's Bar and Café.
Explore Fitzroy Island on Foot
If you prefer walking to snorkelling, there are some fun and challenging walks, on Fitzroy Island.
Lighthouse Walk – Summit Walk
Difficult, 2-2.5km return or circuit hike that starts from the campground. You can either do the loop track to the summit or we just did the return walk to the lighthouse. Either way it is a challenging walk. The trail to the summit requires a bit of rock scrambling. Ultimately the views from the lighthouse and/or summit are breathtaking – that's if you have any breath left! You'll want a hat, water and good walking shoes for this one, it is a solid hike!
Secret Garden Walk
Moderate 1km, 45 minute return walk that features the islands beautiful rainforests. Highlights are the amazing rainforest plants and trees and keep an eye out for lots of skinks – it will feel like the forest floor is moving! The dirt track has quite a few steps and ends at a forest viewing platform.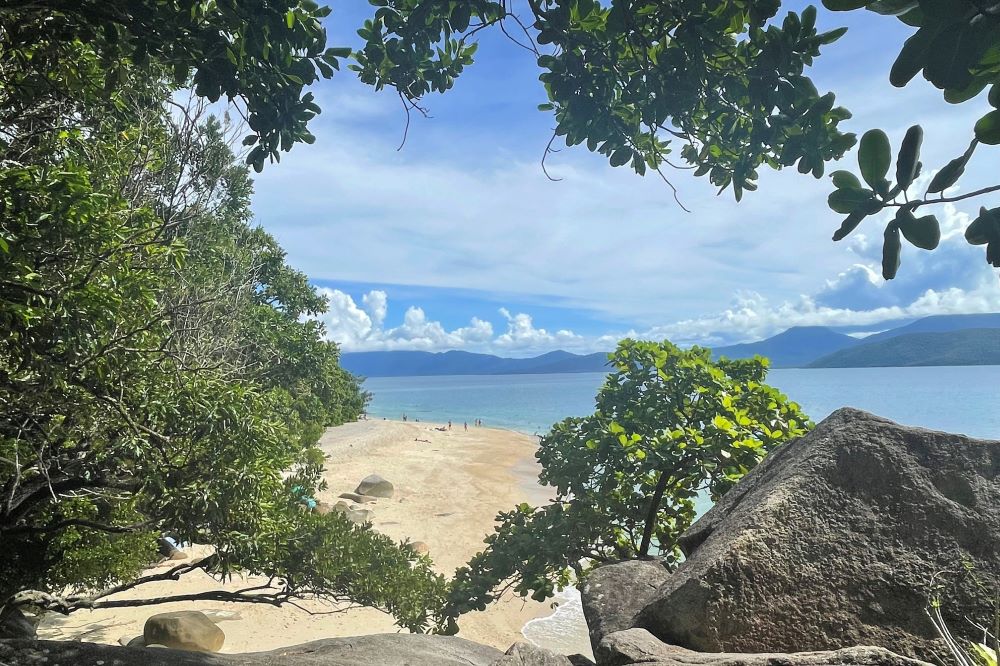 Nudey Beach Walk
Moderate 1.4km, 30-40 minute return walk that features both beautiful island and rainforest views. The highlight is stunning Nudey Beach, surely one of the best looking beaches in Australia. There is great snorkelling here too.
Liked it? Pin it for Later…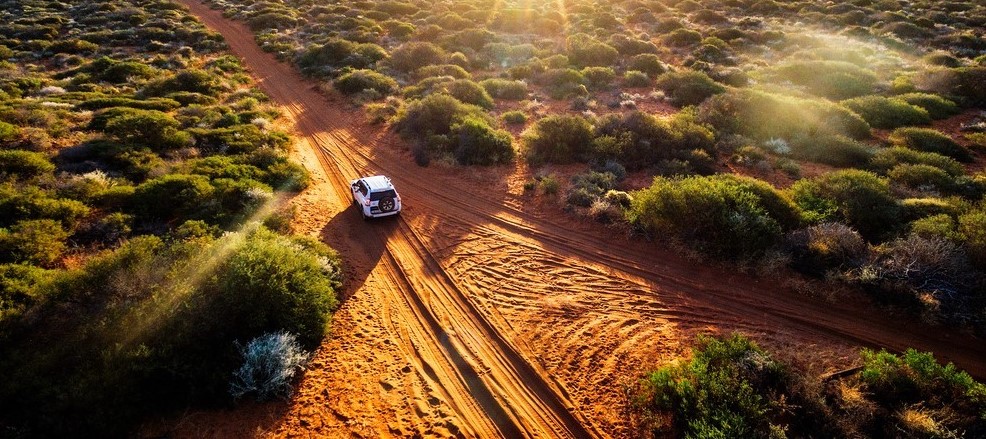 500 THINGS TO DO
Join our mailing list and receive our Free Top 500 things to do in Australia. If you love the Australian Outdoors download this list and keep it handy when you are planning a weekend away or a road trip around Australia.
Recent Posts