Whether you want to explore national parks, kayak down Kangaroo River or spot some wildlife, a Kangaroo Valley camping trip is hard to beat. Kangaroo Valley is two hours south of Sydney. The area has spectacular bushland and rivers to explore or enjoy the historic farming villages dotted across the region.
Depending on what your idea of camping is, there are several options for a Kangaroo Valley camping holiday. They range from free camp sites to showgrounds to well-equipped caravan parks. Always check the availability of bush and forest campsites before you go.
Disclosure: Please note that some links in this post may be affiliate links, and at no additional cost to you, we earn a small commission if you make a purchase. Commissions are appreciated and go toward maintaining the Curious Campers website.
Bendeela Recreation Area
If you're after a quiet little camping spot, this isn't it! Bendeela Recreation Area is big and popular and for good reason. It is a beautiful spot right on the Kangaroo River. It is open, grassy, minutes from the Kangaroo Valley township and the perfect place for a family get away.
Apart from a small booking fee, camping here is free. There is a front camping area which is open seven days a week and a back area that opens over the weekends and public holidays. You can book up to 90 days in advance, book a maximum of 2 sites and stay for up to seven days.
This is a great spot for kayaking, fishing, swimming or letting the kids run and ride around as there is a lot of open space. It is also a good base for exploring nearby Fitzroy Falls, Morton National Park and Tallowa Dam.
There is a dump point, toilets and drinking water available. At dawn and dusk you'll spot plenty of wildlife. Expect to be sharing your site with kangaroos and wombats.
You don't have to be staying at the Bendeela Recreation Area to enjoy it. It is available for day use and it is an especially popular spot for launching a kayak. Several of the kayak hire companies also pick up and drop off from Bendeela so there can be kayaks everywhere when it's busy.
Kangaroo Valley Kayaking with a Champagne Lunch
Glide downstream on the Kangaroo River from Beehive Point to the mouth of Yarrunga Creek with the backdrop of the Morton National Park. It's the MUST DO wildlife experience in NSW with the majestic azure kingfisher, wedge-tail eagle, diamond python, rock wallaby, white-breasted sea eagle, water dragon, this is nature at its best, untouched and wild. 
Kangaroo Valley Holiday Haven
This top little caravan park is on the main road into Kangaroo Valley right next to the historic Hampden Bridge. We have stayed here and loved it. It has a bushland feel and accommodation ranges from campsites with fire pits to self-contained cabins. There is plenty of room for kids to ride their bikes around and there is also a fun playground area near the camping sites.
Kayak hire is available at the park which makes it very easy to go for a paddle on the Kangaroo River which is right next door. The town's general store is across the road and you are within walking distance of the Pioneer Village Museum. We had a great stay at Kangaroo Valley Holiday Haven and wouldn't hesitate to go back.
Stay at the Kangaroo Valley Holiday Haven
Nestled above the picturesque Kangaroo River and located next to the historic Hampden Bridge, Kangaroo Valley Holiday Park is just over 2 hours drive from Sydney. The self-contained 1 or 2 bedroom cabins are perfect for a couples or families. Enjoy the park facilities with games for the kids, bbq's and walks along the Kangaroo River.
Glenmack Park
This is the other caravan park in Kangaroo Valley. It is on the opposite side of town to Holiday Haven on Moss Vale Road right in the main village. Glenmack have unpowered campsites through to villas and cabins on offer. If you were looking for the most family friendly park in Kangaroo Valley, Glenmack has the edge.
For the kids, as well as the usual favourites of a pool, jumping pillow, mini golf and playground, there is also the park's resident farm animals. With sheep, alpacas, ponies to pat and feed, Glenmack Park has a farm stay vibe to it. Glenmack is the perfect choice for travellers with young children.
Carrington Falls Campground
If you don't mind being a bit out of town, Carrington Falls Campground is a beautiful spot to pitch a tent. There are six sites which are all suitable for 'camp beside your vehicle' style accommodation. The campground has toilets and picnic tables. You have to BYO drinking and cooking water and fuel stove.
Carrington Falls is in Budderoo National Park. There is no cost to enter this part of the park but camping fees apply and you must book a site before arrival. There are short walks with views of Carrington Falls nearby. Across Kangaroo River it is a short walk or drive to Nellies Picnic Ground and Warris Chair Lookout.
Moss Vale Showgrounds
At just over 30 minutes from Kangaroo Valley, we have just managed to sneak Moss Vale into a place to stay on your visit to Kangaroo Valley. There is a caravan park in town – the Moss Vale Village Caravan Park, that has everything from executive cabins to unpowered sites. But, if you are after something different you can also camp at the Moss Vale Showgrounds.
Showground campsites have a lovely atmosphere. What you might miss in bushland settings you make for up for with plenty of grass and, often, historic pavilions. It is no different here at Moss Vale. There are 12 powered sites, toilets and bathrooms with hot showers. Prices are in the range of $22 a night. Moss Vale is not only close to Kangaroo Valley, you are also close to the southern highlands towns of Bowral and Goulburn.
Camping enquiries can be made through the Moss Vale Show website.
Lake Yarrunga and Tallowa Dam
If you like your camping to have a hint of wilderness adventure, you can load your gear into a kayak and paddle from one side or the other of Tallowa Dam.  Get deep into Morton National Park and enjoy the areas beauty and wildlife. To the east of the dam is the Shoalhaven River and to the west Kangaroo River. There are up to eight camp sites in either direction.
Some camp grounds have toilet facilities but you will need to take all other supplies with you. There are no camp fees, but a small booking fee applies when you reserve your spot. Book on the New South Wales National Parks and Wildlife Service website.
Acacia Flat and Bee Hive Point are popular campsites in The Kangaroo River direction. Look for Throne Flat, Monarch and Fossickers Flat campgrounds on the Shoalhaven River arm. View a map of the Lake Yarrung and Tallowa Dam campsites here.
Tallowa dam is 20 minutes from Kangaroo Valley. Even if you are not heading up the river with your camping gear, you can go to the picnic area and check out the dam.
 DISCOVER NSW WITH THE EXPLORATION MAP PACK 
Featuring trusted Hema mapping for all of Australia, the Hema Road & 4WD Easy Read Atlas is the definitive travel guide for tourers and adventurers. Hema atlases feature useful information, including 4WD tracks, campsites, caravan parks, rest areas, fuel & points of interest. Also included are regional maps of NSW with detailed National Park Maps, tourist information & camping areas.
Some other camping suggestions…
Berry is half an hour east of Kangaroo Valley. It's a great day trip from Kangaroo Valley but a bit far from Budderoo and Morton National Parks to make it a Kangaroo Valley camping spot. But, If you want to be closer to the coast, camping is available at the Berry Showground. Berry has a bustling main street with great eateries, boutiques and historic buildings. The famous Berry Donut Van is a must visit!
In the other direction, between 45 and 60 minutes west of Kangaroo Valley are the Penrose State Forest and Meryla State Forest. Both have campsites run by the Forestry Corporation. Paton's Clearing and Sandy Creek are in Meryla and Saffy's Corner and Kingsbury VC rest area in Penrose. These are free camps but there is a Camping Notification form to complete on the Forestry Corporation website.
THERMAL COOKWARE SHUTTLE CHEF
The Shuttle Chef is the premium slow cooker option - perfect for on the road. Just bring your food to the boil on the stove in the inner pot, simmer for 10-15 minutes then turn it off and transfer it to the outer container, and the Shuttle Chef takes care of the rest - slow cooking your food while you travel!
LIKE IT… PIN IT FOR LATER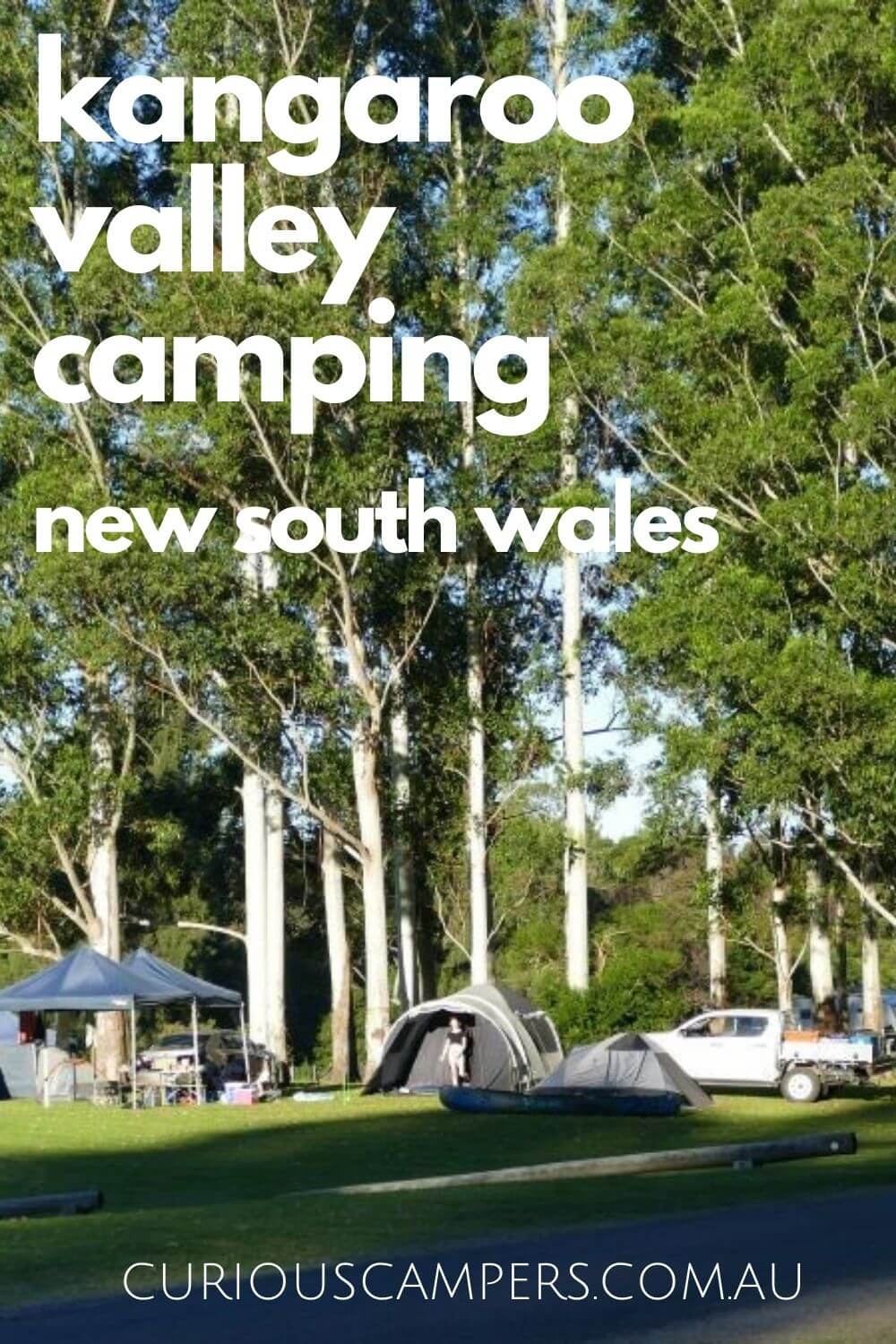 500 Things to do
Join our mailing list and receive our Free Top 500 things to do in Australia. If you love Australian Outdoor Experiences download this list and keep it handy when you are planning a weekend away or a road trip around Australia.