Narooma is a beautiful spot on the Eurobodalla Coast of New South Wales five hours south of Sydney. Straddling the Wagonga Inlet, you could spend all day just watching the tide go in and out and seals and stingrays swim by. But there are plenty of things to do in Narooma if you want to explore the region.
Disclosure: Please Note That Some Links In This Post May Be Affiliate Links, And At No Additional Cost To You, We Earn A Small Commission If You Make A Purchase. Commissions Go Toward Maintaining The Curious Campers Website.
Getting to Narooma
Narooma is 5 hours from Sydney. You might want to give yourself a few days to get there as you drive through some lovely coastal towns. Make sure you start on the Grand Pacific Drive which includes the incredible Sea Cliff Bridge between Sydney and Wollongong. With the route including towns like Kiama, Nowra, Batemans Bay and Jervis Bay, the road trip to Narooma is part of the holiday!
Melbourne to Narooma 690km, 8.5 hours
Canberra to Narooma 225km, 3.25 hours
Narooma FAQ's
Is Narooma worth visiting?
Is Narooma worth visiting?
If you like beaches, wildlife like birds, seals ,and stingrays, or if you just like the vibe of a relaxing and beautiful coastal town then Narooma is worth visiting. It is an incredibly picturesque place with lots of fun beaches, bushland and spectacular coastline to explore.
Getting to Montague Island?
How do you get to Montague Island?
One of the best things to do in Narooma is a trip to Montague Island. Snorkel, swim with seals or get onto the island and see the birdlife. The best way to get to Montague Island is by a guided tour that leaves from the Narooma Wharf.
How long?
How many days do you need in Narooma?
Aim to spend 2 – 5 days around Narooma. There is a lot to do in the town, but it is also a great base for exploring nearby towns like Tilba, Bermagui and Bodalla.
Towns near Narooma
Other towns near Narooma
Narooma is a good base for exploring the region. Make sure you also check out the historic town of Central Tilba, the Ocean Pool at Bermagui, the cheese factory at Bodalla and beaches and lakes at Tuross Heads and Brou Lake.
Things to do in Narooma
We fell in love with Narooma and could have stayed there for weeks exploring all the waterways, nearby villages and national parks. The beaches, rivers, and abundant marine life were just a few of the reasons we enjoyed this area. Our highlights were a bike ride along the boardwalk, snorkeling in the bay and visiting the historic village of Tilba. Read on and see what Narooma has to offer, we're sure you will love it too.
Montague Island Wildlife & History Cruise
Montague Island Nature Reserve is 9km off the coast of Narooma. It is a wildlife haven with seals, a variety of birds and a host of other marine life calling the island home. There are several operators that run diving, snorkelling, walking and sightseeing tours out to the island. Going to Montague Island is one of the best things to do in Narooma.
Swimming with some of the island's inquisitive seals is one of the best things to do around Montague Island. On the island you can see the Montague Island Lighthouse and learn about the island's naval and aboriginal history.
From September to November, you can see migrating whales and from September to February there are little penguins around. Getting out there will depend on the weather. Conditions around Montague Island can be quite different to the protected water in Wagonga Inlet.
Snorkel in Narooma's Bays & Beaches
The sheltered waters around Wagonga Inlet are perfect for snorkellers. Good spots to try are around the boat ramps at Apex Park and the Mill Bay Boardwalk. The area around the town wharf and the adjacent Batemans Marine Park are also good spots to see lots of fish.
For more advanced snorkellers, you can try Bar Beach south or drift along the Mill Bay Boardwalk with the tide. You can run into some big critters. Seals and giant smooth rays are a common sight around the boat ramps. It's not unusual for a seal to pop up in front of you to say hello. There are also lots of colourful fish, crabs, starfish and schools of fish. Look out sea horses on the pylons of the boardwalk.
Read More : Swim with Seals in Victoria
Bar Rock Lookout
This is one of a few things to see as you drive or walk along Bar Rock Road towards Wagonga Head. The lookout has great views along the coast and is a nice vantage point for spotting eagles, dolphins and, in winter, whales. When the surf is up, you also have a nice view of the waves crashing into the shore.
Australia Rock
This is one of those features that is a classic Insta spot. Australia Rock is a weathered hole in the rock shaped like mainland Australia. You can see the rock from the Bar Rock Lookout but from that direction it isn't very Australia-like at all. You either need to walk or drive down to see the rock from the other direction. It is a bit of fun and certainly a candidate for the most photographed bit of rock on the New South Wales south coast!
Seal spotting at Wagonga Head
There are seals everywhere around Narooma. If your sea legs are a bit suspect, you certainly don't have to cruise out to Montague Island to see them. The south side of Wagonga Head, just near Australia Rock, is a favourite rest spot for the seals. You'll be unlucky not to spot at least half a dozen of them sunning themselves on the giant rocks that form the channel wall.
If the sea is rough and the water is a bit higher, the seals will be right at the top of the wall only a meter or two away. For everyone you see on the rocks, there will be a few more in the water below, head down-tail up cooling off. They are a great sight; you'll end up with lots of cute seal shots.
Glasshouse Rocks
These are a fantastic sight best viewed at low tide. The Glasshouse Rocks are a series of oddly shaped and colourful rocks a little south of Narooma. You can see them if you walk south from Narooma Surf beach. If you want to get a closer look at them, park at the Narooma cemetery and take the path to the beach. The path is in one corner of the cemetery, look for the small section with the white fence around it and you'll see signs to the beach from there.
It is a 10 minute walk to the beach then a ten minute walk up the beach but even from a distance the rocks look great. There is one imposing tower in the water that looks more amazing the closer you get. It is only when you are closer to the smaller rocks you can see their amazing colour and the patterns in them. See if you can spot Kangaroo Rock on the land side looking over the water.
Mill Bay Boardwalk
This 350 metre long boardwalk runs along the north side of the Wagonga Inlet. It connects the Mill Bay boat ramp and Apex Park. There are nice views back to Narooma Wharf and lots of wildlife to spot. We liked it so much we walked, rode and snorkelled along it. Read about our Mill Bay Boardwalk adventures here.
Read More : Snorkel, Walk or Ride the Mill Bay Boardwalk
Marina & Quota Park
This is another nice spot. There are picnic tables, a small playground and waterfront eateries overlooking Forsters Bay. The park plays host to the Narooma Oyster Festival each April/May. You can also hire kayaks from here to go out and explore the bay. For a fantastic food experience check out Quarterdeck complete with Tiki Bar, grill, live music and super relaxed vibe. Definitely book if you are thinking of dropping in.
Lighthouse Museum & Narooma Visitor Centre
The museum features the original light from the Lighthouse on Montague Island. The light was used for 105 years until the station was updated and automated. The museum has exhibits and information about the area's maritime history. Entry is free.
Bike or E-bike between Narooma & Dalmeny
There is a great shared use path that runs between Narooma and Dalmeny that is perfect for a bike ride. We hired E-bikes from Southbound Escapes to enjoy the views along Mill Bay, Kianga Beach, Duesbury Beach and Yabbara Point. The Duesbury Lookout is a great spot to take in the scenery and do some whale watching. See more about our E-bike ride here.
Narooma Town Wharf
Whether you want an easy to get to fishing spot or just somewhere to relax and watch the boats and seals and stingrays cruise by, this is it. There is a grassed reserve nearby with a picnic area and a walkway/bike path that takes you into town. The wharf is also the departure point for Montague Island and whale watching cruises. We loved sitting around here and watching the rays come and go and pelicans cruise by. It is an interesting and relaxing spot.
Narooma Golf Course
If you travel with a set of golf clubs in your car you must book a round at the Narooma Golf Club. It ranks in the top 20 for public access courses in Australia and with its coastal layout and ocean views it is easy to see why. The par 3 third hole – Hogan's Hole – that requires you to launch your ball over a bight in the coastline is spectacular.
The setting for the course is so wonderful you'll want to come here for lunch even if you are not a golfer. The clubhouse has extensive indoor and outdoor dining areas. We stopped in for lunch one day and could have settled in for the afternoon the scenery was that good. Watching the strong breeze ruin a few tee shots was fun too….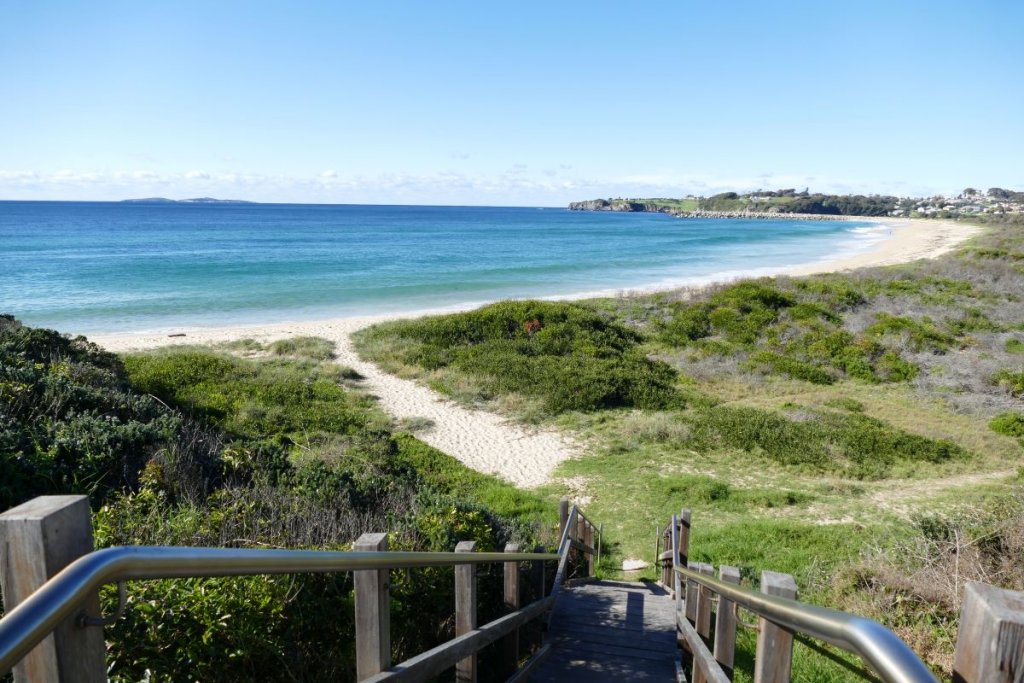 Narooma Beaches
If you like the feeling of sand between your toes Narooma has no shortage of great beaches. For a protected beach try Bar Beach South. This is a great snorkelling spot and will generally have calmer water with the protection of the breakwater. If you want some surf, try Bar Beach North and Narooma Surf Beach. Just south of Narooma is Handkerchief Beach which is the pick of the spots if you are looking for somewhere a little quieter.
Read More : All the best things to do in Jervis Bay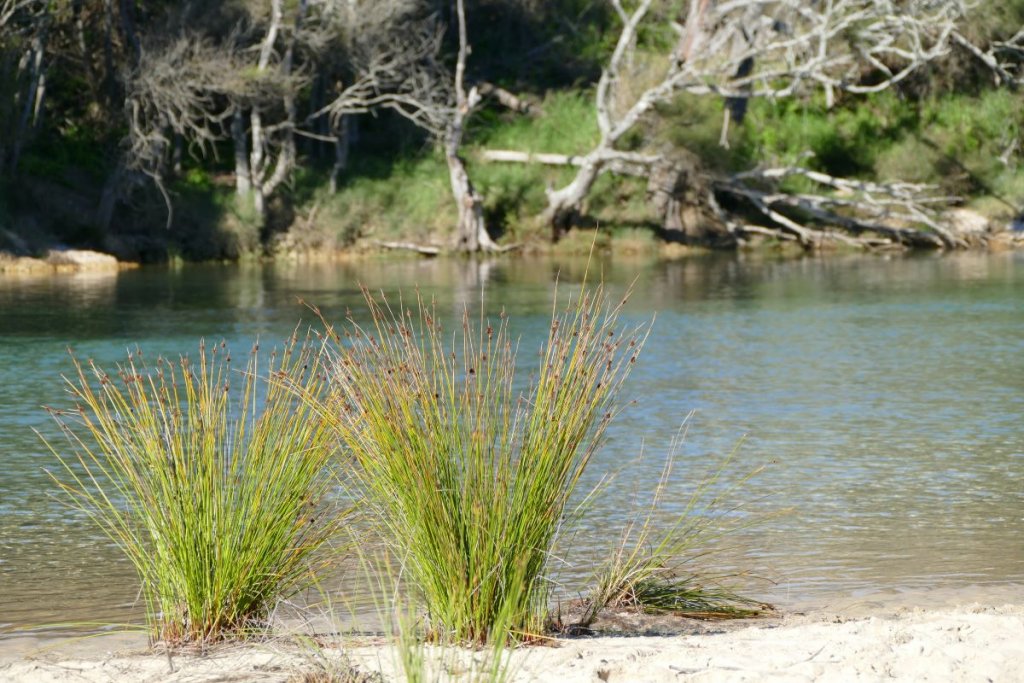 Nangudga Lake
Not far from Handkerchief Beach, this is a pretty spot to launch your kayak or stand up paddleboard. It is only five minutes south of Narooma. There are picnic tables and toilets near the carpark.
Box Cutting Rainforest Walk
If you want a break from the water, a 20 minute drive from Narooma will take you to the forests of Kianga and the Box Cutting Rainforest Walk. Keep an eye out for the parking bays on the right hand side of the road, the signage and carparks are easy to miss! The walk is only a 700 metre, 30 minute loop trail but it takes you down into a beautiful rainforest gully.
The path is a little steep and potentially slippery after rain but is short and manageable for families. A feature of the gully are moss and lichen covered logs and branches of the Grey Myrtles. Keep an eye out for forest birds including lyre birds and satin bower birds. It is a pretty walk, well worth getting out of the car for.
Read More : Ultimate Guide to Warrie Circuit Walk on the Gold Coast
Wagonga Scenic Drive
From the Box Cutting Rainforest Walk, drive on and take a hard left onto the Wagonga Scenic Drive that takes you around Wagonga Inlet. It is a beautiful drive in the forest across little bridges, and through farmland. Along the way you'll see the Buckeridge Lookout. It has seen better days, there are obscured views down to Narooma. A nicer stop is Wagonga Wharf at Brice's Bay. There are lovely views over the oyster farms and if you fancy a quiet fishing spot this is it.
North of Narooma
Bodalla Diary Shed
Bodalla is 20 minutes north of Narooma and a must see for anyone who likes a nice dairy product. The Bodalla Dairy shed has cheese, ice cream and milkshakes to try. The Kakadu Plum ice cream was amazing! Farm stays are available on the property. Even if you aren't staying, there are chances during the day to feed the cows.
Potato Point
From Bodalla, it is 10 minutes to Potato Point which backs on to Eurobodalla National Park. Bring your beach gear and spend the day at Jemisons Beach or try whale watching from Potato Point Lookout. If you want to spend longer in the area, have a look at Beachcomber Holiday Park. It sits between the beach and national park and is home to lots of kangaroos. It's on our list of places to come back to.

Brou Lake and Brou Beach
This is another spot in Eurobodalla National Park. It is a great place to visit for the day with your kayak, stand up paddle board or fishing gear. Brou Beach is a beautiful spot with the forest backing right on to the beach. If you want to stay longer there is a free campground. The only cost is a small booking fee.
Read More : Guide to the Best National Parks in NSW
Tuross Heads
Tuross Heads is only 33 minutes from Narooma just up the coast from Potato Point, but you must go back to the Princes highway to get there. Coila Lake and Tuross Heads Beach are beautiful spots to enjoy your water sports or beach activities. One Tree Point Lookout in town is a good whale watching spot. Around Tuross Heads there are coastal and lake walks that take you past Main beach, One Tree Beach and Plantation Beach.
South of Narooma
Mystery Bay
If you like Narooma but want to be just out of town have a look at Mystery Bay. It is only 10 minutes from Narooma and is another spot where the bush meets the sea. The beach is great and the rocky points at either end are interesting snorkelling spots. Mystery Bay has the distinction of being the closest point to Montagu Island. There is a low cost campsite in the area too.
Read More : Free & Low Cost Camping in NSW
Central Tilba
To step back 100 years in time you only need to go 12 minutes south of Narooma to the village of Tilba. Its main street is lined with original timber buildings that are now home to gourmet food shops, craft and galleries. The bakery and the Cheese Factory are musts to visit. To walk off any treats you buy, hike up to the water tower lookout for panoramic views of Mount Gulaga and the surrounding farmland.
Just down the road is Tilba Tilba historic village. It is a little smaller than its neighbour but still worth visiting for its galleries, cafes and the pretty Foxglove Gardens.
Camel Rock Beach
This is a nice bit of coastline about 20 minutes south of Narooma. On your way there you will cross the historic Wallaga Lake Bridge which is one of the oldest wood bridges on a main road in New South Wales. Wallaga lake is a popular fishing and kayaking spot. If you pull off the road at Payne Island you can stop and spot all kinds of water birds.
Camel Rock Beach is a popular surf beach but there is also a nice walk you can do from the beach carpark. Follow the coast to either Horse Head Rock or, a bit further along, to Murunna Point that overlooks the Wallaga Lake inlet. Besides spotting Camel Rock near the beach, you can walk about 15 minutes and see if you can make out Horse Head Rock. A tip – you need to look south to see it and yes, it really does look like a horse head.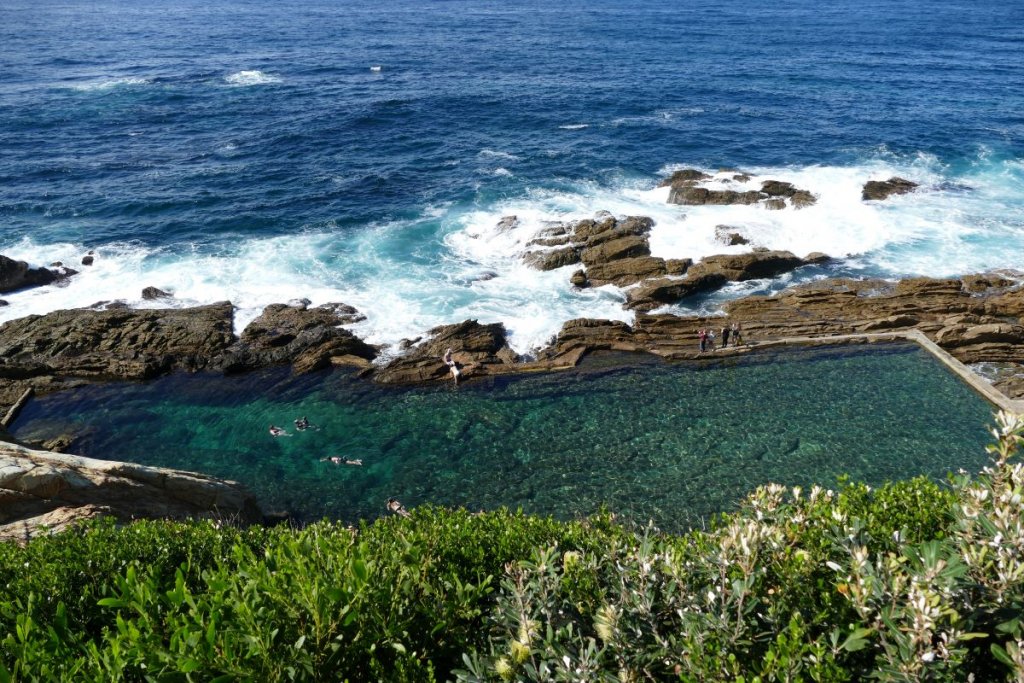 Bermagui
You could base yourself in Bermagui for a while to explore the area, but it is still an easy day trip from Narooma being only 30 minutes away. Explore Bermagui Harbour, Horseshoe Bay Beach and the Bruce Steer Pool in Bermagui Harbour. Blue Pool is a natural swimming pool in the rocks along the coastline. It is an amazing place to do a few laps or even for a safe fun snorkel. There are a few steps to get up and down from Blue Pool, but it is worth the effort!
Places to Stay in Narooma
If you enjoyed this story you might also like:
Things to do in Kangaroo Valley | Relax in Berrara NSW | Kayaking in Jervis Bay
Like it? Pin it for Later…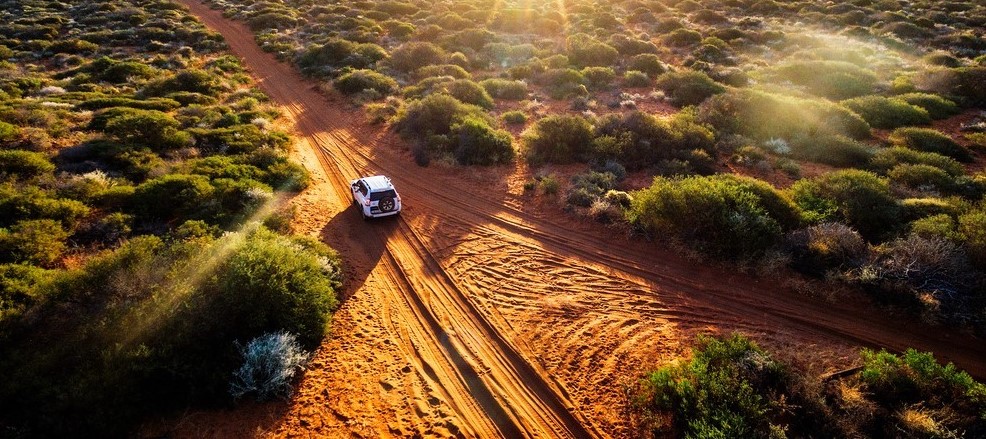 500 THINGS TO DO
Join our mailing list and receive our Free Top 500 things to do in Australia. If you love the Australian Outdoors download this list and keep it handy when you are planning a weekend away or a road trip around Australia.
Recent Posts