Your list of things to do in Jervis Bay is pretty exciting. You can look forward to some of the whitest sand and clearest water in the world. Jervis Bay is paradise for anyone who likes a beach holiday, snorkeling or kayaking. Jervis Bay is on the New South Wales south coast three hours south of Sydney. Its beautiful coastline, walks, and national parks make it the perfect travel destination.
Disclosure: Please note that some links in this post may be affiliate links, and at no additional cost to you, we earn a small commission if you make a purchase. Commissions are appreciated and go toward maintaining the Curious Campers website.
Things to do in Jervis Bay
Even on a cloudy day the water in Jervis Bay is crystal clear and calls out to you to get in and enjoy it. Our favourite things to do in Jervis Bay were a sea Kayak around the bay, snorkeling at Murrays Beach and crawling through Gosang's Tunnel. Check out our list, there is a wide range of attractions around Jervis Bay which make a great place to visit.
Cape St George Lighthouse
This is the original lighthouse at Jervis Bay. The Point Perpendicular Lighthouse replaced it when they found the Cape St George Lighthouse wasn't built in the best location. The ruins are In Booderee National Park, so you'll need a park pass to see it. And the drive out on Old Lighthouse road had a few potholes for our visit so keep an eye out for them.
You can take the Ruined Lighthouse Walking track around the site. It has some great views and remains of the lighthouse and buildings are great things to look over. It's a beautiful setting, as you look along the coast keep an eye out for white bellied sea eagles overhead. For a different view of the ruins go to nearby Moes Rock. It is a short walk through thick bush to the rocks.
Point Perpendicular Lighthouse and Lookout
Built in 1899, this intact lighthouse is the replacement for the above mentioned Cape St George Lighthouse. Here, instead of needing a pass to Booderee National Park, you will need to check the Beecroft Peninsula is open. There is an Australian Navy firing range on the peninsula and when there are exercises going on, you can't get to the lighthouse.
The lighthouse sits 100m above sea level, so the views are fantastic. You can do some whale watching here in winter, also keep an eye out for seals, sea eagles and amazing sunrises. From the lighthouse carpark there is a walking track to the Outer Tubes, a popular rock fishing spot. It's a 30 minute walk to the rocks.
Abrahams Bosom Reserve
Abrahams Bosom is in Currarong rather than Jervis Bay, but it is still on the Beecroft Peninsula, so it makes our Jervis Bay List. The odd name has its origins from the safe harbour the bay offered early sailors. Today, the reserve is the starting point for several walks that take you through coastal scrub and bushland to sea cliffs and beaches.
There is a lot of bird life, look out for the endangered bristlebird, and from the sea cliffs you can spot whales, seals and dolphins. There are a few walks to choose from including the 9km Coomies circuit or the shorter Wreck Point (2.5km) walk to the ruins of the SS Merimbula. There's also the Lobster Bay (3km) and Mermaid Inlet (5km) tracks.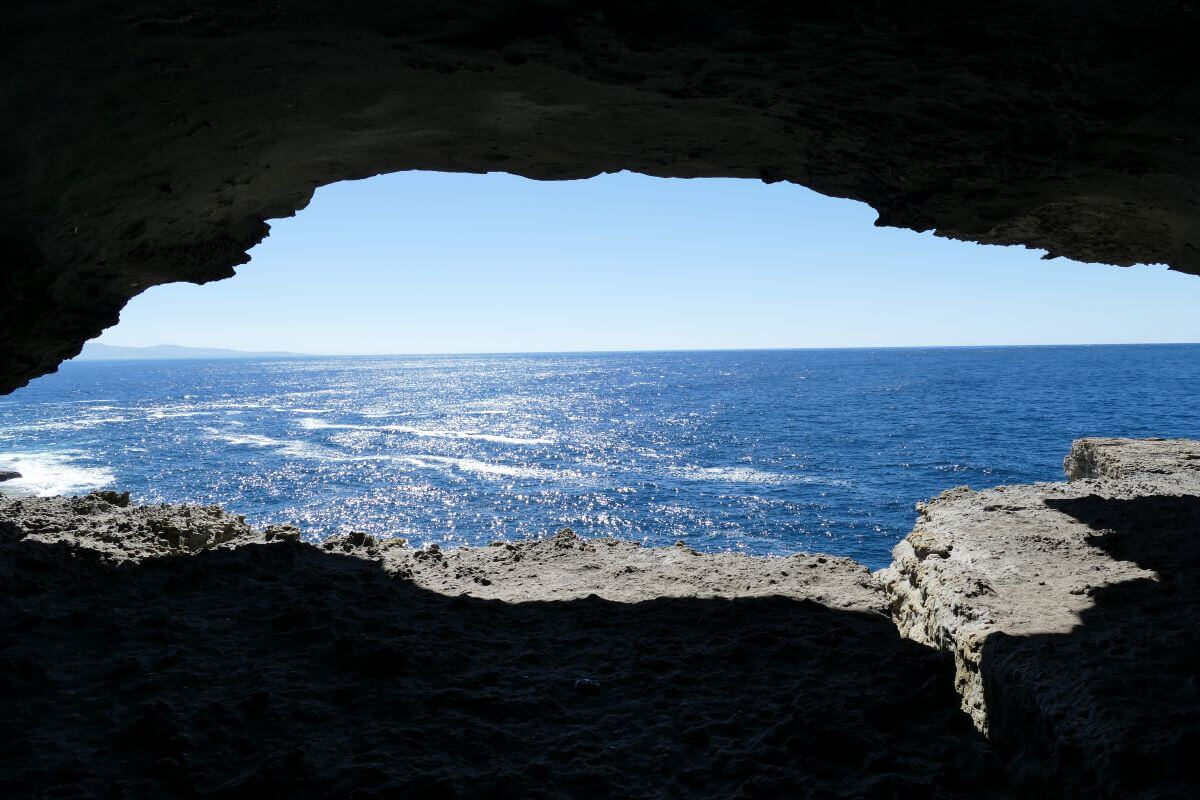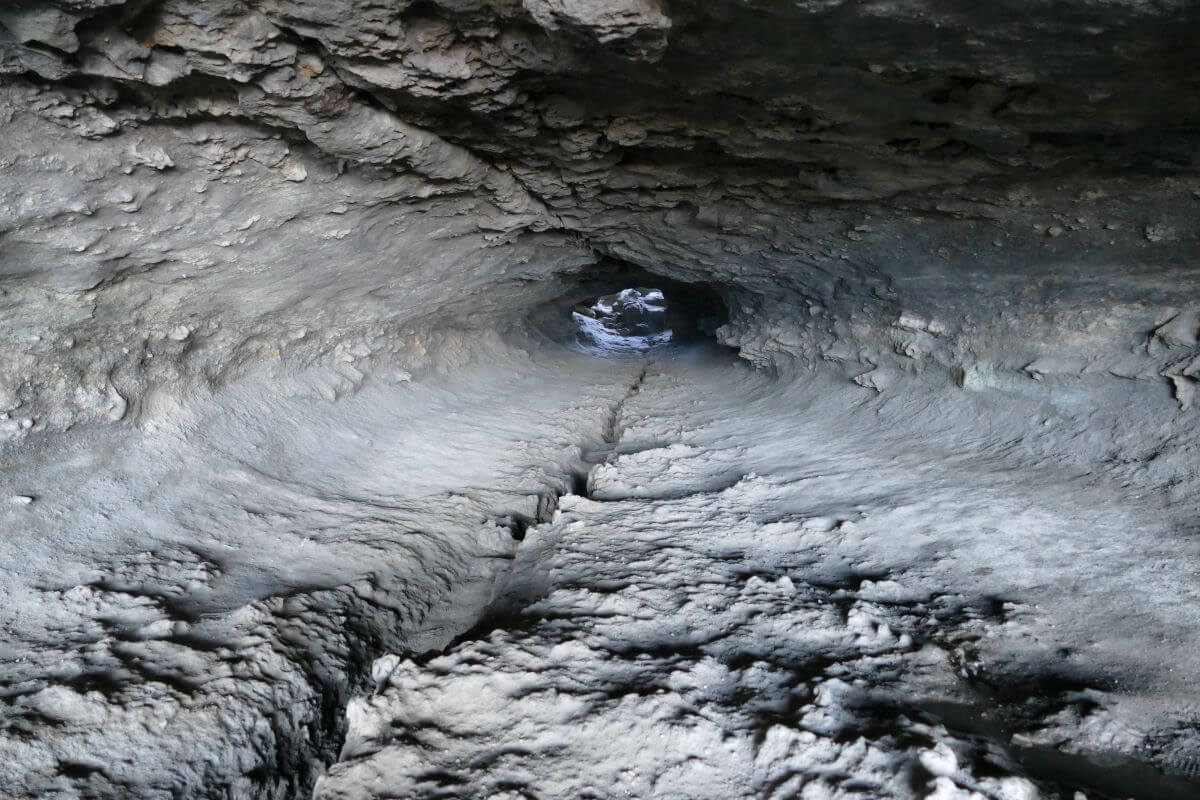 Gosang's Tunnel
This is still in Abrahams Bosom Reserve, but it is so cool it gets its own heading. It is not sign posted from the main carpark. You will need to follow the Coomies Walk for around 20 minutes until you see a sign taking you off the Coomies Track.
Keep following the signs until you see a whole in the rock wall. It is about one metre high and a couple of metres across and 20 metres long. You will have to kneel, crouch or waddle your way through but the bit of discomfort is worth it. At the other end you pop out on a ledge overlooking the sea. It is an incredible view. This is a really unusual spot and well worth the crawl through the tunnel for the view from the sea cliffs.
Sea Kayaking
With its beautiful beaches and crystal clear water, you have to explore Jervis Bay in a kayak. We spent a morning with the team from Sea Kayak Jervis Bay paddling around the coast.  It was a brilliant adventure. Read more about it here.
SEA KAYAKING TOUR OF JERVIS BAY
We loved this tour and recommend it as the best way to explore the Bay. Paddle to some of Australia's most beautiful beaches with the whitest sand in the world! There is always a chance of encounters with local wildlife like seals, dolphins, sea birds and whales at the right time of year.

Snorkelling in Jervis Bay
Just as Jervis Bay Marine Park is ideal for kayaking, it is also a great snorkelling destination. The rocky points and beaches are teeming with marine life and with such clear water it is a snorkeller's paradise. Some of the best snorkelling spots include Blenheim Beach, Green Patch, Murrays Beach, Honeymoon Bay and Shark Net Beach. But really, snorkel around any rocky outcrops near any of the beaches and you will spot something!
Our time on the south coast of New South Wales was marred by a period of sustained wind and ocean swells. Even so, the water in Jervis Bay is so good, even when conditions aren't ideal visibility is still amazing. We did a drift snorkel from Murrays Beach to the Murray Beach boat ramp. We saw giant smooth rays, blue gropers, eagle rays, huge schools of fish and dozens of colourful fish you would thing should be on a coral reef. If you visit Jervis Bay, pack your facemask and fins.
Image Credit: Jervis Bay Wild
Dolphin Cruising
Depending on the website you read, Jervis Bay is home to between 60 and 120 Indo Pacific bottlenose dolphins. Dolphin spotting cruises leave from Huskisson and boast a high dolphin spotting rate. Jervis Bay is an amazing marine environment and even if dolphins elude you, seals, whales and stingrays might still come your way. But hey, even if you spot nothing, a cruise around the bay is a great way to see the area.
JERVIS BAY DOLPHIN CRUISE
Spot playful bottlenose dolphins swimming, diving and jumping around the boat as you explore the Jervis Bay Marine Park. You'll have plenty of opportunities to get up close to the magnificent sea creatures, watching as they swim and play.

Jervis Bay Tourism Centre
The Tourism Centre in Huskisson is a bit of a one stop shop for things to do in Jervis Bay. It has the visitor centre, maritime museum and Mangrove Moardwalk (read below for more details on these), and a fish feeding pond. It's a lovely setting that also features a couple of gardens.
The Wirreecoo Wildflower Garden was re-imagined after the 2001 fires. The Mound garden design that resulted features many local plant species and attracts many birds. The Keith Moore Habitat Garden has accessibility as a major theme. It has an open design and lots of local plants. You can't miss it as you make your way to the fishpond or mangrove boardwalk.
Jervis Bay Maritime Museum
The museum celebrates the rich maritime history of Jervis Bay and the New South Wales south coast. It is on the same site as the Jervis Bay Tourism Centre. The museum has four sections – Historic Vessels, Jervis Bay History, Surveyors Gallery, Science and the Sea.
The museum features everything from models, photos, and maps to complete boats. The flagship of the museum is the Lady Denman Ferry. Built in Jervis Bay in 1911, it cruised Sydney harbour for 67 years before returning home upon her retirement. There is a small admission fee to the museum, kids under 16 free. Anyone with a bit of seawater in their veins will love it.
Jervis Bay Mangrove Boardwalk
Mangroves are a fascinating coastal environment, and this generous boardwalk is a great way to appreciate it. The 1.4km walk starts behind the Tourism Centre and goes out over the mud flats along Currambene Creek. We were there at low tide and saw crabs scuttling around everywhere, lots of birds and new mangroves. There is no charge for this activity. The walk out to the boardwalk takes you past the Pond – a tidal fish reserve. You can't fish there but you can feed them, food is available at the visitor centre.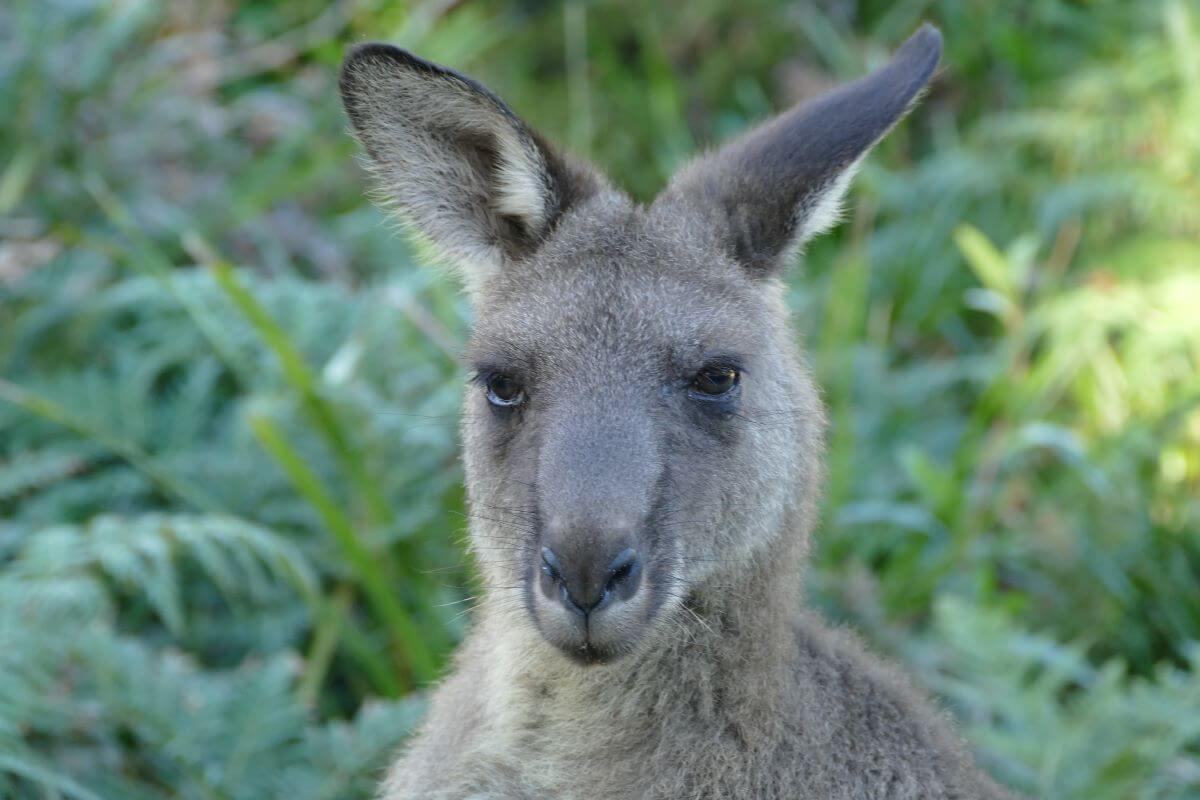 Booderee National Park
Booderee is co-managed by the Wreck Bay Aboriginal Community Council and Parks Australia. Once known as Jervis Bay National Park, Booderee is a great area for lovely beaches, boating, fishing and wildlife spotting. Look out for everything from whales to eagles and penguins. Fees apply to enter the park; pay online or at the entrance to the park. Day and annual passes are available.
The park has several walks including Steamers Beach circuit (11.5km), Cave Beach walk (4.5km), and the Munyunga waraga dhugan loop walk at Murrays Beach. This 5.4 km loop explores the areas natural and cultural history through a series of signboards along the path. Camping in Booderee is available at Green Patch, Bristol Point and Cave Beach (check availability).         
Booderee Botanic Gardens
Located in the National Park, the Booderee Botanic Gardens are the only aboriginal owned botanic gardens in Australia. You will need a park pass to get to the gardens which are open every day of the year from 8.00am. Give yourself plenty of time to have a look around. There are several short walking trails through the gardens. The Lake trail around Lake McKenzie, the Forest Walk and the Heath and Woodland trail are all less than 1.5km long and take you through a range of habitats.
As well as the walks, there are several feature areas around the garden. Rainforest Gully, Waratah Lawn and Casuarina Lawn are all lovely spots. We liked how well labelled all the plants were. It was nice knowing what you were looking at! You can arrange guided tours of the gardens on their website.
Round the Bay and White Sands Walks
If the first thing you pack for a holiday is your walking shoes, you'll enjoy Jervis Bay. As well as the walks in Booderee National Park and Abrahams Bosom Reserve, there are two other popular walks in the area. The White Sands Walk is a 2.5km walk that takes you along some of the best beaches in Jervis Bay. You'll wonder past Greenfield Beach and Nelson Beach in Vincentia, Blenheim Beach, Chinamans Beach, and Hyams Beach.
The Round the Bay walk is a longer option covering 11km of coastline from Callala Bay to Plantation Point. If you start at Huskisson, you'll walk past Shark Net and Huskisson Beach. Further along is White Sands Park with its perfect picnic lawns and popular climbing playground. Your feet get a little rest when you take a ferry ride across Currambene Creek.
Huskisson Pictures
As beautiful as Jervis Bay is, not every day is going to be beach weather. When it is an inside day check out Huskisson Pictures. Built in 1913 the hall has had a variety of uses including a church, a school and a library. It started showing films in the 1950s. Even though the inside is modern, the exterior still has plenty of old world charm. If the weather turns against you, it's the perfect spot to spend an afternoon.
Huskisson Sea Pool
If there is a lap pool in Australia with better views, we'd like to see it! Located in Voyager Park, the Huskisson Sea Pool is a 5 Lane, 48m lap pool. If you struggle for motivation when you swim don't come here, you'll likely be too easily distracted by the views to bother doing more than one lap. Entry is free. As you think about doing your laps, you'll get views over the bay and Myola Spit. At high tide you might get a wave lapping at the pools edge or feel a little sea spray on your face.
Jervis Bay Beaches
If you visit the Shoalhaven, you will likely come across the Shoalhaven's 100 beach challenge. It is fair to say the region is spoilt when it comes to beautiful beaches and turquoise water. If ticking off the list is a goal of yours, you'll make a good sized dent in it when you visit Jervis Bay. If nothing else, you can visit Hyam Beach to see what world record holing whitest sand looks like.
Which beach should you try? Murrays Beach, Hyams Beach, Callala bay, Shark Net Beach, Huskisson Beach, Iluka Beach, Cabbage Tree Beach, Honeymoon Bay, Bindijine Beach… there isn't a bad one amongst them.
Some are busier than others. Hyams Beach and Huskisson Beach are super popular. At others like Cave Beach where there is a longer walk to reach them or Iluka Beach can be a bit quieter. There are so many great beaches in Jervis Bay you are sure to find your own little patch of paradise.
Jervis Bay Camping
Depending on what 'camping' means to you, there are a few accommodation options in Jervis Bay. National Park camping is available in Booderee National Park at Green Patch Beach, Bristol Point and Cave Beach. On the Beecroft Peninsula side of the Jervis Bay, there is a lovely campground at Honeymoon Bay. Bookings are essential for all sites.
If your idea of camping is something a little more luxurious, try Paperbark Camp near Currambene Creek 4km inland from Huskisson. The raised canvas tents have an African safari vibe. They are set in a eucalypt and paperbark forest and are a unique accommodation option in Jervis Bay.
If caravan Parks are your scene there are several to choose from. There's Holiday Haven White Sands in Huskisson, Jervis Bay Holiday Park and Holiday Haven Currarong.  Nearby are Palm Beach Caravan Park in Sanctuary Point and Surfside Cudmirrah Beach near Sussex Inlet and
You will need to buy a park pass to enter Booderee National Park.
Pre-purchasing your pass online or you can purchase one from the entry station on your way into the park. A 2 day vehicle pass is $13.00.
Camping fees apply at Booderee. Choose between Green Patch, Cave Beach, or Bristol Point – fees and facilities vary between campground. 
LIKE IT… PIN IT FOR LATER
500 Things to do
Join our mailing list and receive our Free Top 500 things to do in Australia. If you love Australian Outdoor Experiences download this list and keep it handy when you are planning a weekend away or a road trip around Australia.