There are some great options for free camping in NSW. These free camping and low cost sites take you from the outback to the coast. They are a great way to explore the state, avoid crowds and make your travel budget go further.
The list includes not only free and low cost camping locations but any fees, local attractions and the facilities available.
The locations listed are a mix of great spots to relax, the perfect base to explore the region or an ideal rest spot if you need to break up a long road trip.
If you know of any other great free camping locations in NSW let us know in the comments or contact us if you'd like to be included in the post!
Disclosure: Please note that some links in this post may be affiliate links, and at no additional cost to you, we earn a small commission if you make a purchase. Commissions are appreciated and go toward maintaining the Curious Campers website.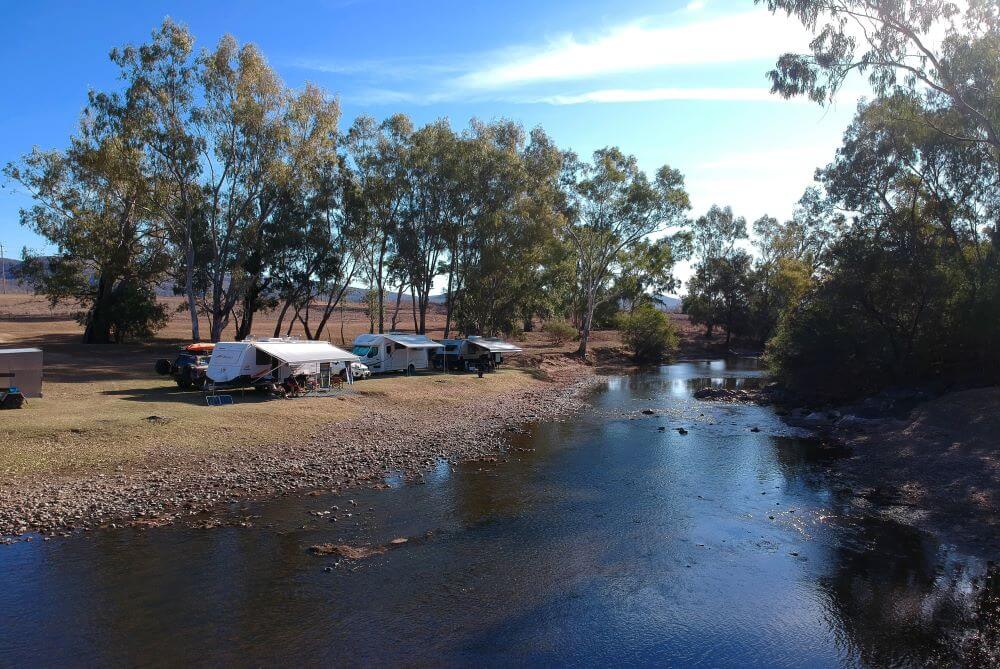 Gwydir Riverside Camping, Bingara
Emma Riggs from MY RIG Adventures shares one of their favourite free camps from Northern New South Wales. You can read more about the Riggs experiences of travelling Australia with kids. Follow on Facebook.
One of our absolute favourite free camps is nestled in the little country town of Bingara.  You'll find Bingara in the New England region of New South Wales, being west of Coffs Harbour and situated in the Great Dividing Range.
The nearby Copeton Dam feeds into the Gwydir River, which flows through Bingara.  Along this river is where you'll find not one, but at least seven picturesque Free Camps!  Copeton Dam is one of the largest inland dams across the state, with a capacity nearly three times that of Sydney Harbour.
We spent a fantastic week at the Faithful Riverside Camp along the Gwydir River.  You'll easily be able to see where all of the camps are located by looking it up on your WikiCamps App. Common features of the Gwydir Riverside Camps: Free for 7 days, pets allowed, camp fires permitted, Telstra phone reception, no toilets, showers or water on site, must be self contained with own toilet and shower facilities.
Something truly unique about camping along the Gwydir River is waking up to the sounds of horses splashing across the river or seeing them graze on grass right outside your camp. The wildlife is in absolute abundance! It's the perfect country camp for kicking back around the campfire and relaxing with a hot cuppa.
THERMAL COOKWARE SHUTTLE CHEF
The Shuttle Chef is the premium slow cooker option - perfect for on the road. Just bring your food to the boil on the stove in the inner pot, simmer for 10-15 minutes then turn it off and transfer it to the outer container, and the Shuttle Chef takes care of the rest - slow cooking your food while you travel!
Curious Campers set up for a few nights at Penrose Park. Follow on Facebook.
Penrose Park isn't a free camp, but it is dirt cheap and we had a ball staying here. In fact, we would have paid multiples of the $15 a night family rate and still felt it was good value.
There are amenities blocks, wood and gas BBQs, picnic areas and plenty of shade. There is also a tennis court and a bush golf course. Besides the native wildlife, Penrose Park is also a sanctuary for a range of farm animals that now call the park home.
The highlight of the park for us was the open fire – a half 44 gallon drum – that kept us warm of an evening.
Penrose Park is the perfect base for exploring the historic town of Silverton. Once a mining town, Silverton is now perhaps better known for its association with the Mad Max movies. Whether your interests lie with the films or the towns colonial history there is plenty to see.
There are several heritage and nature trails to explore and the view from Mundi Mundi lookout is spectacular. It won't matter what you're like with a camera, there are stunning shots wherever you look around this outback town.
ROAD TRIP PLANNING MADE EASY WITH CAMPS 11
The latest edition of Camps Australia Wide features more sites than ever before, giving campers, caravanners, 4WD enthusiasts, road trippers and other travellers more places to pull up and stay for the night. Travellers who want to take their pet on the road can choose from over 4,000 pet-friendly campsites using Camps 11, making it easy to discover Australia without having to leave your furry (or otherwise) friend behind.
Kevin Walsh Oval Free Camp, Jamberoo
Emma from Our Wayfaring Life found this great free camp in Jamberoo as they travelled along the Princes Highway. Follow on Facebook.
* Free camping site is currently closed due to Covid-19 restrictions – effective September 2021
Kevin Walsh Oval in Jamberoo NSW from January 2020 is a 48 hour free camp for 4 fully self-contained vehicles with a shower and toilet on board plus both a grey and black water tanks. For anyone looking for a free or low-cost camping option this is, other than two rest areas on the Princes Highway, the only option in the area.
Camping at Kevin Walsh Oval along a quiet roadway and a creek. There are public toilets, free showers (cold), drinking water and a dump point available for your use. Spots fills up quickly so best to arrive before 3pm. A ranger patrols the area around 7am each morning.
Jamberoo is lovely. It is a dairy farm country with gorgeous green rolling hills on the doorstep to the beautiful seaside town of Kiama (15 minute drive). Jamberoo village is small and friendly with an IGA supermarket, café and pub as well as a free public pool, basketball court, playground, skate park, sports fields and golf course all in close walking distance from the campground. There really is everything you need and more.
Blue Pool, Carrington Falls Campground
Carrington Falls, Budderoo National Park
Budderoo National Park 2 hours south of Sydney is home to the spectacular Carrington Falls. If you can't get enough of the falls and stunning canyon views, for a small fee, you can camp here. The sites here are small and only suitable for tents. And you don't need to worry about crowds, there are only 6 sites available. So even if it is full, there still won't be many people around you!
There are picnic tables and toilets at the campground but you will need to bring in your cooking and drinking water and all supplies, there isn't a corner deli just down the road. Also be aware that for better or worse, you might not get a phone signal here.
Carrington Falls is a popular place with day-trippers but at dawn and dusk you will likely have the place to pretty much to yourself. It will just be you, the sound of the falls and the abundant wildlife – pretty nice! There are short walks around the falls and some longer walks nearby to lookouts and swimming holes. It is also close to other attractions including Minnamurra Rainforest Centre and Barren Grounds Nature reserve. Sites must be booked and you do that through the NSW National Parks website. 
Erin from Australian Mountains to Sea Loving Families shared a favourite spot located right on the beach between the National Park and Korogoro Creek. Follow on Instagram
Hat Head is a remarkable spot in the Macleay Valley, north of Port Macquarie on the east coast of Australia. Hat Head Holiday Park is located directly on the beach, nestled between the ocean, National Park and the Korogoro Creek. Hat Head has 12km of uninterrupted sandy beaches which is a big draw card for visitors; as is the quiet, calm atmosphere of the town itself. When you go to Hat Head, you need to be prepared with food and essential items as there is little access to such things in the main town.
Hat Head Holiday Park has a range of accommodation options which cater for all budgets – they have cabins, bungalows, powered sites and unpowered sites. Guests have free WIFI, a children's playground, amenities, BBQ area, laundry and kiosk essentials. During the low season dogs are welcome in the Park, too. The Macleay Valley Coast is a stunning region and offers great beaches, crystal clear water and sensational coastal views. Hat Head Holiday Park is the perfect location for a family getaway.
At around $30 per night for an unpowered site, it is not one of the cheapest camps on the list, but is a great price for the location and facilities.
AUSTRALIAN MADE PEGLESS CLOTHESLINE
Perfect for caravanning and camping, you can use this pegless clothesline anywhere! I even use mine at home on the balcony... Easy to put up with little occy straps at each end. Tucks away in a draw when not in use - perfect for quick drying of your towels and washing. Makes a great gift idea.
Menindee Lakes Free Camping
Curious Campers free camp site on the shores of Menindee Lakes. Follow on Facebook.
Not free, but at $6 per adult and $3 per child, Menindee Lakes is a spectacular low cost location. Of course, it is all the more spectacular when there is water in the lakes. Even if there isn't, this is still a wonderful outback location.
The campground is in the Kinchega National Park. You can get there on the Menindee Road from Broken Hill or Pooncarie Road from the south. Check the conditions before you head in. We stayed at Mendindee Lakes on our way from Broken Hill to Mildura with a stop to explore Mungo National Park.
Facilities here include picnic and BBQ areas and toilets. You can have a fire but need to bring in your own wood. When we stayed here one winter, we pretty much had the place to ourselves. The bird life was great, and the sunsets were amazing.
The lakes are a great place to relax with a fishing road or a book but to explore the area further, check out the walk around the Kinchega Homestead Billabong and the Kinchega Woolshed.
Gillards Campground – Mimosa Rocks National Park
Rachel from Coffee Wise recommends a great campground hidden away in Mimosa Rocks National Park. Follow on Facebook
On the far south coast of New South Wales tucked away in Mimosa Rocks National Park is one of the State's best low-cost campgrounds.
Sites at Gillards Campground are tucked away amongst the trees in small sections, all just steps from the beach. Some sites are suitable for caravans and camper trailers, with other sections reserved just for tents. It is a peaceful campground surrounded by nature, right on the beach.
The park is great for those who want to grab a book, make a cup of coffee and relax by the beach. But it is also perfect for adventurers too. Visit pretty Moon Bay or take your kayaks for a paddle on Nelson Lagoon. For the active holiday lovers there are several great headland walks in the park.
The beach is stunning and perfect for a walk and a surf, but it can be a little wild at times. If you have young children, the local beach just 10 minutes away at Tathra is a good swimming option.
All sites are unpowered and wood fires are permitted. Facilities are basic, with no water available and non-flush toilets onsite.  There are some picnic tables available. The small community of Tathra is close by to top up necessities.
Note there are no bookings taken and sites are available on a first-in first-served basis. Payment is made onsite and costs $24 per night for up to 6 people. It is recommended to arrive by the early afternoon to secure a spot.
If you are in the area, Mimosa Rocks National Park is a must-see destination. You will not be disappointed with a trip to this gorgeous part of the world.
Brou Lake Campground, Eurobodalla National Park
Brou Lake is in Eurobodalla National Park on the New South Wales south coast. It is about 4 hours from Sydney between Narooma and Tuross Head. This is one of those campsites that you won't believe is free. It is a beautiful spot. Sites are unpowered and only suitable for tent camping. There are picnic tables and toilets but you will need to bring your own cooking and drinking water.
The campground is set in a forest of tall spotted gums and grass trees. It is a beautiful, peaceful setting. There is plenty of wildlife and birdlife returning to the area as it recovers from fire. It is what else you have around you that makes this place so special. You are only a short walk from Brou Lake and Jamieson Beach so there is plenty of scope for fishing, kayaking, getting around your stand up paddle board or going for a swim.
If it is not watersport weather, the nearby towns or Narooma, Tuross Heads, and Bodalla all have plenty to keep you busy. There is also plenty of other water in the area whether you want to explore Coila Lake near Tuross Head or Bingie Beach and Potato Point.
Terramungamine Reserve free camping
This free camp near Dubbo is a regular overnight spot for Bryony from Coasting Australia to stop when they are passing through Dubbo. Follow on Facebook.
Just a few minutes drive from Dubbo in NSW, there is a 24 hour free camp at Terramungamine Reserve. We stayed here a few times as we explored the area as there is so much to see and do in Dubbo with kids.
The campground is just off the highway so very easy to find, but it feels very secluded – a short dirt road leads you into a lovely spot surrounded by nature and wildlife. There are lots of level sites to set up, as well as shady areas and ones with fire pits.
The campground sits on the Macquarie River with beautiful views, and an abundance of birdlife. A short bush walk takes you to some incredible indigenous rock grooves created by the Tubbagah people, which have been there for thousands of years.
The camp is suitable for all kinds of vehicles, and tent camping too – and is accessible for big rigs. It is also dog-friendly and our pup loved the a dip in the river. There are also toilets here but no showers – we used the free (cold!) showers at the nearby Sandy Beach Park rest area.
BEST COMPACT BBQ FOR CAMPING
If you're after a good quality, easy to use and portable BBQ, then the Weber Baby Q is just what you're looking for. Weber has a great reputation for reliability and ease of use, and the Baby Q is no exception. It's compact, portable and great for camping trips. It's sure to become your 'go to' cooking appliance for anything from fish and vegetables to lamb chops and steaks.
Hero Lookout Border Ranges National Park – Photo Credit NSW National Parks Service
Aboody Park free camp, Wiangaree
Matt from Fittness.com.au has shared a little gem in Wiangaree – Aboody Park. It's a great place to camp while exploring the Border Ranges National Park. Follow on Facebook.
Aboody Park is a family-friendly free camp ground located in Wiangaree, NSW, which is about 100km (1.5hrs drive) west of Byron Bay. It was named after the former owner of the General Store, Chappy Aboody.
It's the ideal place for an overnight stay or for a few days away to get out and enjoy the countryside.
Its amenities include a children's playground, sun shade, BBQ areas, toilets and is adjacent to the historical Wiangaree General Store so you can pop in easily to grab a snack or supplies for meals.
Nearby there's the World Heritage listed Border Rangers National Park, perfect if you're looking to do some hiking to stay fit and get into nature. It's ideal if you want to pack a picnic too!
The camp ground is located on Summerland Way and also has good mobile phone reception and running water (although not drinkable). The nearest petrol station is the Caltex Kyogle, 8km away.
LOOKING FOR NEW IDEAS FOR COOKING ON THE ROAD?
Looking for some new recipes and advice for a great outback cooking experience? The Australian Bush Cooking recipe book by Cathy Savage will guide you through it. Whether you're planning on whipping up some meals on an open fire, gas cooker, camp kitchen or caravan – this book has you covered. The perfect gift for someone planning a road trip.
Company Dam Free Camp, Grenfell
Curious Campers quick stop at Company Dam on the way from Adelaide to Sydney. Follow on Facebook.
If you are travelling between Adelaide and Sydney this free camp just outside of Grenfell is perfect. Company Dam is on Newton Street, just minutes from Grenfell. As far as facilities go, there is only a toilet block.
The nice thing about this spot is that you can pull up close to the water and the area is surrounded by bushland. You can encounter all sorts of wildlife on a nature walk through the area. Company Dam is best known as a bird spotting location so have your binoculars ready.
You should spend some time exploring Grenfell. The town is full of beautiful historic buildings, a legacy of the gold rush era. Grenfell is also the birthplace of writer and poet Henry Lawson. If you are in Grenfell around June, you can take part in one of the many activities on during the Henry Lawson Festival of Art.
You could easily spend a day looking through the town's galleries, enjoying the country pubs and soaking up some of Grenfell's rich history. 
500 Things to do
Join our mailing list and receive our Free Top 500 things to do in Australia. If you love Australian Outdoor Experiences download this list and keep it handy when you are planning a weekend away or a road trip around Australia.