If a glorious sunset is one of the joys of travelling, then a sunset Mungo National Park tour is a must. Nowhere else does the light, landscape and history of an area combine in such a magic way.
Disclosure: Please note that some links in this post may be affiliate links, and at no additional cost to you, we earn a small commission if you make a purchase. Commissions are appreciated and go toward maintaining the Curious Campers website.
A brief history of Mungo
Mungo National Park is 120 kilometres north east of Mildura and is part of the Willandra Lakes World Heritage area. It is a dry, inhospitable landscape but this wasn't always the case. Forty thousand years ago, Lake Mungo covered an area of 200 square kilometres and was 15 metres deep.
During the last ice age, around 22,000 years ago, the water disappeared, and the prevailing winds changed creating the landscape we see today. It's now an area defined by the long rim or lunette composed of fluted rock outcrops and rippled dunes.
The eroded sections of the lunette are known as the Walls of China. Before Mungo was a national park it was a sheep station. For the Chinese workers on the property, the lunette reminded them of their home country's Great Wall.
It is little wonder that visitors to the area describe the scenery here as a moon-scape. But far from being other-worldly, the area is the cradle of Australian civilization. 
Human History
Mungo is the site of the oldest human remains found in Australia. 'Mungo Man's' skeleton is around 40,000 years old. Other remains, including Mungo Woman, have been found along with significant amounts of archaeological material.
It's quite an incredible idea to get your head around. Hearing about an ice age is one thing. Imagining people being around when it happened, for as long as it happened is quite another. The Mungo Visitor Centre has a display that attempts to put it all in context.
Along several walls is a continuous line of printed human figures. Each image represents ten generations. As you follow the line around the room, story boards pair Mungo's human and geological past. No matter how you look at it, Mungo National Park is a place of incredible significance.
Just as erosion first revealed the ancient remains, it is also destroying them. That, and the illegal removal of material, has meant the area is now highly protected. The sites and information gained from archaeological discoveries are closely guarded secrets.
 DISCOVER NSW WITH THE EXPLORATION MAP PACK 
Featuring trusted Hema mapping for all of Australia, the Hema Road & 4WD Easy Read Atlas is the definitive travel guide for tourers and adventurers. Hema atlases feature useful information, including 4WD tracks, campsites, caravan parks, rest areas, fuel & points of interest. Also included are regional maps of NSW with detailed National Park Maps, tourist information & camping areas.
Types of tours
On a previous trip we did the 70 km self-guided loop track. It is an easy day tour with plenty of historic and natural points of significance to stop and see. The boardwalks and lookouts provide great views of Lake Mungo's dramatic landscape. 2WDs can make drive but check conditions before you go.
For this visit to Mungo National Park we booked a sunset tour. This allowed us to get onto the dunes and amongst the rock formations. Best of all, on a cloudless evening, we looked forward to seeing the changing mood of the place at sunset.
We drove to Mungo from Mildura. The first 20 kilometres is on a sealed road, from there you're on a wide dirt track. With any unsealed road, conditions will vary over time so check for updates when you visit. At its best, a 2WD will have no problem making the journey.
Before sunset
We arrived with enough time to look through the visitor centre and the adjacent Woolshed. The visitor centre is great. As mentioned, the national park has a rich indigenous and geological history. The interconnectedness between the two is described through a series of interesting displays.
There is information on the megafauna that inhabited Mungo as recently as 10,000 years ago. Giant kangaroos, wallabies, wombats and flightless birds once lived throughout the area. They would have shared the land with the aboriginal population which is quite amazing to contemplate.
The woolshed is next door to the Mungo Visitor Centre. Built in 1869 from local cypress pine, it was the heart of the Gol Gol pastoral station. The shed's 'drop-log' design has stood the test of time and represents an important part of the area's recent history.
THE PERFECT GIFT IDEAS FOR CAMPERS
If you are looking for that perfect little gift for someone who loves caravanning and camping then look no further. From coffee cups, thermos, tea towels, laundry bags, log books & clotheslines - you are sure to find something. There is also plenty to keep the kids entertained with travel journals, sandcastle kits and coloured campfire flames! Check it out.

Mungo Lodge
With an hour or so to spare before our sunset tour, we went to Mungo Lodge. If you want to see outback Australia but like the option of a few creature comforts, then you'll love Mungo Lodge. It offers everything from luxury accommodation, nice food and tour bookings to campgrounds and travel information.
Outside the lodge are several resident orphaned emus. There's a wide veranda which is the perfect place for a cool pre-tour drink. Inside is a dining area and lounge where you can relax, escape the flies and look through a book about the area.
Mungo Lodge prides itself on its low carbon footprint and eco-sensitive operation. Managers Gregory and Jo love talking about the place and the challenges they face running it. What they achieved there is quite amazing.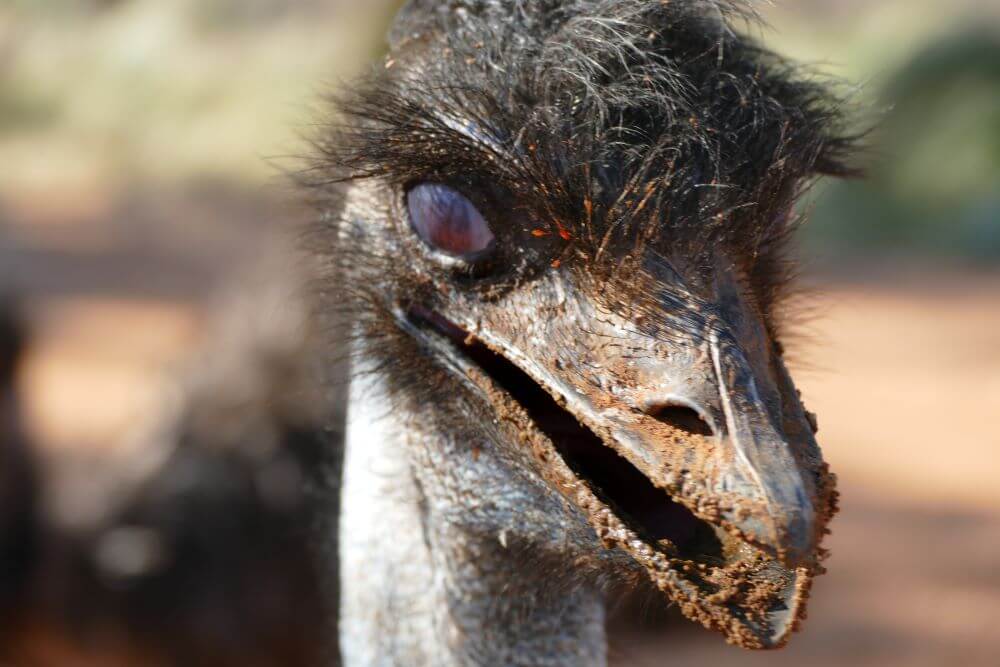 The tour begins
We met up with the rest of our tour group for the 15 minute minibus drive to the boardwalk overlooking the lunette. Gregory talked about Mungo's natural history, the discoveries of Mungo Woman and Mungo Man and a monument to a respected indigenous guide. 
A gentle breeze blew sand across the dunes and the sky showed the first signs of changing colour. It was as if the landscape was responding to Gregory's stories. Nat and I are keen photographers, but we found ourselves lowering our cameras. There was something about the mood of the environment that compels you stop and take it all in.
On the lunette
Our group gathered at the end of the boardwalk.  Normally this is where your walk would end. But, because we were with an accredited guide, we could venture onto the sand and explore the lunette. We saw a midden and some recently exposed shells – evidence of the time when Lake Mungo was full of water.
As the sun dropped closer to the horizon, we walked around the lunette's dunes and rock formations. The light changed with every passing minute revealing new detail in the landscape. It was a photographer's dream.
We stayed on the lunette until the sun dipped below the horizon then made our back to the bus. As we returned along the boardwalk the wildlife stated to come out. We spotted several kangaroos and emus walking through the low scrub.
HEMA HX-1 NAVIGATOR - GPS SYSTEM
Explore somewhere new with Hema's HX-1 Navigator, the ultimate GPS system for on and off-road navigation. Explore remote areas confidently finding Australia's best tracks, trails and places off the beaten track. Includes 45,000+ points of interests including lookouts, campsites & caravan parks.
Mungo National Park tour – must do!
We had dinner at Mungo Lodge then made our way back to Mildura. We drove back at half the speed of the journey out. kangaroos regularly appeared on the side of the road and several darted in front of the car. In hindsight, we should have camped at Mungo. It would not only have been a safer option, but we could have seen sunrise over the lunette too.
We have seen some incredible landscapes; The Pinnacles and Karijini National Park in Western Australia stand out. But whether you go on a guided tour or explore the area yourself, put Mungo National Park on your list. Its natural beauty and indigenous history make it one of the most special places we have visited.
OUR FAVOURITE LANDSCAPE CAMERA
If you are looking for a good DSLR the Nikon D5600 is light and easy to use, but its image quality is terrific, and the vari-angle screen makes it supremely versatile. 
It's our all rounder camera that we take with us on each trip. Great for landscapes, people and for use in low light. It's not too complicated and a good camera for those who enjoy photography.
We stayed at Discovery Parks Buronga Riverside Caravan Park enjoying the riverside sites and the gorgeous trees in full flower. We relaxed in the evening with the in-house country music performances and the food cart with delicious paela, baked potatoes and curries. Buronga has a relaxed and quiet vibe looking across the river to busy Mildura.
A must do when you visit Mungo National Park is the Walls of China Tour with the Mungo Lodge accredited tour guides. The Sunset Tour provides a fantastic opportunity for photography, and access to the restricted areas allowing you to walk up into the lunette and watch the sun go down.
Park entry fees: $8 per vehicle per day. Fees are payable through self-registration envelopes outside Mungo Visitor Centre.
500 Things to do
Join our mailing list and receive our Free Top 500 things to do in Australia. If you love Australian Outdoor Experiences download this list and keep it handy when you are planning a weekend away or a road trip around Australia.