Robe in the southeast of South Australia is a popular seaside holiday town. Exploring the beach, rugged coastline and the town's history are all popular things to do in Robe. The Naracoorte Caves, Coonawarra wine region and other beautiful coastal spots like Beachport and Kingston are more attractions near Robe that make it such a fun place to visit.
Getting to Robe
It takes a little under 4 hours to get from Adelaide to Robe, and it is a nice drive. From Adelaide the route comes up through the Adelaide Hills, you catch glimpses of the Murray River at Tailem Bend before turning south. From there you drive along Coorong National Park passing through Meningie, Salt Creek and Kingston.
There is an inland route on the Dukes Highway through the Mallee. It is a slightly longer drive; the road is better however you'll miss the lakes, lagoons, sand dunes and pelicans that you get if you go via the Coorong.
Robe FAQs
Best Time to Visit
Best time to visit Robe?
There are plenty of things to do in Robe all year. Summer is the best time to enjoy Robe's Beaches like Long Beach, Town Beach or Factory Bay. But the wineries, walking trails, history and cafes can be enjoyed year-round.
January and school holidays can be very busy in Robe so you will need to book well ahead then for accommodation.
How Many Days?
How many days do I need in Robe?
Robe is a fun place to explore for a long weekend or there are enough things to do in Robe to fill in a week. It is centrally located to a number of attractions in the southeast like wineries, the Naracoorte Caves and Mount Gambier.
Do you need a 4wd?
Do you need a 4wd in Robe?
You do not need a 4WD to do most things in Robe. A 2WD will usually have no trouble getting onto Long Beach. But there is some great 4WDing around Robe, check out Little Dip Conservation Park, Canunda National Park and the track from Nora Coriena Bay to Beachport.
Is Robe fun for kids?
Is Robe fun for kids?
There are lots of things to do in Robe for families who like a bit of nature play. The beaches, lakes where you can kayak, fishing, and nearby Naracoorte Caves are all fun family activities. There will be less for kids to do in Robe when it is too cold to hit the beach, but the caravan parks are well set up for families.
Things to do in Robe – Cape Dombey
Cape Dombey Obelisk
More commonly called the Robe Obelisk, this is one of Robe's most iconic attractions (Long Beach is also pretty great). The tall, red and white striped pyramid sits out alone on rugged Cape Dombey. These days you can't get right out to the obelisk. Because of coastal erosion and the chance that the sea cliffs could give way at any moment, there is a fence stopping you getting too close but there are still some good vantage points nearby.
Obelisk Lookout
Even though you can't get very close to the Obelisk, the Obelisk Lookout has great views of the obelisk and coastline. The lookout is on the Robe Coastal Walk track, but you can get to it from the from the Obelisk carpark. Follow the trail past the tall Encounter Signal Sculpture and you will see the raised lookout platform from there. There are especially good sunset views from here.
Doorway Rock
This is another great spot to frame up an Obelisk view but from the opposite side of Cape Dombey to the lookout. You can either follow the Robe Coastal Walk there from the Obelisk Carpark (650m one way), or you can drive there. Doorway Rock is a piece of remnant sea cliff with an eroded hole hit and adds a bit of interest to the rugged coastline.
Robe Gaol Ruins
Also from the Obelisk Carpark, it is only a short walk to the ruins of the Old Robe Gaol. Closed in 1881 due to a lack of inmates, today all that's left are the lowest parts of the walls which create a 3D floorplan of the site. There are signs around the site showing what each of the buildings were including the cells and gaoler's quarters.
Encounter signal
You will find this in the Obelisk precinct or if you do the Robe Coastal Walk. It is at the start of the short track to the Obelisk lookout. Constructed in 2002, this tall sculpture by Rodney Spooner commemorates Robe's maritime heritage and the exploration of the coastline by Matthew Flinders and Nicolas Baudin.
Things to do in Robe – Beaches
There are half a dozen beaches dotted around Robe. Long Beach is the best beach in Robe, we'll list a few of the others worth exploring too.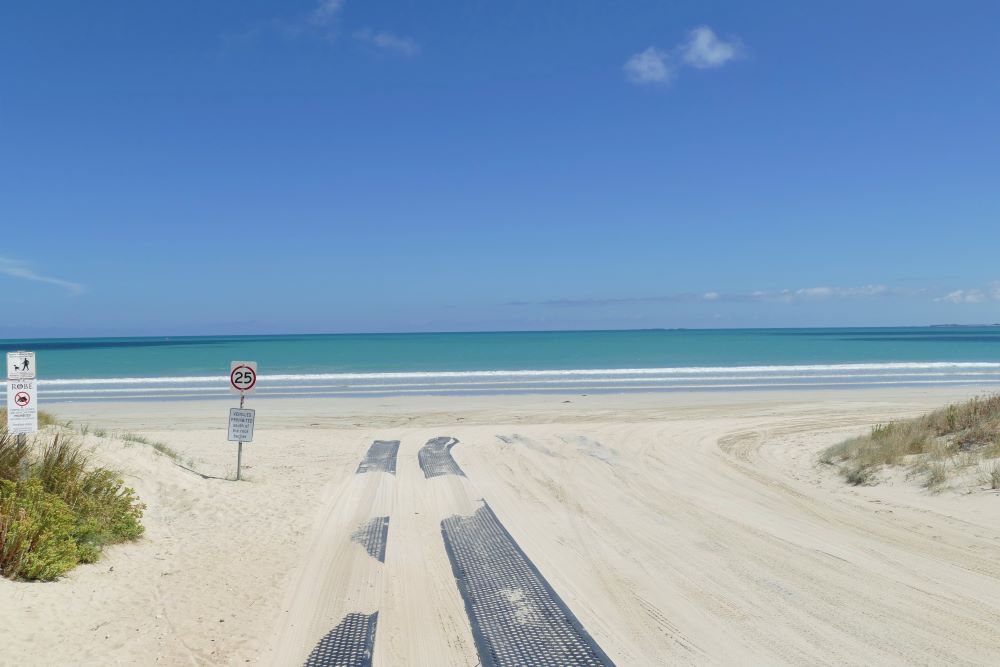 Long Beach
At 17kms in length, one of the best things to do in Robe is go for a drive on Long Beach and find your own spot of sand and surf. This isn't just an activity for 4WD owners. The hard sand makes Long Beach accessible to 2WDs too – just stay on the hard sand. Whenever we are in Robe, Long Beach is the cleanest beach too, other beaches can get a bit sea weedy. Access Long Beach from the Esplanade.
Town Beach
Town Beach is a pretty spot close to the main street. There is a long ramp that takes you down to the sand. This is a sheltered beach, and you are close to toilets and a playground.
Hooper Beach
There is a carpark on Seafarers Cresent and from there a short walk takes you down to this beautiful beach bookended by small headlands. There are no facilities here, but the shallow water can be turquoise blue and at low tide the rock pools are a fun place to look around.
Karatta Beach
Karatta Beach is nestled between the Robe Marina Breakwater and the Robe Jetty, best parking is on Karatta Road near the public toilet. The beach was a bit weedy for our visit, but it is still a nice, protected spot with lots to explore with kids. The caves here are a bit of fun too. You can also go for a fish at the marina or take a walk out along the breakwater.
Factory Bay
Factory Bay is a lovely spot on the south side of Cape Dombey. It is a small beach surrounded by cliffs and there are no facilities here. You can park on Adam Lindsay Gordon Drive. You have to step down some rocks to access the beach, but it isn't too tricky. It is also called Glass Beach as it is known as a spot where you can find colourful sea glass.
West Beach
West Beach is a beautiful long beach – but not one of the safest swimming beaches. West facing, it is one of the more exposed bits of beach coastline in Robe so watch the conditions before going for a dip. Even if the weather is a bit rough, the rock pools are a lot of fun to look around and the fishing is good too. There is a carpark off Adam Linday Gordon Drive behind the lighthouse. The spot is also known as Commodore Lookout – and there are some great views here.
Fox Beach – Outlet Beach
There is a lot going on around Outlet Beach (also named Fox Beach). It is between the outlet of Fox Lake and the rocky headland that marks one end of Long Beach. The beach is smallish but north facing so quite sheltered. Between the bridge over the outlet, rock pools, and some sand it is fun place to spend some time. There is parking on the corner of the Esplanade and Dawson Drive but no other facilities.
Things to do in Robe – Walks
Robe Coastal Trail
One of the best things to do in Robe is explore the town on the Robe Coastal Trail. From one end at Long Beach to the other at West Beach, it winds its way over 6-7km. From Long beach you walk along Guichen Bay which includes Fox's Beach, Hoppers Beach and Town Beach.
You briefly go onto roads before getting back onto the coast for the walk around Cape Dombey where you see the Obelisk, Doorway Rock and the Old Gaol Ruins then continue out to West Beach. The track is generally flat and there is some great coastal scenery and lots of chances to see birds and dolphins.
Robe Heritage Trail
Another fun thing to do in Robe is to stroll around the Town Heritage Trail. Robe has plenty of history and you get a good taste of it as you walk by the 32 sites on the heritage trail. Many of the sites are concentrated in a small area so you can see much of it with a walk of just 2 or 3kms. You'll see everything from old police stables, wool stores and courthouse to historic pubs, churches and cottages. Sites on the trail are marked with a blue, oval-shaped information plaque.
Royal Circus Historic Precinct
If you want to see a little of Robe's history without walking all around the town, the Royal Circus precinct gives a good feel for important Robe was in South Australia's early days. For over 70 years Royal Circus was an off loading point for bullock teams that brought goods to the wharf to be shipped off from Port Robe.
Robe Custom House Museum
The centrepiece of the area is this excellent little museum based in the original Customs House built in 1863. For a gold coin donation, you can look around the collection of artefacts, photos and documents that tell the story of both Robe's maritime history and the influx of Chinese who came ashore here to make their way to the Victorian Goldfields. It is open Wednesday, Friday, Saturday and Sunday from 10 -12. And right across the road from the Customs House is the Fisherman's Memorial.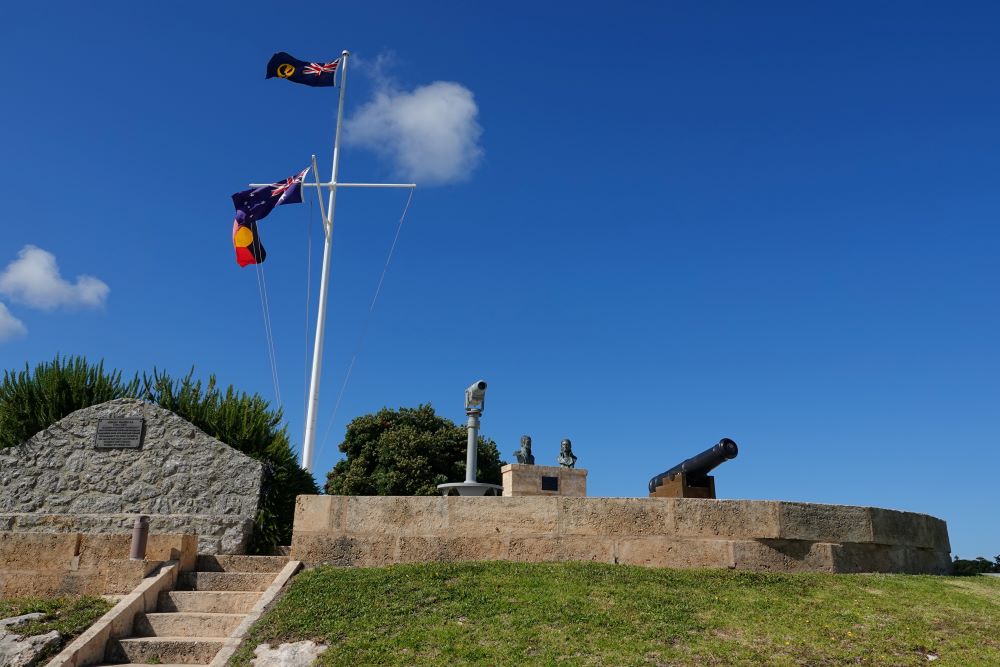 Seafarers Memorial
On a small hill opposite the Customs House is this memorial that commemorates the meeting of explorers Matthew Flinders and Nicolas Baudin in Encounter Bay. Guichen Bay was named by Baudin, busts of the two men feature at the top of the Memorial.
Chinese Pai Fang
From the Seafarers Memorial if you walk down towards the water, you'll see this colourful memorial sticking out of the sand. It remembers over 16,000 Chinese who came ashore in Robe to walk from there to the Victorian goldfields between 1856-1858.
Exploring more of Robe
Beacon Hill Lookout
Beacon Hill Lookout is 5 or 10 minutes out of Robe and was opened in 1996 to commemorate the 150th anniversary of Robe's proclamation. It has a nice caste turret style look to it and from the top you get views back towards Robe, Long Beach and Dunn Lake in the foreground.
Fox Lake Bird Hide
There are half a dozen lakes dotted around Robe and this one has been set up for birdwatchers. If your idea of fun is hunkering down with a camera or binoculars to see what wildlife is around, then set some time aside to visit Fox Lake Bird Hide. There wasn't much around for our visit, a lone masked lapwing was all we spotted. We saw more birdlife at The Outlet where Fox Lake empties into the ocean, but the bird hide is a nice spot and worth a visit at dawn or dusk.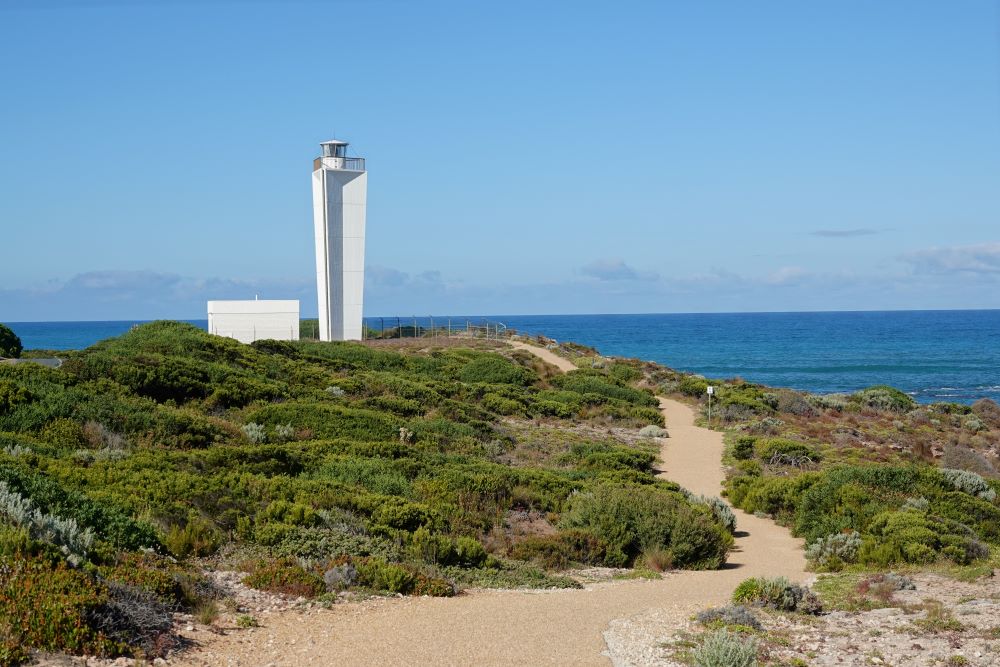 Robe Lighthouse
If you are a lighthouse watcher there is one in Robe to add to your list. Constructed in 1972, it is not especially old for a lighthouse, it was built to replace the decommissioned Cape Jaffa Lighthouse. There are no tours, it's just something to have a look at. There is a carpark not far from the lighthouse which is the Commodore Lookout and from there you can get down onto West Beach.
Visit the Humpalicious Camel Farm
If you see a camel on your way into Robe, you are not seeing things. Find out how to milk a camel at the Humpalicious Camel Farm! You can book a tour to see how it happens, bottle feed baby camels and try some camel milk and ice cream. There is also a camel farm safari where you head out in a solar powered buggy to the camel pastures for a closeup camel meet and greet.
Learn to Surf at Long Beach
If you have always loved the idea of catching a wave but had no idea how to, you can make that dream come true in Robe. Charlie's Surf School can get you up and running. Charlie is a Robe local with experience teaching surfing all over the world. You can get in touch with him through his website or enquire at the local surf shop, Steve's Place.
Water Sports on Lake Fellmongery
Lake Fellmongery is the biggest lake in Robe and is where you can come for motorised water sports. Go wake boarding, water skiing and there is a zone where you can go kayaking. No jet skis allowed here unless you are towing a water skier.
Get some fresh Rock Lobster
If you go weak at the knees and start drooling at the thought of fresh lobster, you are in the right town. The home of a rock lobster fishing fleet, you can by it fresh from the ocean and take it back to your place to eat. Get yourself to Sky Seafood for this delicious local specialty.
Things to do near Robe
Go wine tasting near Robe
15 minutes from Robe
From Robe you don't have to drive the 70 minutes to the Coonawarra to try some nice wine – although it is a good day trip to do from Robe. Much closer to Robe you can go to several wineries around Cape Jaffa. Norkfolk Wines, Mount Benson Estate, Wangolina Wine and Cape Jaffa Wines are between 15 and 20 minutes north of Robe and have cellar doors to visit.
Wrights Bay
17 minutes from Robe
A short drive north from Robe, Wrights Bay is a nice beach with a large, basic caravan and camping area. The protected beach is safe for swimming, and it is a nice place for a walk. The area is also a haven for resident and migratory shorebird species. Between September and March, they arrive from as far away as Siberia. So, if you are a nature lover, bring a camera or binoculars. You might spot Ruddy Turnstones, Pacific Golden Plovers and Sanderlings. For our visit we just saw an ibis and a heron.
Woakwine Cutting
29 minutes from Robe
Away from the coast, the Woakwine cutting is an amazing feat of engineering completed almost single-handedly by the landowner Murray McCourt. The cutting was excavated to drain a swamp behind the Woakwine range. The channel is 1km long and up to 28 metres deep and was completed in three years between 1957-60. There are a couple of lookouts where you can see the cutting, information boards and the tools used to do it including the Caterpillar D7 tractor. It is quite a sight!
Kingston
30 minutes from Robe
You'll pass through here if you drive to Robe from Adelaide. Famous for the Big Lobster that stands 17m tall, there is also a nice esplanade and beach. Another highlight here is the tour of the Cape Jaffa Lighthouse. Relocated after it was decommissioned, the tour takes you through the lighthouse museum and tells the stories of the families who lived at the lighthouse on remote Margaret Brock Reef near Cape Jaffa. There is great low cost camping here too.
Beachport
33 minutes from Robe
Beachport is south of Robe and is a beautiful spot to spend a day. The coastline here is stunning. Check out Salmon Hole, Post Office Rock, Snapper Point and Point William for stunning views. You can drive there and walk around the bays and beaches. You can also go for a dip in the super salty Beachport Lake, also known as the Pool of Siloam. Beachport has a lovely esplanade with playgrounds and cafes, it is a great spot to spend a couple of hours.
Day trips from Robe
Naracoorte Caves
70 minutes from Robe
It is worth the day trip to Naracoorte from Robe to have a look around the world heritage listed Naracoorte Caves. As well as spectacular stalagmites and stalactites, the caves are also home to one of the most extensive fossil collections in the world. Tours are available through Stick-Tomato, Alexandra, Victoria and Wonambi Fossil Caves. There is a bat tour and great Visitor Centre too. Well worth a visit, and the cave tours are reasonably priced.
Coonawarra Wineries
70 minutes from Robe
The Coonawarra is one of Australia's best know wine regions. Along one stretch of road there are over 25 cellar doors, so it is both hard to get lost and not to find a great wine. Just a few of the well-known Coonawarra names include Leconfield, Wynns, Yalumba, Penley, Balnavves and Katnook. There are some great glamping spots in the Coonawarra if you want to stay overnight too.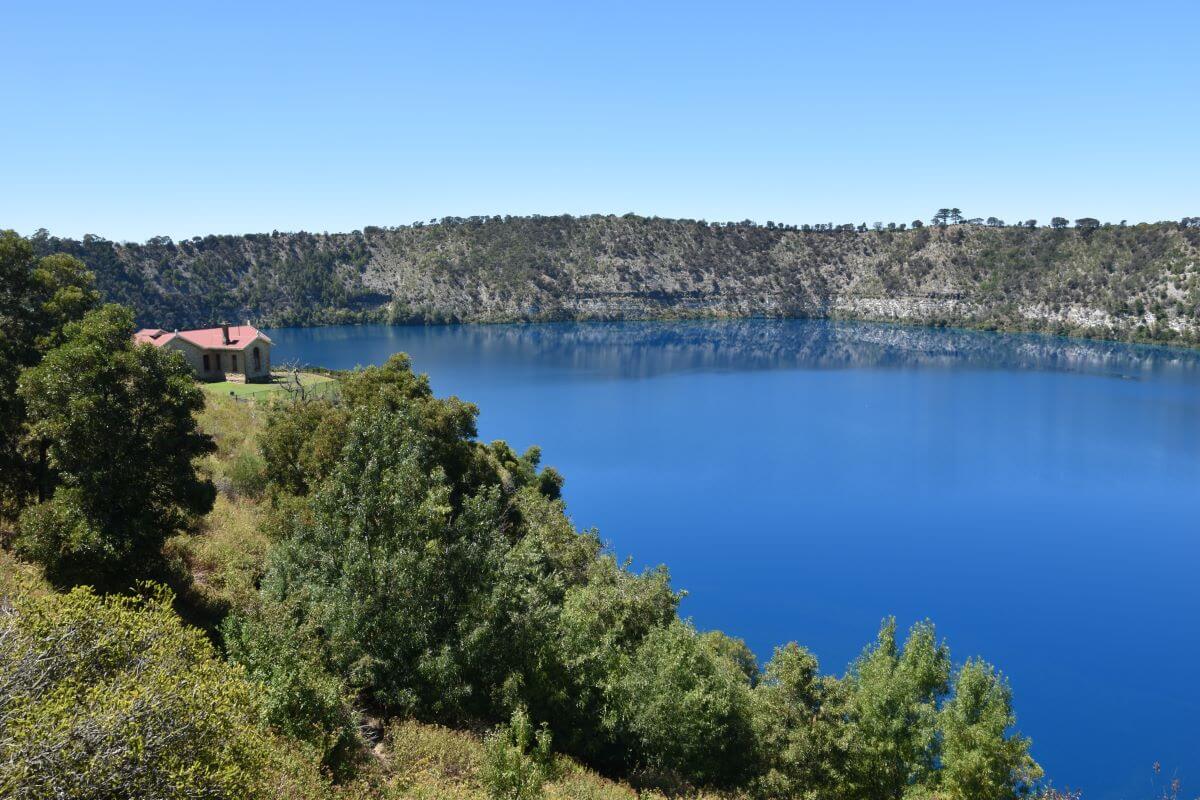 Explore the Lakes & Craters at Mount Gambier
85 minutes from Robe
You could easily spend a day in Mount Gambier looking at the Blue Lake, Umpherston Cave, the crater lakes district or climbing to the top of Mount Schank. If you haven't been to Mount Gambier before, a day trip from Robe is a great introduction to the place.
Where to Eat in Robe
One of the fun things about Robe is there are so many food options. On the main street – Victoria Street – you can check out Sails at Robe and the historic Caledonian Inn. For bakery lovers there is te Robe Bakery, The Rise of Robe Bread shop and The Pastry Place (in Union Street). For some more casual meals try Olive's Pizza Bar, Union Café, Drift Café and Cantina Café for fun Mexican. Sweet tooths must try the Robe ice cream and lolly shops – the ice cream is fantastic.
And for something to drink, also on the Victoria Street have a look at Karatta Wines, Woodsoak Wines and Loophole Brewing Co. You'll also find Robe Town Brewery just out of town. And for a great place to relax, swing by Mahalia Coffee for your caffeine fix.
Robe Accommodation & Camping
If you enjoyed this story you might also like:
Mount Gambier Sinkholes & Caves| Snorkel in SA | Visit Goolwa
Liked it? Pin it for Later…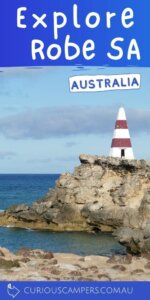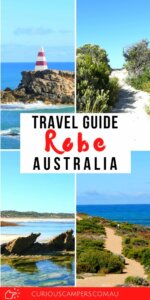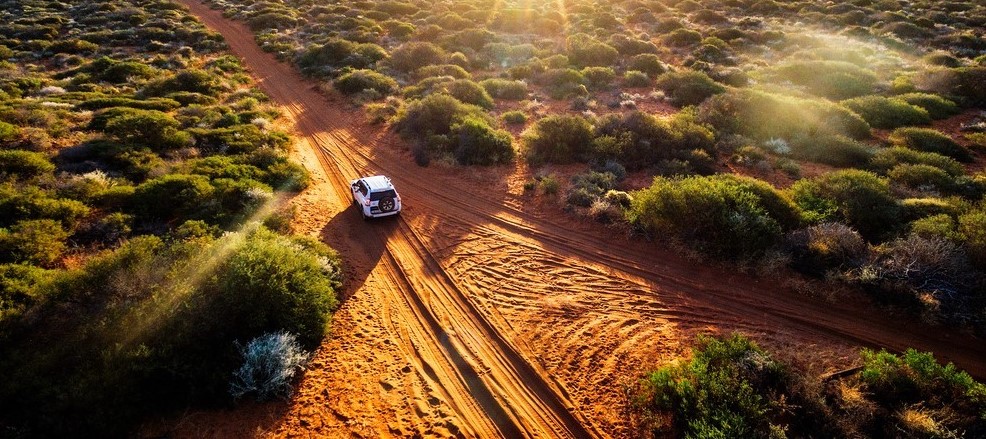 500 THINGS TO DO
Join our mailing list and receive our Free Top 500 things to do in Australia. If you love the Australian Outdoors download this list and keep it handy when you are planning a weekend away or a road trip around Australia.
Recent Posts