When you see all the things to do in Goolwa, you'll understand why it is such a popular holiday town.  Just 90 minutes from Adelaide, Goolwa is a great day trip from Adelaide, or a fun spot to spend a few days. Situated near the ocean, the Murray River mouth, the Coorong and Lower Lakes region, Goolwa has plenty to offer for its natural beauty, history and relaxed café and gallery vibe.
Featured Image Coorong National Park South Australian Tourism Commission Adam Bruzzone
Disclosure: Please Note That Some Links In This Post May Be Affiliate Links, And At No Additional Cost To You, We Earn A Small Commission If You Make A Purchase. Commissions Go Toward Maintaining The Curious Campers Website.
How to get to Goolwa
From Adelaide there are a couple routes to Goolwa. The quickest way is via the Southern Express way which takes about 70 minutes. If time is not an issue and you fancy a more scenic drive, you can take 90 minutes to get to Goolwa through the Adelaide Hills and the historic town of Strathalbyn. This is a lovely drive, the canola fields between Strathalbyn and Goolwa in spring are a great sight.
Goolwa FAQs
Goolwa Cockles
Goolwa Cockles
One of the most popular things to do at Goolwa Beach is collecting Goolwa cockles or pippis. The season runs from the start of November to the end of May. Strict bag limits and size limits apply, rangers can often be seen checking what cockle collectors are taking. Cockle size guides can be bought from local fishing shops or petrol stations.
Free Things to Do
Free Things to do in Goolwa
Swim or surf at Goolwa Beach, visit the seals at the Goolwa Barrage, go kayaking in the river, check out local art galleries, go for a ride, walk or skate along the Encounter Bikeway.
Things to do with Kids
Things to do in Goolwa with Kids
Check out the fantastic playground at Bristow Smith Reserve, pat cute animals at the Goolwa Animal Farm, go for a swim and have hot chips at Goolwa Beach.
SA Wooden Boat Festival
SA Wooden Boat Festival
This Biennial event is one to put in your diary. The two day festival features 150 boats and includes everything from paddle steamers to sail and model boats. There are boat building competitions, races and a spectacular grand parade along the river.
Things to do in Goolwa
Swim & Surf at Goolwa Beach
This is a great spot for surfing, playing on the sand or cooling off in the waves. In summer there is a patrolled area where you can swim safely. You can hire surf boards, grab some hot chips from the Kuti Shack café or go for a very long beach walk. There is a big carpark, but when it is really busy you might have to park along Beach Road and walk to the sand.
There is 4WD access to the beach and you can drive to the Murray mouth. The entrance onto the beach can be soft so check the conditions and your tyre pressures. It's about a 10 kilometre drive to the mouth where you can camp. It is also a popular fishing spot.
Encounter Bikeway
Connecting Goolwa and Victor Harbor is the 31km (one way) Encounter Bikeway. The path goes on a combination of dedicated bike paths and roads. From end to end, it takes you from the lower reaches of the Murray River in Goolwa to the spectacular Bluff in Victor Harbor. It is a great way to explore the area at your own pace.
It is a shared use path popular with joggers and walkers as well as cyclists. The off-road sections along the coast and through reserves are perfect for families.
Coorong Cruises
For a closer look at the Murray mouth and the Coorong there are a variety of cruises and guided walks available through Spirit Australia Cruises. Learn about the area's history, wildlife and indigenous culture on any of the tours.
Some of the cruises include lunch and have options to take guided walks around the Coorong's sand dunes. You'll also see where some scenes from the movie Storm Boy were filmed. Tours depart from the Goolwa Wharf.
Goolwa Barrage
This is a great spot to visit. The Goolwa barrage is one of five barrages constructed to stop sea water making its way into the river system. Take Barrage Road that runs between the river and the ocean. Go past the Goolwa Yacht Club, the Fleurieu Function Centre and the Bristow Smith Reserve bird hide, and you'll come to a carpark. The barrage is just a short walk from there.
It is a spectacular place with plenty of black swans and pelicans usually in the area. The highlight is out at the lock. Lookout out for the New Zealand fur seals that have taken to lounging around on the lock's wooden pylons.
Kayaking + Jet Ski Hire
You will also find Goolwa Jet Ski on Barrage Road. Even if jet skis aren't your thing, they also hire canoes and paddle boards. Two hours is plenty of time to paddle to the barrage and through the lock. The seals have been known to drop into the water and come over to say hello. It's also a relaxing way to get up close the Coorong's abundant birdlife.
National Trust History Centre
For history buffs you can visit the National Trust Goolwa Museum in Porter Street. The museum is itself in an historic building, it used to be the town's blacksmith shop. Inside are a range of permanent and temporary displays. The museum is open on Tuesday, Wednesday, Saturday and Sunday from 1.30 to 4.00. There is a small entry fee that goes towards managing the collection. In the same precinct you will also find the Art@Goolwa Gallery featuring work from local artists.
Goolwa Historic Walks
If the National Trust History Centre has whet your appetite for Goolwa's history, there are no fewer than three heritage walks you can do. The walks are a great way to immerse yourself in Goolwa's heritage and appreciate how many original buildings are still in the town. The short loop walks all begin at the Goolwa Visitor Information Centre. The 900m Cadell Street walk packs in 14 historic sites and buildings including three hotels, the Anglican church, bank buildings, the town hall and the original train station.
The 1300m Goolwa Wharf Precinct walk has 19 sites that explore Goolwa's river trading history. See the old Customs House, horse stables, wharf, telegraph office and Chart Room to name just a few. The third walk is the 1400m Little Scotland trail which features 15 old cottages and a couple of buildings including the old hospital. Information pamphlets describing the sites on all three walks are available at the Visitor Centre.
Look through Local Art Galleries
There is a great art scene on the Fleurieu Peninsula, with The Coorong, sweeping beaches, rugged coastline, beautiful lakes and the Murray River as inspiration it's no wonder. There are several galleries around Goolwa that capture the beauty of Goolwa and the surrounding area. As well as the Art@Goolwa Gallery near the Goolwa Museum (see above), There's the South Coast Regional Art Gallery on Goolwa Terrace, Artworx Gallery on Hays Street, and the Signal Point Gallery near the Goolwa Wharf.
Goolwa Animal Farm
This is a fun family activity to do in Goolwa. You'll find the Goolwa Animal Farm on Airport Road which runs between the main road into Goolwa and Middleton. The lovely family-owned and run property has all the cute farm animals you'd want and a range of other favourites including bunnies, alpacas, Guinea pigs and a number of Australian native animals. There is a nature play and picnic area, farm activities, and feed available for the animals. They are open 7 days and admission is reasonably priced.
Goolwa Motor Museum
Tucked away in the backstreets of Goolwa, it's easy to miss the privately run Goolwa Motor Museum. Don't be put off by the sight of the big shed, inside is a fantastic collection of nearly 50 meticulously cared for historic cars. Don't do what we did, it pays to check the museum's opening hours if you want to visit – it is currently open Wednesday to Saturday but check online to confirm. We will plan our next visit more carefully, for car enthusiasts, this is a collection not to miss.
Goolwa Bird Hide
As you go along Barrage Road, you'll pass Bombora on the River Café, the Bristow Smith Nature Play Space then you'll get to this wonderful bird hide. For birders or photographers, this is a great spot looking out over a small lagoon just off the main river. The only thing stopping you from seeing birds here is a little patience. It is a great spot to hunker down and see a little river wildlife.
Nature Play at Bristow Smith Reserve
If you are in Goolwa with the family, this is the perfect place to stop for lunch. There is a fantastic nature play playground that features a huge wooden fishing boat, water play and all kinds of things to swing and climb on. There are sheltered picnic areas, BBQs, toilets and a bike path if you have come with a scooter. There are also some amazing animal carvings cut into a pine tree. Bristow Smith Reserve is on Barrage Road.
Goolwa Wharf Attractions
The Wharf Precinct in the heart of Goolwa is a great spot to relax and watch the local pelicans, have a meal or drink, check out the Goolwa Markets, hop on the Cockle Train to Victor Harbor or visit an art gallery. The area has a great vibe, you can't escape the feeling of the deep connection between Goolwa and the river. Here are some things to do at the Goolwa Wharf.
Goolwa Wharf Markets
The Goolwa Wharf Markets are open on the first and third Sunday of each Month. This dog-friendly market has a great atmosphere with lots of local produce, art and craft, bric-a-brac, plants, jewellery and handmade clothing. Best bring along some cash, not every stall has PayWave.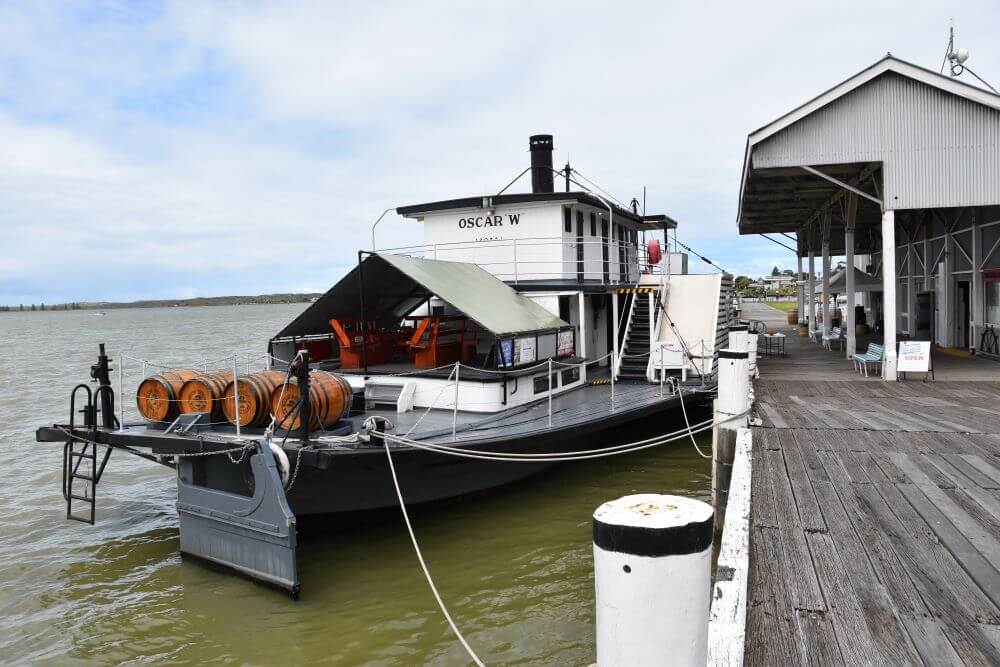 Oscar W River Cruise
To really get a sense of Goolwa's history, a paddle steamer cruise is the way to go. The P.S. Oscar W is moored at the Goolwa Wharf and one hour cruises run on weekends. There are multiple cruises each day including a twilight cruise in summer. Tickets can be purchased at the wharf.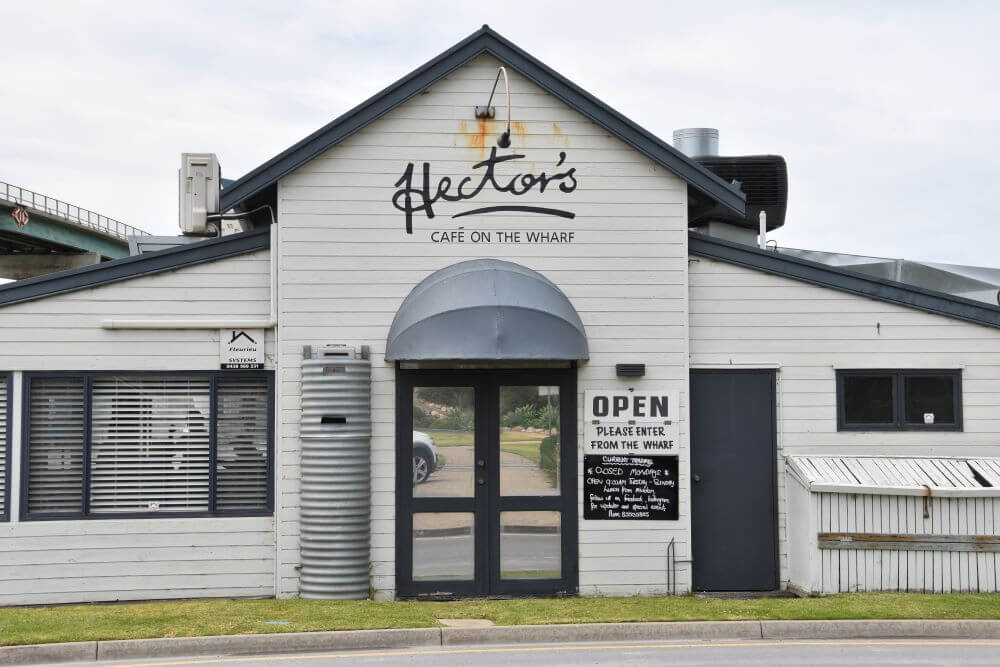 Hectors Café on the Wharf
If you are finished at the markets or just hopped off the Cockle Train, Hectors Café is a great spot for lunch, or just to grab a snack. There is indoor and outdoor seating, delicious seafood and lots of South Australian wines to choose from. Hectors is a lovely spot to stop and take in the river.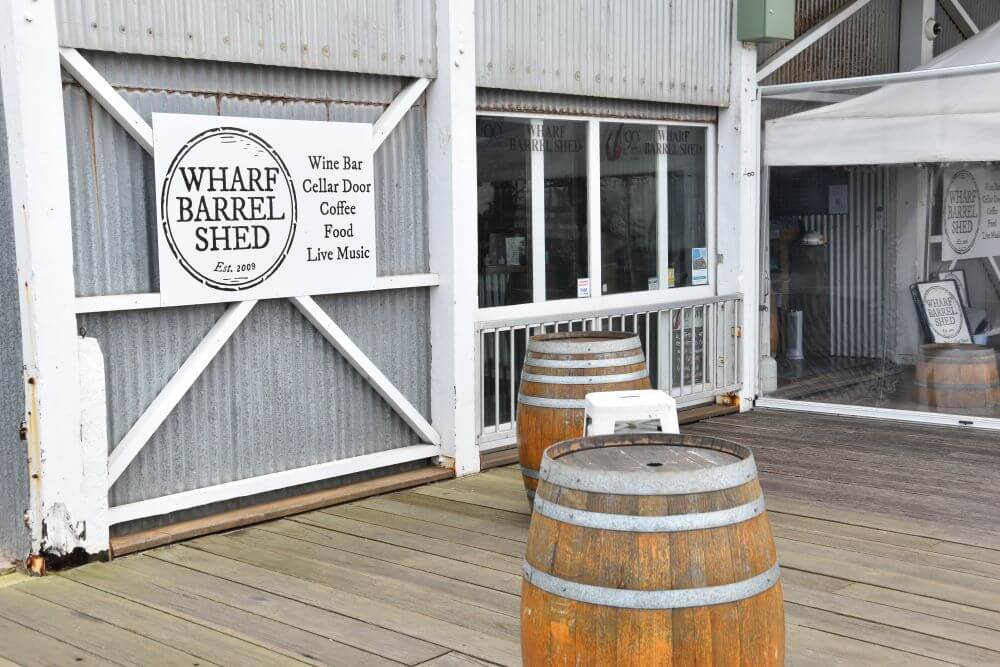 Wharf Barrel Shed
The Wharf Barrel Shed is the cellar door for 90 Mile Wines, a small local award-winning winery. The wines are fantastic but there is also delicious food and live music on Friday nights and Sundays. The place has a friendly vibe, along with the river views from the historic wharf, it is one of the more unique cellar door experiences in South Australia.
Fleurieu Distillery
You couldn't want for a more inspiring setting for a whiskey distillery than the Goolwa Wharf and the rugged coastline along the Fleurieu Peninsula. And it shows in their award-winning whiskeys, gins and craft beers. If you want to talk whiskey and gin, you'll find the staff really know their stuff too.
Cockle Train
The Cockle Train runs between Goolwa and Victor Harbor with stops at Middleton and Port Elliot. It is a half hour journey and a great way to get between the towns. The steam trains look, sound and smell amazing, and the restored carriages are a joy to ride in.
On the short ride you'll see everything from farmland and beaches to some impressive holiday houses. Look out for the blue sheep near Victor Harbor. The train is an icon of the area. Be ready to do lots of waving as people stopped at the train crossings say hello.
Explore Hindmarsh Island
Murray Mouth Lookout + Sugars Beach
If you like a landmark, you must come here and see where Australia's longest river finishes its journey. Go over the bridge in Goolwa to Hindmarsh Island and follow the signs to the Murray Mouth Lookout. You can walk onto Sugars Beach and farewell the Murray River as it heads out to sea. Depending on the weather, you could see the water really churning or a picture of tranquillity. This is also a popular fishing spot so bring some gear if that is your thing.
Read More: Explore nearby Deep Creek Conservation Park
Canoe the Coorong Tour
These are one of the best tours you can do around the Murray River mouth and Coorong National Park. There are tours of various lengths, but they all include a look at the Coorong's sand dunes, wildlife and indigenous history. It is a spectacular way to look around this beautiful national park and paddling with an expert guide makes it a fascinating experience.
Narnu Farm Farm Stay
If you are looking for a combination of accommodation and activity for a family holiday, think a Narnu Farm farm-stay. Kids can go on pony rides and feed the farm animals, collect eggs and even bottle-feed some of the newest members of the farm family. It is a fabulous spot, and the staff are super helpful and friendly. There are self-contained cottages and bunk house accommodation if you have a big family group.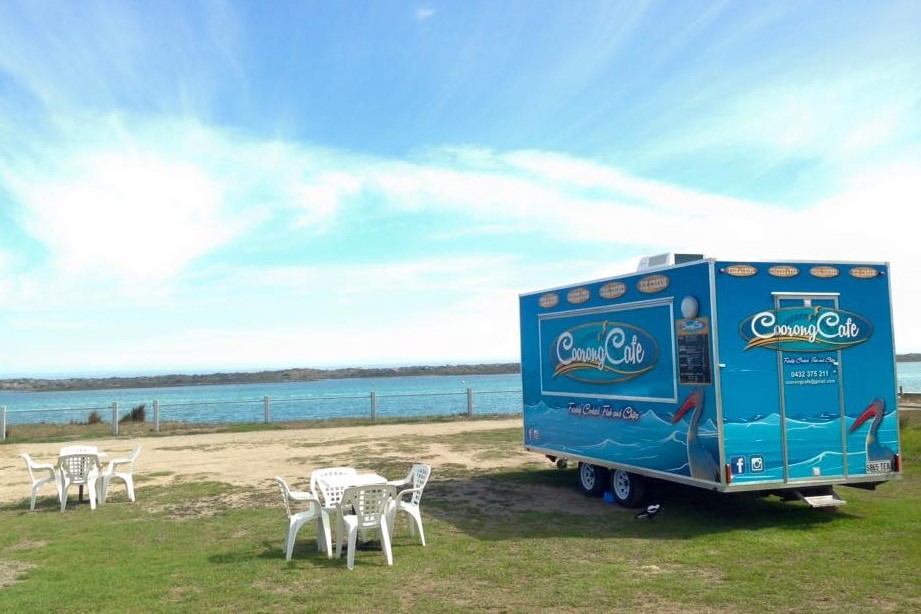 Coorong Café
Finish off your trip to the Murray Mouth with a great meal or snack from the Coorong Café. Their fish and chips are fantastic, but they have range of local yummy seafood to choose from. There are drinks and ice creams for hot days too.
Charles Sturt + Collet Barker Monument
You can't miss this imposing monument as you drive towards the Murray mouth. It commemorates the sighting by Charles Sturt and Collet Barker of Encounter Bay following their journey down the Murray River. It is an impressive monument, and worth stopping for a look if you like a bit of history.
More Places to Eat in Goolwa
Bombora on the River
Open Thursday to Monday, this is a lovely place on the river that serves breakfast and lunch. With indoor and outdoor dining, you can relax and watch the pelicans and swans swim by.
Motherduck Café
Located in the main street of Goolwa, Motherduck is a popular local restaurant and café that features a delicious seasonal brunch and lunch menu and amazing coffee.
Islanders Tavern
If you are looking for a dining option on Hindmarsh Island, Islanders Tavern has a menu of traditional bistro-style pub food. There are lovely views across the marina.
Goolwa Accommodation
Nearby Attractions
While you could spend all weekend seeing Goolwa's attractions, there are a couple of other fun towns within 20 minutes. Nearby Port Elliot and Victor Harbor are great daytrips from Adelaide on their own, but if you are spending a few days in the area, you should check out some of the things to do in these towns too. Here are the highlights:
Port Elliot – Swim or fish at Horseshoe Bay, grab something yummy from the Port Elliot Bakery, see great coast views on the Harbourmasters Walk – Read our Guide of things to do in Port Elliot.
Victor Harbor – walk or take the horse drawn tram to Granite Island, go whale watching in winter, catch the Cockle Train to Goolwa and back. Read our full guide to things to do in Victor Harbor.
If you enjoyed this story you might also like:
Day Trips from Adelaide | Things to do in the Adelaide Hills | Swim with Dolphins in SA
Like it? Pin it for Later…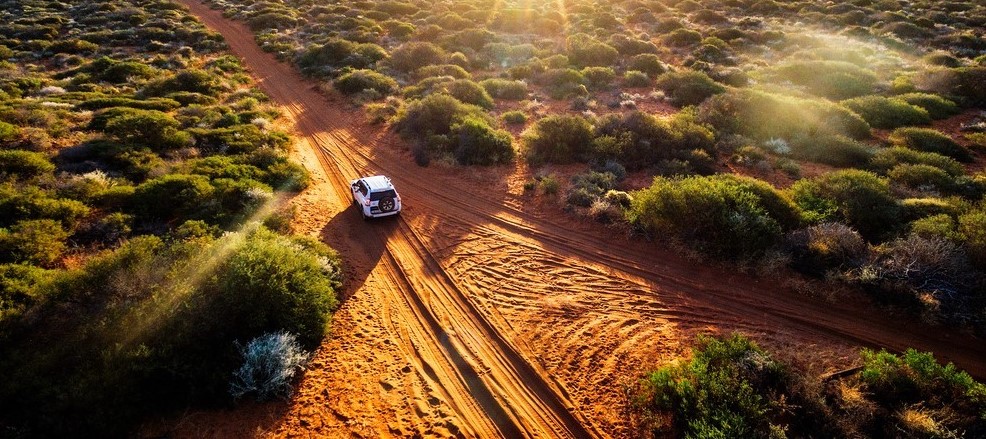 500 THINGS TO DO
Join our mailing list and receive our Free Top 500 things to do in Australia. If you love the Australian Outdoors download this list and keep it handy when you are planning a weekend away or a road trip around Australia.
Recent Posts