If you are doing a road trip across Victoria towards South Australia, you might think that when you finish the Great Ocean Road drive, the best scenery is behind you. But, if you are continuing west, between Warrnambool and Mount Gambier there is plenty of great coastline to explore.
The 182km Warrnambool to Mt Gambier drive might only take a bit over 2 hours but you could allow a couple of days to explore. Attractions on the drive include Tower Hill, Port Fairy, Portland, Cape Bridgewater and Nelson in Victoria. Over the border you can check out Port MacDonnell, and Ewens and Piccaninnie Ponds in South Australia.
Featured Image: Warrnambool Coastal Reserve © Robert Blackburn
Disclosure: Please Note That Some Links In This Post May Be Affiliate Links, And At No Additional Cost To You, We Earn A Small Commission If You Make A Purchase. Commissions Go Toward Maintaining The Curious Campers Website.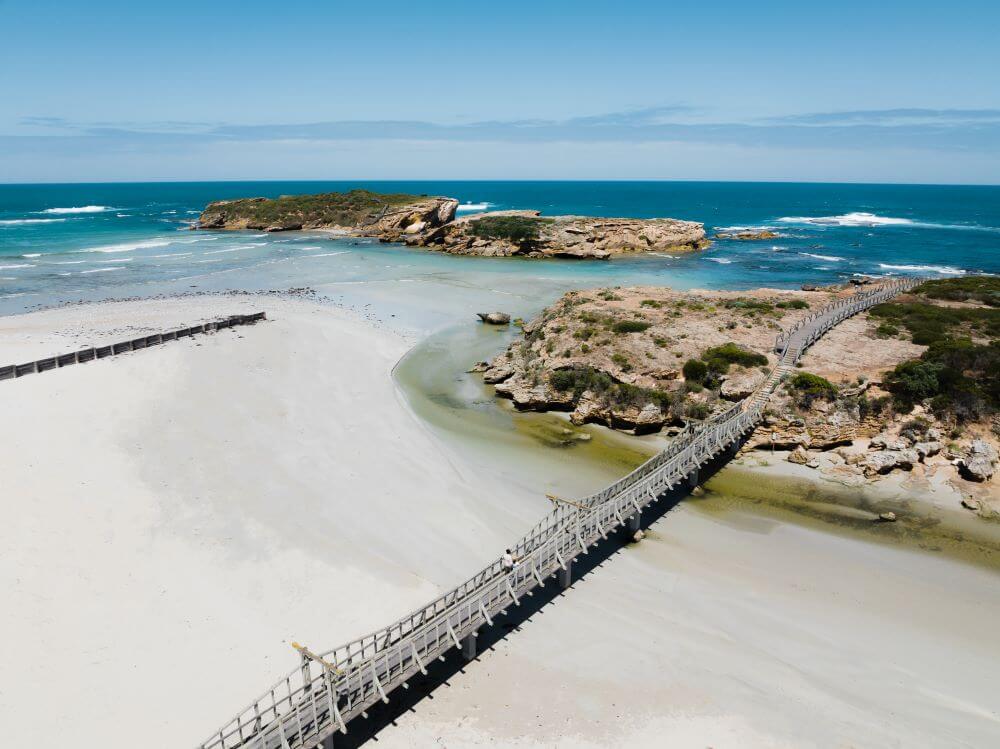 Warrnambool to Mount Gambier – Direct Route
If you just want to get from Warrnambool to Mount Gambier and leave the sightseeing for later, the inland 182km, 2 hour and 10 minute drive via Heywood and Glenburnie is the way to go.
Warrnambool to Mount Gambier – Coastal Route
However, if you want to see some great coastal scenery, seal colonies, dormant volcanoes, water filled sinkholes, and the southernmost point of the Australian mainland at Cape Northumberland, stick to the coast. The coastal drive takes closer to 3 hours and covers 225km. It includes small detours to Cape Nelson near Portland and the Cape Banks Lighthouse near Carpenters rocks in South Australia.
Tower Hill
🚙 17 minutes, 13.5km from Warrnambool
If you haven't popped into Tower Hill Nature Reserve while visiting Warrnambool, now is your chance. This rehabilitated nature reserve is surrounded by water inside a dormant volcano – it is an amazing setting. Kangaroos, emus, koalas, wallabies, echidnas and lots of birds call the park home. There is a visitor centre, café and picnic area which is a great place to see emus and koalas. Entry to Tower Hill Nature Reserve is free.
You can explore the area on one of four short walks. We did the 30 minute Peak Climb and Lava Tongue Boardwalk and there is also the 30 minute Wagon Bay Loop. We spotted an echidna on the steep Peak Climb. The other two walks are easy and great for families – you could get wet feet on the Lava Tongue walk. The longer journey to the Last Volcano Loop is easy to moderate and includes a lap of the Last Volcano Rim. The loop walk takes about 60 minutes.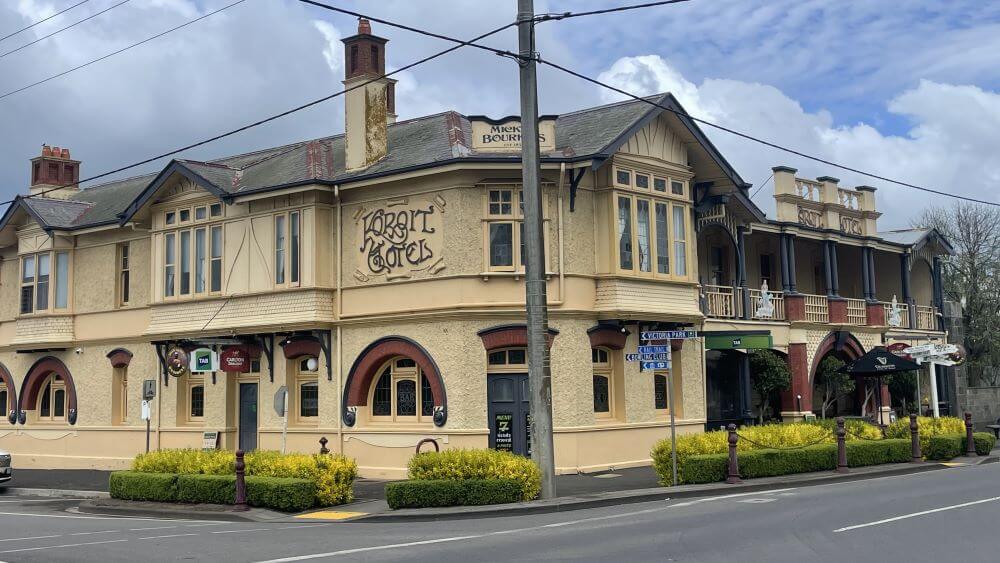 Explore Historic Koroit
Koroit is another place to check out if you haven't already visited while based in Warrnambool or Port Fairy. It is tucked in behind Tower Hill, in fact some of the best views of the volcanic reserve are from Lake View Drive that runs off the Port Fairy – Koroit Road.
The town has some wonderful old buildings which you can see on the 30 stop walk or drive trail that explores Koroit's Irish Heritage. The Koroit Botanic Gardens are a small but pretty place to explore and provide a lovely backdrop to the council run caravan park.
Port Fairy
🚙 22 minutes, 26km from Warrnambool
Like Tower Hill, you might have already had a look around the beautiful seaside village of Port Fairy from Warrnambool. Relax by the Moyne River with something from one of the two excellent bakeries or walk along the wharf. We loved the Griffiths Island walk to the lighthouse. Or take it easy on pristine East or Pea Soup Beach, have a look through the Port Fairy Museum or explore the town on a heritage walk.
Best known for the Port Fairy Folk Festival that has been running annually since 1977, even a short visit to Port Fairy will show you why it is such a popular place tp stay and a great alternative to Warrnambool if you are looking to stay somewhere for a few days to explore the area.
You get a good reward for the 3km detour off the main road and short walk from The Crags Lookout. There are some amazing rock formations here including petrified tree roots and great views along the coast. While the outlook is beautiful on a nice day, it is equally impressive if the weather is a bit wild and woolly.  Definitely worth a stop as you leave Port Fairy.
Giant Yambuk Slide
🚙 38 minutes, 45km from Warrnambool
If you are travelling with kids and need a little carrot to keep life in the car pleasant, this could be it. At 33 metres long the Giant Yambuk Slide over the dunes is a bit of fun. Take Carols Road off the highway, follow it past the Yambuk Lake Caravan Park to the end of the road. You'll see a small playground and BBQ area and the slide is opposite there. Even if you don't go down yourself, there is a lookout with nice views and beach access.
Codrington Wind Farm
You don't have to drive far in Australia to spot a wind farm. If you are have ever wondered where the first commercial wind farm in Australia popped up, you can see it here at Codrington. There is a small viewing area right on the main road where you can see the historic wind farm, read about and even buy a few plants or organic eggs.
Budj Bim National Park
Budj Bim National Park is the only World Heritage listed site in Australia recognised only for its Aboriginal cultural significance. It showcases how the Gunditjmara people have lived in the region for the past 30,000 years.
The park is spread over 3 sites and you can get to the southern Tyrendarra section between Warrnambool and Mount Gambier. The largest part is further north and includes Lake Surprise, lava tubes and caves and camping.
But if you just want a taste of this very well managed park follow the signs to the Tyrendarra Indigenous Protected Area which incorporates the wetlands. There is excellent signage and viewing areas and you get a good overview of the area. We spotted a couple brolgas around here (and missed the chance to get a picture darn it). Cultural tourists will find the sites fascinating.
Narrawong Lavender
🚙 60 minutes, 80km from Warrnambool
If you love your lavender lotions, oils, mists, soaps and balms you can visit the team from Narrawong Lavender. Open to the public from 10 – 4 in Lavender Season – December to February. Take in the views across the lavender fields and get some locally produced product.
Portland
🚙 1 hour 20 minutes, 102km from Warrnambool
Portland is the biggest centre between Warrnambool and Mount Gambier and there are quite a few things to do here. If you are travelling slow, you could spend a few days in Portland. Not only is there a bit to do in town, but there is some great scenery at nearby Cape Nelson – see below.
Highlights in Portland include a ride on the Portland Cable Tram, a look through the Powerhouse Motor and Car Museum, the Maritime Discovery Centre in the Visitor Centre and the Portland Fauna Park. They are all great family activities. The Portland Arts Centre and Botanic Gardens are also worth a look.
Point Danger Gannet Colony
🚙 1hr 23 minutes, 106km from Warrnambool
On your way to Cape Nelson, nature lovers might want to stop in at the Point Danger Gannet Colony. Contact the Portland Visitor Centre, they run free tours to the site which is usually locked up. We were lucky to call and learn a tour was happening right as we drove into Portland in the afternoon. Keys to the site are not available to the public.
The colony at Point Danger is an overflow population from Lawrence Rocks which you can see off the coast. The site is well signed and easy to find. We spent a wind swept hour here watching these beautiful birds return to the colony with seaweed for their nests.
They are an amazing site and sound. The viewing platform is also a great spot for whale watching around April and September so have a zoom lens or binoculars handy when you visit.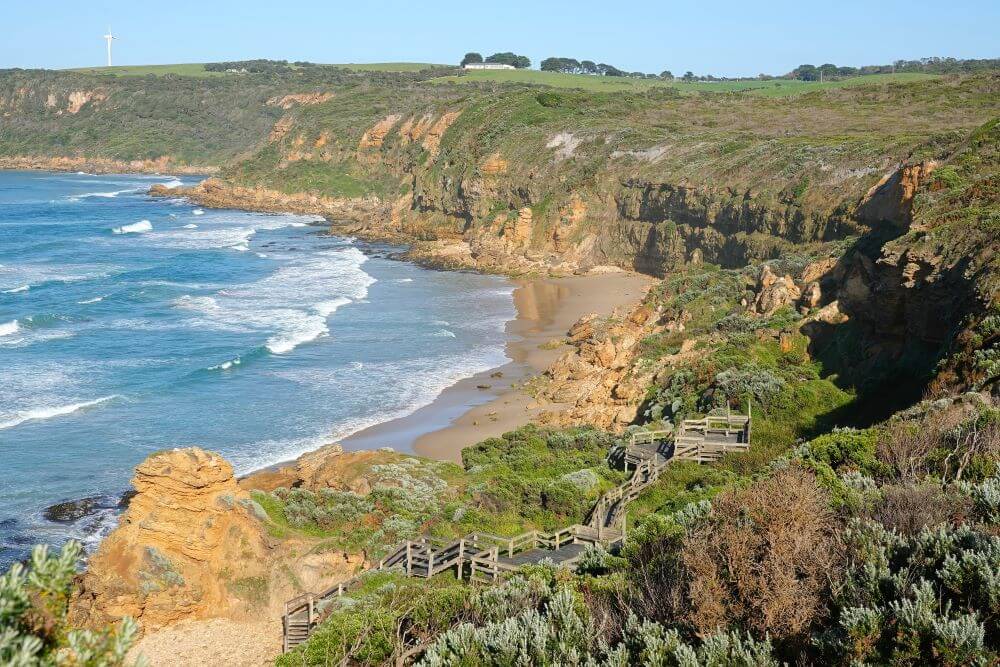 Cape Nelson & the Norman Wade Scenic Drive
🚙 1 hr 24 minutes, 110km from Warrnambool
If you want to see the wild side of Portland, go beyond Point Danger to Cape Nelson. It is only 15 minutes from the centre of Portland but well worth the detour on your road trip between Warrnambool and Mount Gambier. We suggest you take the Norman Wade Scenic Drive along the Coast towards Cape Nelson Lighthouse. There is some great scenery.
Yellow Rock Lookout and Beach – take in the spectacular views from the two lookouts or walk down the wooden boardwalk and steps to Yellow Rock Beach. The coast looks most yellow in the morning sun.
Enchanted Forest Walk – this moderate 2.1km return walk take you through surprisingly dense coastal forest. The vine covered trees and coastal views make it a fun walk. You have to negotiate 150 steps at the start of the walk.
Cape Nelson Lighthouse
🚙 1hr 24 minutes, 110km from Warrnambool
At the end of the scenic drive, turn left to get to the Cape Nelson Lighthouse. As well as breathtaking views, there are daily tours of the lighthouse and grounds at 11.00 and 2.00 and you can grab a coffee from Isabella's Café. As well as the lighthouse, there are viewing platforms with views of the coast. If you want to break up the drive from Warrnambool to Mt Gambier, you can also stay in a cottage at the Cape Nelson Lighthouse.
Cape Bridgewater
🚙 1 hour 22 minutes, 111km from Warrnambool
Beautiful Cape Bridgewater is a spot you could easily miss on your way between Warrnambool and Mount Gambier. There are a few attractions here to check out. First, the beach is stunning. You could park and look at the waves rolling in for hours – but there is more!
You can do a 2 hour up and down return walk along the exposed cliffs to a seal viewing platform. It's a lovely walk if you have time. If not, try the 45 minute Seals by Sea Tour. We did this and you get much closer to the seals and get a great view of the amazing sea cliffs.
The drive out along Blowholes Road towards the windfarm and petrified forest is also worth doing. The easy 10-20 minute walk around the cliffs and petrified forest is a great sight. From April to October, you might spot a whale.
Nelson
🚙 1 hour 51 minutes, 156km from Warrnambool
If a cruise on the open ocean at Cape Bridgewater sounds a bit much, the meandering waters of the Glenelg River in Nelson might be more your pace. Nelson is a sleepy town less than 5km from the South Australian Border. The main point of interest here is the Lower Glenelg National Park which you can explore on a river cruise. It is a relaxing way to see the limestone cliffs and local wildlife.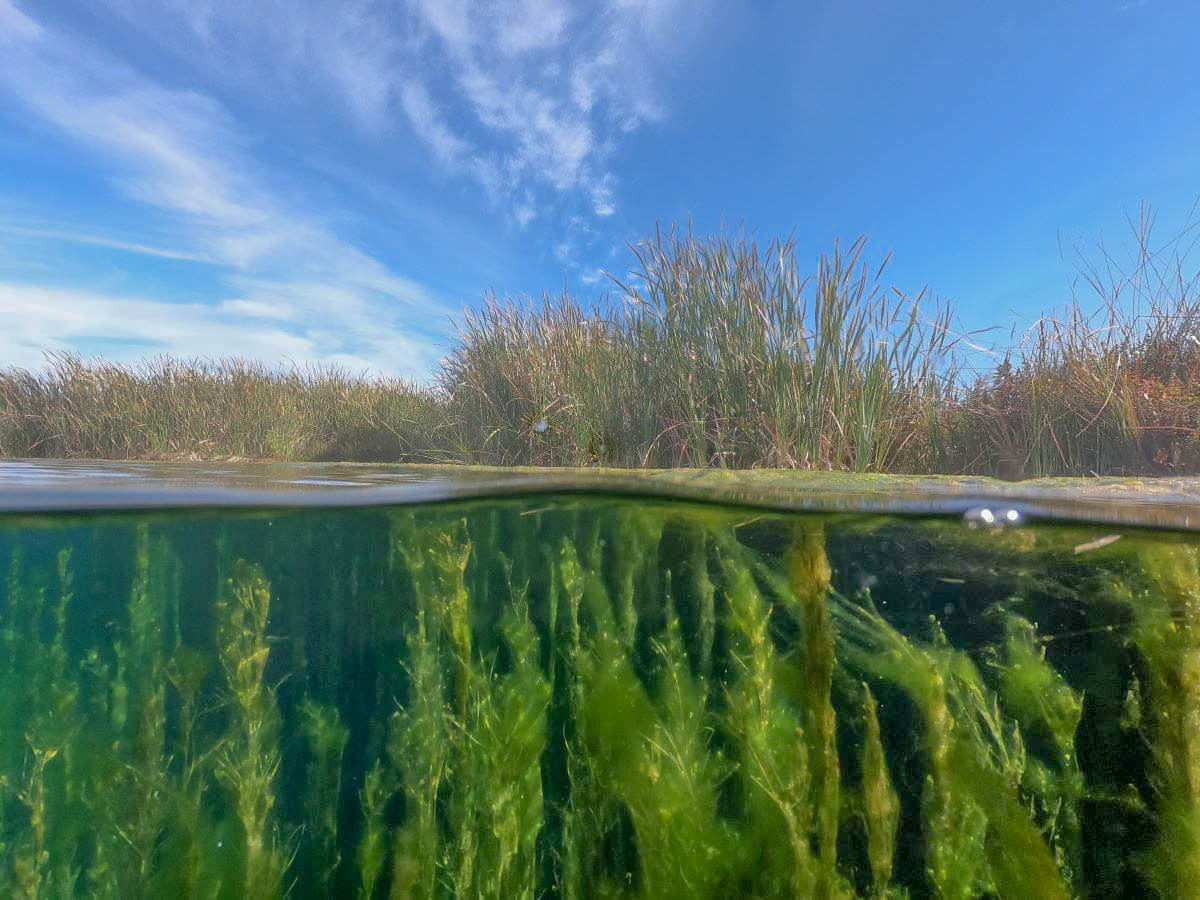 Piccaninnie Ponds
🚙 Piccaninnie Ponds to Mount Gambier – 25 minutes, 31km
A feature of the southeast of South Australia is its sinkholes and caves and volcanic craters. If you want a unique snorkelling or diving experience, put on your wetsuit and book a time to explore Piccaninnie Ponds. The crystal clear water has visibility of up to 50 metres. You can float over The Chasm and stare down 100m.
Even if you don't go for a swim, you can stand at the viewing platform and look to the bottom of the 10m deep first pond.
Complete Guide: Find out more about Piccaninnie Ponds here
Ewens Ponds
🚙 Ewens Ponds to Mount Gambier – 26 minutes, 30km
Ewens Ponds is another incredible snorkelling or diving spot. Like Piccaninnie Ponds, you need to book a time to swim here but it is worth doing. There is a bit more to see at Ewens Ponds for snorkellers. Here you drift between three sinkholes that are connected by a channel. The underwater plant life is incredible with the water so clear, plants grow in the channels. Even if you don't get in, seeing the ponds is an amazing site.
Complete Guide: Find out more about Ewens Ponds here
Port MacDonnell
🚙 Port MacDonnell to Mount Gambier 22 minutes, 27km
This small rock lobster fishing port is less than 30 minutes south of Mount Gambier. There are parks and a jetty along the foreshore which are a nice place for lunch. There is also some great coastline just west of the township.
Follow Sea Parade along the coast and you will arrive at Mainland Australia's most southern point at Cape Northumberland. There is a parking area with some rugged coastal views. See if you can spot Frog Rock and Rhino Rock just off the coast. Cape Northumberland Lighthouse is now set back from the coast, ruins of the original lighthouse are visible at the point.
On the road to Cape Northumberland look out for the wagon wheel tracks and petrified trees at low tide. Signage points to where you can see them. If you are a history buff, the town also has an excellent maritime museum and for another trip down memory lane, especially for car enthusiasts, have a look at Feast's Classic Car Collection And Memorabilia. Feasts is on lower Nelson Road a couple of minutes out of Port MacDonnell.
Mount Shank
🚙 Mount Schank to Mount Gambier 15 minutes, 17km
Once you have turned north and start the last part of the drive to Mount Gambier, it is hard to miss Mount Schank on your left. This dormant volcano looms large on the otherwise flat landscape. The walk to the rim takes about 15 minutes. It is steep but the views at the top are great. You can also do a lap of the rim or walk down to the bottom. Add 60 minutes for the extra walk.
Read More: Mount Gambier Sinkholes & Caves
Little Blue Lake
🚙 Little Blue Lake to Mount Gambier 15 minutes, 17km
Right across the road from Mount Schanck, the Little Blue Lake is a popular swimming spot in Mount Gambier. Although not as blue as the Blue Lake, the Little Blue Lake is easy to access with viewing platforms and steps down to the water. If you do go for a swim, be ready to cool off quickly. The water is a constant 14-15 degrees and very deep.
Mount Gambier
Mount Gambier is a great base for exploring South Australia's Limestone Coast. If you visit in summer, you will see the Blue Lake at its vivid best. Explore the ornate Tantanoola Cave, the gardens at the Umpherston Sinkhole, and the Crater Lakes Precinct. From Mount Gambier you can also day trip to the Coonawarra wine region or look around the world Heritage Naracoorte Caves. It is a spectacular place. Allow 3 or 4 days to look around.
Read more: Things to do in Mount Gambier
Liked it? Pin it for Later…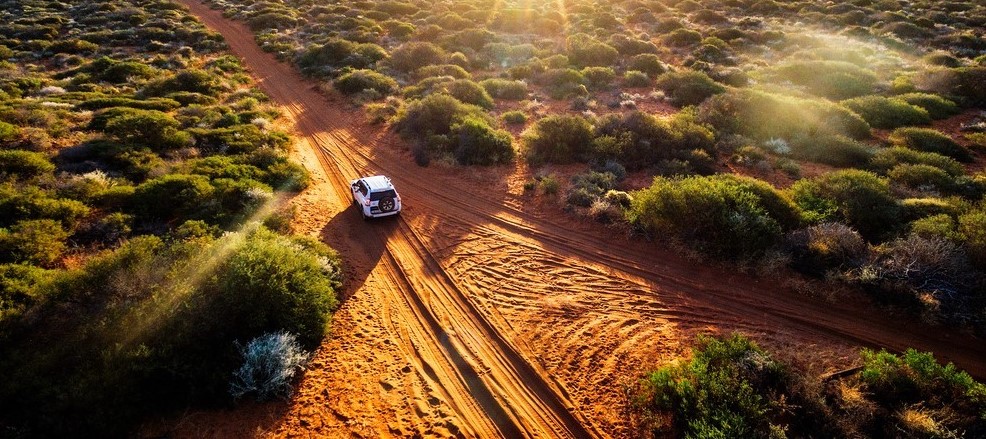 500 THINGS TO DO
Join our mailing list and receive our Free Top 500 things to do in Australia. If you love the Australian Outdoors download this list and keep it handy when you are planning a weekend away or a road trip around Australia.
Recent Posts