** Piccaninnie Ponds is currently closed to snorkellers and divers due to an algal bloom. You can go there for a look but you cannot enter the water **
Piccaninnie Ponds Conservation Park is a world class dive site in the south east of South Australia near Mount Gambier. Part of the Lower South East Marine Park, it's best known for the clarity of the water and features known as The Chasm and The Cathedral. It is also a great place to snorkel.
The ponds are part of an important ecological system known as a the Piccaninnie Ponds Karst Wetlands. There is something called the Ramsar Convention which recognises wetlands of international importance. In 2012 Piccaninnie Ponds was added to that list. We mention this as it underlines what a special place this is for scuba divers and snorkellers to explore.
Disclosure: Please Note That Some Links In This Post May Be Affiliate Links, And At No Additional Cost To You, We Earn A Small Commission If You Make A Purchase. Commissions Go Toward Maintaining The Curious Campers Website.
Getting to Piccaninnie Ponds
Piccaninnie Ponds is about 30 minutes south east of Mount Gambier. Look for the turn off to Piccaninnie Ponds Road from Glenelg River Road. Our navigation system tried to steer us down a little dirt track a bit before the ponds. Ignore Siri, make sure you stay on the main track until you reach a carpark that has a shelter and a toilet.
Piccaninnie Ponds is close to the Victorian border. Keep an eye on your digital clocks because, unless you are visiting from Victoria, they might want to skip forward half an hour. This might not seem like a big deal, but it kind of is because you have to book a time to swim at Piccaninnie.
Permits + Wetsuit Hire
Unlike Ewens Ponds, there is no seasonal closure at Piccaninnie Ponds. If you are planning to dive or snorkel you need to book a time and complete an online indemnity form. Do this on the Parks SA website before your arrival. The cost for a snorkel starts at $15.50 per adult. Divers can expect to pay closer to $50. Annual permits are also available.
For snorkellers, the one hour time slots allow 6 people in the ponds at one time. The permit also has other conditions. You must wear a full length wet suit, snorkellers can't use a weight belt and you need to stay in a designated area. For scuba diving, you need to be a current financial member of the Cave Divers Association of Australia and qualified to dive sinkholes.
If you don't have a full length wetsuit, drop into the Allendale East General Store which doubles as a dive shop. They will have you fitted out in no time and trust us; you will want to be kitted up in head to toe neoprene. At an average water temperature of 14 degrees, you won't enjoy it as much if you don't have everything from boots to a hood.
Snorkelling Zone
Having ignored Siri, when you make it to the carpark there's not much to see except the shelter and toilets. It is a short walk to the ponds through some tall reeds. When you get to the ponds it is a great view. There is a pontoon right in front of you which is the access point to the water. Beyond that is a series of ponds and waterways as far as you can see.
Despite the extent of the ponds, there is a defined snorkelling zone. When you get your permit you also get a map showing where you can go. It's pretty clear. You can go to the First pond which is where you enter and to the Chasm which is straight ahead over a small ridge. Even though Piccaninnie Ponds is quite close to the sea, following the channel out to the ocean is not allowed.
Many of the other areas you can see from the pontoon beyond the first pond are quite shallow. Even though it is tempting to look at these areas, the bottom is easily disturbed and swimming there can damage the environment.
Read More : Ultimate Guide to Snorkelling in SA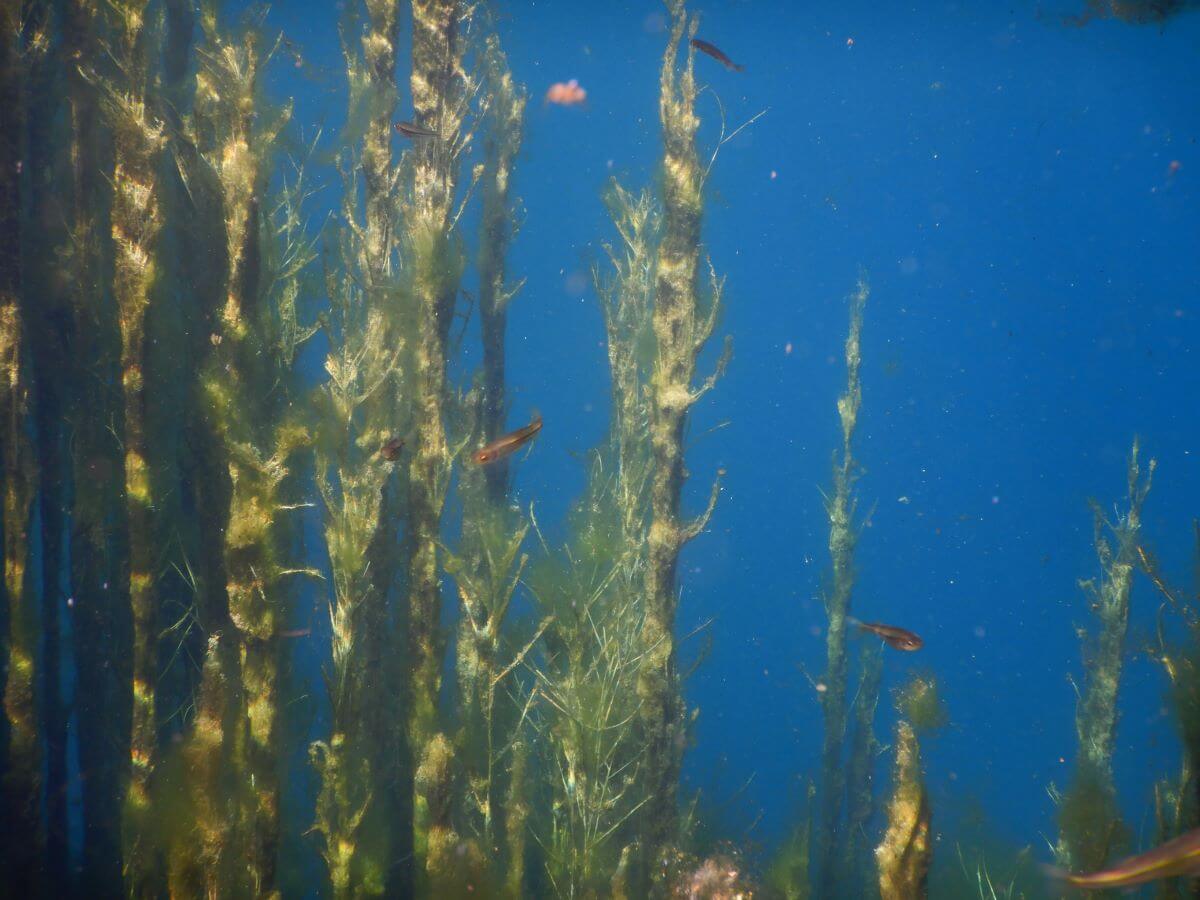 What you'll See
As is the case when you slide into nearby Ewens Ponds, as your facemask goes underwater, you're transported to another world. The water is crystal clear, and it takes a moment to get used having such amazing visibility underwater.
You can see right to the bottom of the first pond which is about 10 metres deep. Fringed by bright green plants, it feels like you're swimming in a lush underwater garden. When we snorkelled at Ewens Ponds we saw very little marine life but at Piccaninnie it is easy to spot small fish swimming around the plants.
We saw lots of common and spotted Galaxias. Keep an eye out for eels, long necked tortoises and crayfish in the ponds too. There are a variety of birds including swans, herons and bitterns in the area as well.
Clumps of weed float in the water and schools of fish congregate beneath the little green islands. You can get quite close to them if you move slowly. After we hopped in, we did a circuit of the first pond then headed to the ridge at the far end of the pond. Beyond the ridge is the second area you can snorkel in.
The Chasm
For snorkellers, a highlight is gliding over the ridge at the back of first pond and seeing the bottom drop away as you enter the Chasm. The Chasm is around 30 metres long and 5 metres across but it's the depth that's incredible. It drops away over 100 metres below you.
From the surface, the water below turns a deeper and deeper blue. It almost looks like there is another stream of water flowing below you. If you're diving, the Chasm is just one of the named features to explore. The other well-known feature is The Cathedral; a large underwater cavern 35m below the surface. Divers might also encounter the Bathtub, Dogleg and Saddle.
We spent most of our snorkelling time floating above the chasm. Fish swim by and the plant life gently waves either side of you as you contemplate what lies beneath. If you get into the right spot, you can watch golf ball sized air bubbles rise from the depths and pop at the surface in front of you. We had the Chasm to ourselves which was a real treat. We could stare down as far as we could and all you can hear is the sound of the surf from the coast nearby.
Ewens or Piccaninnie Ponds for Snorkelling?
Piccaninnie and Ewens ponds offer quite different experiences for snorkellers. At Ewens Ponds you cover more distance as you move between the three ponds along plant-lined channels. We also thought the water was clearer at Ewens Ponds and the plant life in the channels is fantastic.
There was more animal life at Piccaninnie Ponds and being able to float above the Chasm and look down was a great experience. The view across Piccaninnie ponds is also very nice. There are picnic areas and toilets at both areas.
That said, we felt Ewens Ponds was the better snorkel. Swimming from pond to channel at Ewens is fun and the current carries you along without much effort too. So, if you only have the chance to do one, try Ewens. But, if you can work around the seasonal closure at Ewens ponds, do both and see which one you prefer.
Read More : Ewens Ponds Snorkelling Guide
National Park Pass
You will need to book and complete an indemnity form on the Parks SA website prior to arrival. The cost for a snorkel starts at $15.50 per adult. Divers can expect to pay closer to $50. Annual permits are also available.
Time slots are valid for one hour with a maximum of two dives or snorkel sessions per person per day.
Diving permits are only issued to divers who are current financial members of the Cave Divers Association of Australia (CDAA) and rated at sinkhole category.
Diving and snorkelling equipment and wetsuits are not provided, you will need to either bring your own equipment/wetsuits or hire it.
Camping and accommodation is not available in park.
Accommodation in Mount Gambier
If you enjoyed this story you might also like:
Things to do in Warrnambool | Day Trips from Adelaide | Snorkel a Mangrove Forest
Like it? Pin it for Later…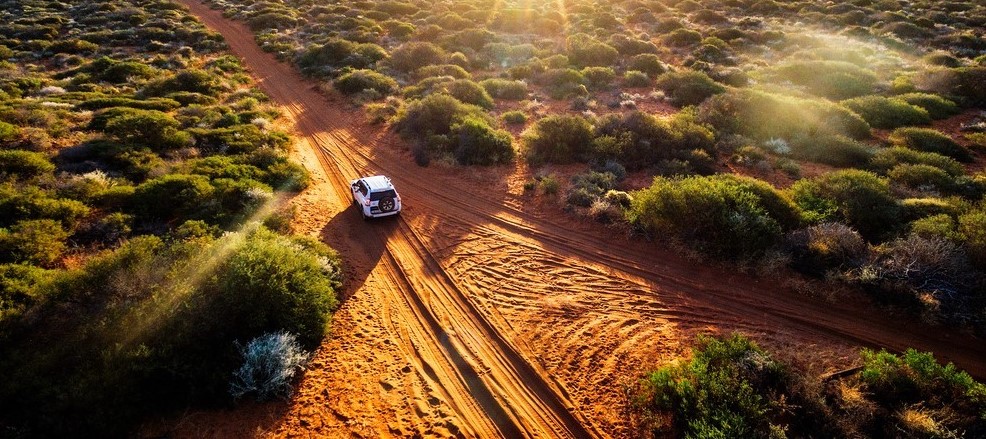 500 THINGS TO DO
Join our mailing list and receive our Free Top 500 things to do in Australia. If you love the Australian Outdoors download this list and keep it handy when you are planning a weekend away or a road trip around Australia.
Recent Posts