When we think of Tropical Queensland we usually think of wet tropics, waterfalls, the Great Barrier Reef and the Whitsundays. But Magnetic Island, known affectionately as 'Maggie', is one of the lesser known delights of North Queensland.  
Magnetic Island lies just off the coast of Townsville, providing a stunning backdrop to the popular walk along The Strand. The island is famous for its scenic bays, spectacular rock formations and its iconic Hoop Pine trees, which find a hold between the large granite rocks.  Tame Rock Wallabies, wild koalas, walks, coral and marine life are all on the list of things to do on Magnetic Island.
Disclosure: Please note that some links in this post may be affiliate links, and at no additional cost to you, we earn a small commission if you make a purchase. Commissions are appreciated and go toward maintaining the Curious Campers website.
How to get to Magnetic Island?
Access to Magnetic Island is via two ferries. There is the Sealink passenger ferry, which makes the trip in just under 20 minutes. Or take the and the Magnetic Island Ferries car barge, which takes just over half an hour.  Both run regular services all day, every day, making Maggie a popular destination for day trippers, as well as those seeking longer breaks.  Both ferries dock at the modern Nelly Bay ferry terminal. Maggie is well served by public transport, with a bus service that coordinates with the Sealink passenger ferry timetable.
Magnetic Island's History
Yunbenun (Magnetic Island) is Wulgurukaba country and was given its European name by Lt James Cook in 1770. He believed the minerals in the island's now famous rocks were interfering with his ship's compass. By the late 1890's, it was a popular day trip destination for Townsville locals and the first resort was built at Picnic Bay.
It became an important military site during WW2. The island now relies on tourism and a growing number of residents who commute to the mainland for work. Nearly 70% of the island is National Park, with a scattering of small settlements along the southern and Eastern shoreline. The Great Barrier Reef Marine Park encompasses most of the waters surrounding Maggie.
Do I need a Car on Magnetic Island?
There are several car hire options on the island, ranging from small 4WDs down to the tiny open topped "barbie cars". Also known as "topless" cars, these are a fun way to get around Magnetic Island. The Topless Barbie Cars have replaced the iconic Mini Mokes the island used to be famous for. Electric scooter hire is also available on Magnetic Island. At the time of writing, scooters can travel between the Base backpacker hostel on Nelly Bay road at Hawkins Point, to Alma Bay.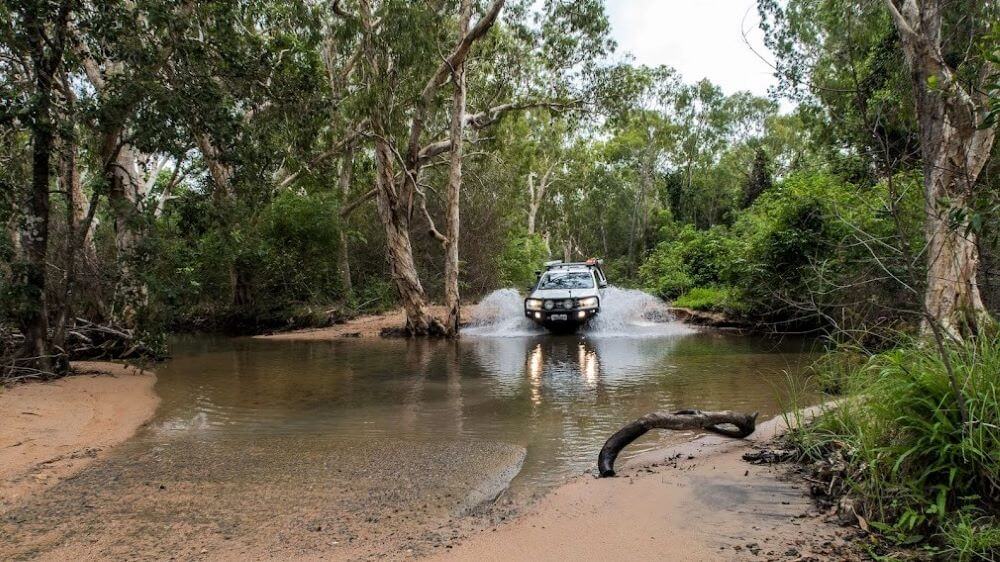 Getting Around Magnetic Island
There is a road that runs all the way from West Point to Horseshoe Bay, passing through Picnic Bay, Nelly Bay and Arcadia on the way. The road between West Point and Picnic Bay is off limits to hire cars other than 4WD and includes some creek crossings in wet season. Magnetic Island also has walking trails that make it possible to walk from Picnic Bay to Horseshoe Bay.  Trails follow roads and beaches, with occasional detours through steep and rocky territory with stunning views.
Best Things to do on Magnetic Island
There is a road that runs all the way from West Point to Horseshoe Bay, passing through Picnic Bay, Nelly Bay and Arcadia on the way. The road between West Point and Picnic Bay is off limits to hire cars other than 4WD and includes some creek crossings in wet season. 
Magnetic Island also has walking trails that make it possible to walk from Picnic Bay to Horseshoe Bay.  Trails follow roads and beaches, with occasional detours through steep and rocky territory with stunning views.
West Point
West Point is a small collection of houses, around 8km from Picnic Bay. It is the best spot on the island for catching the sun setting over Townsville and a rare chance on the east coast of Australia to see the sun set over water. It is also a popular fishing spot. Also keep an eye out for everything from turtles and dolphins to Dugongs from the shore here.
Heading back towards Picnic Bay and the bitumen, a little side road will take you to Cockle Bay. At the turnoff, the local telecommunications tower provides the platform for a large sea eagle nest. The track to West Point is potholed and can be anything from muddy to impassable in the wet season so check the conditions before heading out there.
Cockle Bay's SS City of Adelaide Wreck
Cockle Bay is an even smaller collection of houses together with an abandoned resort. Blue Cottage, nestled between the rocks and the water, is the bay's best known building.  Offshore from Cockle Bay is the wreck of the SS City of Adelaide. Launched in 1863, fire gutted the ship in 1912 and her burnt hull grounded off Cockle Bay in 1916. She was used as a target for strafing runs during the war. Today, she is known more commonly as the Magnetic Island Wreck.
The wreck is made famous by the mangroves that now grow from the deck making the hull look like a giant boat-shaped plater box. The wreck is generally accessible only by boat or kayak. If you're game, can time the tides and are properly equipped, you can also make a long slog out over the mud flats at low tide. If you take this option, wear wet-suit booties and beware of poisonous cone shells.
Beyond the mangroves and mudflats, you'll get to Cockle Bay reef which is nicely protected area for snorkelling. There is a rich diversity of marine life and coral to see here. The reef here is generally less busy and disturbed than at neighbouring Picnic Bay.
Stinger Free Swimming at Picnic Bay
Back on the bitumen and in to Picnic Bay.  The historic pier used to be the ferry terminal, and drop-off point for day-trippers, but now it's just for strolling and fishing, you can spot big stingrays cruising around the jetty here too. The beach is one of two beaches on the island equipped with nets for swimming during stinger season from November to April. The other is at Horseshoe Bay on the other side of the island.
The Esplanade is a pedestrian mall lined with impressive fig trees. A range of cafes and a pub with an outside dining area are a relaxing place to rest after a busy day of exploring.  A popular but steep walking track starts at the end of Yule St and leads to Sail Rock. From here enjoy the views across Picnic Bay, Cockle Bay, the SS City of Adelaide, the coast north of Townsville and the distant Paluma Ranges. Allow about one hour for the return walk.
Grab a Gorgeous Sand-Free Towel
Tired of bulky towels? Sand Cloud Towels are not like the old school towels that take forever to dry-- it's 3x faster! Plus, it gets softer and more absorbent with every wash! Leave the sand where it belongs with this sand-free towel. 
Views of Nelly Bay from Hawkins Point Lookout
Hawkins Point Lookout
From Picnic Bay, both the road and walking trail climb up over Hawkins Point on the way to Nelly Bay. At the top, a lookout gives panoramic views back over Picnic Bay to Townsville and Castle Hill, around to Cape Cleveland and on to Nelly Bay. Immediately below the Hawkins Point lookout is Rocky Bay, one of a few popular but unofficial nude beaches on the island. For the geocacher, find caches along these trails, around most lookouts and most of the bays.
Stock up at Nelly Bay
Nelly Bay is the main commercial centre of the island. It is home to the ferry terminal and harbour, a range of cafes and restaurants, two supermarkets and specialty shops. On Friday to Monday nights, the Ceylon Curry Corner Sri Lankan food truck sets up on the old Nelly Bay helipad on the Picnic Bay Road.  There's a small area where patrons can 'dine in' while enjoying the sunset. Nelly Bay has one of just 3 servo's on the island. It also sells bait and tackle and hires out Jeeps (Jeeps on Maggie).
The breakwaters around the harbour are home to colonies of Magnetic Island rock wallabies, which are active around dusk. From Nelly Bay you can do another Magnetic Island walk. The Nelly Bay to Arcadia walk is a solid, hilly 5km one way hike up and along the ridge between Nelly and Horseshoe Bay. The track branches and you can wind your down to Arcadia past the Sphinx Lookout.
PRIVATE SCENIC CRUISE & GOURMET PICNIC 
Explore Magnetic Island from the water on a scenic boat ride past the hidden coves and deserted beaches. You'll be able to choose one of the beaches to stop for a couple of hours. Swim, explore, relax, and enjoy a locally sourced picnic served with your choice of drink.
Snorkel Geoffrey Bay
The road from Nelly Bay winds up over another headland and reveals Geoffrey Bay and the settlement of Arcadia. Geoffrey Bay is a great a snorkelling and dive site and is on the Magnetic Island Snorkel Trail. There is a large area of fringing reef and a couple of wrecks in the shape of Moltke and a propeller from a WW2 bomber.  The old Magnetic Island Ferries barge terminal is a popular place to enter the water.
Around the old terminal there are some spectacular rock formations that are home to the island's little allied rock wallabies. They are quite tame here and can be hand fed. Please don't feed them just anything! Wallaby food is available in Nelly Bay and Arcadia.
MAGNETIC ISLAND DISCOVERY TOUR
Our 4.5 hour Discovery Tour is a combination of snorkelling and exploring beautiful Magnetic Island. Explore secluded pristine bays and beaches, birdlife & snorkel beautiful fringing reefs. Stand Up Paddle boards, floating pontoon to sit on, relax and enjoy the beautiful places we visit. Morning tea provided. 
Arcadia & Alma Bay
The protected Alma Bay at Arcadia also has a Surf Lifesaving Club and is a great spot for families. Other attractions in Arcadia are the Wednesday night cane toad races at the Arcadia Hotel and the Bikini Tree Café. From Arcadia, the walking trail to Horseshoe Bay leaves the coast and the road and heads up over some steep hills. Stop at the Endeavour and Sphinx Lookouts for their panoramic views of bays and Cape Cleveland in the distance.
Forts Walk
Two of the most popular walks on Magnetic Island start from a large carpark, bus stop area along the road between Arcadia and Horseshoe Bay. The Forts Walk is a 4km trip, including a few steep sections with rock steps. The walk visits the remnants of gun emplacements, observation towers, ammunition stores and camps. Signage highlights the military history of the area and one of the signal stations has audio presentations and sound effects. As you walk the track, imagine the effort involved in building all these fortifications on top of the hills in the heat. 
Along the way, the views are spectacular, with Arthur Bay and Florence Bay being highlights. Here we also get our first view of Horseshoe Bay. The Forts Walk passes through an area inhabited by a wild koala population that you can see from the track. Helpful walkers will often mark a sighting, by scratching "koala" into the dirt, or making the word from sticks, with an arrow pointing towards a tree.
Forts Junction Walk
The other walk is a loop, passing Arthur Bay, Florence Bay and on to Radical Bay and Balding Bay. It finishes at Horseshoe Bay, where you can get a bus ride back to the carpark if needed. This is a much harder walk and the section between Florence and Radical bays is steep and rough. Arthur Bay and Florence Bay both have large and healthy reef areas and are popular with snorkellers. Both beaches are turtle nesting sites, and you can see their tracks across the sand at certain times of year. There is a private guest house at Arthur Bay, but no public facilities. Florence Bay has a drop toilet. Along the way there are a couple of lookouts and an old searchlight station, which overlooks Florence Bay.
Koala & Butterfly Spotting
From the Forts Walk, make your way down to Horseshoe Bay. On the main road in, there is the Bungalow Bay koala village, where you can see koalas if you haven't managed to spot one on the Forts Walk. There is also a small area of bush with a short track that is famous as the Butterfly Walk.  Walking through the natural bush, you can see a variety of colourful butterflies. The butterflies go into hibernation between April and July.
Horseshoe Bay Walks,  Watersports & All Over Tans
Horseshoe Bay itself is a small settlement with a range of bars and cafes along the beach and lots of different accommodation.  The patrolled beach has the second of the two stinger nets on the island and there are plenty of shady trees and picnic tables to rest and enjoy the view.  Horseshoe Bay is a popular base for various tours, water sports and equipment hire businesses. 
From here, you can take a tour around the corner to the Five Bays area.  These are small, isolated bays in the National Park area that are only accessible by water, there are no walking trails or roads in. The long beach at Horseshoe Bay is popular with walkers and the far western end is an unofficial nudist area.
Horseshoe Bay is also a popular take-off point for people visiting two more of the island's bays. Closest to Horseshoe Bay is Balding Bay, another unofficial but very popular nudist beach. Access is by a steep and rocky track. At Balding Bay there is a drop toilet, but no other facilities.
BE PREPARED... FOR A DAY OUT!
You'll be all set for a picnic or day at the beach with Trailsman 18 Can Cooler from Thermos. It features leak-resistant seams, has an attached metal bottle opener for ease of use as well as a front zippered pocket for storing accessories you might need. Chuck in your favourite chilled bevvies and picnic lunch & your are ready for a day out.
Radical Bay
Further on is Radical Bay, which was the site of a failed resort development, the remains of which are still there today. At various times, Radical Bay was also known for having an old piano, which was much photographed. Sadly, the original piano and its successor were vandalised and destroyed by fire, with only the metal frame and strings remaining.
Magnetic Island Accommodation
There is accommodation to suit all budgets and tastes on Magnetic Island. There are very limited camping and caravan facilities, so make sure to book before arriving.
LIKE IT… PIN IT FOR LATER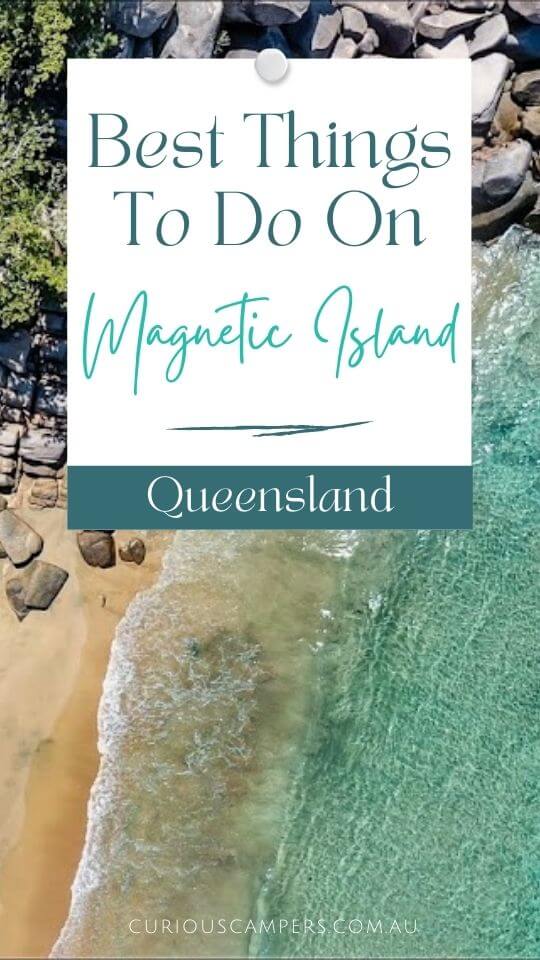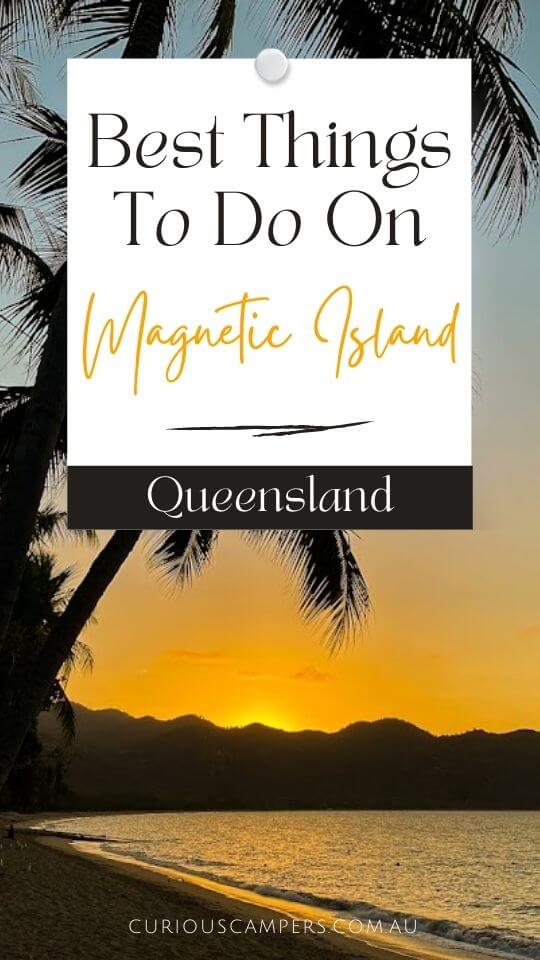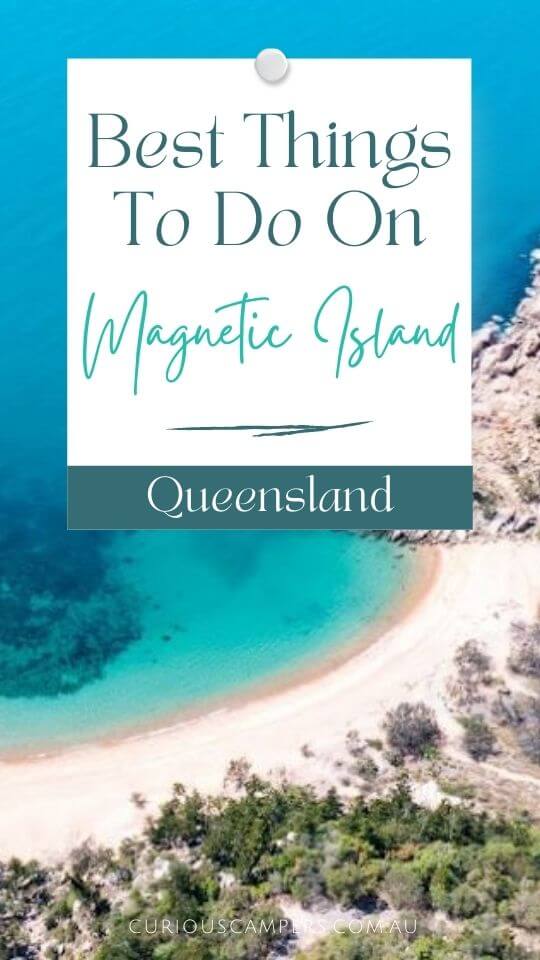 500 Things to do
Join our mailing list and receive our Free Top 500 things to do in Australia. If you love Australian Outdoor Experiences download this list and keep it handy when you are planning a weekend away or a road trip around Australia.