Rugged Coastlines, beautiful beaches and abundant wildlife; your Kangaroo Island getaway will be an experience you will never forget. Whether you are camping or staying in a luxury eco villa there is something to suit everyone.
In January 2020, the western half of Kangaroo Island was devastated by bushfire. The good news is KI is open for business! As travellers, the best way to support the island is to visit and put money into the community. Be aware that some areas of the island will be inaccessible for some months.
For travel information, check the Authentic Kangaroo Island Facebook page or Tour Kangaroo Island.
Disclosure: Please note that some links in this post may be affiliate links, and at no additional cost to you, we earn a small commission if you make a purchase. Commissions are appreciated and go toward maintaining the Curious Campers website.
Where is it?
Kangaroo Island (or KI to the locals) is 22 kilometres off the coast of South Australia. The access point for the island, Cape Jervis, is about 2 hours south of Adelaide. A number of Kangaroo Island Tours are available departing from Adelaide.
Getting there
KI is separated from the mainland by Backstairs Passage. At various times people have tried to swim and kayak across it but for most of us, the Sealink ferry is the way to go. There are several services a day and extra services at peak times. In terrible weather the service can be cancelled.
Mention KI to a South Australian and one of the first things they'll do is talk about the cost of getting there. More than once I've heard that for the distance, Backstairs Passage is the dearest ferry crossing in the world. It could explain the attempts to kayak and swim there. Sure, during peak season with a van, car and passengers it's not a cheap exercise. But, if going to KI is a one-off adventure for you, it will be money well spent.
If you're travelling light there is also a regular air service to the island. But as most travel guides will tell you, if you're going to KI for a bit of sightseeing a vehicle is a must. It's Australia's third largest island behind Tasmania and Melville Island.
The Ferry
On a good day the Sealink ferry ride is a relaxing 45 minute journey, barely long enough for a beverage and muffin. But watch out, the water between KI and Cape Jervis can get interesting. For our trip to the island, it was a breezy day with a few white caps and boy did we rock and roll! Standing up unsupported was a challenge at times. The vans and campers in the hold had a sway going on too. If you're susceptible to a little motion sickness take a Kwell to be safe.
The ferry is not drive on-drive off. If you have a car you drive on and do a U-turn on the boat. Motor homes and cars towing reverse on and go on last. When it's busy they pack the vehicles on very tightly. If, like me, you don't back so well when there's an audience and time pressures, don't panic. The crew will offer, without obvious judgement, to reverse your rig on for you. Did my pride take a slight dent? Maybe. But the pain of denting someone else's van on my eighth attempt to get on board is worth a little dose of humility.
The ferry docks at Penneshaw on the east of the island. The island's main town – Kingscote – is a 45 minute drive away. Another popular spot – American River – is 30 minutes away. If you have arrived in Penneshaw you can book a variety of day trips from where the ferry docks.
If, like us, you want to explore the islands wild side, you will want to head west to Flinders Chase National Park. Allow 2 hours to get from one side of the island to the other.
Admirals Arch
Located in Flinders Chase National Park, the arch is a spectacular monument to the power of coastal erosion. It's accessed by a boardwalk which, even if there was no arch at the end of it, would be worth walking along. There are stunning coastal views and many opportunities to view the local New Zealand fur seal colony. At the end of the boardwalk, when you might be 'wow-ed out', is Admirals Arch.
The arch is an eroded window in the cliff face that frames an amazing view across the water. Little stalactites hang from the roof and more seals lounge on the smooth rock floor. It's stunning and a must if you're a sunset photo hound.
Remarkable Rocks
As you make your way back up the Admirals Arch boardwalk, look right, and you'll see Remarkable Rocks about 5km away.
I'll be honest and confess that as we drove to the rocks, they appeared not to be very remarkable at all. However, as we approached them on another boardwalk, we started to come around. By the time we stood next to them, the rocks were every bit as impressive as their name suggests.
The rocks, hollowed out by the elements, look like enormous sculptures. Lichens have turned them bright orange. Their rusted colour a sharp contrast to the blue of the ocean and sky. It's worth taking a moment to read the story of the rock's magmatic origin. The well-illustrated signs add another layer of intrigue to this amazing site.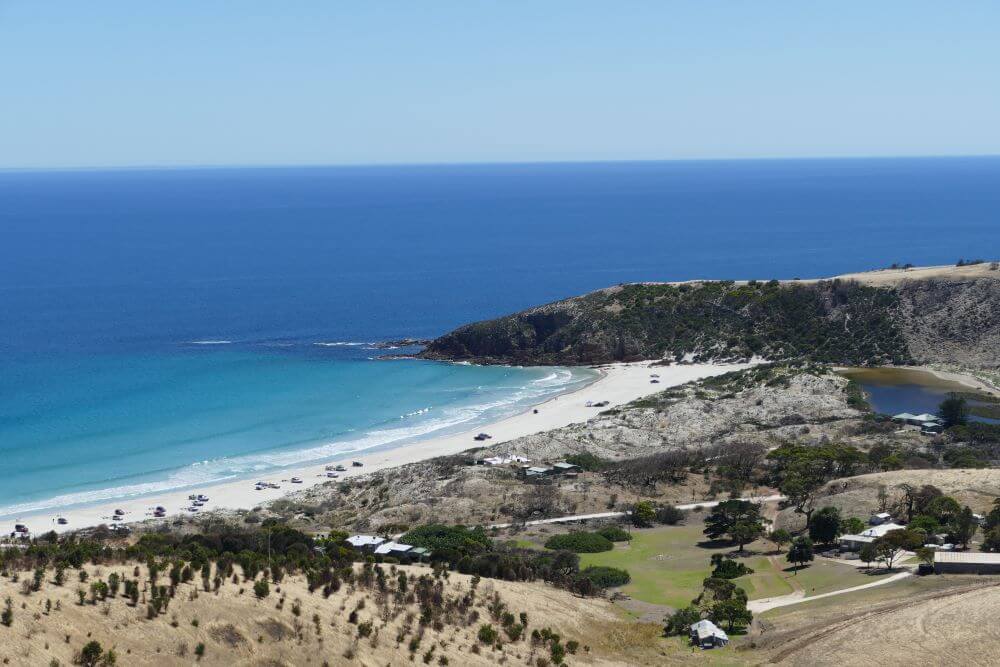 Bays and Beaches
Kangaroo Island has some great beaches. We list our favourites below, but first, a couple of general points.
As with any beach, look out for currents, rips and dangerous surf. Conditions can betrecherous on the more exposed south and west coast of the island. For family friendly beaches, the north coast is the way to go.
The other thing to watch is the water temperature. At best it's refreshing. At worse, you'll get a shock if you're used to warmer water off the east and west coasts of Australia. The shallows are fine, but you don't need to venture out too far before it gets noticeably cooler.
Here are a few spots we checked out.
Stokes Bay is our top family friendly pick. It's about an hour from Kingscote. Don't get put off when you arrive at the car park and see a rock filled bay in front of you. Follow the signs through a tight maze of boulders and you'll get to the beach. It's a short, easy walk, although I wouldn't bother trying to get a kayak through. When you emerge from the rock walk you'll see a lovely beach. If you prefer more protected swimming there is a large natural rock pool. Pack a lunch, you can spend hours here.
Snelling Beach is also on the north coast, about 20 minutes west of Stokes Bay. You drive onto the beach here. There were 2 and 4WD cars on the beach the day we were there but of course, check the conditions when you visit. You can swim, fish, surf and kayak here. For a great lookout, drive past the entrance to the beach and head up the hill – the view is spectacular!
Emu Bay is 45 minutes east of Stokes Bay and is another family friendly spot. Check out the pelicans by the jetty, they're enormous! You can drive onto the beach. It's a large bay so you should have no problems finding your own piece of pristine coastline.
Vivonne Bay is on the south side of KI and it's beautiful. There's a long, white sandy beach with turquoise water. It's a great spot for beachcombing, fishing, kayaking and surfing. Remember, beyond the bay is the Southern Ocean, then Antarctica. So, keep an eye on the conditions and pick your swimming spots. Areas closer to the jetty are a little more protected.
Even if you don't get into the water, Vivonne Bay is worth a visit. Point Ellen, at the western end of the bay, has spectacular views. It's a great place to watch waves crash onto the rocky coastline. If it's warm, you'll see plenty of goannas along the path to the lookout.
We saved our favourite to last – Hanson Bay. Located on the west coast, it's not far from the entrance to Flinders Chase National Park. It's smaller than the other bays and you can only drive onto the beach to launch a boat. The view as you make the short walk from the carpark is stunning.
The white sand, turquoise water and horseshoe -shaped bay is picture perfect. A reef outside the bay provides some protection from the surf. You can snorkel along the rocks closest to the carpark. Be aware of the water temperature, it drops quickly if you venture out too far. It's a beautiful spot to end the day as the hue of the sky and water soften with the setting sun.
Little Sahara
Not far from Vivonne Bay, Little Sahara is a spectacular inland dune system. If you're into sand boarding, amazing scenery, or just want to see the view from a 50m tall sand dune check it out. The sand is the weathered remains of marine life left high and dry when sea levels retreated thousands of years ago. Prevailing winds and vegetation created and stabilised the dunes before a fire destroyed the vegetation exposing the sandy slopes. Sand boarding, fat tyre bike hire and quad biking are all available from the office there. 
Lighthouses
There's something about lighthouses. They usually have pretty good views of the coast. Their maritime and social history is fascinating. And for many people, the perceived solitude and isolation is very appealing. Whatever their attraction to you, there are some great lighthouses to check out on KI. All offer accommodation options too.
If you're making the trip to Admirals Arch you can't miss the Cape du Couedic lighthouse. It's right there. It is a magnificent spot for sunset pictures. Cape Willoughby lighthouse is on the east coast and Cape Borda lighthouse is on the north-west tip of the island. They are well spread out but worth a look if you are in the area. 
Seals
One of KI's main attractions is Seal Bay Conservation Park – home to endangered Australian Sea Lions. Of the approximately 10,000 Australian Sea Lions getting around, about 800 of them call Seal Bay Home.
There is an admission fee to see the seals. You can pay full price for a guide to take you onto the beach for a close up look of the sea lions and a talk. For a lesser fee you can watch the sea lions from a boardwalk. It takes you across the dunes and gives you an elevated view over the beach. Look out for the humpback whale skeleton as you make your way along the boardwalk.
If you opt to stay on the boardwalk, don't worry, you won't be disappointed. There are sea lions everywhere. The longer you stay the more you will see them do. They are gorgeous to watch – so clumsy on land yet so graceful in the water. The pups can't keep still, they are especially entertaining!
There's another boardwalk there that takes you to a lookout with wonderful views across the bay and coastline.
Other Wildlife
We can't say enough about Kangaroo Island as a destination for wildlife enthusiasts. Besides seals, look out for kangaroos, wallabies, koalas, echidnas, platypuses (if you're lucky), and goannas. The birdlife is great too – there's everything from blue fairy wrens to wedge tailed eagles. The pelican and penguin experiences near Kingscote are great too.
The further west on the island you go the better it gets – culminating in the Flinders Chase National Park. If you drive at night, slow down. There are kangaroos, wallabies, possums and birds all over the place. The amount of road kill is alarming – something to be aware of if you have children in the car.
We had so many great wildlife experiences in KI they get a post of their own.
*Currently not available due to the closure of the National Park due to 2020 bushfires.* 
Purchase a Kangaroo Island Tour Pass which offers you 12 months access to Flinders Chase National Park (closed until further notice), as well as admission to the following Kangaroo Island tours:
This 2-day Kangaroo Island adventure includes overnight accommodation, you'll have twice the time to discover South Australia's wildlife paradise. Some meals are provided, and you'll spend the night in a sea-view hotel room. 
2-day Kangaroo Island tour from Adelaide
Visit Clifford's Honey Farm
Take a guided tour of Seal Bay
See a spectacular birds of prey in-flight display
See the koalas sleeping in the trees at Hanson Bay Wildlife Sanctuary
Learn about the history of the Emu Ridge Eucalyptus Distillery
Explore Flinders Chase National Park and the long-nosed Fur Seal colony at Admirals Arch
The Western KI Caravan Park is more like a wildlife reserve that a caravan park. With Koalas in the trees behind your site, kangaroos and wallabies grazing on the grass inbetween sites, geese, turkeys and we even spied an echidna. If you love wildlife, this is the park for you. 
Book your Sealink Ferry Tickets online.
Tickets available for passengers, cars, buses, caravans, motorbikes.
Click to see the options for concessions.
500 Things to do
Join our mailing list and receive our Free Top 500 things to do in Australia. If you love Australian Outdoor Experiences download this list and keep it handy when you are planning a weekend away or a road trip around Australia.