When you visit Broken Hill in the far west off New South Wales, one of the things on your itinerary should be a trip to the old mining town of Silverton. Far from being a ghost town, there are lots of things to do in Silverton. From the iconic Silverton Hotel to galleries, museums and the awe inspiring Mundi Mundi Lookout, Silverton has a range of fascinating attractions.
Disclosure: Please Note That Some Links In This Post May Be Affiliate Links, And At No Additional Cost To You, We Earn A Small Commission If You Make A Purchase. Commissions Go Toward Maintaining The Curious Campers Website.
Getting to Silverton
Silverton is just over 30 minutes northwest of Broken Hill. Look for the turn off to Silverton from the Barrier Highway. The Road to Silverton from Broken Hill is sealed.
A feature of the drive out there are the many dips in the road. How many dips are there? There is the 39 Dips Gallery in Broken Hill which might be a clue. If you are travelling with kids, counting the dips on the way out and back to Broken Hill is a great way to keep them occupied!
Silverton FAQs
Is Silverton worth visiting?
Is Silverton worth visiting?
Yes, it is worth the drive out to Silverton. There is a lot more here than a collection of old buildings. Check out the Mad Max Museum with its props and memorabilia from the films, the galleries are fun – especially the iconic emu paintings by John Dynon, learn the history of the place on the Silverton Town Walk, drive on and see how much water there is the Umberumberka Reservoir and say g'day to the Silverton donkeys.
Best Time to Visit
Best time to go to Silverton
Some galleries and businesses are closed in December and January, and it can be really hot then too. The best time to visit Silverton and Broken Hill is from April to November.
How long do I need?
How long do you need in Silverton?
You could easily spend half checking out art galleries, looking through the old school and Gaol Museums, doing the Day Dream Mine tour, taking in the views from Mundi Mundi Lookout and having lunch at the pub or bakery.
Things to do in Silverton
Silverton is a classic boom to bust mining town. Shortly after silver ore was discovered there in the 1870's the town's population swelled to over 3000.
The ore, however, was quickly depleted and along with the discovery of the enormous ore body at Broken Hill, Silverton all but became a ghost town.
Today there are lots of things to do in Silverton. It is full of history, colourful locals and looks a picture set amongst the rolling Barrier Ranges and the nearby Mundi Mundi Plains.
Day Dream Mine Tours
The Day Dream Mine is halfway between Silverton and Broken Hill. As their website states, don't trust Google Maps to get you there, just look for the turn off on your right as you drive from Broken Hill towards Silverton.
The road into Day Dream Mine is a 12km unsealed track which was in good condition for our drive in there. You could get in there in a 2WD – but perhaps check in with them if it has been raining. There are a few gates you need to open and close along the way too.
This is one of those places where you marvel at the toughness of past generations. 500 people used to live and work at the mine. As you do the 90 minutes underground tour and see what they built and how isolated they are you can't help but be impressed.
The number and timing of tours varies with the seasons, bookings are essential for the tours. Something else essential is trying the scones in the tea room at the end of the tour – they are fantastic and a great way to top off your visit.
Silverton Hotel
For a pub in the middle of nowhere, The Silverton Hotel must be one of the most photographed pubs in Australia. With a Mad Max style car parked out the front, the old sandstone building with big blue skies behind it is quite a sight.
It has featured in several movies including Razorback, The Adventures of Priscilla, Queen of the Desert, the Slim Dusty Movie and Mission Impossible 2 to name just a few. Inside, the walls are covered with celebrity photos and memorabilia. There is also a great sheltered eating and dining area. It's a busy place in peak season but having a meal or drink here is a quintessential Silverton experience.
Silverton Bakery
If the pub is too busy and you want a meal, the locally owned Silverton Bakery just up the road is a great option. There is a great range of pies, sausage rolls, cakes and coffee here all made locally. Definitely worth dropping in if you want a snack or lunch before heading off on a camel tour or walking the Silverton Heritage Trail.
Silverton Outback Camel Tour
For a different view of Silverton and the Mundi Mundi Plains, a great way to look around is from the top of a camel. Silverton Outback Camels run a 60 minute tour where you walk past Silverton's best know attractions, but their most popular ride is the 90 minute Silverton Sunset Camel Tour.
Shorter rides and Camel Farm visits are also available. The day tours might not run over summer so check in with their website to see which tours are running when. When you are driving into Silverton, you'll see the turn off to the farm on your left just as you get to the big Silverton sign.
Get a picture with the Silverton Donkeys
The humble donkey received a major popularity boost thanks to the Shrek movies series and here in Silverton, fans of the animal or the movie character can have a donkey moment with Silverton's own donkeys. The only thing they are happier getting than a pat, is a snack from customers of Silverton Bakery or Silverton Hotel – hence the don't feed the donkey signs around town!
Silverton Town Walk
This 60 minute walk is the shorter of 2 walks you can do around Silverton. It takes you the middle of town past all the significant buildings including the Silverton Gaol, Silverton Public School, the Mad Max Museum and the town's art galleries. The walk goes out to Penrose Park, the Silverton Cemetary and the Silverton Photography Gallery, but if it is hot or you just want a shorter walk, you could drive to these 3 things on the way in or out of Silverton.
Silverton Heritage Walking Trail
This longer walk will take you 2 hours, you'll want some water and decent walking shoes too. The start and end of the walk covers the same sights as the town loop, missing those out at Penrose Park. It then goes beyond the town past half a dozen historic ruins, a couple of lookouts, the Umberumberka Mine and through the old rail cutting. It's well-trodden and signed, so you won't lose your way, it is a great way to get an overview of this once bustling mining town.
Mundi Mundi Lookout
With sweeping views across the Mundi Mundi Plains and the Silverton Wind Farm, the extra 5 minute drive to the lookout is well worth it. There isn't much else at the lookout except for the views, it is just a dirt carpark on the side of the road.
Facing west, Mundi Mundi Lookout is a fantastic spot to take in an outback sunset or watch a dust storm or thunderstorm roll in. Keep an eye out for wildlife – you might spot eagles overhead or kangaroos and emus on the surrounding Barrier Ranges. The view is so vast, it is claimed you can see the curvature of the earth from here; pretty impressive.
Umberumberka Reservoir Dam
Only 5 minutes further on from Mundi Mundi Lookout is the turn off to the Umberumberka Reservoir. It was full to the brim when we had a look, other visitors there told us stories of it being bone dry with goats grazing in there. Full or empty it is an interesting sight.
Silverton Art Galleries
With the Mundi Mundi Plains, Barrier Ranges, big skies and the vibrant colours of the outback, it is no wonder Silverton is the centre for several art galleries, it is such an inspiring landscape.
The Galleries are great fun to walk through, often you can meet the artist – chatting to them always adds to the experience of seeing their art – and every gallery offers something a little different. Have a few coins with you, the galleries are a mixture of free entry or gold coin donation.
Silverton Photography & Secret Garden
This is the first gallery you come to as you drive into Silverton from Broken Hill. Look for the turn off near Penrose Park. You'll likely meet local photographer Helen Murray when you arrive at the rustic collection of outback buildings. One houses the gallery, a collection of beautiful photographs of the landscape and wildlife of the area.
As a bonus, you can also walk around the Secret Garden, a green oasis in the middle of the outback that has been entirely created and looked after by Helen. With its grass, water features and plants, it is a wonderful spot to walk around, and Helen might even give you a guided tour if she is out there looking after it.
John Dynon Art Galley
You won't miss John Dynon's gallery in the heart of Silverton, the colourful exterior of the tin shed is totally eye catching! John is one of the outback's and Australia's best known artists. Even if you don't think you have heard of him, you have quite likely seen his iconic emu paintings.
The gallery is a fascinating place to walk around with prints, original pieces and an assortment of other things available to buy. This is another spot where you'll likely meet the artist, John was there and more than happy to chat as we looked around.
Beyond 39 Dips
There is a bit of everything here including glass jewellery and glassware, belts and leather accessories – all made on site – and quite a bit of art by Howard Steer the 'Flying Doctor' artist. There are several rooms to look through and amazing arts and crafts in each one.
Justin Cowz Ghost Town Art Gallery
So disappointed we didn't get the chance to have a look through this gallery, it was closed the day we were in Silverton (between Christmas & New Years) but it's normally open Sunday to Friday 10.00 – 2.30. Check out his website to get a taste of Justin's unique style.
Silverton Museums
Mad Max Museum
Amongst other movies, Silverton and the Mundi Mundi Plains were also the setting for the iconic Australian movie Mad Max 2. For fans of the movie or anyone who loves Australian cinema the museum is a must see attraction in in Silverton.
There is a huge amount of memorabilia in the museum. The original and replica cars are some of the best attractions there. The Mad Max Museum is open Tuesday to Sunday from 10.00am to 4.00pm.
Silverton Gaol Museum
The Silverton Gaol, built in 1889, is not only a great piece of history, but the museum is chock full of artefacts from Silverton's earliest days. Every room is brimming with memorabilia, while perhaps lacking the interactive displays that might engage younger visitors, history buffs could spend an hour or more pouring over the vast collection.
The Silverton Gaol Museum is 7 days a week from 9.30am to 4.00pm. There is a small admission charge to get in which you need to pay in cash.
Silverton School Museum
Amazingly the Silverton School, built in the 1880s, only closed in 1970, which will feel quite recent for some people. What artefacts you didn't see in the Silverton Gaol Museum you will find here, there is an incredible collection of old school equipment, photos and even schoolwork from students from another time. Kids might enjoy this museum a little bit more as they can relate it to their school now.
The Silverton School Museum is open Mondays, Wednesdays, Friday, Saturday and Sunday from 9.30am to 3.30pm. Entry is by a small donation.
Silverton Accommodation
As you drive into Silverton you will see Penrose Park Caravan Park on the right. It has powered and unpowered sites cabin and bunkhouse accommodation. Staying at Penrose Park is a great experience. As the previous recreation area for Broken Hill, guests can enjoy tennis courts, see the old oval, there are animals and playgrounds for the kids, shelters, BBQs and fire pits for winter.
It's a great place to stay if you want to look around Silverton for a day or two and at only 20 minutes from Broken Hill it is also a good base for exploring the region.
If you enjoyed this story you might also like:
Sunset at Mungo National Park | Visit Wilpena Pound | Broken Hill Sculptures
Like it? Pin it for Later…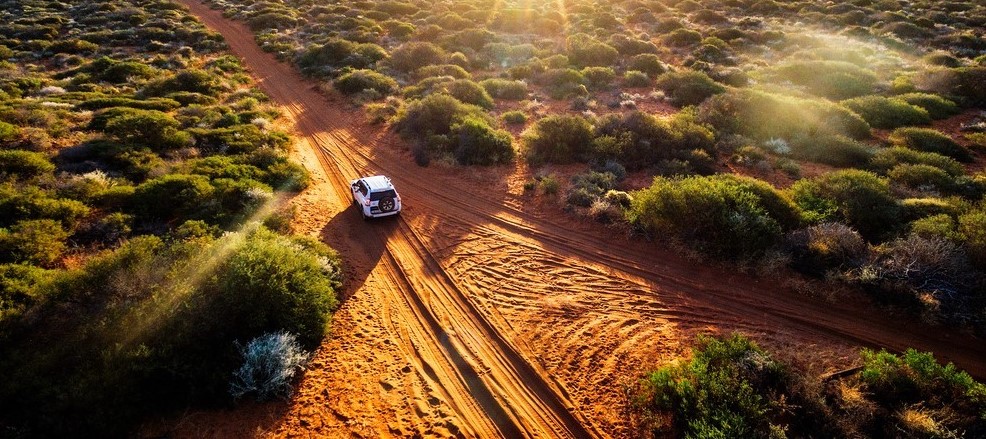 500 THINGS TO DO
Join our mailing list and receive our Free Top 500 things to do in Australia. If you love the Australian Outdoors download this list and keep it handy when you are planning a weekend away or a road trip around Australia.
Recent Posts