There are lots of things to do at Port Arthur from ghost tours and cruising the harbour to exploring the many ruins. The settlement has an amazing atmosphere, it's impossible to walk around and not and not get a sense of the place's brutal history.
Visiting Port Arthur is a big day, read our guide of what to expect when you arrive, what things there are to do at Port Arthur and how to get the most from your time there. Seeing Port Arthur is just one of the things to do on Tasman Peninsula. We've also included a guide to some of the other attractions in the area.
Disclosure: Please Note That Some Links In This Post May Be Affiliate Links, And At No Additional Cost To You, We Earn A Small Commission If You Make A Purchase. Commissions Go Toward Maintaining The Curious Campers Website.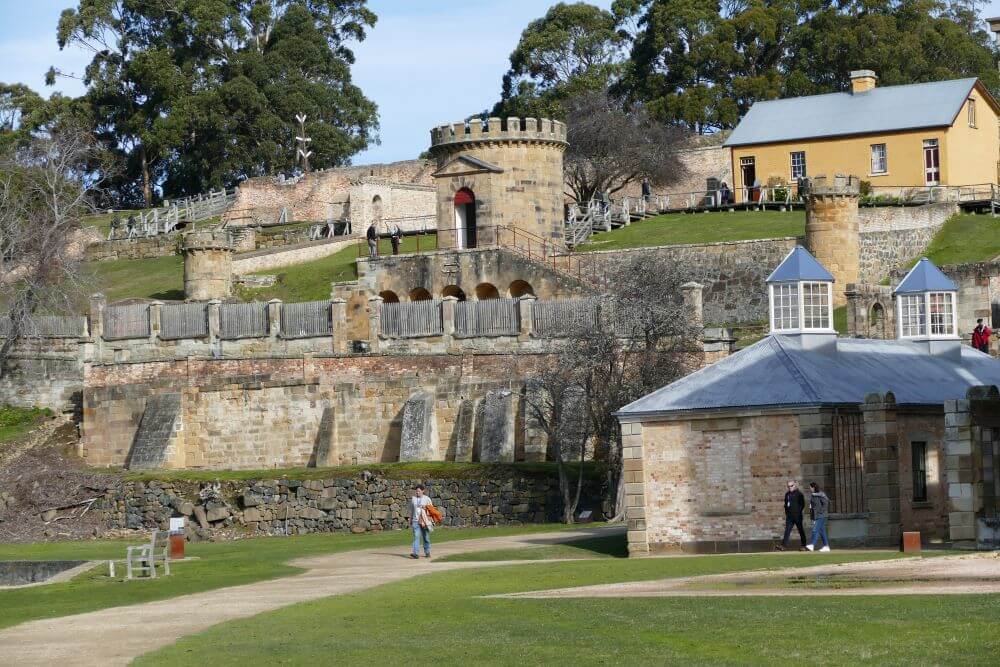 Is Port Arthur worth visiting?
Whether you are a history buff or not, a visit to the UNESCO World Heritage convict settlement of Port Arthur is a must. There are so many things to do at Port Arthur, it is not hard to understand why your ticket is good for 2 (consecutive) days. The settlement has been so well preserved that as you enter the grounds from the visitor centre, it is like you have been transported to another time, it really is a fascinating experience.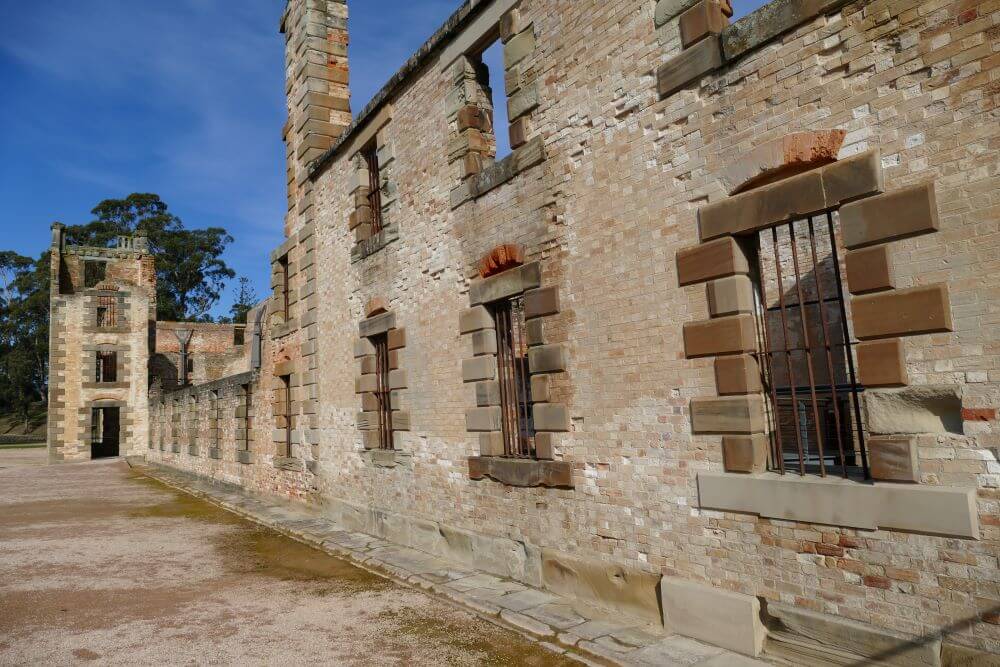 Getting to Port Arthur
The drive from Hobart to Port Arthur takes 1 hour and 20 minutes. Get yourself onto the Tasman Highway and there is plenty of signage pointing the way from there. Add another 20 minutes to your day each way if you are travelling from New Norfolk.
If you are arriving on the ferry in Devonport, it is a 4 hour drive down to the Tasman Peninsula and Port Arthur.
There is a Tassielink public bus that runs between Hobart and Port Arthur, the problem is that it leaves the Tasman Peninsula in the morning and from Hobart in the afternoons which isn't great for visitors to Port Arthur.
The best option if you want to bus it to Port Arthur is the service run by Pennicott Wilderness Journeys. Departing from their office at Constitution Dock, you can get a return ticket for around $60, or you can pay extra to include the cost of entry to Port Arthur. Their bus leaves Hobart at 7.45am arriving at Port Arthur at 9.45am and departs Port Arthur at 4.45pm, returning to Hobart at 6.45pm.
Port Arthur FAQ's
Port Arthur Opening Times
When is Port Arthur open?
Port Arthur is open from 9-00 – 5.00 daily except Christmas day.
How Long do I need?
How long do you need at Port Arthur?
Even if history is only a passing interest of yours, you will still need 3 – 4 hour for all the things to do in Port Arthur. There are over 30 buildings to explore, free tours and cruises to go on so allowing a full day is the way to go.
Kids at Port Arthur
Will kids get bored at Port Arthur?
Port Arthur is set on over 136 hectares – so it covers a huge area and there will be a lot of walking. At the mere mention of the 'W word' our kids would often go into meltdown, but that didn't happen here.
While you will be getting your steps up, the grounds are so beautiful and the buildings so impressive, our kids at least, were blown away by the place and they loved walking through the ruins and the short Harbour cruise.
There is also an excellent free activity book that children can get when you go in. The Hidden Stories book has them collecting stamps and working on puzzles. It is suitable for 7 to 12 year olds and is a great way of both keeping them engaged and learning about the site.
For toddlers, you'll want a stroller. You can either BYO or they are available for hire. The grounds undulate a little but generally are quite flat. There are a few steps to negotiate into some of the buildings.
Best Time?
Best time to Visit Port Arthur?
Even on a good day, Port Arthur and the Tasman Peninsula can experience four seasons in one day and in the middle of the year it can be pretty cool and miserable. Generally, October to May provides beautiful walking weather.
Port Arthur can be particularly busy during school holiday periods. We visited in mid-august; it was cool but there weren't any crowds to negotiate which really added to the atmosphere.
Mobility Friendly?
Is Port Arthur mobility friendly?
Port Arthur is a big site but much of it is wheelchair friendly. The Visitor Centre, café, Port Arthur Gallery, free guided tour and free cruise are all wheelchair friendly. Many of the historic buildings are too, staff can indicate those that are.
There are also courtesy vehicles that can help people with mobility issues reach the more far flung parts of the site.
Things to do at Port Arthur
There are a lot of tours, activities and experiences at Port Arthur that let visitors appreciate the history and significance of this UNESCO World Heritage listed convict site. You can deep dive into the history of the place or walk around and soak up the atmosphere amongst the evocative old buildings and beautifully manicured gardens.
There are a number of activities included with your admission ticket and if you only do these you will still have a great day at Port Arthur.
Port Arthur Gallery
The Port Arthur Gallery is housed in the main Visitor Centre/entrance. It works as either a good starting or finishing point for your day. If it is your first stop, the interactive displays really whet your appetite for what's to come. There is also a neat activity with a playing card – we won't give too much away though.
The Port Arthur Settlement
You leave the visitor Centre and suddenly find yourself in the world of old Port Arthur. There are buildings in every direction, as you look across the grounds the church, old law courts and asylum stand out. Our favourites were the Penitentiary and Guard Tower. Best of all you can access them all. There is signage throughout the buildings which are in varying degrees of completeness. Walking through the old buildings is one of the best things to do at Port Arthur.
Free Guided Tour
Your entry also includes a free 40 minute guided tour. It is a great introduction to the site; it helps you get your bearings, and the guides do a great job at immersing you in the history and stories behind the site. It is useful if you can do it before you start wandering around, but it's also a nice change of pace if you come back to it later.
Free Harbour Cruise
Another great extra you get with your entry ticket is the Harbour Cruise. It is only a 20 minute lap around the harbour, but you get a look at the Isle of the Dead Cemetery and the Point Puer Boys' Prison and the commentary on the cruise is fascinating. You also get a great view of the settlement from the water as you dock, it is a lovely sight.
More things to do at Port Arthur – Paid Tours
The free Harbour Cruise and the Guided tour not only give you a lot of information, they can also make you want to know and see more and you can do just that on a number of tours that you pay extra to do. They include:
Isle of the Dead Cemetery Tour
This tour runs three times a day and takes you onto the small island you circle on the free cruise. Learn about the 1000 convicts that are buried there and the officers and free settlers buried in a different part of the island. Getting onto the Isle of the Dead is a unique and fascinating experience.
Escape from Port Arthur Tour
Where there is a prison there are escape attempts – and that was certainly the case at Port Arthur. This one hour tour runs once daily. The lengths the convicts went to only to find themselves in dense forest or freezing water shows what a brutal place Port Arthur was.
Port Arthur Ghost Tour
Wondering how eerie Port Arthur would be like at night? You find out on this ghost tour. You're guided by lanterns on this after dark tour where you hear some of the spookier stories about the inmates at Port Arthur. Not a tour for the fainthearted, best not bring youngsters along on this tour! This tour can also be done as a dinner package at the onsite 1830 Restaurant and Bar.
Commandants Tour
This tour gives you the same experience dignitaries and government officials received when they visited the settlement. The 90 minute tour runs once daily and covers a couple of kilometres as you hear the stories behind the most impressive buildings and characters at Port Arthur.
Wheel of Fate Taste & Tour
This premium offering combines a guided behind the scenes tour of some of Port Arthur's buildings where you'll hear stories about the settlements most notorious characters. The 2 hour tour is followed by lunch and drinks in stunning Visiting Magistrates House.
Other Things to do on the Tasman Peninsula
When you visit Port Arthur, make sure you leave time to see the rest of the Tasman Peninsula. It is a stunning area with some of the most striking coastline in Tasmania. If you spend half a day at Port Arthur you can get to many of these attractions or make the most of your two day Port Arthur entry ticket, stay overnight and give yourself plenty of time to see this beautiful part of Tasmania.
Remarkable Cave
With upgraded carparking areas and viewing platforms, Remarkable cave is one of the best things to see on the Tasman Peninsula. It is only 10 minutes from Port Arthur so even if you have a full day there, you will have time to see this amazing coastal scenery.
There are two viewing areas. The first is easily accessible from the carpark, Maingon Bay Lookout has great views across the water and over the cliffs. If you look up you might spot a sea eagle overhead. Follow the signs to Remarkable Cave. It is a 10-15 minute walk that finishes with a steep but solid set of stairs down to the viewing platform. The long caves or tunnels through the sandstone are a impressive and worth the climb down and back up.
Port Arthur Lavender Farm
It wasn't so long ago that if you had said let's go visit a lavender farm, we might have quietly slipped out of the room. But lavender has come a long way from that purple dried flower you might associate with your grandmother.
It is still purple, but the Port Arthur Lavender Farm shows there is a lot more to lavender the Potpourri. There is everything from lavender bath and body products to chocolate, honey and essential oils.
You can take a self-guided walk through the lavender fields – which are spectacular. There is a lovely café where you can enjoy a range of lavender and non-lavender snacks. You can see the lavender oil distillery in action and there are even some purple sheep for the kids to find.
Tasmanian Devil Unzoo
On a visit to Tasmania there are many opportunities to see Tasmanian Devils and learn about the challenges they face. The Unzoo offers a unique way of doing this. Gone are the cages and enclosures of traditional zoos. At the Unzoo you walk through a native botanic garden setting where you can see wildlife in its natural habitat.
There is a full schedule of presentations, feedings throughout the day and guided tours. They offer an opportunity to get up close to some of the animals including Tassie devils (the Devil viewing bubble is especially cool), wallabies, possums and a host of birds. This is a different take on a zoo. The enthusiasm of the staff speaks to their pride in the place. Check it out and see what you think of this zoo of the future.
Tasman Arch & Devil's Kitchen
There is no shortage of dramatic coastline in this part of the world. The Tasman Arch and the Devils Kitchen are a couple of easily accessed features within a couple of minutes of each other. There are several short walks in the area that offer different views of the Arch and Devils Kitchen.
The Tasman Arch is a land bridge over the remains of a collapsed cave. Devils Kitchen is a deep trench between two towering cliffs. The features are spectacular just for their size. When you add in the often big swells coming off the Tasman Sea it takes the spectacle to another level.
Tasman Blowhole
As is the case for any blowhole, to see them at their best it's all about timing. Our visit to the Tasman Blowhole was at possibly the worse time you could choose to see a blowhole. The tide was out, and the sea was calm. As a result, we saw a lot more hole than blow.
It certainly had potential and on a better day it would be great. Watching and listening to the water force its way into the channel was still fun to see even if it lacked the oomph we had hoped for.
Tessellated Pavement
This is a rock structure of a different kind. There are no towering cliffs but instead an unusually symmetrical pattern of erosion. Not only is it interesting to look at, but this is one of the few places in the world you can see this this type of thing.
The pavement consists of areas of raised pillow-like rocks and irregularly shaped rectangles. The rocks seem so well organised and lined up that you wouldn't think it is possible that they are naturally formed. This fascinating site is easy to access and leads onto the lovely Pirates Bay Beach.
Doo Town
This is one of those quirky gems you happen across when you travel. Instigated by a shack owner in the 1930s who named his home 'Doo I', his neighbours decided to join in and named their shacks Doo Me and Doo Us.
Since then, most houses in the holiday shack community now have a 'Doo' name. We saw Rum Doo, Doo Little, Xanadoo, Doo Nix and Doodle Doo. Doo Town isn't a big place, so it is worth stopping for a look around to see what other names locals have come up with. Dare we suggest this is a must Doo activity?
Tasman Peninsula Wilderness Cruise
Seeing the beauty of the Tasman Peninsula from the land and walking trails is one thing but getting out on the water is an amazing way to experience the rugged and beautiful coastline. We went out on a half day cruise and had ball. The cliffs and waterfalls are even more amazing when you look at them from the sea.
It is also a great opportunity to spot some marine wildlife. Seals, dolphins, whales and birdlife can all turn up on any given day. We had a blast on our tour. You can read about it in our Tasman Peninsula cruise post.
The Dog Line
Located at Eaglehawk Neck, the thin strip of land connecting the north and south of the peninsula, The Dog Line is another convict memorial. This Narrow pass was the only piece of landing joining the peninsula to the rest of Tasmania and it was guarded by demonic looking guard dogs. There are sculptures, a short walk and signage abut the site.
Fortescue Bay
Fortescue in Tasman National Park is a lovely spot to camp or spend the day. Access is along a 12km dirt road that is 2WD friendly, look for the turn off on your way to Port Arthur. For day trippers, there are picnic areas and BBQs, and the beach is a lovely spot for a swim, paddle or snorkel, the forest comes right up to the water so there is plenty of wildlife and birdlife.
There are two campsites here, booking in summer is advisable. The Mills Campground has drive on sites, the Banksia Campground is a little further from the water is walk on so better if you have a tent.
Tasman Peninsula Full Day Kayaking Tour – paddle past high sea cliffs, gravity-defying rock columns, and water-carved caves. You'll also paddle over a semi-submerged shipwreck, enjoy a gourmet lunch in a secluded cove, and see plenty of sea life including seals
Tasman Peninsula Walks
Three Capes Walk
The Tasman Peninsula is home to the Three Capes Track. It's a four day, 48 kilometre hike that takes you from Port Arthur to Fortescue Bay. The walk showcases the areas dramatic coastline and a range of landscapes. If a multi-day hike isn't your thing, you can tick off four more of Tasmania's 60 Great Short Walks in Tasman National Park.
Waterfall Bay Walk
Start: Devil's Kitchen
Length & difficulty: 3.4km return, medium
Highlights: It's all about the coastline on this spectacular walk with views of towering sea cliffs, rock arches and you finish overlooking a dramatic waterfall. The waterfall is viewed after rain or in winter. You get an amazing view of it on the Tasman Island Nature Cruise where you pull up at the base.
Bivouac Bay Hike
Start: Fortescue Bay Campground
Length & difficulty: 10km return, medium
Highlights: There is a bit of everything on this walk – beaches, bushland, the wreck of the William Pitt dredge. Keep an eye out for marine and birdlife.
Cape Huay Hike
Start: Fortescue Bay Campground
Length & difficulty: 9.4km return, medium, 4 hours
Highlights: Starting in bushland, the walk finishes at Cape Huay, one of the most spectacular points on the Tasman Peninsula coast. It features the dolomite rock towers called the Totem and the Candlestick. This is part of the 3 Capes Walk and again features on the Tasman Island Cruise.
Coal Mines Historic Site
Start: Coal Mine Road, follow the signs from Premaydena
Length & difficulty: 2km return, easy
Highlights: Managed by the Port Arthur Historic Site, this is one of the 11 sites that together make up the Australian Convict Sites World Heritage Property. Like Port Arthur, this is a somewhat eerie place to walk around and another tangible reminder of Tasmania's convict past. The first few hundred metres of the track is access friendly.
Port Arthur + Tasman Island Accommodation
Like it? Pin it…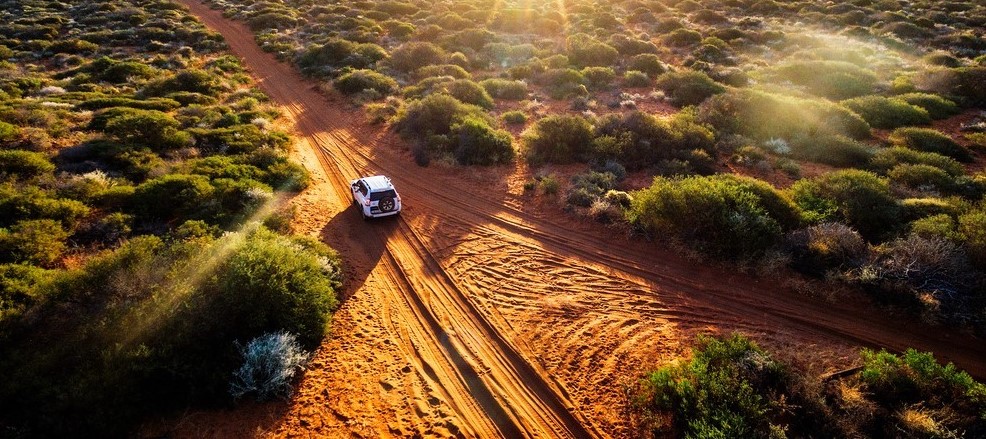 500 THINGS TO DO
Join our mailing list and receive our Free Top 500 things to do in Australia. If you love the Australian Outdoors download this list and keep it handy when you are planning a weekend away or a road trip around Australia.
Recent Posts