Have you heard of Maria Island in Tasmania? See wombats, Tasmanian devils, the Painted Cliffs and beautiful beaches. You'll wonder why you haven't been there sooner!
It's funny what a conversation can lead to. One night Nat and I were talking about how we had never seen a wombat in the wild. A couple of months later we were on the top deck of a ferry taking us to Tasmania's Maria Island National Park.
That night on the couch, it took about one minute of googling to discover that Maria Island is wombat central. We went on to learn that the island is a haven for a variety of wildlife, has spectacular coastline and great walks. There are historic buildings, pristine beaches and great snorkeling. How had we never heard of it?
Maria Island is on the east coast of Tasmania. It is halfway between the Tasman Peninsula – home to Port Arthur and the Three Capes walk – and Freycinet National Park's Wineglass Bay. We'll use its famous neighbours as our excuse for not noticing it.
the pledge
To protect the island's wildlife, locals have written a Wildlife Pledge for visitors. It starts 'I take this pledge to respect and protect the furred and feathered residents of Maria.' The wombats get a special mention too. 'Wombats, when you trundle past me I pledge I will not chase you with my selfie stick, or get too close to your babies. I will not surround you or try and pick you up.'.
Maria Island is home to more than just wombats. Wallabies, kangaroos, pademelons and Tasmanian devils are also found there. The place is a bird watchers delight. Twitchers can spot everything from eagles and cape barren geese to a range of parrots, pardalotes and honeyeaters. You can book guided birdwatching tours of the island.
maria island ferry

The Maria Island ferry leaves from Triabunna. It's about a 75 minute drive from Hobart and a two and a quarter hour drive from Launceston. The ferry ride to Maria Island takes about 40 minutes. The schedule varies over the year. The service gets scaled back over winter so check the timetable if you are planning a winter trip to Tassie. All the details are on the Encounter Maria Island website.
Once you have booked the ferry, the next thing to do is learn how to say the Island's name. It is Ma-Rye-Ah not Ma-Ree-Ah Island. Think of the singer Mariah Carey. The correct way of saying it was news to me until I was on the island. By that stage, my mispronunciation of the name had branded me a tourist many times over.
For our wombat focussed mission we were only spending the day on the island. Bunkhouse accommodation and camping sites are available for longer stays. A multiday visit would let you explore more of the island and complete some of the longer hikes. Don't worry if you are a day tripper. That is still plenty of time to get a feel for the island.
For our trip in August, the ferry arrived at Maria Island at 11.00am and departed at 3.30. It might not sound like much time, but it was enough to see and do a lot of things. The ferry docks five minutes from the island's main village, Darlington.
The Painted Cliffs
The Painted cliffs are one of the must-see things on the island on the island. The trick with these is that you can only see them an hour either side of low tide. For us, that meant making a beeline there as soon as we arrived. With the advancing tide in mind, we strode from the ferry with purpose and focus. Then, we saw a wombat.
Maria Island Wombats
If it wasn't for trying to see a wombat, we wouldn't even be on Maria Island. So, on seeing our first wombat, we could hardly say I'll catch up with that later. You can't. You have to stop and get pictures – lots of pictures. Video too.  And, you have FaceTime a friend at work to show them a wombat shuffling past you.
Of the three types of wombats in Australia, Maria Island, arguably, has the cutest. The Common wombat has longer hair and a hairless button nose. They also tend to be smaller than other wombat varieties. It all adds up to a very cute animal you know you want to cuddle. It's no wonder they have the Maria Island Wildlife Pledge.
After spotting your first wombat, you soon realise they are everywhere. From the ferry, what you thought was a grassy slope dotted with small rocks, turns out to be a grassy slope sprinkled with wombats.
Reassured that we hadn't seen the last of the wombats, we left what was to be the first of several nominations for the cutest wombat ever and continued toward the Painted cliffs.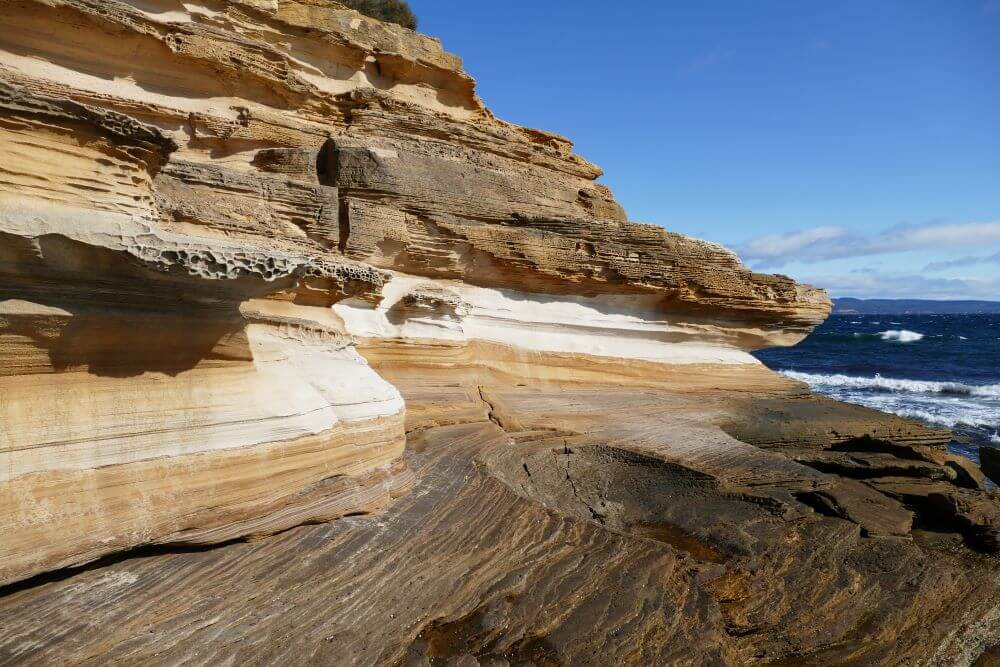 Back to the Painted Cliffs
From Darlington, it is a one and a half to two hour return walk to the cliffs. To be honest, the walk time is a little rubbery. Several things can affect it. How long you get caught photographing wombats is the first. The next, is the option to walk along Hopground Beach rather than the dirt path.
We can't not walk along a beach, so we chose the sandy option. Even on a cold August day it was beautiful. The water was crystal clear and there were birds everywhere. Any other time we'd sit there and relax for a while or explore the water's edge. A little wave lapped at our shoes as a reminder to keep moving.
At the end of the beach you find yourself at a small headland. You look down and see stripy, colourful rocks. You think you have made it, but the main show is a little bit further around. It's now you realise why low tide is important.
As well as the water covering some of the cliffs, at high tide, you'd never get around the awkwardly shaped rocky point. Even at low tide, you have to crouch and crawl to get around the ledge protecting the Painted Cliffs. Once you shimmy your way around and straighten up, there they are. Their colours and contours showing off the artistic power of nature. It's every photographer's dream location.
The painted cliffs are striking for both their colour and shape. It looks like someone has come along the cliff face with a giant ice cream scoop and removed balls of sandstone. The hollowed out, wavy rock is beautifully sculptured, and wonderfully coloured. Layers of yellow, brown and orange decorate the sandstone walls and rocks that disappear into the water.
scenic detour
On the way back to Darlington there is another detour you can take that might affect the time of the return walk. Follow the path back to Darlington. Take a few more pictures of the cutest wombat ever, then turn right when you get to the sign for Oast House.
The track takes you past historic ruins, through a fern covered heath and into open woodlands. Along the way you'll see some of the island's abundant wildlife. Keep an eye out for the shy pademelons that sit just off the track under the trees. It might add fifteen or twenty minutes to the return walk but it's worth it.
Fossil Cliffs
The Fossil Cliffs are another feature of the island you can see on a day trip. From Darlington, you can get to them in one of two directions. Depending on the route you choose, the walk takes between one and half and two and half hours. Again, those times are generous and seem to allow for either a slow walk or a lot of photo stops.
The quickest route is past the old cement silos and cemetery, and along the airstrip. It is open country and you'll see plenty of wildlife and historic buildings.
The other route is longer. It takes you past the ruins of the 12 apostles – the remains of 12 workers cottages built in the 1880s. You walk up a long, wombat-riddled valley. At the top of long slope, almost without warning, you're rewarded with a magnificent ocean view. 
To the right is the rugged Bishop and Clerk mountain. Ahead, across the water, are the distant peaks of Freycinet National Park. It's no wonder there are several benches at the top of the valley, the view is stunning, and you'll want to relax and enjoy it. From there, make your way down a long grassed slope dotted with kangaroos. At the bottom of the hill is the Fossil Cliffs.
If you have a geological bent, you'll love the Fossil Cliffs.  You can see millions of fossilised shells in the grey limestone cliffs and surrounding rocks. For us though, the Fossil Cliffs were interesting enough. We'd score them 7/10. However, the walk to get there, the views, the wildlife and the history – 10/10. If you have time, the longer loop walk is the way to go.
Maria Island day trip – or longer?
For a winter trip to Maria Island, the walks to the Painted and Fossil Cliffs will pretty much fill up your day. For history buffs, one day is plenty of time to explore the island's convict history and industrial past. On short walks from Darlington you'll see world heritage listed convict sites and other historic buildings and ruins.
Over summer, when the ferry arrives earlier and leaves later, there is plenty of time to do the two cliff walks and also enjoy some time on the beach. For our next trip to Tassie, an overnight stay is on the cards.
There are the Mount Maria and Bishop and Clerk hikes, a dusk wildlife safari would be incredible and there are beautiful beaches to explore. The waters around the island are part of a marine reserve and are home to the most diverse marine life in Tasmania. We'll be packing our snorkels and wetsuits next time for sure.
Finally, there are the wombats. I know they cause farmers some grief and, if you see wombats all the time, they're no big deal. But, if you can't resist a cute animal, prepare yourself for cuteness overload. You'll spend the next week trying to decide which of your 300 wombat pictures is your favourite.
So, our wombat mission was a complete success. No, it wasn't that hard to find them but that didn't lessen the thrill of seeing them. They also lead us to exploring one of Tasmania's best kept secrets. Maria Island – make sure you put it on your list!
Disclosure: Please note that some of the links included in this post may be affiliate links, and at no additional cost to you, we earn a small commission if you make a purchase. Commissions are appreciated and go toward maintaining the Curious Campers website.
Maria Island Day Trip with Picnic Lunch
Explore Maria Island National Park on a scenic journey from Hobart via land and sea. Follow a guide on two of Tasmania's best short walks through the dramatic coastal scenery to see wildlife such as Tasmanian devils, Cape Barren geese, the Eastern grey kangaroo, and others. Feast on an included lunch of fresh Tasmanian produce.
A valid park entry permit is required for entry to Tasmania's national parks. A range of passes lets you choose the best option for you. Daily $24 per car or up to 8 weeks $60 per car
Ferry Tickets
The ferry sails to and from the island multiple times a day. Check the timetable below for current schedules. In peak periods additional sailings will be made available.  Tickets: Adults $45 | Child $28
Spot a Wombat

100%

100%

History

80%

80%

Spectacular Scenery

90%

90%