This guide tells you how to plan a day trip to Maria Island. With stunning coastal scenery, abundant wildlife, including lots of adorable wombats, and pristine beaches, Maria Island is an unforgettable day trip from Hobart.
We have been to Maria Island a couple of times. This guide tells you about the main attractions on Maria Island, how long you need to see them, and we'll suggest an itinerary for your trip there.
Disclosure: Please Note That Some Links In This Post May Be Affiliate Links, And At No Additional Cost To You, We Earn A Small Commission If You Make A Purchase. Commissions Go Toward Maintaining The Curious Campers Website.
Tours to Maria Island
The first way to see Maria Island is on a guided tour. Tours Tasmania and East Coast Cruises both run guided tours to Maria Island. Both tours have pick up from Hobart.
If you really want to explore Maria Island, the Tours Tasmania option is the better way to go as you spend 6 hours on the island compared with 2 hours on the other tour.
If you want to get a taste of Maria Island and the benefit of knowledge guide, the tours are a good option.
Planning a Self-Guided Trip to Maria Island
If you want a bit more freedom to go where you want, a self-guided trip to Maria Island is the way to go. Here is what you need to know about getting there, the Encounter Maria Ferry and National Park Passes.
Getting to Maria Island
The ferry to Maria Island leaves from Triabunna, which is 85km north of Hobart.
It is a scenic drive to Triabunna if you have a car and there is plenty of parking at the wharf. Tours Tasmania offers a shuttle bus service between Hobart and Triabunna.
We drove to Triabunna and once we returned from Maria Island continued up to Freycinet National Park and Bicheno.
About the Maria Island Ferry
There are multiple services between Triabunna and Maria Island each day with a later return ferry operating over summer. We recommend catching the first ferry over and the last ferry back to give yourself time to see everything.
The ferry ride between Triabunna and Maria Island takes about 30 minutes. We suggest booking your tickets in advance. You will need a national park pass to go to the island and if you haven't got one, you can purchase it when you buy your ferry ticket.
The first part of the cruise is along the calm Spring Bay, the second half is on the open water. The ferry crossing is a great chance to spot dolphins, we saw dolphins swimming at the front of the boat. In winter you could also see whales.
What Should You Take for a Day on Maria Island?
Everything you want to eat and drink – there are no shops on the island
Check the weather for your visit – you can get four seasons in one day so be prepared!
Be ready to take lots of photos – the wildlife and scenery is fantastic
What can you do on Maria Island?
Maria Island is known for its wildlife, natural beauty and history. You will see plenty of wildlife including wombats, wallabies, kangaroos and some of the 120 bird species on the island as you walk to the different sites.
There are no cars on Maria Island so you will be doing a lot of walking (so wear good shoes) or you can hire a bike (or take your bike across on the ferry). Below we give you a guide on how long each attraction takes to get from Darlington – the main settlement on the island.
Here is a quick summary of the best things to do on Maria Island:
Walk to the Painted Cliffs
Walking time – 1.5 – 2.5 hours, Cycle time – 30 – 60minutes
These yellow, white and orange cliffs have been sculptured by wind and water, but it looks like someone has taken to the rock with a giant ice scoop. They are only visible at low tide so keep that in mind when you plan your day.
Maria Island Walking Tour – On arrival, set foot on your first walking trail of the day, the Painted Cliffs Walk at Hopground Beach. Gaze in awe as you witness the surreal sandstone Painted Cliffs & Fossil Cliffs
Oast House Walk
Walking time – 1.5 – 2.5 hours, Cycle time – 30 – 60minutes
This bush walk is an alternate route back to Darlington from the Painted Cliffs.
It is a great chance to see some of the island's prolific birdlife and see some wallabies and kangaroos. The ruins of Oast House are also a great sight and a good spot to stop and watch for birds.
Fossil Cliffs
Walking Time – 2.8km return walk or 4.5km circuit
These grey sea cliffs are full of shell fossils and are a great sight. You can do the shorter return walk, but we recommend the longer loop walk for amazing views of the coast, the Bishop and Clerk Peak and the chance to see kangaroos and wombats.
Reservoir Circuit
Walking time – 60 – 90 minutes, Cycling – 30-60 minutes
This pretty nature walk begins behind the Penitentiary Accommodation building. It is a medium difficulty walk to the island's water supply. There is lots of birdlife and picnic tables at the reservoir.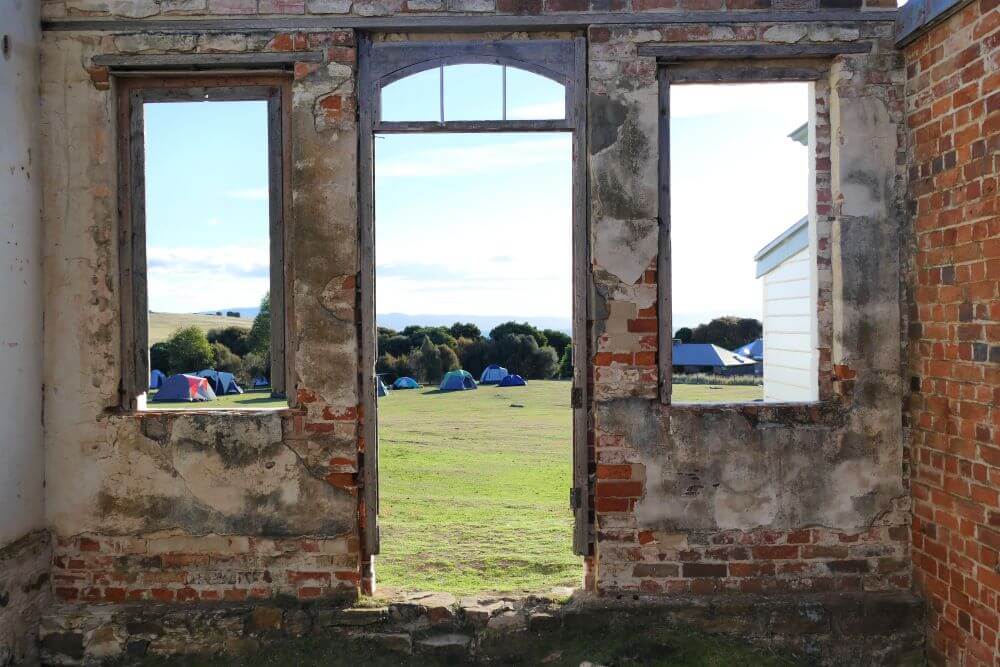 Explore Historic Darlington
Darlington and its 14 convict buildings represent one of the most intact examples of a probation station in Australia.
You can go on a self-guided walk of the area including the magistrates and superintendent's office, the penitentiary, the cook house, chapel and Coffee House with its renovated and furnished interior.
There are more historic sites to see beyond Darlington and one of the best areas to explore are the hills north of the jetty. The 2km loop walk takes 1 – 2 hours.
A couple of easy places to get to are the Commissariat Store – which is now the Visitor Centre – the silos, cemetery and the convict barn. As you make your way up the hill you can see the religious instructor's house – which is an impressive building – and the Grand Hotel.
Hike the Bishop & Clerk Peak
Walking – 11 km return hike from Darlington
This tough hike starts on the Fossil Cliffs Circuit and is signed from there. This will take a good part of your day, but you will get some of the best views on the island. It isn't for the fainthearted, the sheer drops towards the summit will get your heart racing (if the climb hasn't done that already).
Relax at Hopground or Rutherford Beach
If you want to relax after a day of walking, or if you want an easy day, there are lovely beaches on Maria Island.
Hopground Beach is closest to the ferry wharf, it is a 10 minute walk from the jetty. Or you can go for Rutherford Beach which is next to the Painted Cliffs.
Both spots have clean white sand and the views back across to the mainland are beautiful. Keep an eye out for dolphins cruising past. The water is quite protected so perfect for families and snorkelling.
What can you do in one day on Maria Island?
Even though you are on foot, you can still see quite a bit of Maria Island in one day. If you hire a bike, you can cover even more ground.
We have visited a few times and been on both foot and bike. To be honest, unless you want to get to the south end of Maria Island and McRaes Isthmus and the campgrounds there, we felt like we saw more wildlife and scenery when we were on foot.
Our first trip to Maria Island was in winter – so it was an early ferry back but we:
Walked to the Painted Cliffs
Returned to Darlington via the Oast House walk
Did the longer Fossil Cliffs Loop Walk
Looked around the Darlington Historic Sites
Relaxed for a while at Hopgood Beach
Still had time to take a ridiculous number of cute wombat pictures and enjoy the views
Other Ways to Spend a Day on Maria Island
The Bishop and Clerk walk will take a good part of your day. But as part of the walk, depending on your energy levels, you could also see the Fossil Cliffs on your way back to Darlington.
If you wanted more time to relaxing day trip, you could choose between the Painted Cliffs, or Fossil Cliffs walk and spend the rest or your time on the beach or relaxing on a grassy hill with the wombats.
Can you Stay Overnight on Maria Island?
You can stay on Maria Island – there is camping, and basic dorm style accommodation and it is the best way to see everything the island has to offer. It is also a very peaceful place when all the day trippers head back to Triabunna.
We have stayed in the Penitentiary accommodation – you can read more in our Maria Island Accommodation Guide.
Like it? Pin it for Later…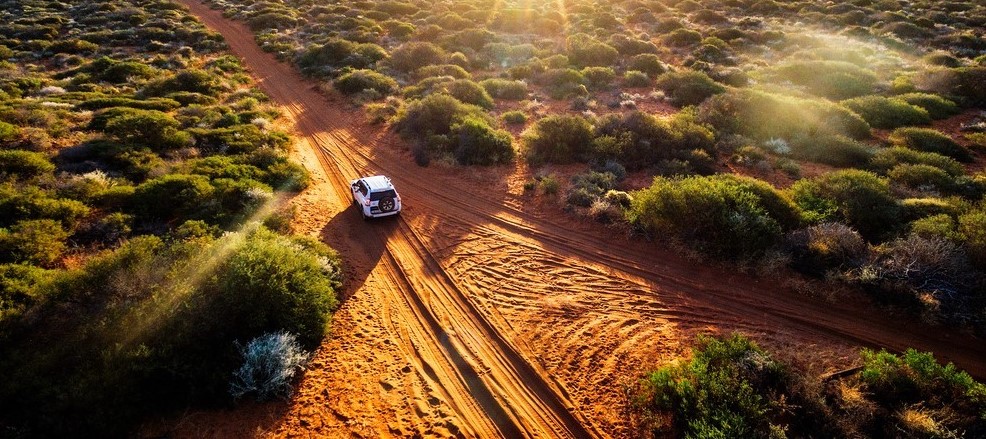 500 THINGS TO DO
Join our mailing list and receive our Free Top 500 things to do in Australia. If you love the Australian Outdoors download this list and keep it handy when you are planning a weekend away or a road trip around Australia.
Recent Posts