If you are visiting Darwin and have a couple of hours spare, make your way to Howard Springs Nature Park. It is a lovely spot for a picnic, there is wildlife everywhere and it has a great playground for the kids. While you can't swim in spring, there is an artificial rock pool where you can cool off. There is a nice short walk through the monsoon forest too.
Disclosure: Please Note That Some Links In This Post May Be Affiliate Links, And At No Additional Cost To You, We Earn A Small Commission If You Make A Purchase. Commissions Go Toward Maintaining The Curious Campers Website.
Darwin to Howard Springs
Howard Springs Nature Park is about 30 minutes from Darwin. Head south on the Stuart Highway and you will see the turn off just beyond Palmerston.
Parking at Howard Spring Nature Park
There are two carparks at Howard Springs Nature Park. To get to the larger carpark, which is also closest to the playground, take the right hand turn off from Howard Springs Road as you near the park.
If you go straight on, you end up at a smaller carpark which is slightly closer to the weir and the short Spring Walk. The park is not huge, no matter which car park you use you are only a few minutes from any of the attractions.
A Brief History of Howard Spring Nature Park
The Gulumerrgin, or Larrakia, people are the traditional owners of the land. The spring fed forests have been a source of food and medicines for them for thousands of years.
Like many parts of Darwin, Howard Springs played an important part in Darwin's history during World War 2. Howard Springs supplied Darwin with water prior to the completion of the Manton Dam project. Later, the area was used as rest camp for the troops. Royal Australian Engineers constructed the weir in 1944 to increase the size of the swimming area.
The springs were closed to public swimming in 2007 when their high use was affecting the quality of the water. In fact, one half of the Curious Campers team can remember swimming at Howard Springs in the 1980s, and the water certainly wasn't as crystal clear as it is now!
Things to do at Howard Springs Nature Park
Today, Howard Springs Nature park is a beautiful spot to come for nature lovers and families visiting Darwin. Here are some of the best things to do when you visit Howard Springs.
Wildlife Spotting around the Weir
If you spend a bit of time on the weir and around the main pool you could spot all sorts of wildlife. We saw a Mertens' water monitor swimming around the lake then come up to sun itself on the deck. You might also spot long and short neck turtles, and barramundi are lurking in there too. The water is crystal clear, so you have no problem seeing things swim around.
On selected dates between May and August you can join a 60 minute guided nocturnal tour around the reserve to see what wildlife appears at night. You need to book for this through Eventbrite.
Fish Spotting in the Creek
On then other side of the weir where the water feeds through to Howard creek there are all sorts of fish swimming around in the clear shallow water. There is good signage so you might be able to pick out Northern purple-spotted gudgeons, Longtoms, grunters, tarpon and mullet.
Keep an eye out and you might also be lucky enough to spot a file snake. These black and tan coloured snakes live in the water. They blend in with the leaves and branches along the bank and hunt fish. There were lots of signs around Howard Springs waring to keep an eye out for them, but they eluded us. If you see a ranger walking around, see if they can point one out.
You are also allowed to feed the barramundi and turtles. However you must bring along your own squid, mullet or pilchards to toss in the water – no bread! You can also hear a ranger talk on the barramundi and watch them feed them on Saturdays between May and August at 10.00am.
Explore the Forest on the Howard Creek Walk
This easy 1.8km loop walk starts on one side of the weir and finishes on the other side. It is a great walk through the monsoon forest and along Howard Creek. There is some fantastic scenery to see along the way and plenty of interesting signs telling you what to look out for and what lives in the forest.
We really wanted to see the elusive rainbow pitta but didn't. We did catch a glimpse of an orange footed scrub fowl and it is hard to miss their enormous nests made of mounds of leaf litter from the monsoon forest floor. The ferns and cycads are spectacular, and butterflies flitted around everywhere.
It is an interesting and easy walk on a compacted dirt track. There is enough to see that it's a fun family walk and nature lovers will enjoy seeing what they can spot in the forest. Much of the walk is shaded, you might want some bug spray.
Read More: Boardwalks & Wildlife at Fogg Dam
Go to the Source on the Spring Walk
You can also walk to where the water bubbles to surface to feed Howard Creek. The path is not as well marked as the Howard Creek Walk is. If you are parking in the main carpark, just after you turn right from Howard Creek Road, there is a small pull over area and a sign. From there it is a walk of maybe 50 metres to the spring.
Otherwise, you can go from the smaller carpark, through the picnic area and follow the edge of the forest to the pull over area mentioned above. The track is not marked that well, but if you keep an eye on the road, and veer left to follow the road to the main car park you will find it.
It is interesting seeing where the clear water comes out of the ground although a rock wall does obscure the view slightly, but it is worth the short walk.
Playground for the Kids
There is a pretty good playground at Howard Springs Nature Park where kids can swing, climb and slide. The main feature is the flying fox but there are some fun obstacles to climb over and there is a bit of shade too.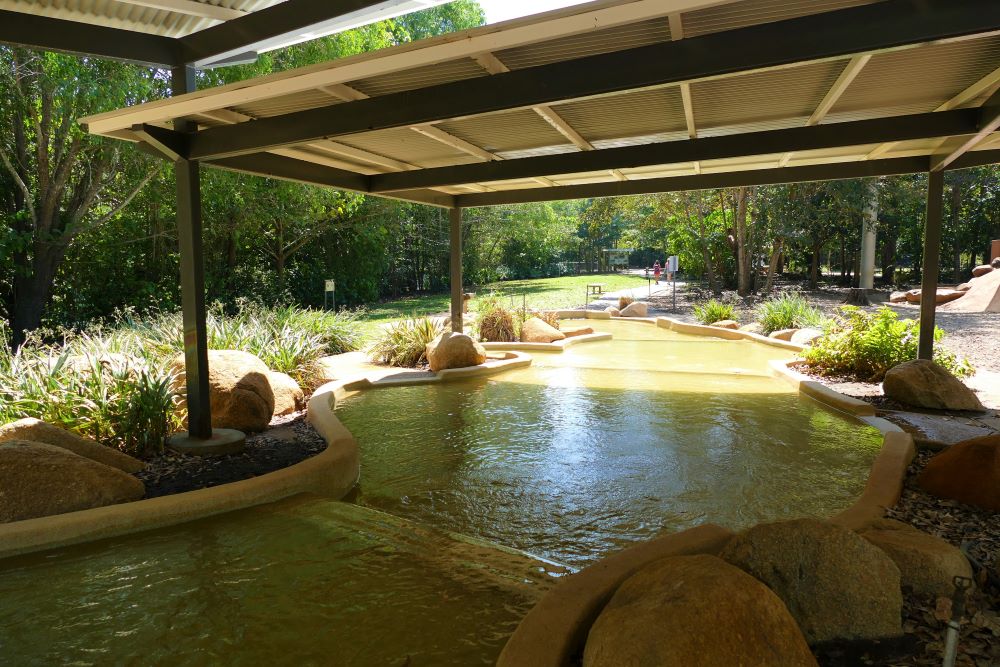 Cool Off at the Rock Pool or Toddler Pool
Even though you can't swim in Howard Creek anymore there are a couple of options if you want to cool off – and they are croc and stinger free.
For small children there is a fenced toddlers pool which is closest to the small carpark or across the weir if you park near the playground. For people of any age there is a terraced rockpool near the playground where you can sit in the water. It is not huge, but if you need a little relief from the heat, it is the place to go.
Read More: Another option is nearby Berry Springs Waterhole
Bring Lunch & Relax in the Shade
Between the wildlife spotting, walks, pools and playgrounds, you could easily spend half a day at Howard Springs. On both sides of the weir there are sheltered picnic and BBQ facilities, drinking water and toilets. Either bring your own food or load up at the excellent Howard Springs Takeway Bakery on your way in. It is on Smyth Road, opposite the Howard Springs Supermarket.
Places to Stay in Darwin
Liked it? Pin it for Later…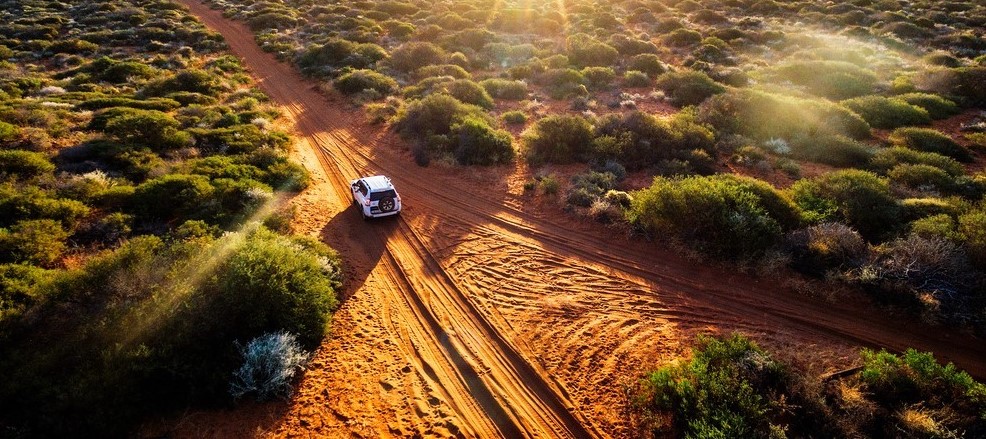 500 THINGS TO DO
Join our mailing list and receive our Free Top 500 things to do in Australia. If you love the Australian Outdoors download this list and keep it handy when you are planning a weekend away or a road trip around Australia.
Recent Posts