Saltwater crocodiles are one of the Top End's most iconic animals. While you don't want to run into one at a swimming hole, seeing and learning about these amazing predators is a must do when you visit Darwin.
This guide to crocodile parks in Darwin tells you where to go to see, feed and get up close to giant saltwater crocodiles. Crocodylus Park and Crocosaurus Cove are both excellent crocodile parks in Darwin. We also suggest a few locations within an hour of Darwin where you can see crocodiles in the wild including the Alligator River Jumping Crocodile Cruise.
Disclosure: Please Note That Some Links In This Post May Be Affiliate Links, And At No Additional Cost To You, We Earn A Small Commission If You Make A Purchase. Commissions Go Toward Maintaining The Curious Campers Website.
Crocosaurus Cove
Crocosaurus Cove is the easiest way to immerse yourself in the Top End's crocodile culture. This crocodile park is right in the heart of Darwin, just a block from Bicentennial Park. Crocosaurus Cove is home to the famous Cage of Death where you can get into the water with a huge crocodile with just a thick layer of Perspex between you and a large crocodile.
If you would rather not have nightmares for the next couple of weeks, other activities include the Big Croc feeding, holding a baby crocodile and Fishing for Crocs where you feed juvenile crocodiles. You can swim with crocodiles. Here you can jump in a pool separated by a see through wall from another pool with medium sized crocodiles. Our kids did this, and we have never seen them so wide eyed!
There are also turtle and reptile presentations during the day. There is an interestinng crocodile museum to look through, a freshwater aquarium and for an extra fee you can get up close to enormous freshwater whiprays.
You could easily spend a good part of a day here. There are showers and change areas if you want to swim with crocodiles. There is a café if you want lunch and a souvenir shop so you can remember your visit.
Crocodylus Park
Another excellent crocodile park in Darwin is Crocodylus Park. Crocodylus Park is in Berrimah, 15 minutes from the centre of Darwin. Like Crocosaurus Cove, if you want to get close to saltwater crocodiles you can do that here. The crocodile breeding pens have some enormous crocs in them. Bellairs Lagoon is full of adolescent crocs and there are dozens of baby crocs in the raising pens. There really are crocodiles everywhere!
Across the day there are crocodile feeding and handling presentations. A unique aspect of Crocodylus Park is that they have created a billabong where you can go on a jumping crocodile cruise. This isn't the original Jumping Croc Cruise on the Adelaide River (see below), but for only a small extra fee the 40 minute cruise is very good.
Crocodylus Park also has a range of other wildlife. There are freshwater crocodiles and alligators from around the world. But they also have an excellent small primate collection, white lions, meerkats, ostriches, Australian native animals and more. There is a reptile and monkey presentation too.
There is a good crocodile museum here that reflects the family run park's dedication to crocodile research and conservation. There is also a great café, where you can try some croc if you are game. Allow at least half a day to look around. That said, the wildlife park is quite compact so kids should have no trouble walking around and there is plenty to see.
Crocosaurus Cove or Crocodylus Park?
We have been to both crocodile parks in Darwin, but which one is better?
A big plus for Crocodylus Park is the jumping crocodile cruise. The cruise runs 2 or 3 times a day and for the extra cost it's an excellent addition to the experience you have at Crocodylus Park. The extra animals at Crocodylus park will keep children entertained too.
The best thing about Crocosaurus Cove is its central location and, for a thrill, the chance to be in a crocodile adjacent swimming pool. It is a well organised and compact space to explore and being indoors, it is easier to get around in the wet season.
If getting in the water isn't something you want to do, you have transport and the weather is ok, we would lean to Crocodylus park. But to be honest, you will have an amazing crocodile experience at either of these Darwin crocodile parks.
Territory Wildlife Park
The Territory Wildlife Park is near Berry Springs 40 minutes south of Darwin. It is a fantastic wildlife park with a great free flight bird show, fantastic aviaries and keeper presentations at the water buffalos, reptiles, dingos and freshwater rays. It is a full day adventure as you move around the park on the shuttlebus service.
But if you come to the Territory Wildlife Park for saltwater crocodiles you might be disappointed. There is one exhibit where you can see a huge croc in a tank – it does have a big enclosure behind the tank – but that is about it. You might spot a freshwater crocodile in the lagoon enclosure.
We still recommend a visit to the Territory Wildlife Park, the bird displays are fantastic, but there are better options around Darwin for a crocodile encounter.
Jumping Croc Cruise
If you would rather see your crocodiles in the wild than a nature park, this is one of the most popular ways to do it. Darwin's original Jumping Crocodile Cuise has been running on Adelaide River since 1985 and is a tourist favourite. We have done the Jumping Crocodile Cruise and it is a thrilling experience. It is less than 60 minutes from Darwin so an easy day trip if you are based there.
The guides are great – well informed, humorous and clearly have a lot of respect for the crocodiles. You get very close to the crocodiles as they swim up to the boat for a feed. Adelaide River borders Djukbinj National Park which has a high number of crocodiles so sightings on the cruise are almost guaranteed.
Endorsed by NT Parks and wildlife and ecologists, this ethically run tour shows off how saltwater crocodiles go about hunting birds and flying foxes. Another highlight on the cruise is the chance to spot a sea eagles. If you are lucky, you can see them swoop in for a feed too. The 60 minute cruise runs multiple times a day.
Mary River Cruise
If you want to see saltwater crocodiles just doing their thing, go no further than Mary River National Park 80 minutes from Darwin. Mary River boasts the highest concentration of saltwater crocodiles not just in the Northern Territory, but in the world.
If you go for a cruise on Corroboree Billabong in Mary River, you are almost guaranteed a crocodile sighting. In fact, we'll go so far as saying you won't just spot one, you'll see lots of them.
No sooner had our morning cruise left the dock, a huge crocodile swum past the side of the boat. And for the next 90 minutes it felt like we were spotting both saltwater and freshwater crocodiles around every corner of the billabong.
If you have your heart set on seeing crocodiles, maybe avoid the sunrise tour. First thing in the morning it can be too cool for the crocodiles to be on land. You will see them on the bank when the day has warmed up a bit.
Read our review of the Corroboree Billabong Mary River National Park cruise here. We highly recommend it.
Lunch Cruise, 2.5 hours, available April to the end of October, cold meat and salad lunch provided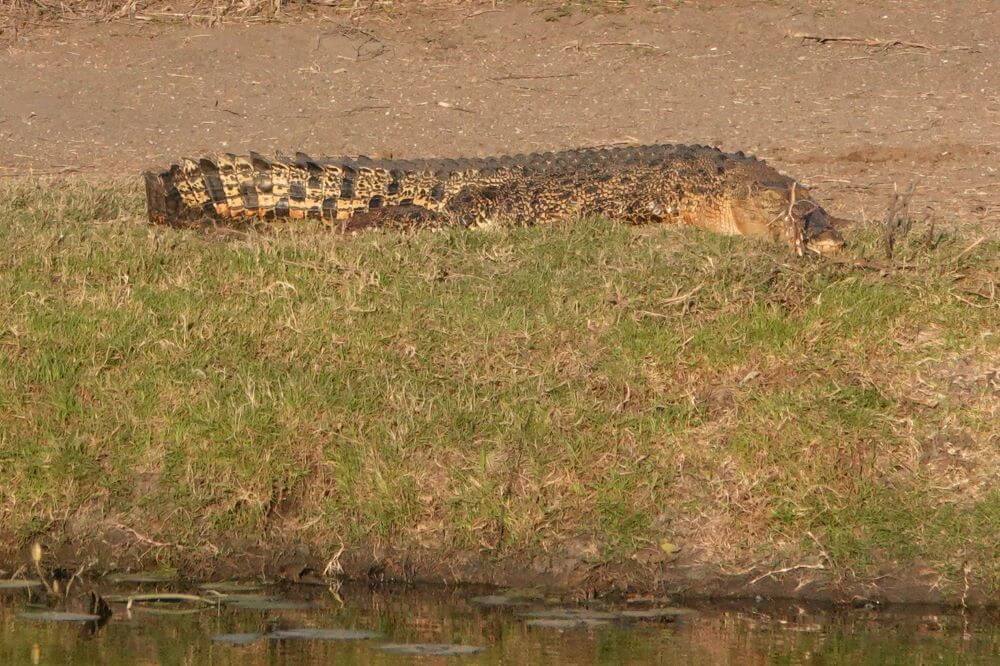 Fogg Dam
Fogg Dam Nature Reserve is a beautiful wetland less than 60 minutes from Darwin. It is a dry season haven for birds and is one of the only wetlands near Darwin that you can visit year round. There are a couple of excellent boardwalks you can do at Fogg Dam and there is a great two story lookout as well.
You can drive across the dam wall – but you can't walk because there are crocodiles here.
It is a bit hit and miss as to whether you will see a crocodile at Fogg Dam. They are here but there aren't the guarantees you will see one like there is at the two wildlife parks and at Mary River.
However, the birdlife and wetlands are so spectacular that it is worth the trip to Fogg Dam to see if you can have a sighting. We spotted a big crocodile from the Pandanus Knoll Lookout basking in the sun amongst birds and wallabies.
Even if you don't see a crocodile, you will love the scenery here. Read our guide to Fogg Dam for more details about this lovely spot.
Liked it? Pin it for Later…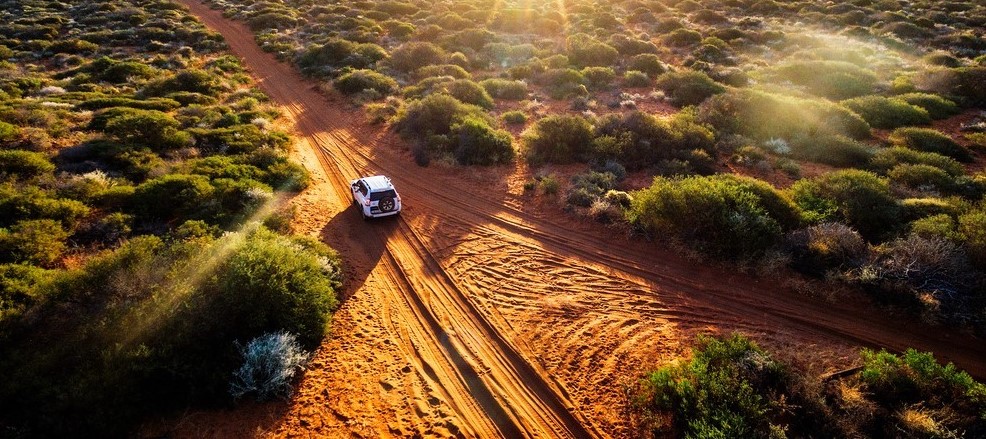 500 THINGS TO DO
Join our mailing list and receive our Free Top 500 things to do in Australia. If you love the Australian Outdoors download this list and keep it handy when you are planning a weekend away or a road trip around Australia.
Recent Posts