If you have never considered yourself much of a museum person, you might want to rethink that when you visit Canberra. From the Australian War Memorial and National Museum to the Bonsai collection at the National Arboretum, there is a Canberra museum for everyone. And if you are travelling with kids, they will love the Royal Australian Mint and National Dinosaur Museum.
Our Guide to Canberra's museums will quickly tell you about their opening hours, any costs, where you can park and how long you should set aside for each one.
Featured Image National Museum of Australia © VisitCanberra
Disclosure: Please Note That Some Links In This Post May Be Affiliate Links, And At No Additional Cost To You, We Earn A Small Commission If You Make A Purchase. Commissions Go Toward Maintaining The Curious Campers Website.
Canberra History Tours
Highlights of Canberra Day Tour – See the views from the top of Mount Ainslie, Exhibition Center, visit the Parliament House, Australian War Museum and see the Lost Post Ceremony
Best Of Canberra Walking Tour – Make the most of your time in Canberra with a private two-hour walking tour. Visit must-see institutions, inc Parliament House, Library, and Gallery
Electric Scooter Hire – Simplify your sightseeing around Canberra by renting an electric scooter. Ride around the lake, to parliament, and to the city's museums and galleries.
Canberra Musuems
The National Museum of Australia
Cost: Free but there might be a fee for special exhibitions or events
Parking: Stacks of free onsite parking
Opening hours: 9.00am – 5.00pm, 7 days, closed Christmas Day
Who will like it? The National Museum of Australia is a fascinating and spectacular place for all ages.
How long do you need? 2 to 3 hours to see everything.
Guided Tours: The Museum Highlights Tour runs between 1.00 – 2.00 each day. It is a paid tour, bookings required.
Building & Architecture Tour – 10am Daily. Join an expert guide at the National Museum to gain a greater insight into contemporary Australia through learning about its past
From the towering rollercoaster-like sculpture and mirrored walls at the entrance to the interactive galleries and gardens where there is a surprise around every corner, the National Museum of Australia is an exciting place to visit. The Great Sothern Land Gallery was one of our favourites, but the Landmarks Gallery and First Australians Gallery were also great.
The outdoor Garden of Australian Dreams with its water features and the wonderful paddle steamer Enterprise were spectacular too. For a fee the kids can also explore the hands-on Tim and Gina Fairfax Discovery Centre. The café with views over Lake Burley Griffin is a relaxing spot to refuel. The National Museum is not only one of Canberra's best museums, but one of the best we have seen in Australia.
Australian War Memorial
Cost: Entry is free, but you have to book an admission ticket at the Australian War Memorial website.
Parking: Free onsite parking but there is less than usual while renovations take place.
Opening hours: 10.00am – 4.00pm, 7 days, closed Christmas Day. Last post Ceremony is at 4.45pm each day.
Who will like it? Anyone with an interest in Australian History.
How long do you need? 2-3 hours with kids, longer if adults want to take everything in.
We have been through here with our 7 and 9 year old and looked at the First World War and Second World War Galleries and the Honour Rolls. They had lots of questions and it was great to chat to them about this part of Australia's History. Children can also explore the Kid's Discovery Zone.
Walking along the poppy adorned Honour Roll, taking a quiet moment at the cathedral-like Hall of Memory and Pool of Reflection and attending the daily Last Post Ceremony are all extremely affecting experiences you can have here. Even though it is currently undergoing a major renovation, the Australian War Memorial remains a must-see Canberra Museum.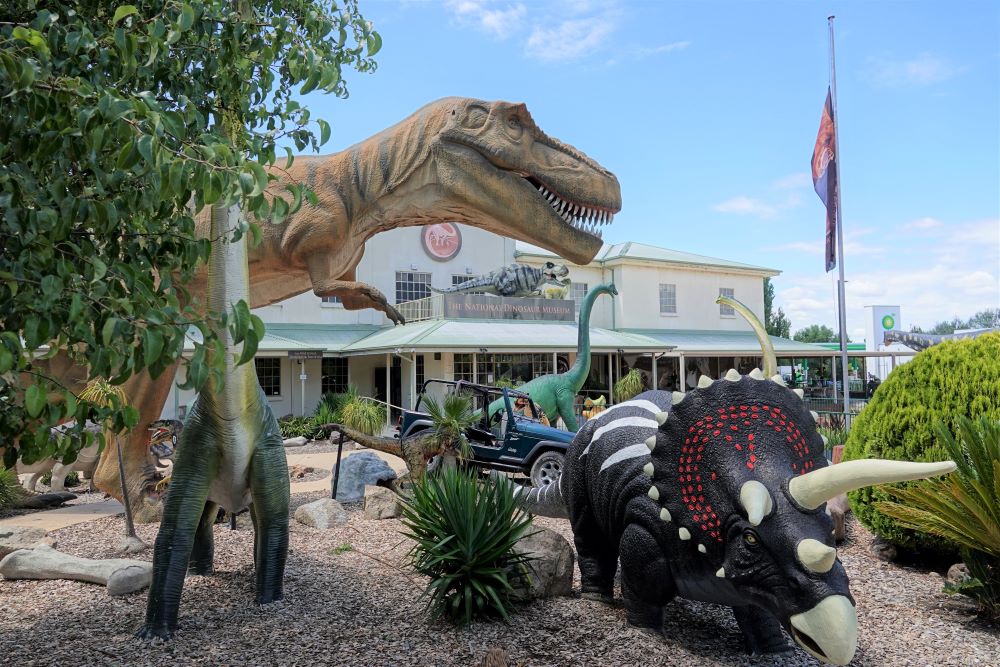 National Dinosaur Museum
Cost: Adult $20, child (4-16) $12, Family (2+2 or 1+3) $55
Parking: Free onsite parking
Opening hours: 10.00am – 5.00pm everyday
Who will like it? Kids who love dinosaurs and any adult with even a passing interest in geology, fossils and gigantic reptiles.
How long do you need? 1-2 hours
Not very often, but occasionally we wish we still had young kids because watching the faces of the children light up here at the sight of the amazing life size dinosaurs was a lot of fun. And the excitement starts before you even get inside, as you enter the building you pass the Dinosaur Garden. Most kids would be happy just to play here but there is plenty to see inside too.
There are 2 levels. On the ground floor is a gift shop and fossil and mineral displays. Upstairs is a fantastic display that follows the rise and fall of the dinosaurs over millions of years. There are animatronic dinosaurs, incredible audio-visual displays, heaps of fossils and over 20 full dinosaur skeletons. We found it fascinating and exciting to walk around as adults, kids who like dinosaurs will think this is the best place ever!
The National Dinosaur Museum is in Gold Creek Village – also home to Cockington Green Miniature village, the Canberra Walk in Aviary and the Canberra Reptile Zoo. Read our review of Gold Creek here.
Canberra Museum & Gallery
Cost: Free
Parking: There is paid parking area just around the corner from the Canberra Museum.
Opening hours: 10.00am – 4.00pm weekdays, 12.00pm – 4.00pm on weekends
Who will like it? One for adults with an interest in art, craft and social history.
How long do you need? 1 –2 hours
Located in the heart of Canberra, we found the Canberra Museum and Gallery to be more gallery than museum. It was still an interesting place to walk around but if you are looking for a hands-on, interactive museum experience, this isn't really it. That said, the exhibitions on when we visited were fascinating to look at, the Nolan Collection was the highlight. The exhibitions are everchanging so keep an eye on their website to see what's on when you are Canberra.
Museum of Australian Democracy – Old Parliament House
Cost: Free
Parking: We used the paid parking at the National Art Gallery and did the 10 minute walk there. Parking is also available at the nearby National Archives of Australia and John Gorton Building. Access parking is available outside Old Parliament House.
Opening hours: 9.00am – 5.00pm, 7 days, closed Christmas Day
Who will like it? Grown-ups will love the history of the place. Our 7 and 9 year olds also enjoyed exploring here a few years ago – and the facilities for kids have improved since then.
How long do you need? 2 – 3 hours
Guided Tours: There are free 20 minute building tours at 10.00, 12.00 and 3.00 each day.
Women's History Walking Tour – Visit many well-known attractions and listen to the lesser-known stories of the women behind Canberra & visit a few sites you might otherwise miss
The Museum of Australian Democracy in Old Parliament House is an interesting place to look around. Really, the whole place is a museum; the offices and houses of Parliament are so well preserved it is a treat to look around. Our kids loved going into the House of Representatives and seeing where the Prime Minister sits and taking in the atmosphere of the chamber.
The formal Museum of Democracy gallery is probably pitched more to adults, if you like a bit of political history there are range of exhibitions as well as the permanent displays outlining Australia's democratic history. ** Note – The House of Representatives chamber is closed for renovations until the end of 2023.
Bonsai Museum – National Arboretum
Cost: Free entry
Parking: Large paid parking area onsite
Opening hours: The National Bonsai and Penjing Collection open 7 days from 9.00am -4.00pm.
Who will like it? All ages – the Bonsais are amazing. Afterwards, the Arboretum is a fun place to explore. Kids will love the Pod Playground
How long do you need? 30 minutes for the Bonsais, 1 –2 hours for the National Arboretum
You don't have to be a green thumb to enjoy the National Bonsai and Penjing Collection of Australia at the National Arboretum. The collection has around 80 miniature trees and forests, some dating back to 1880 and includes Australian native and exotic trees. The artistry and beauty of the trees is amazing.
Once you have looked through the collection, stay and explore the walking trails, gardens and sculptures at the National Arboretum. The beautiful café in the Village Centre has breathtaking views and kids will have a ball at the gumnut inspired POD playground.
Canberra Railway Museum
Cost: $10 for adults, $7.50 for concessions, and $5 for children (5-15 years)
Parking: Free onsite parking
Opening hours: Sunday 10.00am – 3.00pm
Who will like it? Train-lovers young and old will have a fantastic time.
How long do you need? 1 – 2 hours depending on how long you get chatting to the passionate volunteers!
We happened to be in Canberra on a Sunday afternoon so went along to the Canberra Railway Museum and it is a really interesting place. From the main building which is full of railway artefacts you go onto a platform where you can walk through some carriages. You can also play with a model trainset which is fun for kids and the young at heart.
In undercover sheds you can see Locomotive 1210 – the first train to pull into Canberra along with other restored engines and carriages. Back out in the yard is an early diesel locomotive. If you are up for a chat, you won't meet a more friendly, passionate team of volunteers. The only thing missing is train rides for the kids, but they will still like getting up into the engines.
National Archives of Australia
Cost: Free
Parking: There is paid parking either side of the National archive building.
Opening hours: 9.00am – 5.00pm
Who will like it? One for adults, the displays on our visit were interesting but had a lot of written interpretation.
How long do you need? 1 hour
Located just behind Old Parliament House and the Museum of Australian Democracy, the National Archives of Australia Museum has a couple of galleries that feature aspects of Australia's social history. The exhibitions with a range of photos and artefacts were interesting for adults but perhaps lacking the interactive features that kids enjoy. The exhibitions change over time so keep an eye on their website to see what's on when you are in Canberra.
National Film and Sound Archive
Cost: Free entry
Parking: There is paid parking adjacent to the building.
Opening hours: 10.00am – 4.00pm daily except Christmas Day and New Year's Day.
Who will like it? Like the National Archives, this is one for adults. It has interesting displays but pitched at an older audience.
How long do you need? 1 – 2 hours
The National Film and Archive has a mix of free and pay to enter exhibits. Hive is their feature space, an interactive gallery where you can hear from digital NFSA staff about the projects they are working on – it's probably still an experience better suited to adults. There was also a theatre showing films of what life in Australia looked like in years gone by. There are lots of museums in Canberra, while this one didn't capture our imagination as much as others, it's worth checking to see what exhibitions are on when you're Canberra.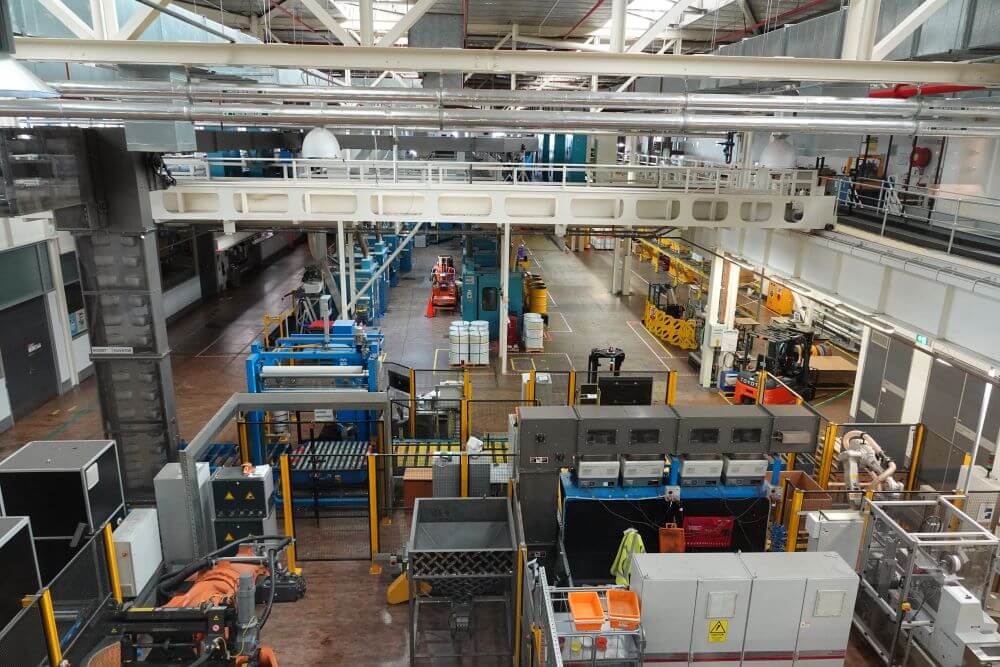 Royal Australian Mint
Cost: Free entry
Parking: Free onsite parking – pick your times, there is lots of parking, but it fills up when busy
Opening hours: 8.30am – 5.00pm Monday to Friday, 10.00am – 4.00pm Weekends and public holidays. Closed Christmas Day and Good Friday.
Who will like it? This is a fascinating place, young and old will have a great time at the Royal Australian Mint.
How long do you need? 1- 2 hours
Guided Tours: Fascinating free tours run at 11.00 and 2.00 weekdays and 11.00, 1.00 and 2.00 on weekends and public holidays. Booking essential.
The fact that we use coins less and less hasn't affected the popularity of visiting the Royal Australian Mint. This was one of the busiest Canberra museums we visited, it is definitely worth going early if you want to avoid the crowds. You can watch coins being made, mint your coin and there are plenty of souvenir coins for budding coin collectors to buy.
The guided tours are fascinating and it's worth booking to get onto one of them. The history of our coins and how they are made is super interesting and you pick up lots of interesting bits of trivia like the fact that the Australian fifty cent coin is the largest coin in circulation in the world. There are lots of interactive displays and the views onto the factory floor are great. There is a giftshop and café on site too.
Places to Stay in Canberra
If you enjoyed this story you might also like:
Jerrabomberra Wetlands| Exploring Cooma | Visit Outback Broken Hill
Like it? Pin it for Later…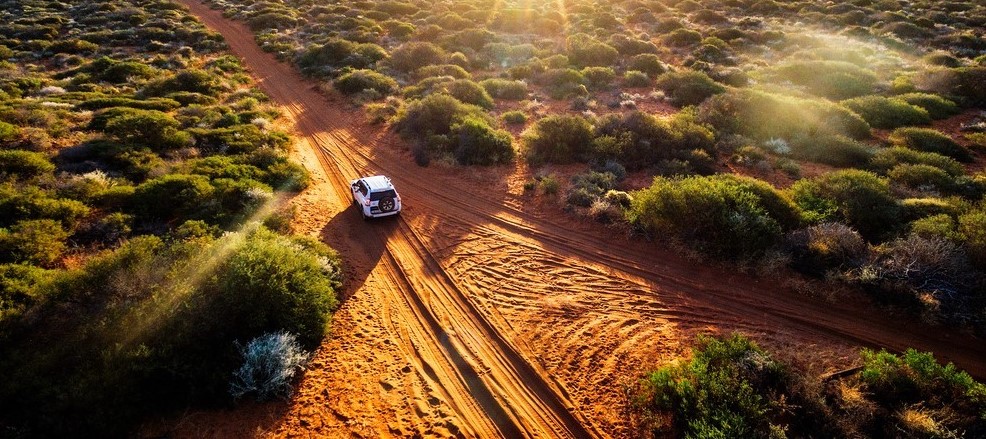 500 THINGS TO DO
Join our mailing list and receive our Free Top 500 things to do in Australia. If you love the Australian Outdoors download this list and keep it handy when you are planning a weekend away or a road trip around Australia.
Recent Posts